Czech love bread. They also love these little miniature baguette-like rolls called Rohlík. At the town square, on the metro, at the park or sitting on a tram – we've seen these offered and eaten just about everywhere that's why we wanted to introduce you to the Rohlík, a Czech bread for anytime.
A rohlík is an individual sized kind of bread that is used as a common accompaniment to other foods. Think dinner rolls, except Czechs eat it for breakfast, lunch and dinner – and every snack in between. It is an elongated pastry, which has the shape of a large cigar, which is then half bent into the shape of a crescent. Traditionally sprinkled with coarse salt, caraway seeds or poppy seeds, it is made from a a softer ground flour, yeast and butter. These days it is not uncommon to see whole wheat and other grain varieties.
Tradition has it that these delicious rolls were first produced in 1683 by a Viennese baker, but for obvious reasons, the real history of these little breads is difficult to trace. The Germans call them Hörnchen, Poles call them Rogal, Austrians call them Kipferl, Romanians call them Cornuleţ, Slovenians call them Rožok and they are very popular in all of Eastern Europe. Whatever their roots and history, we are happy to have them and we call them delicious!
We made rohlíky today and we wanted to share our best recipe with you. This is from my cookbook from 1896.
Ingredients
4 cups unbleached flour (Wondra flour works best)
4 Tbsp butter
1 Tbsp + 1 tsp dry yeast
1 cup water
1 tsp sugar
2 tsp salt
1 egg, a little milk and coarse salt, poppyseeds or caraway seeds to sprinkle on top.
Baking time about 15-20 minutes, 375 degrees.
Directions
Place the sifted flour and salt into a large bowl and mix together. Make a well in the center. Pour in the warm water and add sugar and yeast and wait 10-15 minutes for yeast to proof. Meanwhile, melt and cool the butter. When the butter is warm (not hot or it will kill the yeast) add to the proofed mixture and mix well. Knead in bowl until a solid dough forms and then knead some more on flat surface.
Let rise for 1 hour. (I cover mine with a dishcloth and let it rise in the oven.)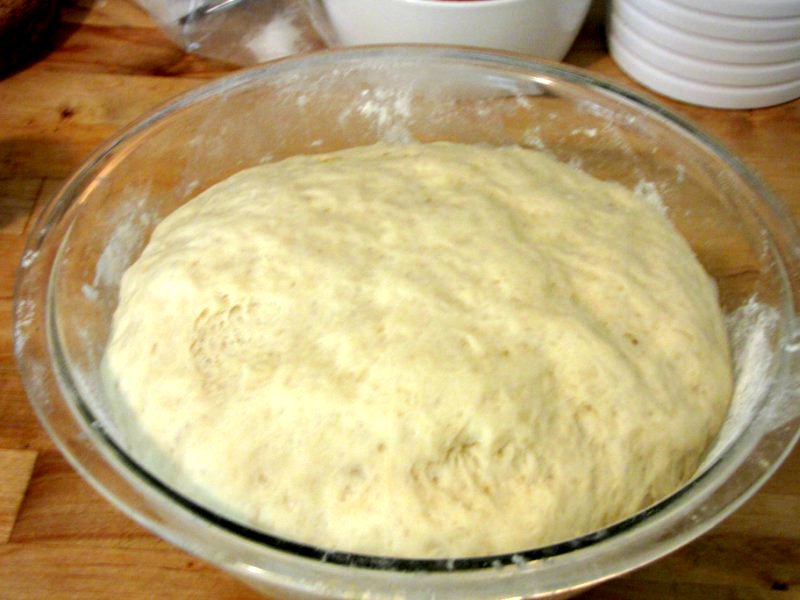 Create 3 equally sized balls and then roll them slightly so you can cut each into 3 equal pie-shaped slices. You will have 9 equally sized rohliks using this method. Take each pie shaped slice and roll each of the 3 corners once. This is best demonstrated at minute 4:10 of the following video – Miro demonstrates the perfect sized and matched rohliks each time.
Place the rohliks on a sheet of parchment paper.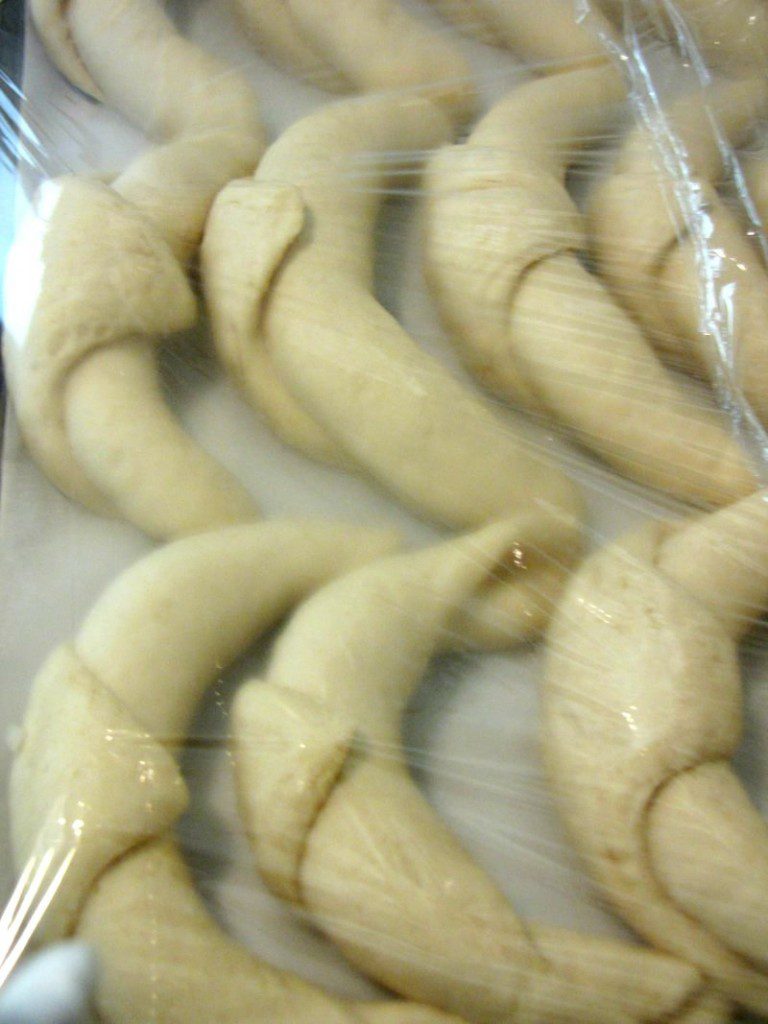 Sometimes I cover them before I top them… that's okay.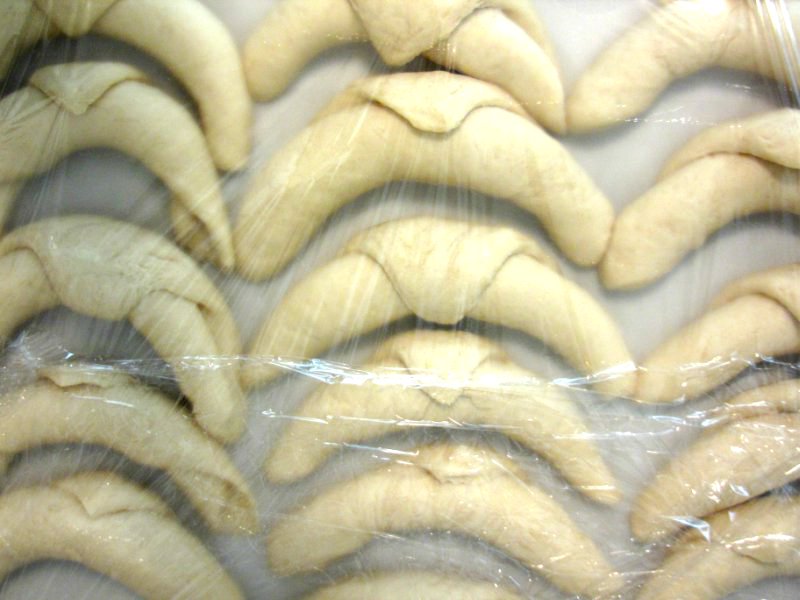 In a small bowl, mix the egg with milk and brush the rohliks and then sprinkle with your favorite topping (caraway, poppy seeds, coarse salt).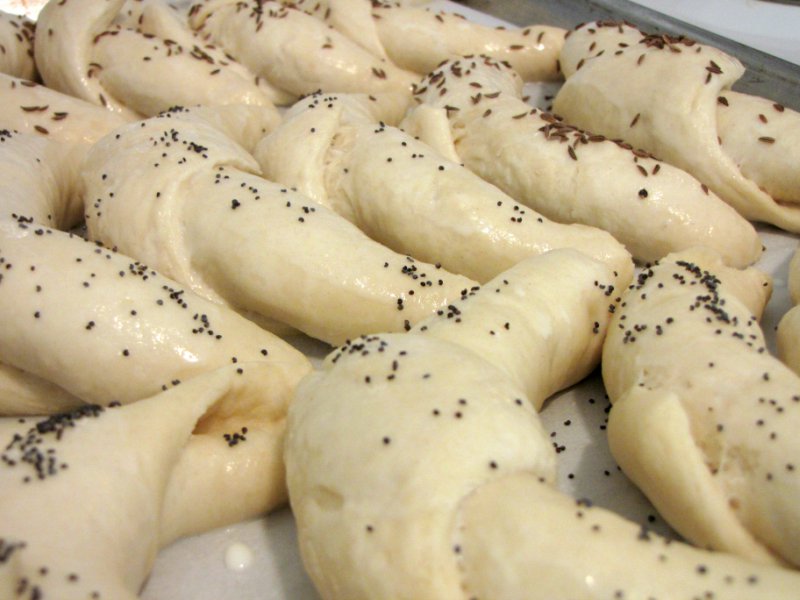 Cover with a sheet of plastic wrap and let rise a second time on the pan for at least 20 minutes before placing into the preheated oven. I brushed these with an egg/milk wash and sprinkled them with caraway seeds on one half and poppy seeds on the other.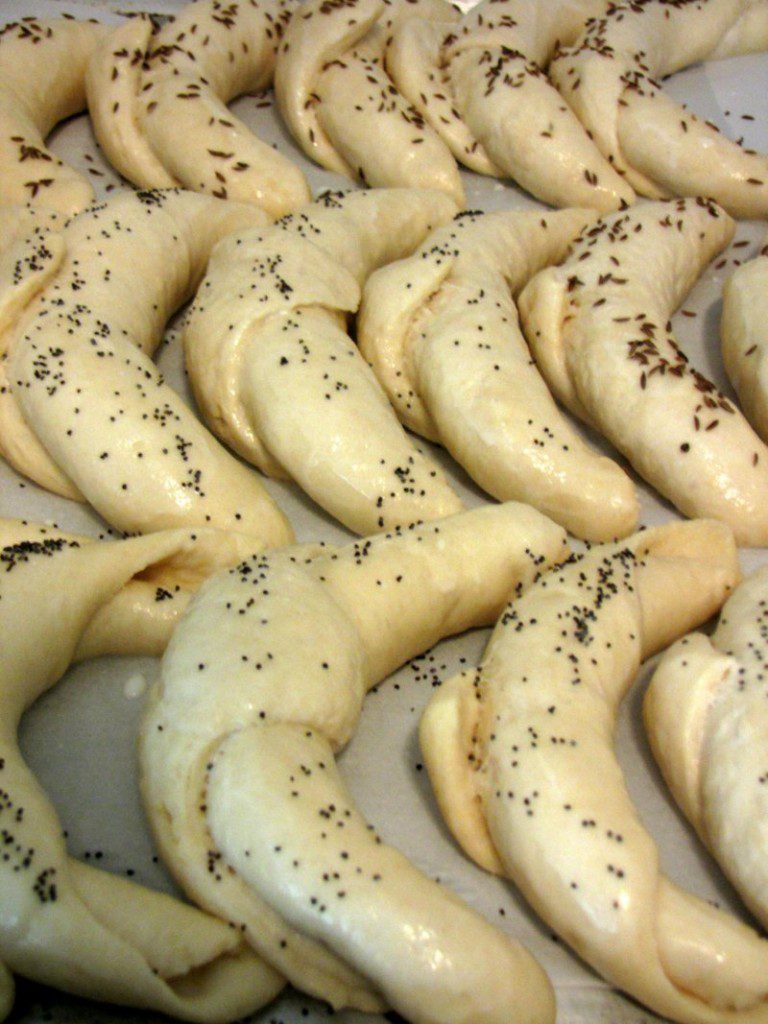 (They should almost double in size.)
Gently peel of plastic wrap and place into oven. Bake at 375 for 15 to 20 minutes. You want them very slightly golden – too gold and they are a bit too hard.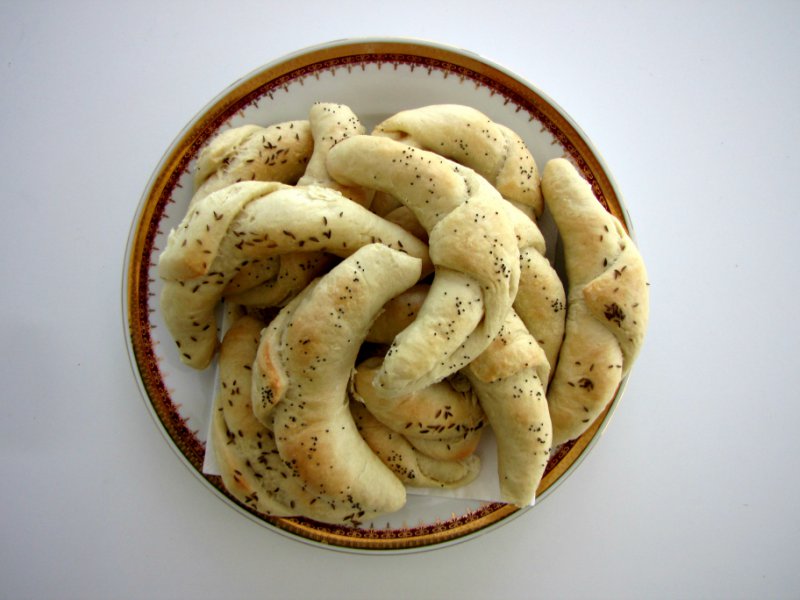 Now – some people say that they are better tasting made with milk, so I tried a recipe that Tatjana has posted at Czech Mate Diary. They were also delicious. The dough was immediately more pliable and easier to work with because it called for more liquid and less flour. The result was a fluffier and lighter rohlik – though I found they smelled almost like cake when they were baking and the dough melted a bit (so I'd add an additional 1/4 – to 1/2 cup flour next time). Tasting them, the egg yolk also made the dough slightly more golden and it tasted sweeter for some reason, almost like Vánočka – different but delicious nonetheless. Zanna and Zynnia said they taste more like Buchty or Kolače.
The water based ones I made first were more traditionally crisp and much harder.
We decided to open up some Mother Goose Liverwurst and it was so good – can you believe we stuffed ourselves as we sat and watched a Czech movie!
There's no place like home…
Actually, there's no taste like home! :)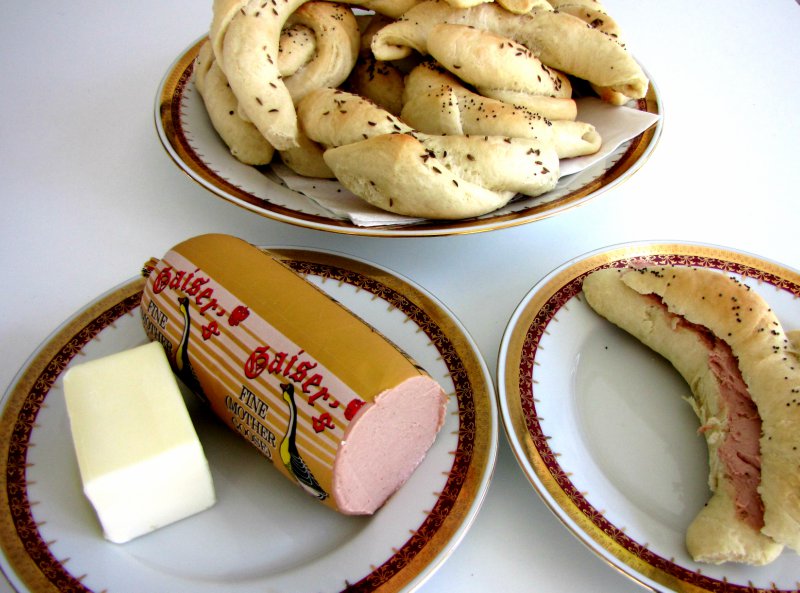 Rohliks can be (and are) eaten with just about anything. Butter, jam, spreads, egg salad, salami, ham and cheese, tuna, marmalade, butter and honey – you name it.
But warm and with liverwurst and butter… We're in Czech heaven.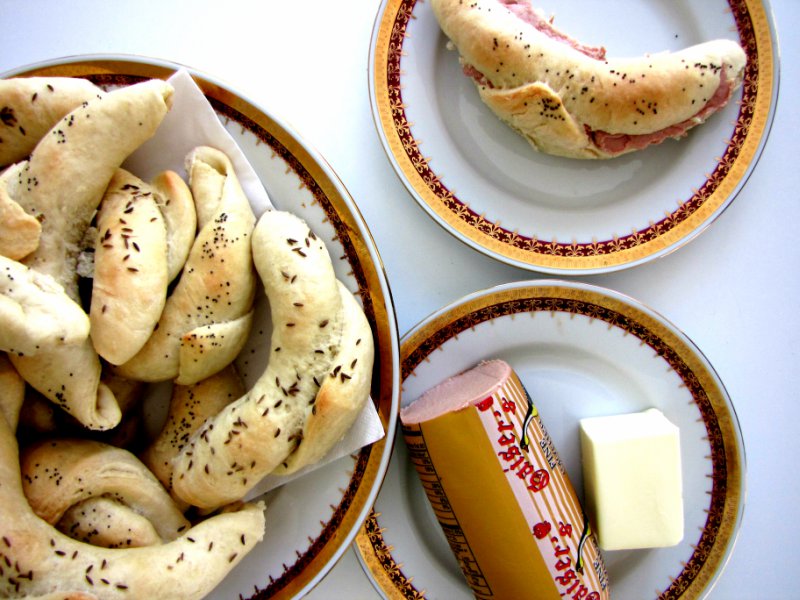 Dobrou Chut!
If you have not already subscribed to get TresBohemes.com delivered to your inbox, please use the form below now so you never miss another post.
---
Remember, we rely solely on your donations to keep the project going.
Become a friend and get our lovely Czech postcard pack.