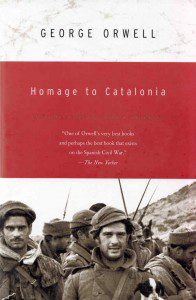 Homage to Catalonia is an account of the Spanish Civil War written by George Orwell. It follows his experiences fighting with the Party of Marxist Unity (POUM) Militia in Spain from the years 1936 to 1937.
Written several months after George Orwell left Spain, Homage to Catalonia is a great account of the Spanish Civil War.
Lionel Trilling writes in the Introduction, "This book is one of the important documents of our time. It is a very modest book. It seems to say the least that can be said on a subject of great magnitude. And in saying the least it says the most."
Above all, there was a belief in the revolution and the future, a feeling of having suddenly emerged into an era of equality and freedom. – George Orwell
Originally, Orwell traveled to Spain to report on the civil war as a journalist, but instead ended up joining the Party of Marxist Unity and staying to fight against the fascists.
This book, which documents his experiences in the trenches of Catalonia, is perhaps one of Orwell's best works. In it he describes the daily life of a soldier; the challenges, the compassion, and the coldness of the wintery landscape.
Out in the deserted orchards in no man's land the cherries were whitening on the trees.- George Orwell
He captures the atmosphere of Spain from 1936 to 1937 with great detail and simplicity. Much more than a memoir, this book is perhaps the best book which exists on the Spanish Civil War.
At the Red Aid centre on the corner of the Plaza de Cataluña the police amused themselves by smashing most of the windows. – George Orwell
This book is full of impeccable descriptions of what the war was like on the Catalonian front; the sound of bullets in the night, the rustling of shrubs at dawn, the empty skies, and the absence of birds.
Whichever way we turned a fresh stream of bullets swept past; we were driven this way and that in the darkness like a flock of sheep.- George Orwell
If you have not already subscribed to get TresBohemes.com delivered to your inbox, please use the form below now so you never miss another post.
---
Remember, we rely solely on your donations to keep the project going.
Become a friend and get our lovely Czech postcard pack.