Aspiring jetsetters, take note because if you just can't get enough of air travel, then this is your kind of home away from home. One thing is certain, Airbnb gets cooler listings every day. Like this one.
Welcome to my airplane home…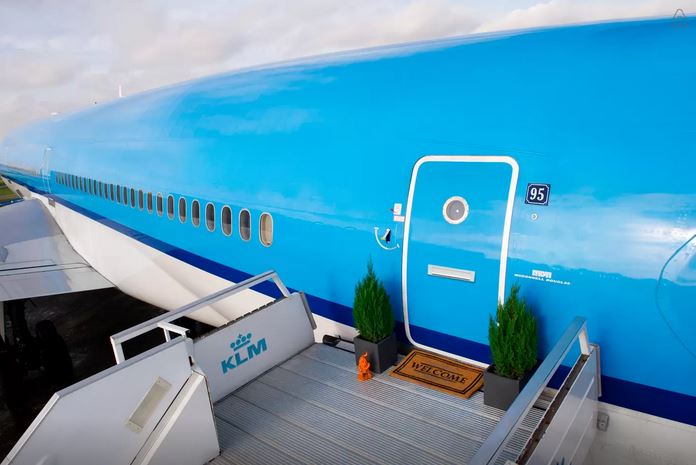 Above and beyond first class – this entire jet airplane has been completed gutted and turned into your own epic pad where you can vacay in a completely different kind of style.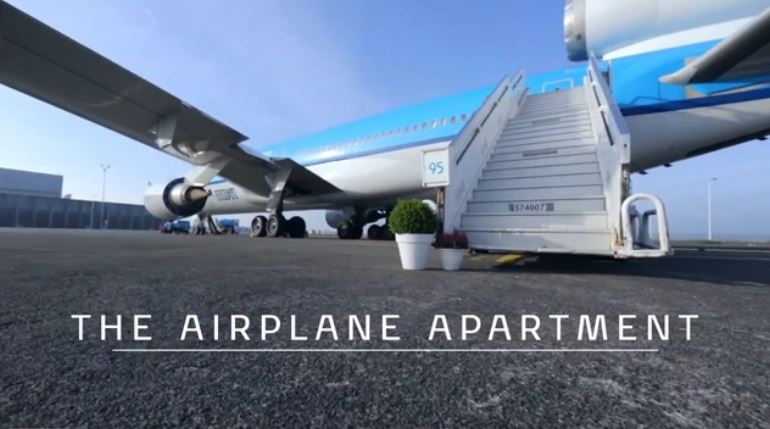 Fasten your seatbelts for this amazing aircraft loft. After crossing the globe 3675 times, this beautiful blue and white jet will be temporarily available as a unique living space. Located right beside the runway of Amsterdam's bustling Schiphol airport, our detached airplane comes with all conveniences and will truly be your home away from home.
Step inside the sliding front door and make yourself right at home in this cozy, travel-themed aeropad. Completely decked out in hipster-cool home decor, this is the main living area.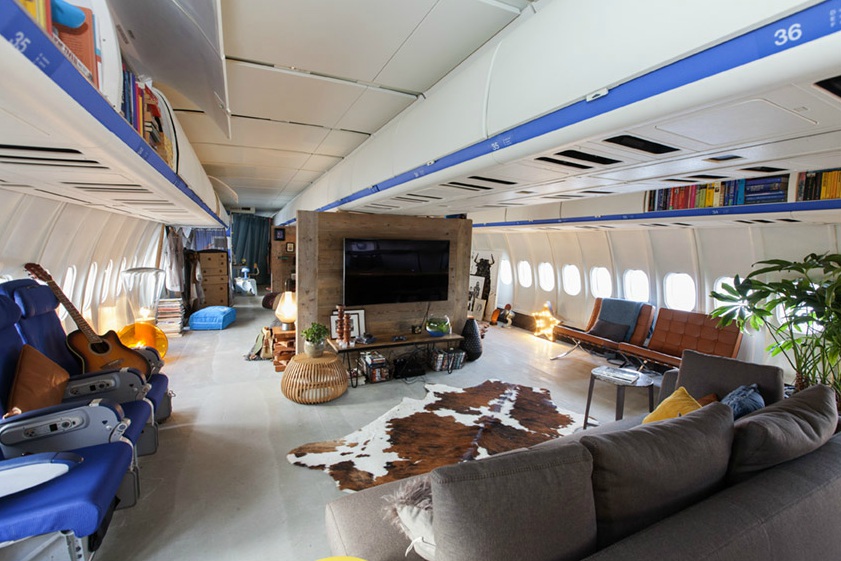 Inside the bright 4,000 square foot plane with a total of 116 windows you will find a large living room, one master bedroom, two children's beds, two kitchens and eight small bathrooms. (Do any of them have a shower, I wonder?)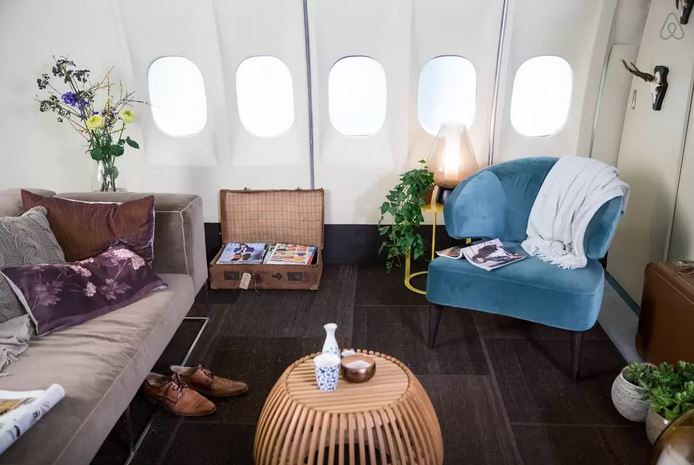 It comes with Wi-Fi, a toaster, a coffeemaker, comfortable first class chairs, a game console and a giant cockpit panorama window.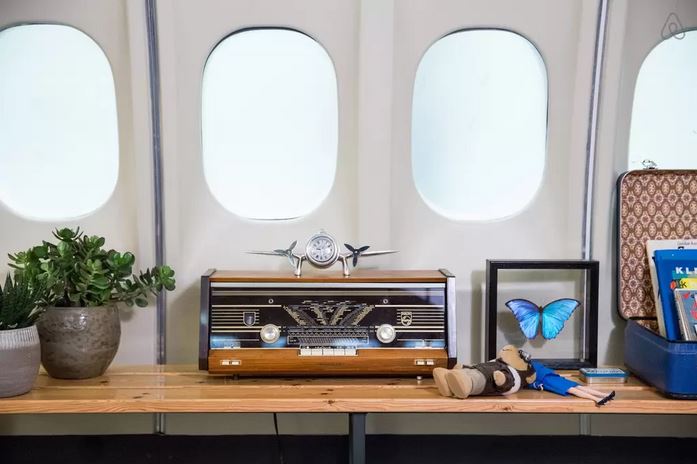 There are plenty of books and magazines in our library to enjoy and well as all sorts of cool looking aero-style tchotchkes.
Where else can you take a seat, enjoy 130 square feet of leg space and watch the other jet airliners take off and land – right in the back yard.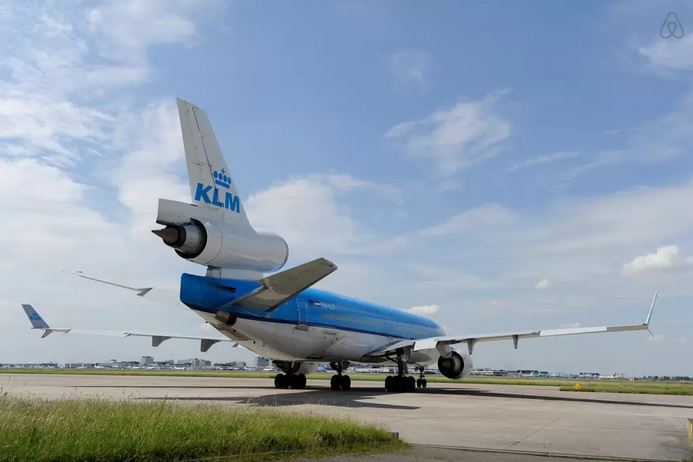 Or maybe you'd rather watch a movie? This unique pad comes with all time classics like Snakes on a Plane, The Aviator, Top Gun or Disney's Planes, all available on the home cinema system.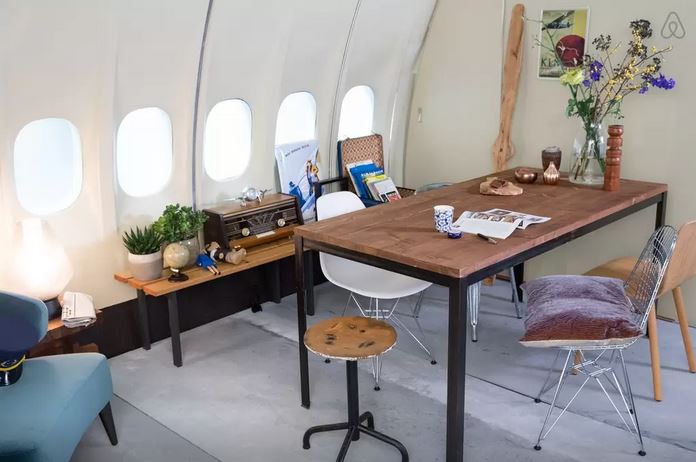 Their kitchen is small but very functional. It's equipped with everything you need to prepare your meal: cutlery, pans, ovenware, utensils, etc. There's also a cooker and a basic stove.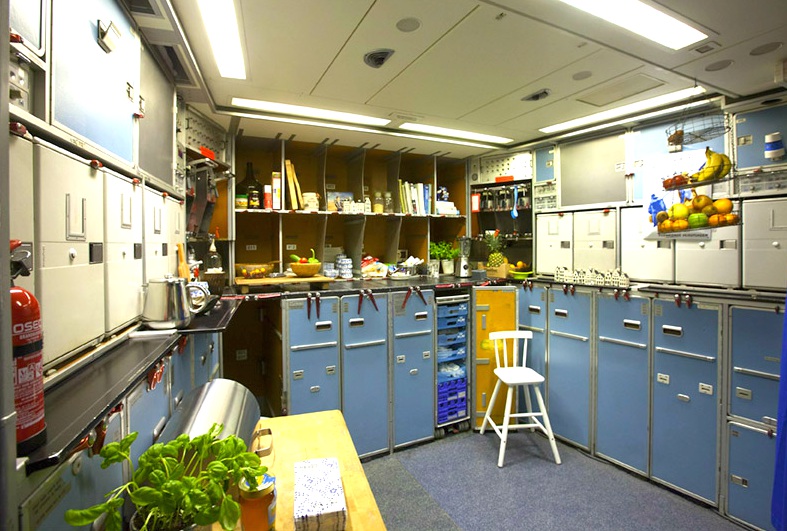 The master bedroom comes with a comfortable king size bed that ensures a good night's sleep.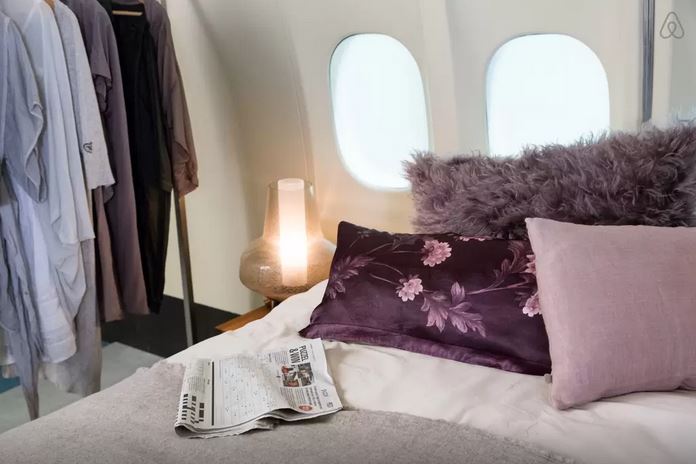 Check the stack of travel magazines and the interesting recliners… ;)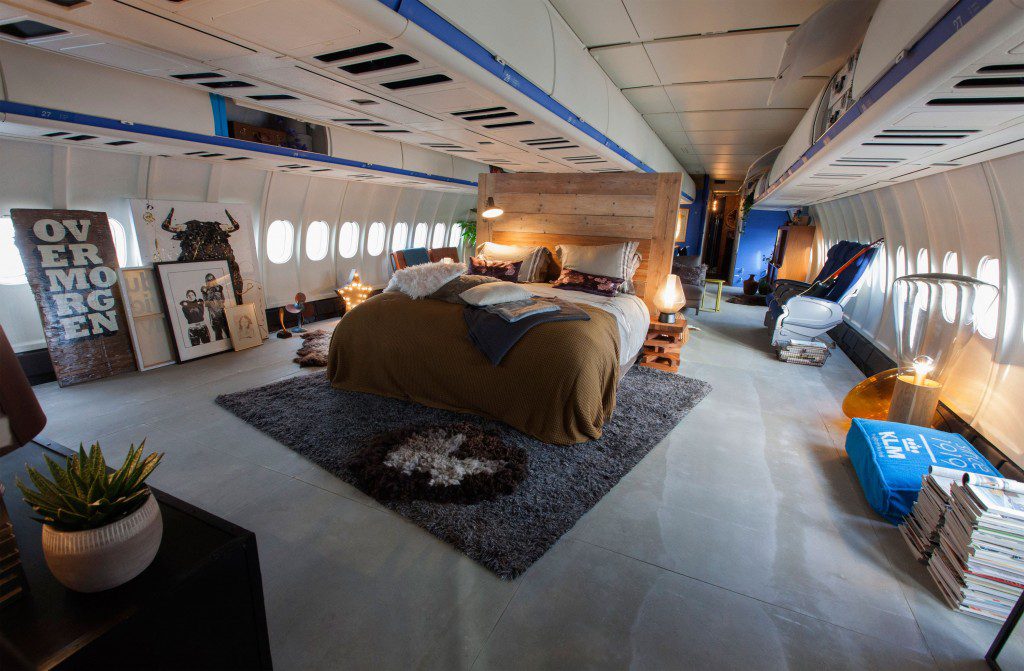 They even say that families with children are welcome. Their amazing kids room will "make your kids feel like they're on cloud nine".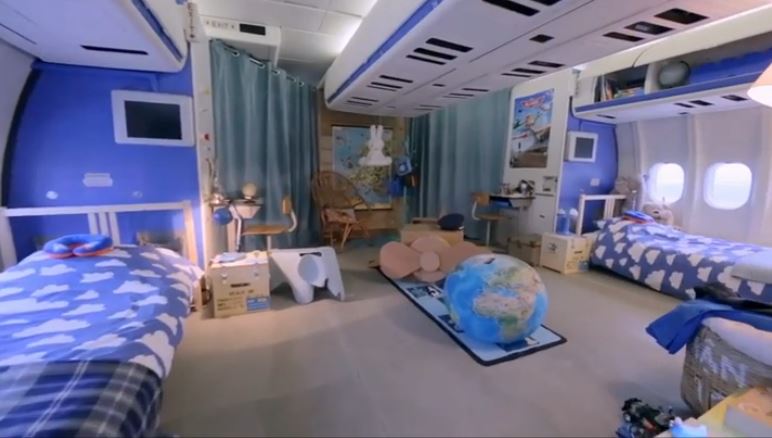 The children's room comes with two beds and everything small pilots need to keep themselves busy for hours.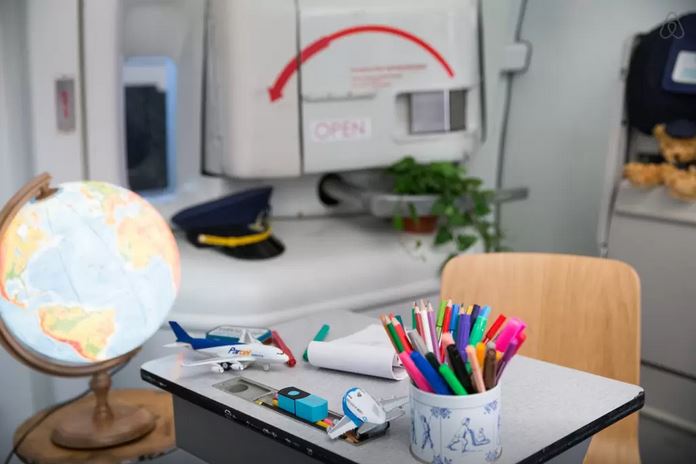 They even have a terrace where you can sit and enjoy the view, though I'm not sure about the noisy neighbors! Remember the post about the city that became a ghost town in Los Angeles because of airplane noise?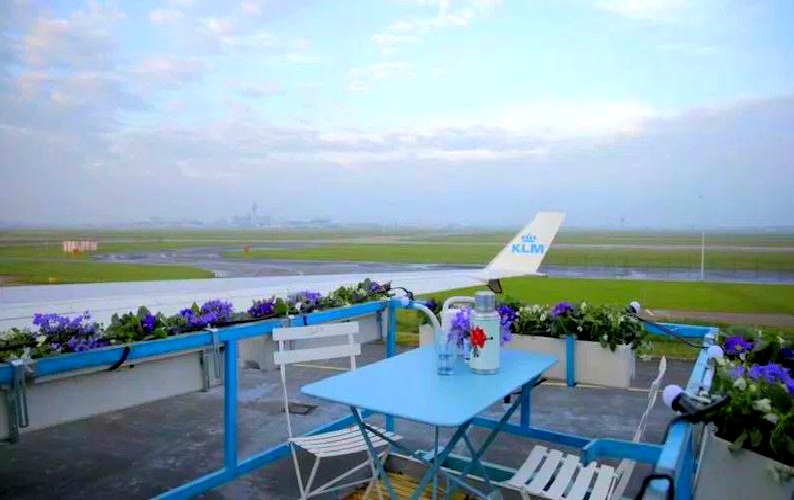 Now be warned, they do have some house (or should we say plane) rules they expect you to follow when you visit:
• No flying.
• Don't use the inflatable emergency slide.
• Smoking is not allowed when the non-smoking sign is on.
• No marshmallow roasting with the jet engines.
• Please water our plants and feed our fish.
• The consumption of alcohol is not allowed.
• Please treat our plane like you treat your own plane.
Basically a publicity stunt, KLM Royal Dutch Airlines posted their listing on Airbnb and held a contest where 3 lucky people had the chance to "win a night to sleep on a KLM airplane". Over 10,000 people entered the contest.
The stunt promotes the fact that KLM is now listing Airbnb properties under the "destinations" section of its website. It rounds off a spectacularly creative year for KLM and agency DDB & Tribal Amsterdam, which has included creating personalized seat covers for passengers, filming a (fake) sniffer dog reuniting people with lost items, and setting up a real-time newsroom for Twitter queries.
My favorite part of the press release was reading "KLM is now listing Airbnb properties under the "destinations" section of its website". That is über cool and we've used Airbnb bunches of times and people seeing unique ways to look at spare rooms, over the garage apartments, old campers, shacks, houseboats and now planes has made more and more of such listings available.
Come to think of it though, we've also flown KLM many times too, and we consider them one of our favorite airlines. Royal Dutch partnered with Airbnb… way cool.
But back to the jumbo jet turned aeropad…
Check out the floor plan.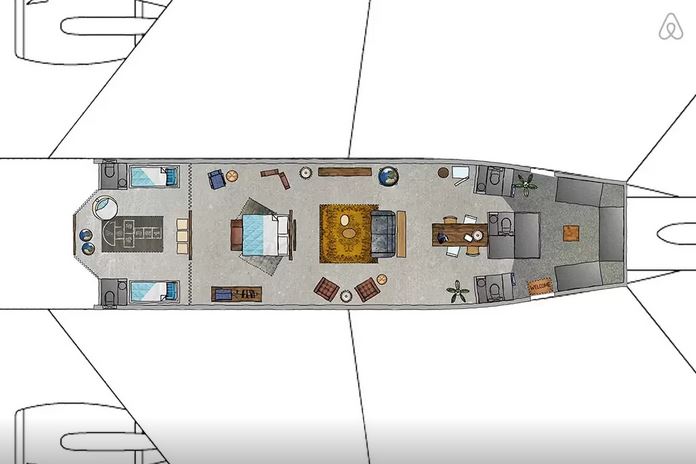 I have to say, the entire way they did this – from the idea itself, to how they decorated the plane, to how they created the contest, to listing it on Airbnb and even t their Host Profile – this was a brilliant advertising move for KLM.
We are KLM. Also known as the Royal Dutch Airlines. We're from the land of windmills, cheese and Vincent van Gogh and live at Amsterdam Schiphol Airport, an international hub with nice restaurants, lots of shops and visitors from all over the world.
We were born in 1919 and actually just had the birthday bash for our 95th birthday. We've been traveling the world for as long as we can remember. Our biggest passion is meeting new people and discovering different cultures. Our first flight in 1920 took us to Jakarta and we've been roaming the planet ever since. Nowadays we fly to hundreds of destinations all over the world. We love Europe, Africa and the Caribbean, but also enjoy visiting America and Asia at least once a day.
Other stuff we love? Comfort, courtesy, art, good food, smart solutions, Dutch design and the color blue. But surely you will discover all that once you stay at our place for the night.
We welcome travellers from anywhere to make our home theirs!
Genius marketing to make their brand trendy, hip, cool and most of all seen!
Sources: KLM Airlines, Airbnb
If you have not already subscribed to get TresBohemes.com delivered to your inbox, please use the form below now so you never miss another post.
---
Remember, we rely solely on your donations to keep the project going.
Become a friend and get our lovely Czech postcard pack.