The Cowboy and the Senorita book arrived and I jumped in right away. My father loved Roy Rogers and Dale Evans and as a child, their shows or music was always playing somewhere in the background. They represented America and an imagined west that can only exist in the mind of immigrants who visualized the American Dream from far, far away.
As I grew, I realized that many of my friends also knew of Roy and Dale (and Trigger) and for them it brought nostalgia, and memories of the way things were, back in the day when people had virtues, morals, faith. I was blessed to see Roy and Dale live, twice and cherished it.
The Roy Rogers museum was a regular vacation haunt, and I was there many times.I was so sad to hear that it relocated and then closed, so many of the memories were auctioned off. Is it that people just don't care anymore? Do Roy and Dale look like black and white caricatures of "the old days" and technology has made the new generations completely uninterested in what was?
A walk in an antique store or browsing eBay you can see games, books, lunchboxes and cap guns and holsters. "I want to be a cowboy!" was something that all boys wanted (and girls too – see photo of me). Yes, Roy Rogers was the good cowboy, the singing cowboy and the cowboy with the friendliest smile.
But this is to be about the book…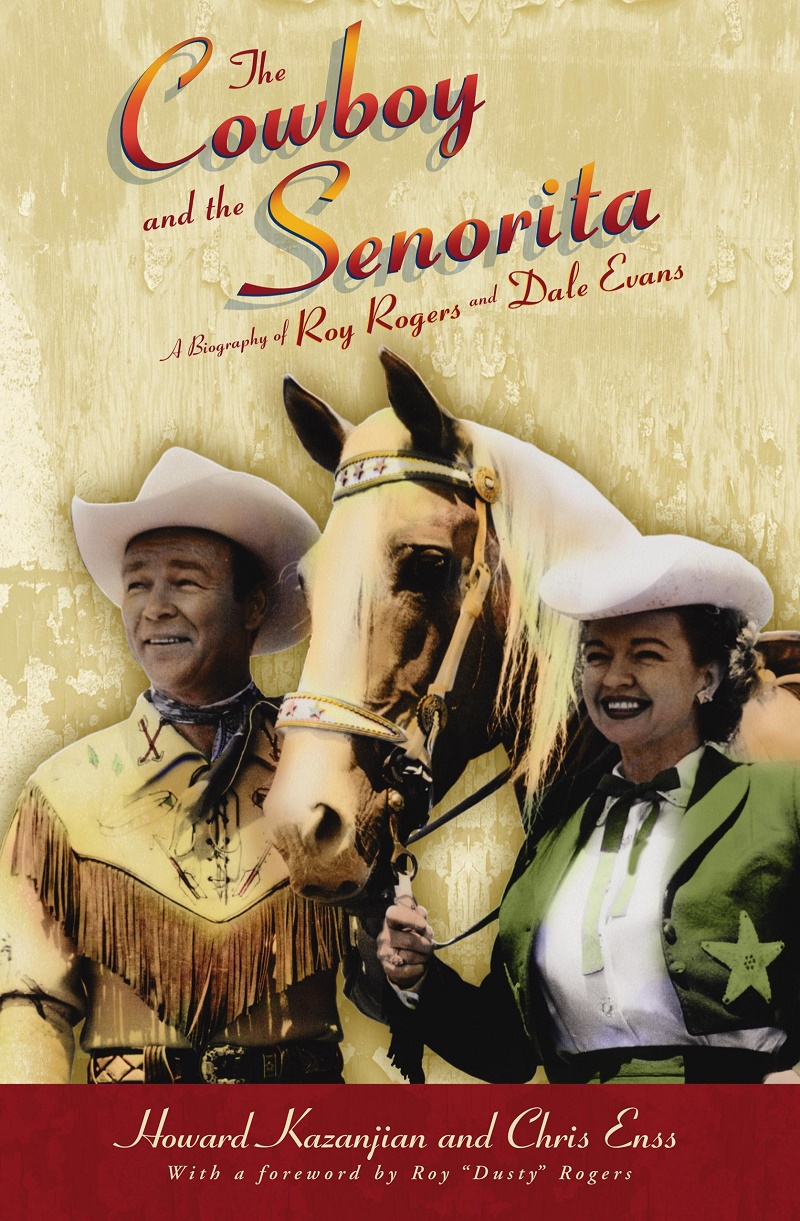 This book surprised me because I had never known that Dale was a teen single mother. Neither did I know that Roy had a previous wife who passed away. The commitment and conviction they had were worthy of imitation and they were the perfect role models.
This book warmed my heart and made me nostalgic. It reawakened the sense of "the good old days" in me and it made me wonder where people like Roy are today, if they still exist. How they overcame the deaths of their three children shows such bravery and faith in God. How they remained committed to their marriage shows a mutual respect and moral value. How they chose to influence those by selecting roles, music and so on shows their sense of integrity and responsibility. How they lived their lives shows a shining example worthy of absolute respect. The best way I can sum this up is with the lyrics to one of my favorite of Roy's songs…
It seems like only yesterday that we rode the range together
The prairie skies and tumbleweeds just as far as we could see
Then, you grew up and drifted on, but I know that you remember
When you were a saddle pal to Hoppy, Gene and Me
Freckle faced and skinned up knees
You helped us trap the bad guys
With a five cent bag of popcorn
And a cap gun by your side
You know, time has a way of changin' things
Soon, there was your first love
You thought it would last forever
But when she left, you cried
But Hoppy, Gene and Me
We taught you how to shoot straight
And a cowboy's never cryin'
That's how it had to be
Yes, stories from the silver screen
Now most of them forgotten
Double feature Saturdays
With Hoppy, Gene and Me
Pick up your copy of The Cowboy and the Senorita on Amazon.
Adios!
If you have not already subscribed to get TresBohemes.com delivered to your inbox, please use the form below now so you never miss another post.
---
Remember, we rely solely on your donations to keep the project going.
Become a friend and get our lovely Czech postcard pack.