Jillian Greer is back again and this time she shares her delicious recipe for Austrian Cherry and Almond Strudel.
We've made this several times and it's an easy take on a popular European classic. Not just for the holidays, we make this yumminess year round. Thank you Jillian! 
Ingredients….
3 sheets of filo pastry
2 Tbsps. of melted butter
1/3 cup of thinly sliced almonds
1 Tbsp. sifted powdered sugar for decoration
Crème Fraiche or Greek-style yogurt to serve (optional)
For the filling…
1⁄3 cup of breadcrumbs (fresh are best, just take a day old roll and grate on the finest setting)
1⁄3 cup of ground almonds (I use my coffee grinder to make a fine ground almond flour)
1⁄4 cup of brown sugar
the finely grated rind of 1 large orange (preferably organic anytime you make zest)
3 cups of cherries, pitted (and if large, halved. When I do not have fresh cherries, I use 3 cans of canned cherries from the canned fruit isle of my local grocery. Make sure not to get the pie filling!)
Instructions…
Preheat the oven to 400 degrees and grease a baking sheet lightly.
For the fruit filling, place the ground almonds, breadcrumbs brown sugar and orange zest into a large bowl and mix together. Add the cherries to this and mix well.
Unfold and lay a sheet of filo pastry out on top of a clean dish towel and brush it lightly with the melted butter. Then place a second sheet of filo on top and brush that with butter as well. Repeat this process once more with the third sheet.
Carefully spoon the fruit filling over the pastry evenly. Make sure to leave a one margin around the edges. Fold in the edges along the short sides of the pastry.
Then, (I love this part) with the help of your dish towel, roll up from a long side to make a thick roll.
Transfer the roll to the prepared sheet, making sure to place it seam side down and curving it slightly if necessary to make it fit. Make sure that all seams are sealed and there is no opening anywhere around the roll.
Brush the top with remaining melted butter and scatter the slides almonds over the top.
Bake your cherry and almond strudel for 20 minutes or until you see the almonds and pastry getting golden-brown.
Dust it with the powdered sugar and serve either hot or warm, with the crème fraiche or Greek-style yogurt on the side.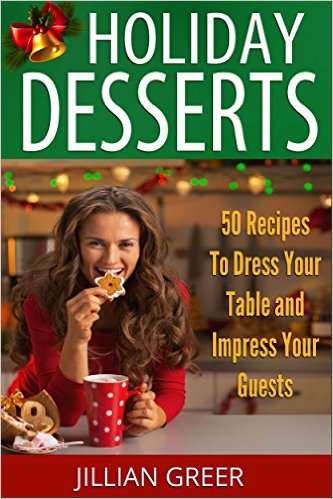 Cooking since the age of four, Jillian feels most comfortable at home in her kitchen. She has been collecting recipes as long as she can remember and has traveled abroad to attend cooking workshops in Rome, Paris, Prague and London. While she loves trying dishes from every culture, she is still a meat and potatoes gal at heart and she loves cooking for her husband and two sons best.
Jillian lives in Montana and her favorite activity is collecting little bottles of flavoured liquor and misting all of her sweet treats with them. To get the latest copy of her new cookbook, visit Amazon.
If you have not already subscribed to get TresBohemes.com delivered to your inbox, please use the form below now so you never miss another post.
---
Remember, we rely solely on your donations to keep the project going.
Become a friend and get our lovely Czech postcard pack.