Clue – the movie was a fun movie to watch. I loved seeing all of the familiar characters from the popular game, Clue on the big screen – Mr.Green, Professor Plum, Miss Scarlett, Col.Mustard, Mrs.White, and Mrs.Peacock. The French Maid, Mr. Boddy and the Butler were awesome too! Was it done with the rope in the billiard room, with the gun in the library?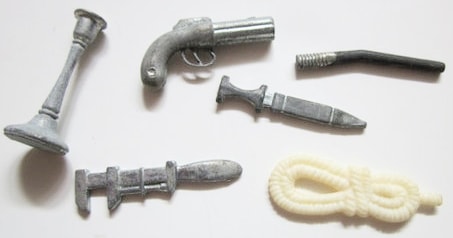 In this fun film, we actually get to see the game on screen and we can experience the who did it? where? and using what? the entire time it plays. Six seemingly random people are all invited into a house which itself is a mystery.
The year is 1954 and the setting takes place against the backdrop of McCarthyism. They are met by the house butler Wadsworth, who reminds them that they have been given pseudonyms to protect their true identity. Seated for dinner, they are served by a strange (and sexy) French maid played by the lovely Colleen Camp. There are several surprise guests who show up, only to be killed including Mr. Boddy (played well by Lee Ving, the lead singer from the punk band, FEAR).
After dinner, Curry playing the Butler, Wadsworth, takes them all to the study where he reveals the true nature of the party and what they all have in common – each one of the guests are being blackmailed.
Miss Scarlet (a very sexy Lesley Ann Warren) is a madam who operates an illegal brothel and escort service in Washington, D.C.
Colonel Mustard (Martin Mull) is thought, at first, to have been blackmailed for scandalous pictures with one of Miss Scarlet's employees, but it is later revealed that he was a war profiteer who made his money from selling stolen radio components on the black market. He now works at the Pentagon, working on a private fusion bomb (which is revealed later in the film).
Mr. Green (Michael McKean) is a homosexual, a secret which would certainly cost him his job (he works for the State Department) if it were widely known.
Professor Plum (Christopher Lloyd) is a psychiatrist who lost his medical license because he had an affair with a married female patient. He now works for the United Nations' World Health Organization.
Mrs. Peacock (a wonderfully kooky Eileen Brennan) is the wife of a senator who has accepted bribes to deliver her husband's vote. However, she claims she is innocent and she must pay blackmail money to avoid the story being used for a political witch hunt.
Mrs. White (excellent performance as always by Madeline Kahn) is an alleged black widow who was drawn in to avoid a scandal regarding the mysterious death of her nuclear physicist husband. She was previously married to an illusionist, who also disappeared under mysterious circumstances.
They all discover that is is Mr. Boddy who has been blackmailing them and the adventure mystery begins! With funny dialogue, loads of slapstick and hilarious encounters – this movie will make you laugh out loud!
Tim Curry gives a wonderful performance and this film really shows him in his prime. Other great performances by Eileen Brennan, Madeline Kahn, Christopher Lloyd, Michael McKean, Martin Mull, and Lesley Ann Warren in a screenplay by John Landis.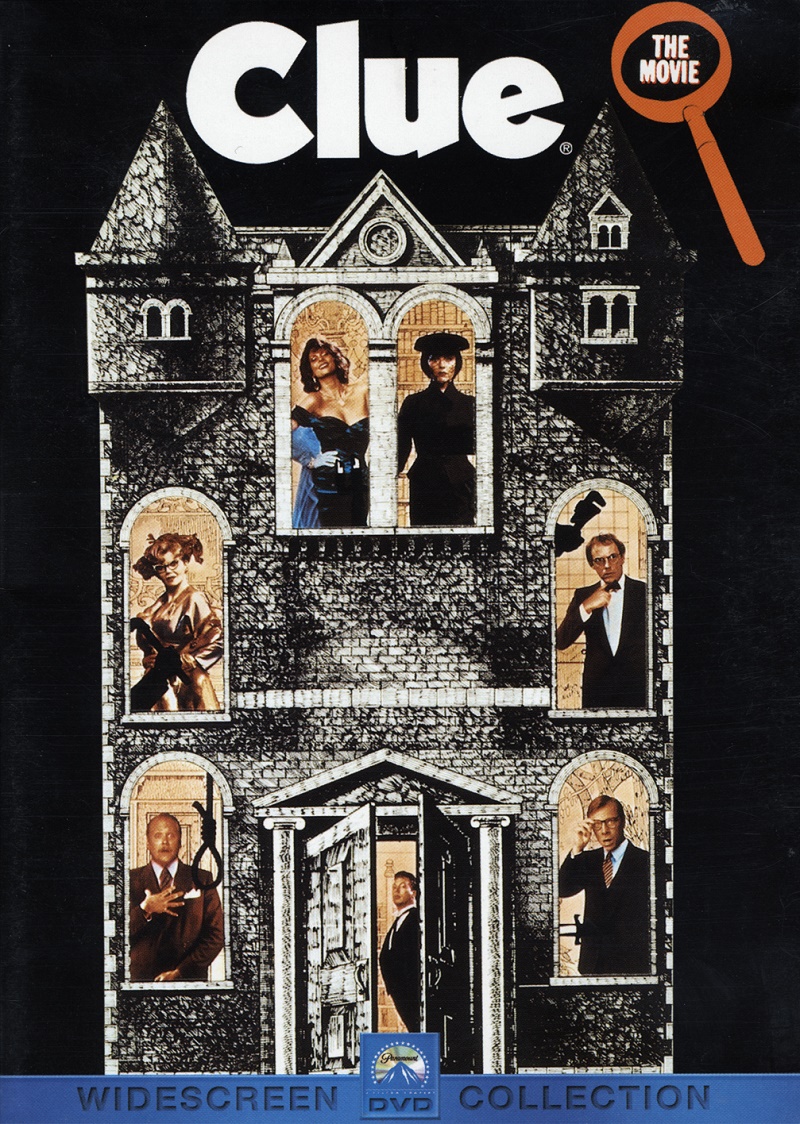 In keeping with the nature of the board game, in theatrical release the movie was shown with one of three possible endings, with different theaters receiving each ending. In the film's home video release, all three endings were included. Sadly, the film never did too well in the theaters – I personally saw it in Hollywood when it opened and it was fun on the big screen not knowing which ending would play!
If you enjoyed the game, you will enjoy the movie. Get your popcorn and settle in for a night of laughter and fun (and make sure to watch all three of the endings!)
Watch the trailer.
This is a fun film not to miss.
If you have not already subscribed to get TresBohemes.com delivered to your inbox, please use the form below now so you never miss another post.
---
Remember, we rely solely on your donations to keep the project going.
Become a friend and get our lovely Czech postcard pack.