In Czech cuisine, the Třešňový Lahůdkový Koláč, also known as Cherry Delight cake, holds a special place as a beloved dessert. This delightful cake has been enjoyed for generations, combining the luscious flavors of cherries with a light and fluffy cake base. It is not only quick and easy to prepare but also a true delight for the taste buds.
The history of this cake can be traced back to the Czech Republic, where cherries are abundant during the summer season. Cherries have long been a cherished fruit in Czech cuisine, and incorporating them into various dishes, including desserts, is a tradition that has been passed down through families.
The Třešňový Lahůdkový Koláč showcases the natural sweetness and vibrant colors of cherries, providing a burst of fruity flavor in every bite. The cake batter, made with softened butter, eggs, sugar, salt, vanilla extract, and flour, creates a light and tender base that complements the juicy cherries perfectly.
I was craving a nice summery Czech dessert and thought I'd share this recipe with you today…
Ingredients:
1/2 cup softened butter
3 eggs, separated
1/2 cup sugar
1/4 teaspoon salt
1 teaspoon vanilla extract
1 cup all-purpose flour
A generous 2 cups (about 400g) of pitted cherries
Icing sugar, for dusting
Instructions:
Preheat the oven to 350°F (175°C). Grease and flour a baking tray, preferably an 8″x10″ size.
In a mixing bowl, cream together the softened butter, egg yolks, sugar, salt, and vanilla extract until light and fluffy.
Gradually add the flour to the butter mixture and mix until well combined.
In a separate bowl, whisk the egg whites until they form stiff peaks.
Gently fold the whipped egg whites into the batter, ensuring they are fully incorporated.
Spread the batter evenly on the bottom of the prepared baking tray.
Scatter the pitted cherries over the surface of the batter.
I buy the cherries in a glass jar…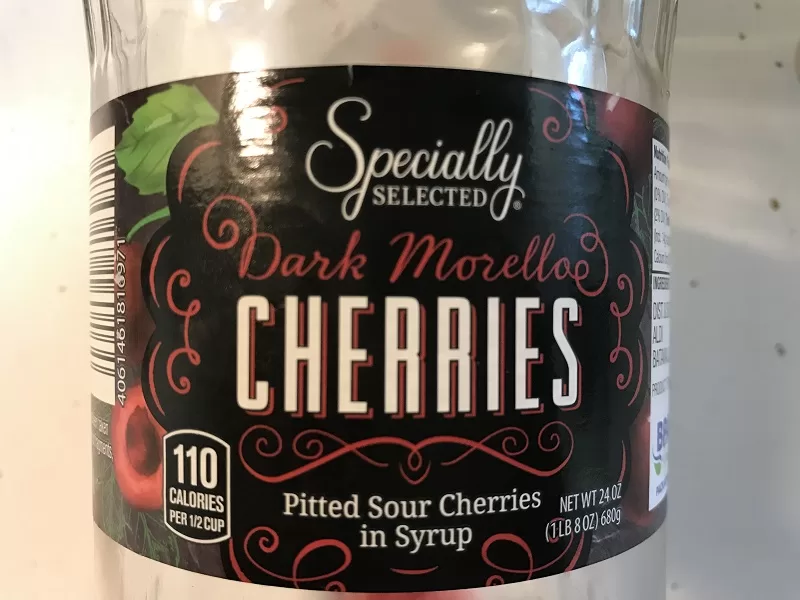 They give a summer taste all year round.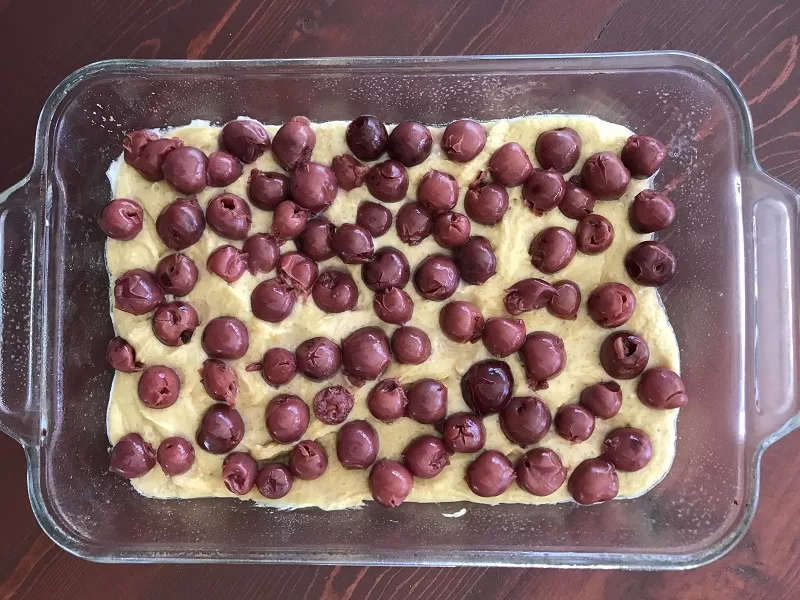 Bake for approximately 25 minutes, or until the cake is golden and firm to the touch.
Allow the cake to cool slightly.
I can never wait…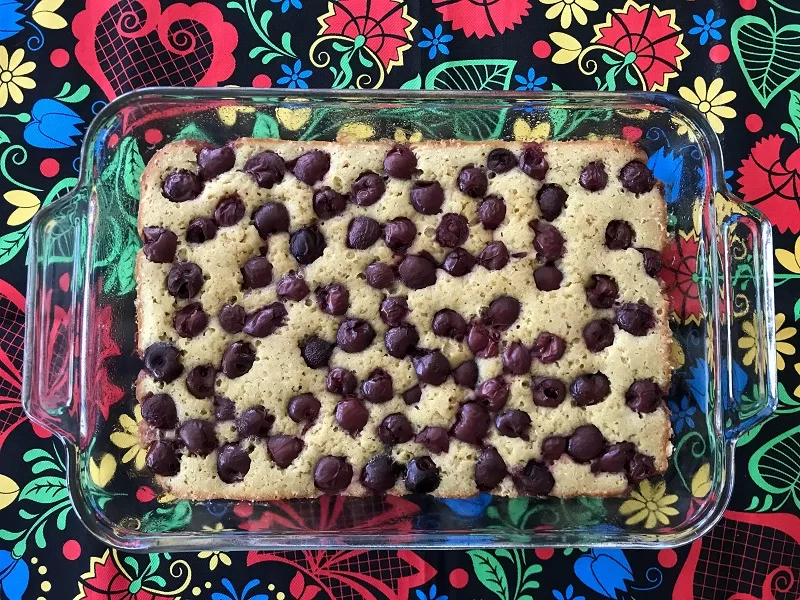 When it cools, dust it with icing sugar.
Serve the Cherry Delight Cake warm, savoring the sweet-tart flavors of the cherries and the fluffy texture of the cake.
Whether enjoyed as a comforting treat with a cup of tea or as a sweet ending to a meal, this cake will surely satisfy your cravings. The burst of cherry flavor and the lightness of the cake make it an irresistible dessert.
Dust it with a sprinkle of icing sugar for an extra touch of elegance.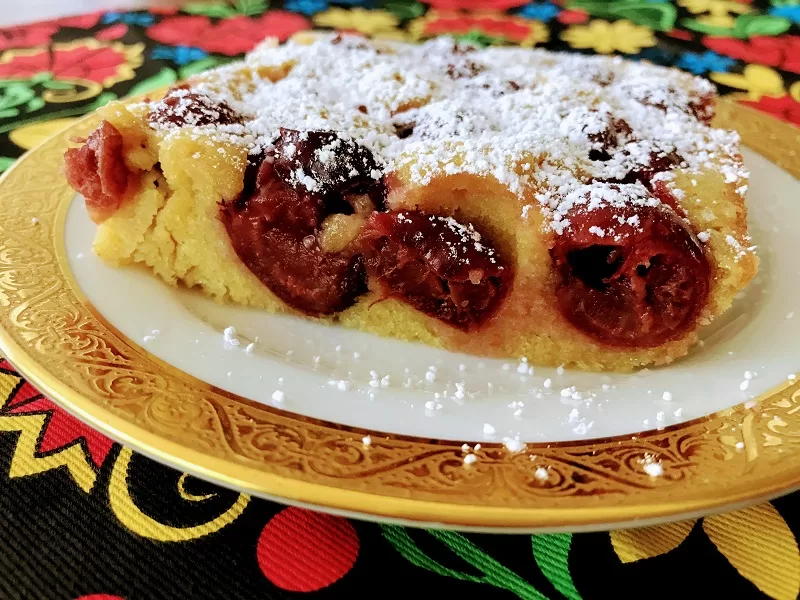 Traditionally, this cake is baked in a rectangular or square baking tray, ensuring that the cherries are evenly distributed over the surface of the batter. As the cake bakes, the cherries release their sweet juices, creating a moist and flavorful dessert.
The Třešňový Lahůdkový Koláč is often enjoyed warm, allowing the delightful combination of flavors and textures to be fully appreciated. A dusting of icing sugar adds a touch of elegance and sweetness to the cake, enhancing its visual appeal.
Whether served as a special treat during family gatherings or enjoyed as an everyday indulgence, this Czech cherry cake brings joy and satisfaction to those who taste it. Its simplicity and deliciousness make it a popular choice for both experienced bakers and beginners.
Dobrou Chut!
By the way – do you know we have a FREE COOKBOOK on Amazon…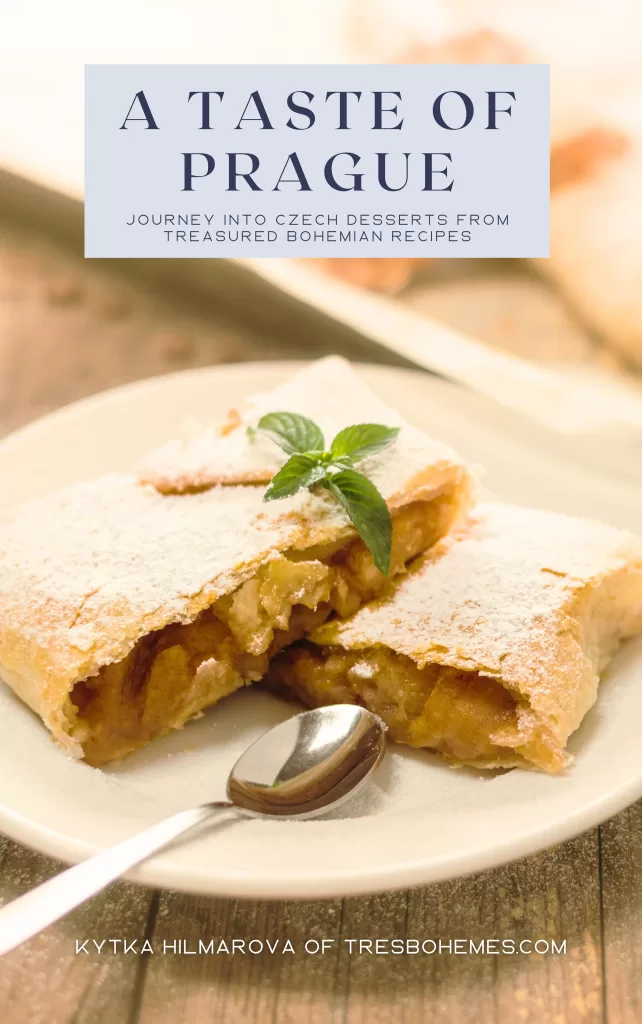 Click Here to Get Your Free Book
* * * * *
Thank you in advance for your support…
You could spend hours, days, weeks, and months finding some of this information. On this website, we curate the best of what we find for you and place it easily and conveniently into one place. Please take a moment today to recognize our efforts and make a donation towards the operational costs of this site – your support keeps the site alive and keeps us searching for the best of our heritage to bring to you.


Remember, we rely solely on your donations to keep the project going.
We appreciate you more than you know!
If you have not already subscribed to get TresBohemes.com delivered to your inbox, please use the form below now so you never miss another post.