This is a very simple recipe for broth with egg drop dumplings. Traditionally, it's made using beef broth, but you can use chicken or vegetable broth as well, and you can make your own or use the boxed kind. In Czech, it's called "Hovězí vývar s krupicí a vejcem" which literally translates to "Beef broth with semolina and egg". But as I said, if you don't eat beef, feel free to use whatever broth you enjoy. Please note though, that a strong home-cooked broth does taste best.
I had a craving for broth with egg drop dumplings today and had no homemade broth, in fact, all I had was vegetable broth – but I made it anyway and it tasted good. What I really wanted was the little egg drop dumplings!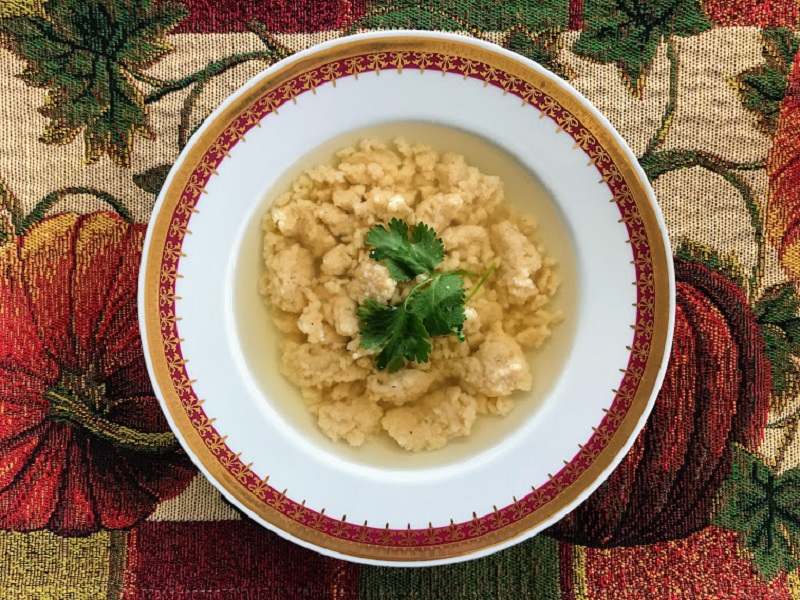 Now, as you know from our previous post on Czech flour, Czechs have different flours than we do which come in various weights. The closest to Czech flour is WONDRA flour which has a more coarse texture.  I order it on Amazon in a 6-pack for $25.
The coarseness is different than regular American all-purpose flour. Additionally, krupice is semolina, but I grew up knowing krupice as cream of wheat. If you have semolina flour, that's fine as it is also coarser than regular flour. If I don't have either, I have made it with 3/4 parts all-purpose flour and 1/4 part instant cream of wheat.
You know my cooking style by now – play with it until you get the texture and flavor you desire.
Ingredients
4 cups stock
2 eggs
3 Tbsp milk
3/4 cup flour
1/4 cup instant (2-minute) cream of wheat
OR – – – 1 cup Wondra flour or semolina flour
few springs parley
salt and pepper
Directions
Bring the stock to a boil. Prepare the egg dumplings by beating the egg with the milk. I always add some salt and pepper to the egg mix to flavor the dumplings.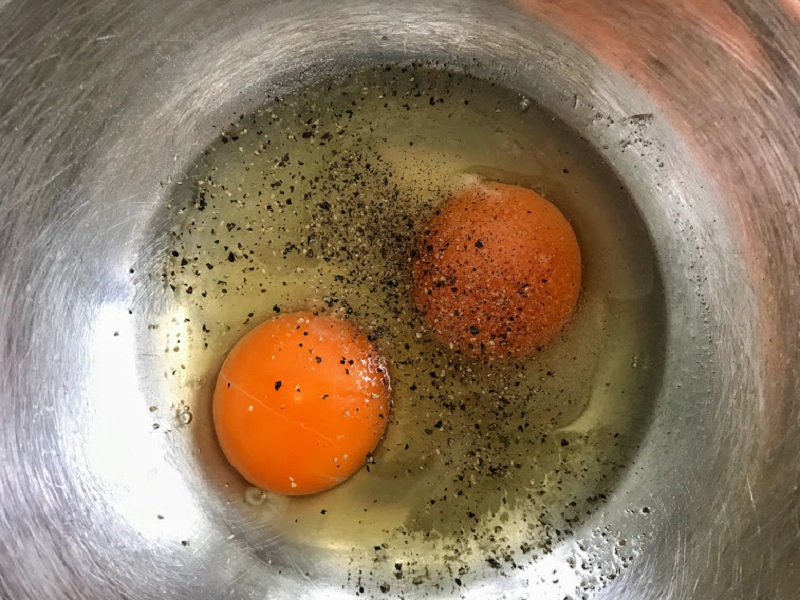 Why are my egg yolks so orange?
Because I only use 100% farm eggs from a local farm – and yes, you can taste the difference.
Using a wire whisk or spook, sift in the flour and cream of wheat and mix well.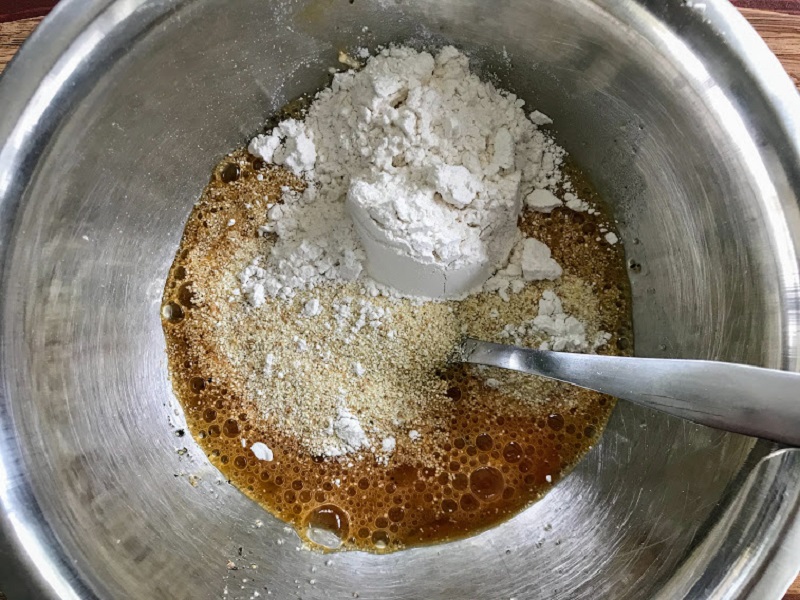 Depending upon the size of your eggs, humidity, the flour, etc. you may get a semi-wet dough or a harder dough you can work with your hands – either is fine for the soup.
If you have wet dough, use a fork or spoon to drop small pieces of the dough into the boiling stock. If you have more dry dough, you can use a grater and grate the dough into the boiling stock. You will need 4-5 minutes to cook the dumplings and the soup is done.
If you want to impress your friends and keep the stock very clean and clear, you can drop the dumplings into a pot of plain boiling water instead and cook them in there. After 4 or 5 minutes, drain them in a colander and add them to the soup when ready to serve.
In the past, I have also added beef (or chicken) and some freezer peas and carrots to make this soup more hearty, but it's delicious on its own. Classically, it's just the broth, egg drop dumplings, and a little parsley.
Garnish your broth with egg drop dumplingswith parsley and enjoy!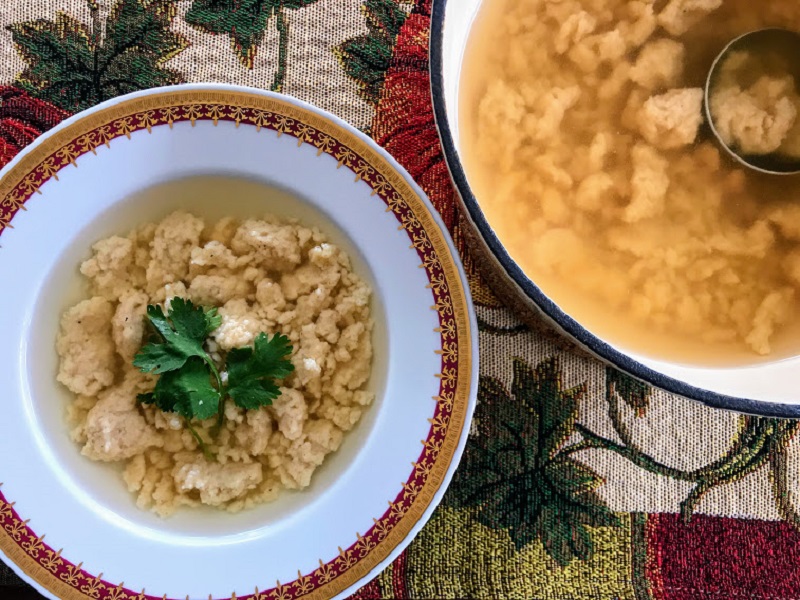 There is a recipe for this soup in the cookbook Traditional Czech Cuisine. I love this little cookbook because of the layout and the choice of recipes.
There are a few used copies on Amazon starting at just $3.00!
Thank you in advance for your support…
We know that you could spend hours, days, weeks, and months finding some of this information yourselves – but at this website, we curate the best of what we find for you and place it easily and conveniently into one place. Please take a moment today to recognize our efforts and make a donation towards the operational costs of this site – your support keeps the site alive and keeps us searching for the best of our heritage to bring to you.


Remember, we rely solely on your donations to keep the project going.
We appreciate you more than you know!
If you have not already subscribed to get TresBohemes.com delivered to your inbox, please use the form below now so you never miss another post.