Today I am sharing my recipe for Apple Strudel or as it is better know, Apfelstrudel. While it's famously known as a dessert from Vienna, it's actually not of Viennese origin. It was the Hungarians who who took their incredibly thin strudel dough from the Turkish delicacy Baklava and filled it with apples. Apfelstreudel became popular in the 18th century throughout the Habsburg Empire. Strudel is part of Austrian cuisine but is also common in other Central European cuisines.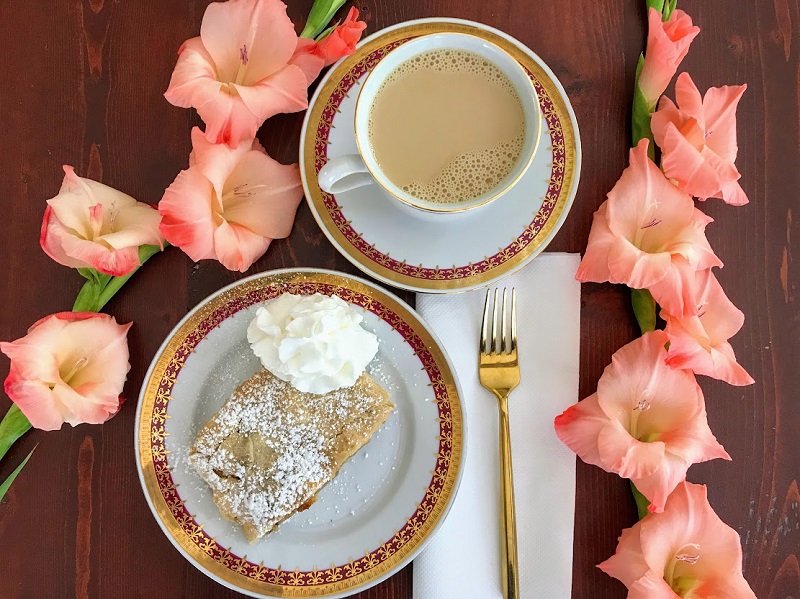 From the book The Cooking of Vienna's Empire by Joseph Wechsberg and his experience at Ch. Demel's Söhne in Vienna. "At Demel's the making of the strudel dough is a scared ritual. In Vienna it is said that you should be able to read your newspaper through the strudel dough. It should be thin as an onion skin."
(Demel (colloquially der Demel) is a famous pastry shop and chocolaterie established in 1786 in Vienna, Austria.)
"In the Demel kitchen there was a large table covered with a floured white tablecloth. The strudel makers put the pastry in the middle of the cloth and slowly rolled it out in all directions with a floured rolling pin. Then they began to work the dough with their hands. Slowly, gently and steadily, they pulled out the dough with their floured hands until it became thin, thinner, and finally, thinnest. It covered the tablecloth completely until the edges of the dough were hanging over the edges of the table. In most private homes, this is the moment of tension: one wrong move and the dough will tear."
This is important. You have to make this enough times to be able to feel if the dough is just right. A wet dough, it will stick and tear – a dry dough, it will tear. When I was making this one for my mom, it tore miserably and I did not use the table to roll it very thin because I could see how it was tearing.
The point is, it will not be as pretty or get stars like in a Michelin restaurant, but it will still be good and mistakes can be covered when you sprinkle powdered sugar on at serving time. I'm trying to encourage you to make it because many people stay away from this recipe because they have heard or read about the difficulty of making the dough.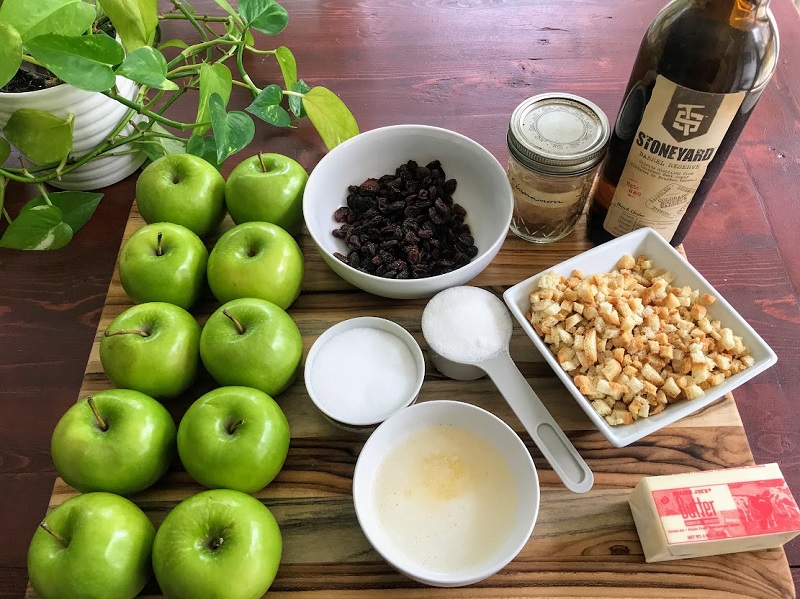 Now on to my recipe so you can enjoy delicious apple strudel (jablečný štrůdl).
Ingredients
For the dough –
3 cups bread flour (all purpose flour will not do)
1 cup less 2 Tbsp. lukewarm water
1 egg
4 Tbsp. soft or melted butter
1/2 tsp. salt
For the filling –
8 large granny smith apples, peeled, cored, and sliced
1/2 cup sugar
4 Tbsp. cold butter cut into small cubes
2 tsp. cinnamon
1 tsp. lemon peel
3/4 cup raisins (soaked in rum and drained if you wish)
3/4 cup chopped walnuts (you can omit if you don't like nuts)
1 roll or 3 slices of bread, cubed very small and toasted on a baking sheet until golden.
Powdered sugar and whipped cream for garnish.
Directions
I have never made this by hand because I have a Kitchen-Aid which does the work for me.
In a small mixing bowl, I combine the water, egg, melted butter, and salt. These should all be at room temperature. Place the flour in your mixer and add the wet mixture to it.
Mixing – Stir by hand for at least 6 minutes, or if using mixer with pastry arm or Kitchen-Aid, 3 or 4 minutes should do the trick.
Kneading – Traditionally, strudel dough is kneaded by repeatedly lifting it and then throwing it down on the table for about 10 minutes. You can do it that way if you want an excellent arm workout. Or, you can leave it in the Kitchen-Aid and knead on medium setting for 7-8 minutes or until it becomes very smooth and elastic.
ELASTIC is the key work to this dough.
Form the dough into a ball, place it on a floured surface and cover it with an inverted warmed earthenware bowl.
Let the dough rest for 30 minutes.
Preheat the oven to 375°F.
Meanwhile, make your strudel filling.
I either toast the bread and then roughly chop it, or I use the pulse setting on my food processor to prepare the bread crumbs. Sometimes I have cut them up like tiny little croutons and fried them gently on some butter. I've also been lazy and cheated by using the packaged bread crumbs, but the result was not good, so my advice is to make your own.
I like to soak my raisins in some rum to give extra flavor, so you can do that too. Make sure you squeeze out all the liquid. (Note, the liquid you squeeze out is tasty in a hot grog mixture on a chilly night!)
In a large mixing bowl, mix the apples, sugar, cinnamon, lemon peel, raisins, and nuts (if using). My grandmother swore by grated apples and said that grating them is what made it "Czech". I find they cook too fast that way and the strudel gets soggier. I prefer nice chunky slices of apple.
Save the bread crumbs to sprinkle on when you roll the strudel, otherwise they will get soggy.
Hold off on the butter, too. You also add that when you are about to roll the strudel.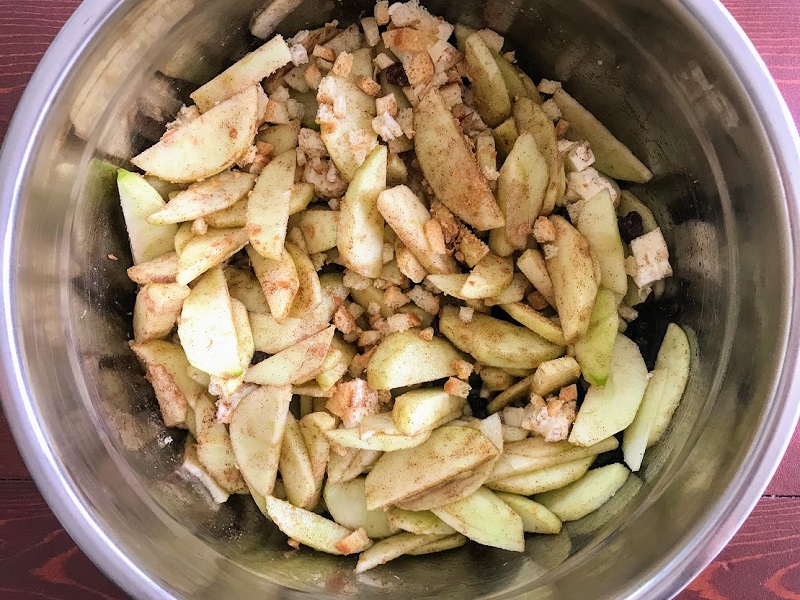 (Yes, I cheated here by adding the butter and bread crumbs, but that's because right after I mixed this, I placed it on the dough.)
Now, decide the best place to roll your strudel. A kitchen counter works, but it's too small to roll it to the desired thinness.  A dining room table is the best place. But this project makes a mess because the tablecloth you use to roll the strudel needs to be covered in flour, and should be somehow clipped to the table so it does not slide to and fro.
If you read the quotes above, you know the ideal for this kind of strudel. But you can see in my photo that I used the counter, I over-floured, and I had a couple of rips and tears. That's because I was focused on my moms cauliflower soup, and answering all of her questions about the movie we were watching. (Okay, I admit it – I was lazy!)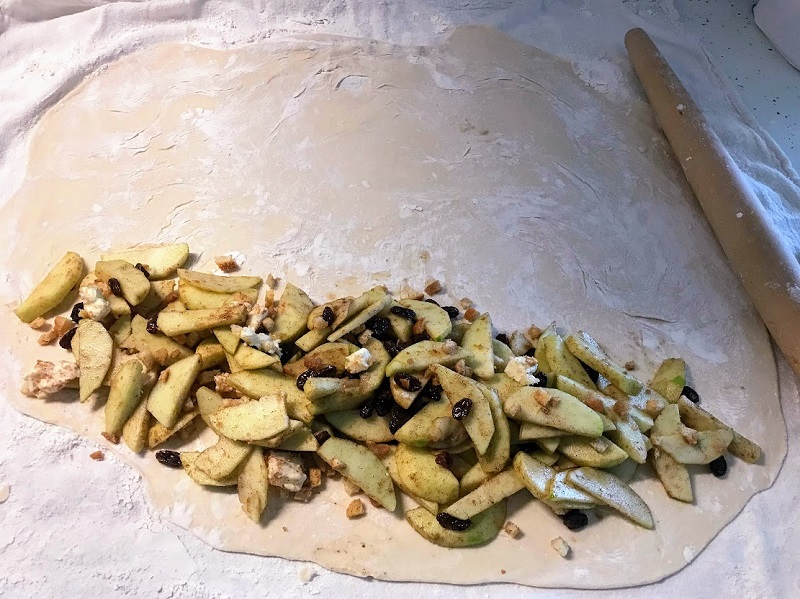 Again, the point is, I want you to make this strudel, and not be dissuaded by the recipe.
As you can see in the final result photo, it's still a pretty good looking strudel even if it does not have the light and flaky levels of crust.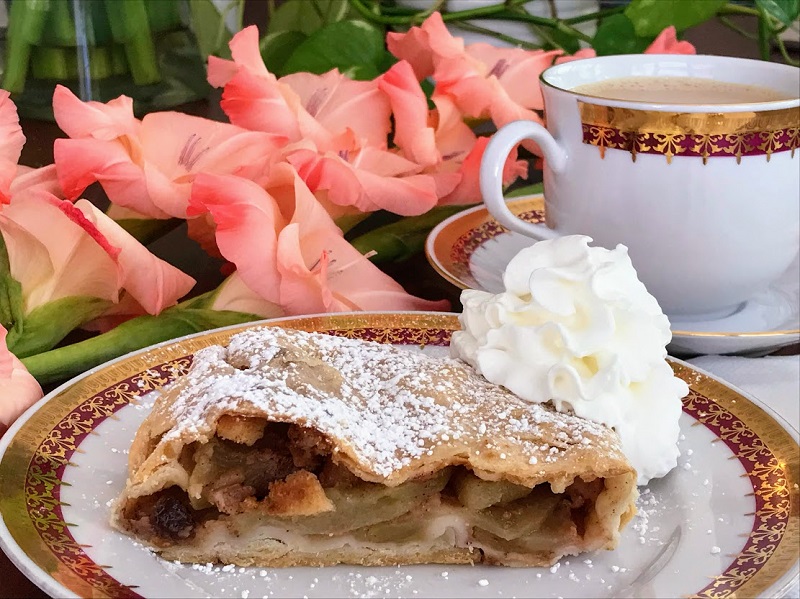 Now you should be looking at a large rectangle of dough. (Or at least something that somewhat resembles a rectangle.) On the skinner side of the rectangle's edge, put down the strudel mixture. It should be covering 1/5th of the space.
Use the melted butter to brush all of the exposed dough that doesn't have the apple mix on it. (Save a little to brush on top.)
You need to roll it ultra-thin and roll about 7 or 8 times to get the ultra-flaky look. This means you'll also place the dough on 1/8th of the dough before rolling. (Some people cheat and use Phillo dough for that flakiness, but I would rather lose the flakiness and have the genuine flavor of the dough.)
When you are ready to roll, sprinkle the apples with the breadcrumbs and dot with the little butter cubes.
Use the cloth to lift the apple end of the dough and begin to roll it up.
I use a large baking sheet covered with parchment paper, and, still using the cloth the last "roll" ends up on the baking sheet. The strudel is usually too big to fit, so I form it into a horseshoe shape. Use the remaining melted butter to brush over the top of the strudel.
Place in the preheated oven and bake at 375°F for 35 minutes. (Some chefs suggest baking at 450°F for 10 minutes and then educing the heat to 400°F for 20 minutes more to get a more crisp top. If your dough is paper thin, this is the better method, but if your dough is the lazy version, I recommend the 375°F setting.)
You can see in my photo below, on the left side, how it will flake. But I was lazy and saw it was tearing, so I gave up on rolling too thin, and this just had 2 roll overs. It still tasted fantastic!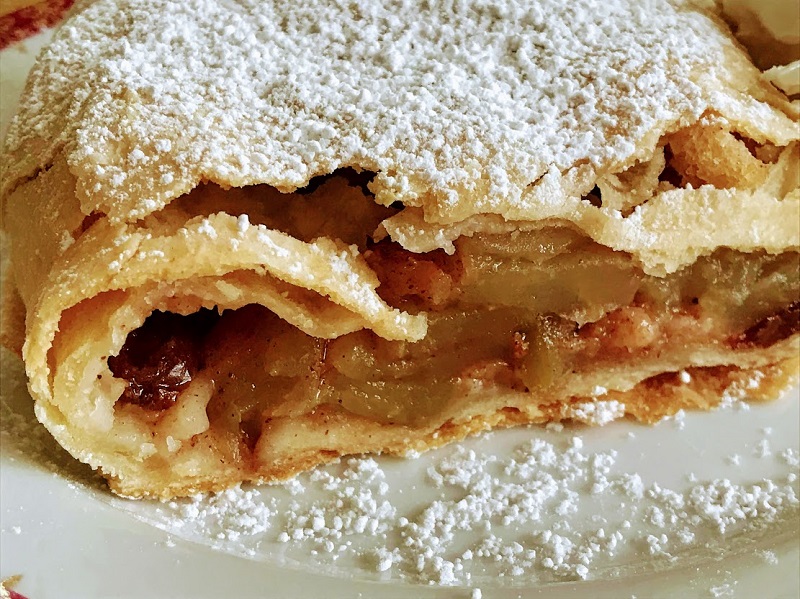 If you have read my recipes before, you know that I am all about experimenting and making it your very own.
I also gave up on trying to be any kind of perfectionist. I'm a firm believer of doing your best with whatever you've got at the moment. At the moment of making this strudel, running between my mom, more cooking on the stove, and making this come out even though I didn't have bread flour and I hurried and used a cold chunk of butter instead of melting it – it still came out tasting delicious!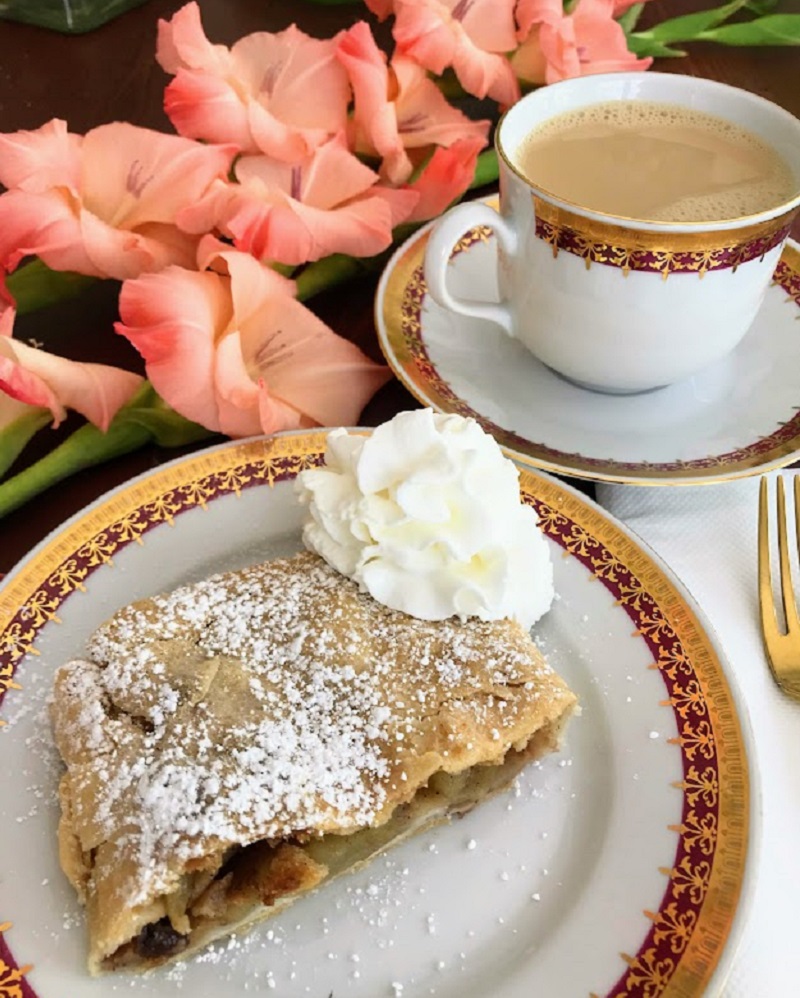 Sometimes I use golden raisins and I only use 1/4 cup. I've also made it with crushed almonds and crushed pecans, as well as using no nuts at all. Once I called it a Christmas apple strudel and I used dried cranberries soaked in Grand Marnier and crushed hazelnuts.
My hope is that you're not scared of the recipe and that you do your best to create a strudel that will make you think of the pastries served at some of the Bourgeois Art Nouveau Cafés of Prague.
Dobrou Chut!
Thank you in advance for your support…
We know that you could spend hours, days, weeks and months finding some of this information yourselves – but at this website, we curate the best of what we find for you and place it easily and conveniently into one place. Please take a moment today to recognize our efforts and make a donation towards the operational costs of this site – your support keeps the site alive and keeps us searching for the best of our heritage to bring to you.


Remember, we rely solely on your donations to keep the project going.
Thank you in advance!
If you have not already subscribed to get TresBohemes.com delivered to your inbox, please use the form below now so you never miss another post.