I just learned that there is a new film starring Ben Foster as the Czech hero Jan Žižka, entitled Medieval in the United States and Jan Žižka for Czechs. It is a historical epic which will hit Prague cinemas on September 8, 2022 alongside a limited release in other markets including the United States on September 9, 2022.  So if you're in the mood for a movie this weekend – this is the one to go to!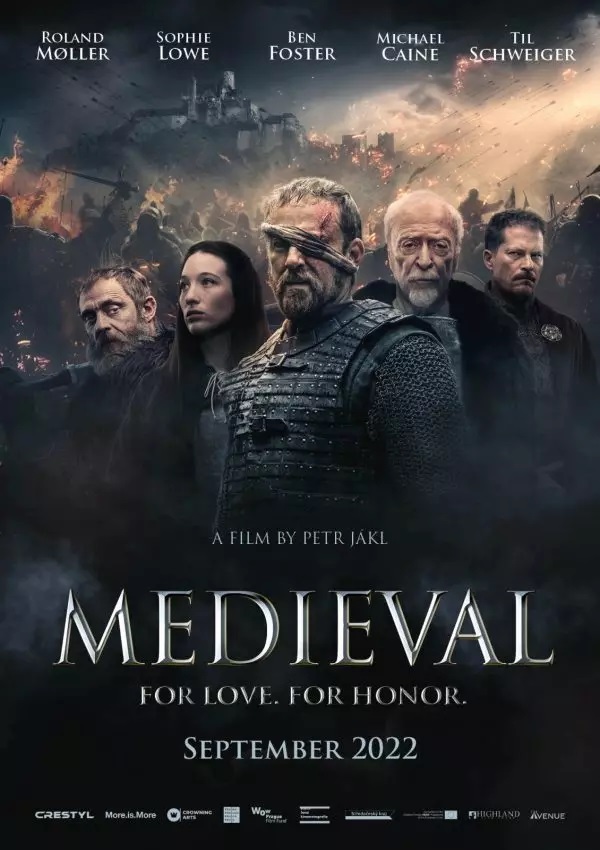 The film is inspired by the true story of Jan Žižka, one of the greatest warriors in history. After the death of its reigning emperor, the Holy Roman Empire is plummeting into chaos while feuding brothers King Wenceslas of Czech and King Sigismund of Hungary battled for control of the empty throne.
Daring and righteous mercenary leader Jan Zizka (Ben Foster) is hired by Lord Boresh (Michael Caine) to kidnap the powerful Lord Rosenberg's (Til Schweiger) fiancée, Lady Katherine (Sophie Lowe), to prevent Rosenberg's rise to power alongside the corrupt King Sigismund. Jan believes that Kings are the right hand of God and should be respected and obeyed, no matter what.
For honor. For justice. For freedom.
As Katherine becomes caught in a dangerous political game between the monarchs, Jan falls in love with her strong spirit and dedication to saving the people. In a brave attempt to liberate her, he fights back with a rebel army to battle the corruption, greed, and betrayal rampant amongst those clawing for power. Jan now realizes that the fate of the Empire will be decided by his love for Lady Katherine and that his fate doesn't lie in the hands of Kings, but in the hands of his own people.
Watch the trailer now…
At an estimated budget of $500 million crowns (approx. $22,000,000), Medieval is being billed as the most expensive Czech movie ever made. The movie was shot four years ago, during the summer of 2018, ahead of a lengthy post-production process that included postponements due to the pandemic.
Alongside Foster as legendary 14th century general Jan Žižka, Medieval also stars Michael Caine, Til Schweiger, Sophie Lowe, Roland Møller, Matthew Goode, William Moseley, Marek Vašut, and Karel Roden as King Wenceslas IV.
Medieval was written and directed by Petr Jákl, a former stuntman and actor who appeared in Prague-shot Hollywood movies such as xXx and Alien vs Predator.
Below is another trailer for the film…
Website for the film is here.
List of full film cast and crew is here.
Theatrical Release: September 9th, 2022
On Digital & Streaming: October 31st, 2022
Original Language: English
Production Companies: Three Brothers Production, JBJ Film
Thank you in advance for your support…
We know that you could spend hours, days, weeks and months finding some of this information yourselves – but at this website, we curate the best of what we find for you and place it easily and conveniently into one place. Please take a moment today to recognize our efforts and make a donation towards the operational costs of this site – your support keeps the site alive and keeps us searching for the best of our heritage to bring to you.


Remember, we rely solely on your donations to keep the project going.
Thank you in advance!
If you have not already subscribed to get TresBohemes.com delivered to your inbox, please use the form below now so you never miss another post.