Christmas is most suitable for culture and tradition. And Old Bohemian mushroom Podkrkonošský hubník certainly belongs among the traditional dishes served in Bohemia and Moravia of the olden days. If you imagine yourself living somewhere under a large castle on farmlands and the edges of forests, it's quite likely you did not have a goose or a carp. So what did people eat on Christmas back then?
While waiting impatiently for the arrival of the golden pig, many close to the forests used mushrooms in their Christmas dinners because they were plentiful, flavorful and well, free! The traditional mentions in very old cookbooks mention Podkrkonošský hubník which is also known as Krkonošský houbový Kuba, houbanec, or just hubník.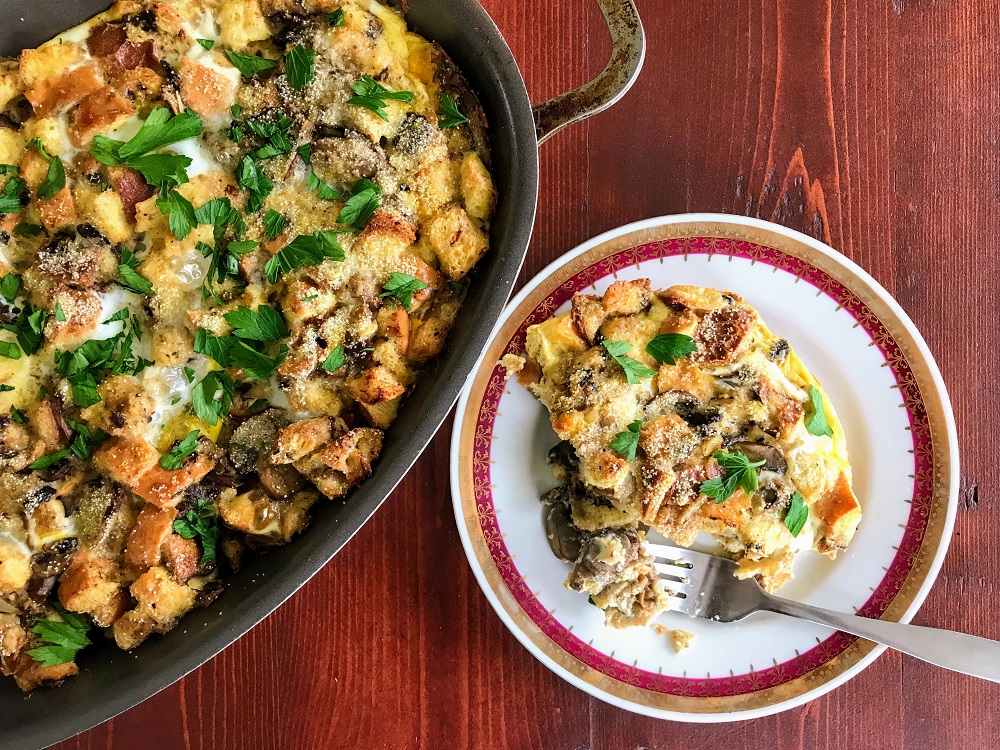 So to answer the question of what did people eat before carp – I believe that this is most likely what occupied the Christmas Eve tables of our ancestors. At a time when there was no hint of carp or chlebíčky with potato salad on the holiday table, more earthy and simple dishes were offered. At that time, this popular food was also called černý kuba (or black kuba), allegedly according to the color of the large number of dried mushrooms that were added to this delicious dish.
Such recipes for Bohemian and Moravian mushroom delicacies were taken from historical recipes from the middle of the 16th century. Many of these dishes have survived to the present day, becoming traditional in their regions and well known. Again, such dishes were often prepared on a festive table, where they replaced expensive and inaccessible meat.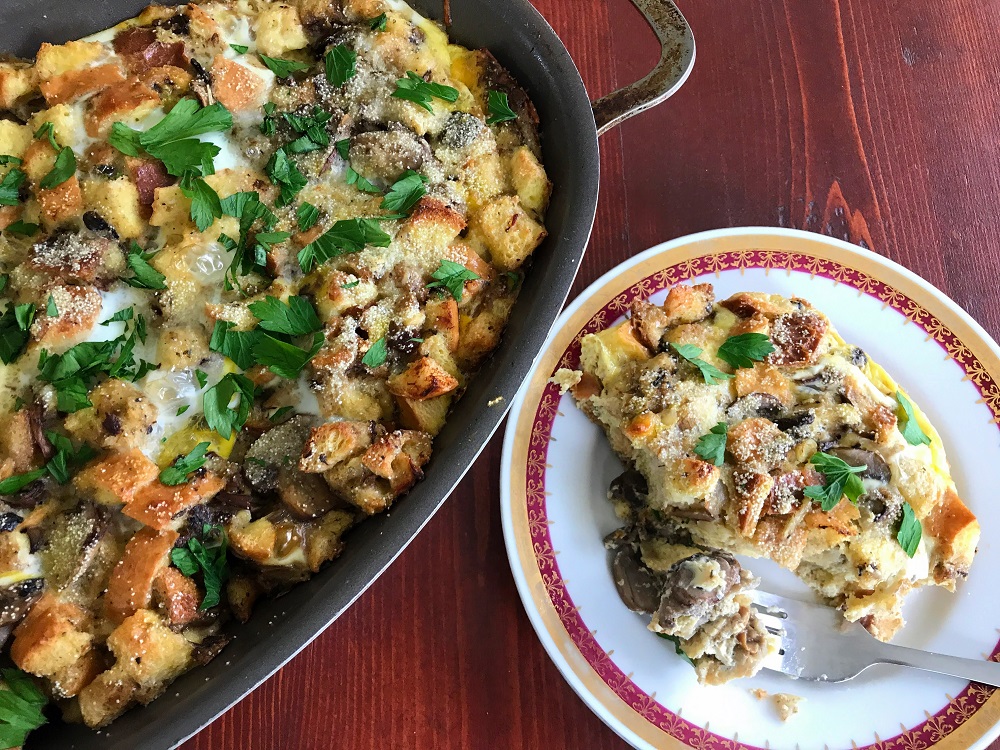 We've posted before about a Czech Mushroom Barley Risotto called Kuba and a Southern Bohemian Potato Mushroom Soup known as Kulajda. Make sure to click those links (they open in a new window) and save them for future meal ideas.
Today we are happy to share our recipe for Traditional Czech Christmas Wild Mushroom Recipe (which we call Podkrkonošský hubník). We enjoy this dish very much and are sure that vegetarian Czechs will be pleased that they can add this to their holiday table as a traditional Czech Christmas alternative. Dobrou chuť!
Ingredients
100 grams dried wild mushrooms
5 or 6 hard white rolls
1/2 cup milk
4 eggs
1 tsp. semolina flour or farina (a good substitute for Hrubá mouka) in this case
1 Tbsp. lard or butter (and more to grease pan)
1 onion, chopped
2 cloves garlic, minced
salt and pepper to taste
Directions
Begin the night before by soaking the dried mushrooms. Place them into cold water and allow them to soak overnight. The following day, cook the mushrooms in their juice adding just a pinch of salt. If they've soaked up all the water, add some more before cooking. Bring them to a boil, then cover and remove from heat.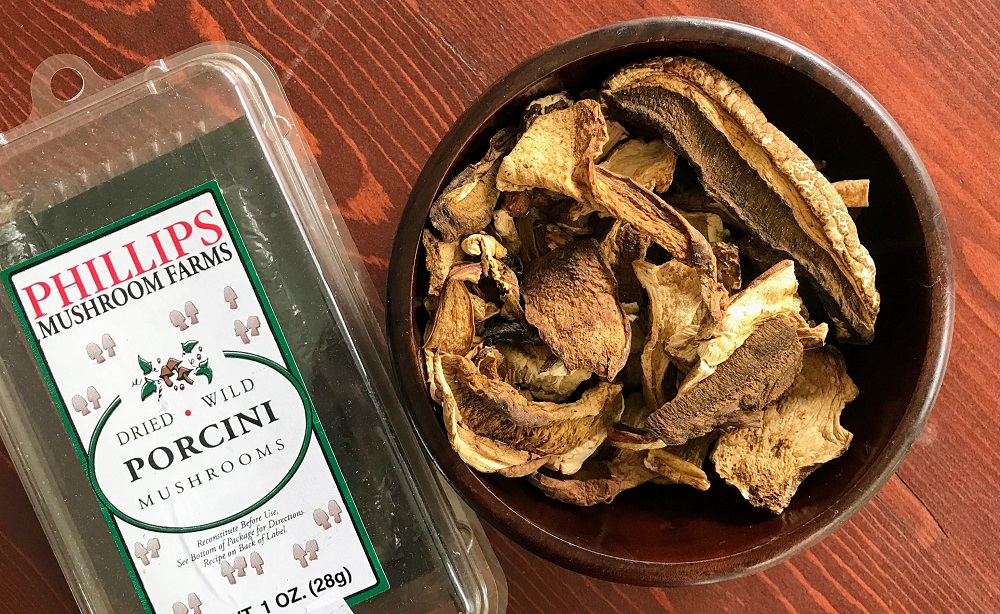 When they cool, chop them finely and set aside.
Note: Fresh mushrooms are not traditionally used in this dish, because the precious dried mushrooms take on their own strong flavor and aroma – but we have personally tried this by adding some fresh mushrooms as well and it's made it a little bit more moist. We enjoy both versions.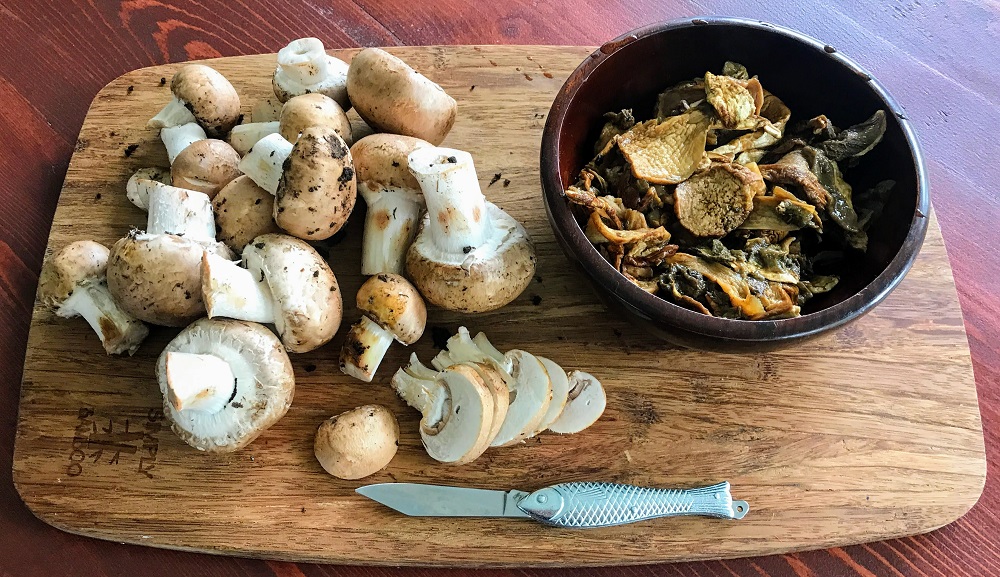 Meanwhile, slice or cube the rolls into small pieces (1/2 inch or so). Place the semolina into the milk and stir well. (Old recipes tell you to sprinkle it on after, but as you can see in the photos – it did not incorporate). In a separate bowl, beat the egg with salt and pepper and then pour over the bread/milk mixture and mix gently.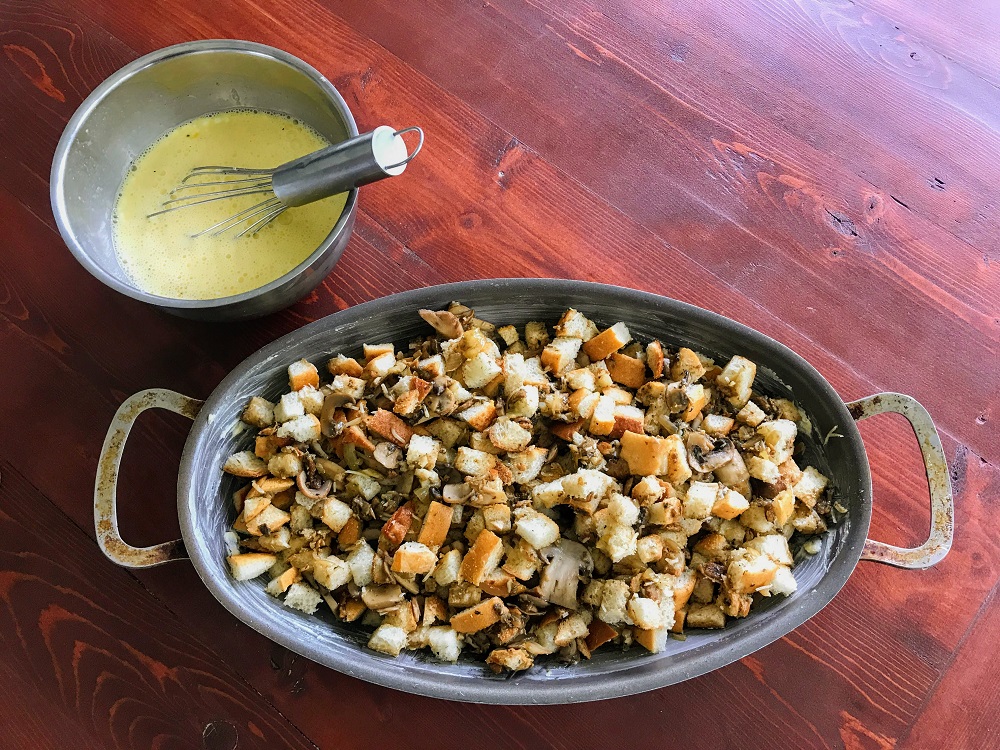 On the butter or lard, fry the onion until it begins to brown and then add the garlic. Remove from pan and add to the bread mixture. Finally, add the mushrooms. You want ONLY the mushrooms at this point and not the liquid (if there is any remaining). You can reserve the mushroom water for flavor in another dish, like soup! Make sure all ingredients are mixed well and incorporated, but don't over mix as that will turn it into a mush.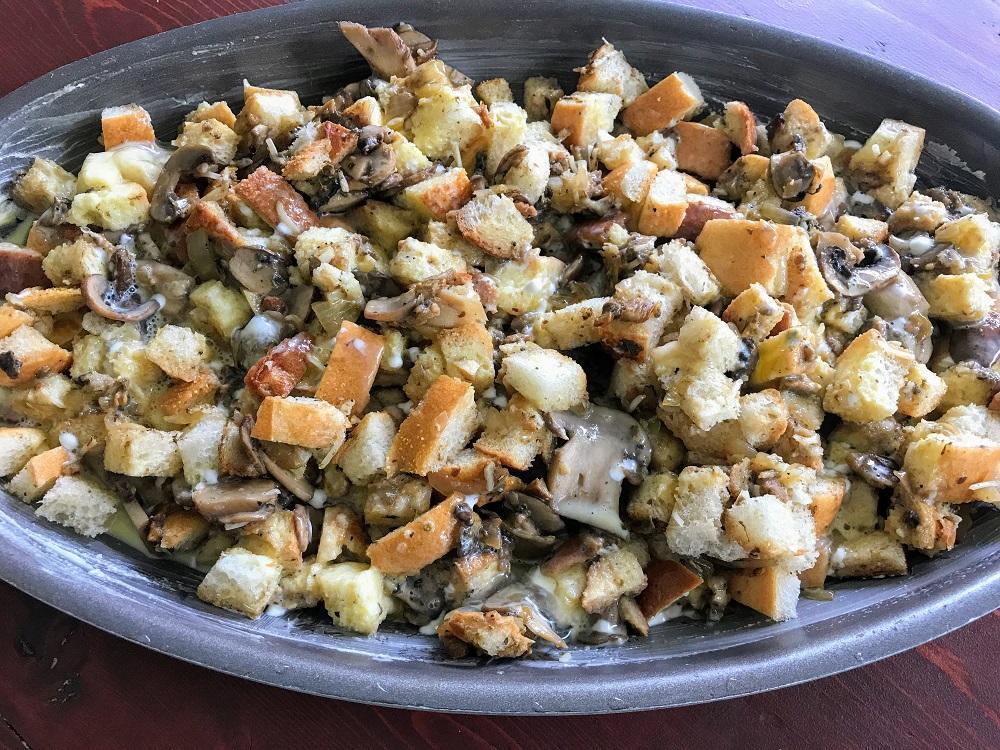 Pour the entire contents into a greased baking pan (9 x 13) and bake on 350 for 35-45 minutes or until golden on top and set throughout. Allow to sit and rest 15 minutes before slicing.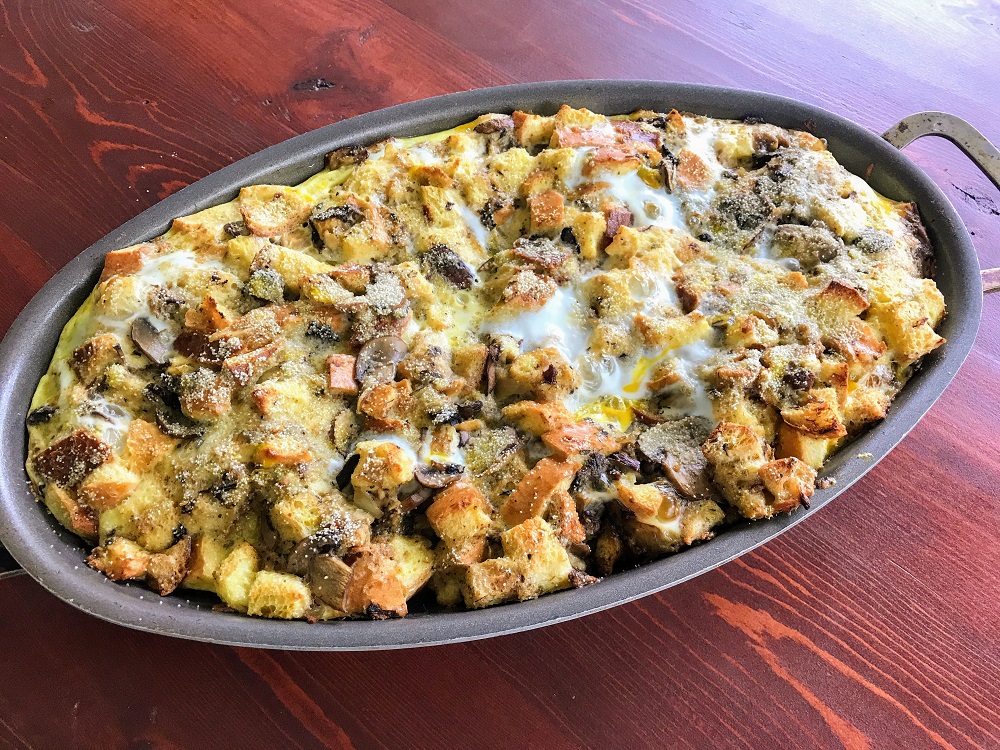 You can garnish Traditional Czech Christmas Wild Mushroom Recipe with fresh parsley or other favorite herbs you enjoy.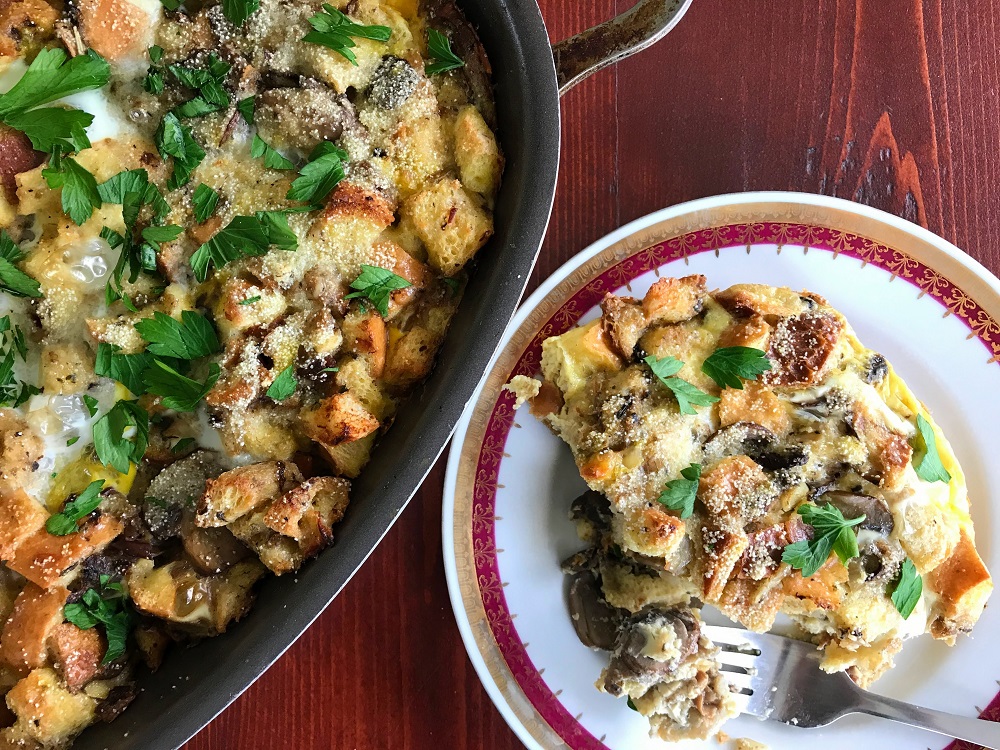 Note: We advise you purchase the best quality dried mushrooms that you can afford as the better the mushroom, the better this dish.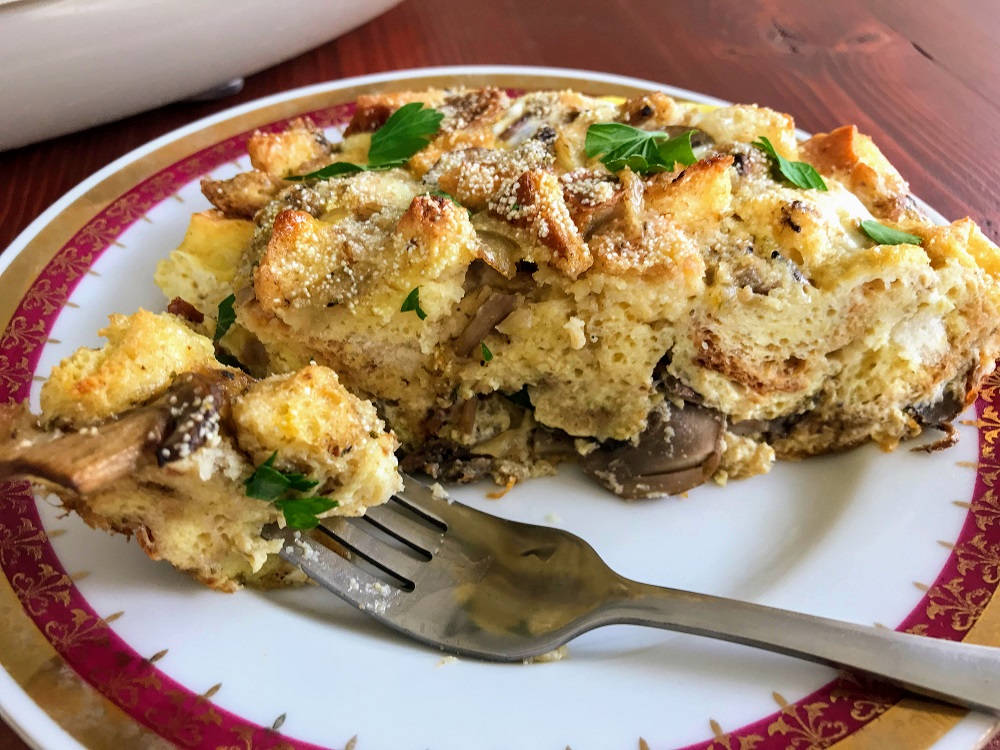 We hope you enjoy this Traditional Czech Christmas Wild Mushroom Recipe and hope you will share it with your friends.
Tomorrow, we'll share the post about the 100-Year-Old Czech Fish Knife you see in these photos.
Note: If you are an avid mushroom picker (or know anyone who is) have we got the gift for you!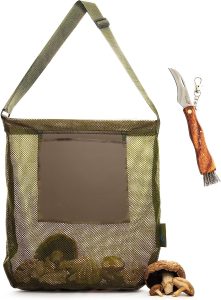 The Foraging Bag from VylerSky is an absolute game-changer for mushroom enthusiasts like myself! This kit includes a well-designed foraging bag and a top-notch mushroom knife, making it an essential companion for any outdoor adventure. The bag is spacious, durable, and perfect for storing your freshly foraged treasures, while the knife is sharp and precise, ideal for cleanly harvesting mushrooms. Whether you're a seasoned forager or just getting started, this kit will elevate your mushroom hunting experience. Plus, it's not only practical but also a stylish accessory for nature lovers. VylerSky has truly nailed it with this fantastic foraging kit! Click here to learn more.
* * * * *
* * * * *
Thank you in advance for your support…
You could spend hours, days, weeks, and months finding some of this information. On this website, we curate the best of what we find for you and place it easily and conveniently into one place. Please take a moment today to recognize our efforts and make a donation towards the operational costs of this site – your support keeps the site alive and keeps us searching for the best of our heritage to bring to you.


Remember, we rely solely on your donations to keep the project going.
We appreciate you more than you know!
If you have not already subscribed to get TresBohemes.com delivered to your inbox, please use the form below now so you never miss another post.