Who would ever imagine that sauerkraut would actually be tasty in a chocolate cake? Well, I thought the same thing about beets and now we make our Czech Style Fudgy Chocolate Cake regularly. Today's Czech Sauerkraut Chocolate Cake recipe is worth your time to try if you like chocolate cake. It will surely make for very interesting conversation at the dinner table!
Based on the amount of batter, I was thinking it may bake nicely in my 13″ rectangular pan, but I decided to make it in a 9″ springform pan and I did not test with a toothpick to see if it was done. I think it needed about 5-7 more minutes as my center sank a bit and was a little extra gooey in the center – but still very, very tasty.
The sauerkraut is strange to see in the cake. If you were to eat it with your eyes closed, you'd think it was probably coconut. That is the texture of it. But I did not chop it too finely, and instead went straight out of the can, so some of the pieces remained quite large. But it does add a certain moistness to the cake – but there is no sour taste in this Czech sauerkraut cake.
Ingredients
1/2 cup butter or sadlo (pork or duck fat, alternatively you could also use margarine or shortening)
1 1/2 cups sugar
3 eggs
1 tsp. vanilla or 1 envelope vanilla sugar
2 cups sifted flour
1 – 8 ounce can of sauerkraut (rinsed well, squeezed dry and chopped)
3/4 cups walnuts or pecans, finely chopped
1 tsp. baking powder
1 tsp. baking soda
1/2 tsp. salt
1/2 cup cocoa powder
1 cup sour cream
1/2 cup water
Directions
Preheat oven to 350F.
Cream together the sugar and butter until very light.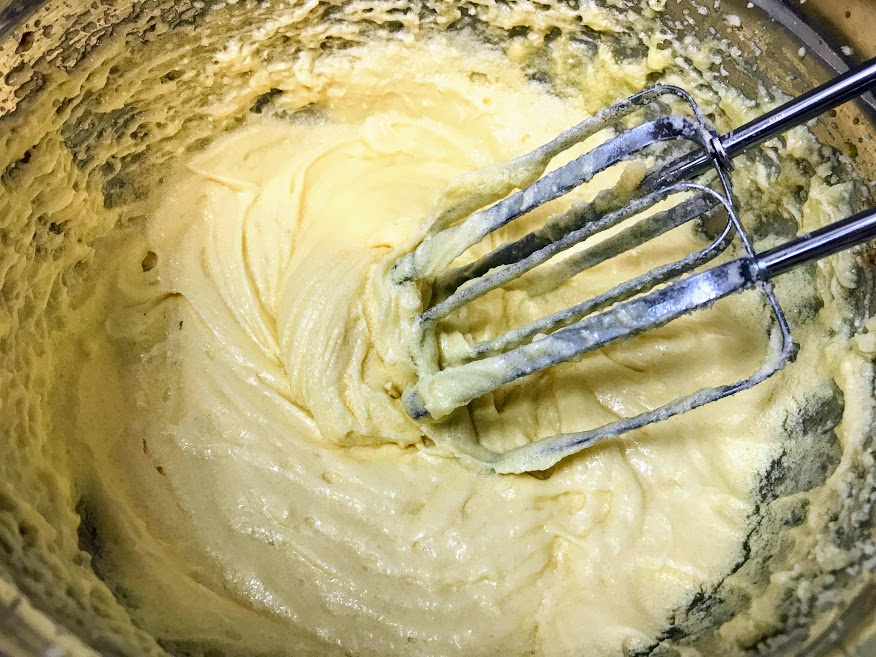 Beat in the eggs, one at a time. Add the vanilla.
Sift together the flour, cocoa, baking powder, baking soda and salt.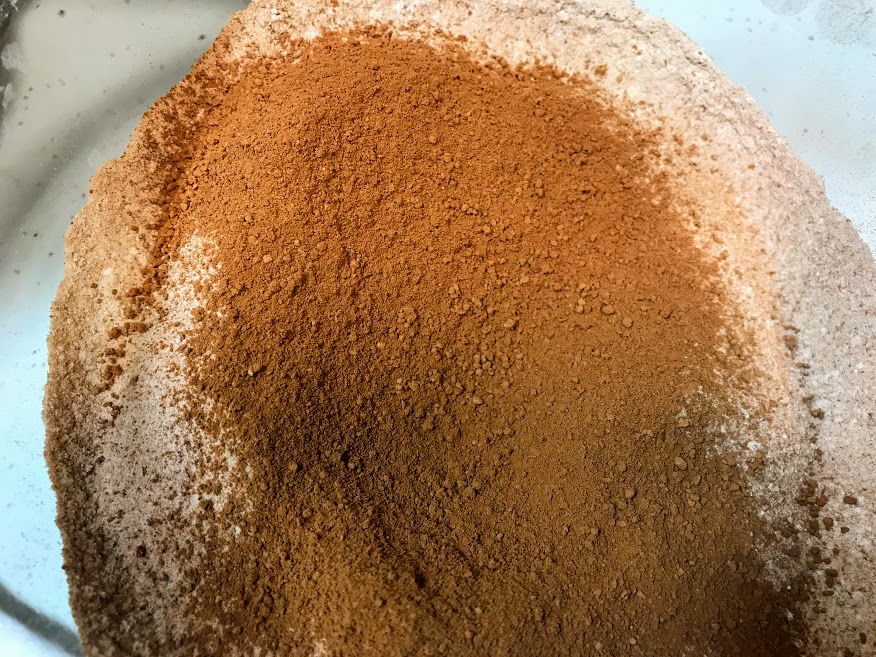 Add to the butter mixture alternatively with the sour cream and water, beating well after each addition.
Rinse the sauerkraut very well and then squeeze dry.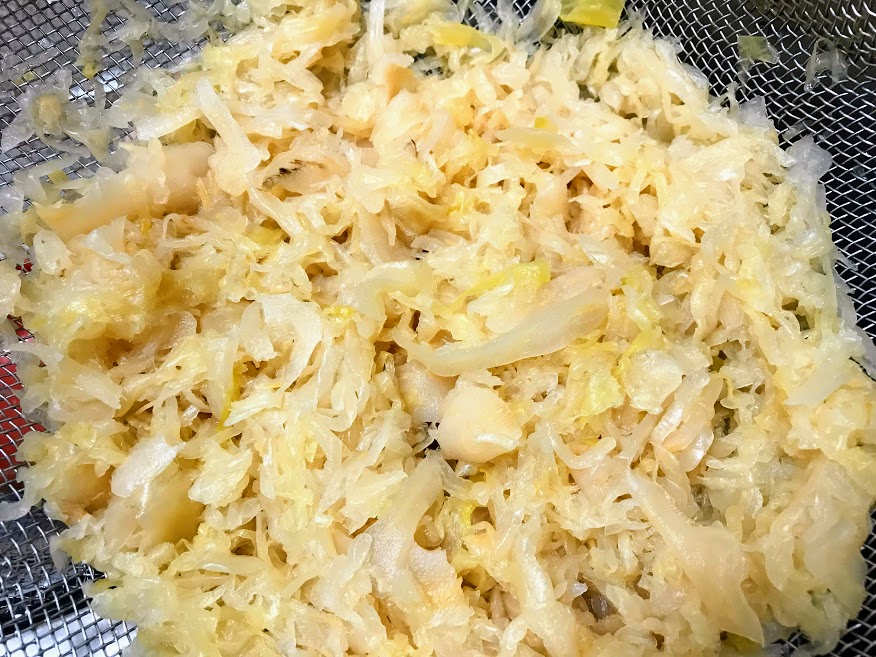 Chop it finely if you like. I was lazy and left it in the pieces that came out of the can. Then stir in the sauerkraut and chopped nuts.
Note: My family does not care for nuts in the cake, so I reserved them and then added them to the outside sides of the cake after I frosted it.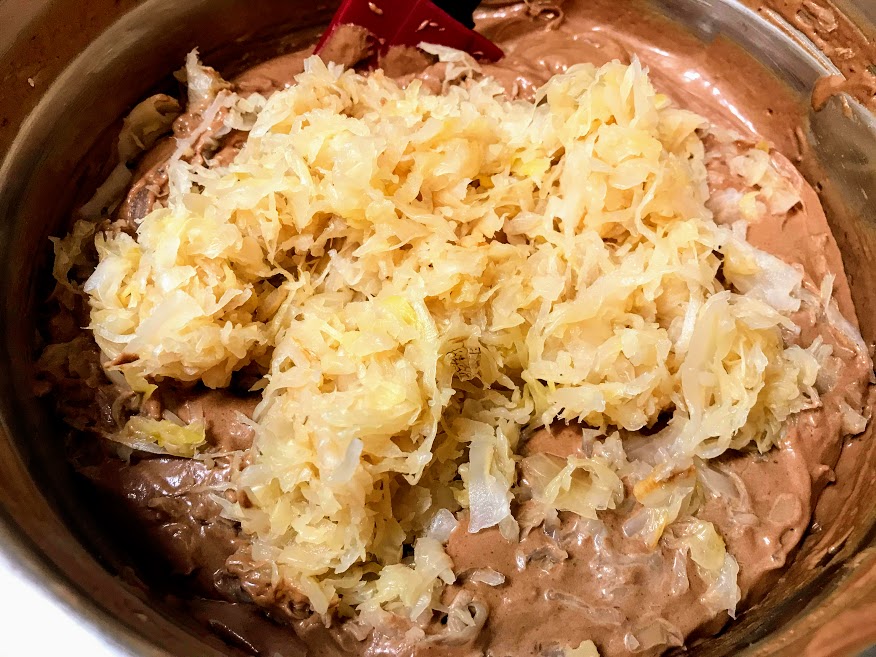 Until you have tasted it, the photo above will certainly make you cringe. Looking at it now (after eating the cake) it makes me laugh…
Pour the cake mix into a greased and floured baking pan. I recommend a 13 x 9 x 2 pan. Bake for 35 to 40 minutes. Cool in pan completely before frosting.
Note: If using a round springform ((9 or 10″) add at least 5-7 minutes to the baking time and make sure to test with a toothpick before removing from oven.
For the Frosting
Ingredients
6 ounces of semi-sweet chocolate (broken into pieces or chips)
4 Tbsp. butter
1 tsp. vanilla
pinch of salt
1/2 cup sour cream
2 1/4 – 2 3/4 cups powdered sugar
Directions
Melt the chocolate pieces or chips and butter (or margarine) over low heat. Remove from heat. Blend in the sour cream, vanilla and salt. Gradually add the powdered sugar to make a frosting like consistency. Beat well and spread over the cooled cake.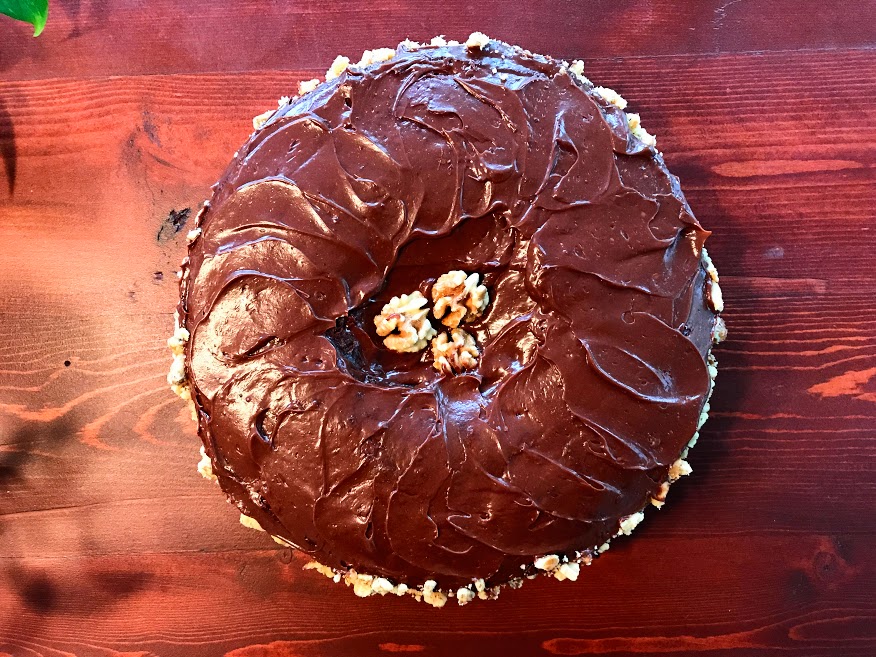 Note: If using the round pan, I frosted the sides as well and then holding it over the sink, I added the crushed nuts to the sides, all around the cake. I could not find my coffee grinder (where I normally ground my nuts) so I just put them in a ziplock and beat them with the rolling pin a bit. As you can see, the pieces stayed a bit too big.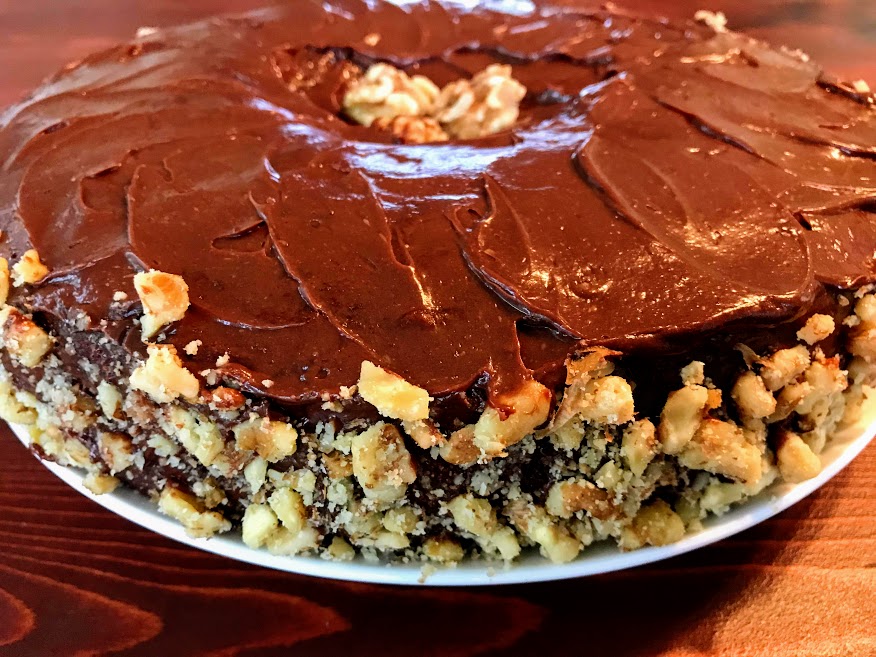 Nonetheless – the Czech Sauerkraut Chocolate Cake Recipe made a very moist, quite chocolatey cake and again, does not taste anything like sour cake or sauerkraut.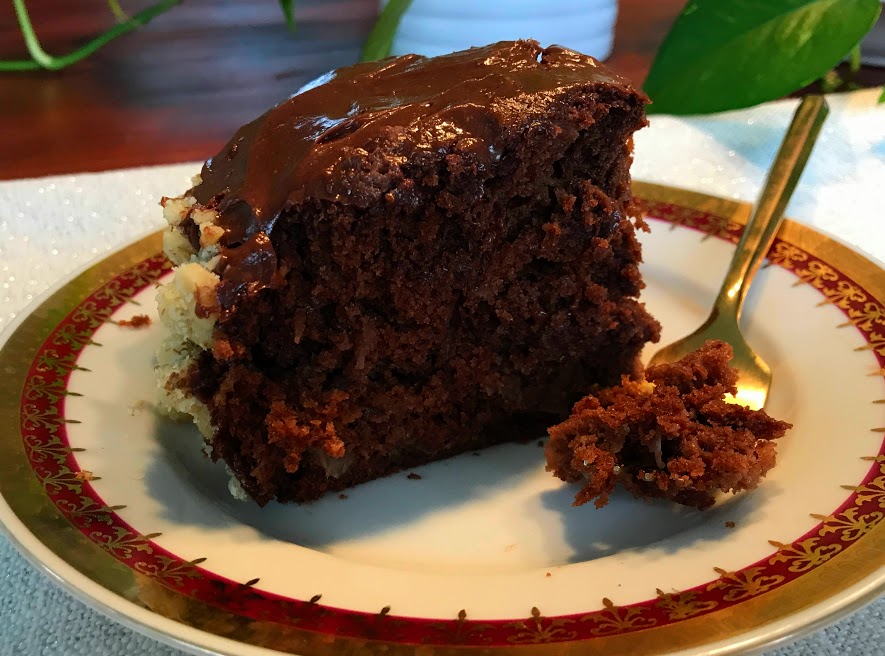 People who don't know will just assume that maybe it's coconut or zucchini… because it looks like regular chocolate cake.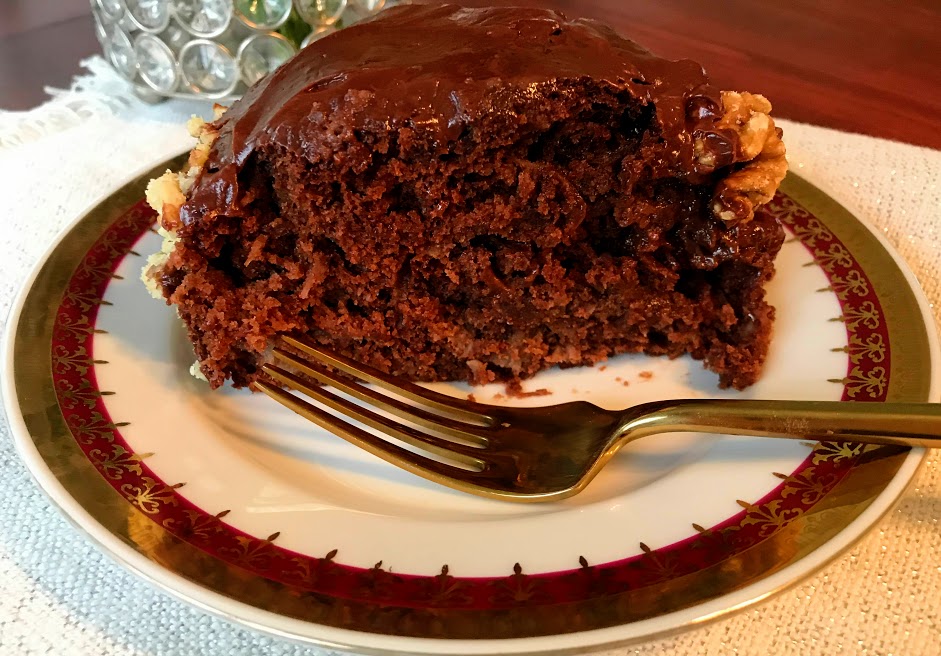 That is…
Until you get a bigger piece of sauerkraut.
But even then, you cannot really taste what it is.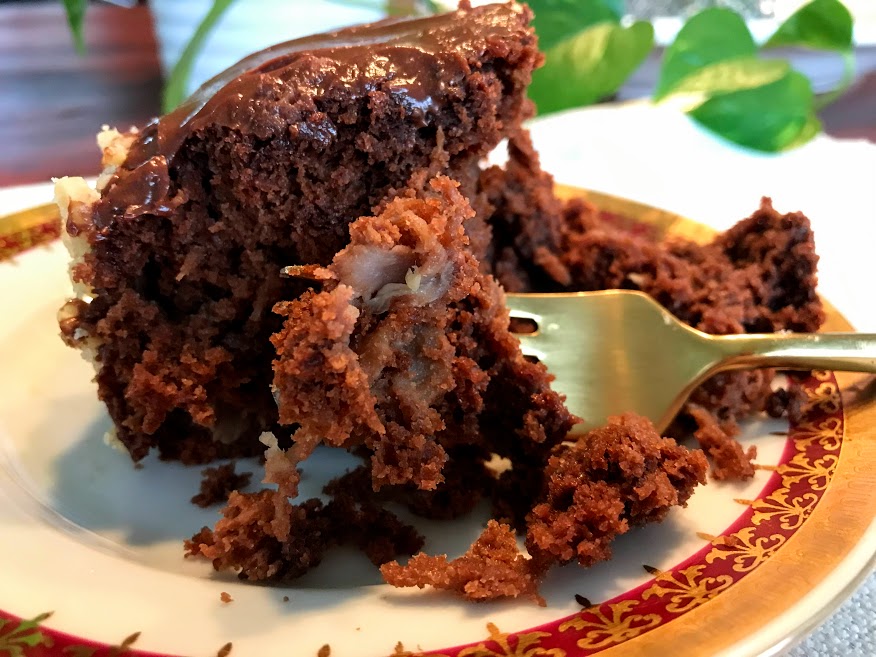 In any case, it was delicious. The family gobbled it up in a day, and everyone had seconds (or thirds) so we know it was a hit.
Let us know in the comments if you do try our Czech Sauerkraut Chocolate Cake Recipe – we'd love to know what you think!
We know that you could spend hours, days, weeks and months finding some of this information yourselves – but at this website, we curate the best of what we find for you and place it easily and conveniently into one place. Please take a moment today to recognize our efforts and make a donation towards the operational costs of this site – your support keeps the site alive and keeps us searching for the best of our heritage to bring to you.

Remember, we rely solely on your donations to keep the project going.
Thank you in advance!
If you have not already subscribed to get TresBohemes.com delivered to your inbox, please use the form below now so you never miss another post.