Beets are a popular crop in the Czech Republic and they are used in both sweet and savory dishes, in both cooked and their raw state. Today we made čokoládový dort z červené řepy which literally translates to chocolate cake from red beets.
I know, I know… it sounds strange.
But I promise you that you won't taste the pureed beets, but they are the secret that make this cake extra moist and play up its deep chocolate flavor. In fact, the beets make the cake so moist, that's why we call it Czech Style Fudgy Chocolate Cake.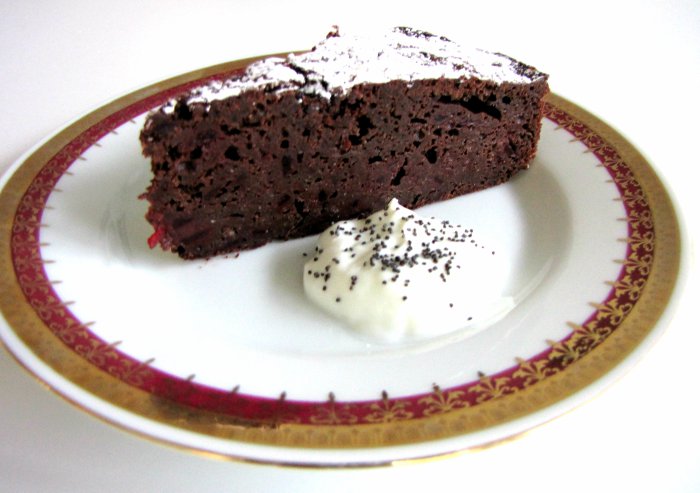 The beets in this delicious dessert not only add antioxidants and a wealth of nutrients, including folate, manganese, potassium, and copper, but they also add moisture, which means you need less oil or butter, and a natural sweetness, eliminating the need for additional sugar.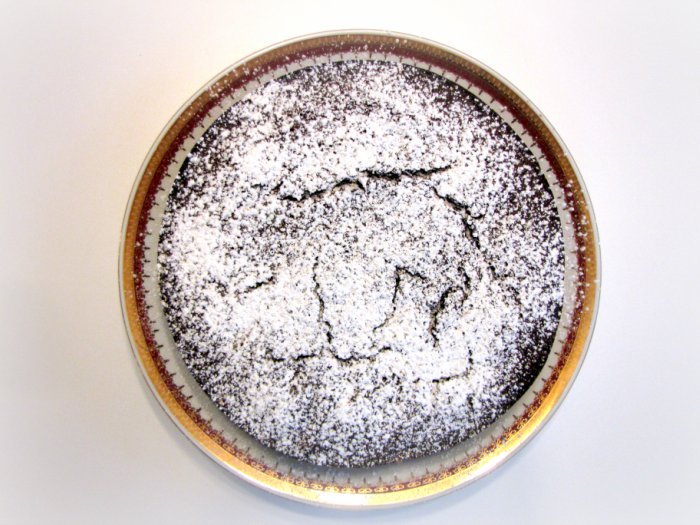 In other words, this cake is a superfood, especially when you use raw cacao and chocolate bars.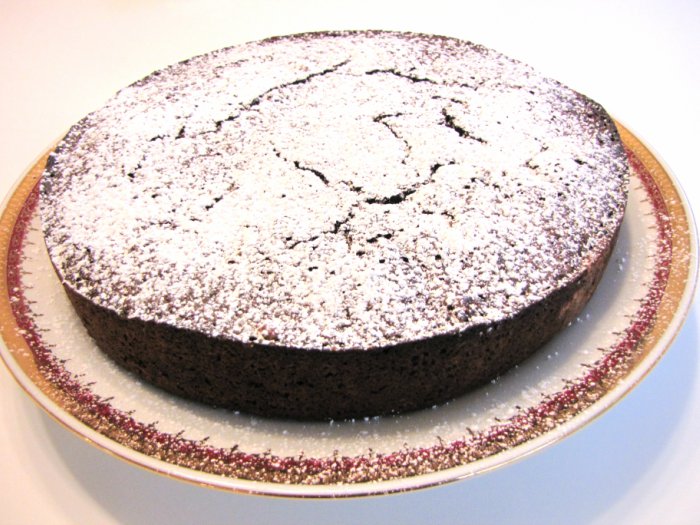 Ingredients
4-6 large beets
1 large chocolate bar, chopped (we use a dark 70% bar)
1 1/2 sticks of butter
1/3 cup extra strong hot coffee or espresso
5 eggs, separated and at room temperature
1 1/3 cups sifted flour
1 cup sugar
1/4 cup cacao (unsweetened or raw)
1 1/2 teaspoons baking powder
pinch of salt
Directions
Wash the beets and place them into a deep pan filled with water. Boil for 45 minutes or until fork tender.
Spray or butter a springform pan and place a sheet of parchment on the bottom. (I always place the sheet and then lock the pan, then I pull the sheet ends to make it tight and then spray.)
Drain and rinse the beets with cold water. When cooled, cut off the ends and the peel them. Grate the beets or cut them into chunks and chop them in a food processor. You want to break them down into a puree without any big chunks.
While the beets are cooling, you can melt your chocolate. Break up the chocolate bar and place in a large metal bowl set over a pan of simmering water. When almost melted, add the butter cut into smaller pieces. Try not to mix this too much – just enough to stop the chocolate from sticking to the bottom. When it is all melted, add the coffee and set aside.
Preheat the oven to 350ºF.
In another bowl, sift the flour, baking powder, salt and cocoa powder together and set aside.
Whip your egg whites and when stiff peaks begin to form, add the sugar a little at a time. Set aside.
Going back to the melted chocolate, take the egg yolks and whisk them into the mix and then fold in the beet puree. You now have three bowl, a wet mixture, a dry mixture and the whipped egg whites.
Gently mix the whites into the wet mixture until incorporated and then fold in the dry mixture and be careful not to overmix.
Pour the batter into your prepared pan and reduce the oven temperature to 325ºF.
Bake for 45 minutes. The cake should be set on the sides but the middle should still be a little wobbly – that is how it is supposed to look. You do not want to over bake the cake.
Let the cake cool completely, then release the spring and remove it from the pan.
This cake is pretty with just a light dusting of powdered sugar on top.
We find that it tastes better on the second day and it can be accompanied by some crème fraîche, fresh berries, or even a drizzle of quality chocolate syrup.
Enjoy and go ahead and have that second piece.
Remember, it's a superfood cake after all.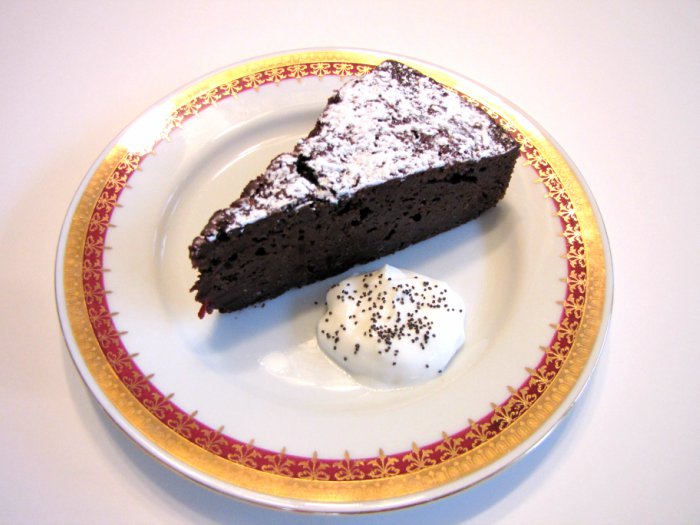 If you have not already subscribed to get TresBohemes.com delivered to your inbox, please use the form below now so you never miss another post.
---
Remember, we rely solely on your donations to keep the project going.
Become a friend and get our lovely Czech postcard pack.