A delicious meal shared by peasants and kings alike, and it's gluten-free! This is a Czech peasant dish for "adjusted" potato mash with fried onions. In Czech it is called Nastavovaná kaše s osmaženou cibulkou. Nastavovaná means that it has been 'adjusted' and by this we mean that nutrients coming from another ingredient have been added. In today's recipe for Bohemian Potato Mash with Fried Onions, the addition we are using is buckwheat.
This delicious meal is a traditional porridge dish and an example of true folk cuisine from both the Bohemian and Moravian regions. It remains an inexpensive and simple food, but tastes rich and hearty and has been eaten for centuries. The mashed potato is 'adjusted' by buckwheat to make the food more nutritious. It will surprise you with its delicious taste and you'll be filled and satisfied.
A note about buckwheat (or kasha as it is more commonly known in the United States). It's name is a little deceiving because it's called buckwheat but there is no relation to wheat – none whatsoever!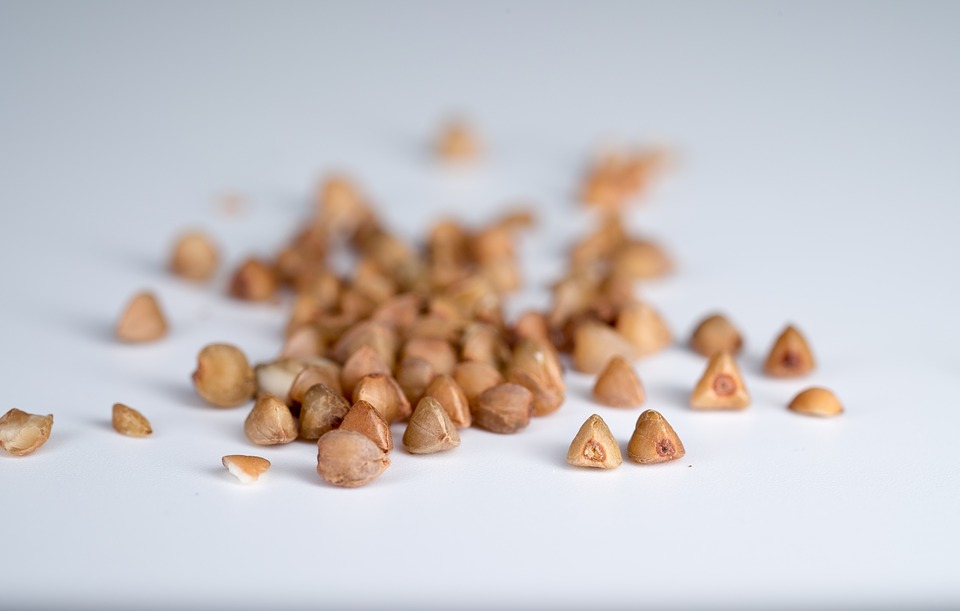 While many people think that buckwheat is a cereal grain, it is actually a fruit seed that is related to rhubarb and sorrel making it a suitable substitute for grains for people who are sensitive to wheat or other grains that contain protein glutens.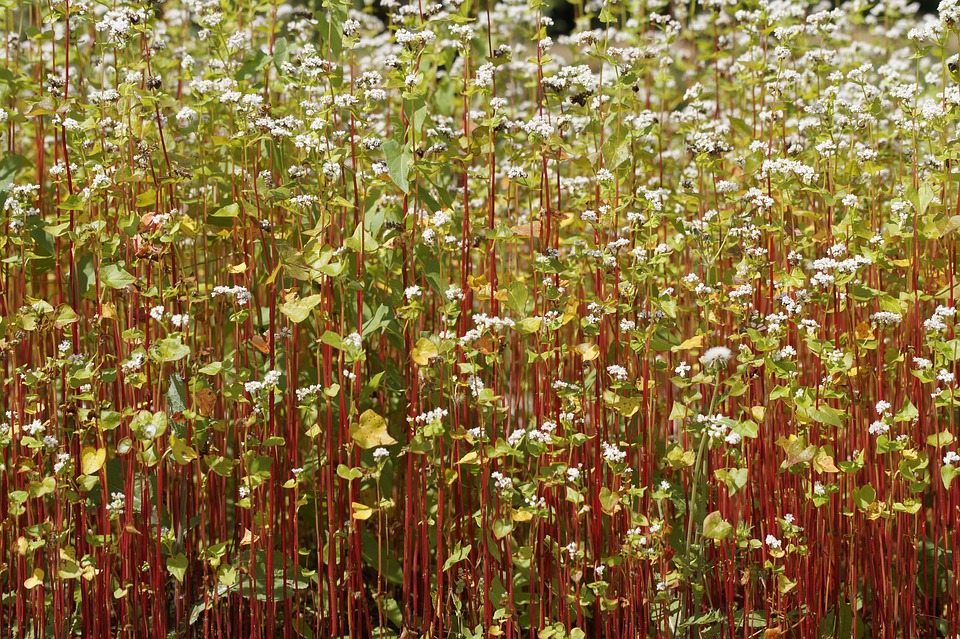 That's correct. Buckwheat is also completely gluten free! In fact, it is a rarely used yet delicious and nutrient-rich superfood that you probably do not know about.
Buckwheat contains vitamins C and B, rutin, lecithin, iron, magnesium and manganese. It has been shown to maintain a good vascular system, and therefore buckwheat has been recommended for people with varicose veins, as well as celiac patients, because it contains no gluten. This fun "grain" is shaped like a pyramid and is a complete protein, containing all 9 of the essential amino acids.
Now if you are thinking 'grape nuts' and imagining some kind of hard and chewy wheaty gruel, you will be mistaken. It's lighter and fluffier than rice!
Buckwheat porridge is easily digestible and is suitable for weakened pancreas. In fact, it's an anti-breast cancer food and ideal for post menopausal women. Learn more about all the nutritional properties of buckwheat here.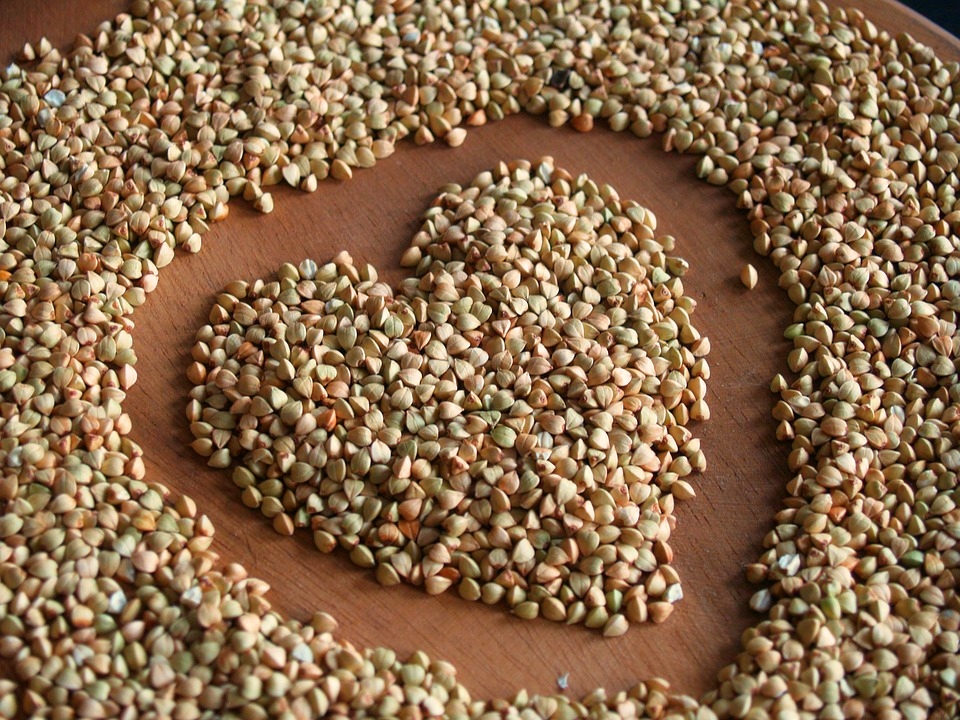 Buckwheat is one of the grains that cannot be genetically modified (GMO). The ones I purchase come from Russia, and they don't make any GMO products. I buy them online because when I went to the local health food store, they only had one kind of buckwheat and the kind they sold was not roasted. Thus, it will not give you the nutty flavor as much as the European versions which in my experience, come roasted. So, I went to Amazon and ordered a quality Russian buckwheat (6-pack) which had nice reviews. Two days later, and I am making this yummy dish and will most likely make it as a porridge at least 3 times a week.
Czechs cook with buckwheat regularly and often swap it out for barley in recipes. In Czech, it is called pohanka. Ask a Czech – they'll tell you! Here in the United States however, buckwheat it is quite under-appreciated.
Today you get to learn how very healthy and scrumptious it really is – and this is the perfect recipe to introduce you to it.
Step One – Prepare the Buckwheat
Ingredients
1 cup toasted buckwheat groats
1 3/4 cups water
1-2 Tbsp butter to taste
salt to taste
Directions
You will prepare this just as you would rice.
Rinse and drain the buckwheat well. In a medium saucepan, combine buckwheat with 1 3/4 cups water, butter, and salt. Bring to a simmer then cover with a tight-fitting lid and simmer on low for 18-20 min.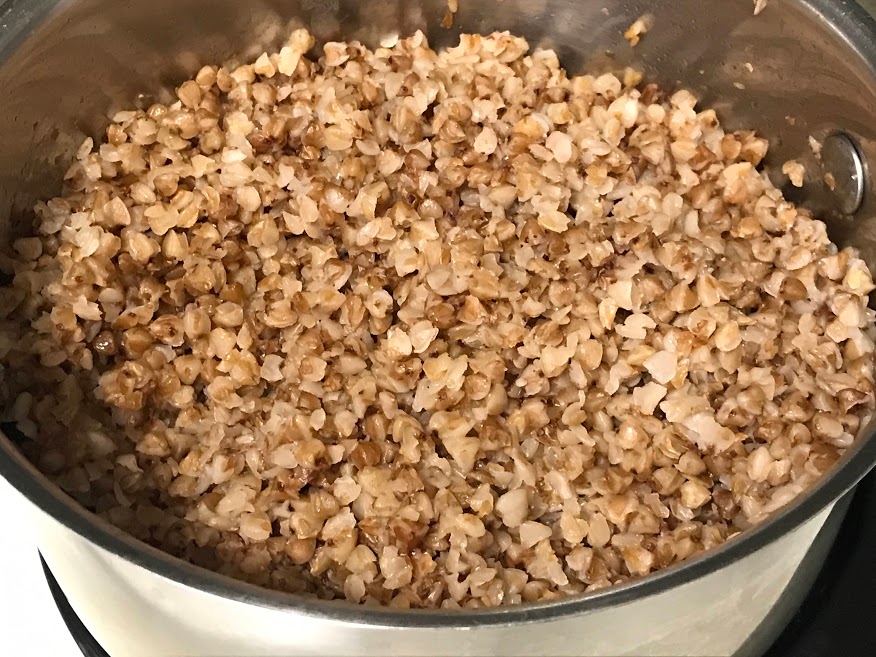 Rinse with cold water and set aside.
Step Two – Prepare the Bohemian Potato Mash with Fried Onions
Once you start Step One, you can immediately start Step Two.
Ingredients
6 or7 medium size russet potatoes
3/4 – 1 cup milk (heated prior to use)
marjoram to taste
salt and pepper to taste
2-4 garlic cloves, crushed
2-3 Tbsp. butter (optional)
2 Tbsp. goose fat, duck fat or lard (you can also use butter)
1 large onion, sliced thin
Directions
Peel and cut the potatoes and boil them in salted water until soft (about 20 minutes).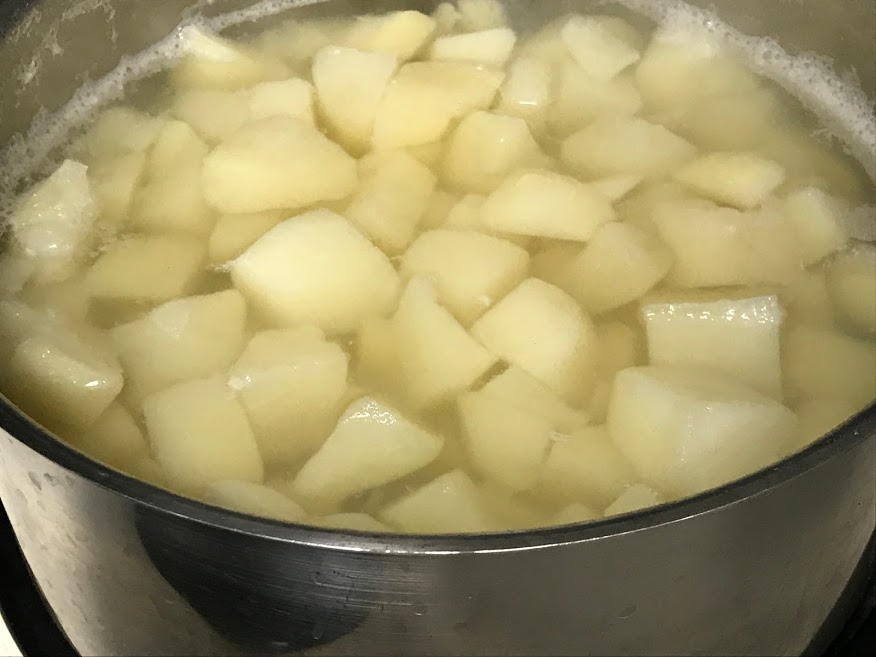 Meanwhile, melt the fat (or lard) and fry the sliced onion.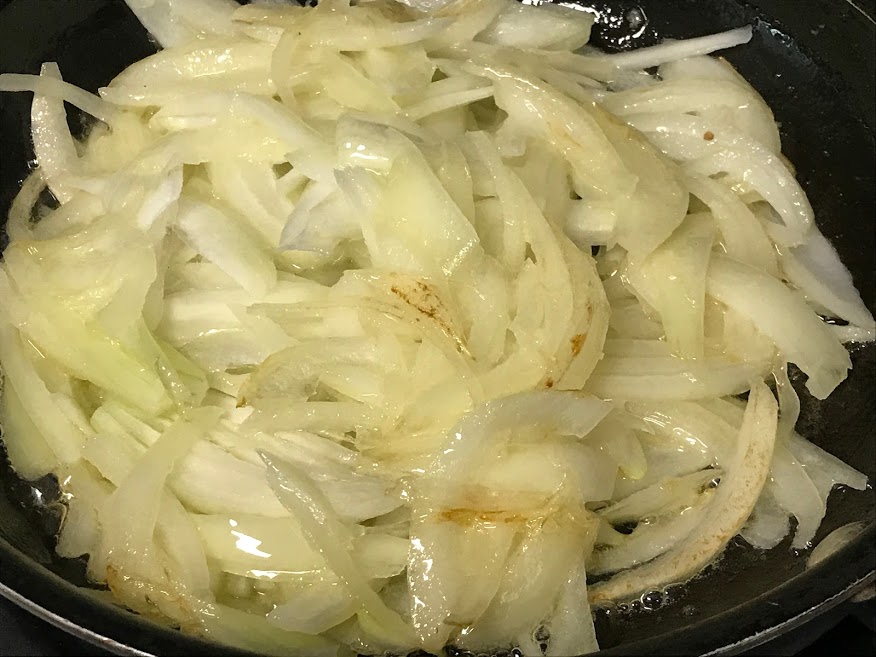 You want to fry it on medium heat, stirring often to get it a nice golden brown color. Keep on low heat.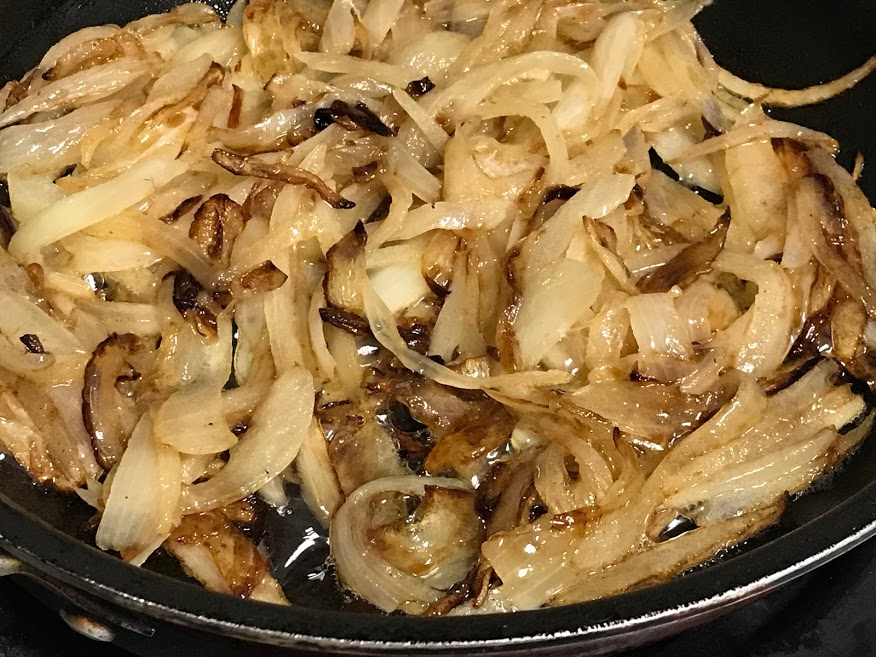 Drain the potatoes and return to the pan. Add the buckwheat and flavor with salt, pepper, marjoram, and crushed garlic.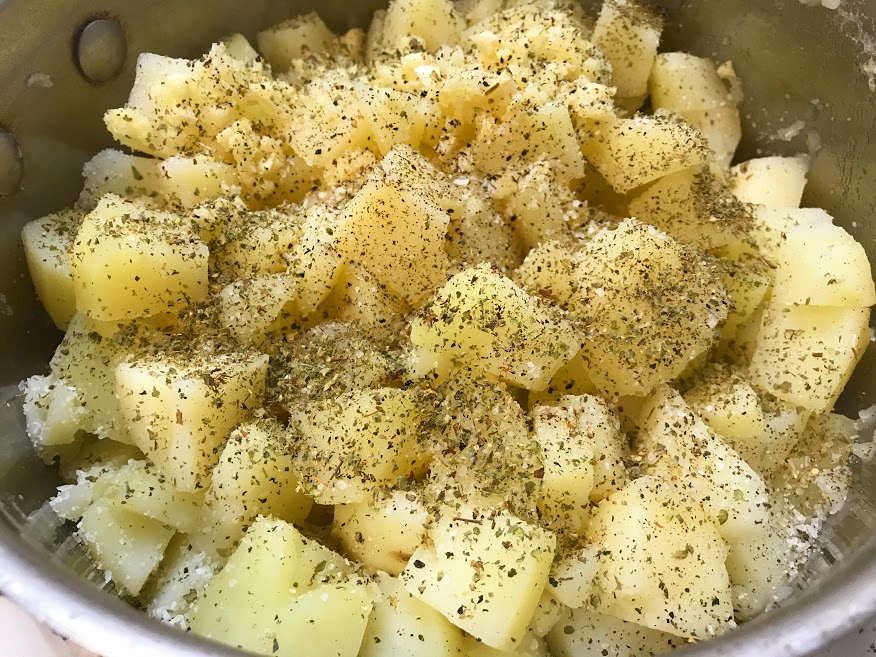 Add the heated milk and butter (if you like) and mix into a smooth porridge-like mash.
Serve in a bowl topped with fried onions.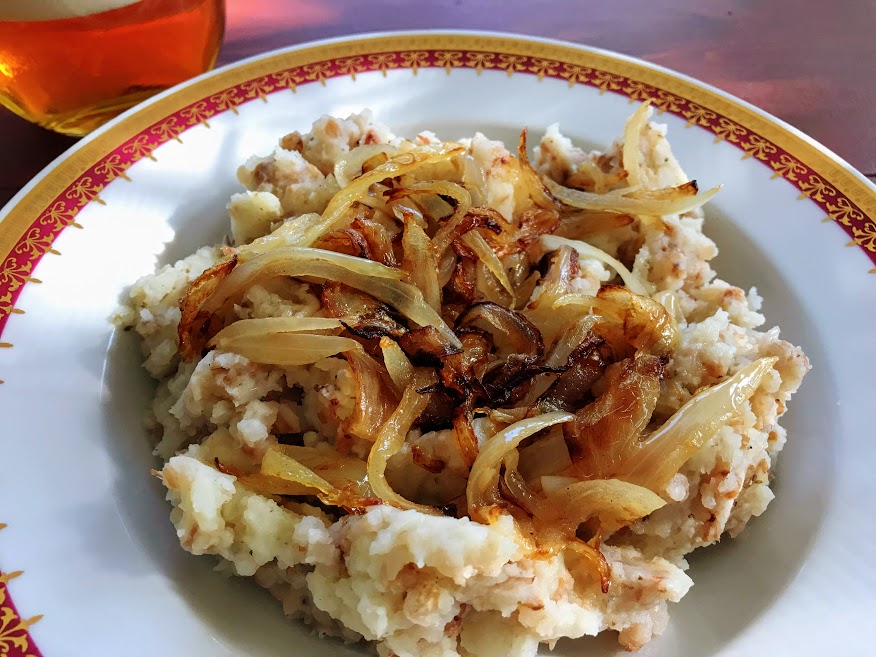 Did I mention that kings as well as peasants ate this dish?
That's because not only is it good, it's so nutritious and not expensive to make. The buckwheat is so light and fluffy, it adds a nice almost nutty flavor to the mashed potatoes.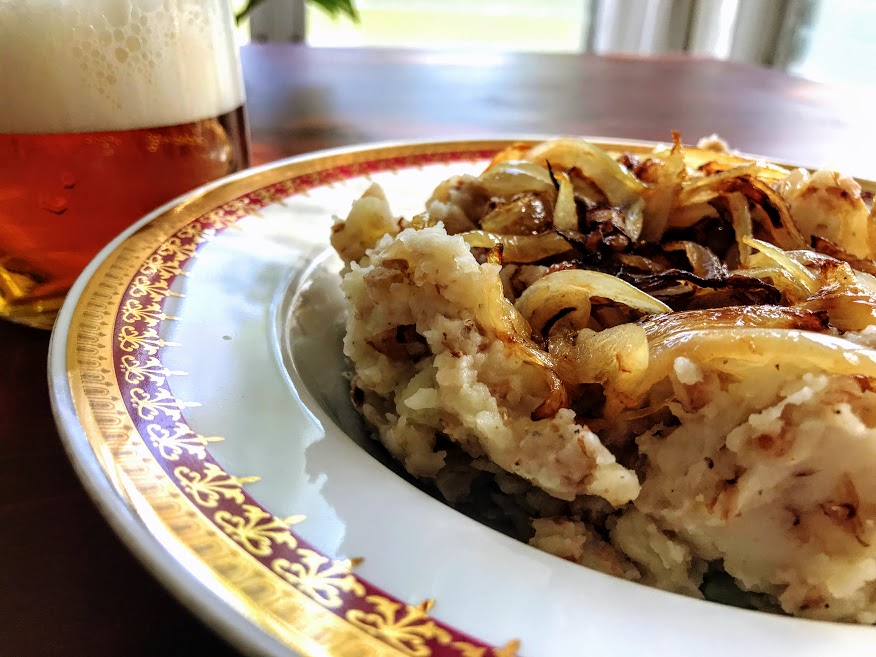 I'll tell you – the recipe for Bohemian Potato Mash with Fried Onions was especially delicious with my Czech beer!
It was also incredibly filling. Next time I will make the serving size a bit smaller.
Here's a close-up view of the deliciousness…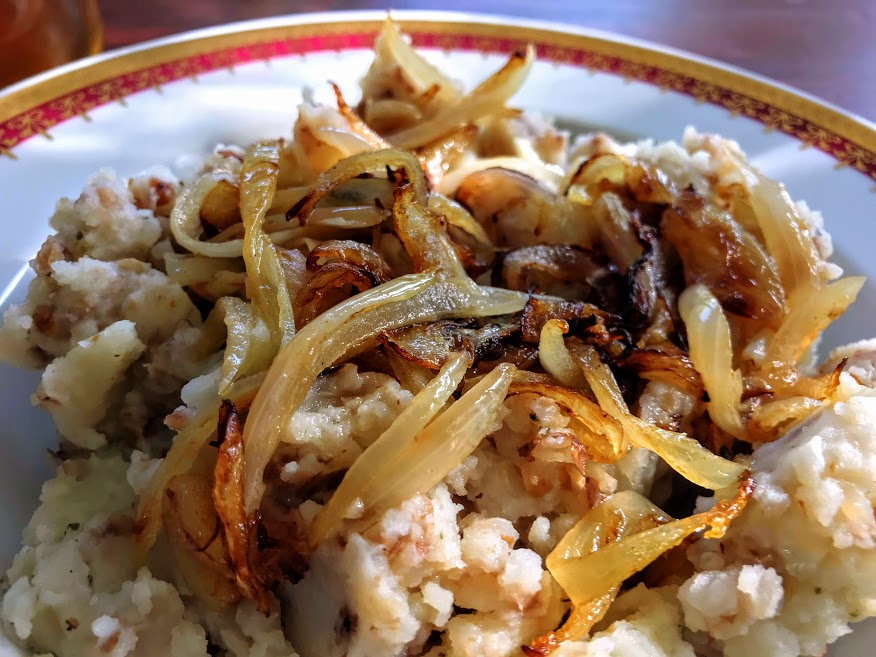 Dobrou Chut!
Note: This mash (or porridge) dish is a stand-alone dish but it can also be accompanied by sauerkraut, salad, or gherkins.
Thank you in advance for your support…
You could spend hours, days, weeks, and months finding some of this information yourselves. On this website, we curate the best of what we find for you and place it easily and conveniently into one place. Please take a moment today to recognize our efforts and make a donation towards the operational costs of this site – your support keeps the site alive and keeps us searching for the best of our heritage to bring to you.


Remember, we rely solely on your donations to keep the project going.
We appreciate you more than you know!
If you have not already subscribed to get TresBohemes.com delivered to your inbox, please use the form below now so you never miss another post.