During the First Republic, when shopping at the grocery store, children would receive a short fairy-tale pamphlet as part of selecting specific merchandise. These were usually printed on double-sheets with color illustrations. Usually the first page contained a picture with the name of the fairy tale, the inner part then had the text and an advertisement was placed on the back. The term reklamní pohádka (advertising fairy tale),was born and it was basically Czech fairy tales in advertising, sneaky-style. Certainly it is remembered by older generations and collectors.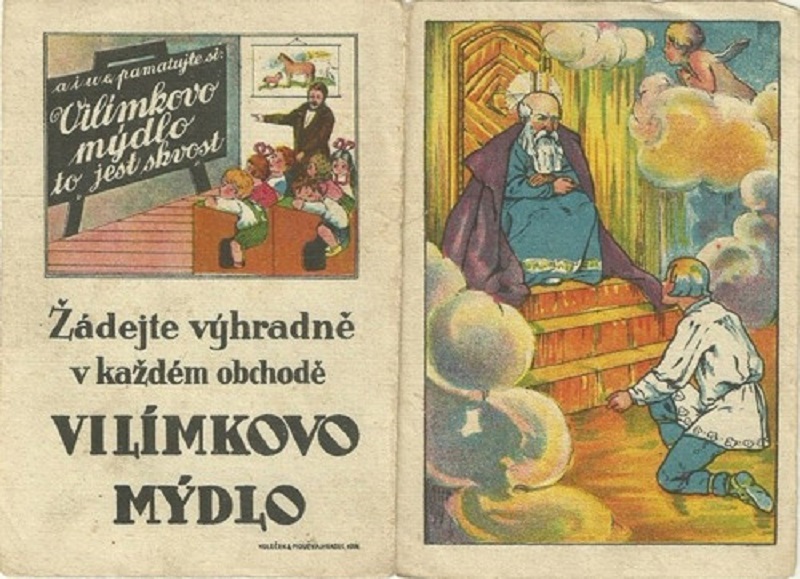 All of these Czech fairy tales in advertising were published for a very diverse range of products. These included, for example:
chicory and coffee products (Kroměříž, Čepkova, Velimská, Ostroměřská, ANT.ŠTEFANA, Kolínská)
soap and detergent products (Pilnáček, Červinka, Vita, Hellada, Standard, Otto Rakovník, Smrček)
other products included wholesale of flour (Pernerová), Francovka-ALPA, drugstore (Heřman), cosmetic products (Cléo), food fats (Kubín), groceries (Rýdl, Miškovský), wine (Mudr. Jeřábek), forensic connoisseur (Bydžovský) and many other products like razor blade holder, Cowboyka and many more.
Today we are looking at some of the examples of Czech fairy tales in advertising with artwork by Cyril Kotyšan.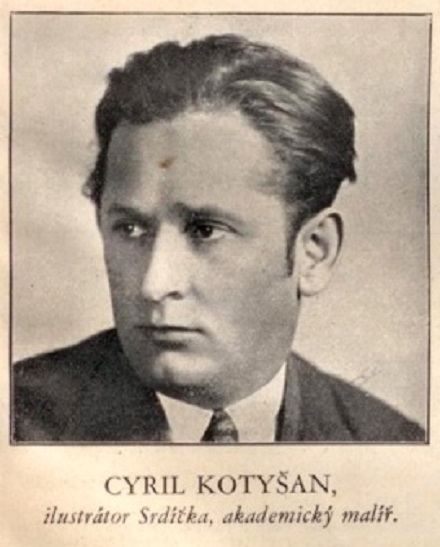 Cyril Kotyšan (1899 – 1918) mainly illustrated books for children, primarily for JR Vilimek publishers in Prague. His largest works are drawings for the Časopis Srdíčko (Heart Journal), published between 1932 – 1942.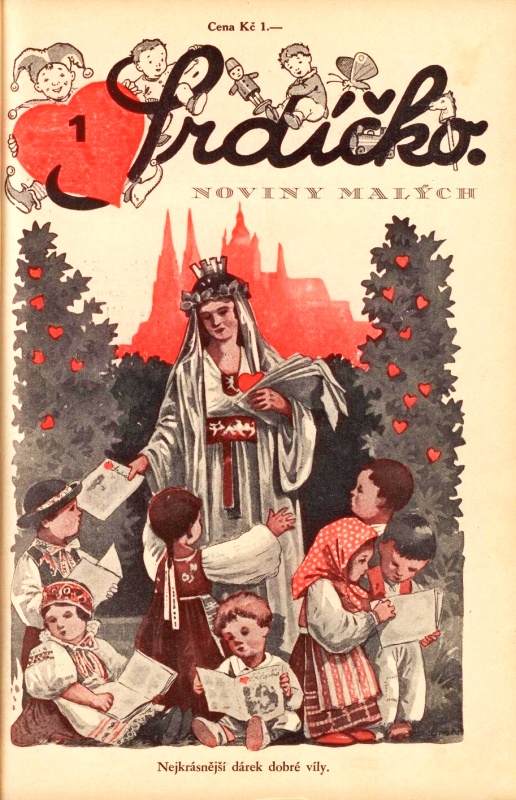 His ensemble also includes work for the Czechoslovak Sokol Community, Christmas themes and Easter postcards. He depicted mainly winter landscape, children and idyllic Christmas scenes. Some of his postcards were still being published in the 1950s.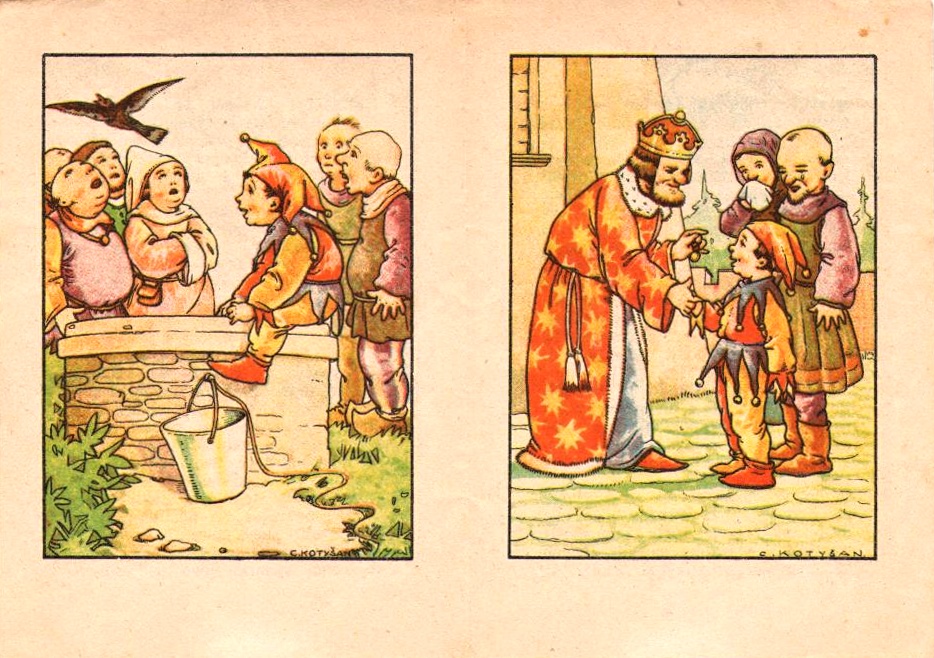 During the Communist regime, he was described as a bourgeois artist, and was unable to pursue his profession. Sadly, his career was ended forcibly much too early.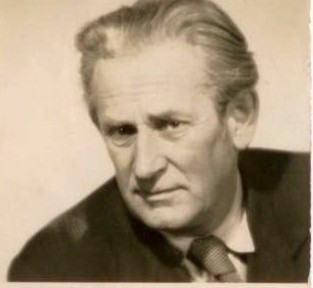 The main idea for Czech fairy tales in advertising was to promote either a specific product (mostly coffee or drugstore goods – and thus a fairy tale was included) or to promote a specific store (often from Prague).
Well-known artists such as M. Fisher-Kvěchová, A. Scheiner and Cyril Kotyšan participated in the work. In addition to fairy tales, this form also included legends and stories for young people.
At times the promoted product was even mentioned directly in the story. For example:
A hero rescues a princess from the clutches of hell. But there cannot be a wedding, because the princess cannot be washed away with hellish dirt and smell. Only miracle soap and scent can help. (Insert soap manufacturer!)
Czech fairy tales in advertising in the described form were published during the pre-war years. During the years of Communist times, alternative publishing of fairy tales occurred but these were mostly available at the doctor's office (advertising hygiene), or at the specific events (traffic safety).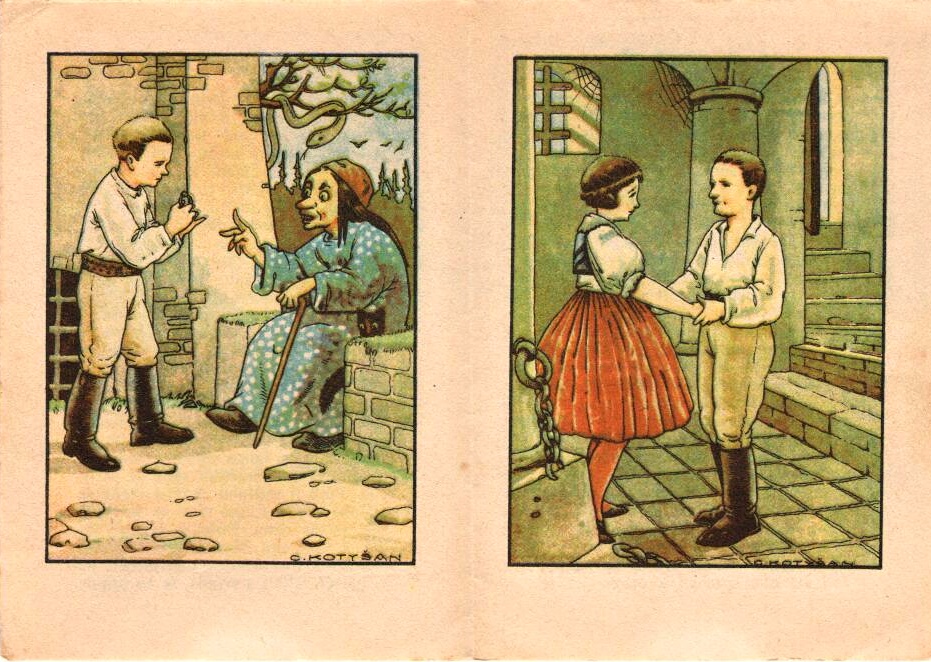 These days the tradition continues. Fairy tales are still used to promote purchases such as diapers, vaccination, organic products and countless other products.
The following are fairytales illustrated by Cyrila Kotyšan. The advertisers we see below are:
Vita drugstore which was located at Tusarova 31, Prague 7.
Pilnáček's Factory from Hradec Králové, which from 1899 to 1949 produced soaps, candles, perfumes, soda, and glycerine.
Mužík Atelier – Professional Tailor's factory in Žižkov, Poděbradova 16,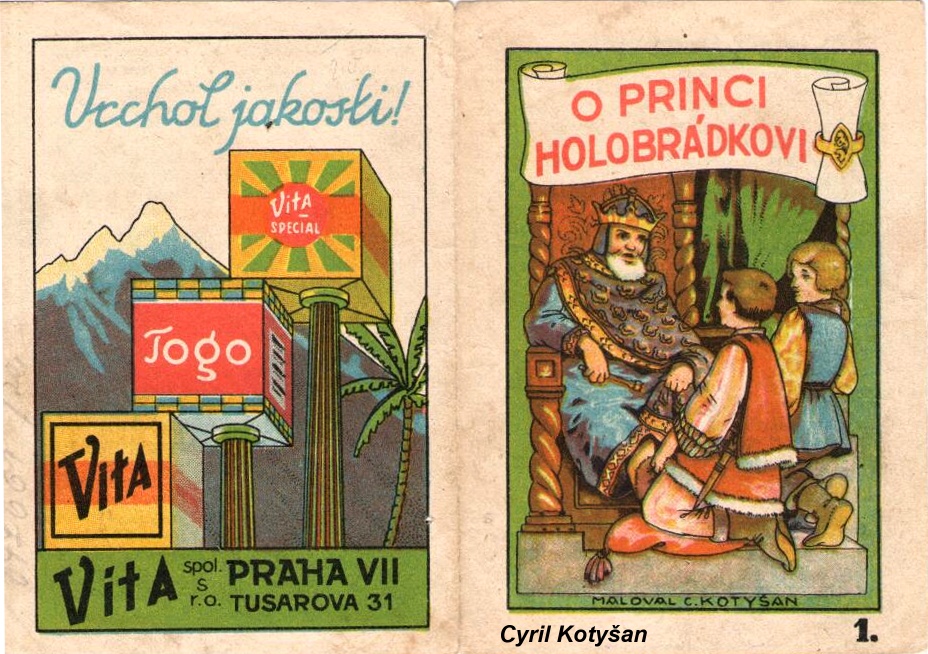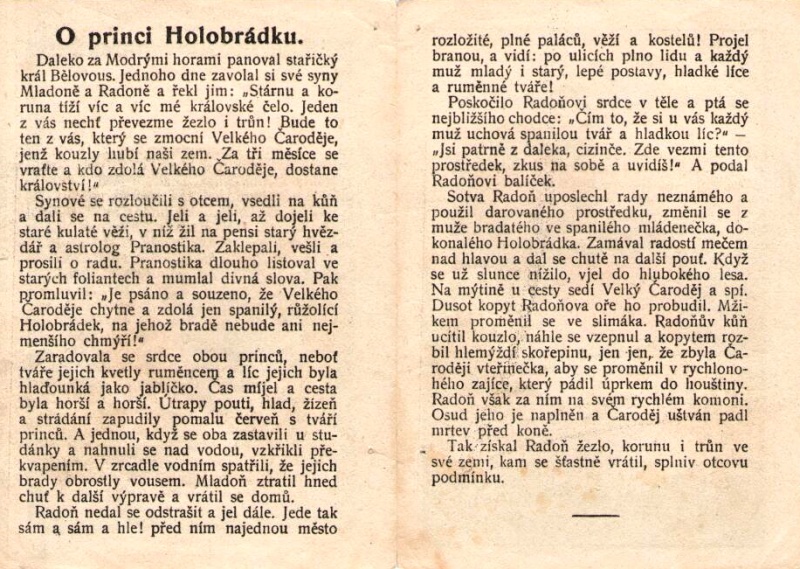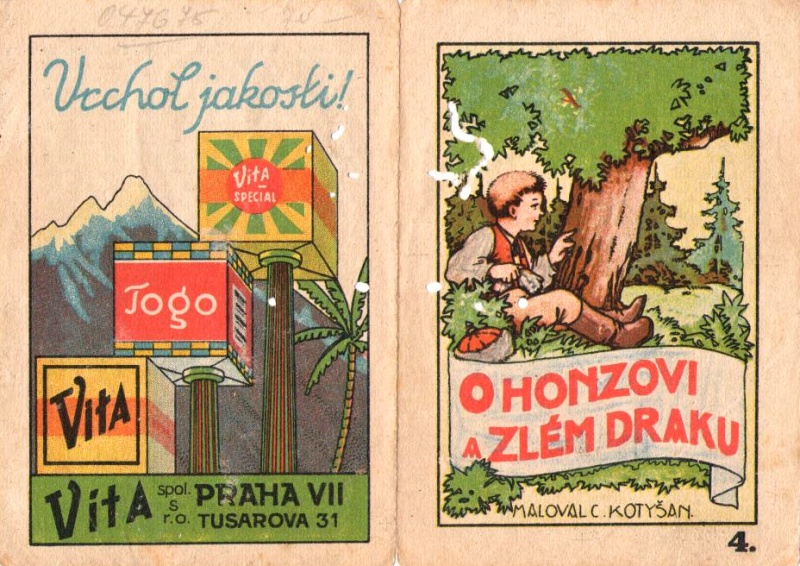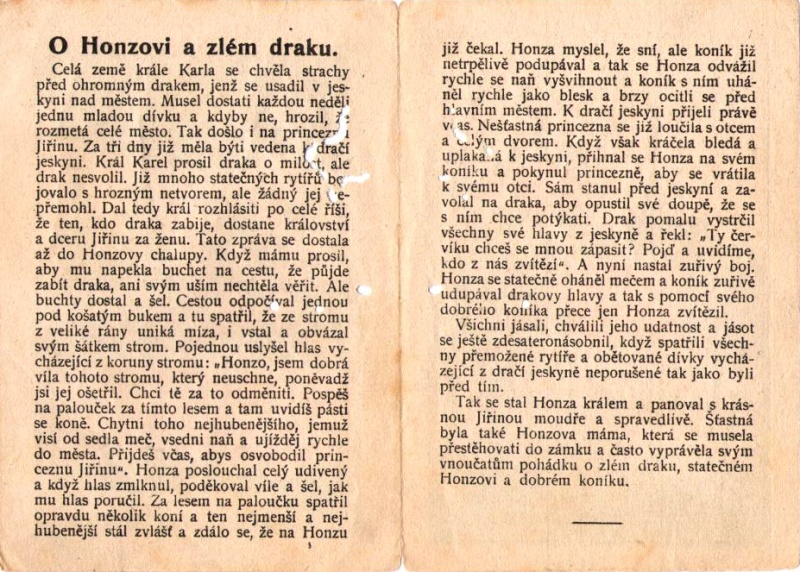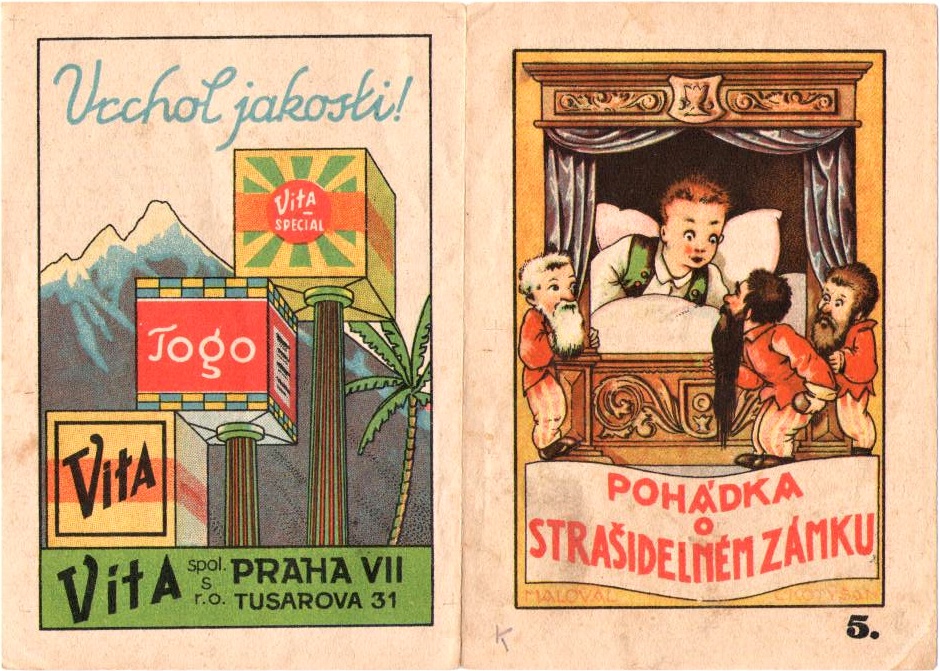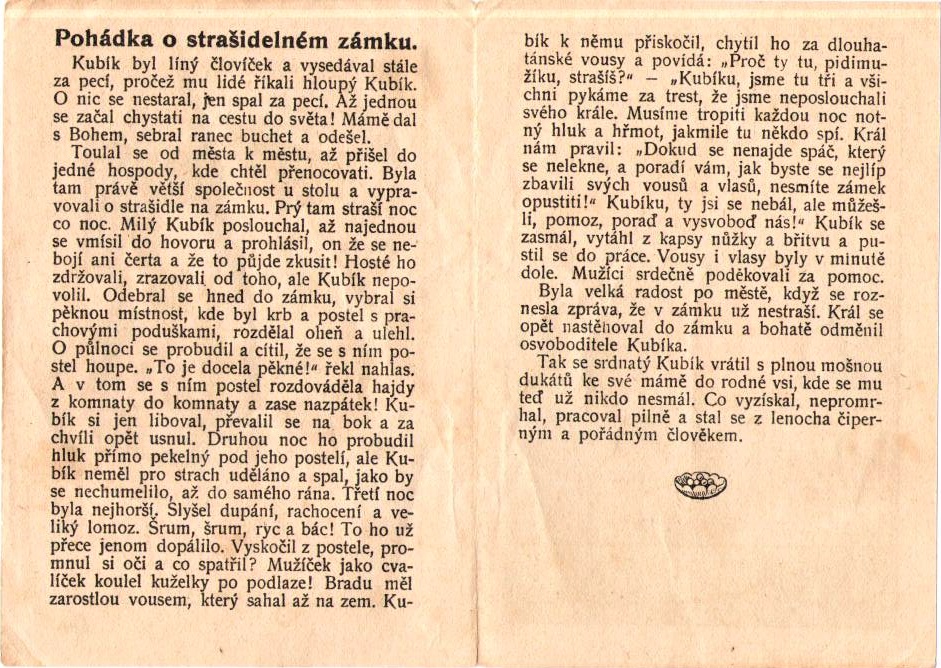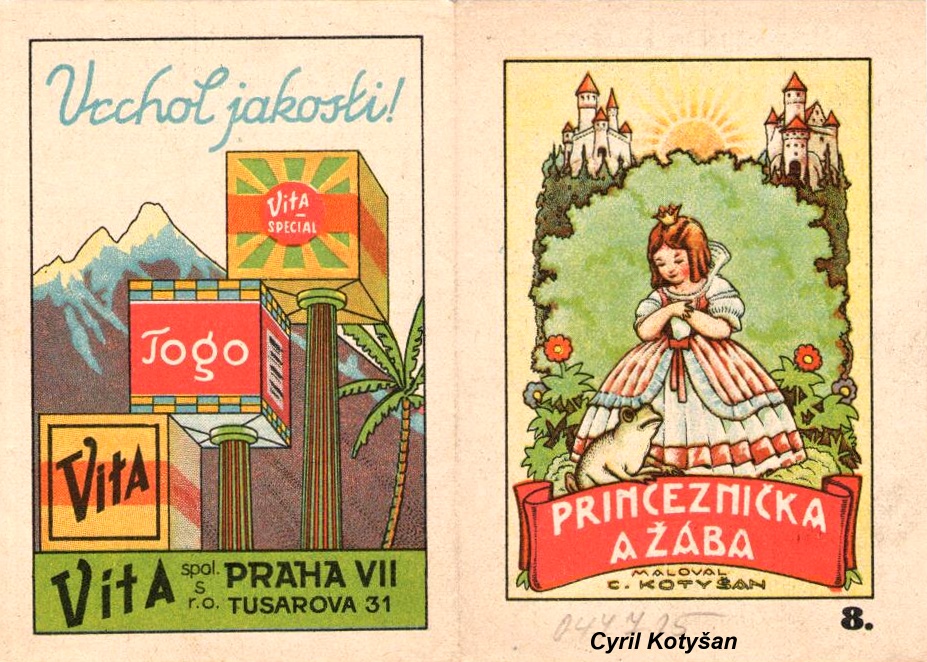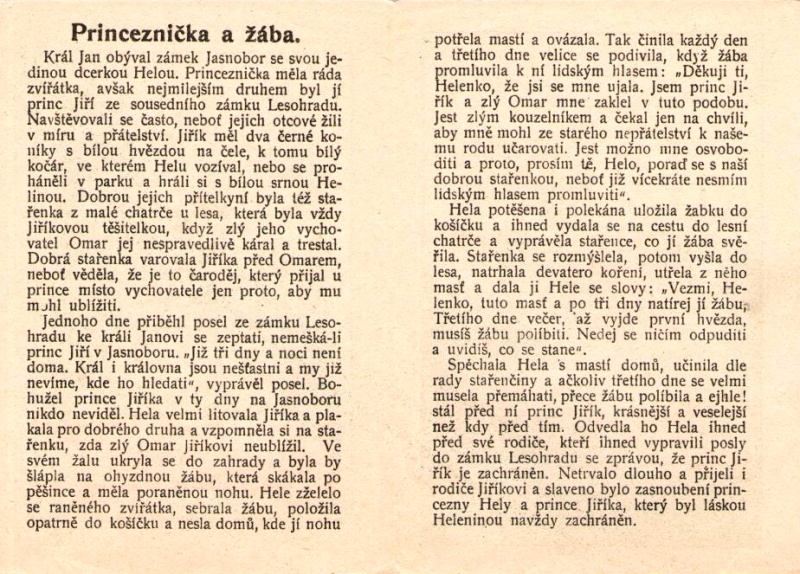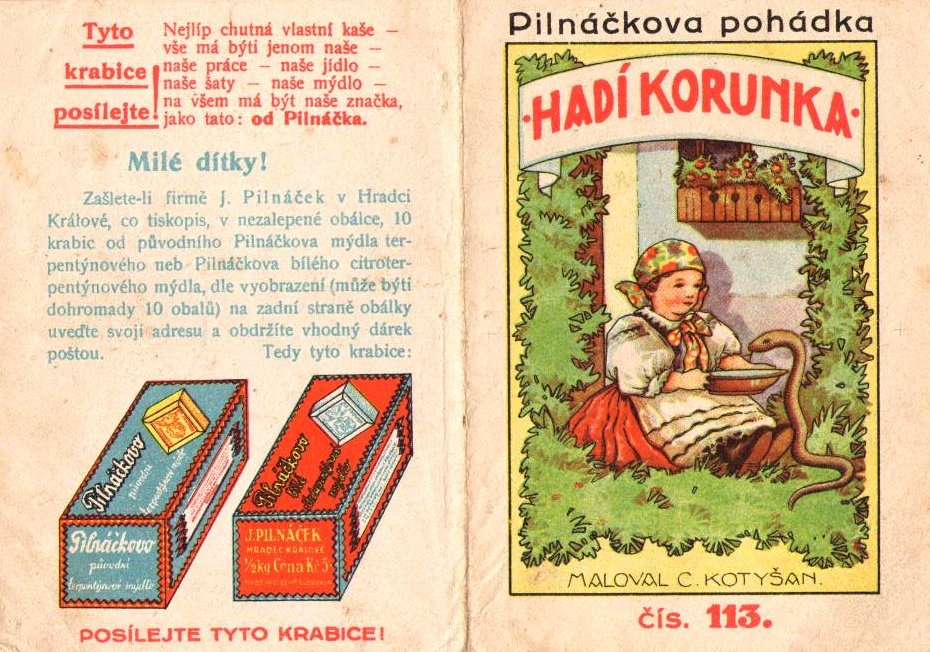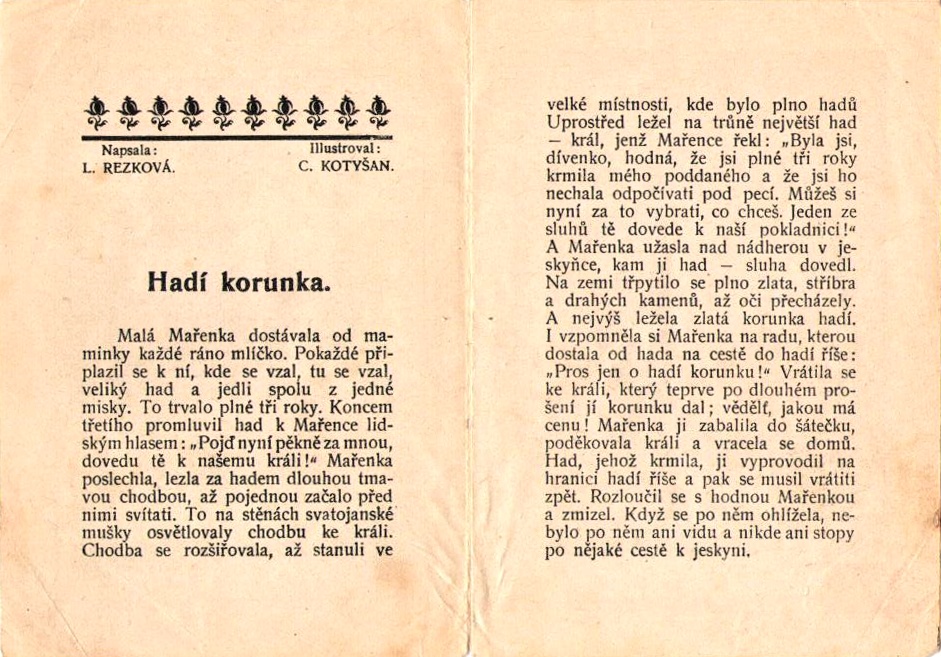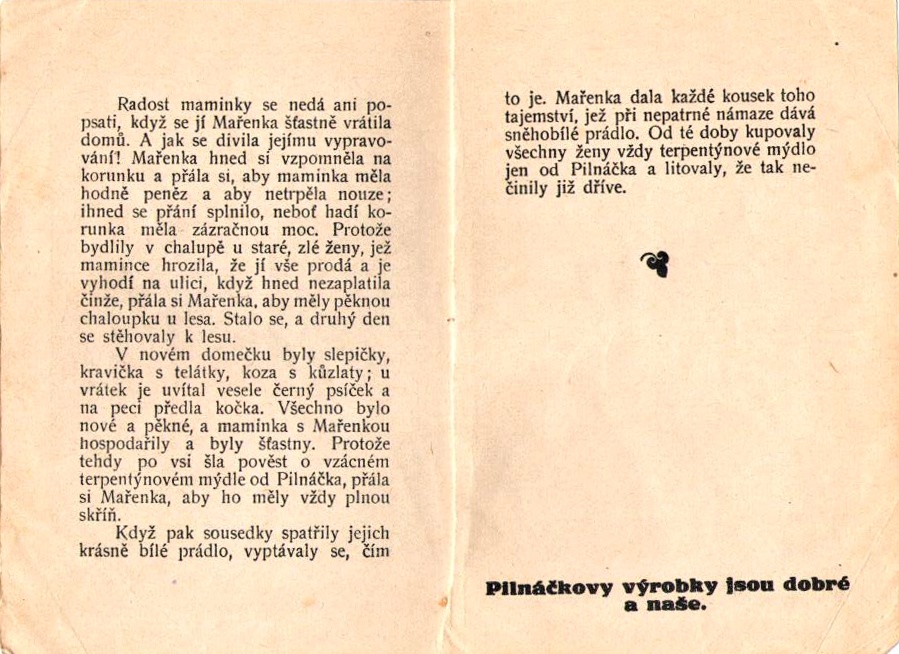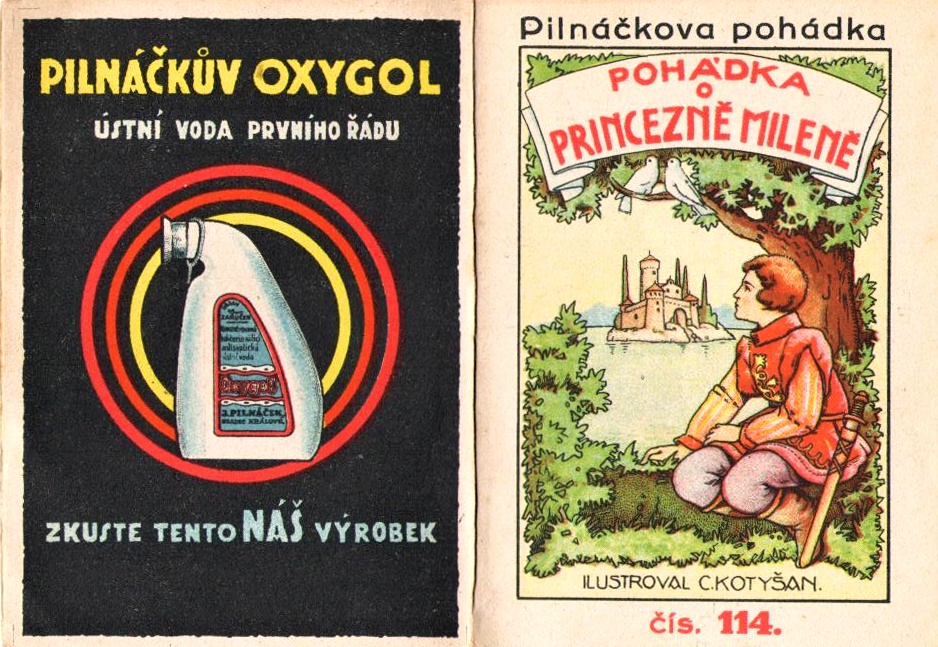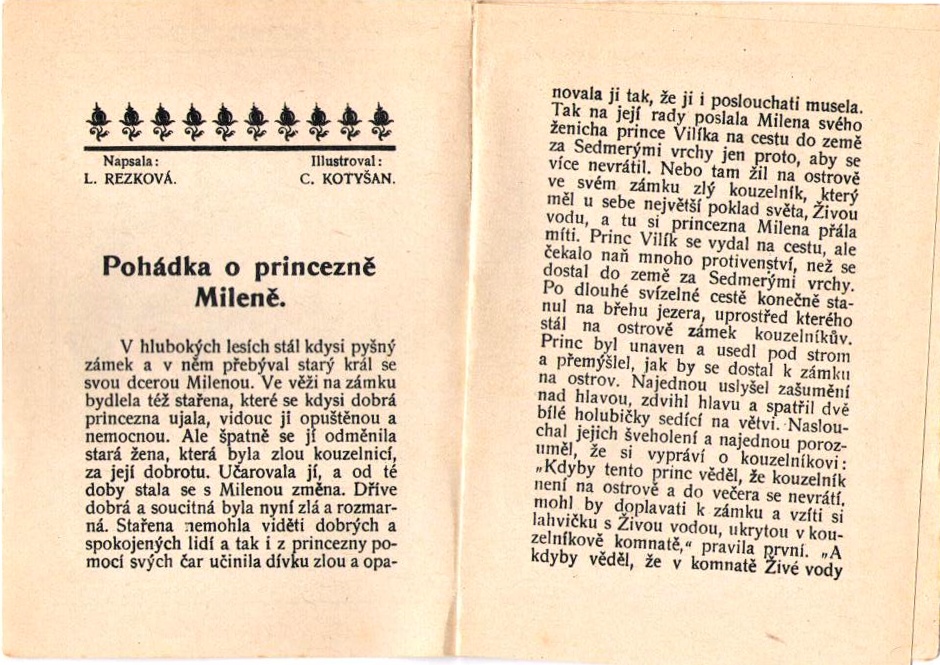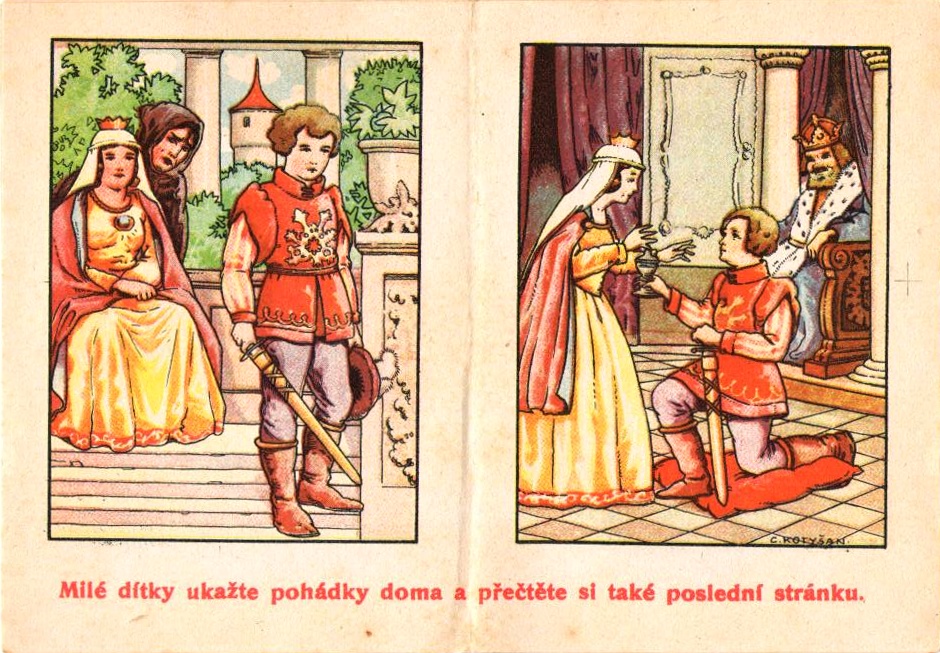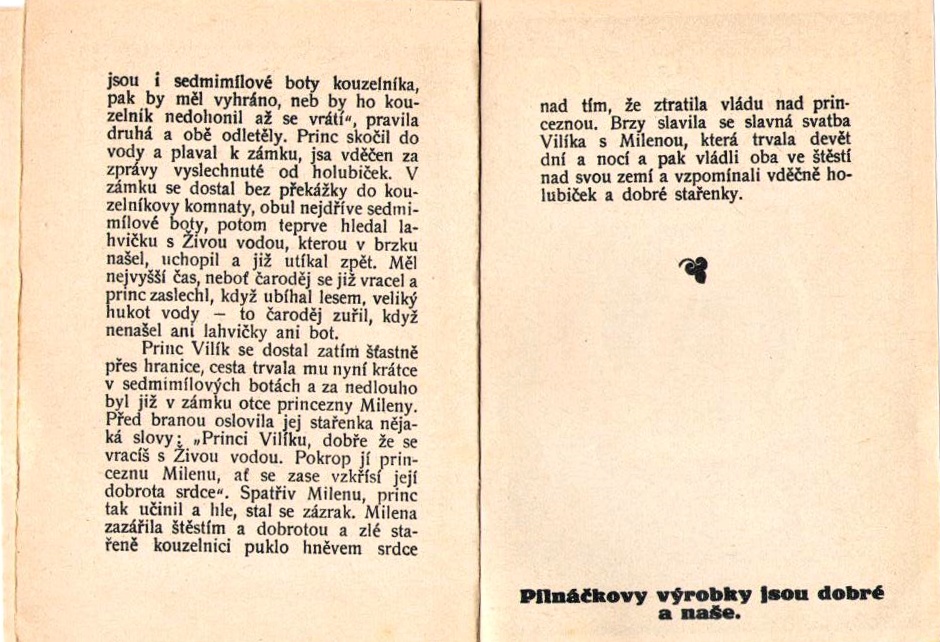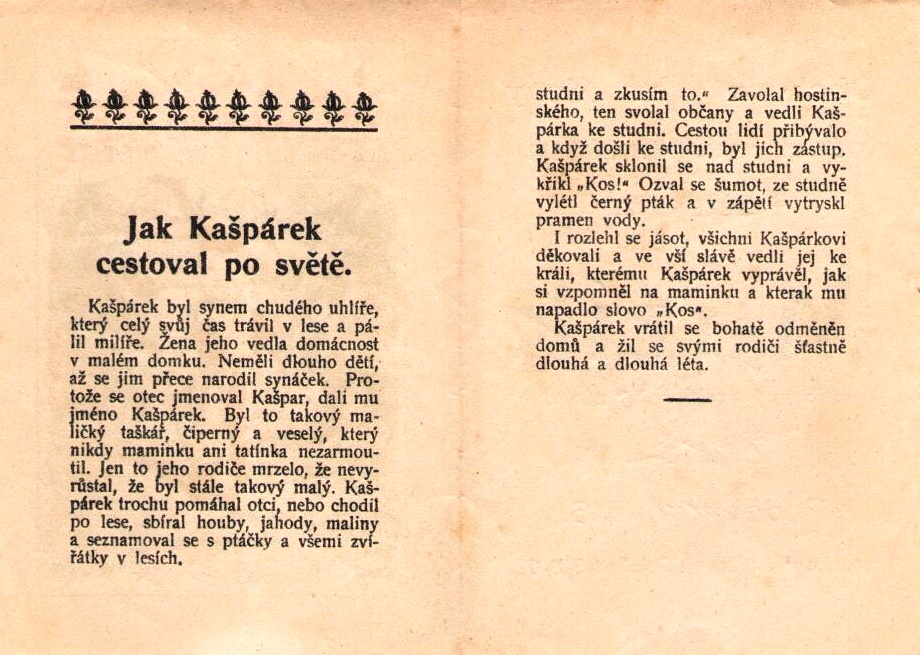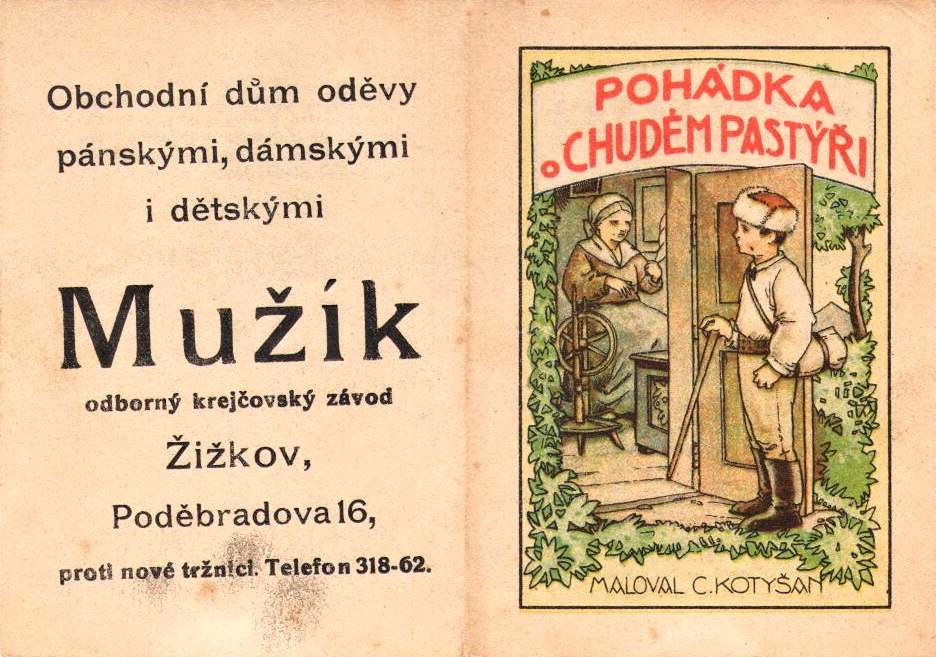 We hope you enjoyed today's post and illustrations!
NOTE: The above referenced article originally appeared here: https://cyrilkotysan.cms.webnode.cz/. It was written by Radomír Vlk, who we wish to acknowledge and thank for his wonderful work on this.
Thank you in advance for your support…
We know that you could spend hours, days, weeks and months finding some of this information yourselves – but at this website, we curate the best of what we find for you and place it easily and conveniently into one place. Please take a moment today to recognize our efforts and make a donation towards the operational costs of this site – your support keeps the site alive and keeps us searching for the best of our heritage to bring to you.


Remember, we rely solely on your donations to keep the project going.
We appreciate you more than you know!
If you have not already subscribed to get TresBohemes.com delivered to your inbox, please use the form below now so you never miss another post.
You purchase through any of the links below also support our work. Thank you!