As you know, the 30th anniversary of the Velvet Revolution is coming up on November 17th. Just in time, we wanted to introduce the English-speaking community to Central Europe's versions of Bob Dylan, Leonard Cohen, Tom Waits, Ray LaMontagne and Elliot Smith through Steel Strings and Iron Curtains.
In this extraordinary project, a group of talented musicians have recorded a very special album. These are of some of the songs which undermined the communist totalitarian system and they are being sung in English for the very first time. Steel Strings and Iron Curtains is a special project brought to you by Plamen Press. The musical project was two years in the making and was sponsored in part by the Czechoslovak Society of Arts and Sciences in Washington D.C. It is the first-ever English-language recording of the famous songs that ignited the downfall of Communism!
Celebrate the new album featuring the songs of Poet-bards from the Czech Republic – Sung in English!
In their native Czech Republic, Kryl and Nohavica are known for powerful, politically-minded & existential lyrics. Their words inspired generations living behind the Iron Curtain.
The beauty of Kryl and Nohavica's songs are infused with elements of Gypsy Jazz played by guitarist Tomas Drgon and violinist Christina Kharazian. In addition, arrangements include traditional Slovakian and Moravian instruments, such as the fujara and the koncovka, masterfully played by Bob Rychlik.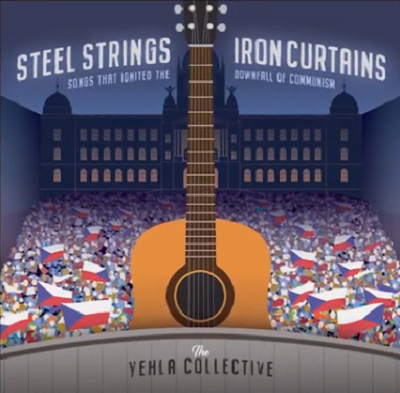 All songs on Steel Strings and Iron Curtains were translated and co-produced by Roman Kostovski of Plamen Press. The moving songs are being sung in English for the very first time. An incredible feat, this is really an exciting project. They partnered with Sun King Records' producer Ian Jones, known for his production of reggae master Claudius Linton's album Sign Time, to produce the tracks.
The production and each musicians' contribution to this album is remarkable… The attention and care by those who participated in its creation will never be forgotten. Congratulations!

Vladimir Merta, Czech Music Icon
In addition to Ian's talents, they were fortunate to have worked with The Yehla Collective. They are truly international and talented group of musicians from the Baltimore/DC area. Including Anna Connolly (USA), Tomáš Drgoň (Slovakia), Ian Jones (USA), David Keplinger (USA), Christine Kharazian (Armenia), Reggie Love (USA), and Bohuslav Rychlik (Czech Republic).
We recommend you watch the video to learn more about this amazing project:
They are having an official album launch party on Saturday, November 23, 2019 from 5:30 PM – 7:30 PM EST at The Writer's Center, 4508 Walsh Street, Chevy Chase, MD 20815. You may get your ticket here.
We've heard some of the album and it's wonderful. Excellent lyrics, masterful music and a group of talented individuals doing exactly the kind of thing we admire. Click to learn more or order your copy of Steel Strings and Iron Curtains today: http://cart.sunkingrecords.com/
We know that you could spend hours, days, weeks and months finding some of this information yourselves – but at this website, we curate the best of what we find for you and place it easily and conveniently into one place. Please take a moment today to recognize our efforts and make a donation towards the operational costs of this site – your support keeps the site alive and keeps us searching for the best of our heritage to bring to you.

Remember, we rely solely on your donations to keep the project going.
Thank you in advance!
If you have not already subscribed to get TresBohemes.com delivered to your inbox, please use the form below now so you never miss another post.