As you know, we love digging through old archives, magazines, newspapers, books. Some of these we are gifted, some we find on our own, some we search for painstakingly and others come by way of my father who's work in an antique bazaar allows many opportunities to come across wonderful old treasures. Today we are sharing, among other things, a letter which shares something we've always known, Willa Cather and her love of Czechs.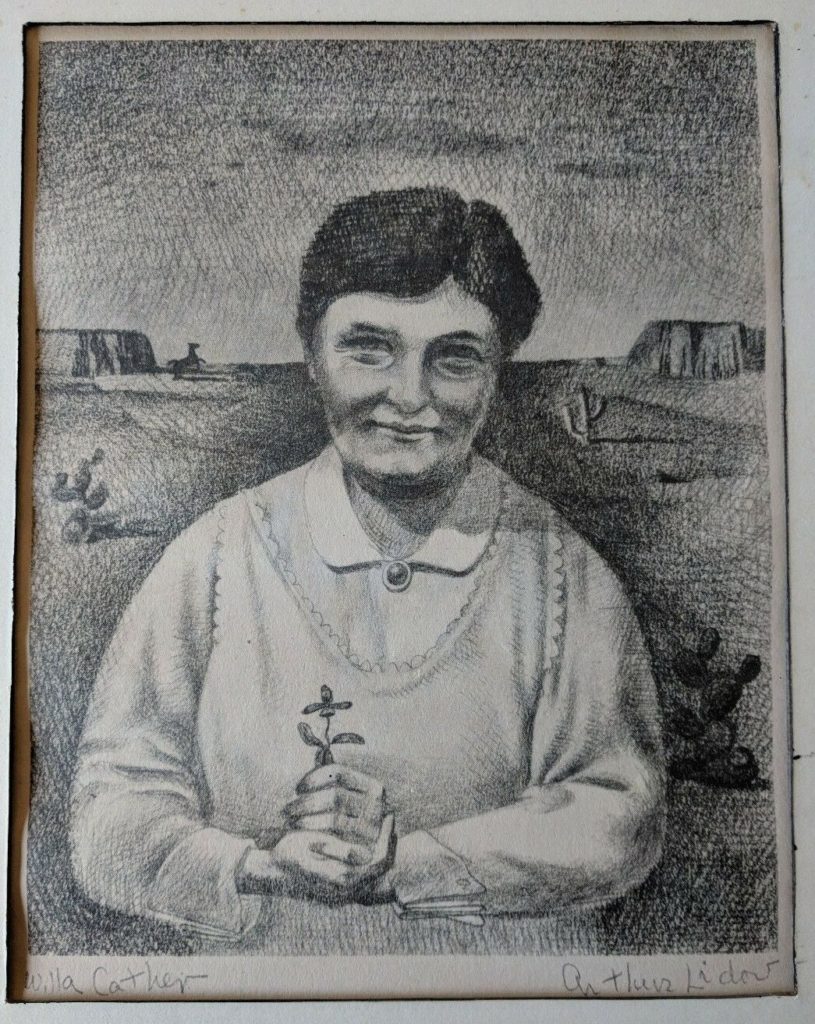 A major part of Willa Cather's work draws from her childhood experiences, growing up in Nebraska, and many of the families there who were migrants from Bohemia. Her earliest associations with Czech immigrants began just after her arrival in Nebraska in 1883. Willa Cather's personal interest in Czech culture from 1883 to 1917, her intimacy with Czech friends and associates, and her choices of residences offered multiple opportunities for her to encounter many Czechs and their works.
There is a Prague in Nebraska as well as in Bohemia. Many of our Czech immigrants were people of a very superior type. 

NEBRASKA: The End of the First Cycle by WILLA SIBERT CATHER
Her years in Nebraska and Pittsburgh and her early years in New York coincided with the large waves of Bohemian immigrants coming into all three communities. Based on these friendships, her letters and her books, we can summarize that Willa Cather had a deep love, admiration and respect for Czech people.
When Cather was a little girl she had a friend whose name was Annie Pavelka (Anna Sadilek Pavelka), she was of Bohemian descent. Many believe her life story was a substantial inspiration for My Ántonia.
The novel gives us fascinating insights into the type of life that Czech people were leading in these rural communities at the time, and also into the interaction between the old and new settlers.
Willa Cather's Letter to Růžena Rosicka
The following is from her letter written to Růžena Rosicka in Omaha, Nebraska. It was written on April 7 1933.
My warm feelings of friendship with the Czechs, as with most sincere feelings, had a very personal beginning. I first met the Czechs when I was about eight years old. My parents had just moved from Virginia to a farm in south-eastern Nebraska. Almost all of our neighbors were born in Europe and offered a delightful variety to a child who only knew one kind of people before.
The sound of the new languages ​​was extremely encouraging for me. I rode my horse to a rural post eight miles away and brought home not only our own mail but also letters with special postage stamps and alien stamps for all our close neighbors. I liked going to our Czech neighbors because their daily life seemed to me more warm than the life of some of our settlers. The Czechs worked hard and had a place for every penny; but some of these cents were used for some very simple pleasures. They did not take every little joy of life just to give the bank a few more dollars.
I always went to Czech homes in joyful anticipation. I knew each mother would greet me in the kitchen with a poppy seed roll or a cake. If there was a man in the house, he would help me down from the horse with a smile, joking as if he were genuinely happy to see me. Until today, I remember the characteristic, distinctive squeeze of a few large, warm, friendly hands, callous palms, sun-browned to the color of a pale cigar.
In those days (oh, how I wish it would still be!), every affluent Czech peasant surrounded his dwelling with an orchard protected from the wind by several thick rows of mulberry trees. Often behind the orchard was an area for wood. The front yard was always full of flowers in summer; I especially remember the hollyhocks. Around the pinwheel was usually a flock of geese, splashing in the water overflowing from the waterhole for horses. When one arrived at such a small home, he felt that he was coming to something real, vital, that he was leaving the barren prairie and the violent winds behind him, on the other side of the mulberry alley.
In Wilber, in the old days, behind the big, friendly brick saloon—it was not a "saloon," properly speaking, but a beer garden, where the farmers ate their lunch when they came to town—there was a pleasant little theater where the boys and girls were trained to give the masterpieces of Czech drama in the Czech language.

NEBRASKA: The End of the First Cycle by WILLA SIBERT CATHER
I liked going to the kitchens, where women always put a piece of their heart into their work and were happy about it; baking cakes or goose roasts, or making noodles – they were willing to do a lot of work and it made them happy. There was something warm and bright and alive in the kitchens; they were like the women who worked in them.
I could name a dozen Bohemian towns in Nebraska where one used to be able to go into a bakery and buy better pastry than is to be had anywhere except in the best pastry shops of Prague or Vienna. The American lard pie never corrupted the Czech.

NEBRASKA: The End of the First Cycle by WILLA SIBERT CATHER
Some of our neighbors, who came from better conditions to a wild, desolate country, lost their spirit and left their households neglected. – Czech women, however, brought with them certain ideals. I said everything I meant when I said that these women were willing to do an enormous amount of work to have everything they wanted – the Spirit is the beginning of everything beautiful in life and art.
Willa S. Gather
New York City, April 7, 1933.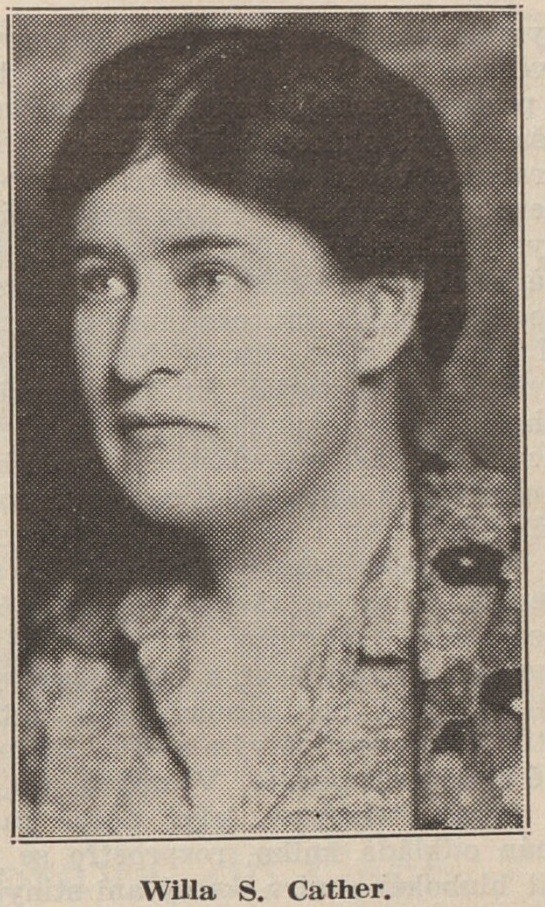 Finding Immense Beauty in the Ordinary
Willa S. Cather was an American writer who grew up in Nebraska, in the neighborhood of immigrant farms. She immortalized Czech settlers in some of her famous novels.
We have been reading the novels and stories of the American writer Willa Cather. Her touch changes honest, but mundane pebbles, scattered all over the paths of life, into agates and turquoise delightfully colored, in which flaws, instead of defying, only add to the impression of beauty and magic.
In reading about the Bohemians, the Germans, the French or the Scandinavians gives a flattering feeling that it is better and more valuable that the members of his own nation, resettled in this country (USA), are all worthy, poetic, and more desirable because they appear in the depth of the author's mirror framed childhood memories. How grateful she is for her sympathy with her nation!
They brought with them something that this neutral new world needed even more than the immigrants needed land. Unfortunately, their American neighbors were seldom open-minded enough to understand the Europeans, or to profit by their older traditions. Our settlers from New England, cautious and convinced of their own superiority, kept themselves insulated as much as possible from foreign influences. 

NEBRASKA: The End of the First Cycle by WILLA SIBERT CATHER

The rooms of this cosmopolitan home are decorated to the monuments of the American Southwest, European works of art, paintings from Italy, lithographs from Czechoslovakia, self-signed photographs with and of outstanding people of world reputation, and certainly hold many modest gifts of love. Out of love for her personality, for the love for her art, this article is also written. Not because she is so good to us, because – like other national characters from her novels – our acquaintances Šimerdovi (Mr. and Mrs. Shimerda from My Ántonia) and our neighbor Rosický (from Neighbour Rosicky) are just colorful stones in her art kit, the polished sleeve of her work tunic.
Miss Willa Sibert Gather, built up by contemporary literary criticism at the forefront of American novelists, was born on December 7, 1876, in Virginia, where she moved around with her parents to Nebraska around her eighth year, still sparsely ossified but open to European immigrants, scattered for miles, they were the only neighbors of this vicious, inquisitive and receptive girl.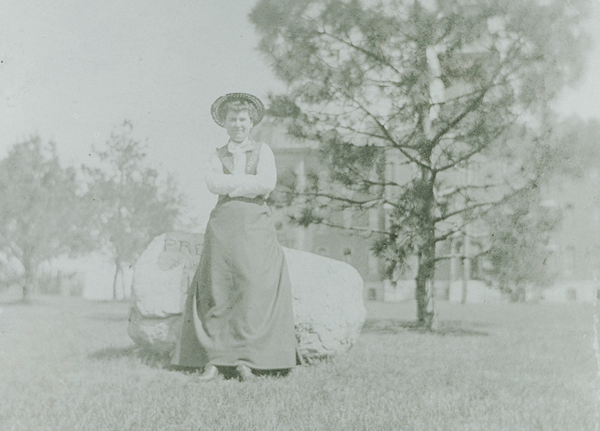 Spending most of the day in the saddle, she visited remote farms and met their diverse inhabitants, people whose actions filled her with wonder, whose native land was a legend; they were bewitched fairy-tale creatures. She admits that she was extremely excited about these trips to foreign worlds; that it always seemed to her as if pioneering women had told her much more than they had actually said, as if she had been placed under their skin!
Since she entered the university at age 15, these contacts were unlikely to be common enough; but the experience she had gained, interspersed with her youthful enthusiasm, lay in her subconscious to later, much later, where she would eventually obey the order of the purposeful artist and revive, in a most graceful and interesting way, in works as remarkable as the novels "O Pioneers!" (1913), "Song of the Lark" (1915) and mainly "My Ántonia" (1918), the book which cemented her reputation as an artist (from words taken. by H. L. Mencken who said that no romantic novel written in America is half as beautiful as 'My Ántonia'.
We spoke about My Ántonia, Miss Cather's story about the immigrant family of Czechs. 'Is My Ántonia a good book because it is the story of the soil?' we asked. She shook her head. 'No, no, decidedly no. There is no formula; there is no reason. It was a story of people I knew. I expressed a mood, the core of which was like a folksong, a thing Grieg could have written. That it was powerfully tied to the soil had nothing to do with it. My Ántonia was tied to the soil. But I might have written the tale of a Czech baker in Chicago, and it would have been the same. It was nice to have her in the country; it was more simple to handle, but Chicago could have told the same story. It would have been smearier, joltier, noisier, less sugar and more sand, but still a story that had as its purpose the desire to express the quality of these people. No, the country has nothing to do with it; the city has nothing to do with it.'

Burton Rascoe interview, 1924, New York.
In 1922, the novel "One of Ours" was published, describing the experience of an American soldier in World War II. This book was honored with the Pulitzer Prize.
This was followed by "A Lost Lady" (1923), depicting the fates of a charming but fragile woman, who, without great scruples, served her warm sensual foundation; "The Professor's House" (1925), set in part in romantic Colorado, melting in its canyons much of the memory of the continent's inhabitants, and "My Mortal Enemy" (1926).
In 1927, her most beautiful work, "Death Comes for the Archbishop", was released, depicting simply and warmly the missionary life of a Catholic bishop and a priest transplanted from France to New Mexico territory to educate the neglected via a vineyard of the Lord. Willa Cather flees farther and farther away, from the disillusioned contemporaries, staggering through life with felled, gloomy wings, with a heart of blood and dust. In 1931 she published the novel "Shadow on the Rock", which depicts the Quebec of Canada from the end of the seventeenth century, revived by French colonists with their secular and spiritual stewards. Both of these books are real gems of American literature.
Finally, under the title "Obscure Destinies" a collection of three older stories is published, the first of which, Neighbour Rosicky, once again described the life of Czech settlers in the American West.
Willa Cather's realistic idylls are accepted with eagerness (as every truly good work) by strict criticism and by a less demanding reader; in spite of the fact that they almost lack an obviously visible curriculum and all the exciting climax are alien to them. The reader, who is curious "how it turns out" learns little from the last page of her novels; however, he finds real life, not photographically true, but carefully depicted by the firm, disciplined hand of a great artist, infinitely diligent, infinitely strict to herself, who does not form a demon-possessed genius because she has to, but creates because she wants to master it!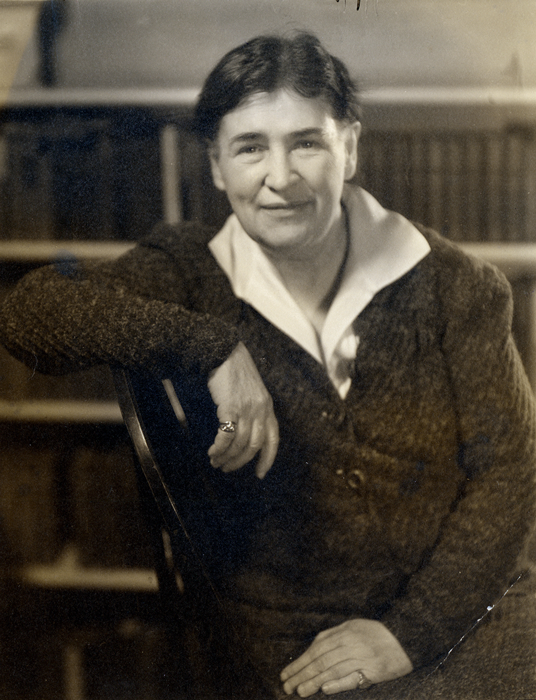 The material she chooses, put it in perfect form, and inhale within herself a part of her own soul. It depicts people who are normal, mentally healthy even in illness, living in the sun. And in the sun, they exist unaware of the perilous mental gloom with all its molds, tired of futile speculation about the meaning of life: life and work are equal to them, both obvious necessities, even under unfavorable skies they live nicely and die nicely. The result is that in the reader's mind, when they gently pause to put down a book, a sense of deep peace unfolds – that even the shadows of life – inevitable where there is so much light – we feel that we are unable to break. We come under the great artist's tent, and we dream well.
The above letter appeared in Amerikán: národní kalendář na rok 1937. The article above was written by Anna Tvrzická, Washington, D. C., 1937. It was also in the same issue, accompanying the letter and both were written in Czech. We translated it to post it here.
Letters to President T. G. Masaryk
President Masaryk was a great fan of Cather's. In Lidových Novin (Pepple's News) in 1931 President Masaryk said thathe believes her book Shadows on the Rock (Stíny na úskalí to be the most interesting book of the year. (Source: Měsíc: ilustrovaná společenská revue, 11.1932.) In fact, every year, usually in late winter, the New York novelist would write a letter to the great man. Whether hand-written or dictated and typed, the message was boldly signed, then sealed and addressed to the Czech Consulate at 1440 Broadway. From there it would be carried by special messenger to the Embassy in Washington, where it was pouched direct to Prague for the personal attention of the Founder-President himself. Upon opening the envelope, Thomas Garrigue Masaryk would find the familiar embossed initials on the letterhead —WSC. Willa Sibert Cather had written another letter.
Scholars have known for years that there was an extensive correspondence between Cather and Masaryk. You may read about it in an article by Dennis Halac entitled Ever so true: Willa Cather & T.G. Masaryk. You may read one of her letters to President Masaryk at The Story Behind the 1925 President Masaryk Letter.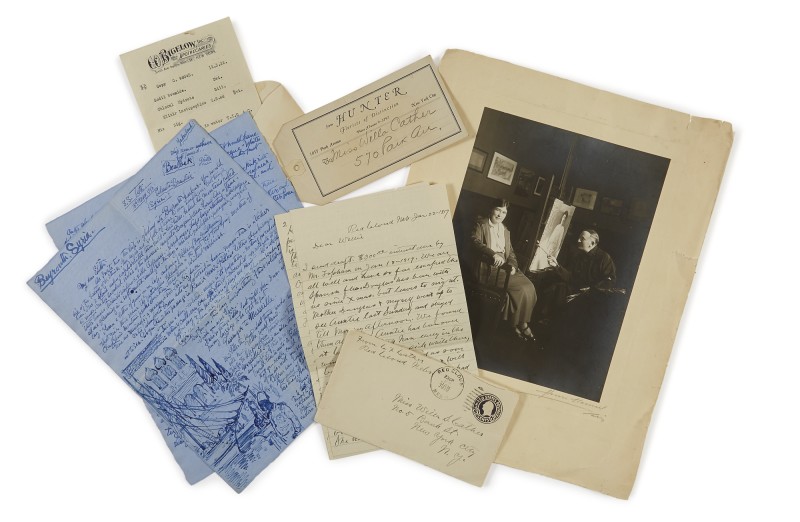 Willa Cather's Most Personal Letters
A new book entitled The Selected Letters of Willa Cather upends decades of secrecy surrounding the correspondence of famed Nebraska author Willa Cather is a must read for any admirer of her work. Before, scholars weren't even allowed to quote from her letters, but now, anyone and everyone can explore her most intimate words. She may not have spelled every word correctly or always chosen the best punctuation, but Willa Cather wrote letters that were magnificent. Some shed light on her familial relationships; she had a very close relationship with her parents and siblings and would return to Red Cloud, Nebraska on an annual basis to see them. Her letters to editors and publishers are marvelous examples of negotiation; she often got her way because she was so kind yet anticipated every argument that an editor might have. She was a fine business woman, carefully tracking every dollar owed her. Moreover, she took the same care with her letters that she did with her published works. The letters are a delight and should be read by anyone who is a Willa Cather lover. They might even make a fan of those who've never read her before.
But back to Willa Cather and Her Love of Czechs and especially her love for the Bohemians from the prairie, we do highly recommend that you read our other post, The Indomitable Pioneer Spirit of the Creative Czechoslovaks.
Inspired by the Drawings of Mikoláš Aleš
The following is from Cather Studies Volume 8 at the Willa Cather Archive (an ambitious endeavor to create a rich, useful, and widely accessible site for the study of Willa Cather's life and writings you can access here.)
Cather's earliest associations with Czech immigrants began just after her arrival in Nebraska in 1883, and while this predates widespread dissemination of Aleš's works in the States, by the time Cather left Nebraska in 1895, examples of his works had become available in calendars, cards, children's primers, folk songs, and various ephemera and were sentimental favorites in Czech homes in America as well as Europe. For Czech émigrés, Aleš's work often served as a spiritual connection to the essence of what they missed about the Czech lands. Between 1906 and 1918, Cather made regular, extended visits to Nebraska, typically calling on Czech-speaking friends. In Nebraska's "Bohemian country" for five weeks during the 1912 harvest season, Cather was attentive to the cultural and scenic details she would use in "The Bohemian Girl," the story she was completing at the time.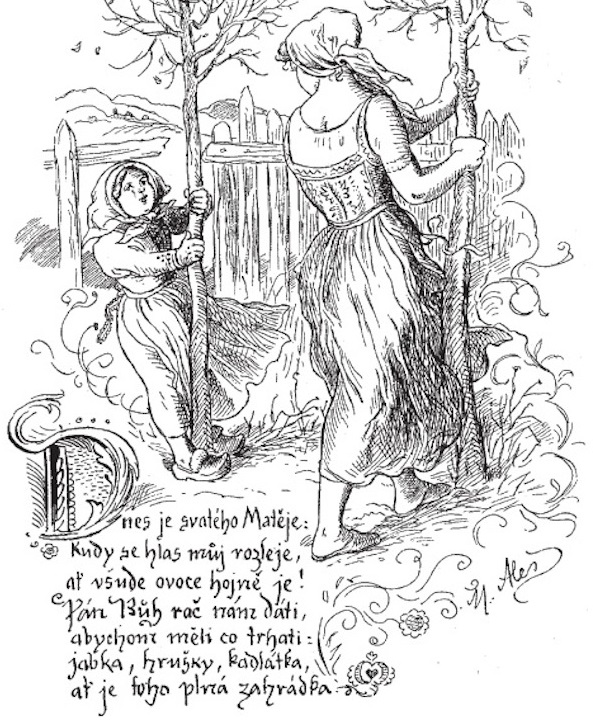 According to Antonette Turner, granddaughter of Annie Sadilek Pavelka, many Czech homes in the Red Cloud area displayed—even into the 1950s—"old country"–style illustrations in keeping with what Cather commissioned for My Ántonia. Czech American newspapers and periodicals, another possibility for seeing Aleš's illustrations, were numerous in the early part of the century, and Cather references them in both My Ántonia, where Anton Cuzak brings home from Wilber a roll of illustrated Bohemian papers, and in "Neighbour Rosicky," where four different passages make reference to Czech American newspapers. Unquestionably familiar to Cather's friends in Nebraska was the illustrated bimonthly Hospodárˇ ("Husbandman" or "The Farmer"), which was then published in Omaha and claimed in 1920 a subscription of thirty thousand households.
Prior to this, Cather's residence in Pittsburgh between 1895 and 1906 coincided with a surge of immigrants from the Czech lands and Slovakia attracted by jobs in the steel and coal industries, and by the 1920 census, Pennsylvania had the highest number of Czech-speaking immigrants in the nation (Čapek 12–19). Even after her subsequent move to New York, Cather visited Pittsburgh and remained a close friend of May Willard, the reference librarian at Pittsburgh's Carnegie Library, which housed a dozen pre-1918 Czech publications, including Czech folk songs that Aleš was known to have illustrated.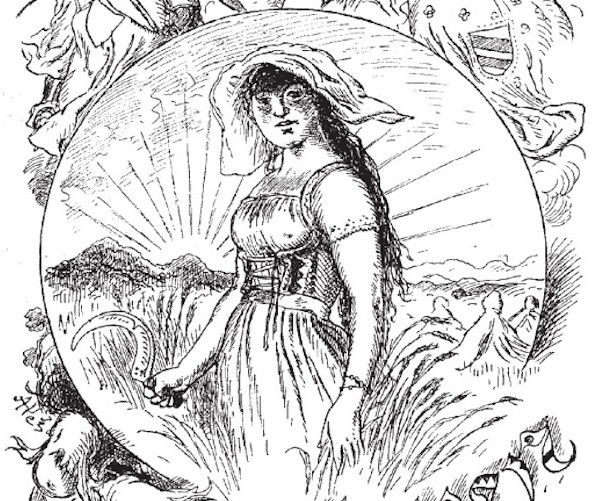 New York would have provided Cather with ample opportunities to observe the pageant of Czech immigrant culture. The city's Czech population of more than forty thousand in the 1910 census, just after she relocated there, and of more than fifty thousand by 1918, lived and worked in neighborhoods within walking distance of Cather's Bank Street apartment (Čapek 18; Cary, "Czecho-Slovak Exhibition"). Less than two miles east of her apartment was the oldest Czech neighborhood in the city, where she might have walked down "Czech Boulevard" (Avenue B), strolled through Tompkins Square Park (off Tenth Street), which was popular with Czech immigrants, or visited the Vesey Street neighborhood where Czechs like Rosicky worked in the factories. Uptown, less than five miles from Bank Street, the Yorkville neighborhood (east of Central Park, in the Seventies and Eighties) contained the Bohemian Quarter, where Czechs attended their own dances, theatricals, concerts, and public lectures at Národní Budova (National Hall), worshiped at both Catholic and Protestant Czech-language churches, maintained a Czech-language school, and joined innumerable lodges and union meeting halls. At the intellectual hub of the Bohemian Quarter was the Webster Free Library, considered New York's "Czech Library" because of its long-standing efforts to accumulate Czech materials and serve as an exhibition hall and cultural center for Czechs. By the time Cather was working on My Ántonia, the library's holdings included more than fifteen thousand volumes of books and various materials written in Czech, the largest collection outside of the Czech homeland. The library also subscribed to all three New York–based Czech newspapers and very likely others published in Cleveland, Cedar Rapids, and Chicago.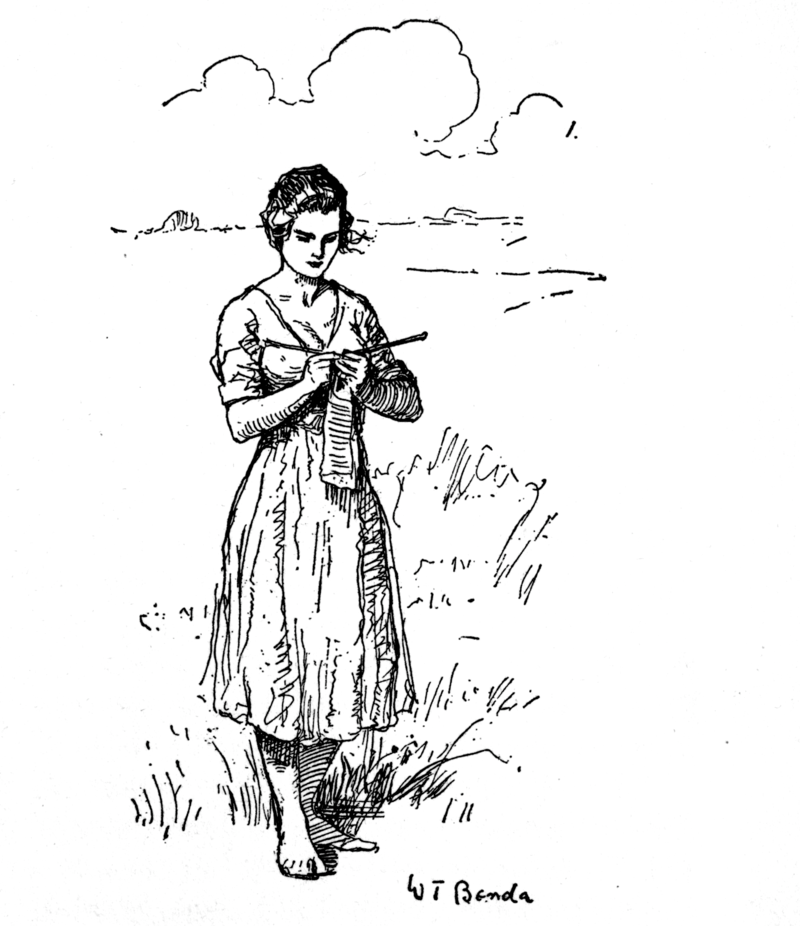 Prewar conflicts over the rule of the Czech lands, which led to their declaration of independence a month after the publication of My Ántonia, meant that U.S. newspapers were consistently covering issues and activities related to the culture and history of the Czech-speaking states, including several political protests in the United States led by philosopher Thomas Masaryk, who would later become the president of the nation of Czechoslovakia and, after he read My Ántonia, Willa Cather's correspondent.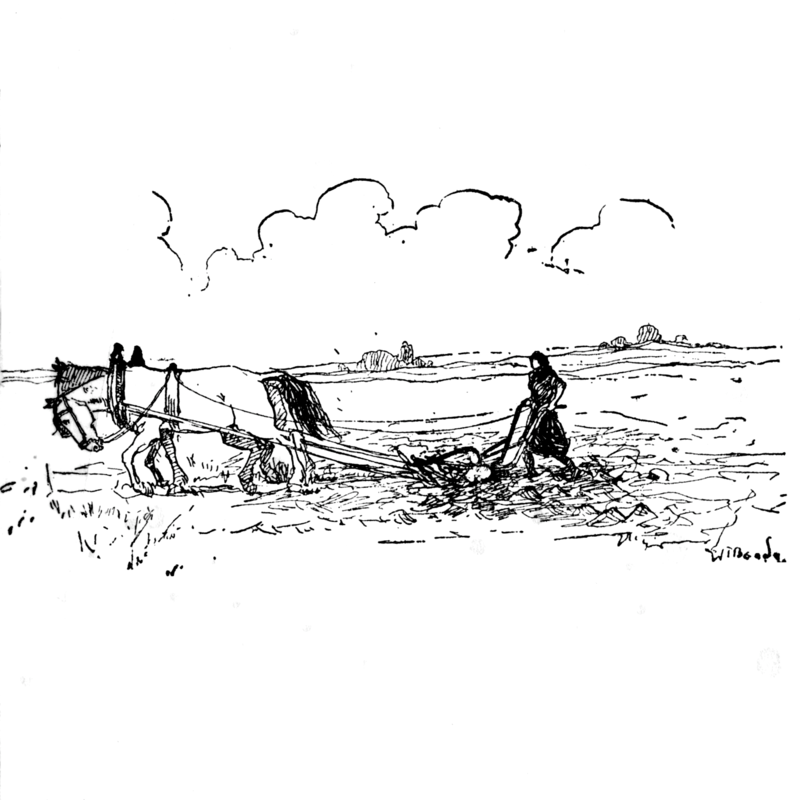 Additionally, the New York Times regularly discussed Czech art history in the "Art at Home and Abroad" column written by Elisabeth Luther Cary. As early as December 1913, the Times highlighted a local showing of Bohemian graphic art ("Interesting Collection"), and again in December 1917—the same time Cather was negotiating with W. T. Benda (Władysław T. Benda) and her publisher about the makeup of the illustrations—Cary makes note of an exhibit of Czecho-Slovak folk art at the Metropolitan Museum, which also hosted a well-attended lecture and provided a flyer on Bohemian history and immigration ("Czecho-Slovak Exhibition").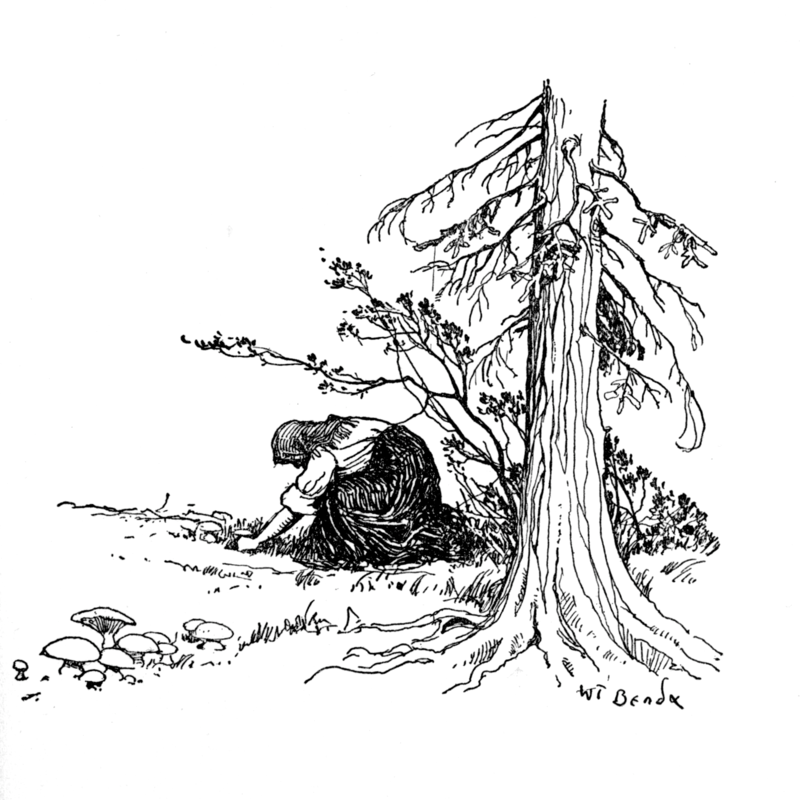 Just a week after the publication of My Ántonia, Cary specifically identifies Mikoláš Aleš as a leader in Czech graphic art ("Czechoslovak Spirit"), and six months later she praises his Prague National Theater murals as "one of the most splendid expressions of Bohemian art of the nineteenth century" and Aleš himself as an "incomparable illustrator of Czech folk songs . . . imbued . . . with a strong national pride" ("Proud Artistic Past"). Cather, therefore, had numerous opportunities to see his work in any number of mediums.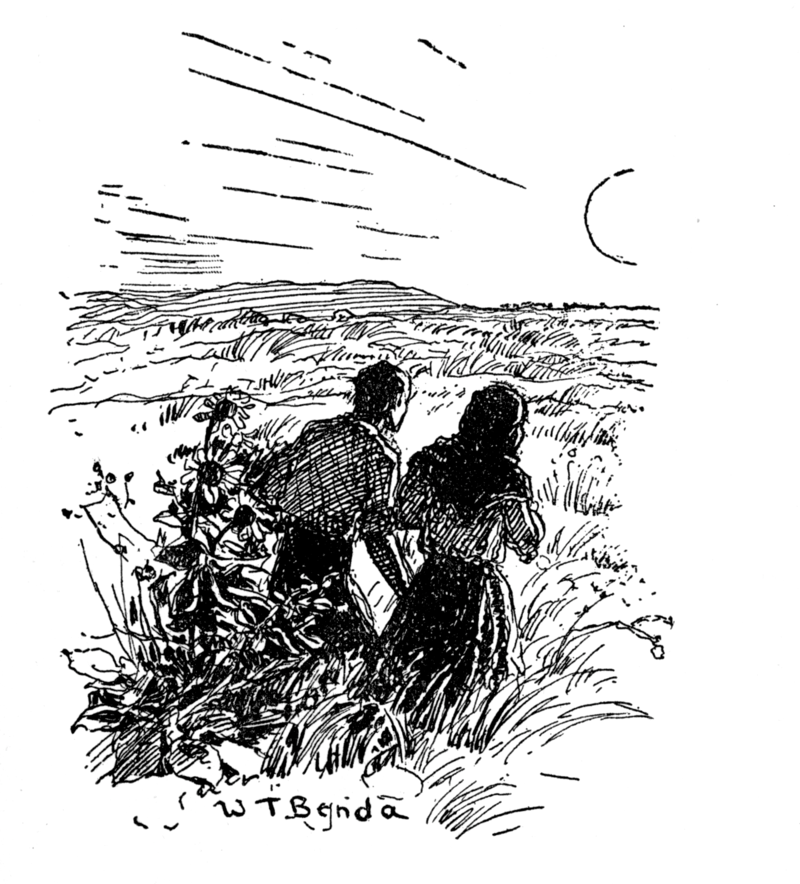 The complete article exists at The Willa Cather Archives and you can read it here.
Inspired by Listening to Antonín Dvořák
The Song of the Lark is the third novel by American author Willa Cather, written in 1915. It is generally considered to be the second novel in Cather's Prairie Trilogy, following O Pioneers! (1913) and preceding My Ántonia (1918). Set in the 1890s in Moonstone, a fictional town in Colorado, The Song of the Lark is the self-portrait of an artist in the making. The ambitious young heroine, Thea Kronborg leaves her hometown to go to Chicago to fulfill her dream of becoming a well-trained pianist, a better piano teacher. When her instructor hears her voice, he realizes that this is her true artistic gift. He encourages her to pursue her vocal training instead of piano saying … "your voice is worth all that you can put into it. I have not come to this decision rashly." [Part II; Chapter 7] In that pursuit she travels to Dresden, then to New York City, singing operas. Her reference for life is always her home town and the people she encountered there.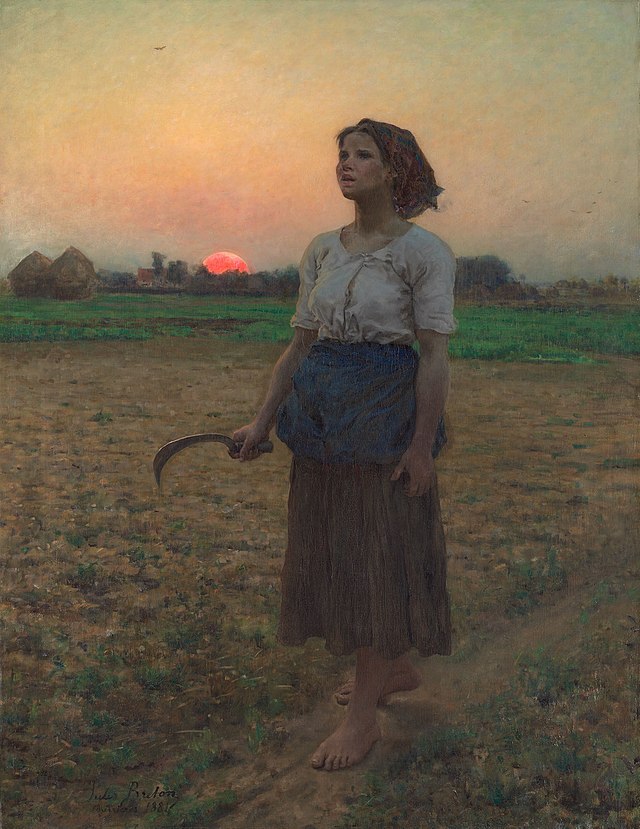 Based on the Wikiwand page about the book, the story alludes to the musical work of Antonín Dvořák. It's no secret that Willa Cather was a great fan of Czech composer Antonin Dvorak. In regards to Antonín Dvořák's Symphony From the New World, she expressed that she heard here "the immeasurable yearning of all flat lands." which is mentioned in the NY Times article, Czech Composer, American Hero by Joseph Horowitz.

From the thesis, Nostalgic Sensibilities: Romantic Music in the Selected Works of Willa Cather, Ernest Hemingway, and F. Scott Fitzgerald by Nichole Josephine Camastra:
After a long apprenticeship of journalism, teaching, managing McClure's, publishing several short stories, and experimenting with the immigrant experience in Alexander's Bridge, O Pioneers! and The Song of the Lark, Cather demonstrated her fullest expression of a Bohemian artistic idiom in My Ántonia. Recognizing the author's success with this novel, Edith Lewis wrote that Cather felt "it was the best thing she had done—that she had succeeded, more nearly than ever before, in writing the way she wanted to write." Her sense of accomplishment may have stemmed from the satisfaction of writing a book that incorporated Dvořák's Symphony No. 9 more fully than its predecessors. A musical interpretation of My Ántonia can be addressed on two levels, one explicit and the other implicit. First, the character of Mr. Shimerda represents the Old World, and the longing for his Bohemia and his role as a fiddler creates an obvious connection to the Czech cultural tradition. Second, the manner of Jim's recollections, not just what but how he remembers things, echoes fundamental principles of folk song, a major but not central component of Nationalist music. The Nationalist impulse in music stems from efforts to unify people of a developing country, and the collective identity of a population is likely to be found in not only the songs they sing and the tales they tell but also the lexicon they use.
… and from the same thesis:
When Dvořák wrote the New World "his knowledge of such music was limited, and it is certain he had made no 'serious study'" of it. His summer vacation in Spillville, Iowa in 1893 was the first time Dvořák "came into close contact with Indians." He completed a draft of the Ninth Symphony in May before leaving New York City.
In order to create aural characteristics that he felt were "distinctly American," Dvořák approached his subject matter like a writer, by observing his surroundings. He published some of his findings in Harper's and the New York Herald. Immediately upon his arrival, he wrote of being "startled by the strength and the depth of the voices in the boys who sell papers on the street, and I am still constantly amazed at its penetrating quality." Noticing all the pitches around him, he described the collective sound as "like a rare and lovely flower growing amidst encroaching weeds. Thousands pass it, while others trample it under foot, and thus the chances are that it will perish before it is seen by the one discriminating spirit who will prize it above all else." Drawing from the quotidian remained a priority for Dvořák who claimed that "the inspiration" for his New World compositions "should come from the right source, and that the music itself should be a true expression of the people's real feelings."
Articulating such genuine emotion meant being motivated by many possible influences, for the Czech maestro stated that "it matters little whether the inspiration . . . is derived from the Negro melodies, the songs of the creoles, the red man's chant, or the plaintive ditties of the homesick German or Norwegian." The objective was to create an indigenous sound, success with which stemmed from Dvořák's scrutiny of his environment. According to him, the musician must "prick his ear for music. Nothing must be too low or too insignificant" for him. Similarly, the writer's faculty must be piqued by the most pedestrian things.
Beginning her career as a journalist, Willa Cather's apprenticeship would have sprung from this principle. Though it is not certain she read any of Dvořák's essays, particular elements of his vocation in the United States align with her fictional explorations of the immigrant pathos.
In much of Cather's early work, music helps define an ethnic group. Moreover, it offers a voice for the immigrant who has none because of a language barrier. Granting utterance, whether fictional or musical, to an otherwise mute population helps to create a sense of unity among natives and foreigners alike. Dvořák expresses the paramount importance, for the artist, of getting "into touch with the common humanity of his country." His concern with creating a cultural idiom contains remarkable similarity to Cather's handling of the same concept in her prairie novels. Both of them reflected the New World experience in their work.
Cather's interest in articulating a kind of populist sentiment dates back at least to 1897, when she lauded the talent of John Philip Sousa (1854-1932), the marching band composer, in a review for the Lincoln Courier. She stated that great compositions "live," possessing an agency of their own when they are part "of the people." She wrote that in 1897, two years after Dvořák had returned home and four years after the New York Herald published his observation that "the country is full of melody. . . . It is a rich field. America can have great and noble music of her own, growing out of the very soil
and partaking of its nature." Part of his mission upon coming to the United States lay in cultivating such "fields."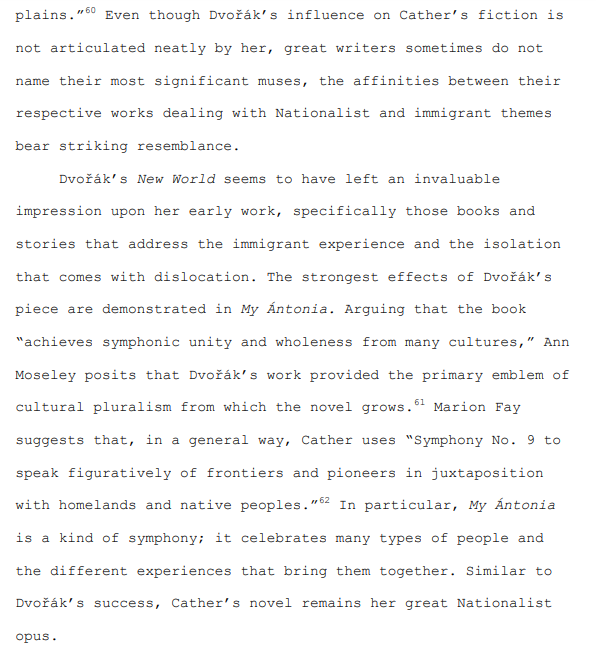 And finally, from the same thesis:
If My Ántonia bears the mark of appropriation, then the titular character's father is the key to illuminating how Cather integrated an Old World artistic identity. Mr. Shimerda provides the impetus for many of Jim's reflections years after leaving Nebraska. The old man's name recurs throughout the work "like a star" that rises "clear into the evening sky," as Cather described the "striking" last note of the Ninth Symphony, in which she heard "all the hope of the new world." Jim recalls Mr. Shimerda at some of the most important milestones of Jim's young life. Ántonia's father is a beacon for Jim's endeavors. Since Mr. Shimerda largely determines the tenor of Jim's reminiscence, the Czech fiddler seems to undergird the musical element of the novel more than the Blind d'Arnault episode credited for the same effect by critics such as Ann Moseley and Richard Giannone. First and foremost, a Bohemian idiom drives thematic tension.
Cather's earliest fictional experimentation with the Czech musical pathos, and a strong precedent for My Ántonia, is her story "Peter," which first appeared in The Mahogony Tree in May of 1892. Cather reprinted it in The Hesperian on November 24 that same year, almost exactly two months after Dvořák arrived in America on September 26. She rewrote it before this second publication. James Woodress augments the history of "Peter" by stating that Cather additionally "republished it twice before using it a fourth time" in My Ántonia. He also indicates that she revised it for publication in a "short-lived, five-cent weekly paper called the Library, . . . [which] lasted only six months."
Most important, however, Woodress discusses Cather's resistance to "resurrecting" it and other stories from the 1890s. She was obviously not happy with her early work, comparing it to a "bad" apple. Woodress observes that "she was sorry her apprentice pieces still existed in the musty files of old periodicals and would have liked to destroy them all." Even though a mature Cather viewed her novice compositions with a disdainful eye, the influence of this particular tale remains central in discussions of My Ántonia, especially in an effort to recognize how Dvořák's life may have inspired her fictional characters. Though Cather acknowledged Peter as a model for Mr. Shimerda, both men resemble the real Czech violinist Antonín Dvořák.
In a September 1931 interview for Good Housekeeping, the author indicated a lineage from the titular character of "Peter" to Ántonia's father, Mr. Shimerda. She tells the interviewer, Alice Booth, that some of her early work was only a "little different" from her later fiction, naming the "old man she used" in My Ántonia. She articulates the connection by remembering that in those days, . . . I was afraid that people, just as they were, were not quite good enough. I felt I had to trim them up, to "prettify" them. I had just heard Bernhardt, and the magic of her voice was still in my ears—and so I made my old man a violinist—a good violinist, who had once played an obligato with a great singer, when she came to the little theatre in which he was first violin in the orchestra. I made that a frill for him . . . and did not realize that old Shimerda, just as he was, was good enough for anybody. He was not a violinist. He was just a fiddler—and not even a very good fiddler. He did not need to be. He was enough just as he was.
Peter and Mr. Shimerda are "fiddlers," and the next most striking resemblance between them is the homesickness each experiences, represented most explicitly by his violin.
Both men live and die by their instrument. Peter remains unwilling to sell it at his son's request. The son, Antone, tells his father he needs money and that it no longer serves a purpose anyway since his father cannot play it without his hands shaking. As the sole comforting presence in his life, Peter hesitates to get rid of it.
Having emigrated, he recognizes that life "was all different now." The only things he still loves are "his violin and the holy Mary, and above all else he feared the Evil One, and his son Antone." Peter ultimately kills himself in much the same way Mr. Shimerda does, with a shotgun out in the barn. Before ending his life, however, he plays the "Ave Maria," embraces his fiddle under his chin "where it had lain so often," and finally snaps it in two. Antone carries to town the bow "which Peter had forgotten to break" in order to sell it before the funeral.
Unlike Dvořák or Mr. Shimerda, Peter is portrayed as practically "worthless. . . . He did not like the country, nor the people." Alternately, very much like Dvořák, Peter "had been second violinist in the great theatre at Prague [and] . . . was very homesick for Bohemia." Peter's nostalgia for home and his occupation as "second violinist" at the Prague theatre seems more than coincidental, for Dvořák possessed those same characteristics except that he worked as principal, not second, player in the orchestra.
Cather's mistaken 1931 remark that Peter was "first violin" could suggest just how far removed her memory was from her earliest published fiction, or, perhaps in an effort to hide her sources, she confused the real musician's post in Prague's national theatre with that of her protagonist's.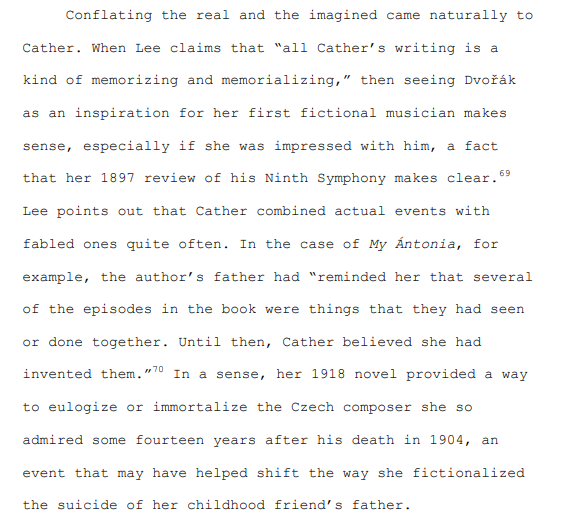 Nichole Josephine Camastra dedicated one-third of her thesis to writing about Willa Cather's connection to Antonín Dvořák and makes a very strong case for her using his music as inspiration to write My Ántonia. We recommend you read the entire thesis, Nostalgic Sensibilities: Romantic Music in the Selected Works of Willa Cather, Ernest Hemingway, and F. Scott Fitzgerald.
Her Connection to Czech Loneliness
"Like immigrants of other nationalities, the Czechs suffered much in their new homes. Along with economic hardships and the rigors of pioneering, settlers faced extreme isolation and loneliness. Although the minds of Czechs were for centuries exposed to westernizing influences, their inner makeup remained Slavic, inscrutably complex and sentimental. Their love of music, dance, and beer occasioned joyful celebration, and the release from monotony of day-to-day existence. On the prairies of Nebraska, they were in the early years of their settlement denied this kind of escape. Willa Cather in her poignant story of a Czech immigrant family in Nebraska (My Antonia) writes: 'I knew it was homesickness that had killed Mr. Shimerda, and I wondered whether his released spirit would not eventually find its way to his own country.' To others, the suicides of fictional Shimerda and other Czech immigrants are attributable to their lack of religion and their fatalistic outlook on life. 'It appears that when a crisis comes, there is no sustaining force to guide the individual to a more settled mind.' It was the combination of both, the ever present Slavic fatalities as an underlying recognition of man's helplessness and the more immediate loneliness in the often beautiful but seemingly cruel natural setting of their new prairie home that accounts for the high suicide rate of the Czech settlers. This mental conflict between a desire for the greatest possible personal freedom and economic security on the one hand, and a sentimental longing for the homeland on the other, did not prevent the Czech pioneers from staying." – Nebraska History, Fall/Winter 1993.
It's clear that she held deep sympathy for the Czech people and their arts, music, customs, traditions and ways of being. As more and more of her letters come to public view, we see a portrait of a woman who certainly felt at home among the Czechs and perhaps, she is with Mr. Shimerda now, in a heavenly country where Czechs live and thrive…
In addition, we also recommend you order My Antonia, written by Willa Cather, and that you get the hard cover copy, as that is the Distinct Press edition and royalties help to support and fund this website. You can order by clicking on the image below or on this link.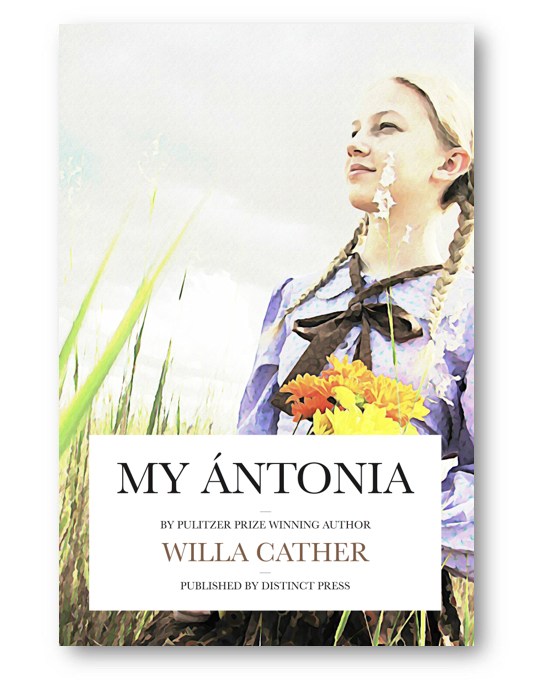 Yes, that is one of the Tres Bohemes, Zynnia, on the book cover. ;)
Meet the Real Will Cather
Yours, Willa Cather is a 30-minute documentary inspired by the recently published Selected Letters of Willa Cather, edited by Andy Jewell and Janis Stout. In Yours, Willa Cather we meet the woman who confesses to a friend that she is "paralyzed" by the open spaces of the West. Who is so bored with her job as editor of McClure's that she compares it to living in a "tepid bath." Who believes her boss when he tells her she has no talent as a writer. Who writes to F. Scott Fitzgerald, "After all, the only thing one can tell about beauty, is just how hard one was hit by it. Isn't that so?"
In Yours Willa Cather we hear a voice very different from the polished and controlled voice of Willa Cather the novelist. Instead we meet a person who is vulnerable, funny and at times, ruthless. A fascinating woman who thoroughly mastered the art of letter writing. Nebraska born actress Marg Helgenberger (CSI, China Beach) is the voice of Willa Cather. Author and actor Christopher Cartmill is the narrator. Below is the amazing 30 minute documentary for your viewing pleasure…
Cather was very pleased when a good number of Nebraskans wrote to say how authentic they had found My Ántonia. In December 1918 the school superintendent in Wilber, Nebraska—today officially designated as the "Czech Capital of Nebraska"—effused in rather ungrammatical prose, "To say that I enjoyed it from cover to cover expresses it mildly for to write it as you have written it shows that you have really lived with those people and not only lived but you tried to understand their life from their point of view, which very few of the american [sic] writers try to do but that is not all, you have really been able to see things as seen by these people that you write about and feel as they feel" (L. J. Bouchal, BSP, 2 December 1918).
We hope you enjoyed our post today, Willa Cather and Her Love of Czechs, and that you will remember to subscribe and tell a friend. The 1,000+ articles that appear here have been done as a labor of love. We do not receive any compensation for our work and are always grateful for your kind donations.
Thank you in advance for your support…
We know that you could spend hours, days, weeks and months finding some of this information yourselves – but at this website, we curate the best of what we find for you and place it easily and conveniently into one place. Please take a moment today to recognize our efforts and make a donation towards the operational costs of this site – your support keeps the site alive and keeps us searching for the best of our heritage to bring to you.


Remember, we rely solely on your donations to keep the project going.
We appreciate you more than you know!
If you have not already subscribed to get TresBohemes.com delivered to your inbox, please use the form below now so you never miss another post.