This simple recipe combines traditional Czech ingredients such as sauerkraut and klobasa in a soup which is easy to make and delicious. This easy sauerkraut soup uses just a few ingredients and yet it provides lots of flavor. It is warming and hearty, making it perfect for rainy days and winter evenings. The addition of sour cream, which you can either stir into the soup before serving or use as a garnish, makes this soup extra creamy!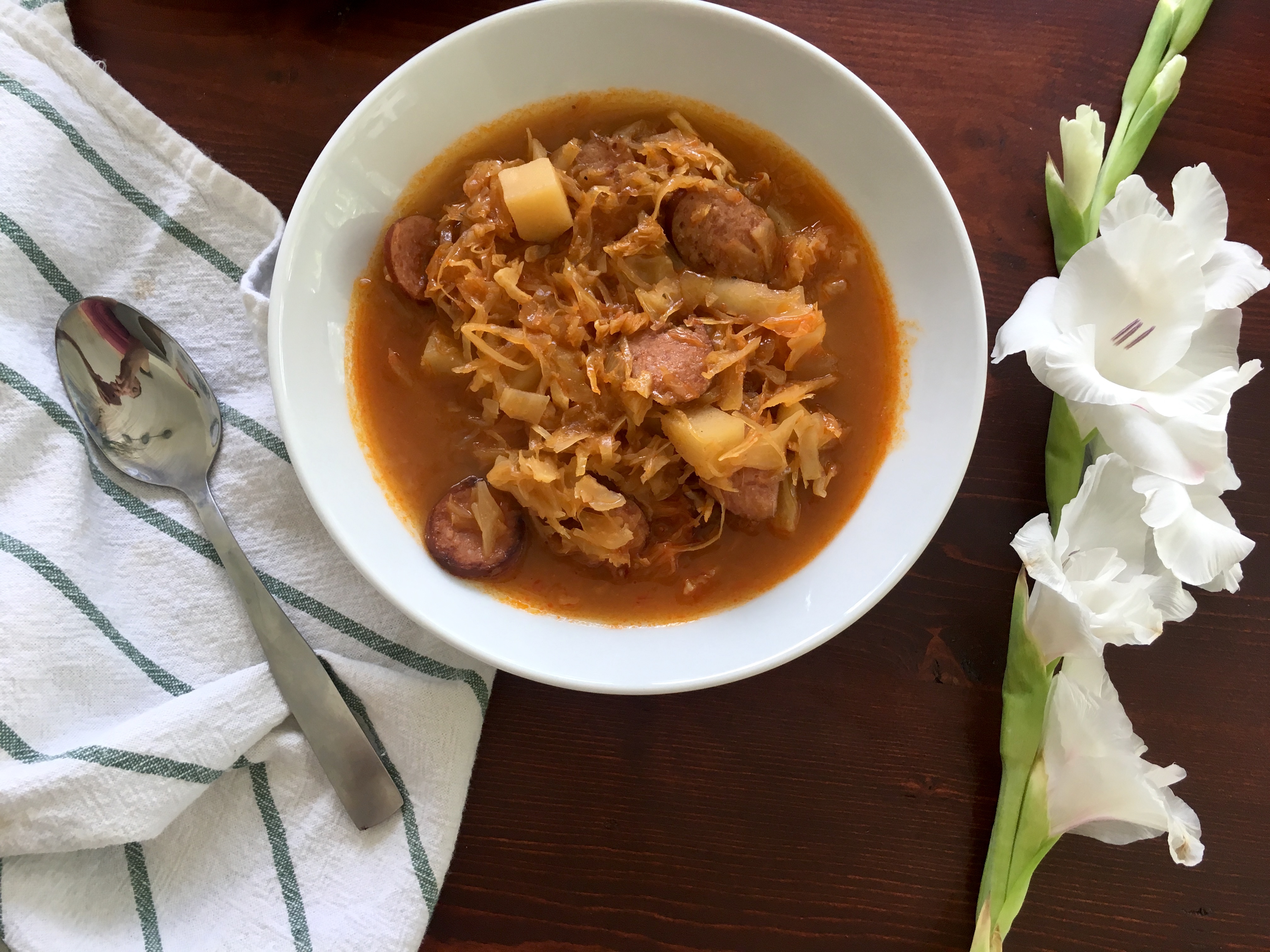 Let's get started!
Ingredients:

1/2 tablespoon duck fat (you can use butter or olive oil if you prefer)
1 polish klobasa, sliced
2 large potatoes, peeled and diced
1 jar sauerkraut (lightly rinsed and drained)
1 cup fresh cabbage, thinly sliced
1 tbsp paprika
1 teaspoon garlic powder
salt and pepper
water
2 tablespoons flour
2 tablespoons butter
Sour Cream
Directions:
In a large soup pot, melt the duck fat over medium heat.
Add the klobasa and cook until lightly browned.
While the klobasa is cooking, peel and cut the potatoes.
Once the potatoes are diced, add them to the pot.
Next add the sauerkraut and fresh cabbage.
Stir everything together.
Now add the paprika, garlic powder, salt, and pepper.
Stir again and then add water until all of the ingredients are covered (you may add more or less water depending on how thick you like your soup).
Next raise the heat to high and bring the soup to a boil.
Once the soup has reached a boil reduce the heat to low, cover with a lid, and simmer for 1 to 1 1/2 hours.
The soup is finished when the potatoes and cabbage are soft.
To thicken the soup slightly and to give it a creamier texture, I like to make a rue once the soup is cooked.
To make the rue, cook the flour in a small pan over high heat, stirring continually, until it turns a light brown color. Then add the butter, continuing to stir the mixture until it forms a thick golden paste. At this point you should remove the pan from the heat.
Now add a ladle of the soup liquid into the rue and stir it until combined. Repeat this step until the rue has thinned in consistency. Once you have added 3 or 4 ladles of the soup liquid to the rue, you may pour the rue into the soup and stir to combine.
Serve garnished with a spoon of sour cream and a slice of Czech rye bread.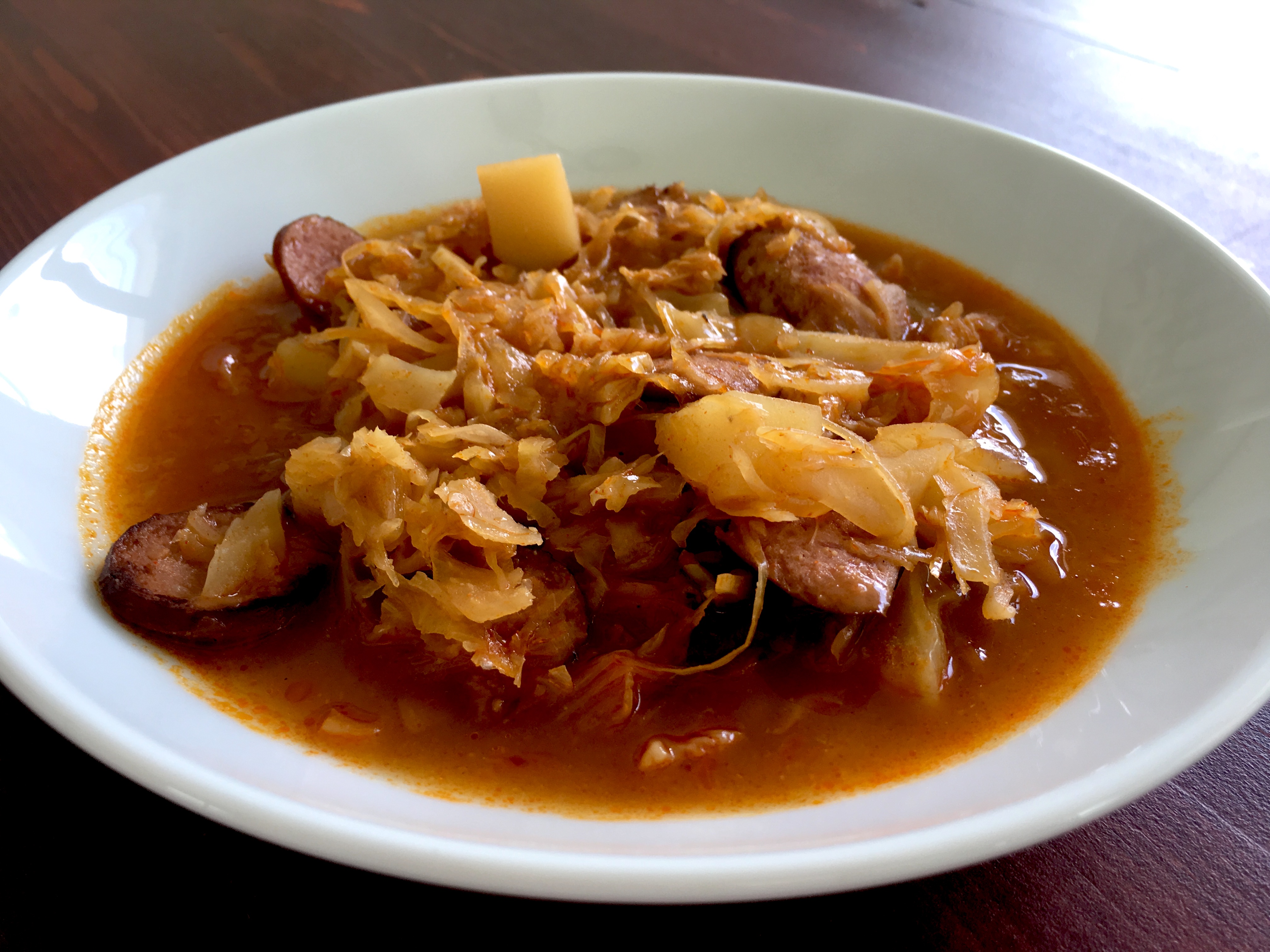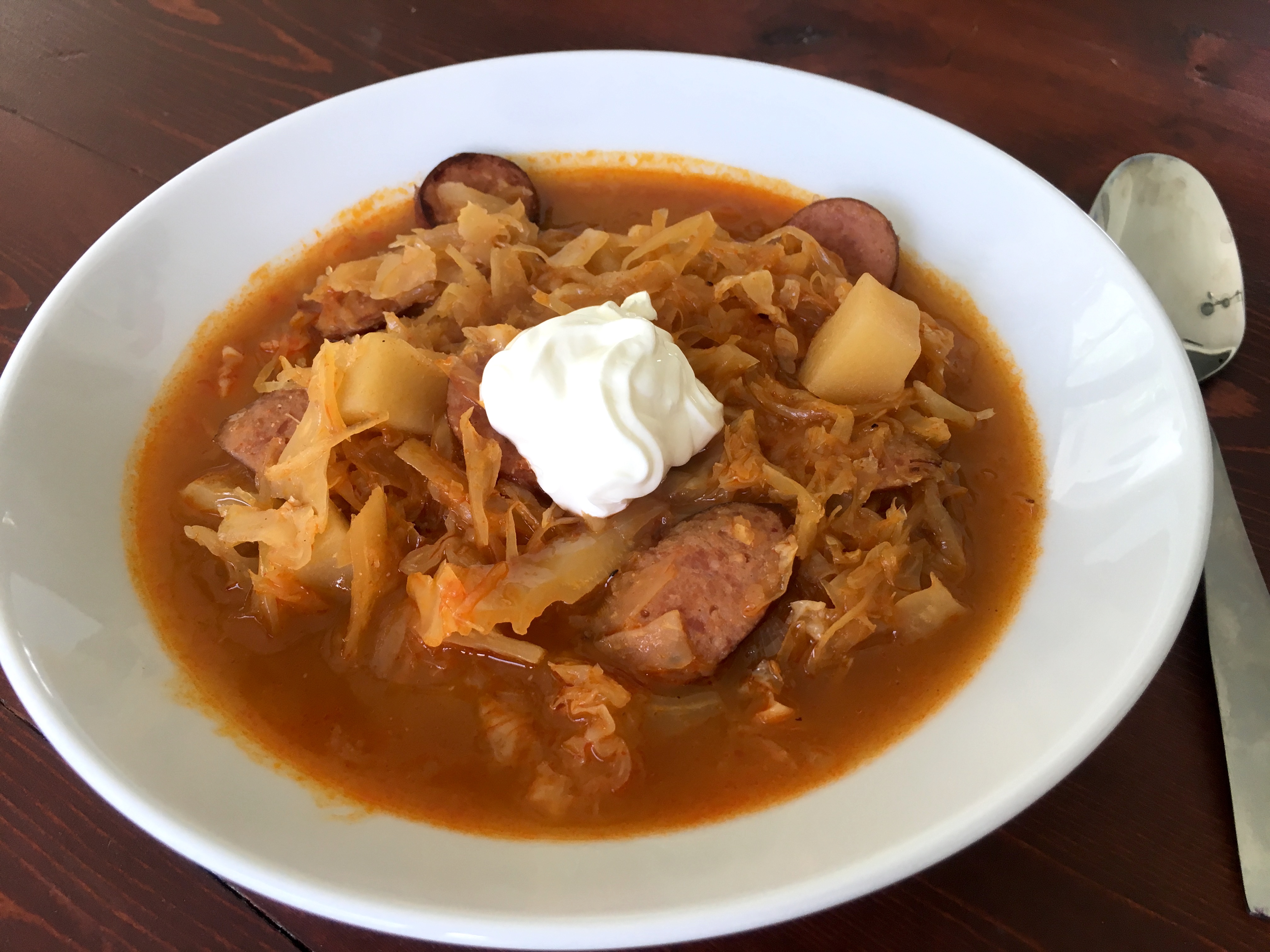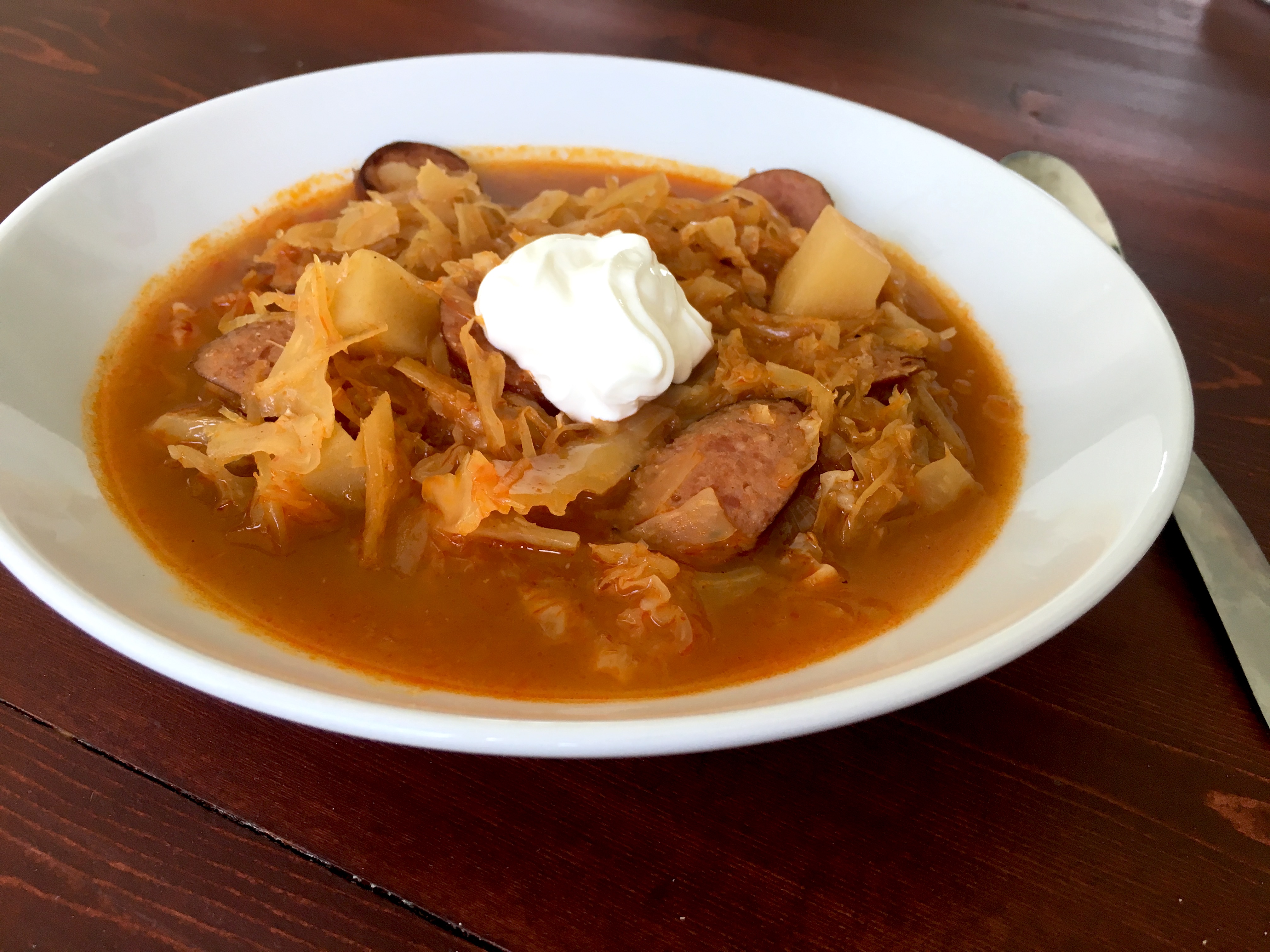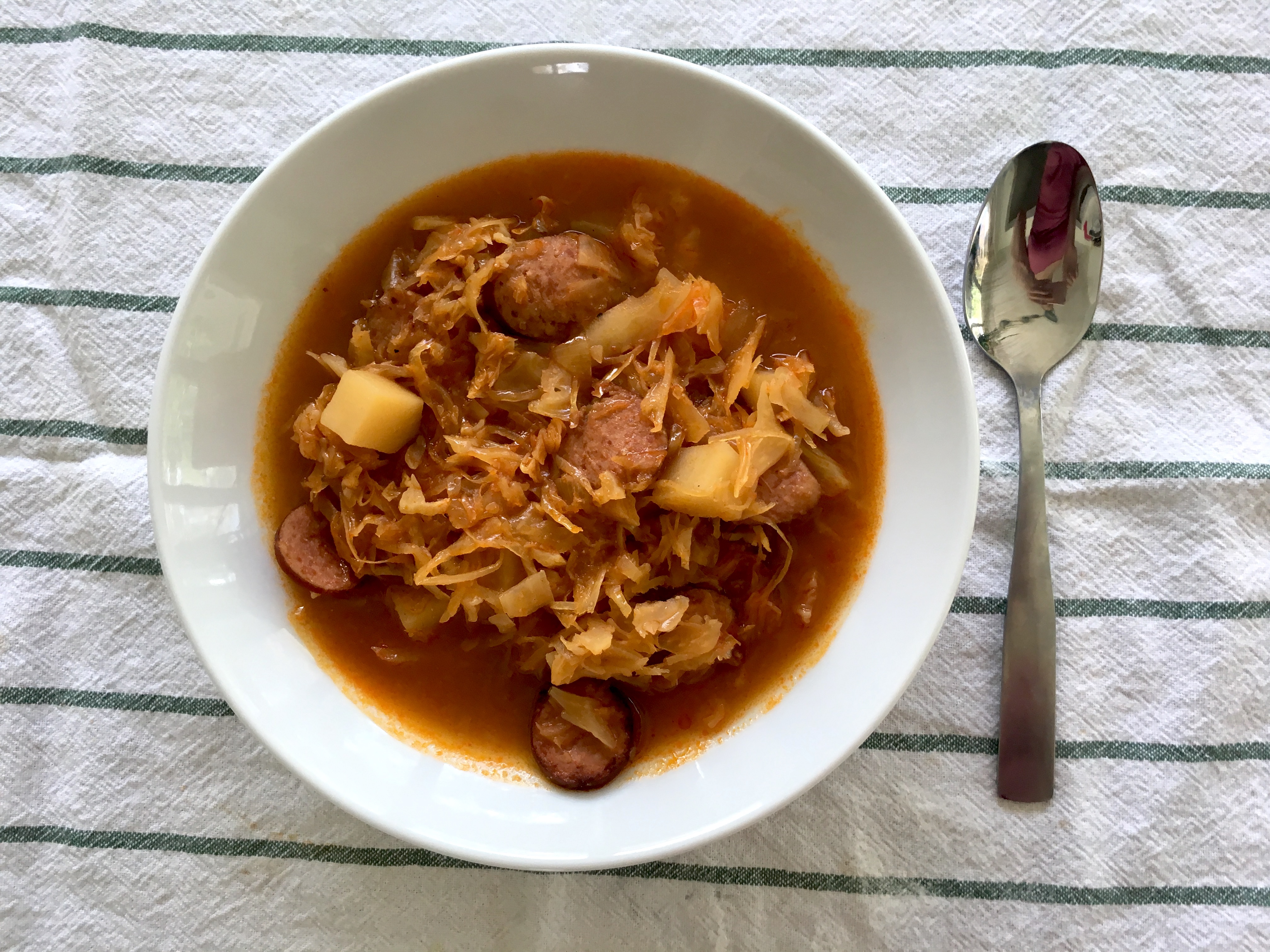 For desert, try our recipe for Fluffy Vanilla Apricot Bábovka. It is a traditional Czech cake which is both light and airy and serves as an excellent end to any meal.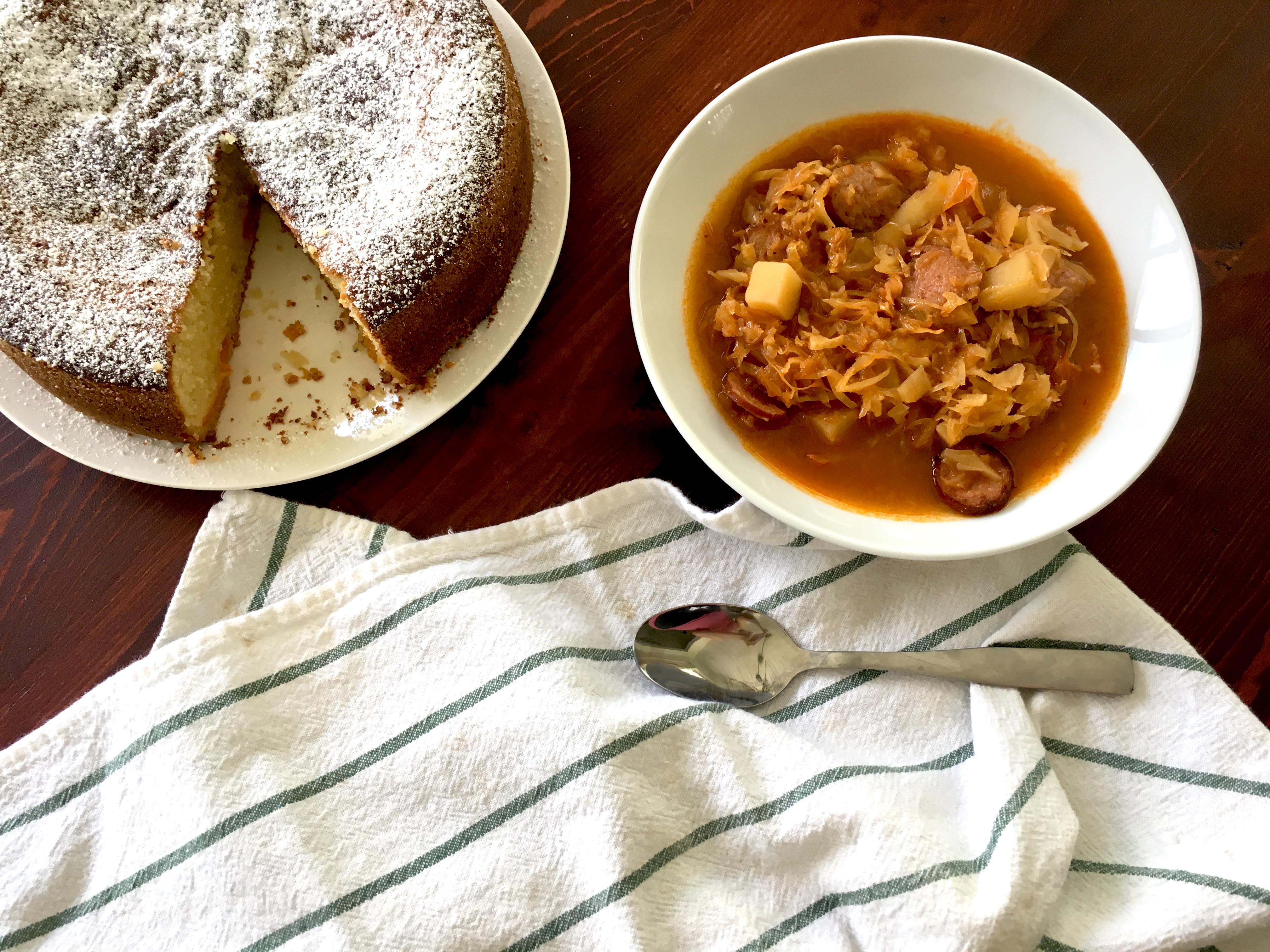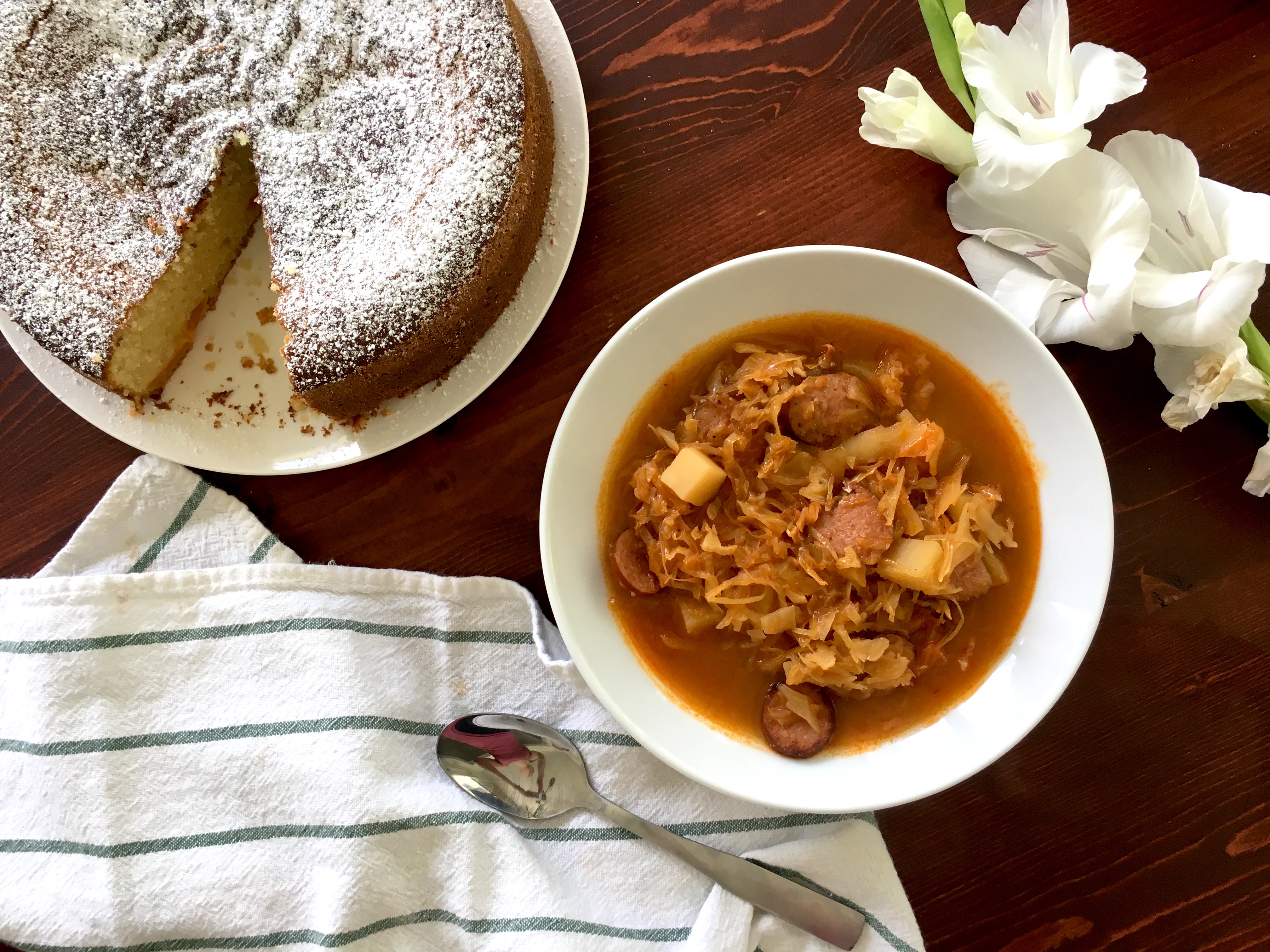 Enjoy!
Thank you for your support – We appreciate you more than you know!
We know that you could spend hours, days, weeks and months finding some of this information yourselves – but at this website, we curate the best of what we find for you and place it easily and conveniently into one place. Please take a moment today to recognize our efforts and make a donation towards the operational costs of this site – your support keeps the site alive and keeps us searching for the best of our heritage to bring to you.


Remember, we rely solely on your donations to keep the project going.
Thank you in advance!
If you have not already subscribed to get TresBohemes.com delivered to your inbox, please use the form below now so you never miss another post.