Today I am sharing one of my most favorite Czech songs entitled Zatím co ty spíš (While You Are Sleeping) by Miroslav Černý. I have yet to listen to this song without crying! Once you read the lyrics below (in both Czech and my translation to English), you will understand why!
Unfortunately, I cannot locate a clean video of the song with the artist and it seems that most folks have uploaded their own video footage, so I recommend you just click play on the video and then continue scrolling down and reading…
Czech Lyrics
Piknik dalšího dne pomalu končí,
ulice, náměstí, parky, nábřeží i domy se choulí pod teplou houní noční tmy,
jen tu a tam ještě některé okno pohne víčky ospalých skel,
aby se napilo pohádkového koktejlu slunce,
který na stříbrných podnosech hvězd a měsíce roznáší pozorný hostitel.
A v jeho světle vidím, jak se ve snu usmíváš.
Nikdy dřív jsem netušil, jakou utajenou krásu v sobě skrýváš.
Přišel jsem v noci a říkám ti: holčičko,
ale přitom nevím, zda ti tak budu moci říkat ještě až se ráno probudíš.
Přijde večer, večer stejný jako všechny dřív,
skočíš tátovi na klín, otevřeš náruč a položíš mu ruce kolem krku.
Ale ráno, ráno už budeš příliš velká, abys to udělala znovu.
Jsi obraz, který kouzlí čas. A stejně jako on se měníš přímo před očima.
Příliš malá, abys mohla řídit auto, ale už dost velká, abych tě uspával pohádkou.
Je to velké tajemství, o němž jsem ti nikdy nevyprávěl.
Tajemství cesty, jejíž každá část vede ze včerejška do zítřka.
Není to cesta snadná, ale ty po ní půjdeš stále dál
a necháš za sebou panenky, kočárky, medvídky, barevné míče, mýdlové bubliny, papírové draky i mně.
Slibuji, že ti nikdy nebudu vyčítat, až poznáš, že svět je mnohem zajímavější, než tvůj táta.
Hm, včera jsme byli na procházce, ty jsi se někam zadívala
a najednou jsi se začala bát, že jsem se ti ztratil.
A vidíš, možná už zítra se budu bát já, že se zase někam zadíváš a pak odejdeš s někým úplně jiným.
Je to tak zvláštní: jak rosteš, přestáváš mít strach a já se začínám bát.
Věčný, neomylný čas počítá tvé minuty,
oblaka úzkostlivě střeží své nejjasnější hvězdy,
ale ani slunce neuchrání své nejteplejší paprsky, když je zavolá blankytná obloha letního dne.
Ne, nikdy jsem nevěřil, že budeš žít v domě svých hraček,
ale až vyrosteš z mého náručí a můj svět bude pro tebe příliš malý,
nikdy nezapomenu, jak jsi vířila prach a roznášela panenky po celém domě.
Nosila jsi s nimi i kus slunce.
Prach se usadil, panenky uklidila máma, ale tvoje zář zůstane navždy v nás.
Tak tady jsem a vyprávím ti, zatím, co ty spíš. Vlastně protože spíš.
Kdybys viděla moji tvář, jistě by ses ptala na co myslím.
A já – asi bych nedokázal říct ani slovo. Dívám se na tebe a vidím spící krásu.
Teď už se jen skloním, abych tě políbil. Nevzbudíš se, dobře to vím,
vždyť podle pohádky jen krásný mladý princ může otevřít tvé oči
a já jsem jen otec budoucí ženy. Tak tedy spi.
Kdo ví, možná už zítra se probudíš a budeš velkou slečnou
a vůbec si neuvědomíš, že jsi se změnila uprostřed svého snu.
Ale možná, že to poznáš na mně. Až jednou budu docela jiný.
Trochu zamyšlenější, trochu vážnější, trochu smutnější, ale nesmírně bohatý.
Dnes v noci jsem viděl princeznu.
A cítím se jako král…
********************************
My translation is not exact or word for word. It is how I believe it translates best.
I hope you enjoy this beautiful song as much as I have over the years.
Kytka's Translation
The picnic of another day is slowly ending,
streets, squares, parks, seafront, and houses are lying under the warm night sky in darkness.
Here and there ,some window still shows movement of the lids of sleepy glasses,
the sun seems to drink a fairy-tale cocktail,
upon on the silver rays of stars and the moon, delivered by an attentive host.
And in his light, I see how you smile in a dream.
I never could have imagined what secret beauty you hide inside.
I came in at night and I would call you: little girl,
but I do not know if I'll still be able to call you that when you wake up in the morning.
Evening comes, an evening the same as before, you jump into your fathers lap, open your arms,
and lay your arms around his neck. But in the morning, come morning, you will be too big to do that again.
You are a painting which changes and enchants through time. And just like it, you are changing, right in front of my eyes. Too small yet to drive a car, but already too big to be put to sleep with a fairy tale.
It is a big secret which I have never told you.
The mystery of a journey, each part of which runs from yesterday to tomorrow
It is not an easy journey, but one you will go one regardless
and behind you will leave your dolls, prams, teddy bears, colorful balls, bubble baths, paper kites and even me.
I promise that I will never blame you, when you realize that the world is a lot more interesting than your father.
Hm, just yesterday we were on a walk and you looked somewhere for a moment and suddenly you began to get scared, that I had lost you.
And you see, perhaps tomorrow I will be the one afraid, that you will look somewhere and then leave with someone entirely strange and new and different.
It is so strange: as you grow up, you stop being afraid, and I am the one beginning to worry.
Eternal, infallible time counts your minutes,
the clouds keep anxiously guarding its brightest stars,
but even the sun cannot keep its warmest rays from shining when the sunny sky of the summer day calls to them.
No, I never believed you would always live in the house of your toys,
I knew you would grow out of my arms and my world would eventually be too small for you,
I will never forget, how you swirled the dust and carried your dolls all around the house.
And with them, you also wore a part of the sunshine.
The dust has settled, your mother has cleaned away the dolls, but your glow will stay forever in us.
And here I am, telling you this, while you are sleeping. Actually because you are sleeping.
If you could see my face, you would surely ask what I am thinking.
And I – I could not even say a word. I look at you and I see a sleeping beauty.
Now, I can only bow down to gently kiss you. You will not wake up, I know this well,
because, according to fairy tales, only a beautiful young prince can open your eyes
and I am just the father of a future woman. So sleep.
Who knows, maybe tomorrow you will wake up and you will be a great young lady
and you will not even realize that you have changed in the middle of your dream.
But maybe you will see the change in me. Once when I will appear quite different.
A little more thoughtful, a little more serious, a bit more sad, but immensely rich.
For tonight, I saw a princess.
And I feel like a king …
********************************
Pass the tissues, please.
I used to think this is how my parents must have felt when my sister and I had grown.
Now, with three grown children of my own, I truly understand and feel this beautiful song and it touches me even more deeply.
It seems I only blinked my eyes for a mere second and all of them have grown. Where has all the time gone?
Miroslav Černý is a Czech producer, lyricist, vocalist, reciter, presenter, compiler. He was born on August 22, 1937 in Prague (former Czechoslovakia).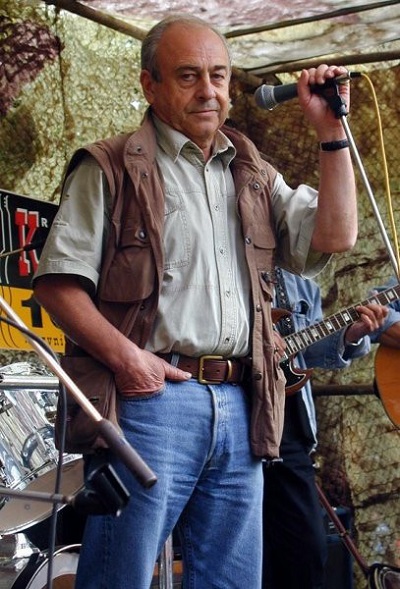 He has been a Supraphon recording company staff member since 1969.  You can see his entire discography at Discogs.
The song is available a the following…
For our Czech speaking friends, you may be interested in viewing the interview at Czech television.
---
Thank you for your support – We appreciate you more than you know!
We know that you could spend hours, days, weeks and months finding some of this information yourselves – but at this website, we curate the best of what we find for you and place it easily and conveniently into one place. Please take a moment today to recognize our efforts and make a donation towards the operational costs of this site – your support keeps the site alive and keeps us searching for the best of our heritage to bring to you.


Remember, we rely solely on your donations to keep the project going.
Thank you in advance!
If you have not already subscribed to get TresBohemes.com delivered to your inbox, please use the form below now so you never miss another post.