Metalmorphosis is a mirrored sculpture by the controversial Czech artist David Černý. It is similar to his monumental eleven-meter-tall sculpture located in the Quadrio shopping center in the Prague 1 district of Prague, Czech Republic, known as either Head of Franz Kafka or Statue of Kafka. Metalmorphosis, however, is located across the ocean from Prague in the Whitehall Technology Park in Charlotte, North Carolina. A Technology park seems like an appropriate home for the modern sculpture, which is composed of 40 glimmering steel pieces.
The steel plates which comprise the giant work are grouped into 7 sections which rotate 360 degrees independently. When each section is aligned, the plates form a large silver head.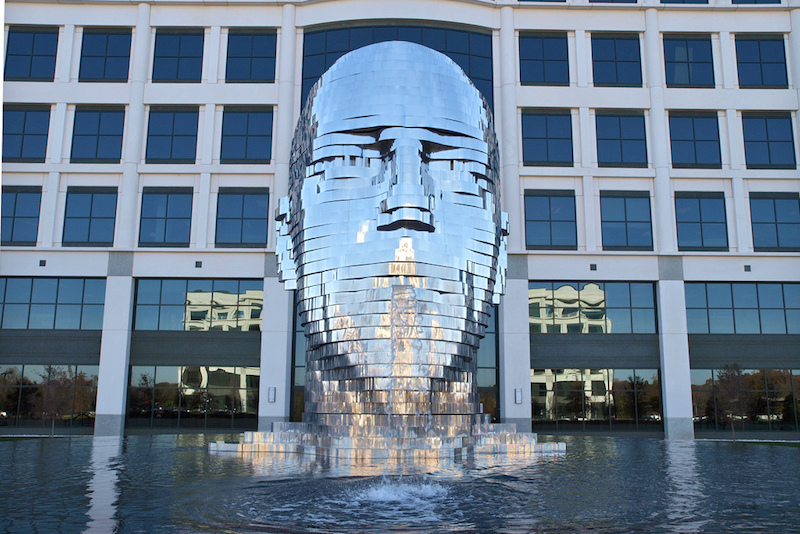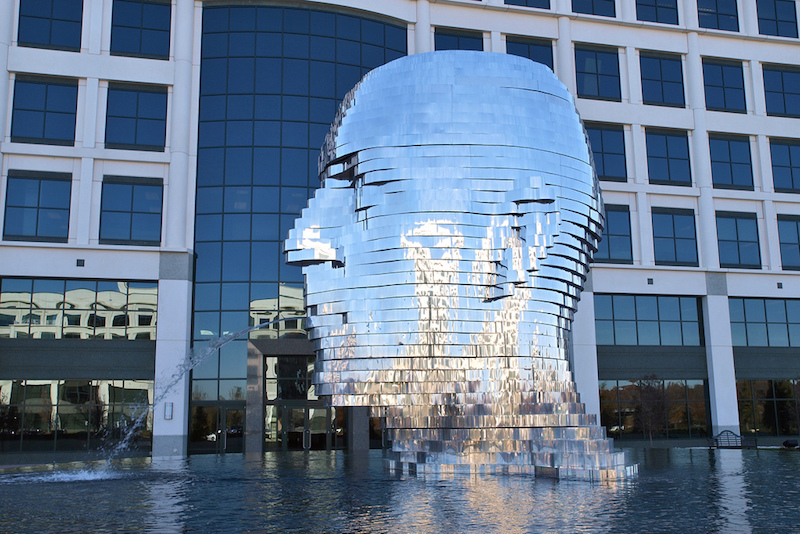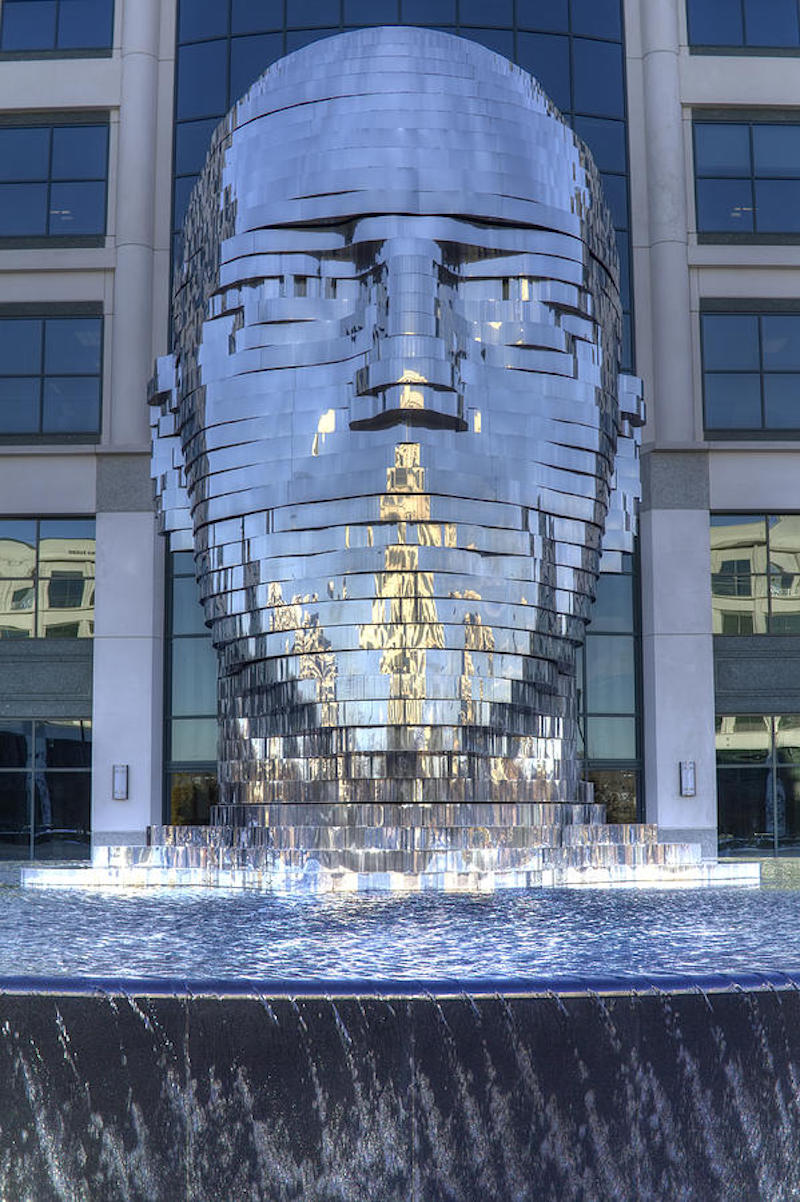 Another feature which sets Metalmorphosis apart from the similar sculpture entitled Head of Franz Kafka or Statue of Kafka is the fact that Metalmorphosis is located in the center of a pool of water and it spits water from its mouth.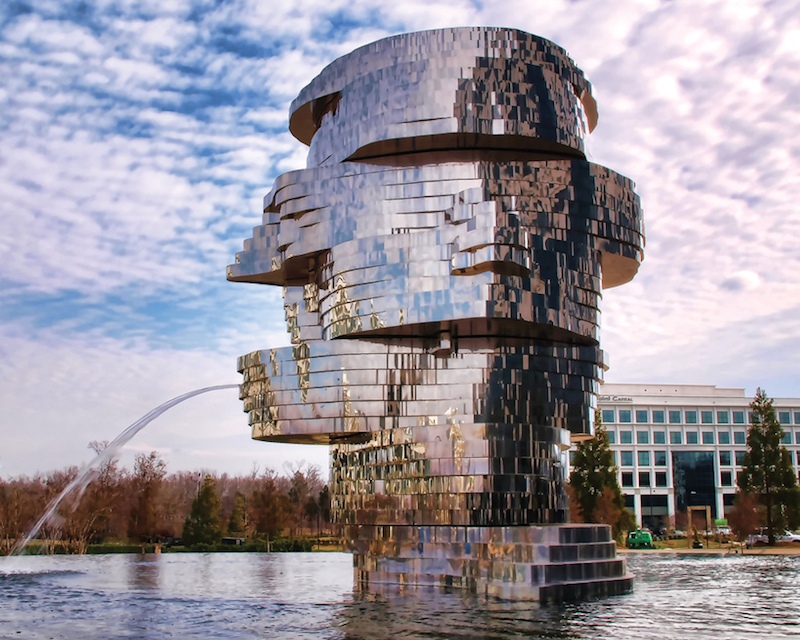 As you have probably realized, while the two mirrored sculptures have many similarities – both are made of steel and both of them rotate – they do have their differences. Head of Franz Kafka or Statue of Kafka is a portrait of the famous Czech writer Franz Kafka, while Metalmorphosis is a self-portrait of its creator. Černý once said of the sculpture:
"This is how I feel; it is a mental self-portrait."
The fact that Metalmorphosis is surrounded by water makes it even more striking. The reflective steel surface of the sculpture paired with the reflective surface of the water has an arresting effect. It could be said that most of Černý's work has an arresting or striking quality to it.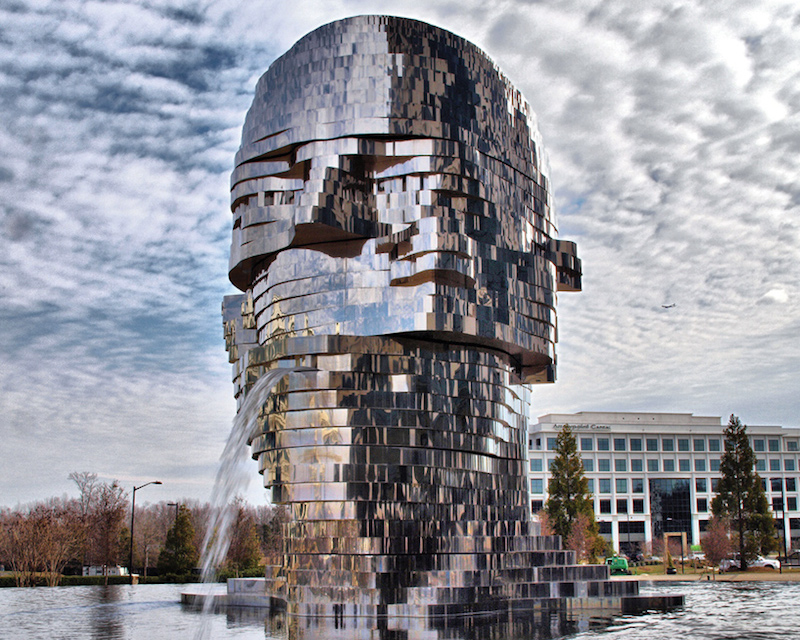 Černý is also the artist who created the Giant Bronze Babies statues which are located in Kampa Park in Prague and The Dead Horse statue which depicts St. Wenceslaus sitting on the belly of a horse which is hanging upside down. You can find Černý's unconventional work all over Prague and, in the case of Metalmorphosis, in North Carolina too.
Thank you in advance for your support…
We know that you could spend hours, days, weeks and months finding some of this information yourselves – but at this website, we curate the best of what we find for you and place it easily and conveniently into one place. Please take a moment today to recognize our efforts and make a donation towards the operational costs of this site – your support keeps the site alive and keeps us searching for the best of our heritage to bring to you.


Remember, we rely solely on your donations to keep the project going.
We appreciate you more than you know!
If you have not already subscribed to get TresBohemes.com delivered to your inbox, please use the form below now so you never miss another post.