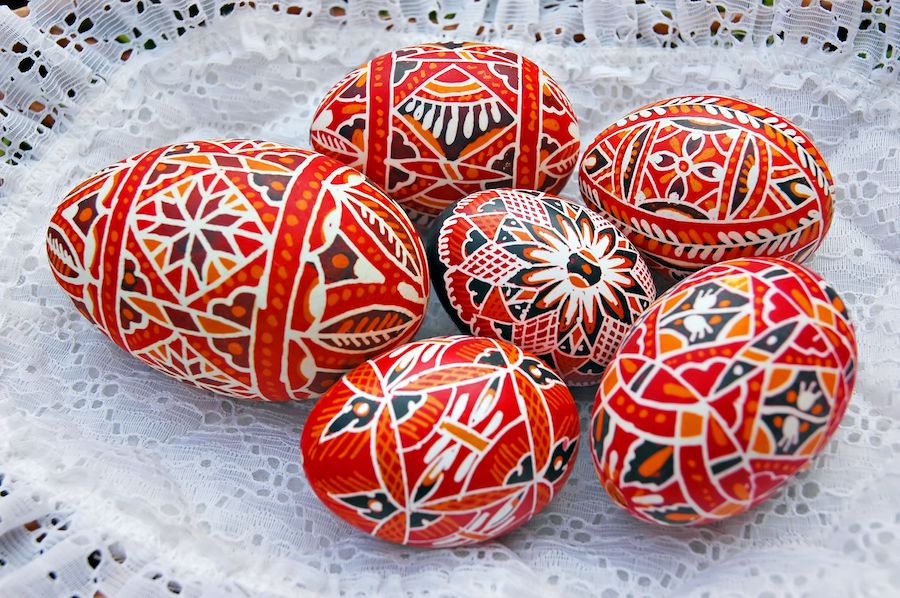 In The Czech Republic, Easter is a long holiday, much longer than most of us celebrate here in the United States. Besides celebrating Easter classically as we know it on Sunday, many Czech people celebrate the entire week leading up to this cheerful holiday.
Back when the communists first started their occupation of the Czech nation in the late 1940s, the originally religious holiday was banned. As a result, it became more of a welcome of spring and a hope for new beginnings. With the end of the Velvet Revolution and communism, some of Easter's Christian roots were brought back.  Many of the Czech customs however, originated in pre-Christian times. Christianity very skillfully used these pre-Christian customs; there are records showing that the Church tried to ban various customs from those times, calling them Pagan. But most of them survived despite these bans, and the Church was unable to uproot them, so in many cases, it just took them on. Easter is one of the times when pre-Christian customs and ideas blend with the Christian ones.
The Czech word for Easter (Velikonoce) actually comes from the term "velká noc" which translates to "great night", after the day when Jesus rose from the dead. Following old tradition, the festivities begin on Wednesday or Škaredá středa, when children begin their Easter break and start preparing and cleaning for the big celebration.
This is followed by Thursday or Zelený čtvrtek. On this day most Czechs will do a simple fast, consuming mostly fruits and vegetables and no meat. Also on this night, the boys of each village with equip themselves with wooden rattles. They then gather into groups and walk through the village, rattling their rattles to chase away Judas.
Good Friday or Velký pátek just as we know it here, is the day used to commemorate the crucifixion of Jesus. This is also traditionally a day of fasting and penance. Once again, the boys again walk the streets with their rattles, making themselves known.
Saturday or Bílá sobota which translates directly to white Saturday is known as the "The Day of Light". It symbolizes Jesus' resurrection from the dead. The rattling boys will actually go up to homes now, and rattle until they are given money, which they later divide between themselves.
Easter Sunday or Velikonoční neděle is celebrated similarly to here in America. Many Czech people go to mass but they still save most of the actual celebrating for Monday. Sunday is instead spent further preparing. The girls and grandmothers will paint, color and decorate Easter eggs, and the boys prepare their pomlázkas, or willow switches. The popular pomlázka, or whipping of women with braided willow sticks, is just one of the customs that have survived around the country from before the arrival of Christianity. Although some of these customs are still being observed, their practical meaning is often long forgotten.
Our ancestors believed that through various magical practices that accompanied these customs, they could influence future events. These included agricultural and farm work, harvest, or personal life – seeing the future, the health of family members, or whether someone will get married. The customs were not purposeless; they were not entertainment, but they had a dominant feature of what's called 'prosperity magic'.
Finally, Easter Monday is spent welcoming spring and celebrating.
The boys use their pomlázkas to chase the girls and when they catch them, they will lightly spank or whip the girls on the backs of their knees, thighs, and backsides to customarily bring health and chase away illness. And the girls will, in exchange, give the boys colorful eggs and ribbons. Eating of Easter lamb bread and caroling also goes on in all of the village streets.
Though Easter is perhaps not a big holiday in the United States, in The Czech Republic it is still very celebrated, especially in the more rural areas and villages. And though some of the traditions have changed through the years, the joyful spirit of the Easter traditions and customs, still remain. Today, they form part of original Czech folklore with roots that go back many centuries.
We have written and shared several Easter themed posts and we invite you to visit the following pages. Simply click on each title, and a new window will open for you.
Beautiful Czech Easter Eggs for Sale
The Six Days of Easter Based on Bohemian Tradition
Easter Celebrations at the Czech Castle
Medieval Easter in the Czech Republic
Happy Easter from Tres Bohemes
Happy Easter!
If you have not already subscribed to get TresBohemes.com delivered to your inbox, please use the form below now so you never miss another post.
---
Remember, we rely solely on your donations to keep the project going.
Become a friend and get our lovely Czech postcard pack.