Karel Kulík and his cheerful calendar enjoyed popularity from 1909 onward. The Kulíkův zábavný kalendář
as it was called was an advertising calendar was created by Kulík who was a wholesaler of coffee. Karel Kulík distributed his calendar to his permanent customers free of charge. (Nice marketing idea for the time!)
Karel Kulík was one of the first merchants who understood advertising and marketing and knew how to use it to his advantage for sales. What began as simple advertising flyers and brochures, his ideas naturally evolved to publishing his cheerful calendar.
Look at the lovely illustrations from the calendar…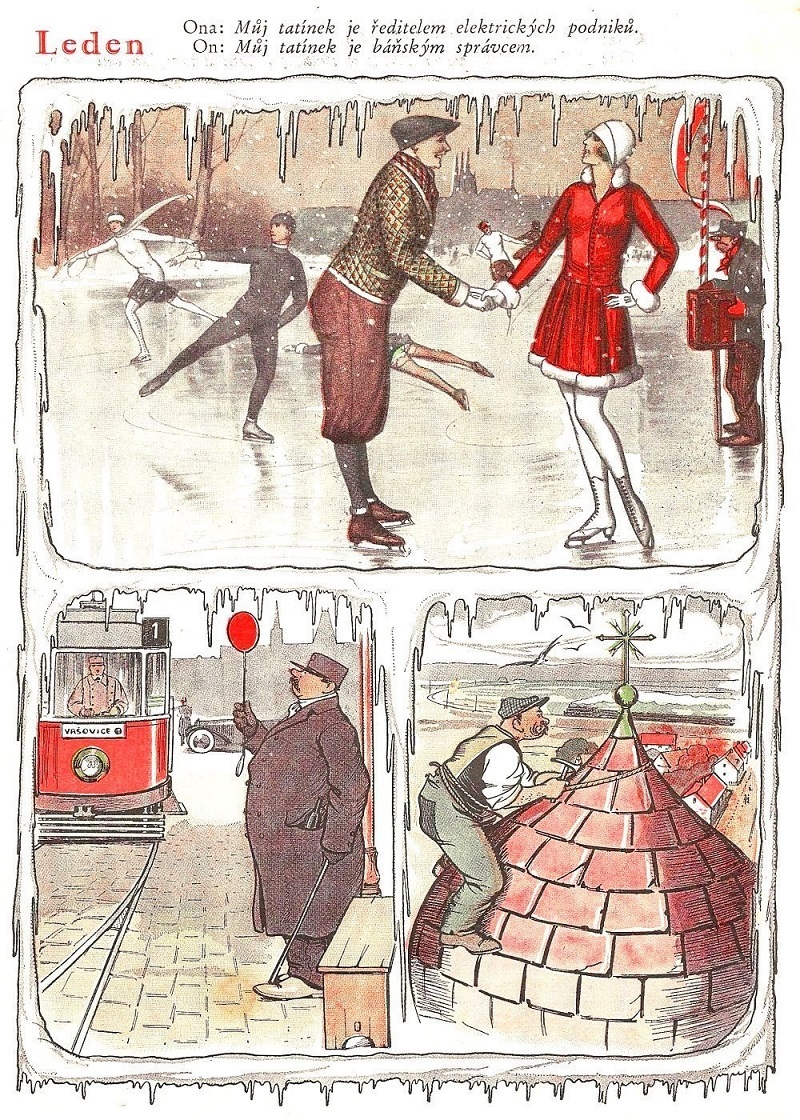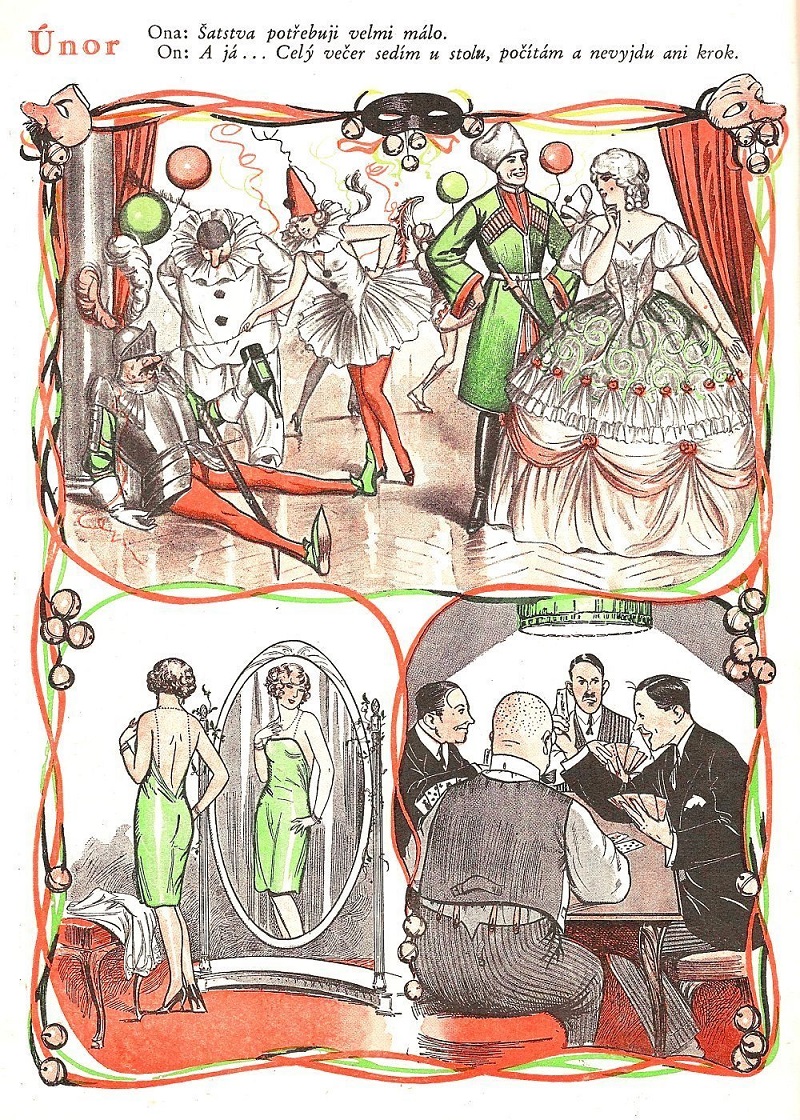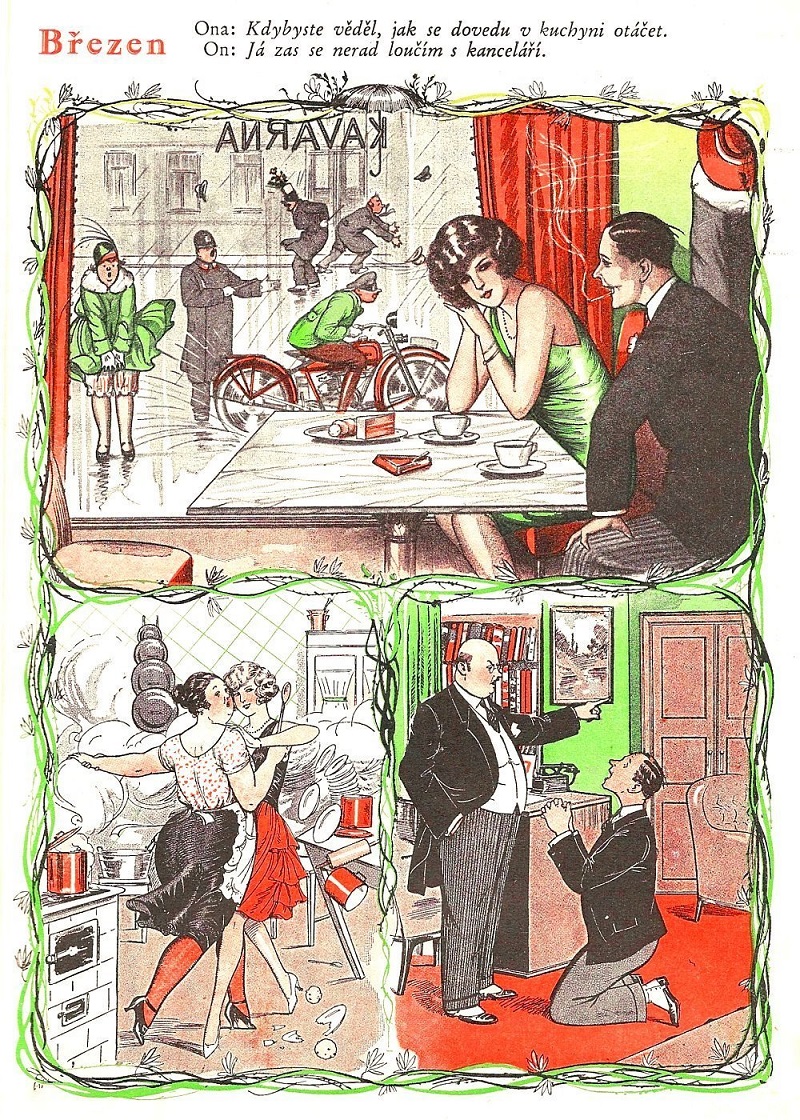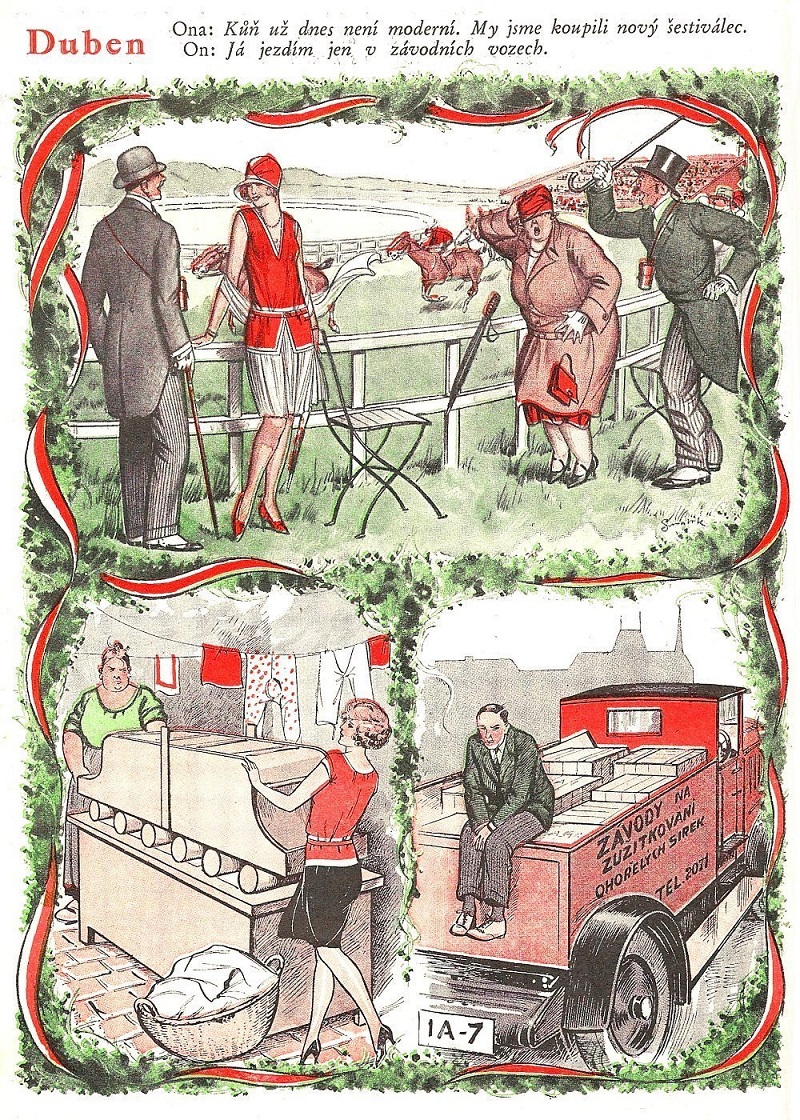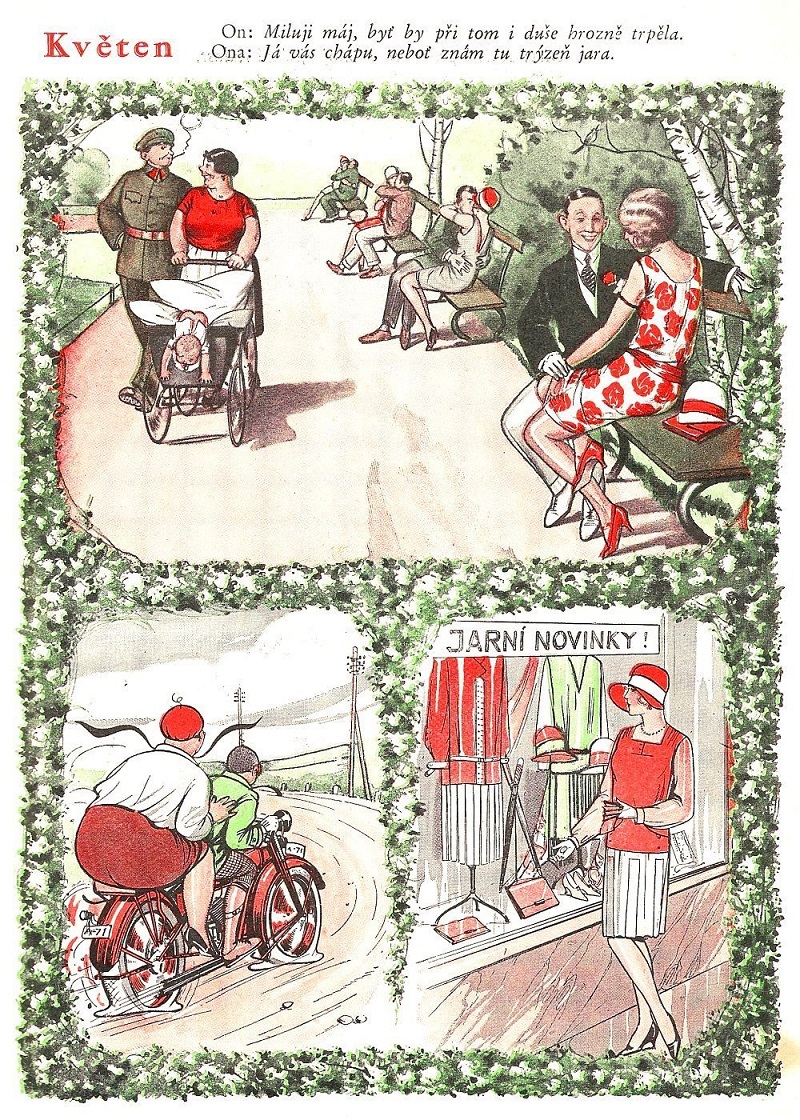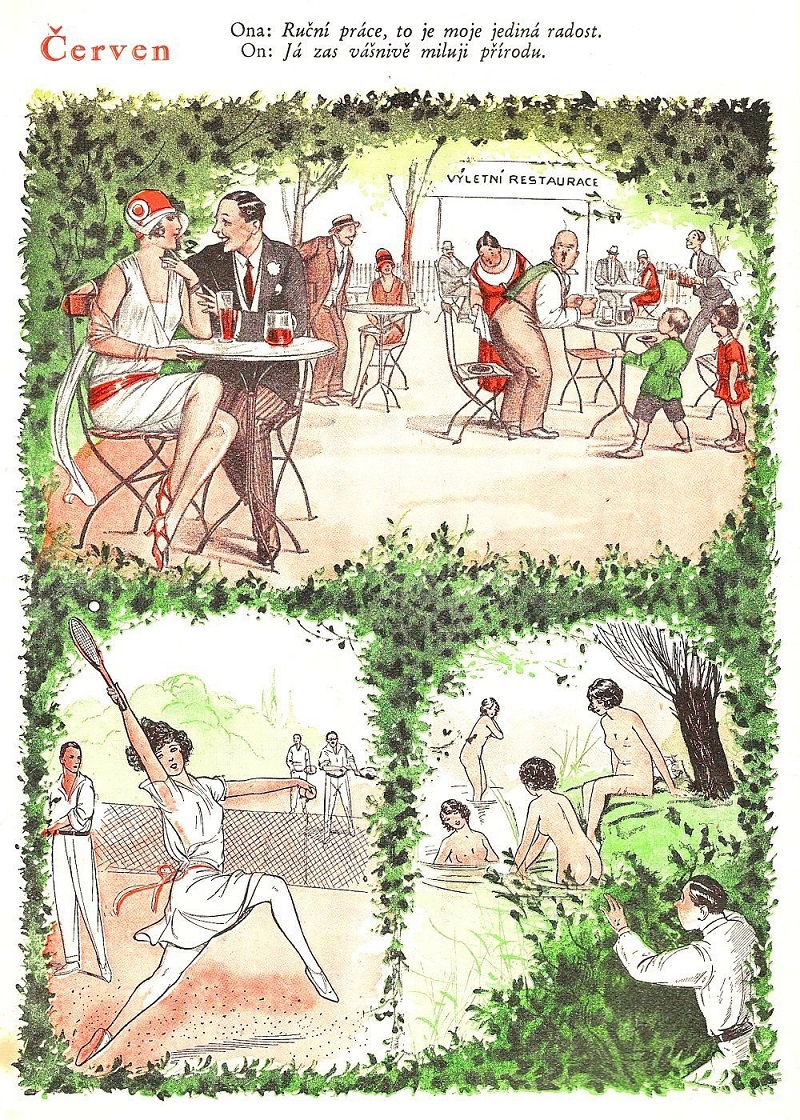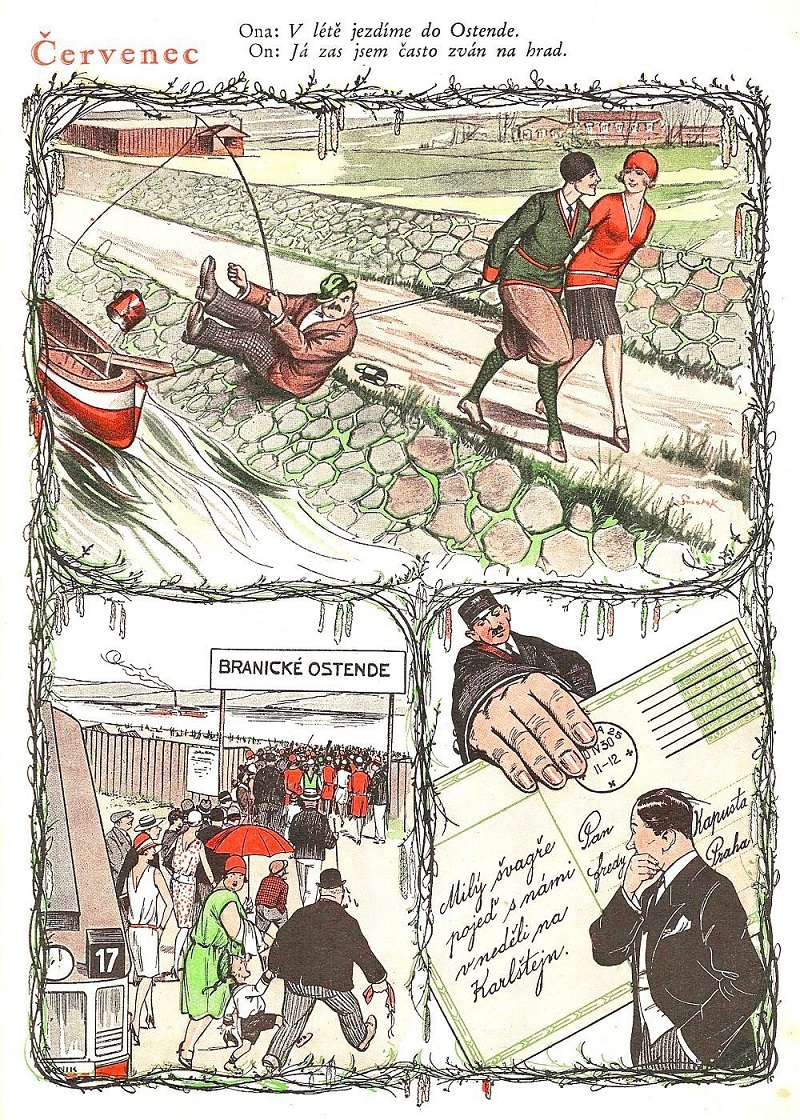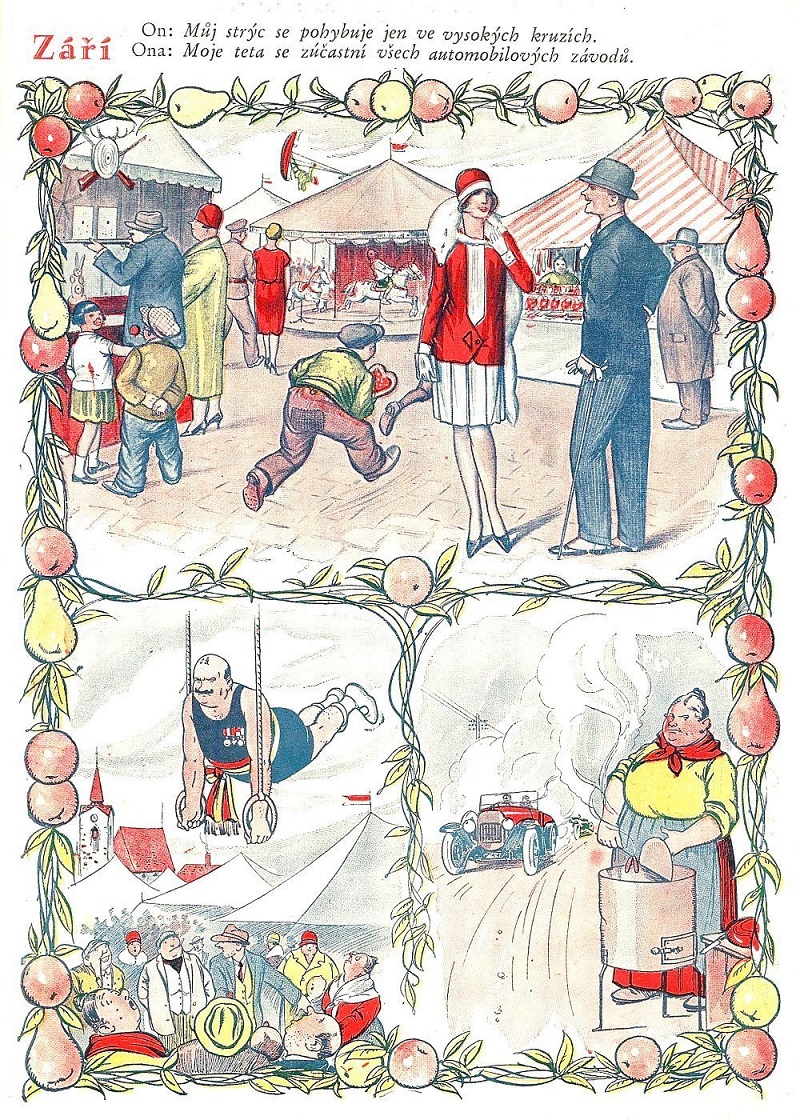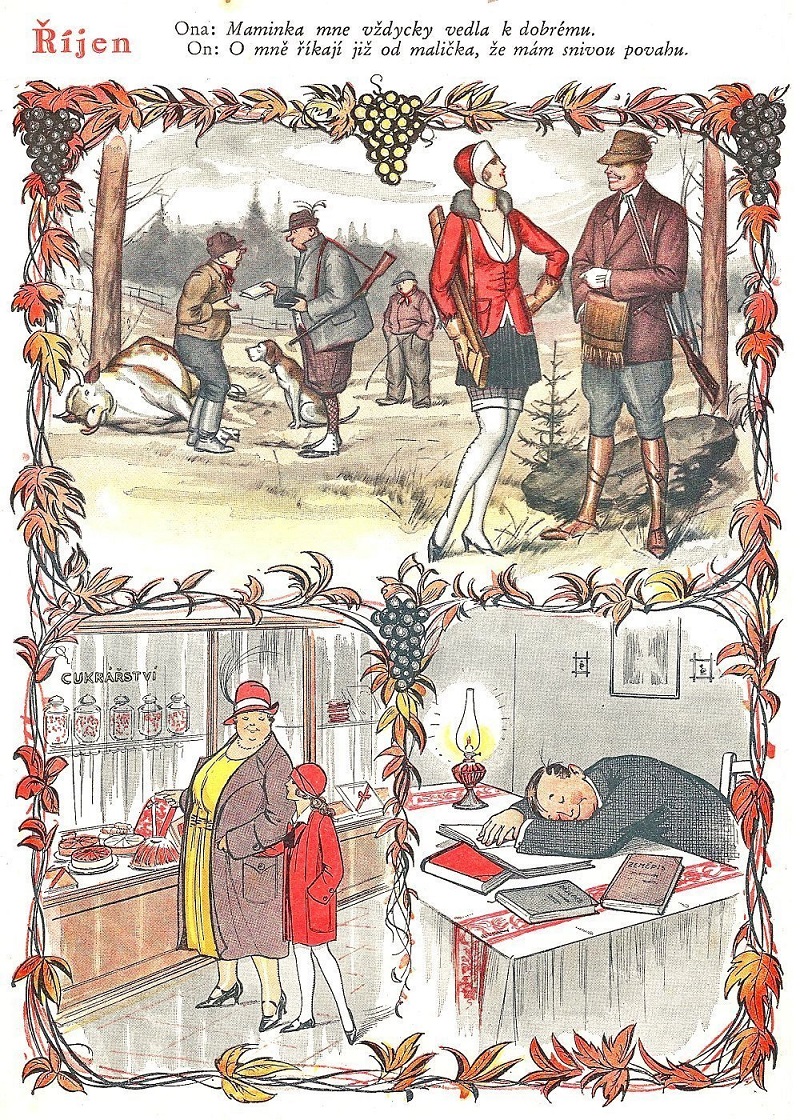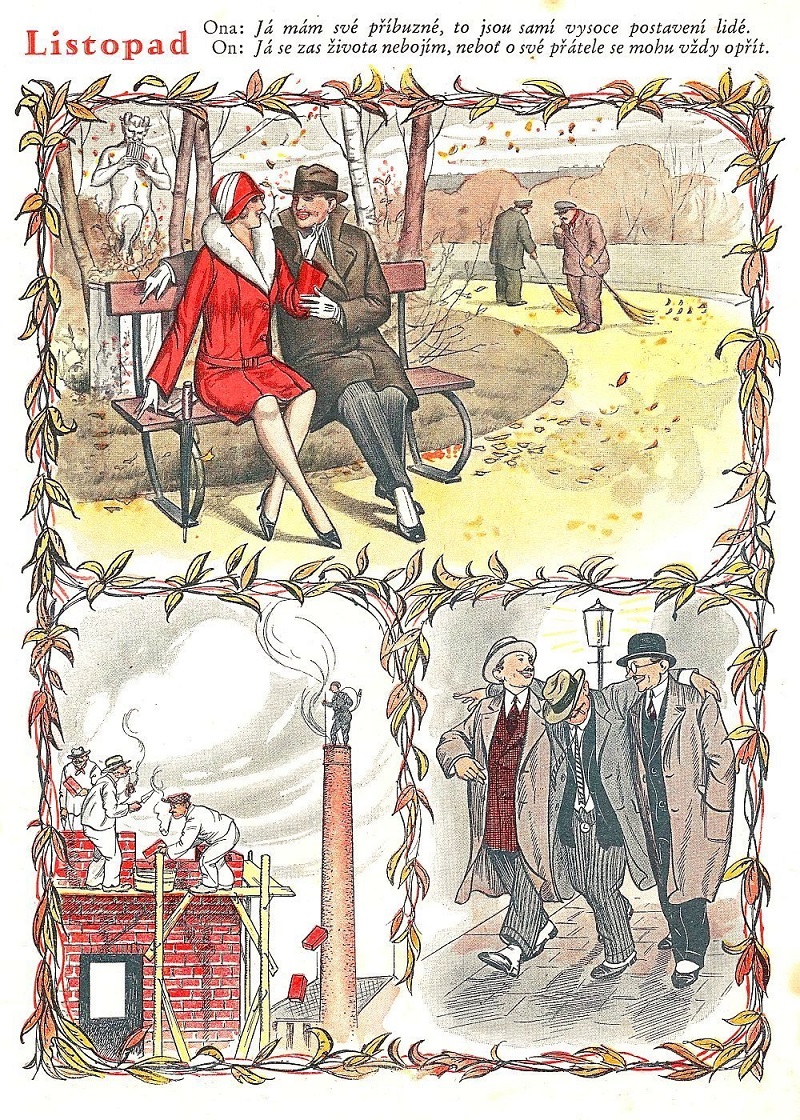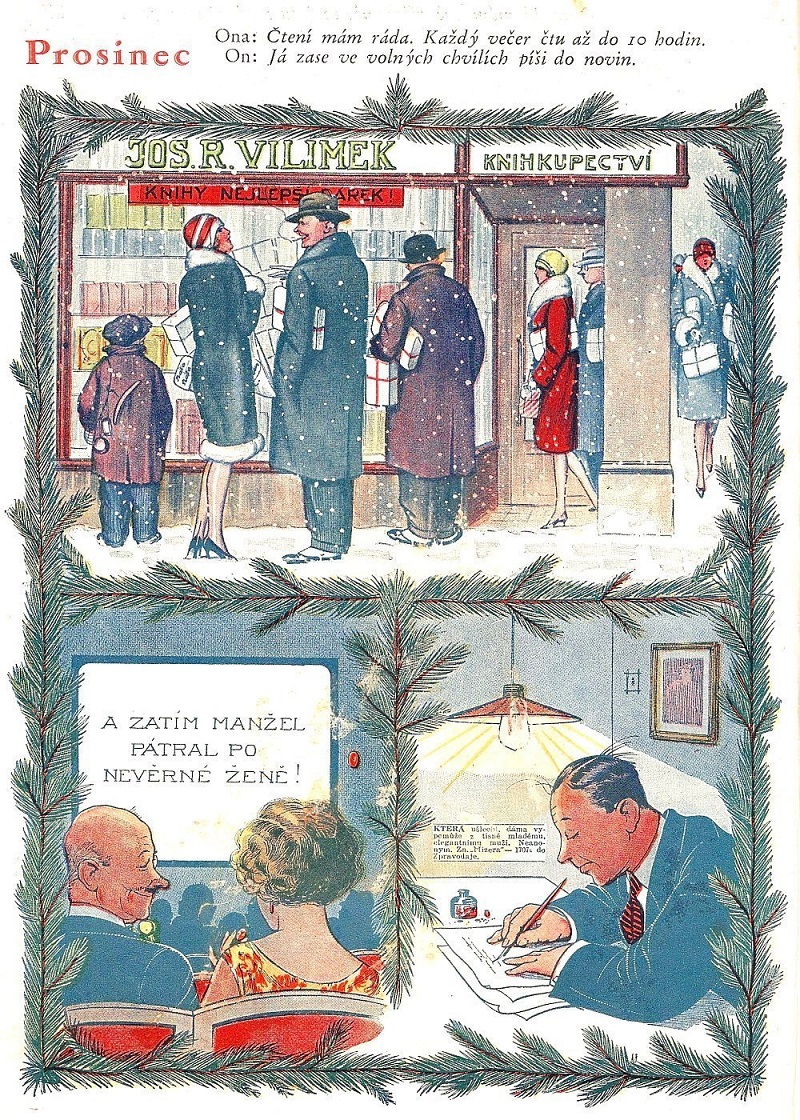 He first accepted the calendar and text part of William's humorous calendar on the basis of the convention and added only his cover and advertisements. He later published his own calendar with a load of up to 60,000 copies (sometimes changed to Kulík's entertainment calendar), which he distributed free of charge to his regular subscribers. Funny drawings from his calendar were also used in one of the most popular themes of the local monthly calendar calendar. Another advertising item was the cut-out nativity scenes that the company gave off in the pre-Christmas time.
Karel Kulík was born in Pilsen in 1861, where he also trained in shop keeping. By the age of 19, he had used his diligence and willingness to create a separate business there and by the end of the 1890s he sold both his Pilsen stores and moved to Prague with his family.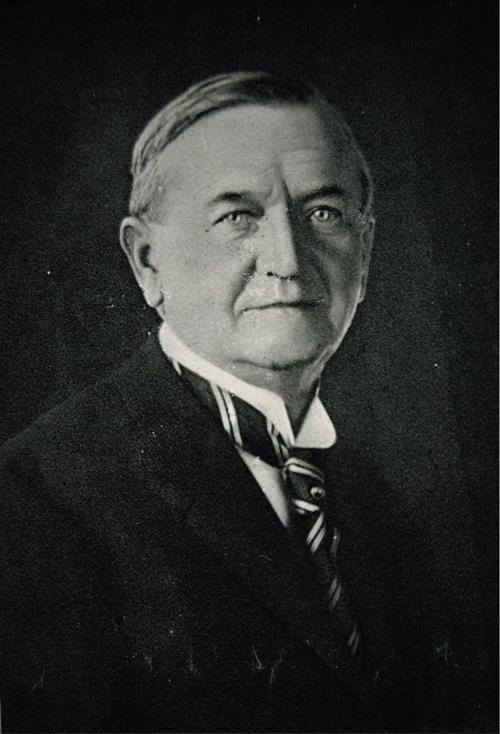 Karel Kulík began to import and wholesale coffee, tea and cocoa.
The young businessman, with his pleasant looks, youthful cheerfulness and a clear smile, managed not only to gain the favor of the housewives of the time, but also to conquer the most beautiful success of his whole life: the sweet and heart of the beautiful daughter of his master, In 1885, with a loving and proud heart, he led her to the altar and she became his loyal and devoted companion throughout his life.
By the end of the eighteen eighties, there were not yet even large department stores, but Kulík  was a young man full of courage and he was a strong believer in honest efforts and hard work. He had faith in himself and he began to think about all of the many shortcomings of the colonial trade and wholesale trade which was the model at the time.
Wanting to be the best provider to his new bride who had just given him the happiness of a new baby daughter, he realized he'd need to create a new model if he wanted to live up to his new responsibilities. A few year later, his son Karel was born, and Karel senior was driven even harder now that he had an heir to carry of his efforts and the family name.
After a longer mental fight of weighing the risks, the young trader was determined to leave Plzeň and he sold both of his Plzeň stores and the family departed for Prague.
In 1898, Kulík opens a large merchant store in Prague, on the main street of Smíchov. Based on the old model, the location was still based on old traditions, but deep inside his mind, he was already driven by the idea and the desire that was spawned in Plzeň: to separate coffee and related goods from other common merchant merchandise and open a completely new type of business.
In 1898, a very large market was opened on the main square in Smichov and one year later, Karel Kulík opened his first professional coffee shop in Prague on Ovocný trh. Adding to his main product, the coffee, he also sold other goods required for breakfast, such as sugar, chicory, and tea.
Business was done a very specific way and the other shop keepers were wary of him and his new ideas. In fact, what he began doing was unheard of at the time. And at first, even the buyers were hesitant being quite tenacious on their expectations of a more traditional exterior and interior design of the shop.
In spite of these anticipated obstacles, Kulík pushed his thoughts to reality. And so by 1899 he opened a new store in Prague II., In Ovocný trh. It was not a merchant business of the old and exected kind, but rather the first coffee shop.
In this manner, it is fair to say that Karel Kulík became the sole founder of other specialized retail stores which came later, and the father of specialized retail stores at all. At the Ovocný trh location, he tried to make this specialization of his trade obvious, visually and yet unobtrusively, by embracing this external feature in his whole plan.
In order to protect coffee from moisture, and to maintain the aromatic aroma, he had to make the coffee pots according to his own drawings and arrange them next to each other so that each species of bean was clearly marked. For easier coffee extraction, he had to install simple drains on them so that the necessary amount of coffee was comfortably disintegrated and the container could be closed with a metal flap. In this way, he was a designer of modern packaging as well.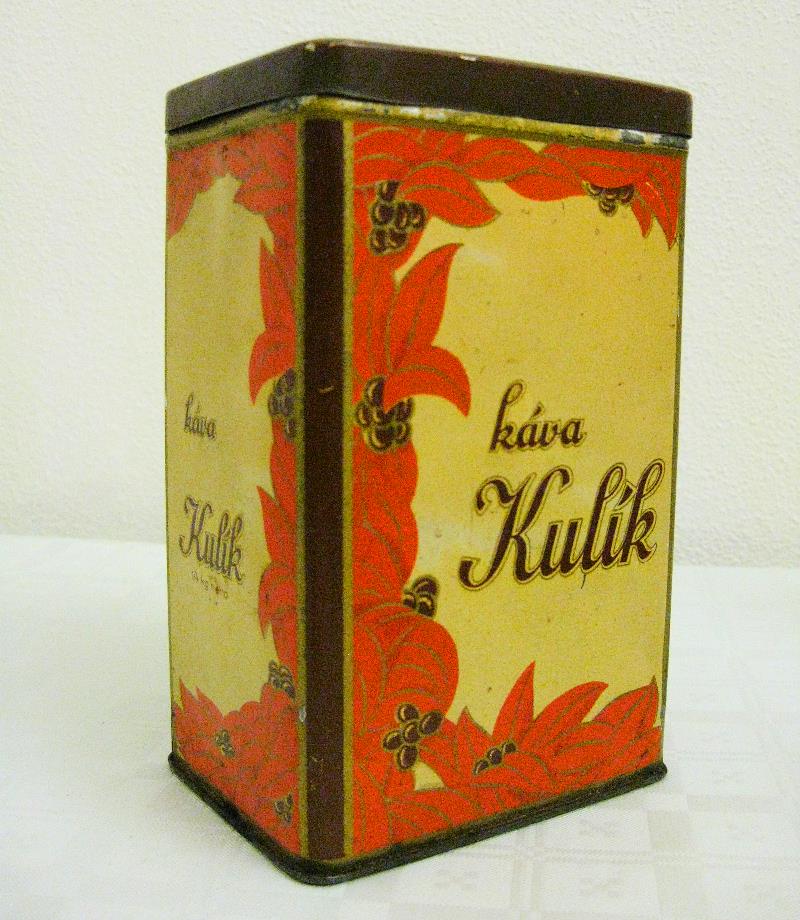 Today's businessmen, who have these special roasted coffee pots, are for the most part unaware of whom they owe credit, and yet this practical and elegant addition to their shops was designed by none other than Karel Kulík.
Czechs have had so many uncredited inventions and ideas!
Later, he opened other branches in other locations – not only in Prague.
Karel Kulík was an excellent seller and importer of coffee. The company in his name obtained a trade certificate for the commodity trade on April 16, 1910.
In 1926, when the historically significant town of Pelhřimov was celebrating their 700th anniversary, Karel Kulík became the mayor of the town.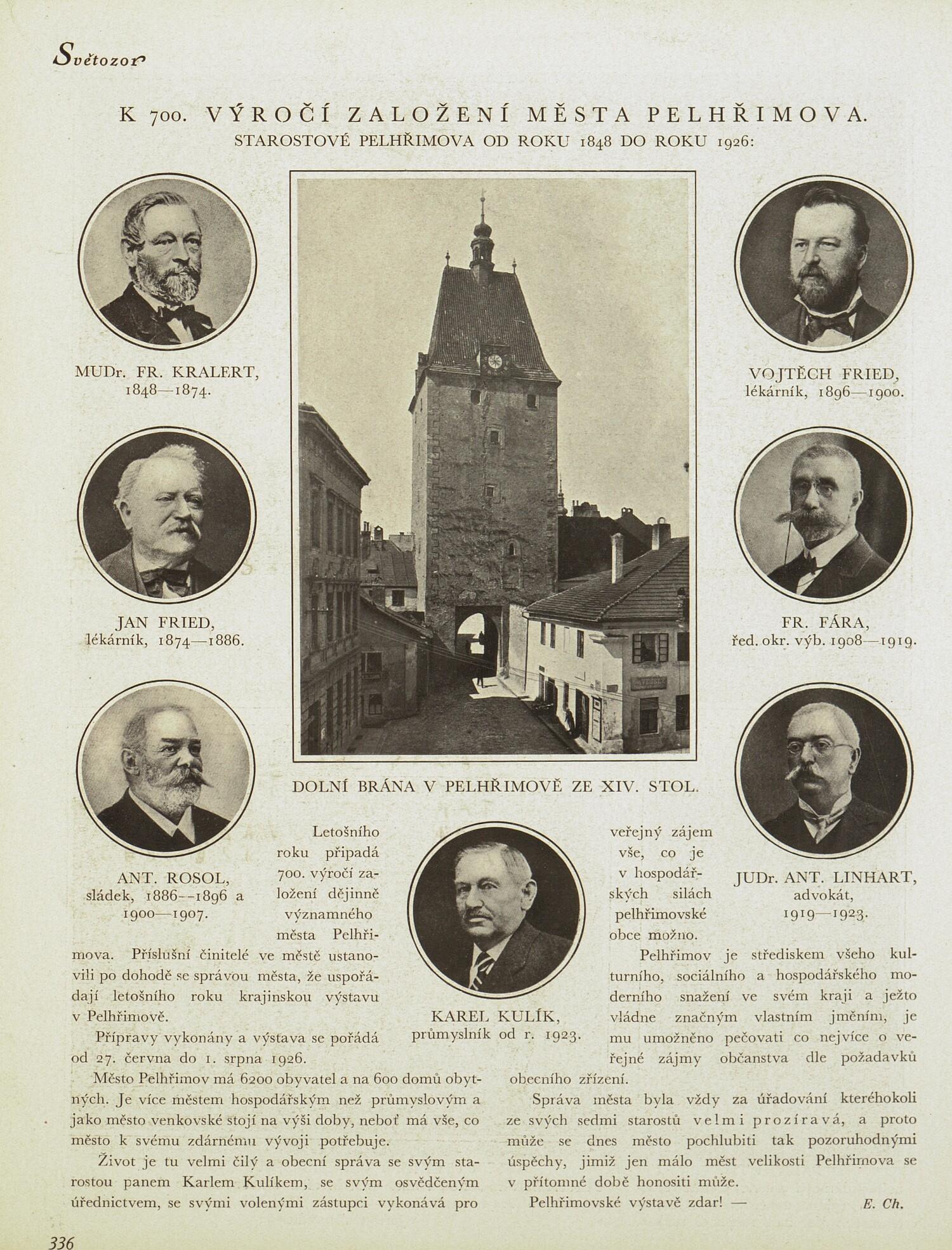 The image above states the following…
"This year marks the 700th anniversary of the foundation of the historically significant town of Pelhřimov. The relevant officials in the city have arranged, in agreement with the city administration, to organize this year's landscape exhibition in Pelhřimov. Preparations are carried out and the exhibition is held from June 27 to August 1, 1926. The town of Pelhřimov has 6200 inhabitants and 600 residential houses. It is more economic than industrial, and as a rural town it is worth the time because it has everything the city needs for its successful development. Life is very lively, and the municipal administration with its mayor, Mr. Karel Kulík, with his certified officials, with his elected representatives, performs for the industrialist a public interest everything that is possible in the economic forces of the Pelhřimov municipality. Pelhřimov is the center of all the cultural, social and economic modern endeavors in its region, and because of its considerable wealth, it is allowed to take care of it! as much as possible on the public interests of citizenship according to the requirements of the municipal establishment. The city administration has always been very wary of the office of any of its seven mayors, and so the town can be proud of such remarkable successes that only a few cities of the size of Pelhřimov can boast at this time."
Source: Světozor, 1925-1926, Issue # 17
And as Karel Kulíks experience and contacts grew, so did his business…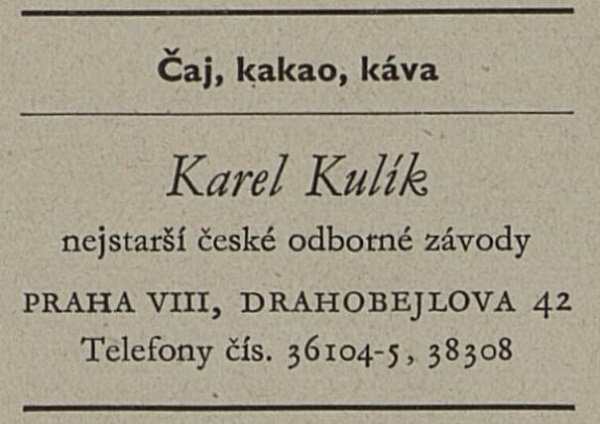 The registered office of this company was in Prague VIII, Drahobejlova Street no. 42.

He established his first store in Prague in September 1928, then in October in Hradec Králové, in Pardubice and Pilsen.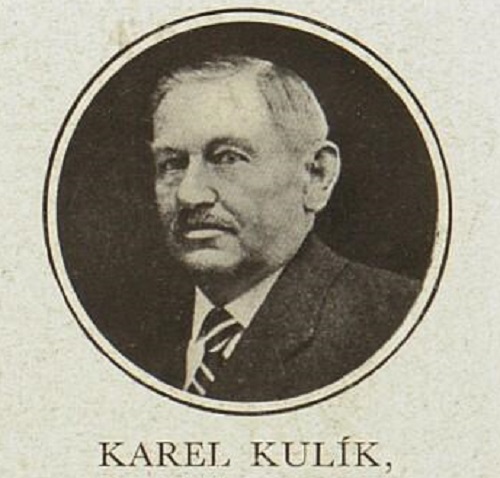 On October 8, 1928, he wrote to the District Political Administration in Pardubice that he would open a branch of his Prague plant in Pardubice. This shop was placed on Wilsonova třída no. 58. Vaclav Fara was entrusted with the branch office. And more locations began to appear…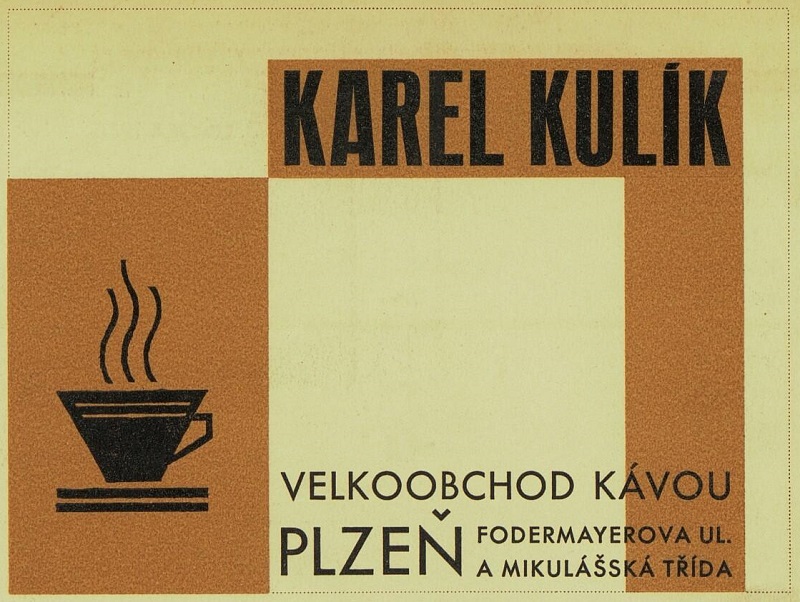 He was everywhere and using every opportunity to advertise.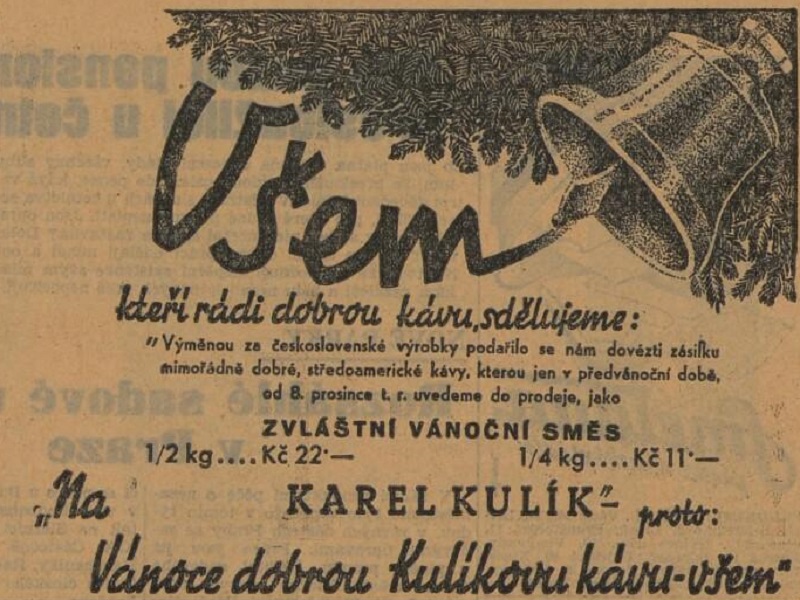 Senior and founder of Karel Kulík dares to take another daring step: moving to the center of Prague's business life, to Wenceslas Square, which becomes a gateway for further successes.

Karel Kulík seemed unstoppable and grew very rapidly.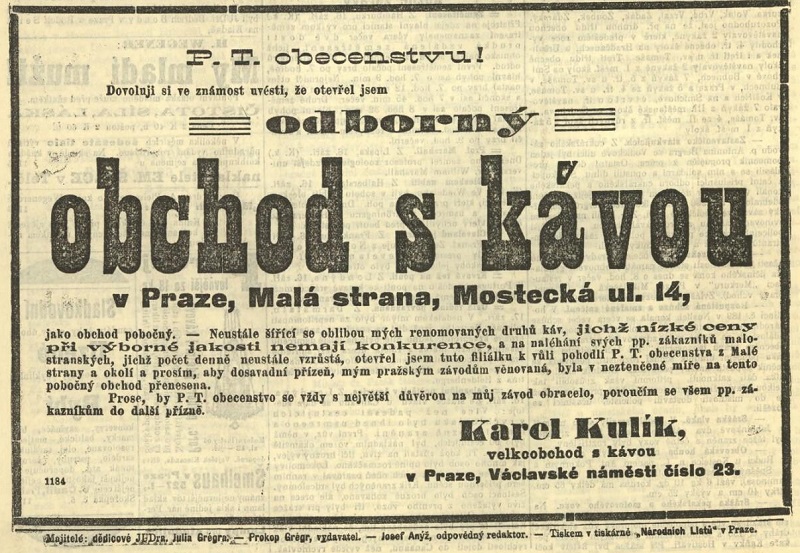 Coffee was here to stay and everyone wanted some.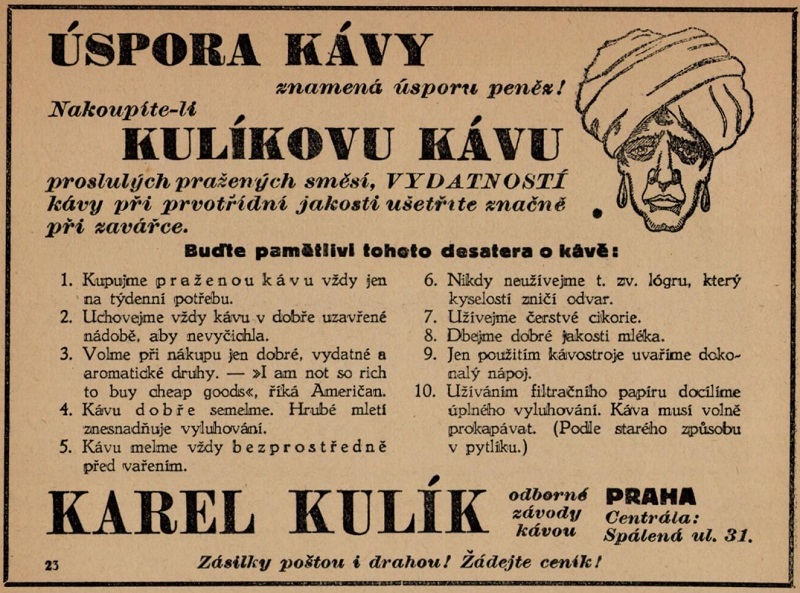 And Kulík promised the very best prices in town!

The business still growing rapidly, Vaclav Řepa was appointed representative of the company in 1930 and he held that position until 1939, when Vaclav Previza was appointed to his post.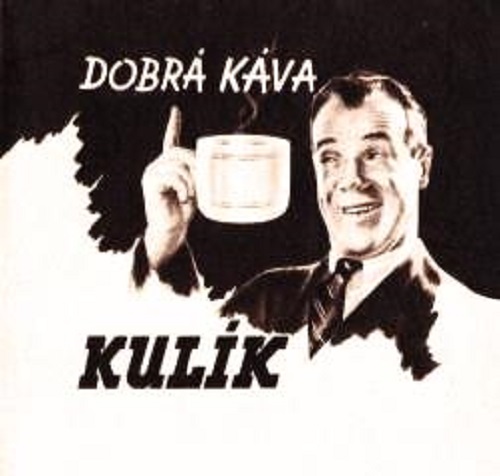 Pretty soon he expanded to Vinohrady, and Tylovo, followed by Karlín and other branches all the way to the Czech countryside, all the while ensuring that everything newspaper of the time had ads and that his name was literally everywhere folks were getting information.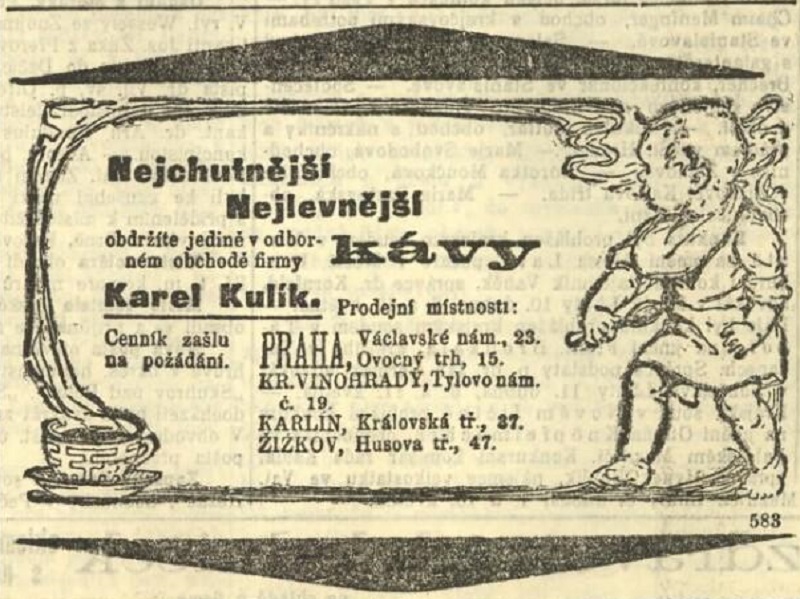 He experimented with various styles…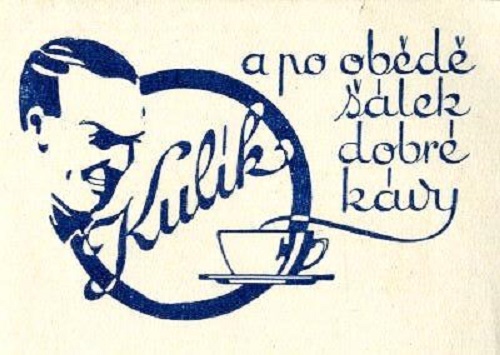 In both black and white, as well as color.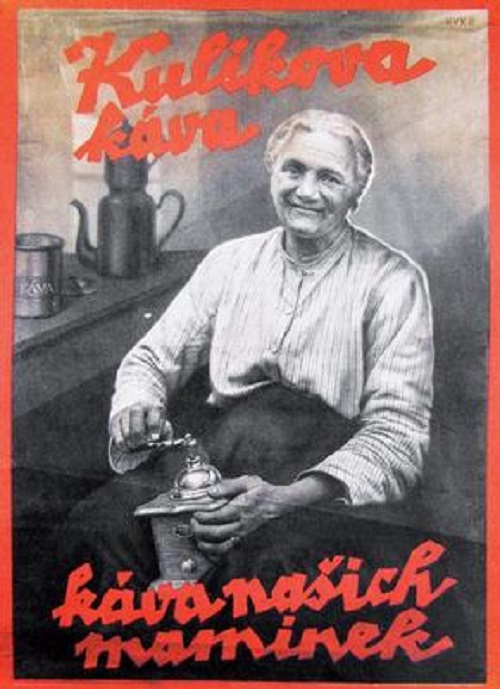 He spared no expense to advertise, as he understood the power of his name being seen and heard everywhere.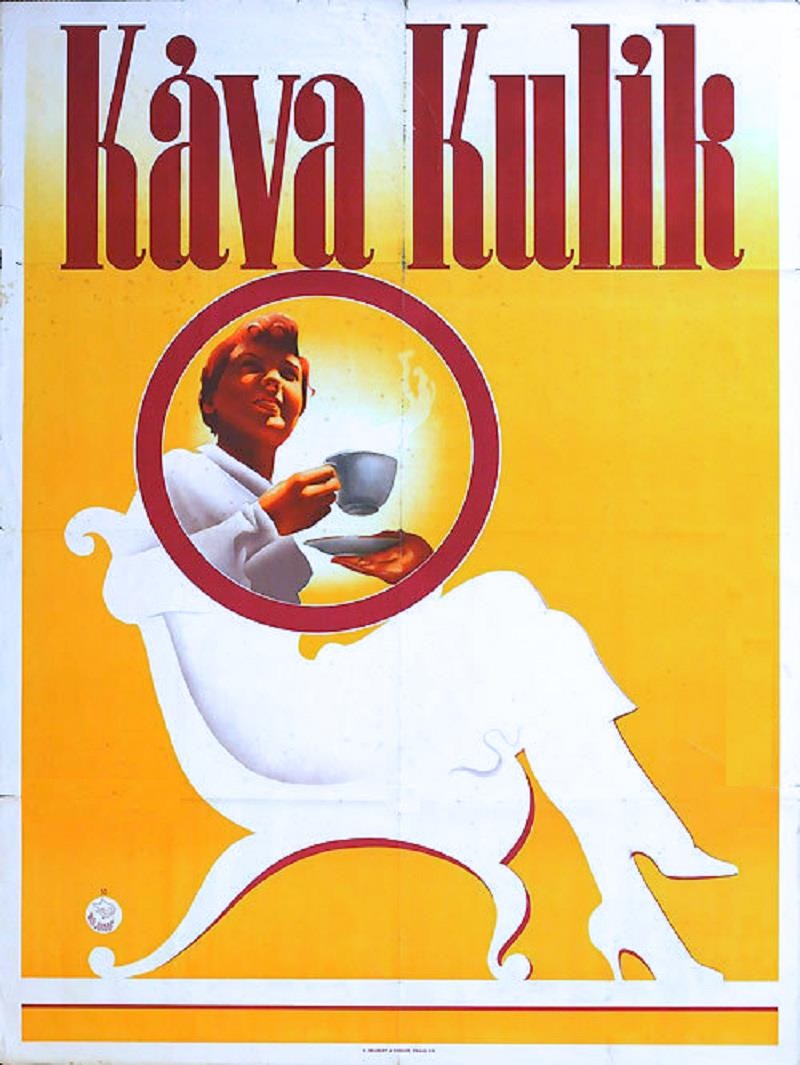 He customized them to each publication, in essence applying to all people from all incomes and locations.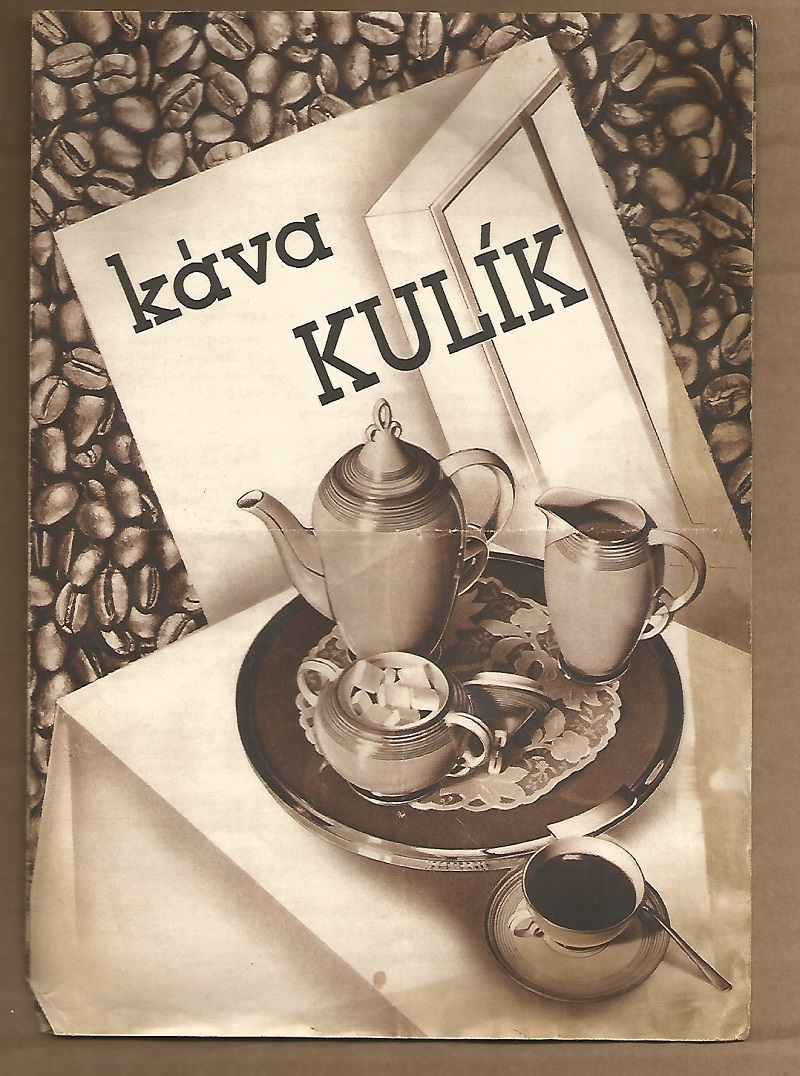 In short, Karel Kulík made himself into a bit of a coffee legend.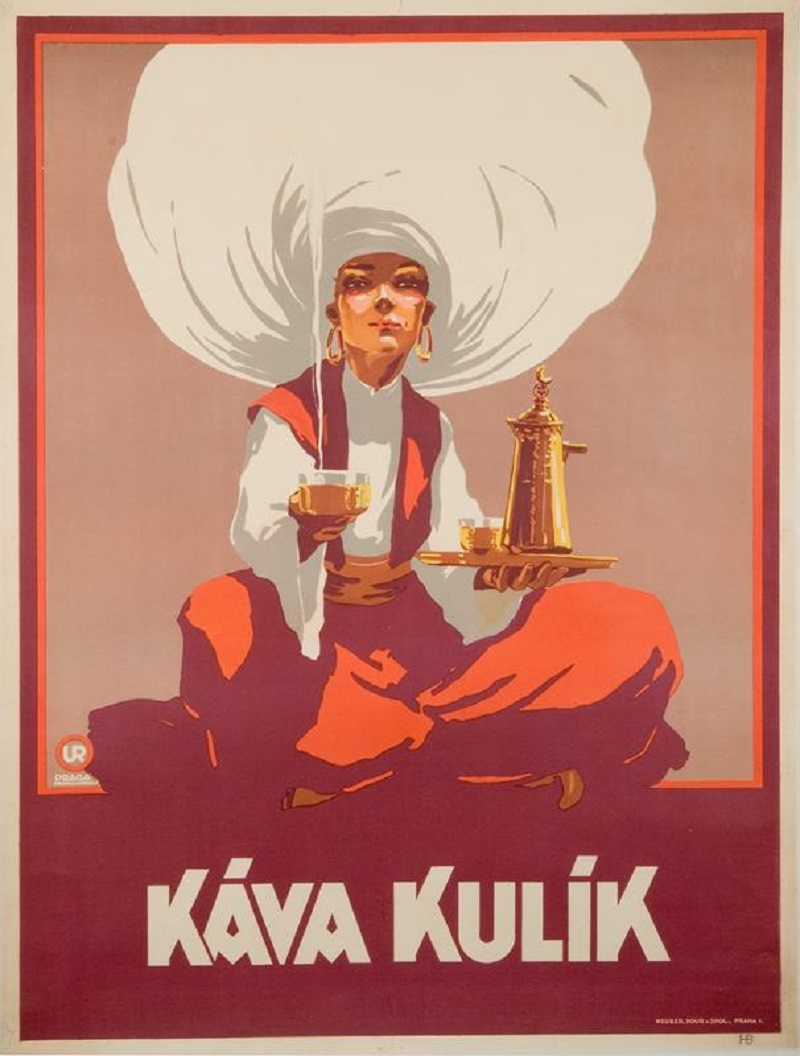 And he used image as well as text, in simple as well as complex form.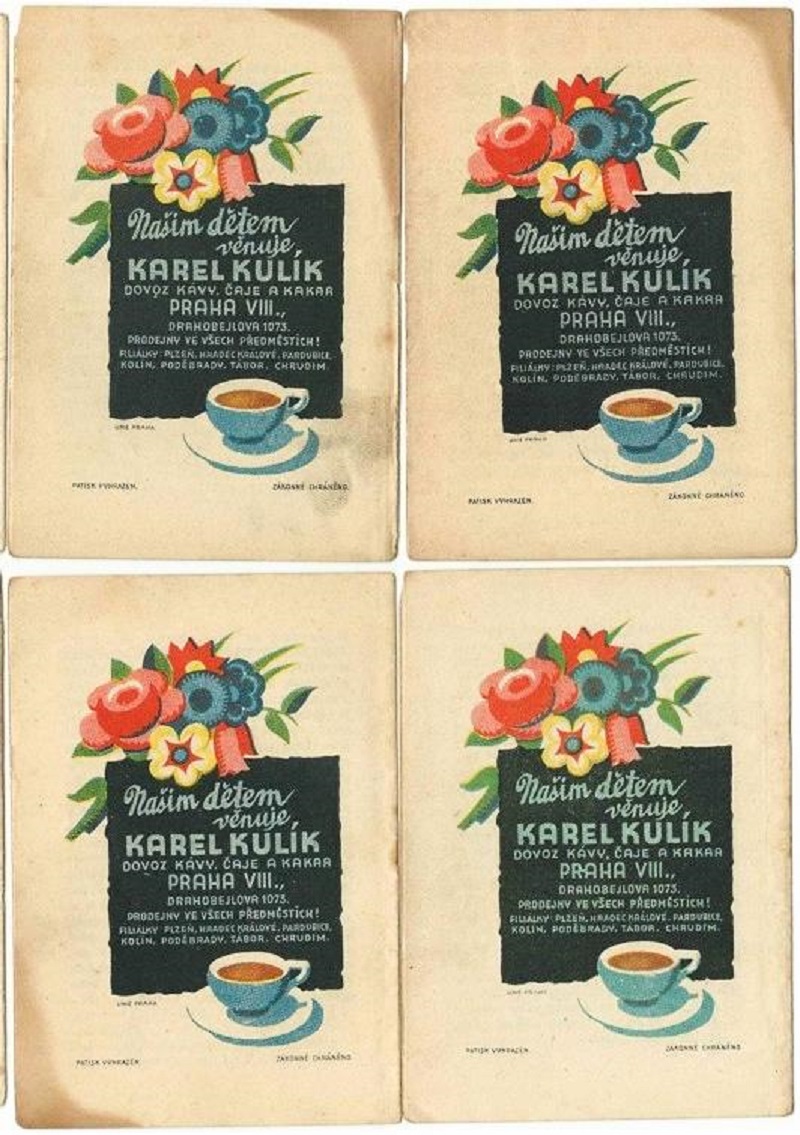 He was a marketing at a level not seen before.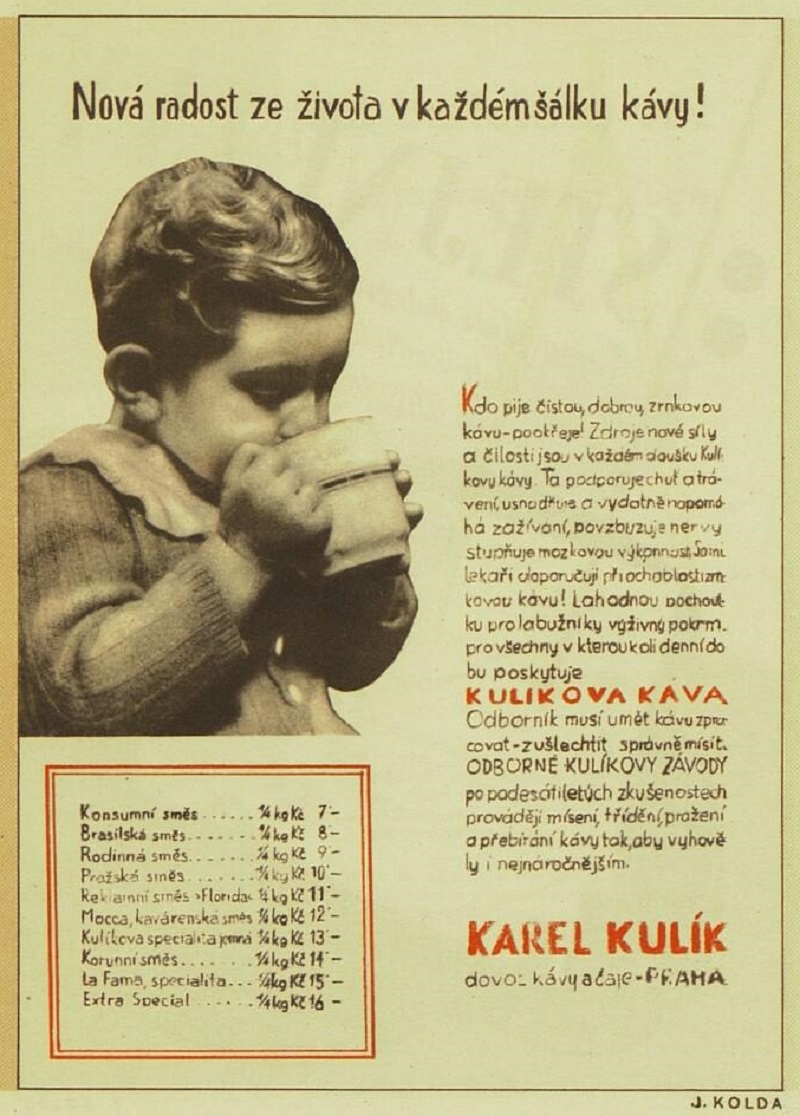 Articles were written about him and he was an exemplary hero of business growth and success.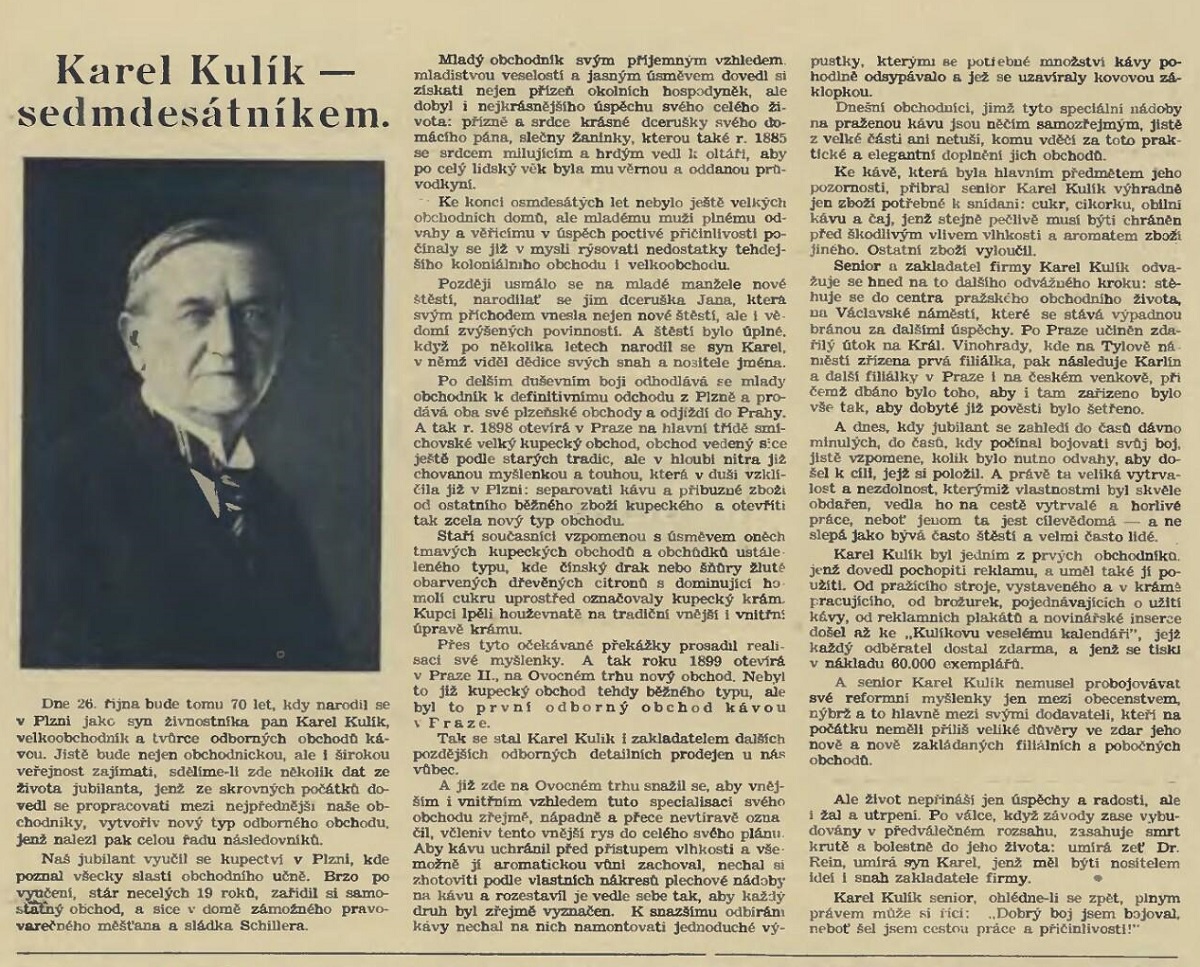 Source: Národní listy, 1931, Issue# 292
In 1938, he came up with a publicity stunt were he arranged for the readers to vote on the future of his calendar: should he continue to spend money on it or would the money he sent on the production of the calendar be better spent defending the state or going to a charitable cause?
Customers themselves decided by vote to end the much loved calendar and 100,000 crowns were donated to the army in May of 1938.
And at the beginning of 1939, the same amount was paid to several social institutions, which was of great benefit to the depleted Republic.
In 1940, Karel Kulík complained that his branch office in Pardubice was not sufficiently bilingual for his growth plans.
In January 1941, Karel Kulík asked for permission for another branch in Pardubice. This branch office
was on the Zeleném předměstí no. 58.
By this time, he was certainly one of the best wholesalers in all of Prague, with many locations.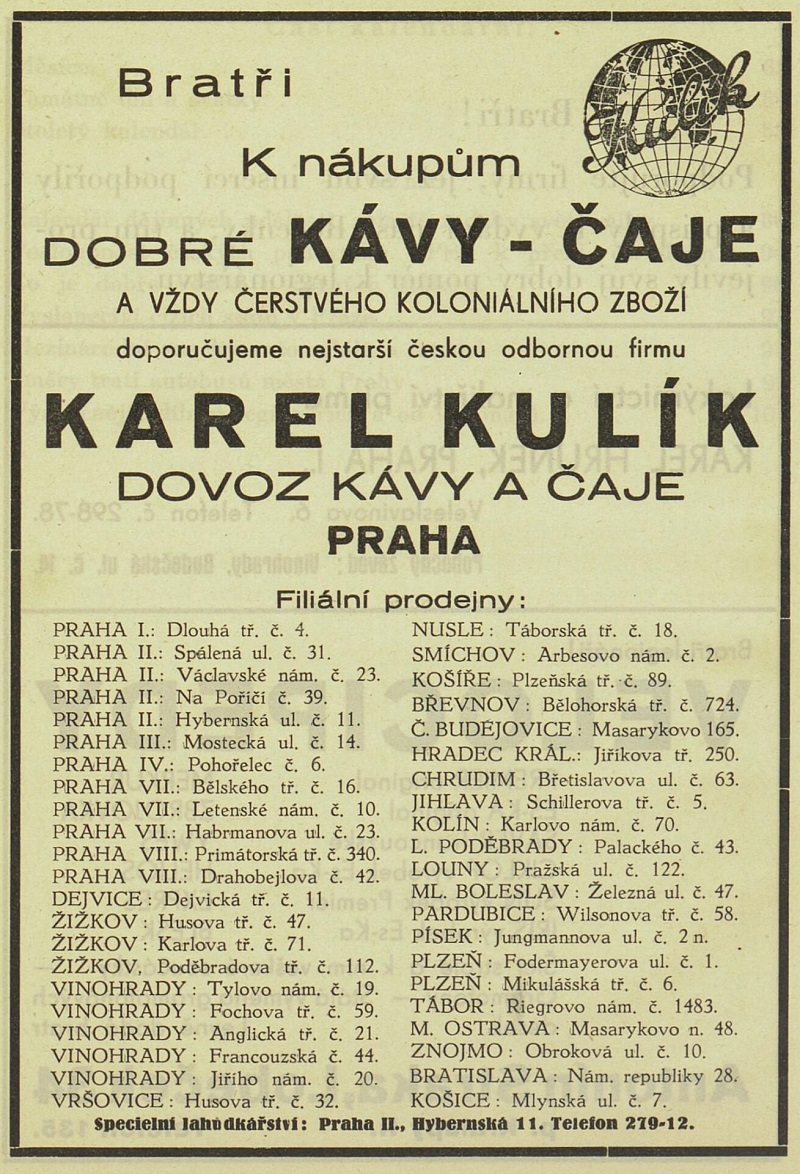 It's hard to imagine how much courage he needed to reach the goals he had set himself at that time, and to do so with the greatest perseverance. Surely he was greatly endowed with an indomitable spirit and strength which led him on his path of perennial and zealous work and it was not just fate or blind luck, but his chosen purpose to have accomplished what he did.
Karel Kulík was not only one of the first businessmen to understand the great power of advertising, he was also very keen in being able to use it to grow his businesses.
By the end of his life, he had mastered his craft and it ran like a well oiled machine, exhibiting much more than just shopkeeper's work or wholesaling, Kulík had become a marketing genius creating brochures dealing with coffee, advertising posters and newspaper insertions.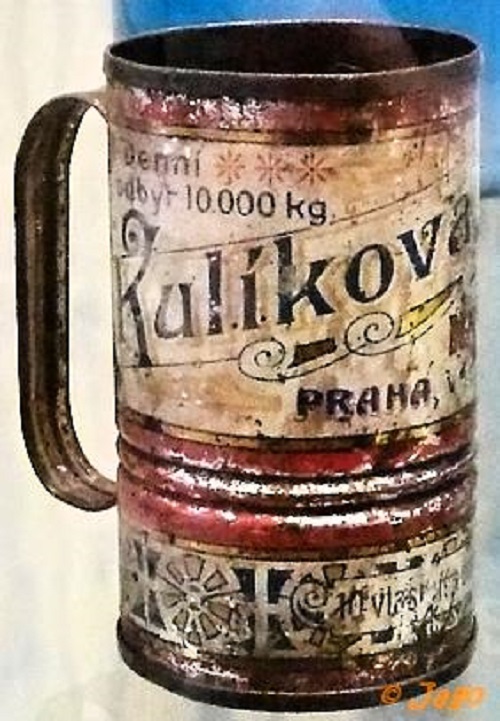 And as we shared, the wonderful Kulík veselý kalendář, which every customer received free and which was printed in a runs of 60,000 copies per issue.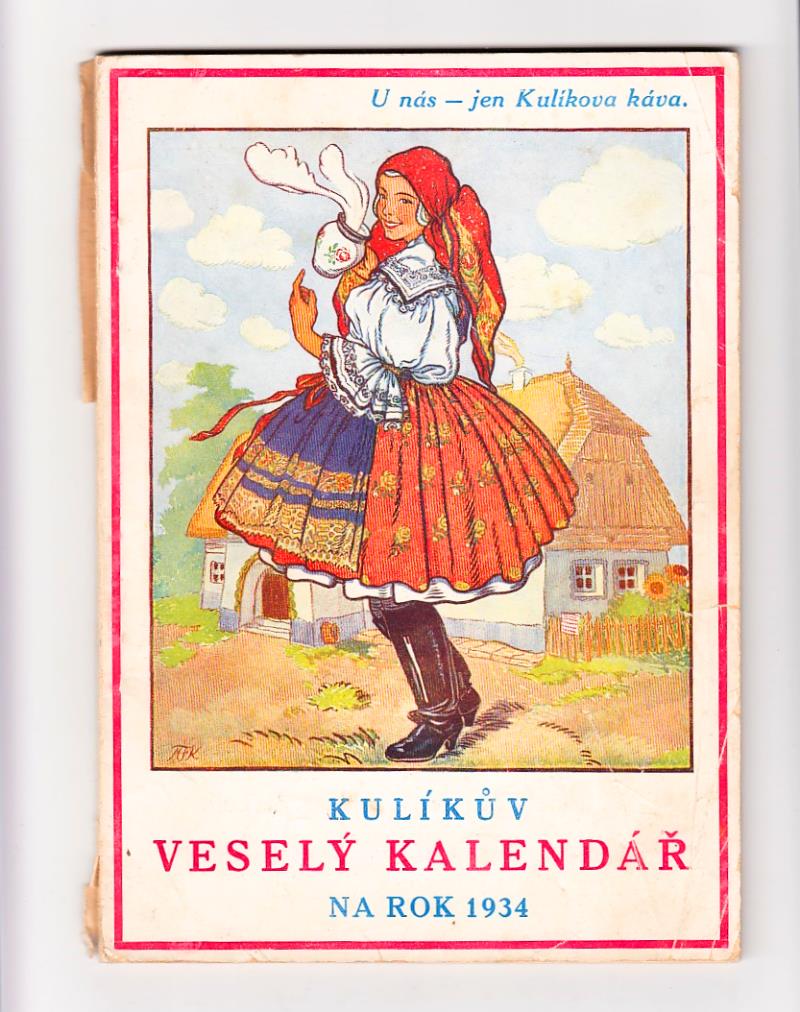 And remember that during this age, Kulík did not only have to fight his reform thoughts only among the general public and his audience, but mainly among his suppliers, who at first had very  little confidence in the prosperity of his new ideas and his newly established way of branching out his businesses.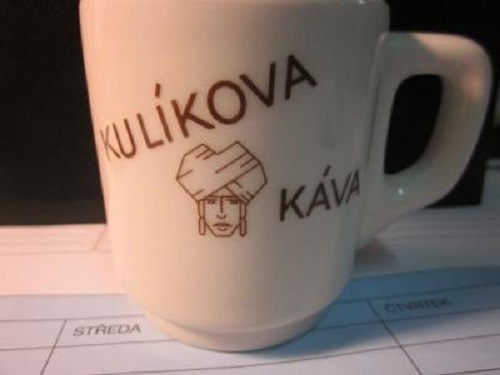 A man certainly ahead of his time…
But alas, life does not only bring success and joy, but also sorrow and suffering.
Tragically, after the war, news of a cruel and painful death affected his life: his only son, whom he believed would take over in his shoes, died.
In 1944, Karel Kulík passed away and tragically his entire wholesale operation was nationalized in 1948, like other wholesale companies in the food, food and drink industries of that time.
As you drink your coffee today, take a moment to think of Mr. Kulík and how Czech have always been ahead of their time in the many talents and gifts they bring to the world….
If you have not already subscribed to get TresBohemes.com delivered to your inbox, please use the form below now so you never miss another post.
---
Remember, we rely solely on your donations to keep the project going.
Become a friend and get our lovely Czech postcard pack.