Bublanina literally melts on your tongue and for many it is a symbol of childhood and years spent with grandparents in Czechoslovakia, Moravia and Slovakia. Today we're making cherry bubble cake, a delicious specialty.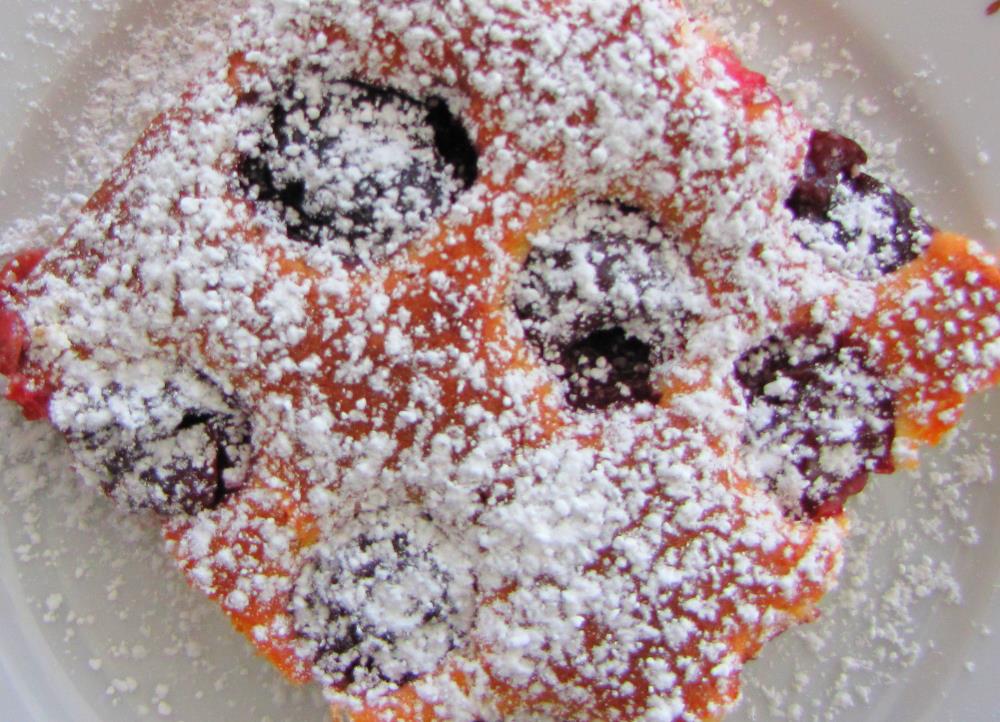 Though usually made with late summer cherries, you can use raspberries, strawberries and even currants in this delicious recipe.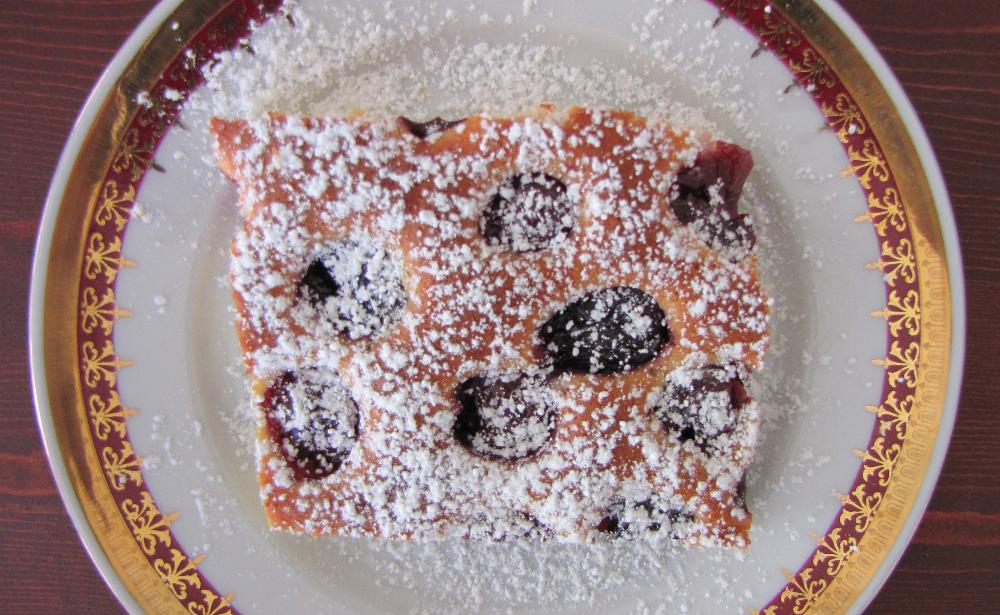 Ingredients
1 cup cake flour (or Wondra)
1 cup unbleached flour
1 cup  powdered sugar
1 tsp. baking powder
1 packet of vanilla sugar or 1 tsp. vanilla
6 Tbsp. butter
3 eggs
3/4 cup plus 3 Tbsp. kefir, yogurt or sour cream
cherries (or other fruits) – pit them in advance, or use 2 cans
Directions
Preheat oven to 350 and grease or line your pan (or baking sheet) with parchment paper to prepare for your cherry bubble cake. (We have used a 9 x 13 rectangular pan and a 10 inch round pan, both with great results.)
Melt the butter and mix it with the vanilla or vanilla sugar and powdered sugar.
Add the eggs and kefir and whisk until the mixture is nicely combined.
Add the flour and baking powder and mix and our into prepared pan.
Spread the cherries evenly on the dough. If they are soft and juicy, it's a good idea to roll them lightly first in some of the powdered sugar or cake flour.
Bake at 350 degrees for about twenty minutes.
Allow the bubble to cool completely before cutting to keep from falling.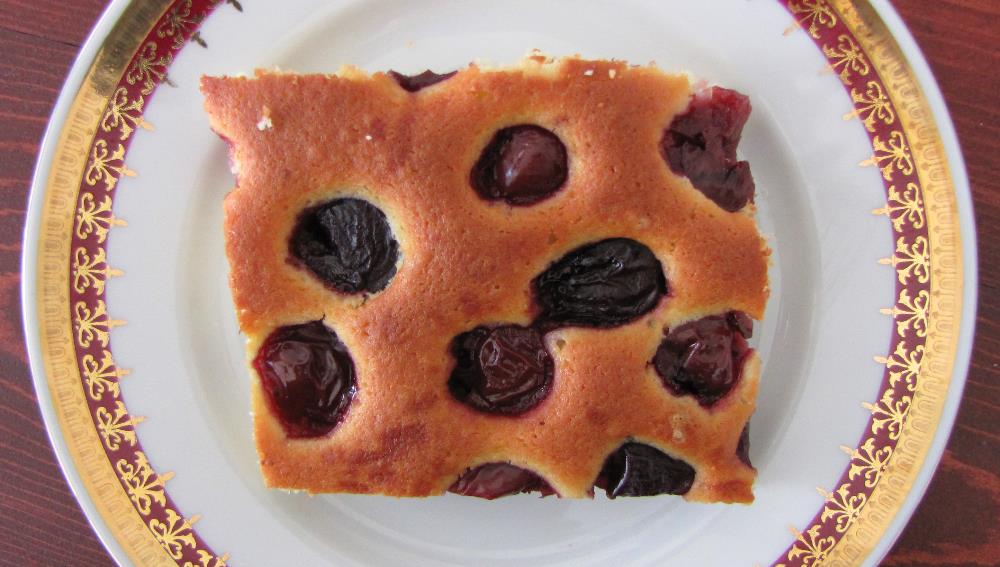 It's called bublanina because of the way the dough appears to be "bubbling" on the surface when in the oven.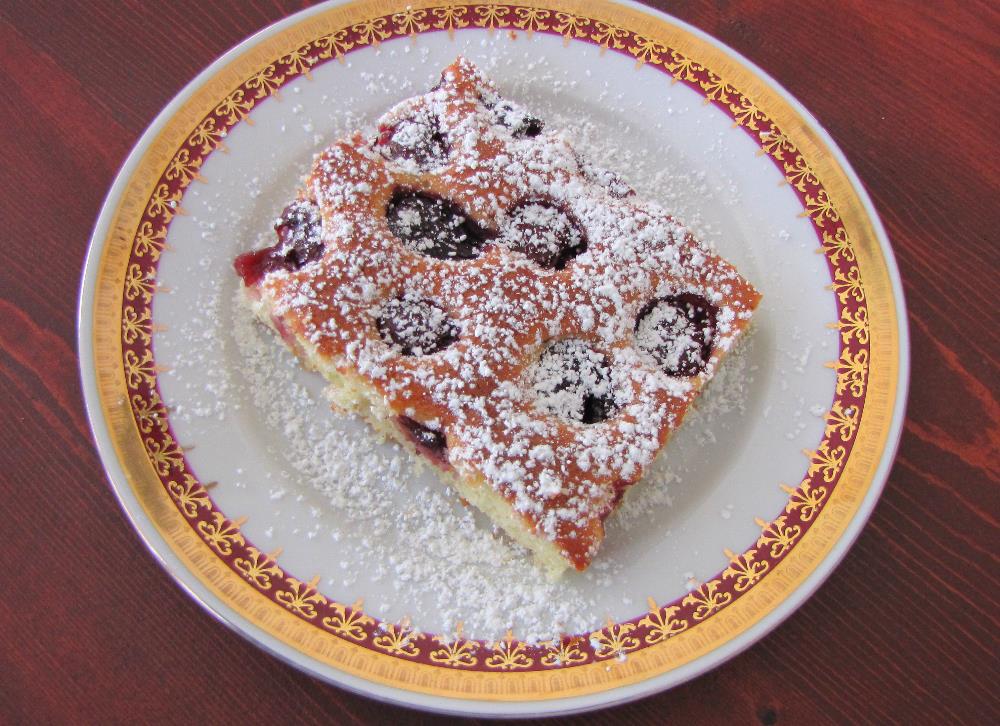 Dobrou Chut!
If you have not already subscribed to get TresBohemes.com delivered to your inbox, please use the form below now so you never miss another post.
---
Remember, we rely solely on your donations to keep the project going.
Become a friend and get our lovely Czech postcard pack.