The Three Kings (Czech: Tři králové) was a famous Czech anti-nazi resistance group which was established in 1939 when Czechoslovakia was annexed by Nazi Germany. It was comprised of three members: Josef Mašín, Václav Morávek, and Josef Balabán.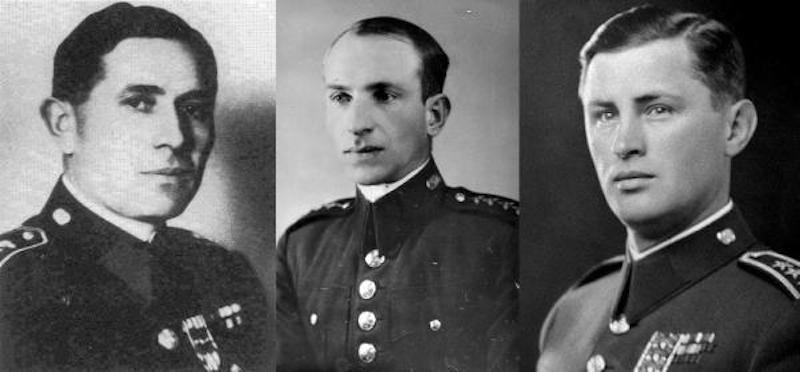 The code name of the group (Three Kings) was coined by the Prague Gestapo. The Three Kings were known for the two bomb assassinations in Berlin which they planned. The first assassination was aimed at the German Ministry of Airship and Police headquarters. It was successful. The second assassination was aimed at killing Heinrich Himmler. However, the second assassination was unsuccessful because Himmler's train arrived at the wrong railway station.
They are also known for upholding radio contact with František Moravec in Great Britain. They would send news and information about economic and political developments to the Czechoslovakian government-in-exile in London through radio transmitters called Sparta I and Sparta II. They would also share information about German transports.
The Three Kings worked on assassinations and sabotages under the leadership of Josef Balabán. Balabán was trained as a locksmith before he enlisted in the army. He was sent to the Russian front where he was captured in 1915. Soon afterward he joined the Czechoslovakian Legion.
He climbed to the rank of lieutenant colonel of the Czechoslovak Army upon his return to Czechoslovakia. When the Nazis occupied Czechoslovakia he became the leader of the Three Kings resistance movement.
Balabán was arrested in April of 1941 after a brief gunfight in the Dejvice district of Prague. After his arrest, he was interrogated and despite undergoing extreme torture during the interrogation, he did not reveal anything. In fact, he actually managed to mislead the Gestapo, giving Mašín and Morávek a chance to continue their work. Balabán was shot to death in October of 1941 shortly after Heydrich's arrival in Prague.
Josef Mašín, like Balabán, was also sent to the Russian front after enlisting in the army. However, once he arrived at the front he deserted. In 1916 he joined the Czechoslovakian Legion and served in the legion until 1921. In the 1920s he returned to Czechoslovakia and became a high ranking military officer. When Czechoslovakia was occupied by the Nazis he joined the resistance. In the beginning, Mašín did his sabotage work alone. It was not until later that he joined forces with Morávek and Balabán.
Mašín was caught and arrested by the Gestapo in May of 1941 while he was transmitting an important message to the Czechoslovakian Government in London from his apartment in Prague. Morávek was with him at the time but managed to escape via the balcony with the radio operator.
After his arrest, Mašín was tortured, interrogated, and held as a prisoner. The months of torture changed his appearance almost beyond recognition and he attempted to commit suicide several times during his stay in prison. However, he would not give his tormentors any information. Mašín was executed on June 30, 1942. Moments before his execution, he shouted "Long live Czechoslovakia!". Those were his last words.
Václav Morávek was the youngest member of Three Kings. He voluntarily enlisted in the Czechoslovakian army but when the Nazi occupation began, he was demoted. He attempted to escape to Poland but when his escape did not work out, he joined the resistance. In the resistance, he met Mašín and Balabán.
Morávek was known for being an excellent gunman and he always carried two pistols with him. He was also deeply religious and he once told Mašín, "I believe in god and in my guns."
After the capture of Mašín and Balabán, Morávek managed to continue transmitting important information to London. He also found other resistance groups who he worked with and helped. He was a contact of the famous agent Paul Thümmel who was arrested in 1941. Morávek was shot to death by the Nazis in a gunfight.
If you have not already subscribed to get TresBohemes.com delivered to your inbox, please use the form below now so you never miss another post.
---
Remember, we rely solely on your donations to keep the project going.
Become a friend and get our lovely Czech postcard pack.