No doubt you have seen this recipe here before, however the peach version is perfect for this time of year. The extra little taste burst that mixes so well with the peaches are the fennel seeds, which we just love to add to this mix. Our playful take on this Czech classic, we hope you'll enjoy the recipe!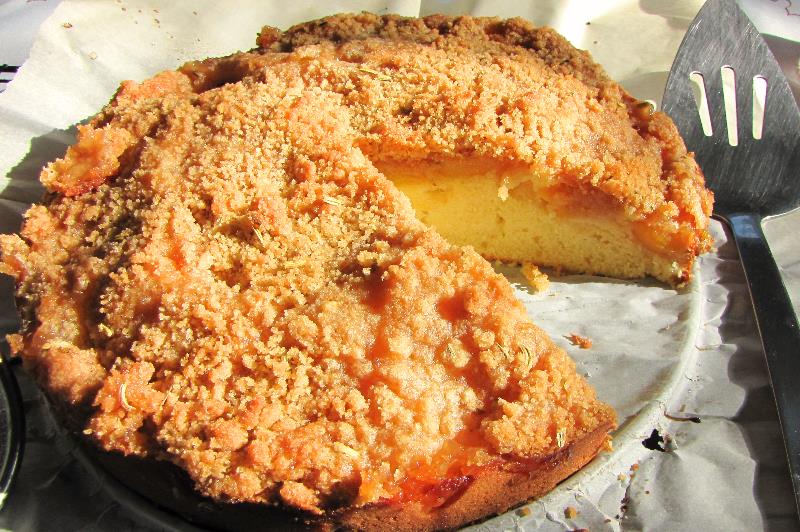 Ingredients
2 cans of peaches (strained – do not reserve juice)
1 1/2 cups flour
1/2 cup milk
2 large eggs
1 stick butter
1 tsp Czech rum or vanilla
1/2 cup plus 2 Tbsp. sugar
2 tsp baking powder
pinch of salt
For the crumble topping
3 Tbsp. butter
1/2 cup brown sugar
1/2 cup flour
1 tsp fennel seeds
Directions
You'll want to pull out your butter ahead of time and make sure it's at room temperature. Unsalted butter is best, but we've made it with salted as well.
We always make the crumble first. Just mix the three ingredients in a bowl and get your hands in there, pinching and working it between your fingers until it resembles coarse crumbs. Set aside.
Preheat oven to 350 and butter or oil your pan and then dust with breadcrumbs or flour so your chewy goodness does not stick. Set aside.
To make the cake use two bowls. Whisk all of the dry ingredients (except the sugar) together and set aside.
Then, in a larger bowl, cream the butter and sugar together, using an electric mixer on medium speed. Blend for 3-4 minutes ensuring the mixture is light and fluffy. Then add your eggs, one at a time, still beating.
Add half of the flour mix as well as half of the milk and mix only enough to incorporate, this time on the low setting. Finally, add the remaining flour and milk and mix just enough that it's mixed. You don't want to over mix the final step.
Pour your batter into your prepared pan, making sure to scrape up every last bit and use your spatula to even it all out in the pan.
Note: this cake comes out best in a 9 or 10 inch spring-form pan. This is because the peaches are juicy and if you use a larger pan, the cake will be too gooey.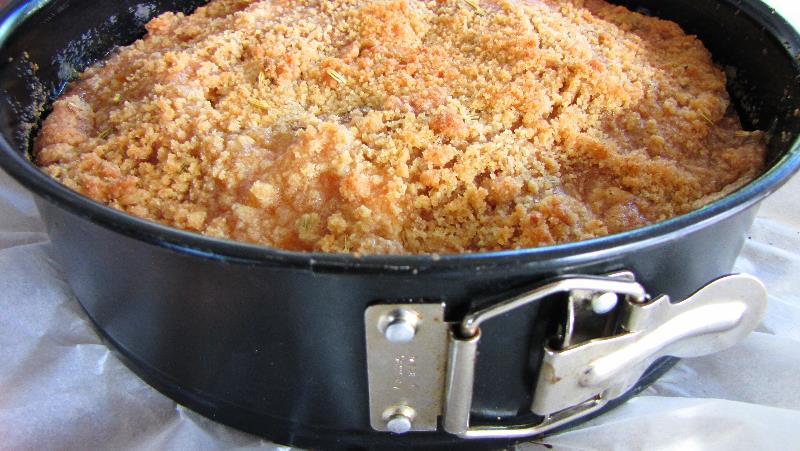 Add your fresh fruit over the top, just setting it on the batter gently. Some pieces will seem to float on it while others want to sink in. Don't worry….
When the batter is covered with all of the fruit, sprinkle the crumble over it all. Some will land on fruit, some will sink into the little crevices between the fruit.
Bake approx. 35-40 minutes or until a toothpick comes out clean.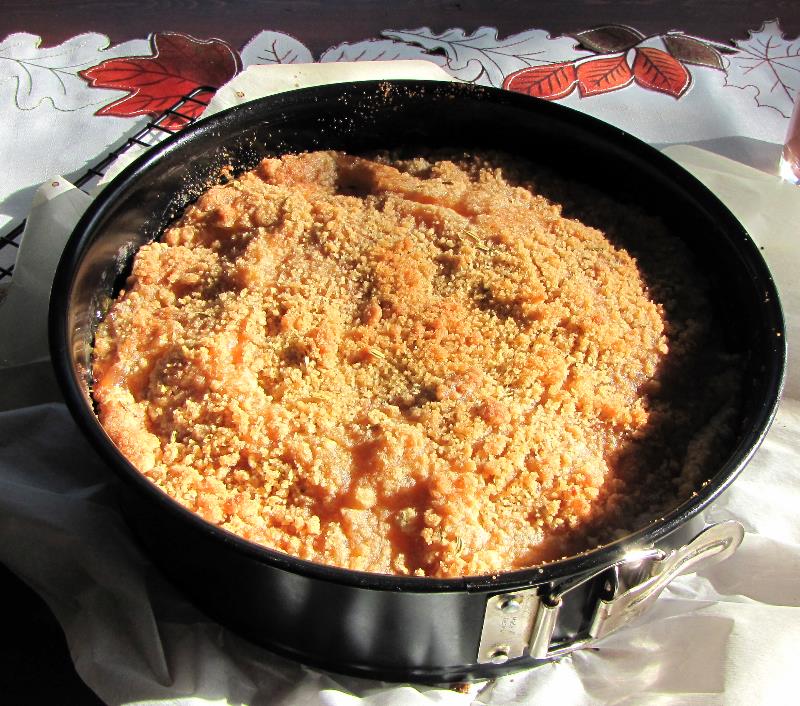 It's best to let it cool on a wire rack completely before slicing.
We know it'll be hard to wait that long, but it will be worth it!
A dusting of sifted powdered sugar is the finishing touch before serving.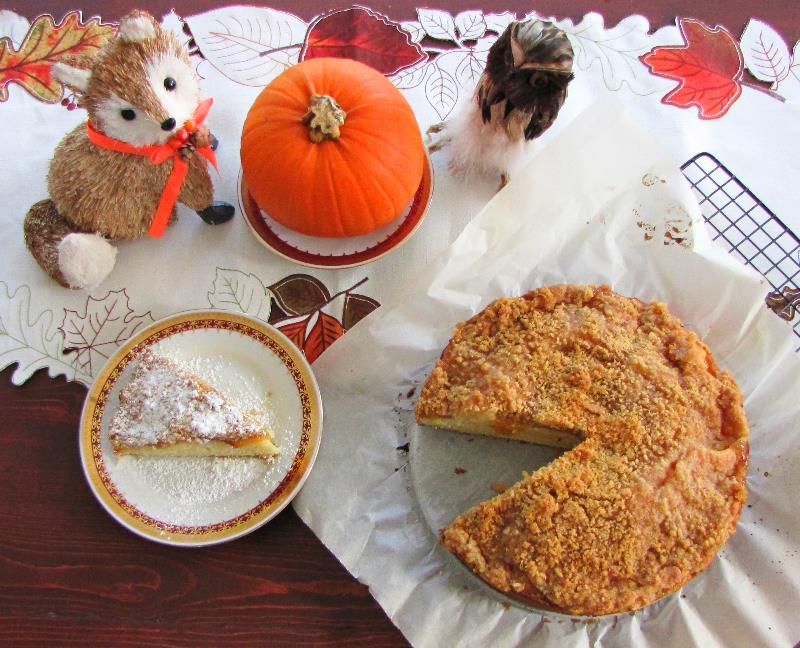 We tend to dust one piece at a time, otherwise the powdered sugar melts in a bit and when you add more, it's too sweet.
Doesn't it look delicious?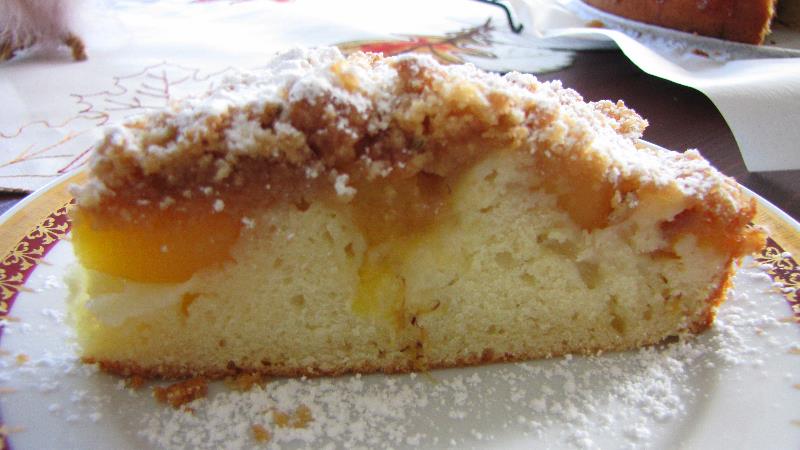 That's because it is!
Slice and serve for dessert, an afternoon snack, breakfast or at any other time your heart desires.
Enjoy!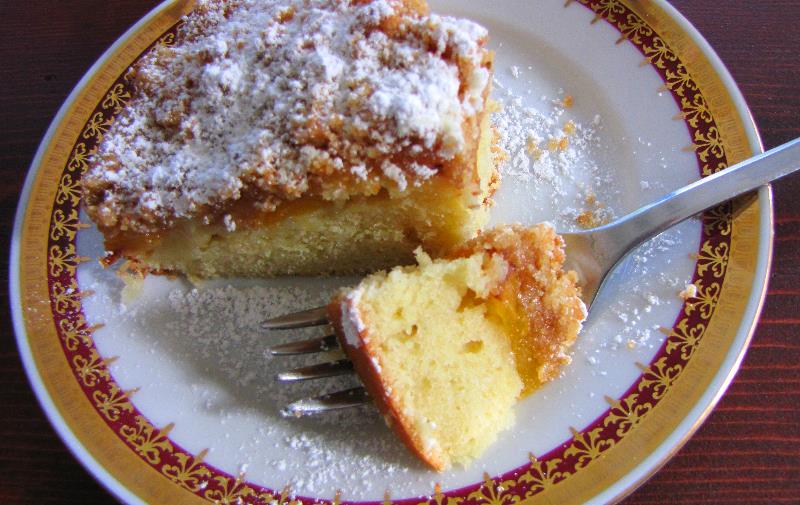 If you have not already subscribed to get TresBohemes.com delivered to your inbox, please use the form below now so you never miss another post.
---
Remember, we rely solely on your donations to keep the project going.
Become a friend and get our lovely Czech postcard pack.