A recent image (and recipe) on Pinterest sparked my interest and I admit, I got a craving. Besides, it sounded almost too good to be true. Reading the recipe I thought to myself, "No long kneading? No yeast? No hours of rising time? This recipe must really be a miracle if I can really have kolač (kolache) in a little over 10 minutes!" As a result, I present you with my vintage solo prune kolacky results…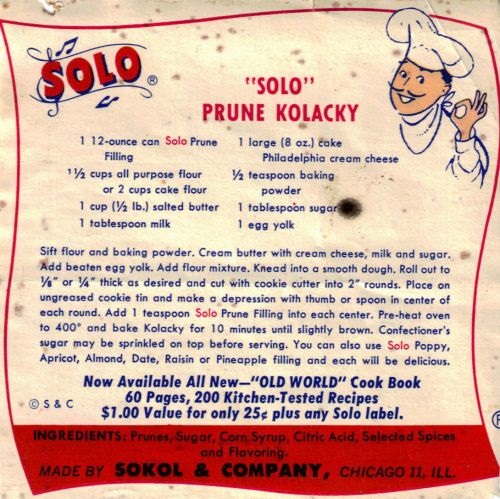 So I went to work – but first I wanted you to know that the recipe is an old one made by Sokol & Company from Chicago.
Sokol… That's a nice Czech name.
Chicago… A hub of Czechs, especially in the early 1900s.
That sounded good enough to me. I remember traveling to Chicago when I was 6 or 7 years old and seeing all of the Czech signs and hearing Czech everywhere. My memories of Chicago were good and I remember the kolache we ate there, the various sweets…
My mouth was beginning to water just at the memory of it.
10 minutes.
Here I replicate the recipe and share my results…
Ingredients
1 12-ounce can Solo prune filling
1 1/2 cups all purpose flour (or 2 cups cake flour)
1 cup (1/2 lb.) salted butter
1 Tbsp. milk
1 large (8 oz.) cake of Philadelphia cream cheese
1/2 tsp. baking powder
1 Tbsp. sugar
1 egg yolk
Directions
Sift flour and baking powder. Cream butter with cream cheese, milk and sugar. Add beaten egg yolk. Add flour mixture. Knead into a smooth dough. Roll out to 1/8″ or 1/4″ thick as desired and cut with cookie cutter into 2″ rounds. Place on ungreased cookie sheet tin and make a depression with thumb or spoon in center of each round. Add 1 teaspoon prune filling into each center. Pre-heat oven to 400 degrees and bake kolacky for 10 minutes until slightly brown. Confectioner's sugar may be sprinkled on top before serving. You can also use Solo poppy, apricot, almond, date, raising or pineapple filling and each will be delicious.
I didn't have Solo in my pantry, but I have several different kinds of prune or plum butters and I make koláče the real way many times, so the filling was not an issue.
I have to confess, I did notice something was off immediately when I double checked the recipe and saw 1/8 or 1/4 of an inch. That is paper thin. Very thin for something that does not have yeast in it.
But I followed the directions.
What I got was not anything that resembled a yeasty, chewy, doughy koláč, kolach, kolache, or koláče.
Instead, I made cookies.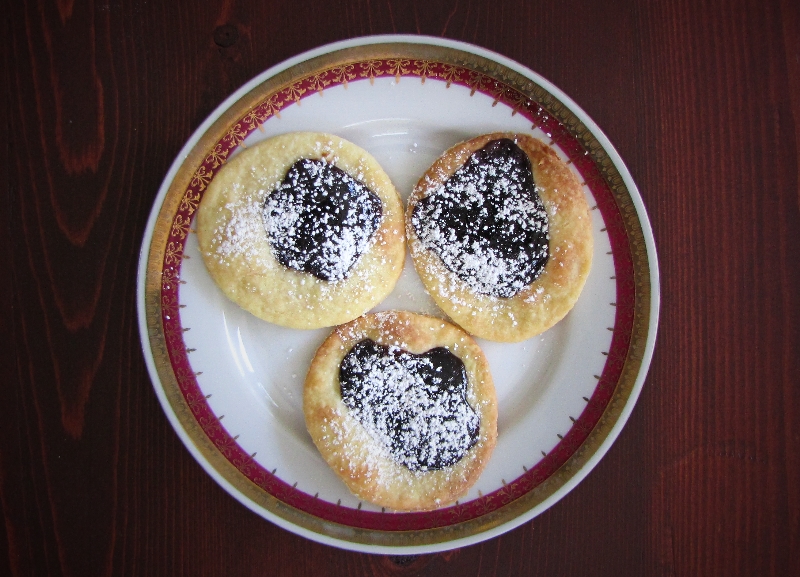 Flat, dense, prune cookies that people who have tasted a real Czech koláč would never, ever, ever call by that name.
Never.
Ever.
EVER!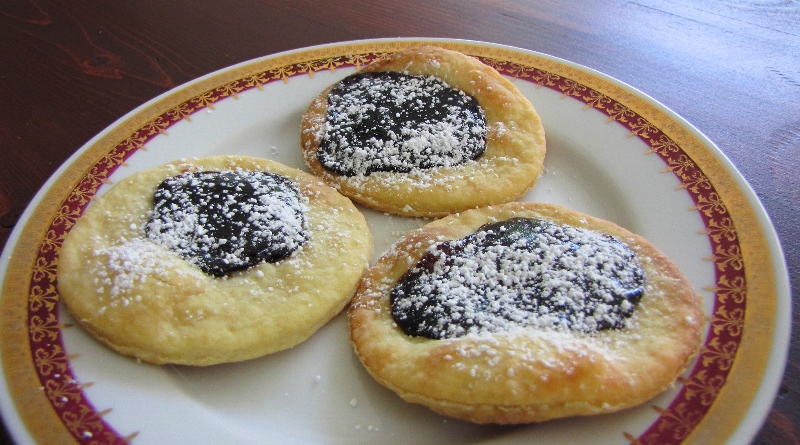 Cookies that may (or may not) pass for Hamantaschen, maybe.
But cookies nonetheless.
Flat. Cookies.
I was so disappointed with the first batch I though that if I tweak the directions a bit, I may at least get something that LOOKS like a koláč.
…Someday my prince will come…
So I decided not to roll the dough paper thin.
Instead, I made a ball.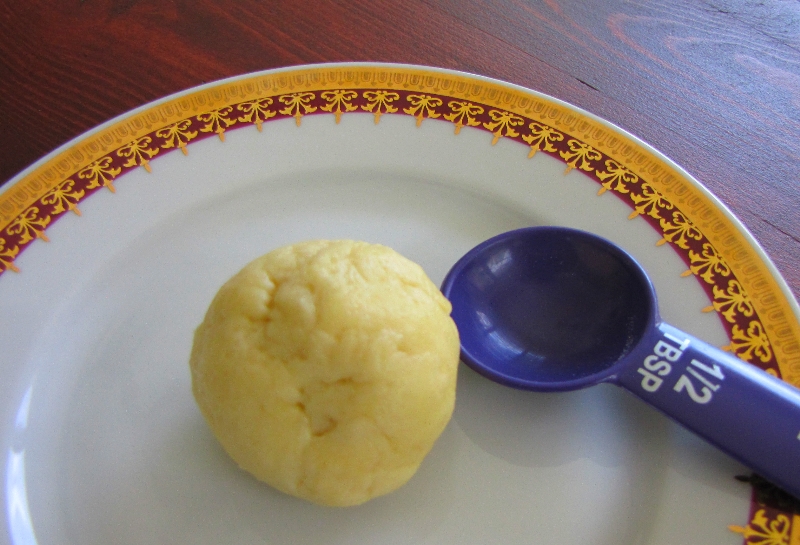 and I used the back of my measuring spoon to make a deep opening in the dough.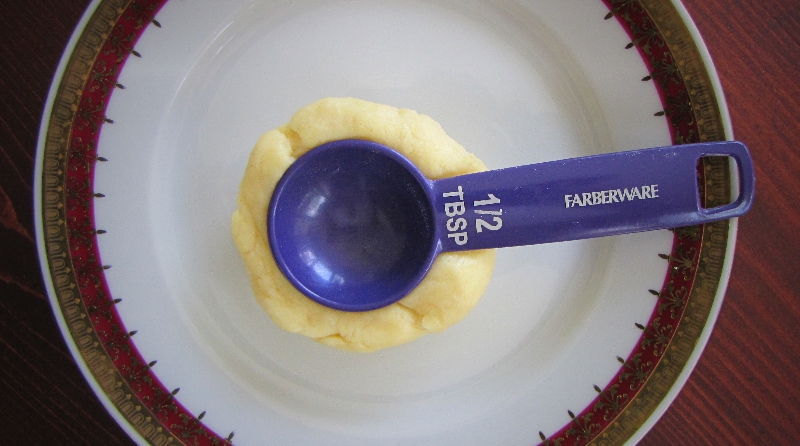 Deep enough to hold the delicious filling.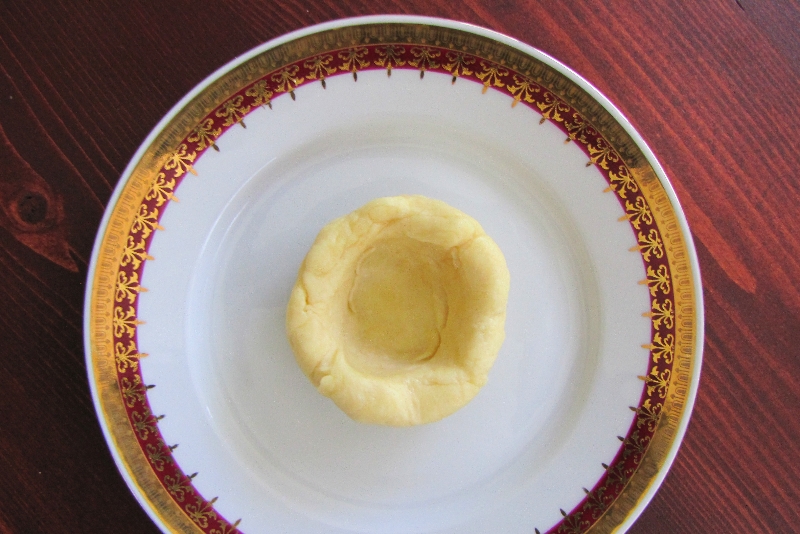 And I added the filling, and all of my hopes into each little pastry.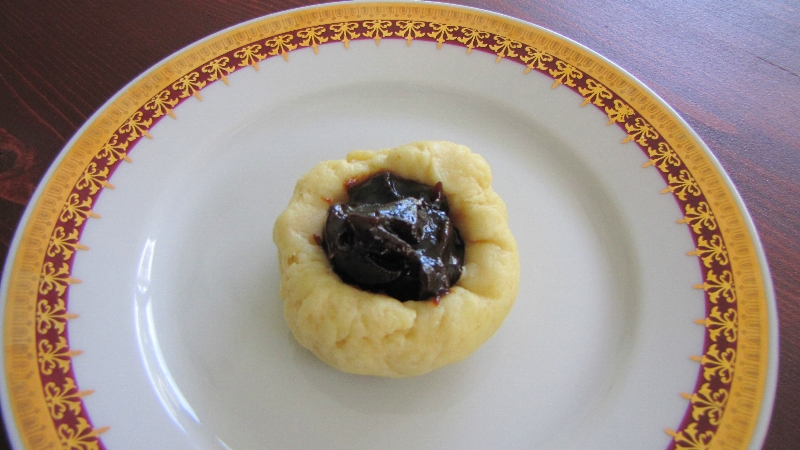 This time, I told myself, I would get a koláč.
Wrong again.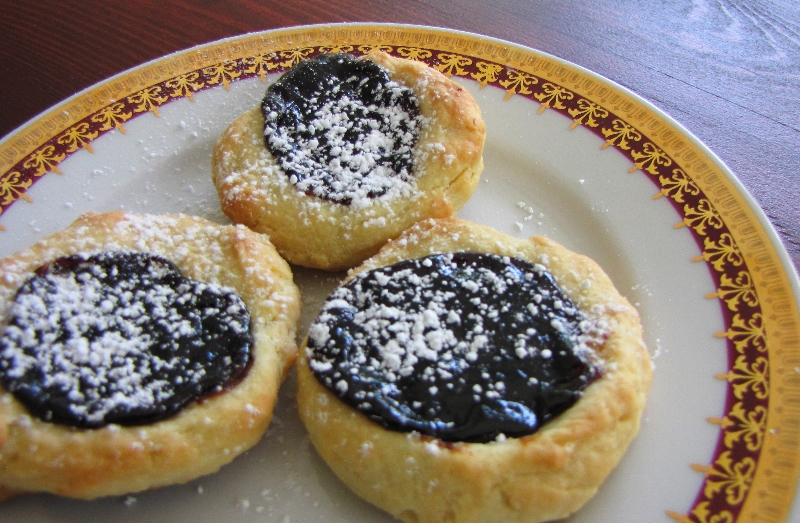 It was the same cookie, only a little bit fatter.
What did I expect from a recipe that sounded too good to be true?
It was then that I realized… This recipe was for kolacky.
Small little, rolled dough, folded into little pockets, cookies.
Like these: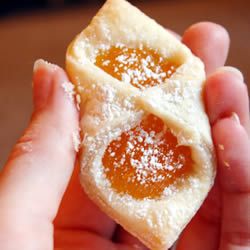 What a mistake I had made.
Kolacky not Kolace!
And now that I re-read the recipe, they didn't lie. I mis-read it in my haste for something too good to be true.
Thus, I admit my mistake. THIS is what they are SUPPOSED to look like!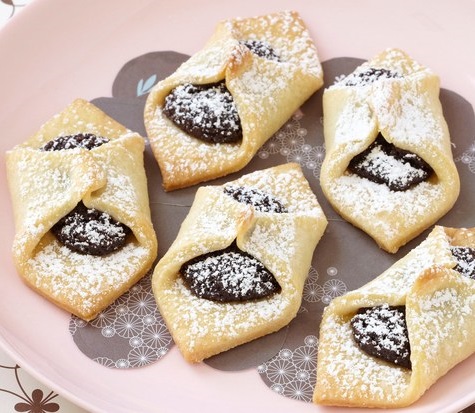 All it did was remind me that I'm still that same little girl who has always believed in goodness, truth, miracles and fairy tales.
And I'm still waiting for the Someday when my prince will come… (Insert music from Disney's Snow White.)
But not all is lost. After baking and while eating my prune COOKIES, I went to their website to see if they Sokol & Co. still exist and yes, they do. It's nice to have a business that have been in the family for five generations – I like that.
I immediately recognized the poppy seed and prune filling I always buy. In fact, I know and like their fillings, and have been buying them as long as I can remember.
And because the little recipe I found has been making quite a stir on the internet  I am still happy that I decided to give it a go.
We just need to call it my it's name… a COOKIE recipe.
Especially after I read the history of the company from their website.
History of Sokol and Company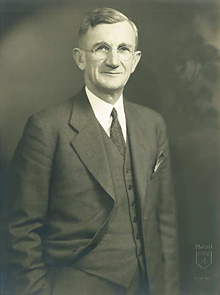 In 1889, Sokol and Company founder, John A. Sokol, immigrated to Chicago from the city of Pilsen, Bohemia, Czech Republic and started his career as a grocery delivery boy at the age of 14. Having learned the ins and outs of the business, he opened his first grocery store in 1895. By 1902, he added three more stores. When his investment in a Mexican coffee plantation ended with the start of the Mexican Revolution in 1902, Sokol returned to the Windy City to start a wholesale coffee, tea and spice business. He incorporated Sokol and Company in 1907.
In the 1920's, Sokol launched the Solo line of food and baking products, which primarily consisted of cake and pastry fillings made from prunes and European imported poppy seeds.
Today, Sokol and Company, commonly known as Solo Foods, manufactures a variety of food and baking products under the Solo, Baker, Borden, Chun's and Simon Fischer brands, some of which were obtained through acquisitions. In the more than 100 years since its founding as a Chicago neighborhood grocery store, Sokol and Company is proud to still represent the same dedication to the highest quality products and service set forth by founder, John A. Sokol.
Because I don't live in Chicago, I get mine online via Walmart because they deliver them in packs of six, right to my door.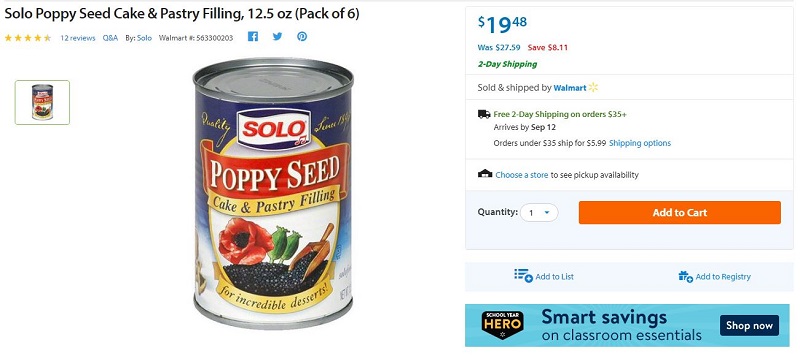 Click here for Poppyseed filling at Walmart.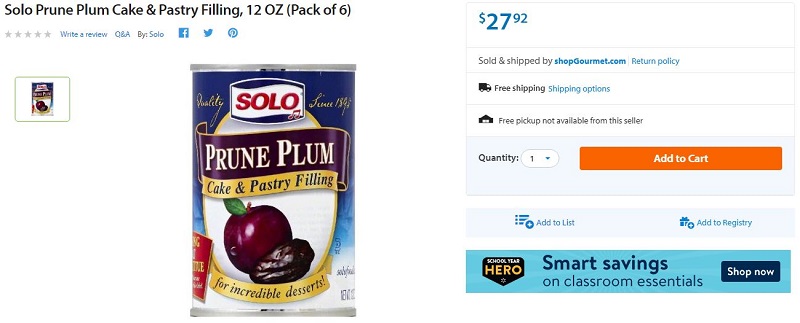 Click here for Prune filling at Walmart.
And in case you wondered what filling I used…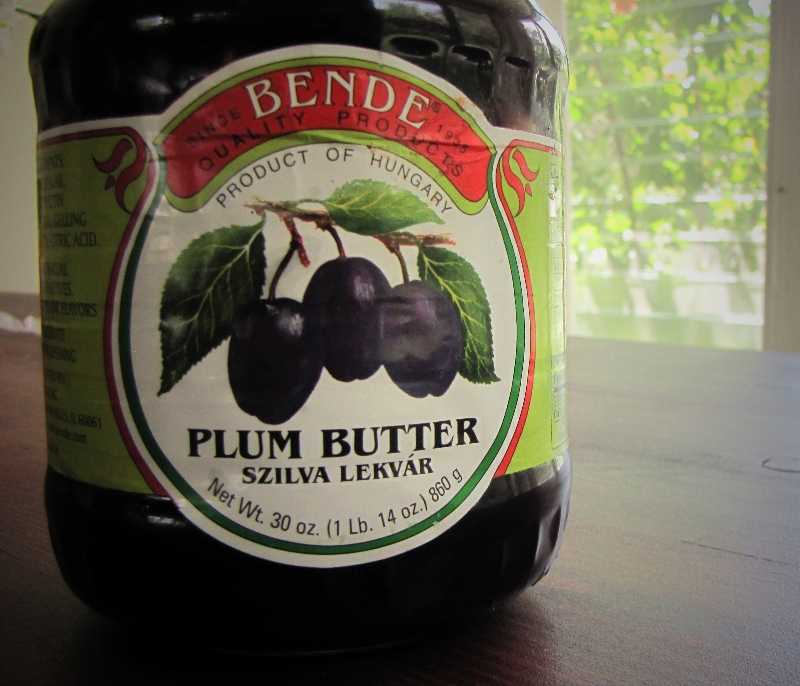 (Which, they also have at Walmart, by the way.)
I hope you can now tell the difference between a cookie and a kolache. Our Texas friends make them much too fat and fluffy (more like a buchta) and this old Chicago recipe makes them too flat (more like a cookie).
Gosh I wish I would have spent the time to make real Czech Koláče.
Oh well, back to my cookies…
(Note: I used variations on spelling of the Czech dessert for search purposes.)
If you have not already subscribed to get TresBohemes.com delivered to your inbox, please use the form below now so you never miss another post.
---
Remember, we rely solely on your donations to keep the project going.
Become a friend and get our lovely Czech postcard pack.