There are so many talented people in the Czech Republic, it would take several lifetimes of posting each and every day to introduce you to them all, but today we're looking at the creative work of Veronika Richterová. She has turned recycling bottles into an art form all her own. The wonderful recycled bottle sculptures of Czech artist Veronika Richterová need to be seen to be believed.
Using heat to form the bottles, she can twist and turn them into any shape she desires and uses the flexibility of the warmed plastics to create all sorts of natural forms.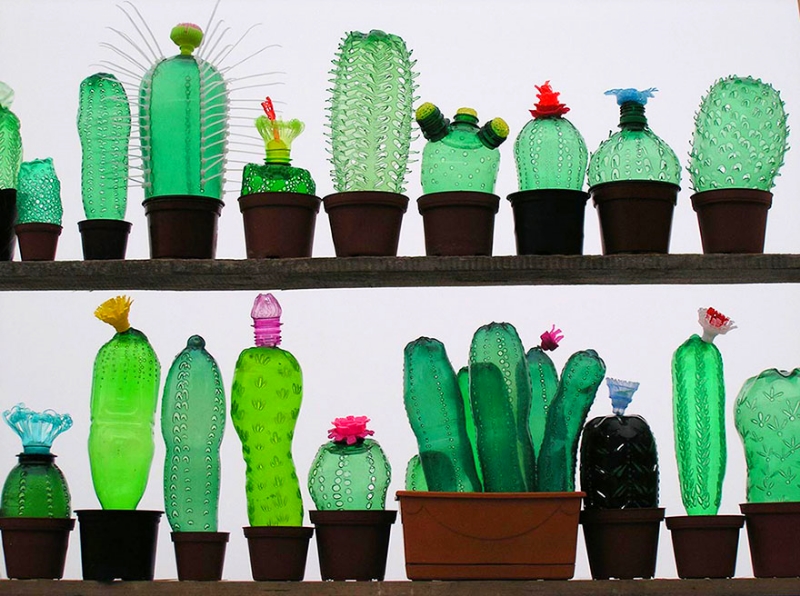 She takes old water and soda bottles and twists and turns them into cactus', flowers, sea creatures, food, fungi and even clothing. She has recycled thousands of bottles over the years and has created hundreds of works of art.
When I found out by chance, that plastic bottles could be deformed by heat I decided to create a sculpture from this material. Immediately, I had the idea that it could be called PET-art however, I took it only as one of my visual experimentations. I didn't anticipate that plastic bottles would become such an obsession for me for many years. Since 2004 I have used thousands of bottles and have created hundreds of objects. In doing this work, I have developed many specific methods of technological processing.
PET bottles are derived from oil and are notorious for not degrading in nature. This means that they have to be collected and recycled – into fiber for clothing, construction materials, other PET containers and so forth.
In addition to making PET art, she hosts a PET-ART museum, where she collects bottles from around the world.


Currently, the museum hosts about 3000 pieces from 76 countries.
The widely-known abbreviation PET conceals a substance called polyethylene terephthalate, at the present time the most important thermoplastic polyester. It is manufactured by the polycondensation of terephthalic acid and ethylene glycol, using two phases at a temperature of around 190 °C. To manufacture kilogram of this polymer, whose molecules are made up of carbon, hydrogen and oxygen, about 1.9 kilograms of crude oil are needed. PET is used in the manufacture of textile fibers for clothing and technical fabrics, for insulating electric wires, for manufacturing ropes and conveyor belts, for reinforcing tires, for manufacturing displays and films used in electronic appliances, and above all in the food industry.
The most widespread use of polyethylene terephthalate – nearly 80% of it – comes namely in the form of PET bottles, because it forms an excellent packaging material that is particularly suitable for drinks, detergents and cosmetics. In this respect it represents a worldwide trend.
Bt thanks to Veronika and her recycled bottle sculptures, at least some of these bottles are being put to good use.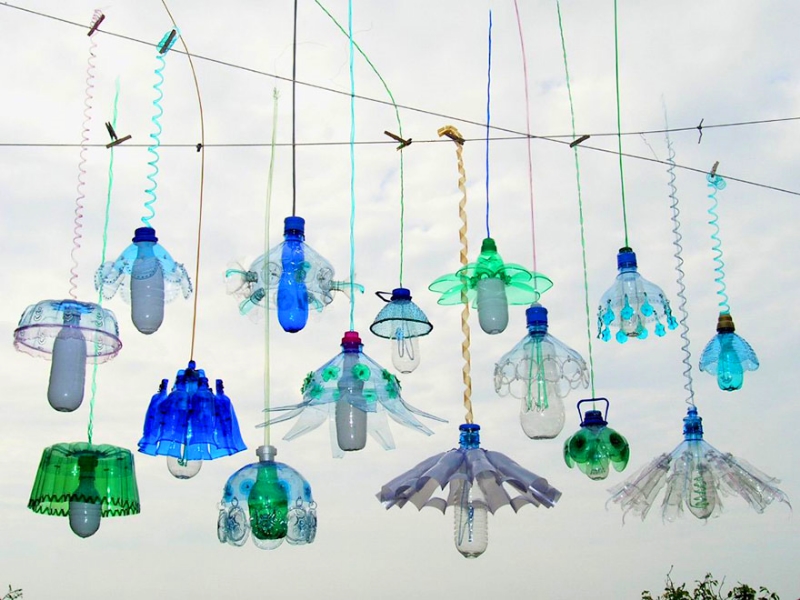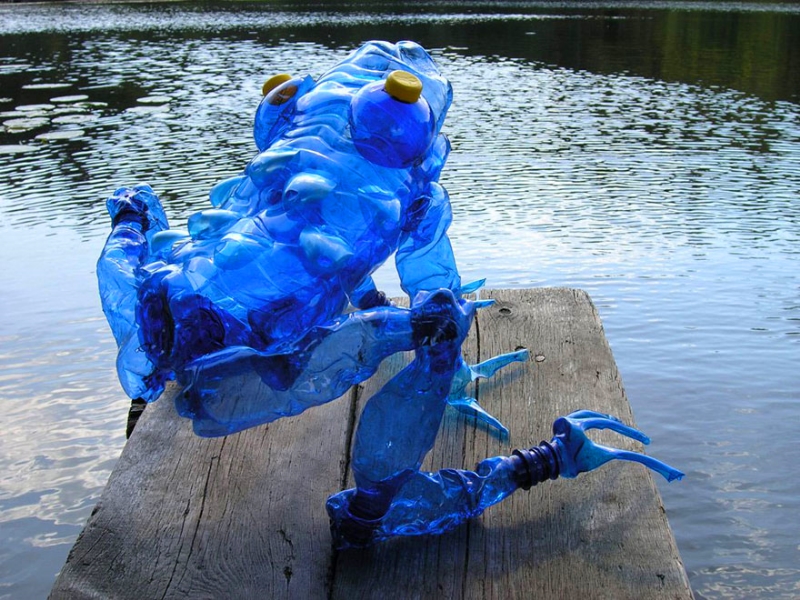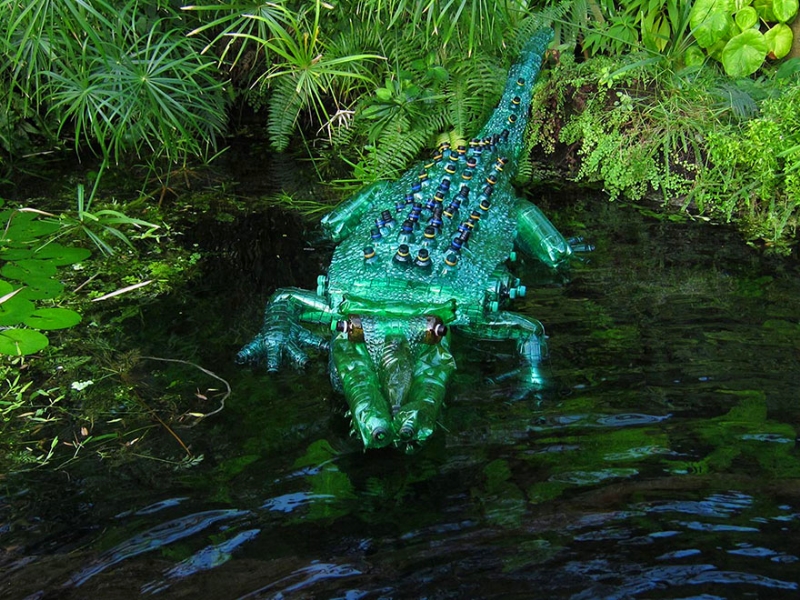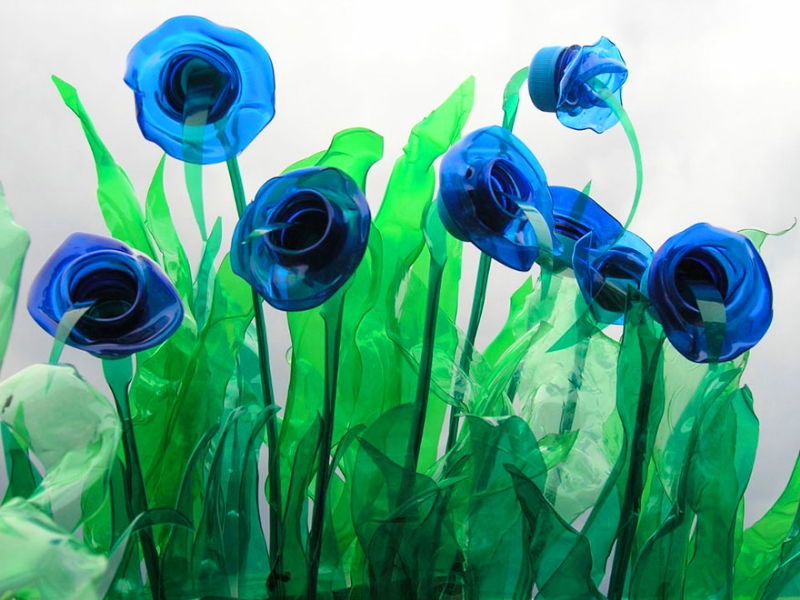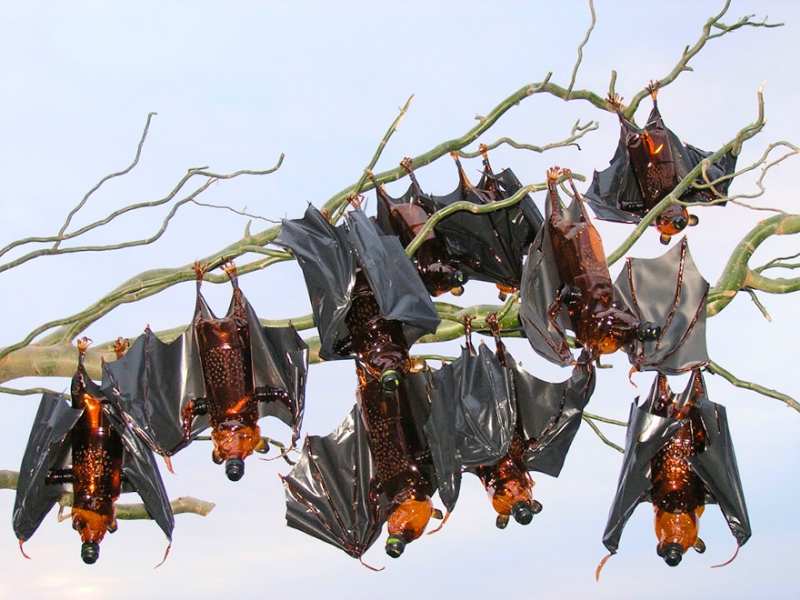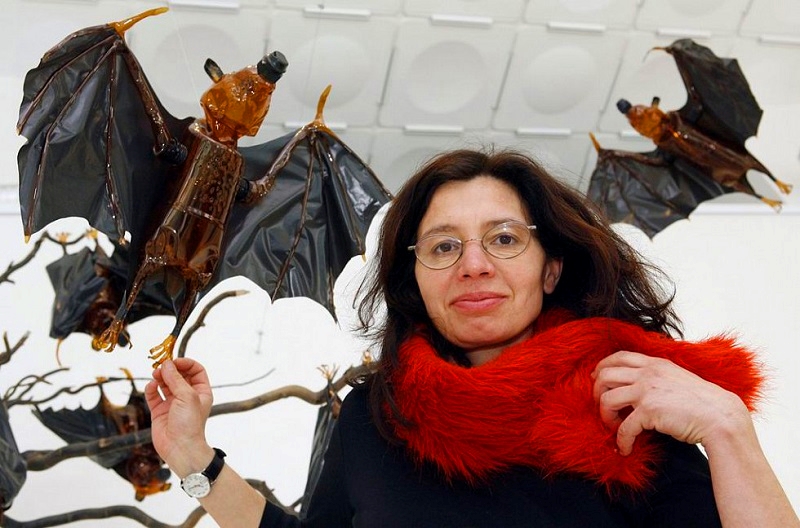 In the Czech Republic alone there is an annual consumption of around 60,000 tons of various types of PET bottles.
Learn more about PET bottles by reading her information at this page.
Veronika Richterová was born in 1964. She studied at the Secondary School of Applied Art, Prague, the Academy of Arts, Architecture and Design, Prague and Ecole Nationale des Arts Décoratifs in Paris.
Today she's making these wonderful and creative recycled bottle sculptures.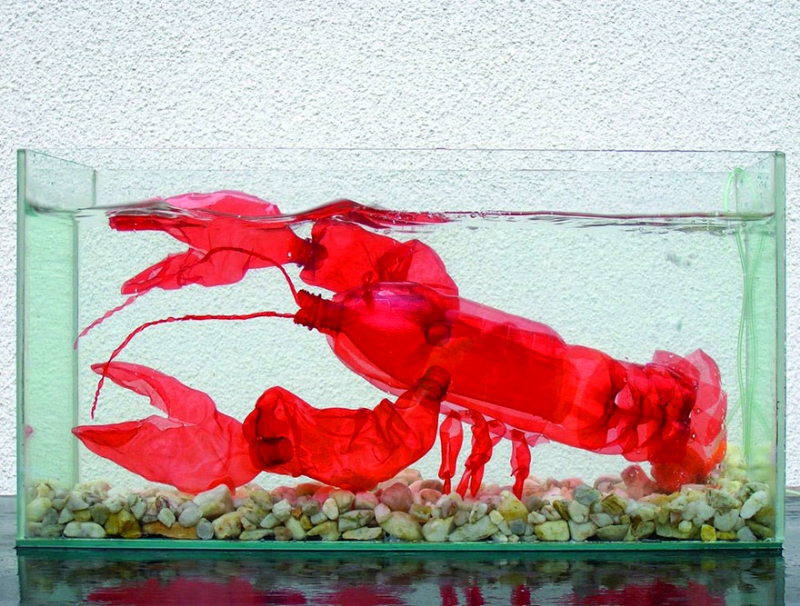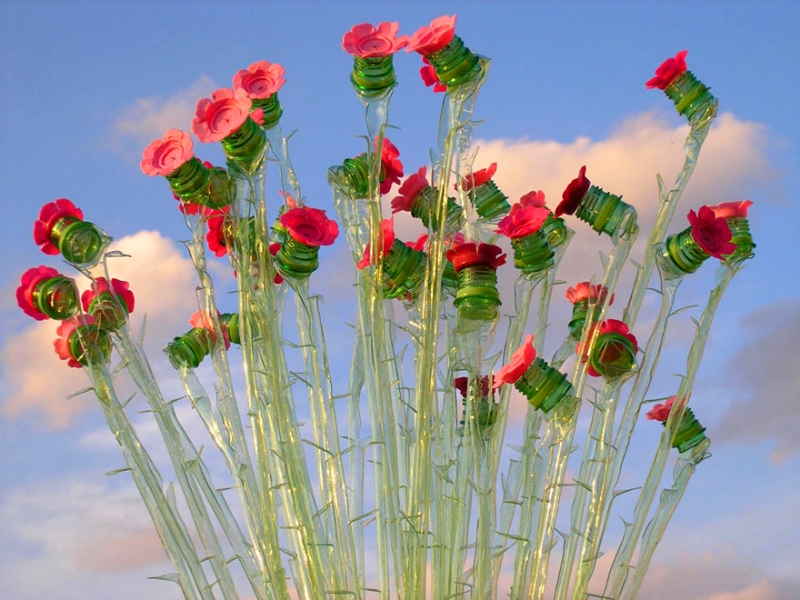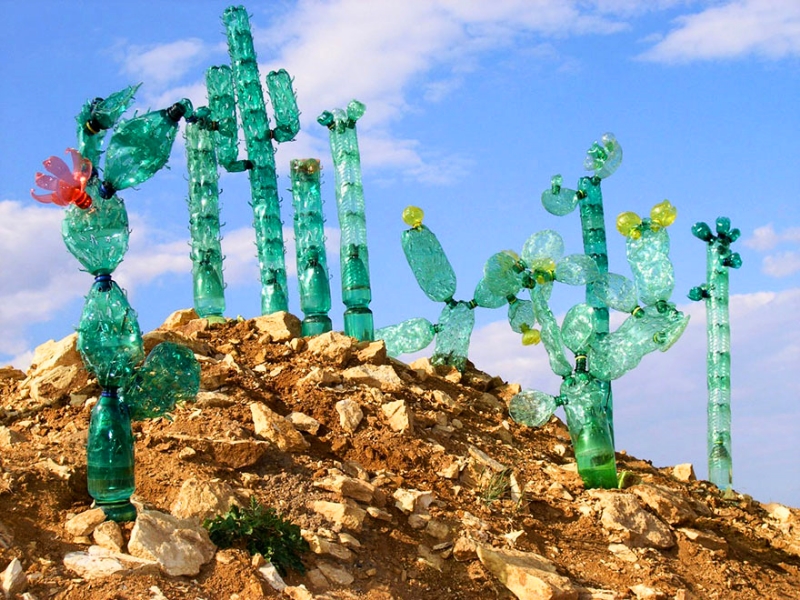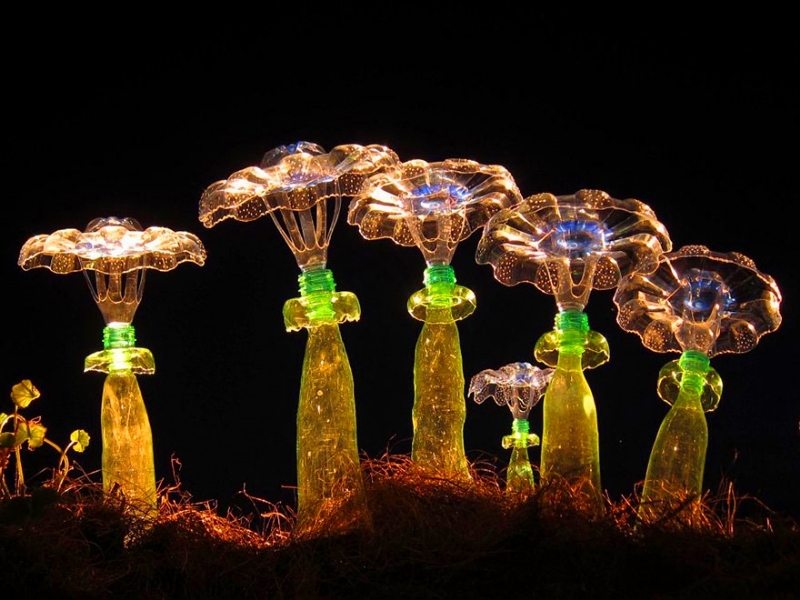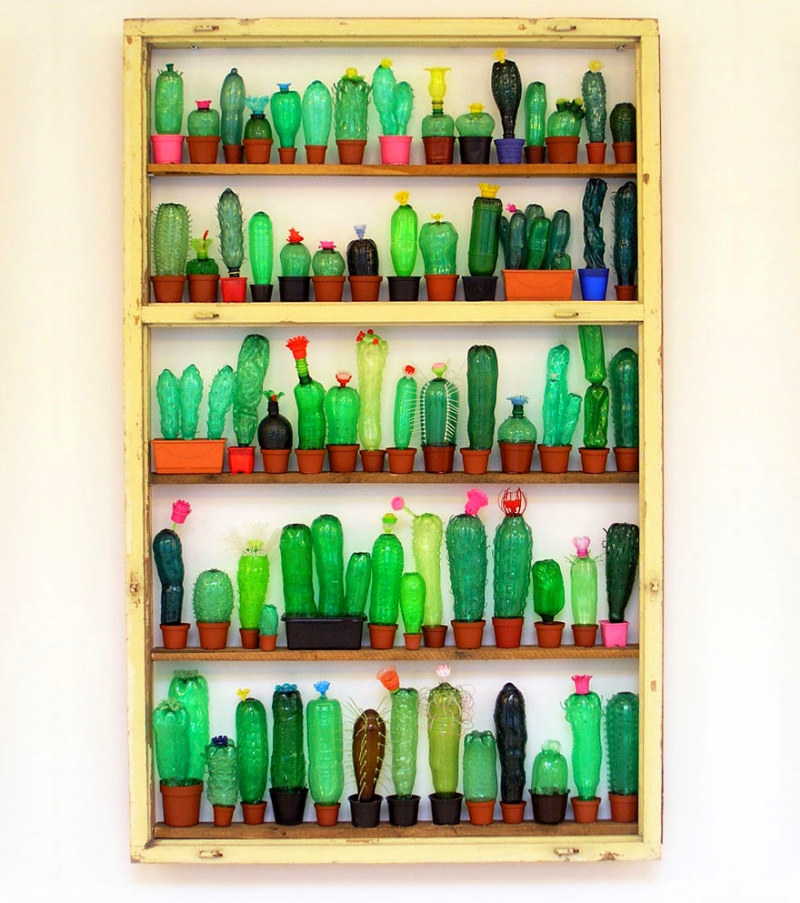 She worked for Czech television in the Czech TV, studio of animated film creation (1982–1983), the Central Puppet Theatre Prague (1983–1984) and since 1990 she has been working as a free-lance artist.
Until the end of the 1990s, she devoted herself to painting and creating large-sized enameled iron plastics (sculptures). Another sculptural work in classic materials (wood , earth, bronze) followed.
Her painting lead to a mosaic period in late 90's.
Since 2004, her works is set mostly in the field of PET-ART (plastic bottle art).
Here are some more of her unique recycled bottle sculptures.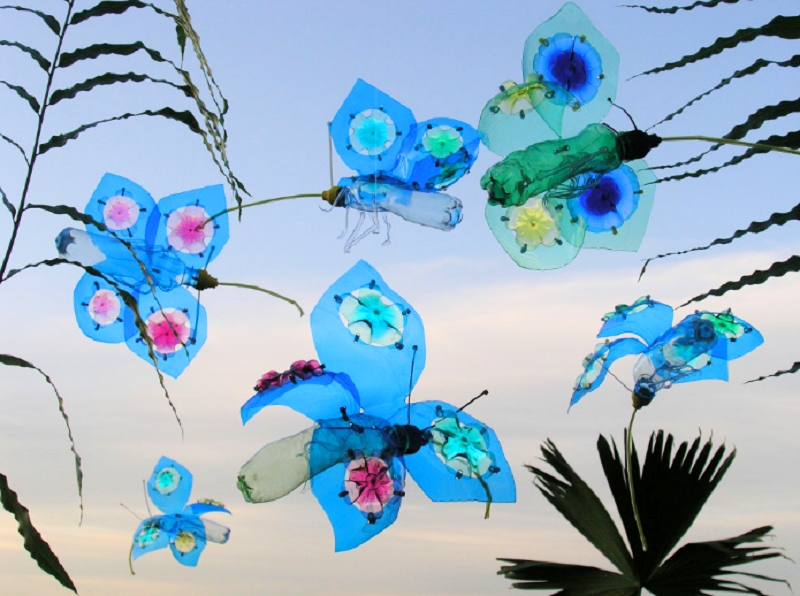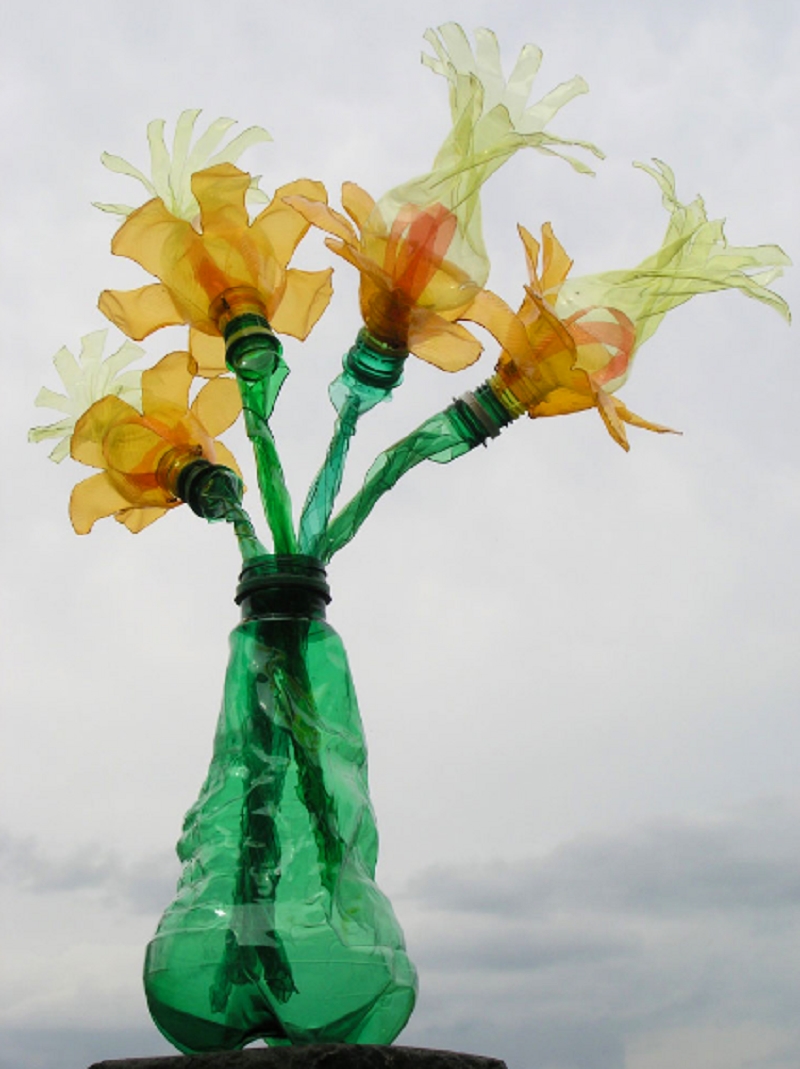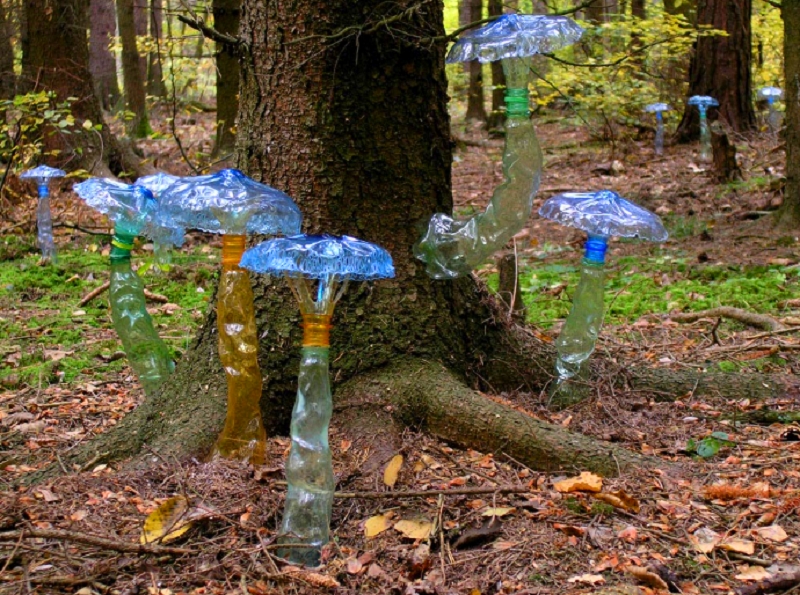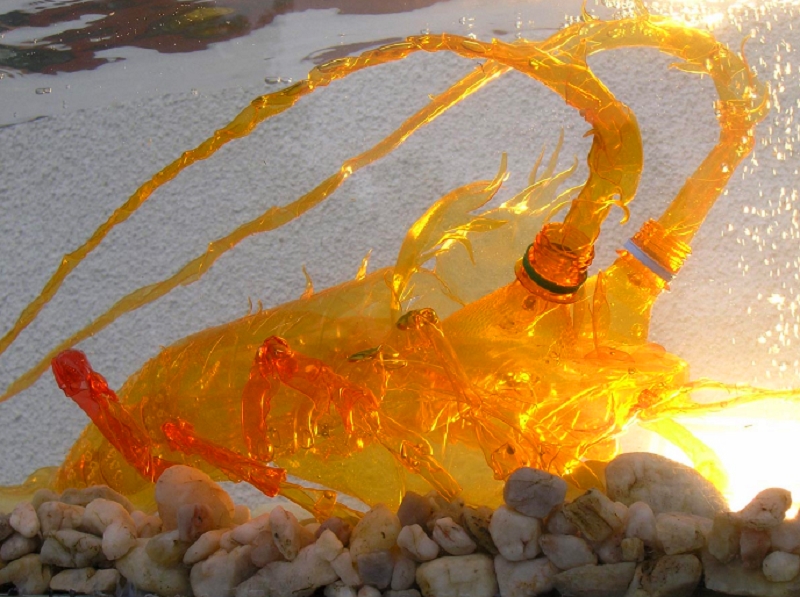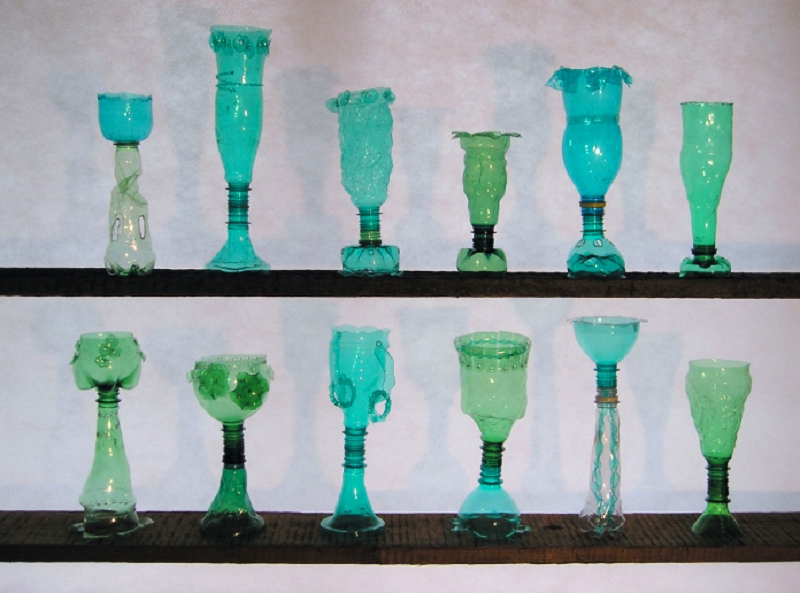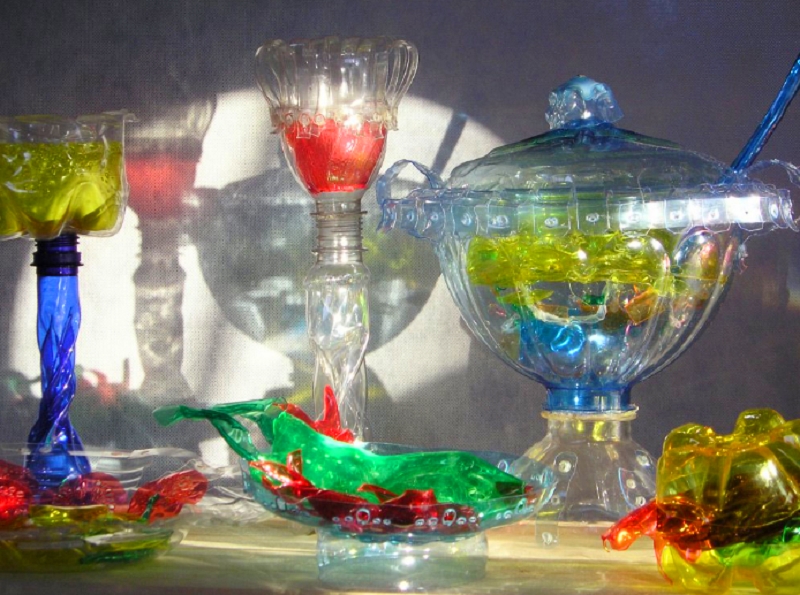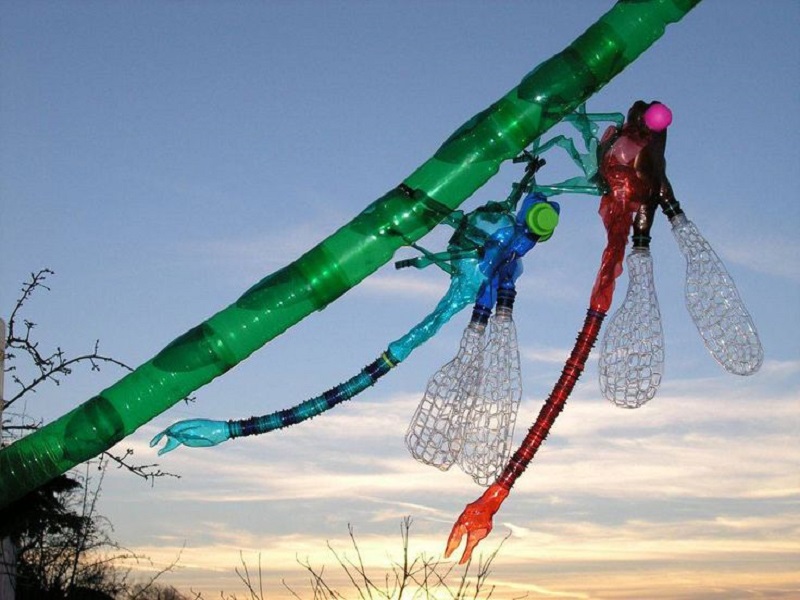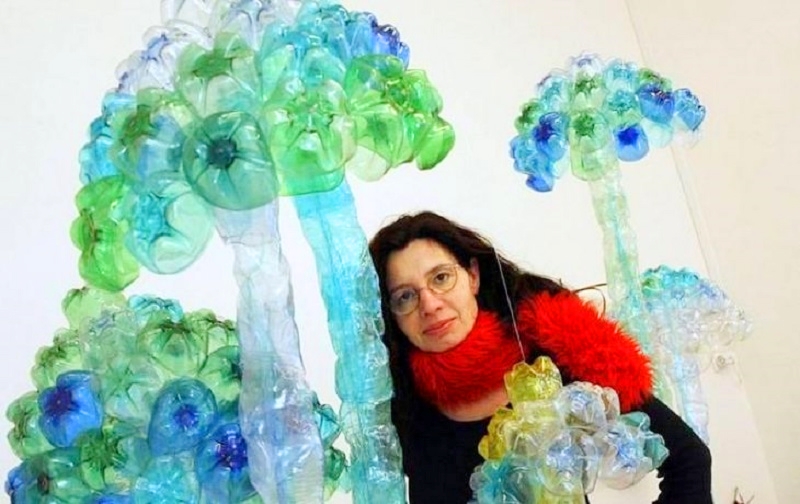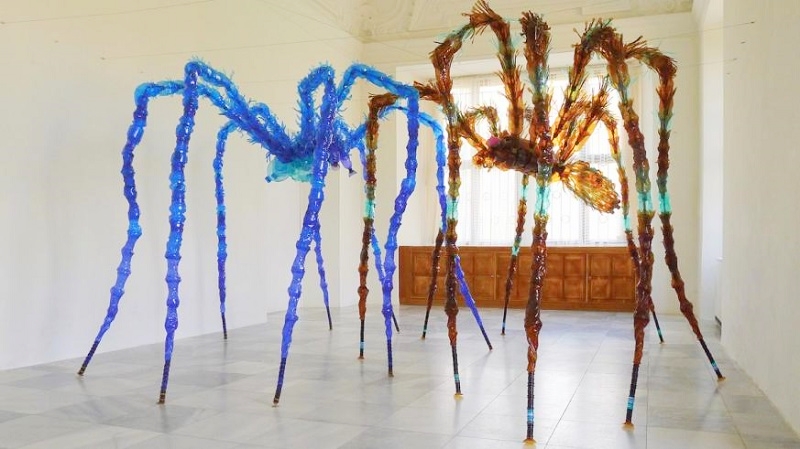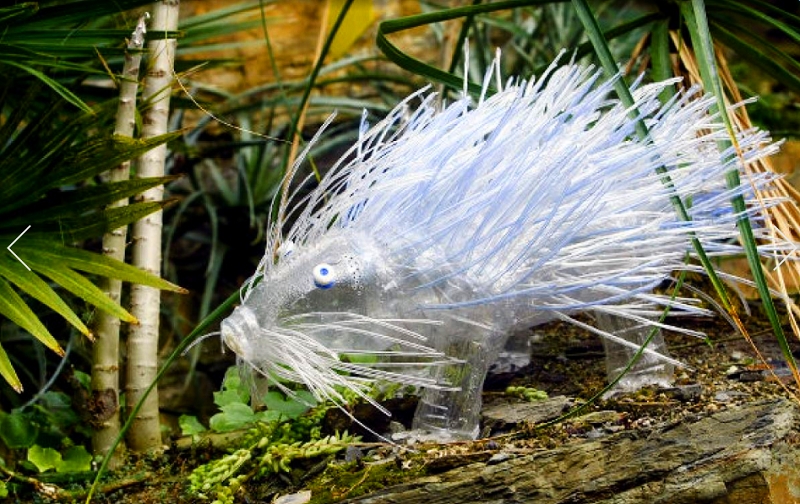 Simultaneously, she devotes herself to painting, photography and artist's books.
She also produces creative up-cycling programs for children as well as adults.
Veronika offers workshops and classes, presentations and consultations.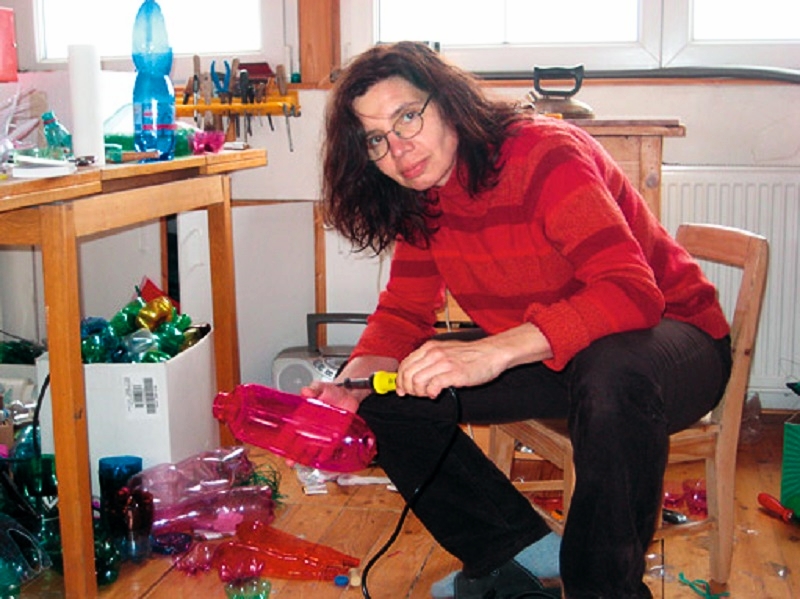 She has also had numerous exhibitions and houses a PET ART museum containing over 3,000 bottles from all over the world.
Learn more about Veronika and her work at her website.
If you have not already subscribed to get TresBohemes.com delivered to your inbox, please use the form below now so you never miss another post.
---
Remember, we rely solely on your donations to keep the project going.
Become a friend and get our lovely Czech postcard pack.