In 1922 a new attraction opened in built in Vršovice, now a part of Prague. Known as Lunapark and Eden, it had a roller coaster that measured five kilometers in length. With its giant roller coaster looking like it comes straight out of an American film, this is what Eden looked like 90 years ago.
Eden was opened daily, and it stood like a small city of its own. Musical concerts were held, dancing occurred nightly at the Colosseum was dancing, there was always a play at the theater, romantic boats floated along on the lagoon, and fireworks were held in the evening.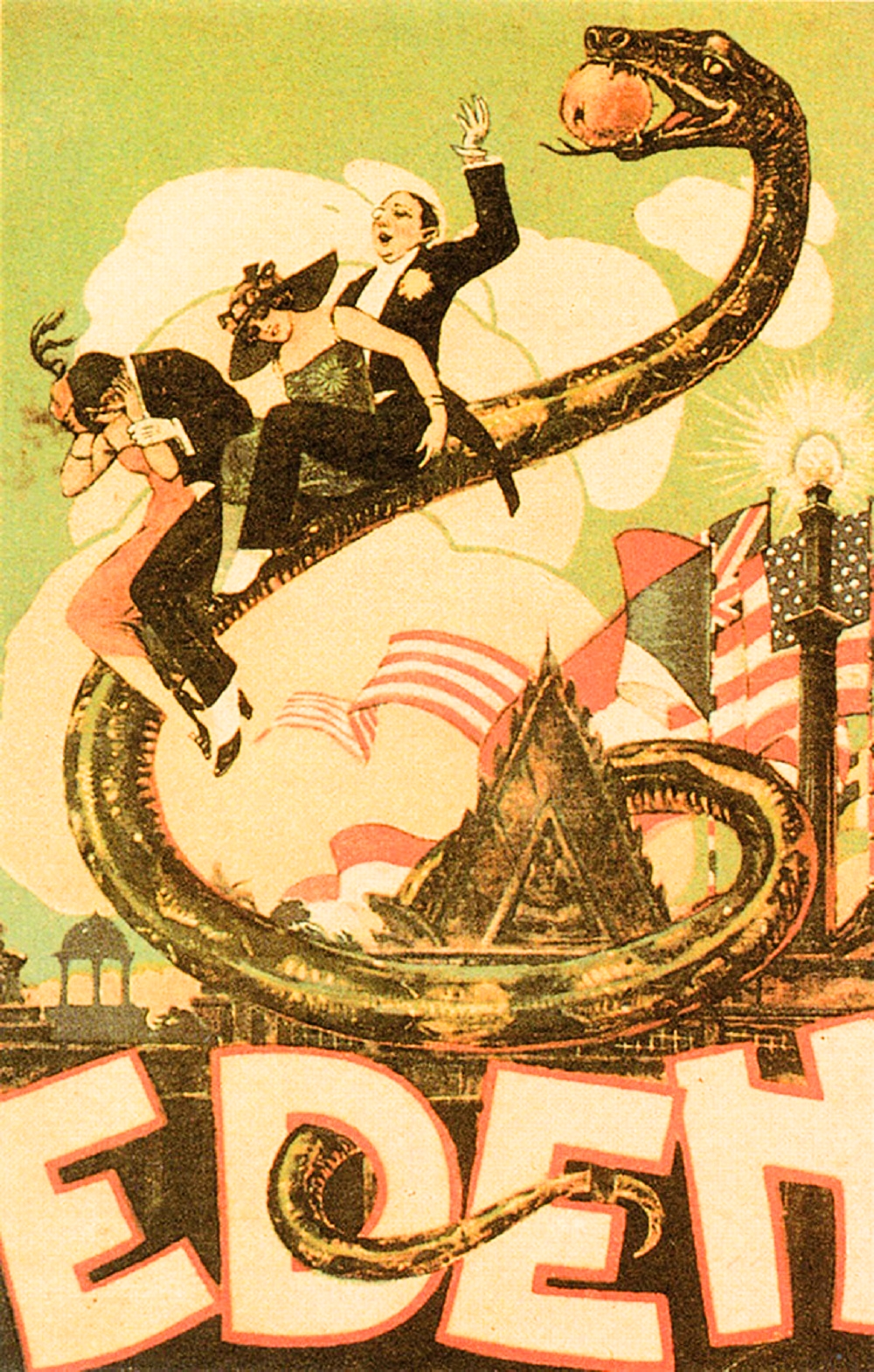 The attractions were located between today's intersection of Vršovická Street with Bělocerkevská Street. The railway line which went around the "lagoon", beneath Bohdalc.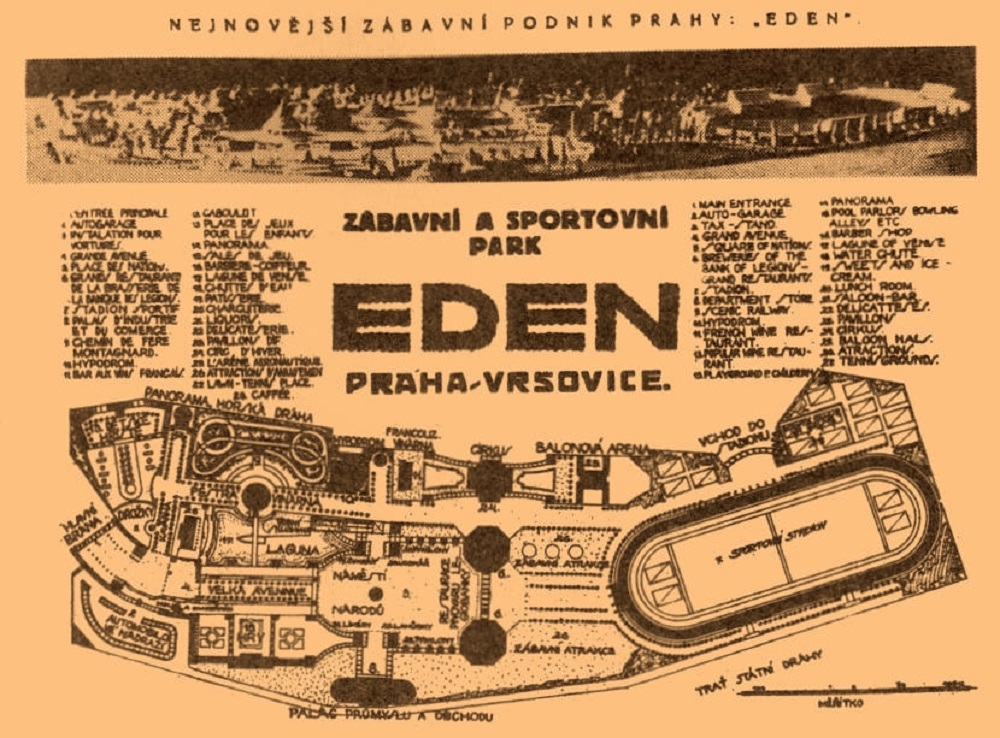 During the First Republic, it was a favorite place to stroll and have afternoon coffee.
The inexpensive attraction cost only 1 Czech Koruna and people crowded to get in.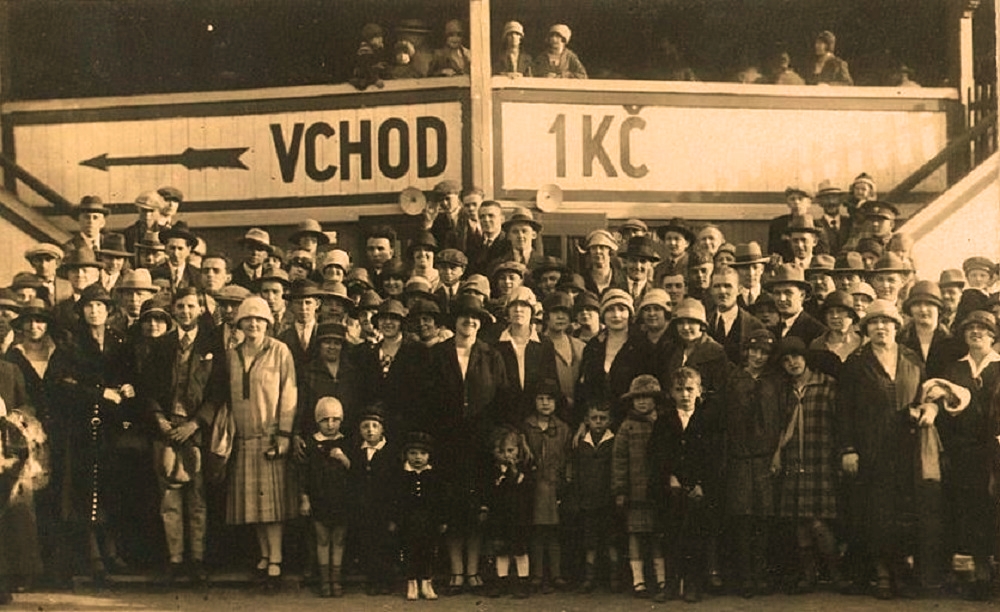 For many years, Eden was a renowned center of culture, sport, entertainment, and encounters.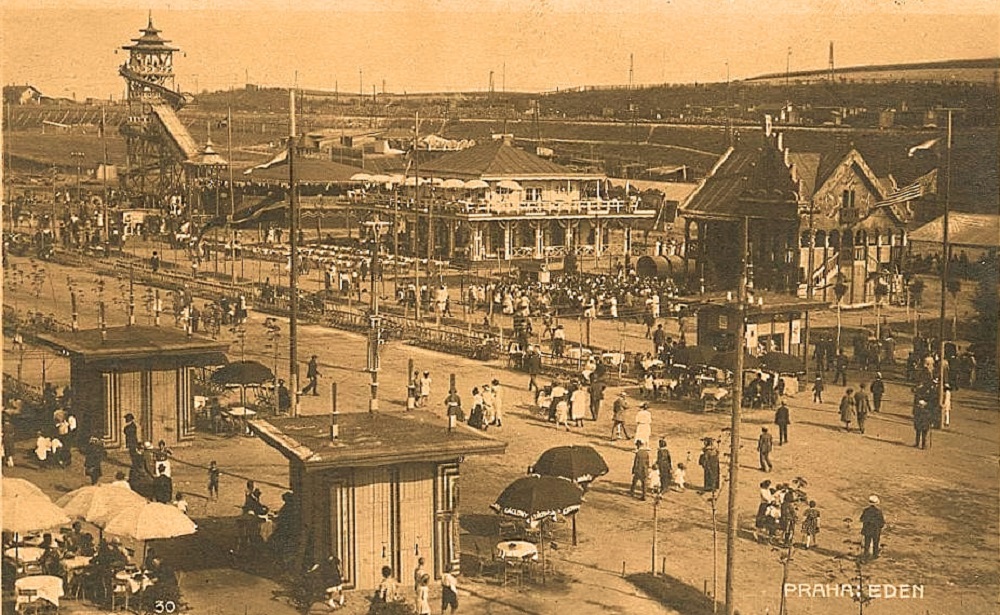 At the time, the deserted plain had ideal conditions for the lunapark.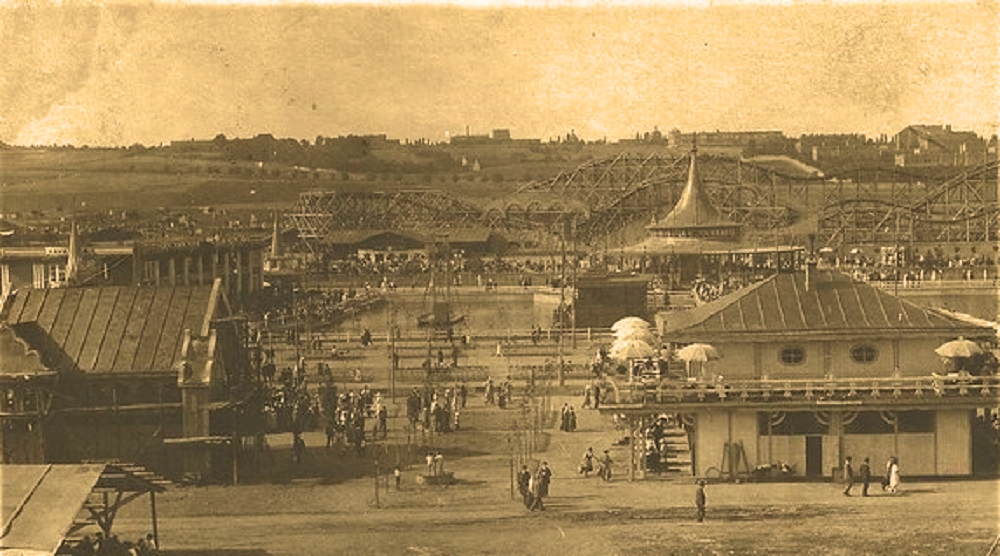 There were many young girls in the nearby Waldeska and Feiglova factories, and countless soldiers lived in the Vršovice barracks, who were eager to go out for a walk.
Before the war, most people went to Eden on Sunday.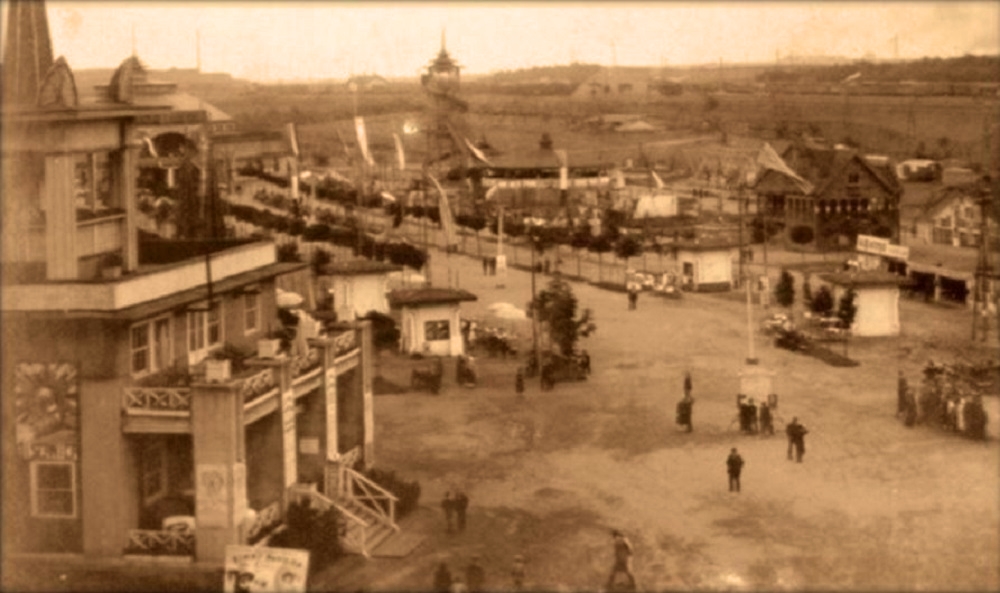 Taking a girl to Eden, or paradise, was almost a requirement for those in Prague.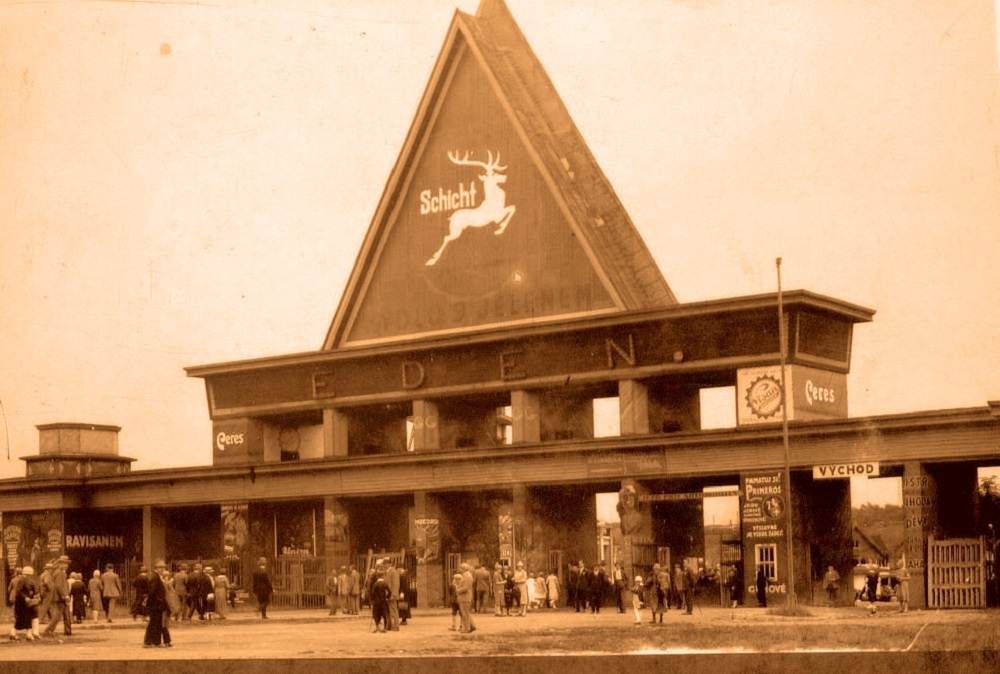 A large man-made pond was called the lagoon, and on it were little boats where lovers could row along in paradise, especially in the evenings.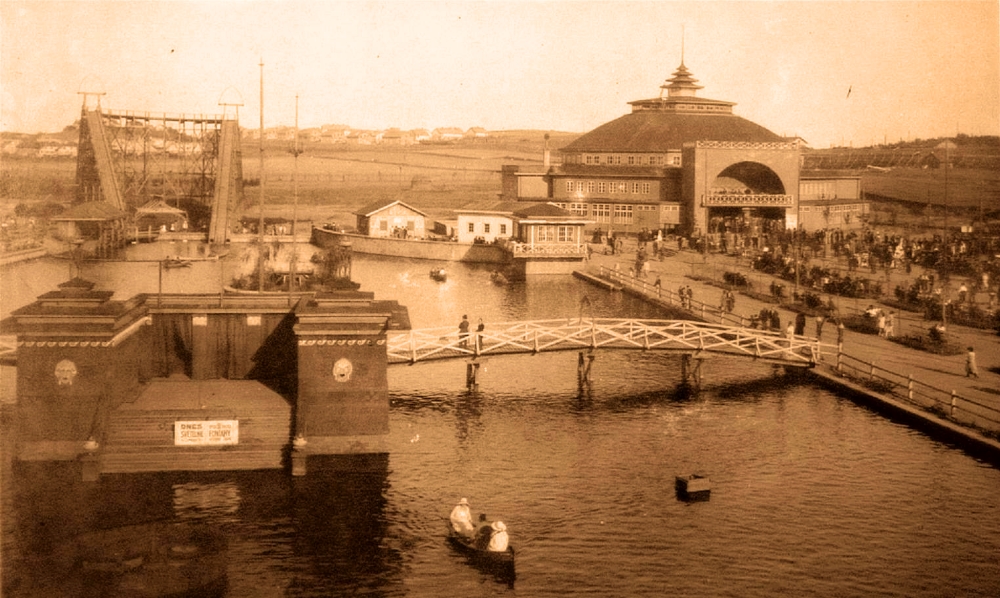 There was a large theater which had shows in the evenings and in the center of it all stood the Colosseum, which was a large dance hall.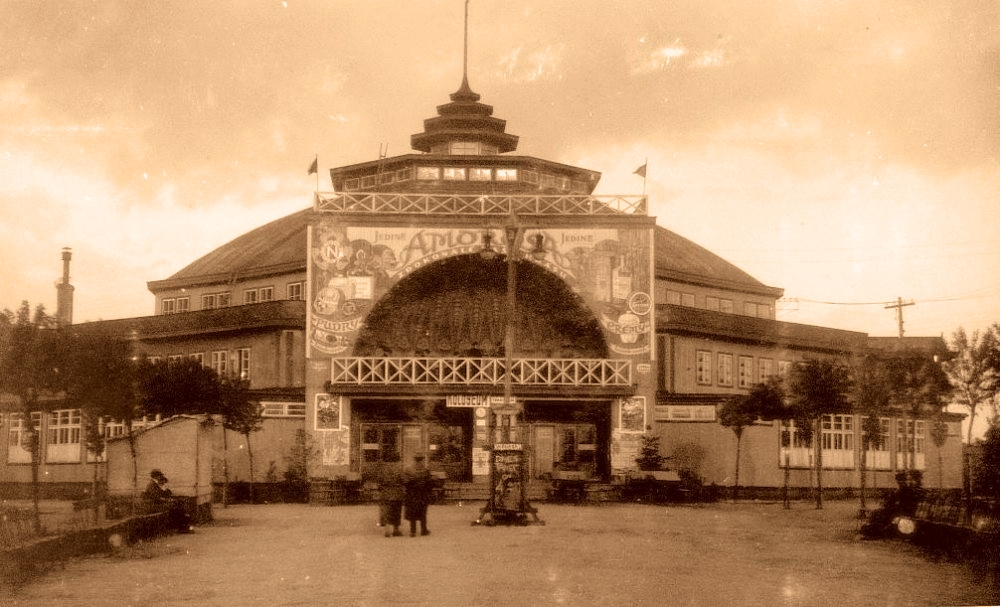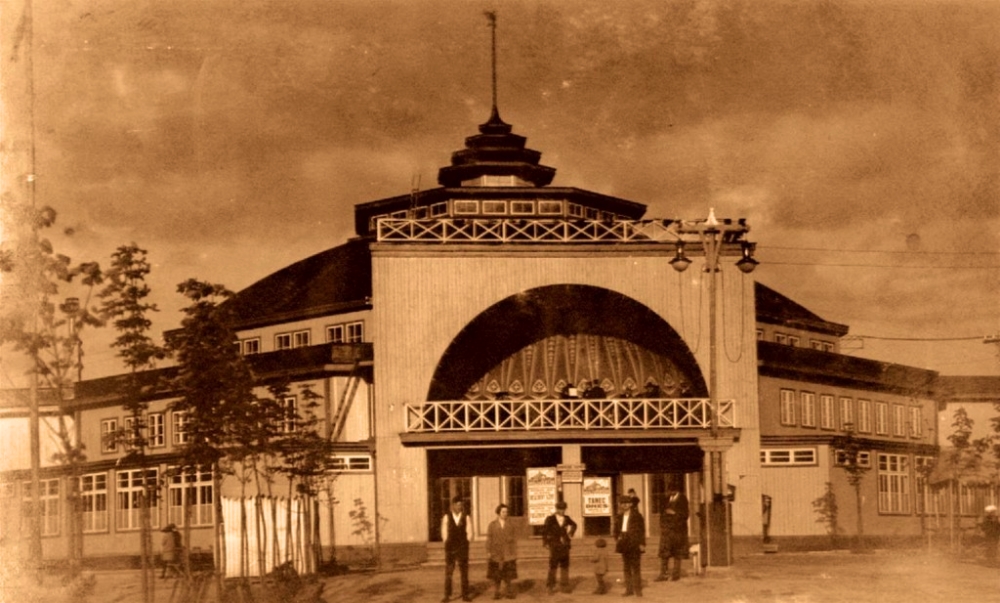 Leading to it was a wide tree-lined promenade and refreshment stalls along the way.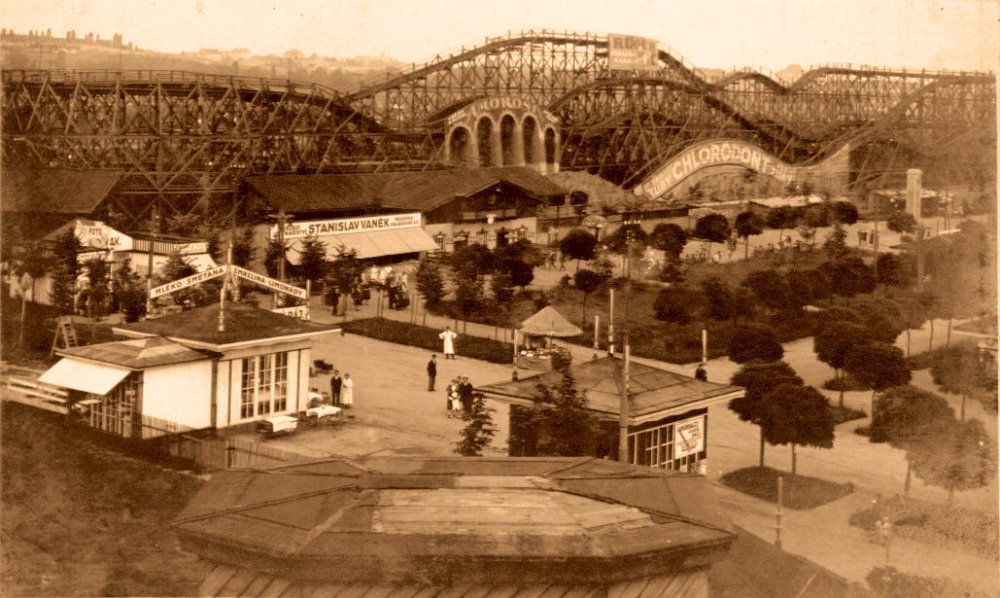 There was a zeppelin ride.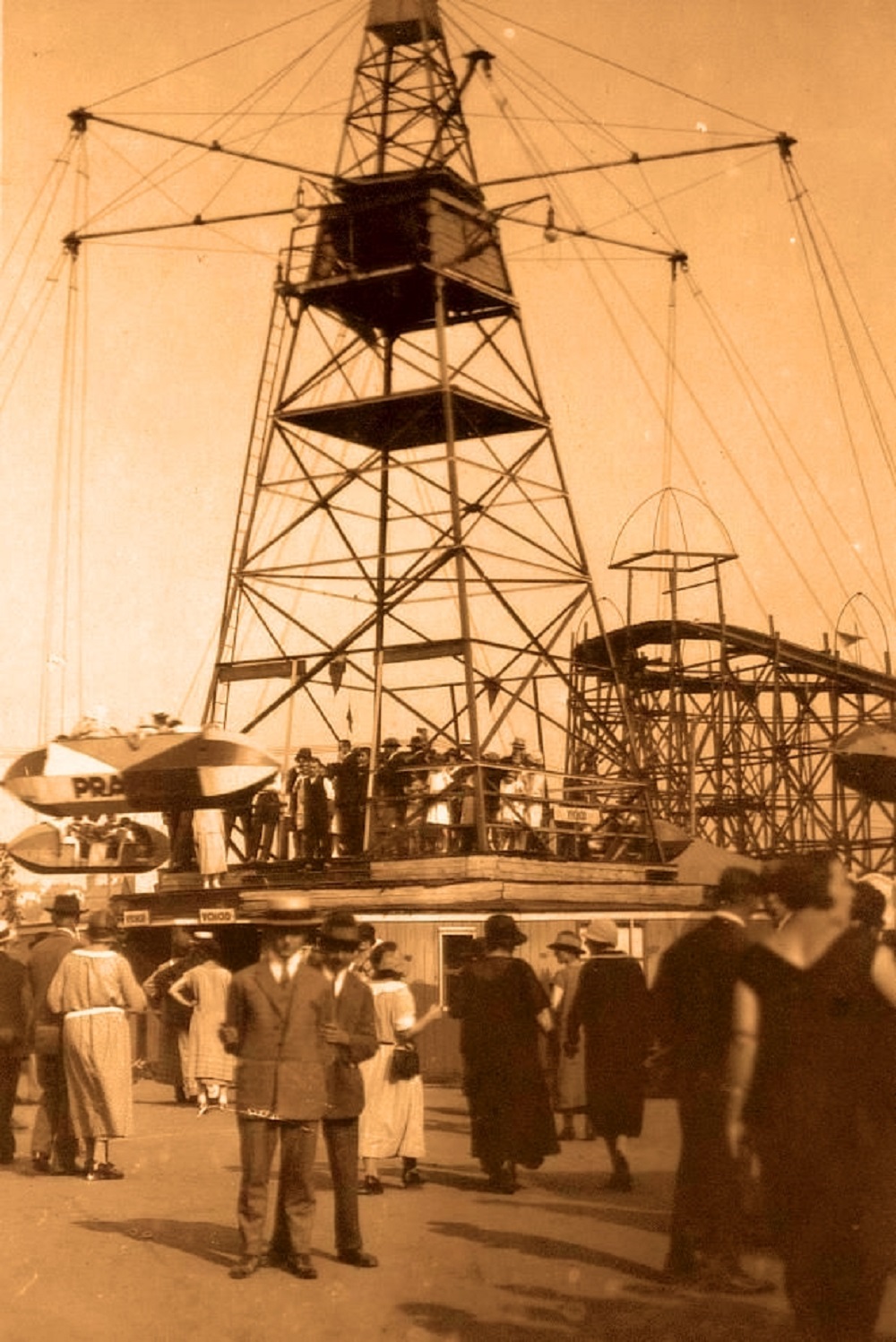 Carousels and Merry-go-rounds.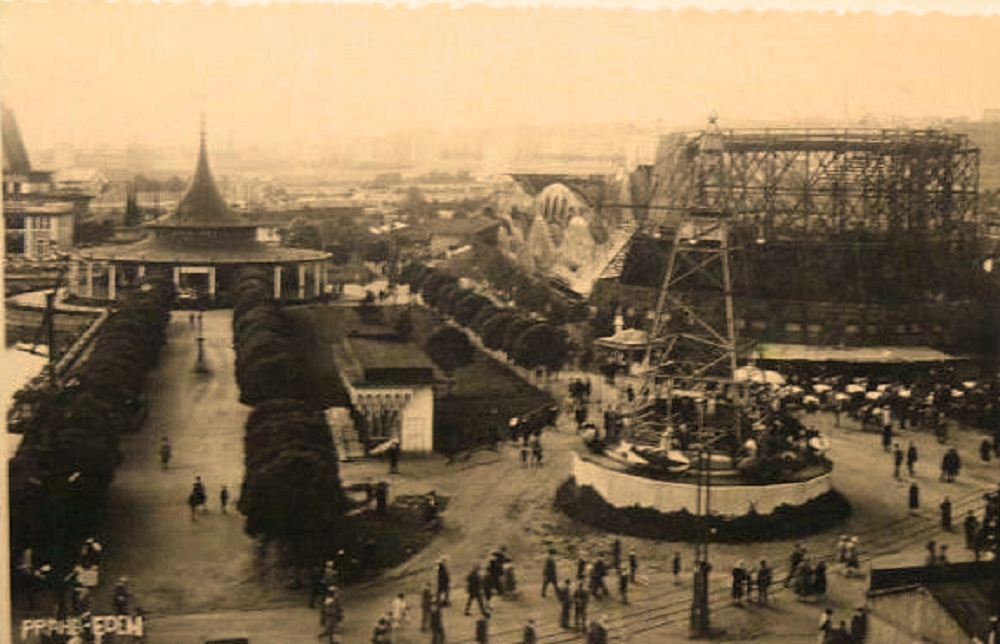 And a frightening haunted house.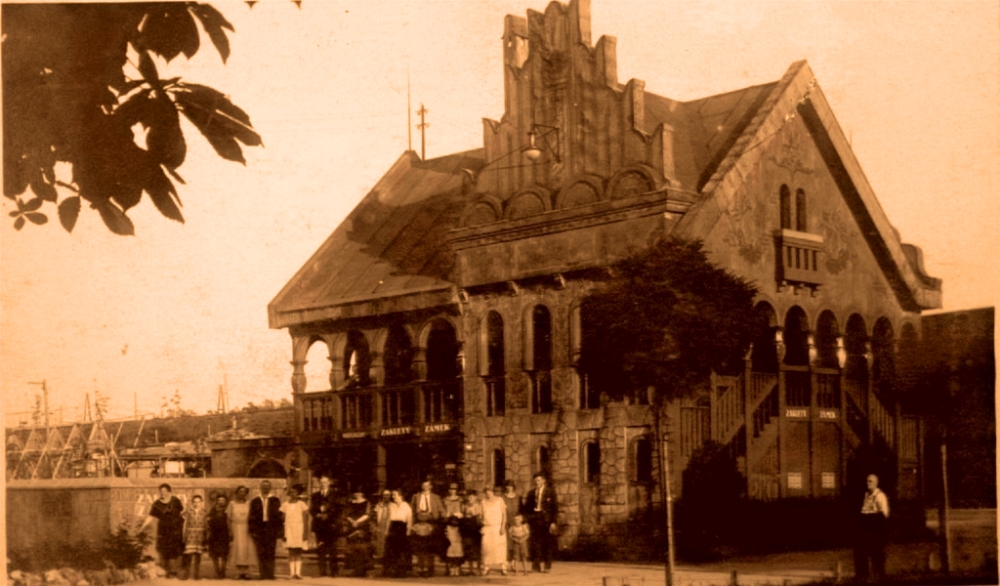 And enchanted chateau.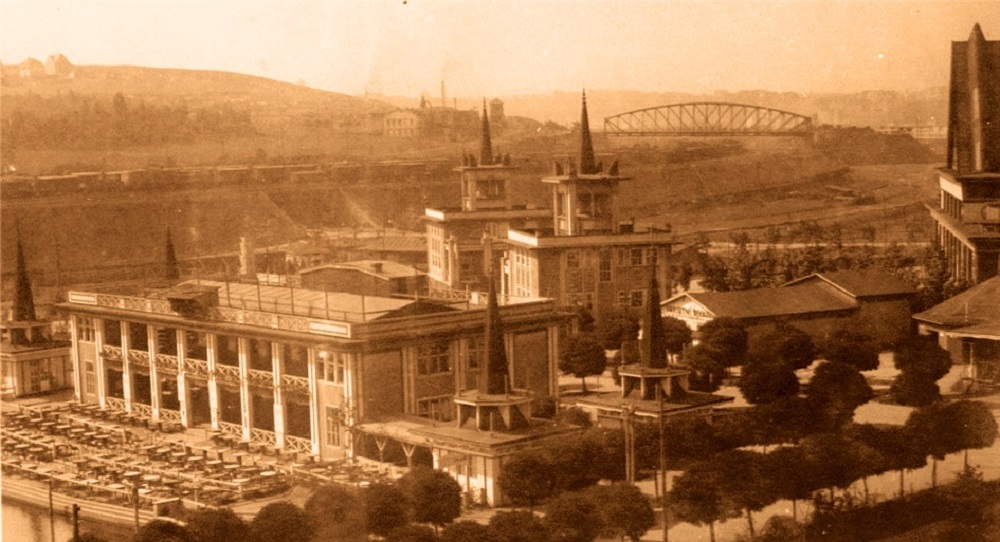 (Note the railway in the background. It's the only remnant from the area that still stands today.)
There were all sorts of games to be played.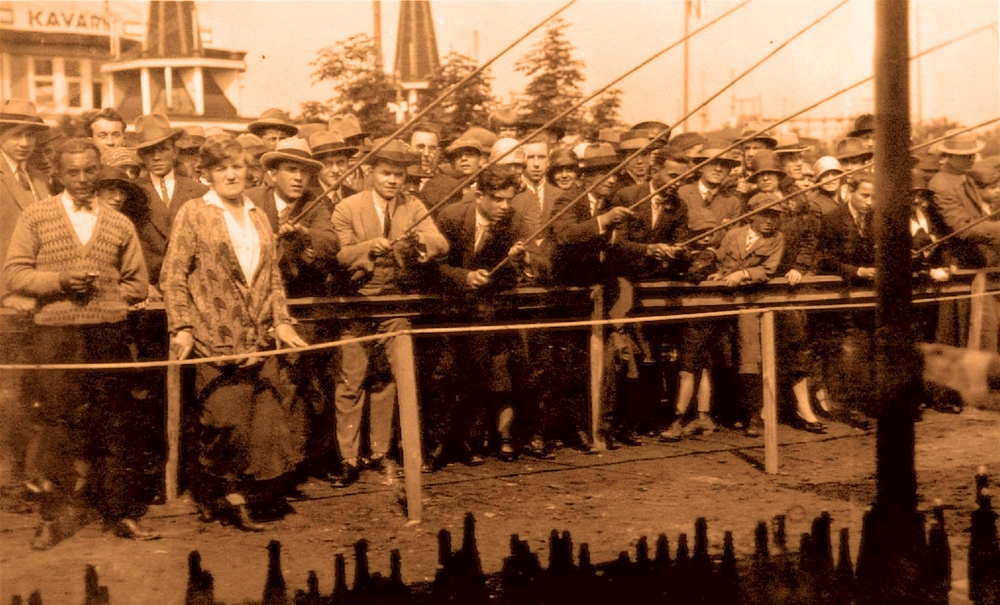 And prizes to be won.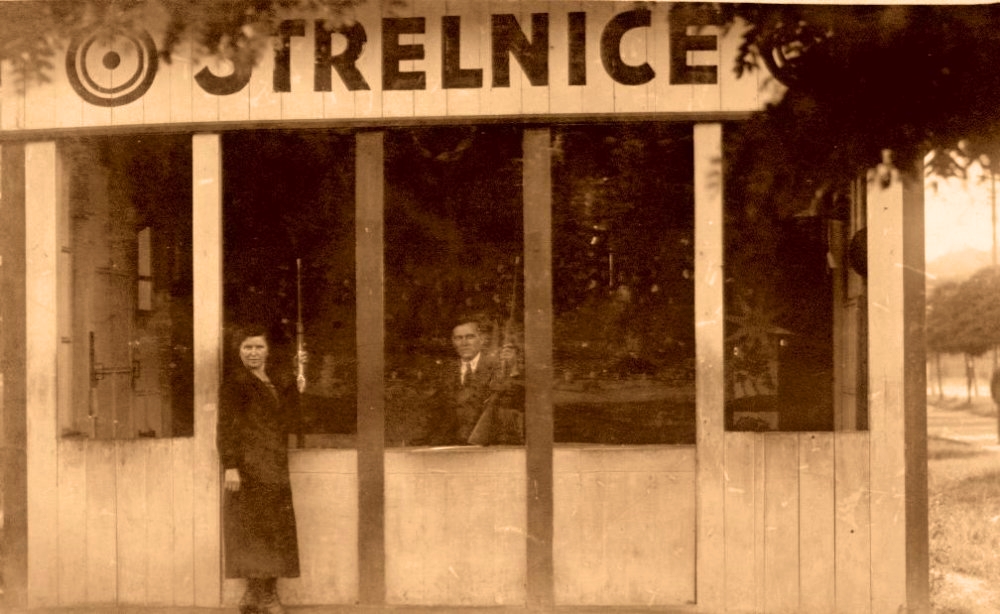 And various events took place there as well.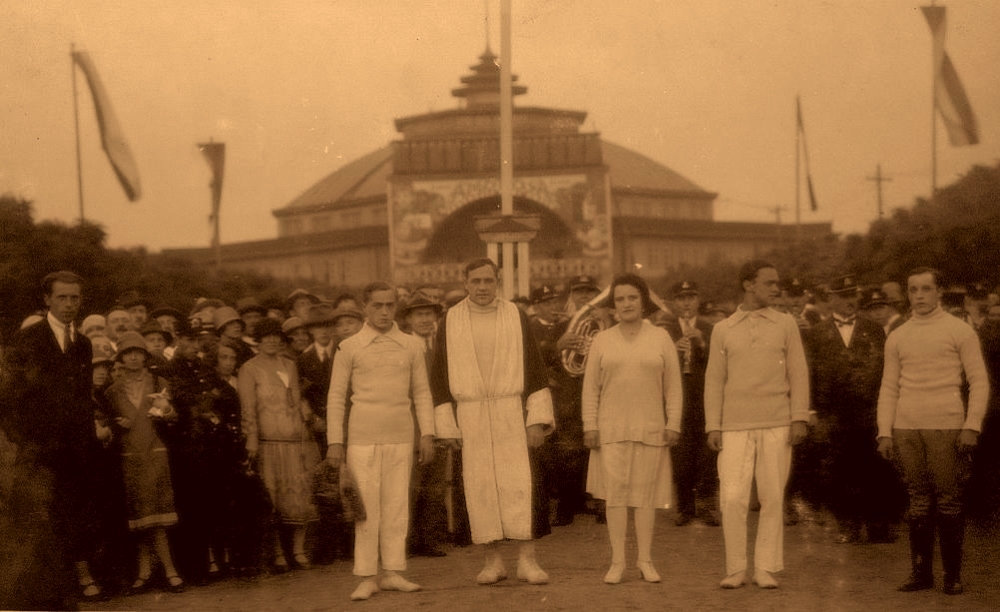 The lagoon was a hit with young couples in love.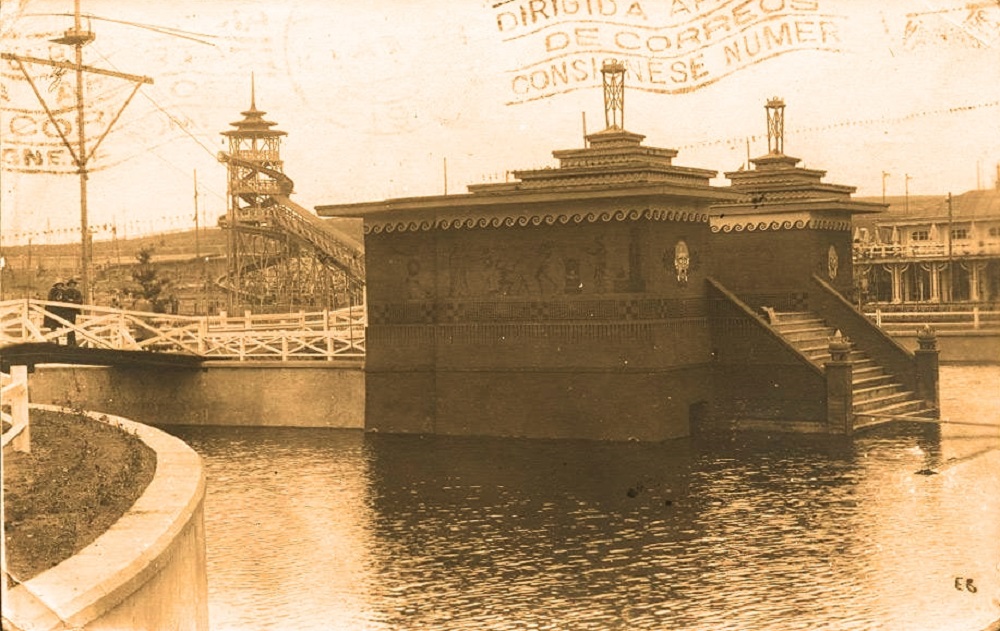 Of course, the greatest attraction was the huge roller coaster.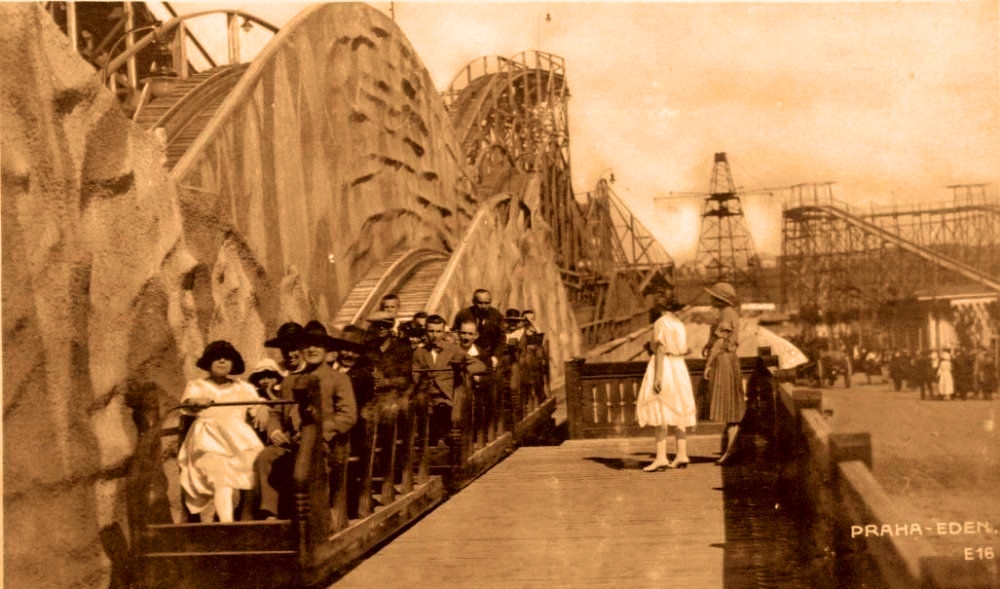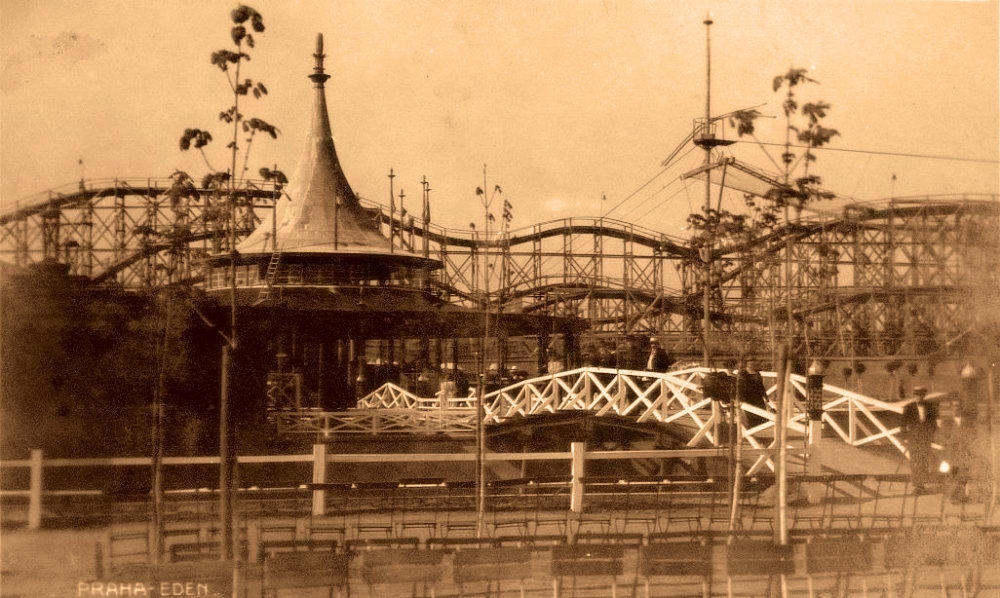 It's hard to believe that its length was really five kilometers, but it was.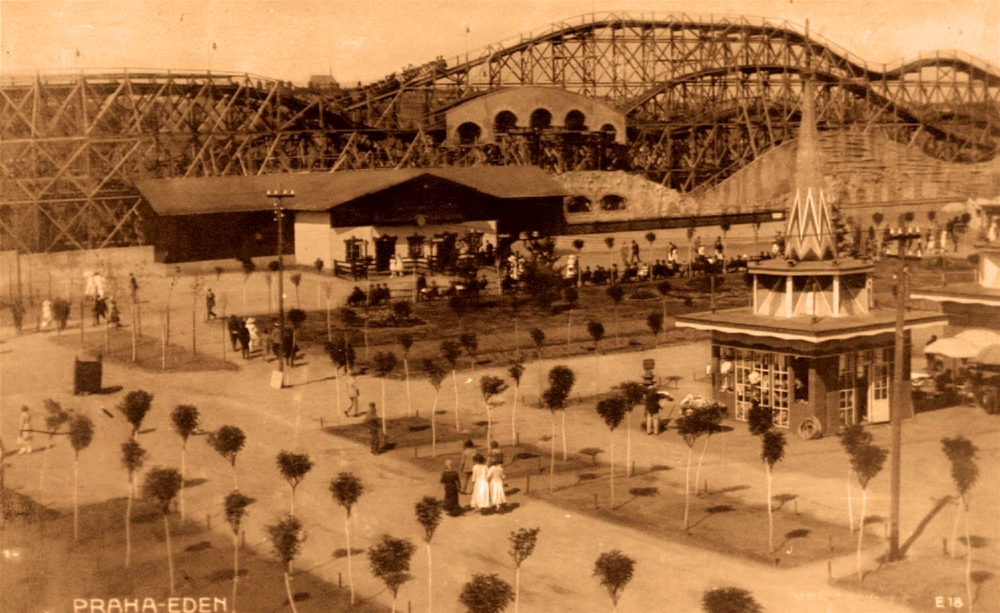 There were other attractions as well, among them the high and long water slide.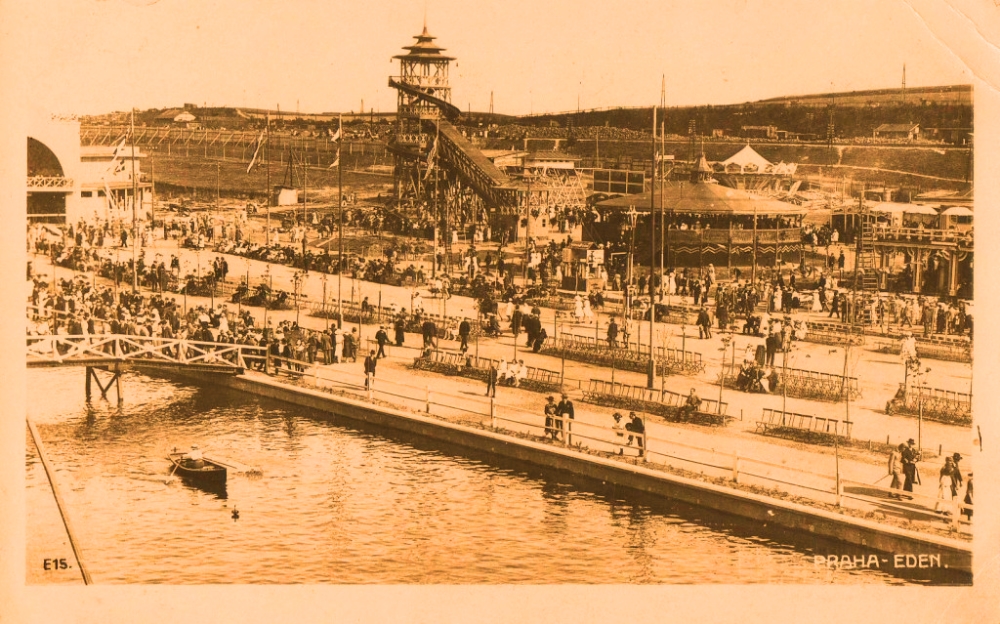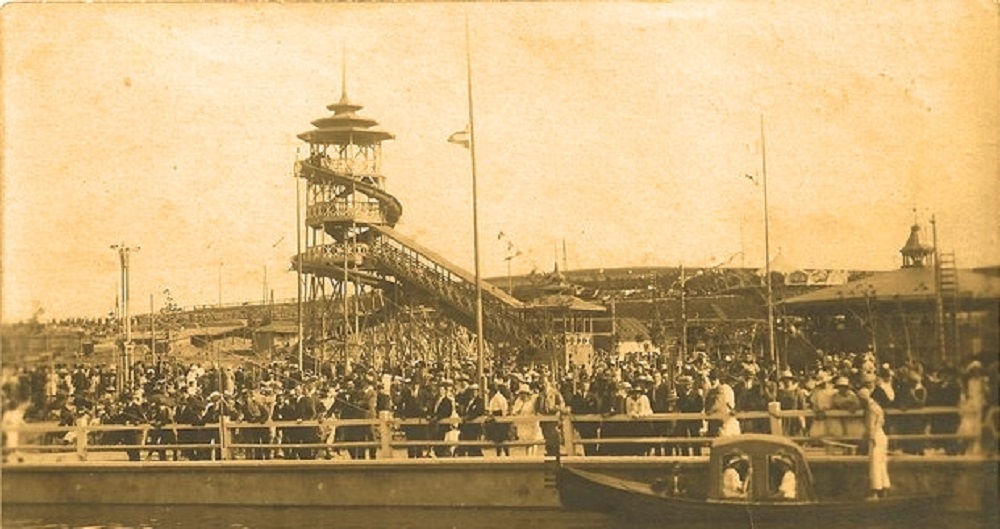 A great cyclodrome was built. And the spinning Devil's Wheel.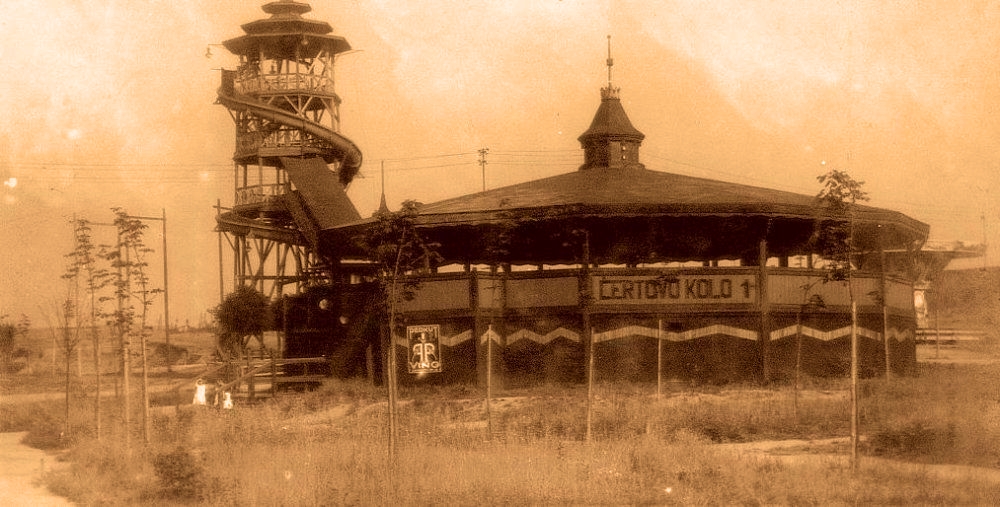 There were varieties of trained animals performing throughout the park on most days and believe it or not, people were attractions as well. If one was lucky, one could witness Italians being fired from the cannon.
Occasionally, "blacks from Africa" came to Eden. Eden was visited by a group of Abyssinians, who built an imitation of an indigenous village in the park, and for a small fee presented an astonishing performance to an amazed audience. (The Abyssinian people, or most commonly known as the Habesha, are a people inhabiting the Horn of Africa.)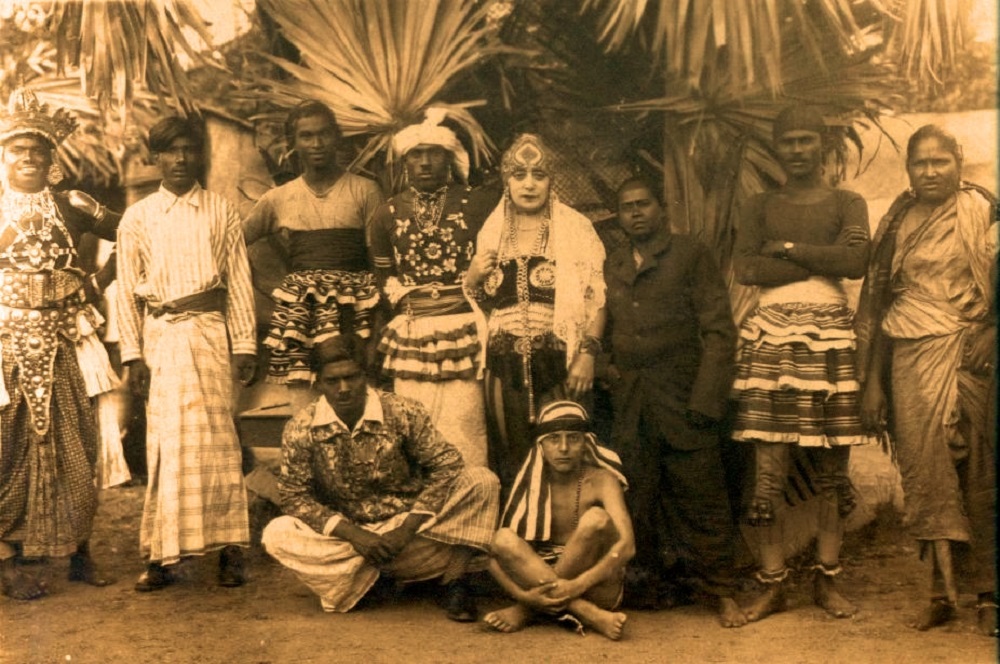 Entertainers were dressed as all sorts of man and beast.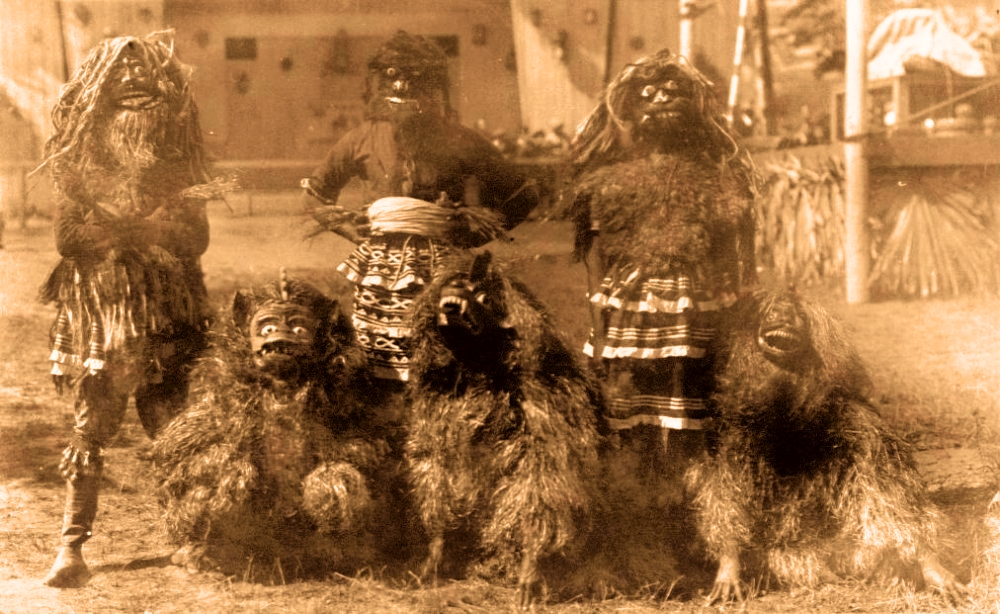 The park survived for 20 years but visitor rates decreased dramatically in the 1930s. People just did not want to come here anymore, not only because of the ban on entertainment and dances in the times of German defeats during the Second World War but it was just too far and the crime had gotten too bad concentrated in that small area. There were thirteen murderers in the area and that made people afraid.
Most of the attractions were demolished by 1935, and that same year the roller coaster was dismantled.
By 1946 the city's hygienist ordered the park to be closed.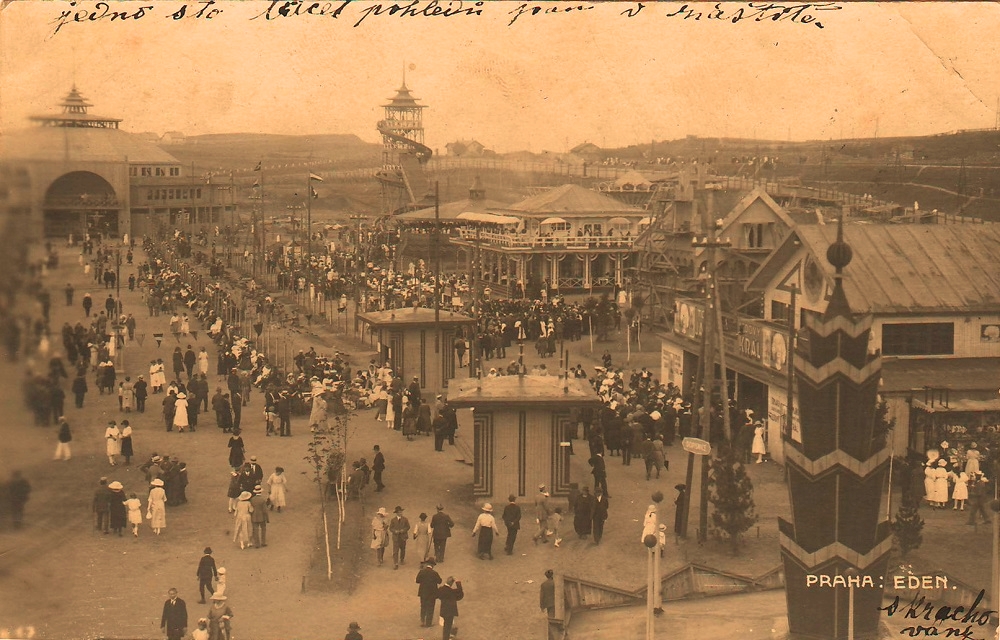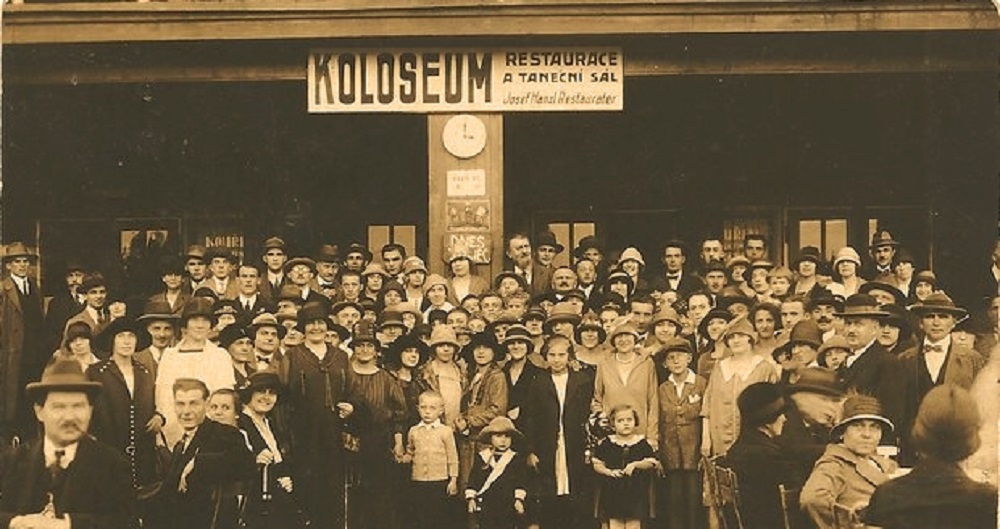 The former site of the park is now a shopping center and football stadium.
Let's what the park had to offer in this rare video clip from 1931.
It's certainly a shame the park didn't survive, especially since the 5 kilometer roller coaster would have been one of – if not the – longest surviving ride of its kind in the world.
What's most amazing to us is to see the postcards showing the surrounding area. If you've ever been to Prague and know where Vršovice is, you'll be amazing to see how isolated this appears.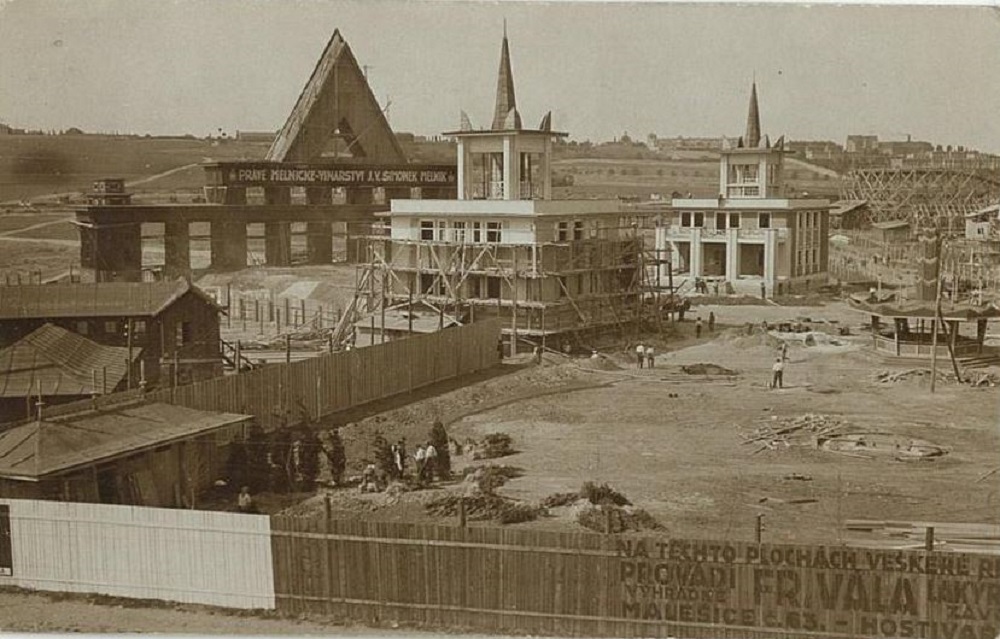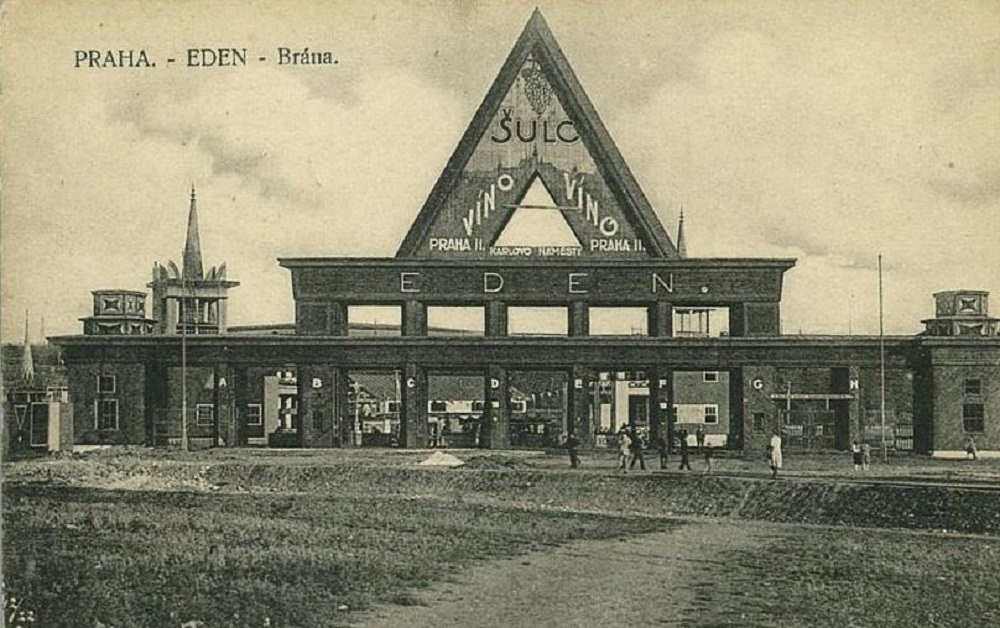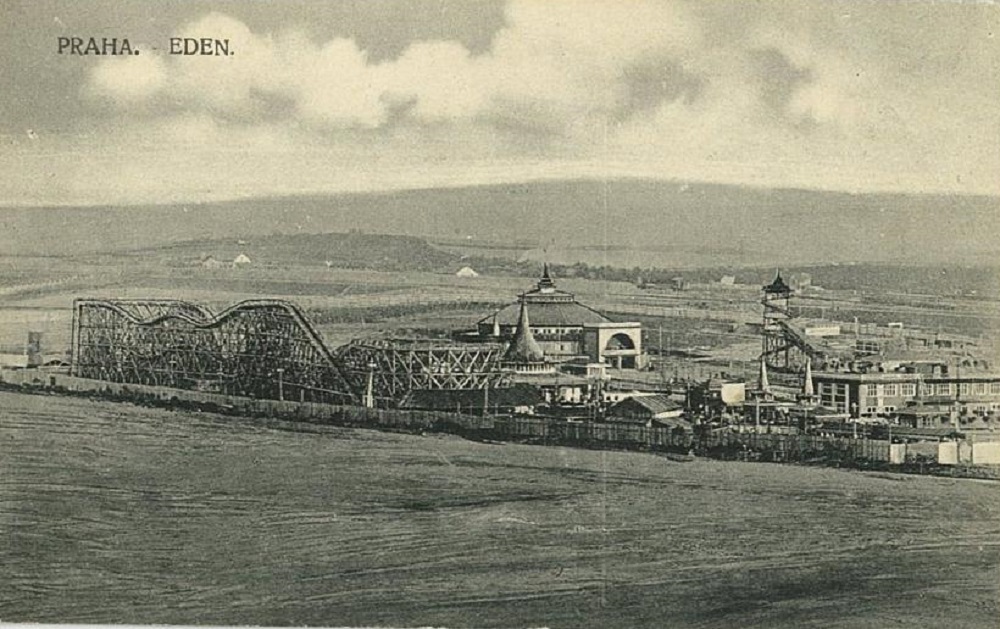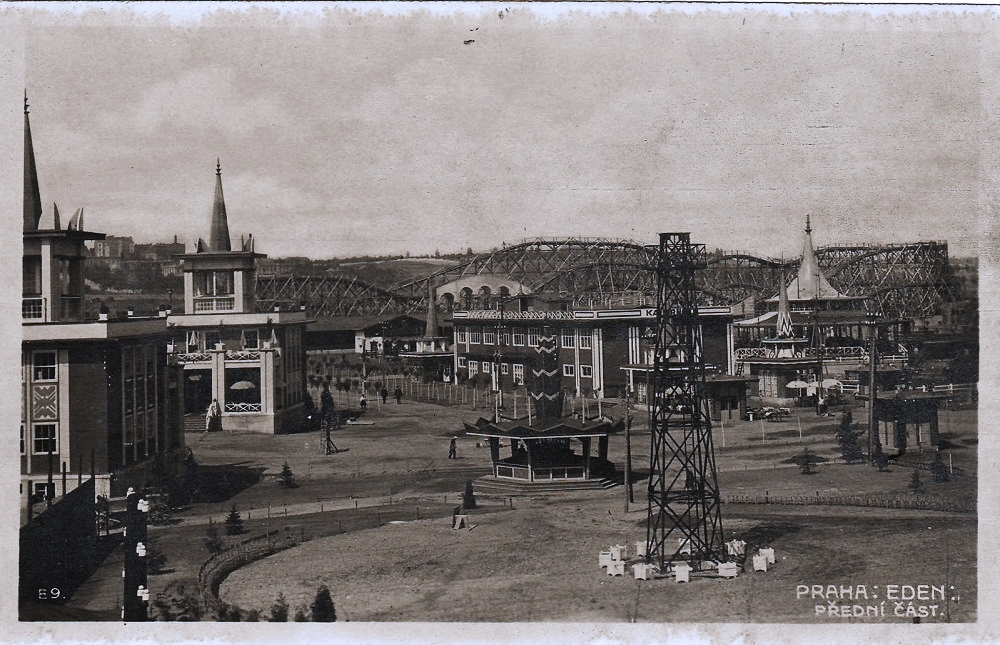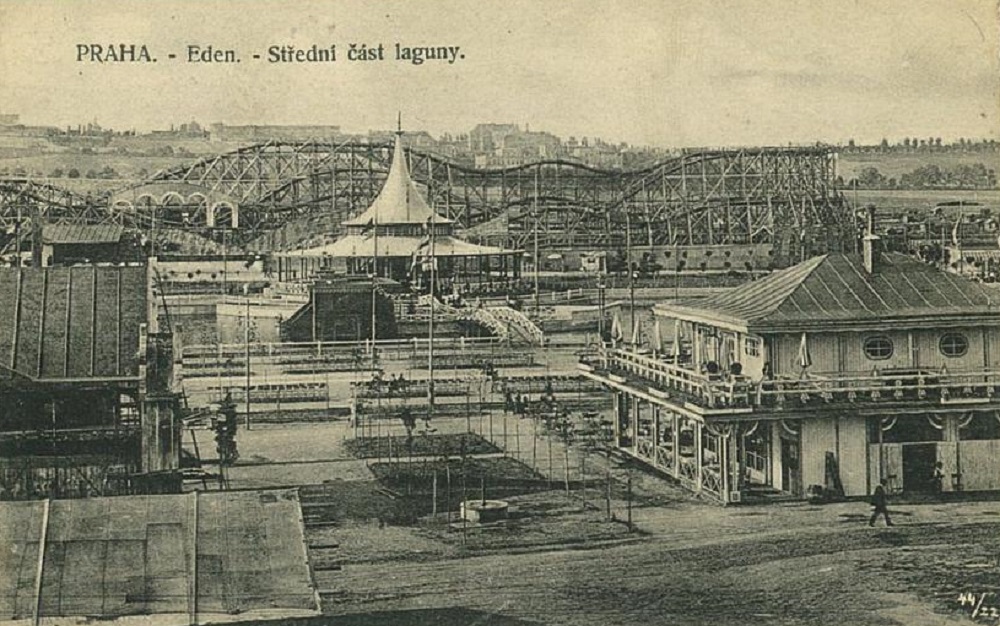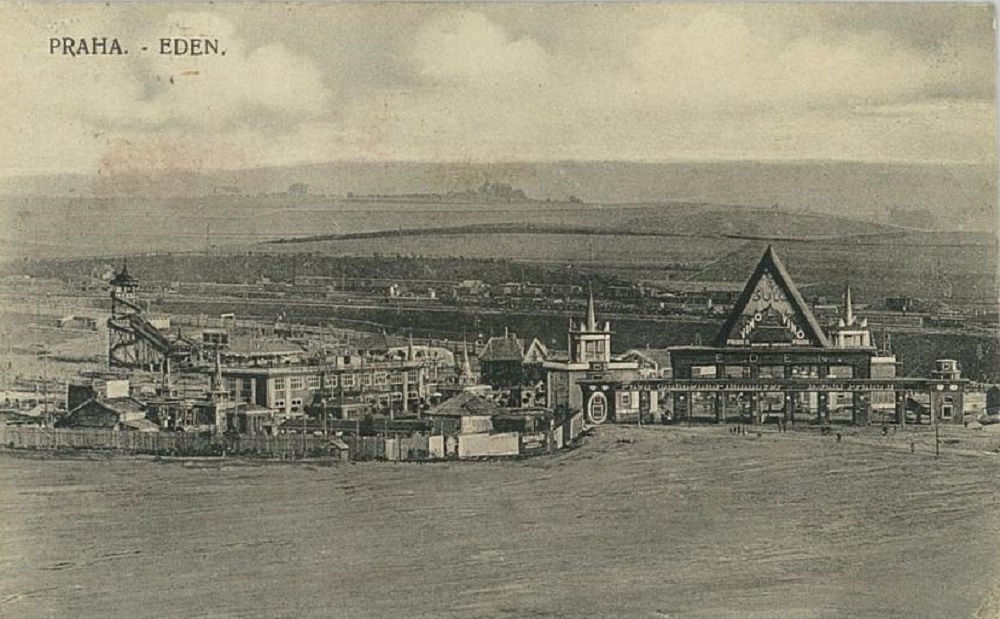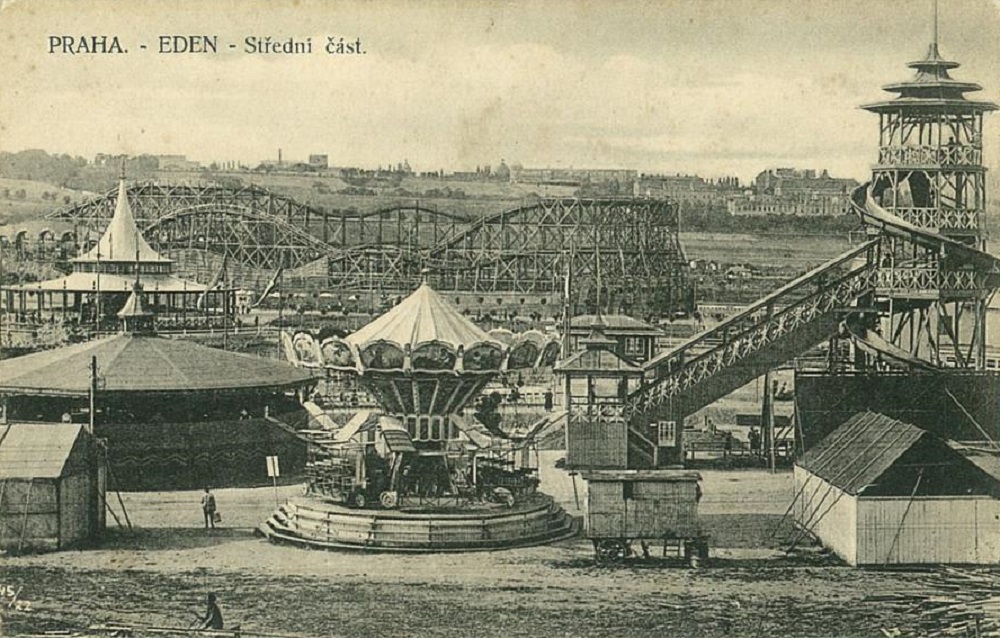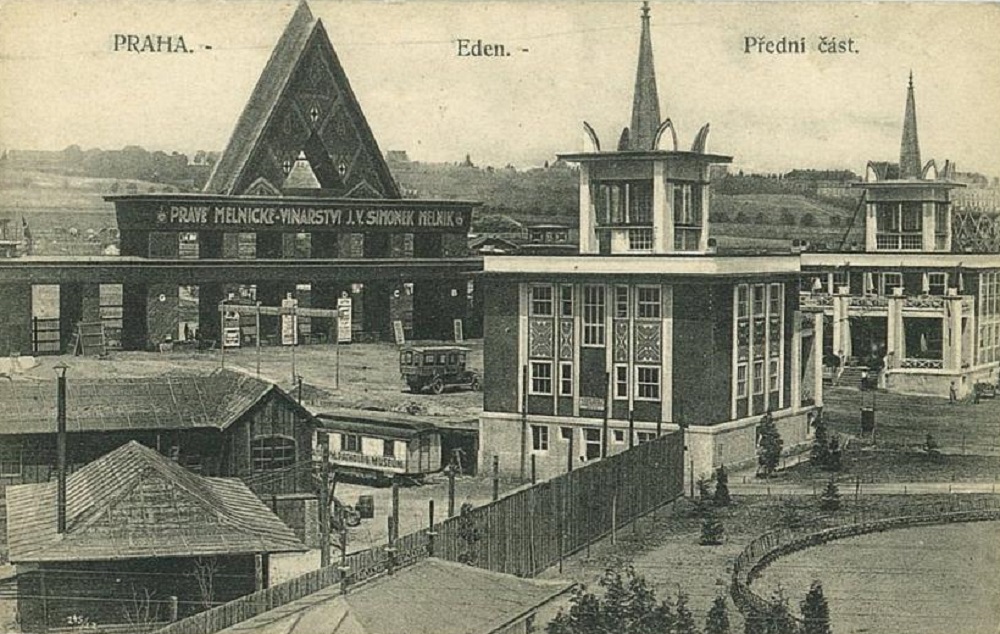 Thank you in advance for your support…
We know that you could spend hours, days, weeks and months finding some of this information yourselves – but at this website, we curate the best of what we find for you and place it easily and conveniently into one place. Please take a moment today to recognize our efforts and make a donation towards the operational costs of this site – your support keeps the site alive and keeps us searching for the best of our heritage to bring to you.


Remember, we rely solely on your donations to keep the project going.
We appreciate you more than you know!
If you have not already subscribed to get TresBohemes.com delivered to your inbox, please use the form below now so you never miss another post.