The talented young architects at ARTIKUL used shipping containers to design a small mobile hotel. Near Litomerice, Czech Republic, their first location is on a surf campsite at the Elbe riverbank. The task for the architects was to design a mobile, easily demountable, seasonal hotel made from three shipping containers.
Additionally, the building was supposed to be ultimately self-sufficient and environmentally friendly.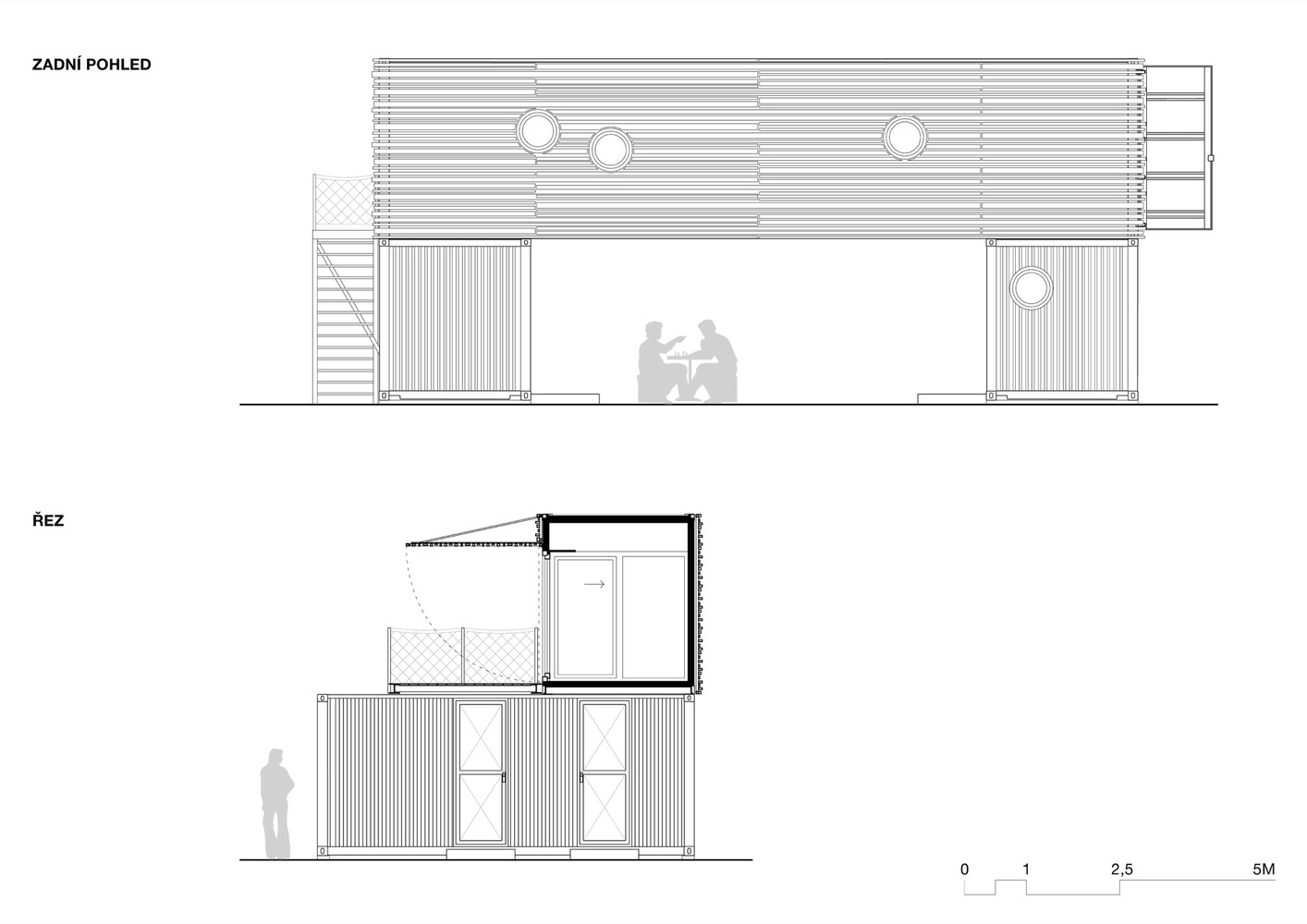 The small hotel with five rooms for a total of 13 guests was finished within four months. It consists of two 20-feet containers and one 40-feet high-cube container placed on top. Downstairs are located the sanitary facilities, a technical room, a storeroom and one four-bed guest room.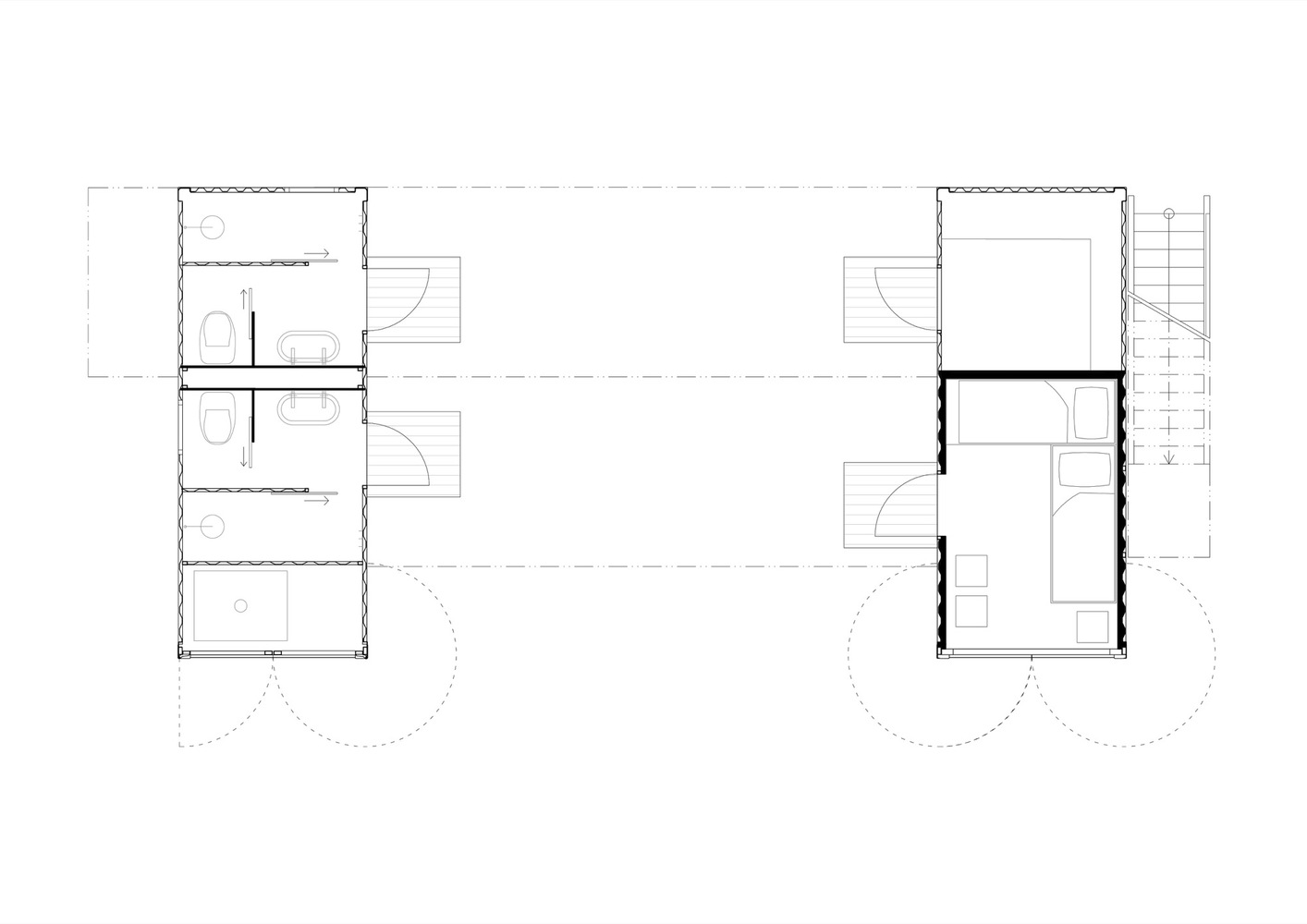 Upstairs, there are four rooms accessed through a shared terrace with great views over the river and the surrounding hilly landscape. All the rooms have one fully glazed wall, so that despite the small floor area the rooms feel airy and have contact with the surrounding landscape.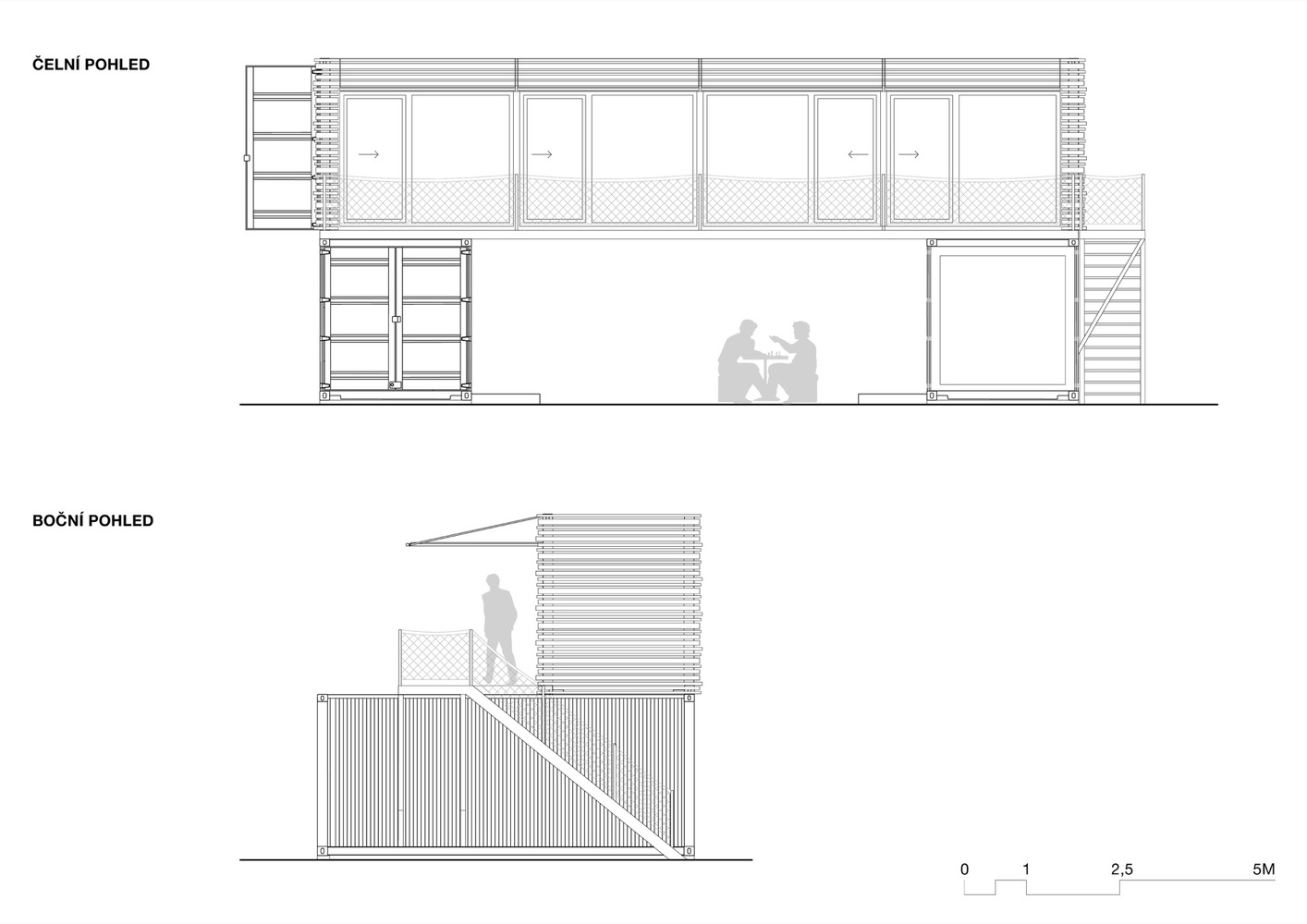 The wall and ceiling finishing are made of birch plywood, as is all custom-made furniture. The rooms are differentiated by use of various colors of natural linoleum and completed with black industrial lighting and details. In the social facilities the trapezoidal sheet is left bare on the walls, and is combined with thermowood as flooring in the showers.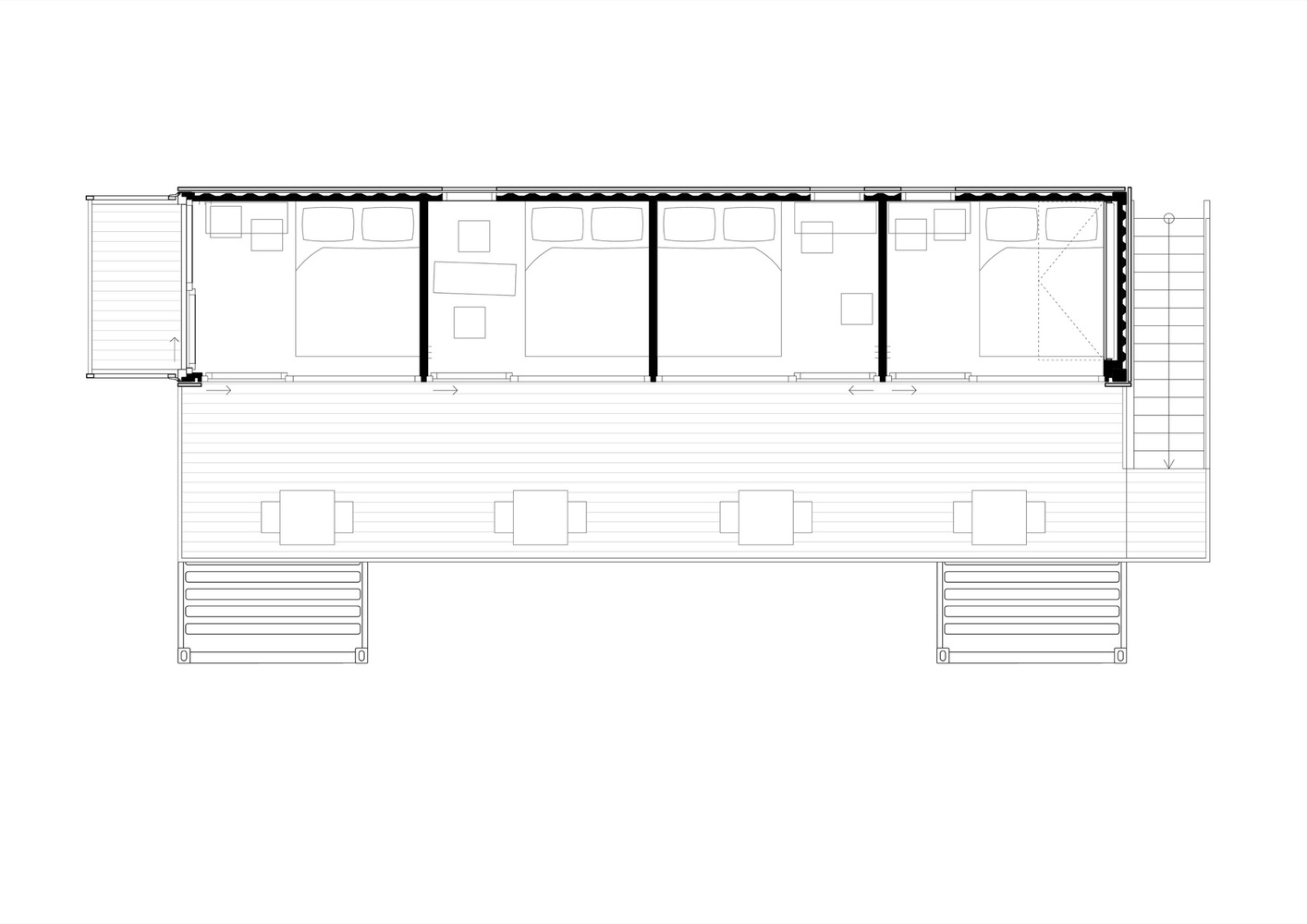 The economical and minimalist choice of used materials and design emphasizes the hotel philosophy implicating modern nomadism, maritime beach atmosphere and naval themes. These are further strengthened by the original dark-blue container paint with original graphics, as well as by the round windows and the railing made of ropes and nets.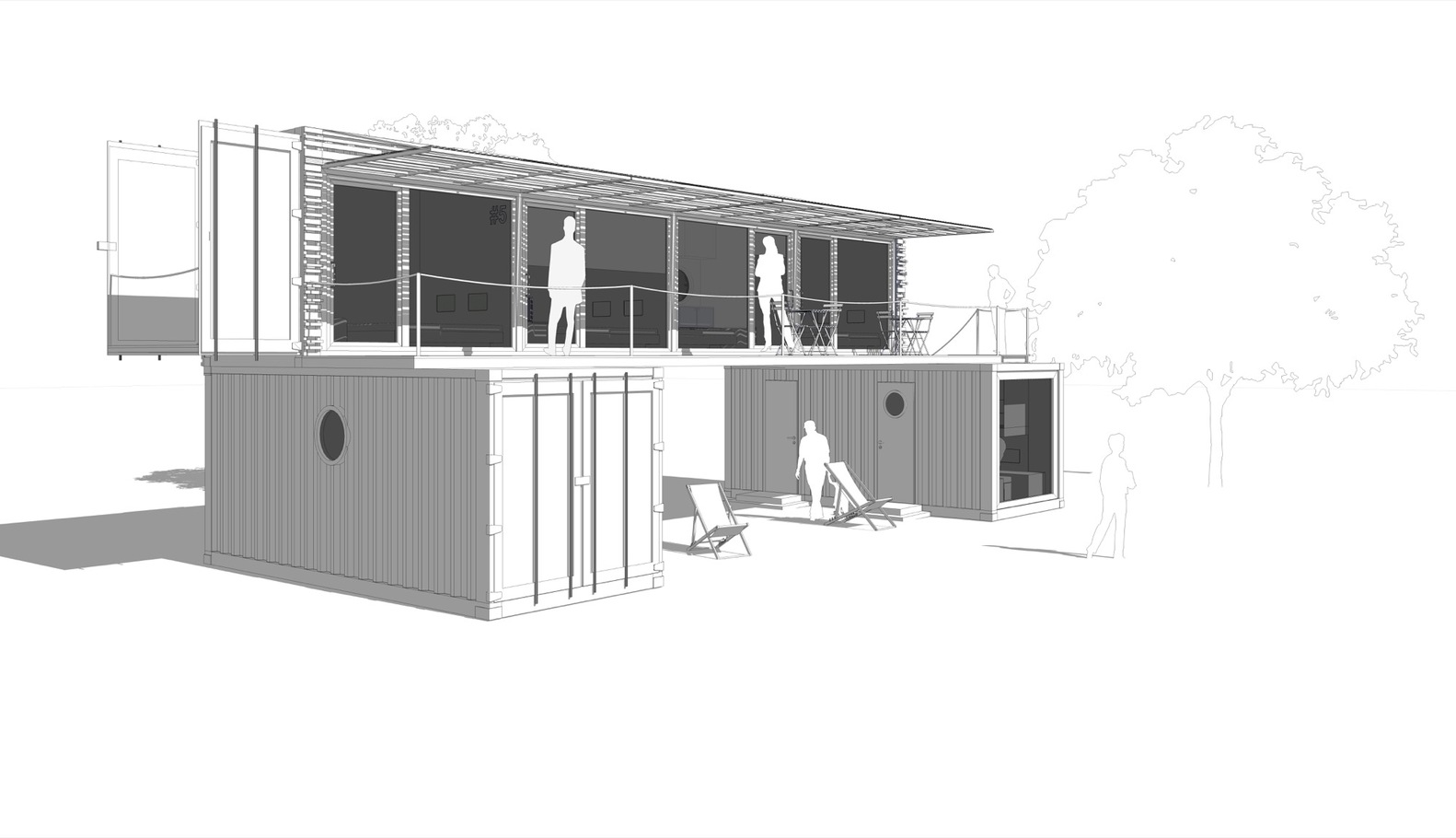 The containers are placed only on railroad sleepers. They function separately and autonomously, and are connected only to a local electric power source. The container with the social facilities has an inbuilt water reservoir to supply showers and sinks, which are equipped with water-saving taps.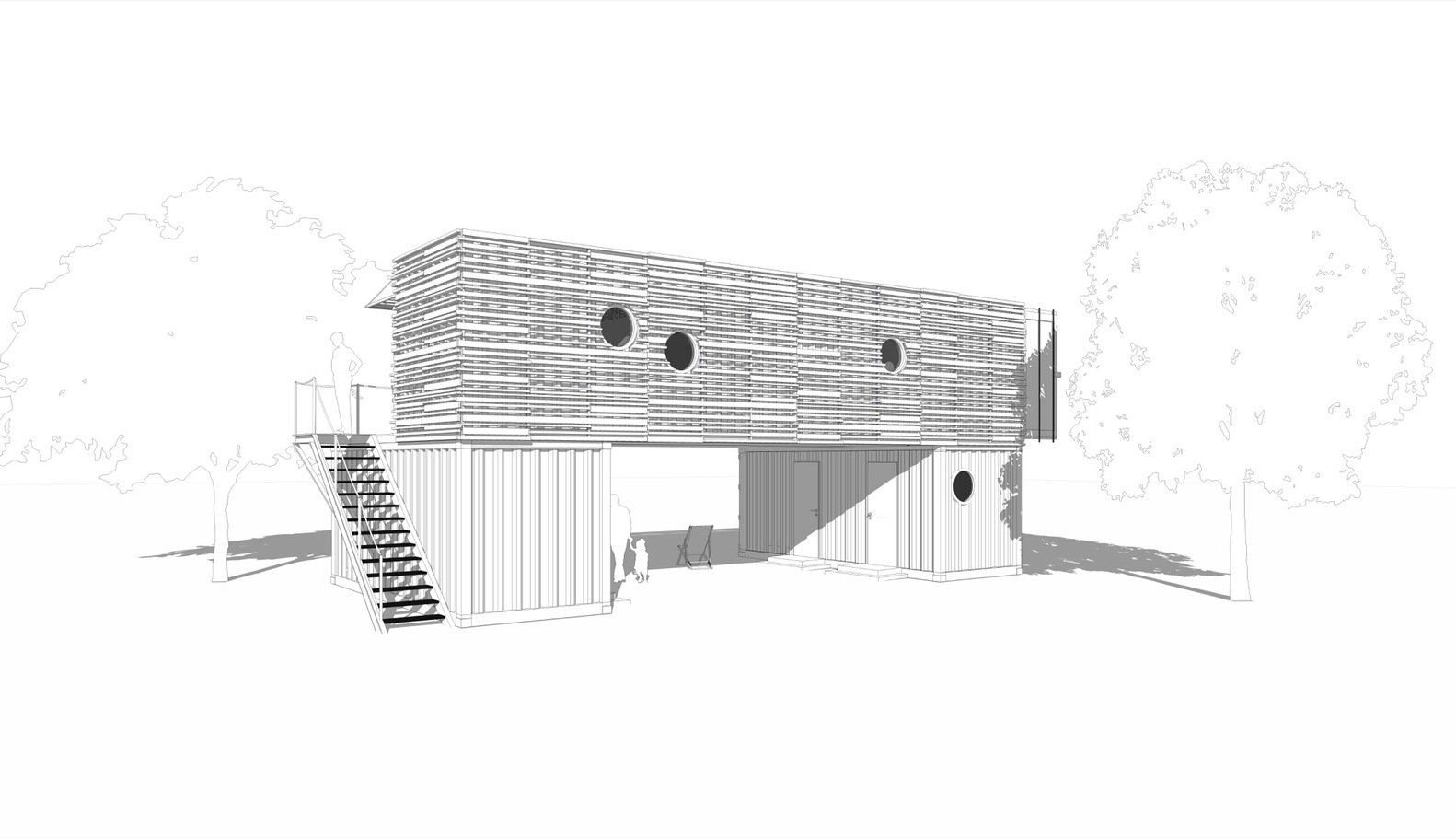 Only biodegradable cosmetics are used in the hotel. There are modern water-less, separating toilets installed.
To avoid overheating the rooms during summer, an awning is attached above the glazed walls and the facades are covered with sun breakers made of waste wood planks from a nearby sawmill.
An environmentally effective alternative to a traditional Czech chata, what do you think about this new trend in using shipping containers to create homes?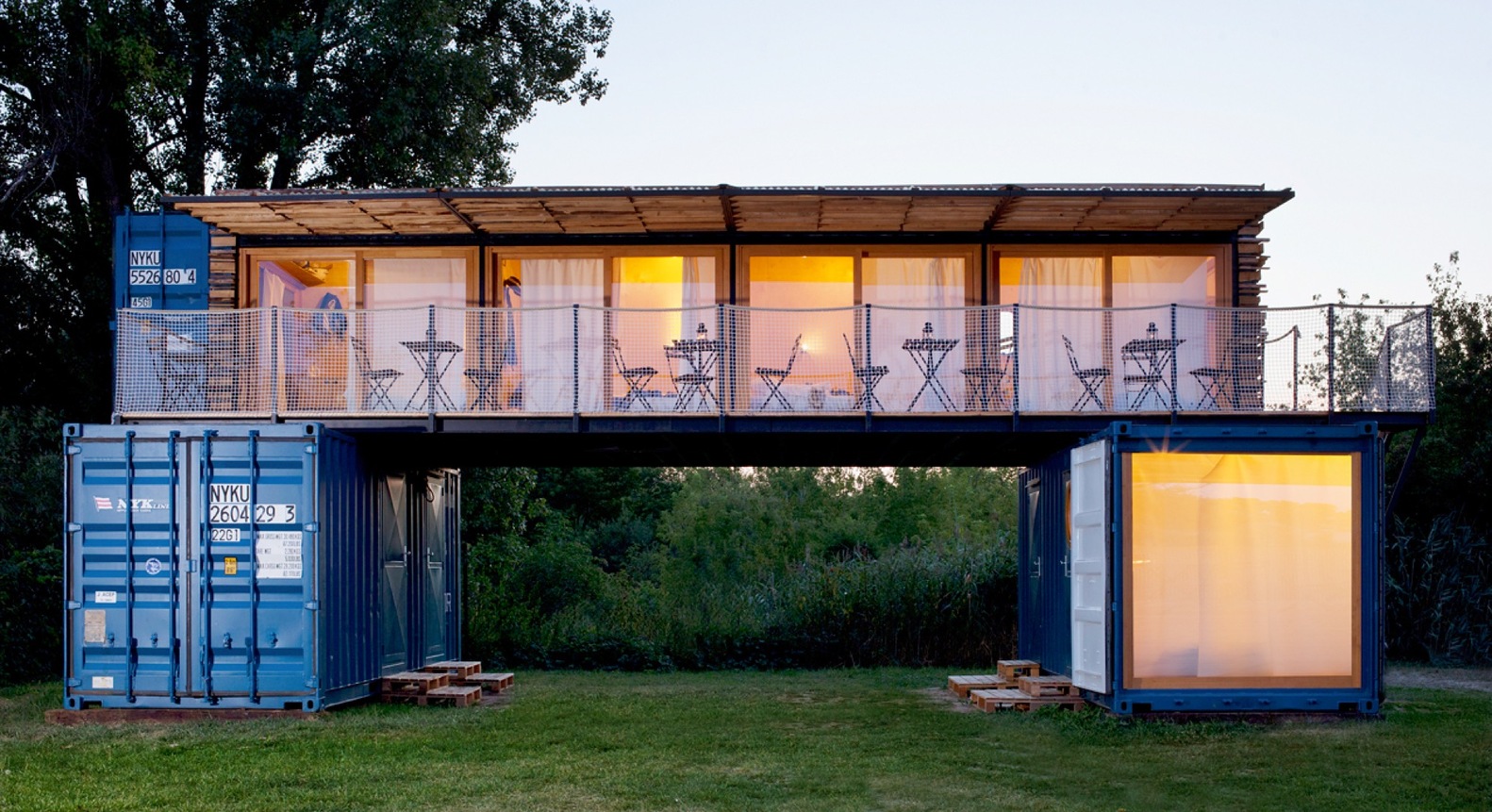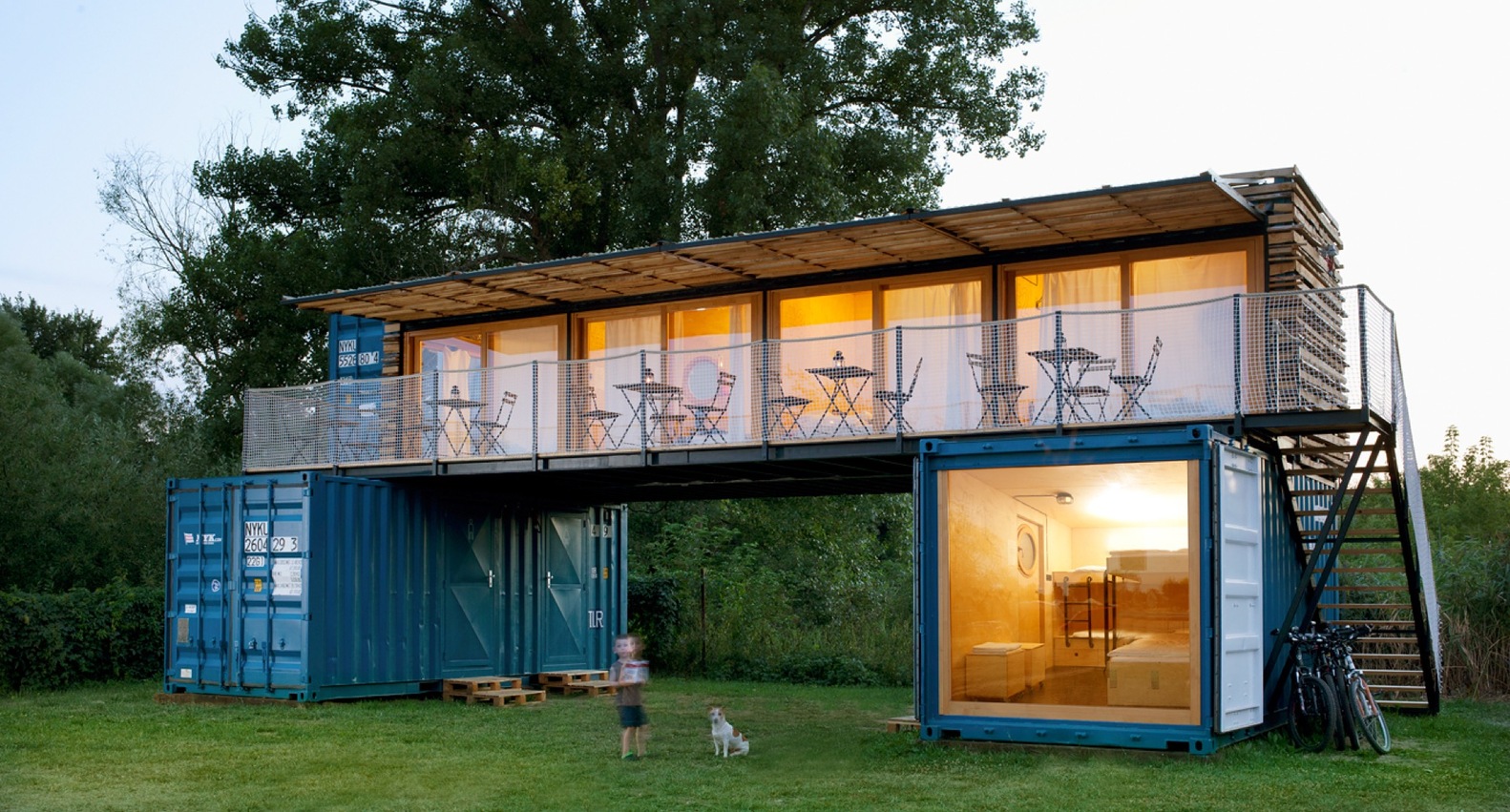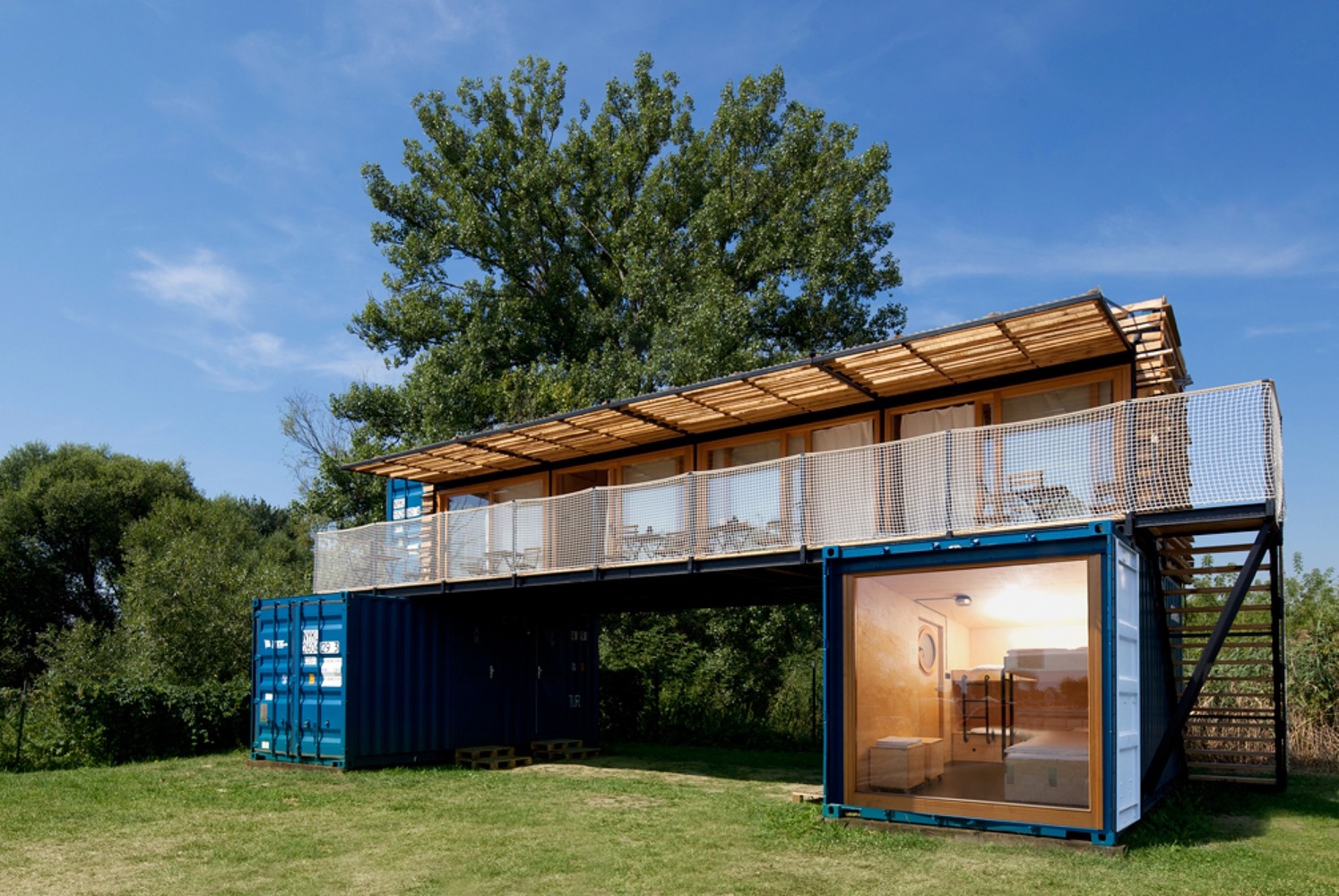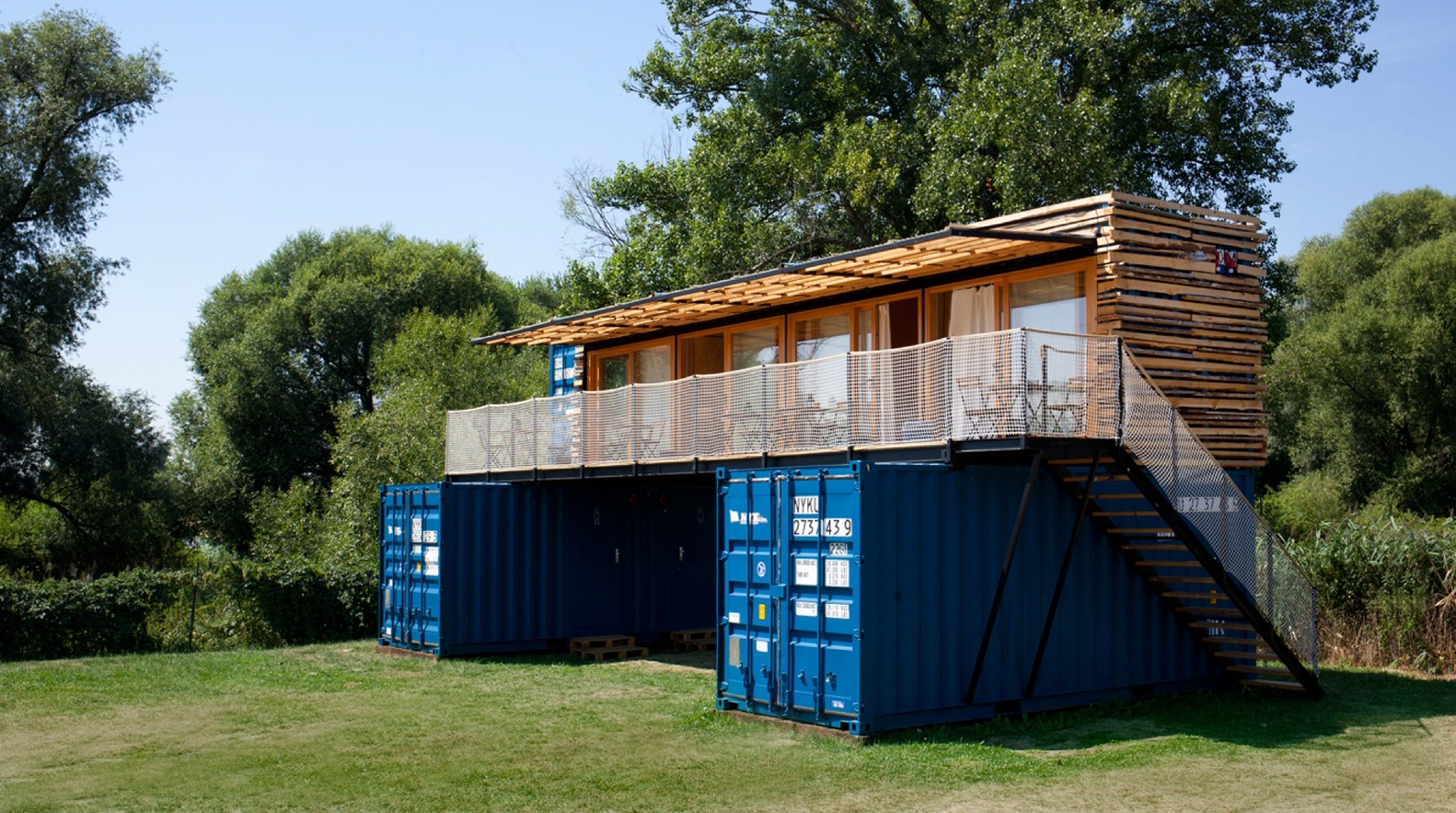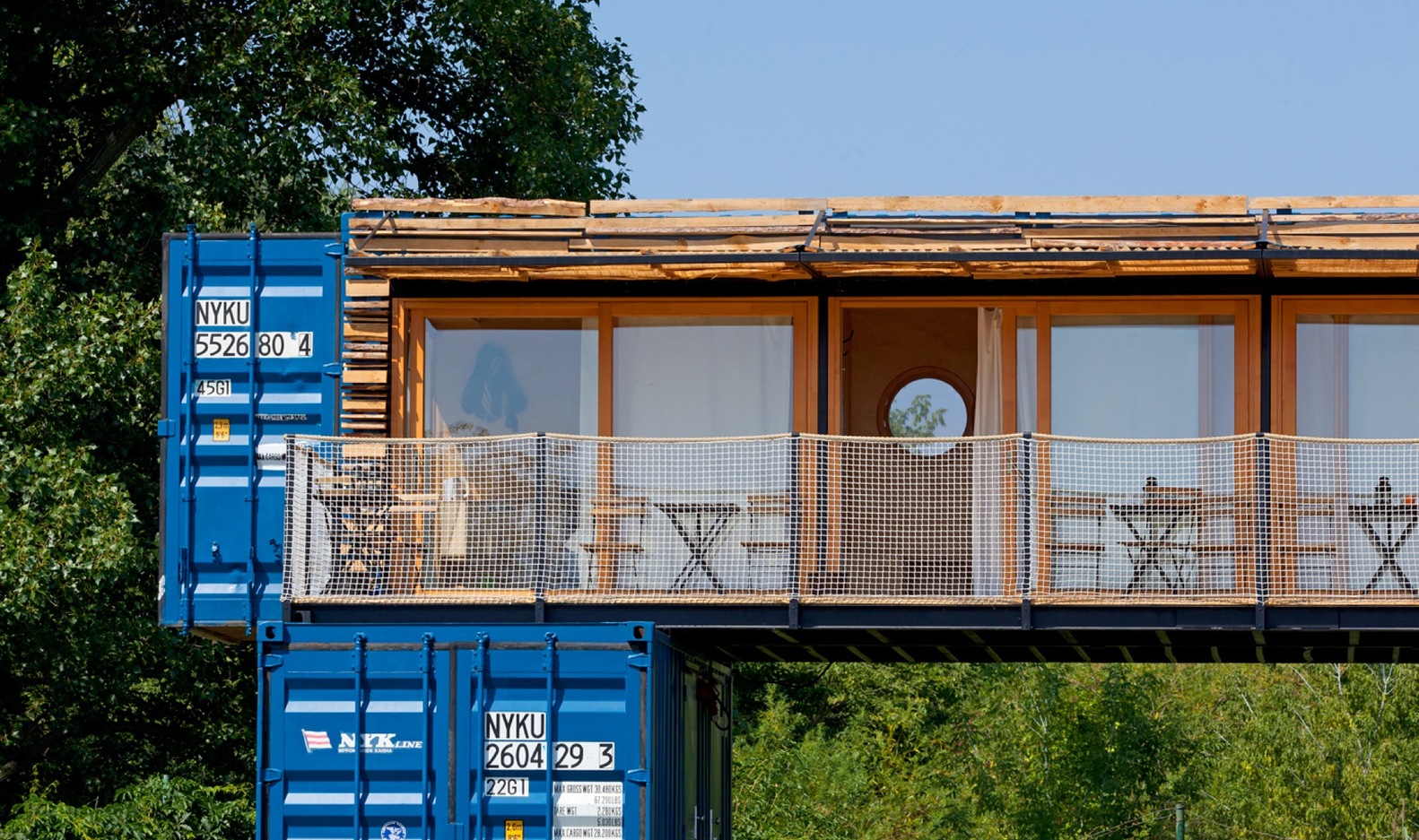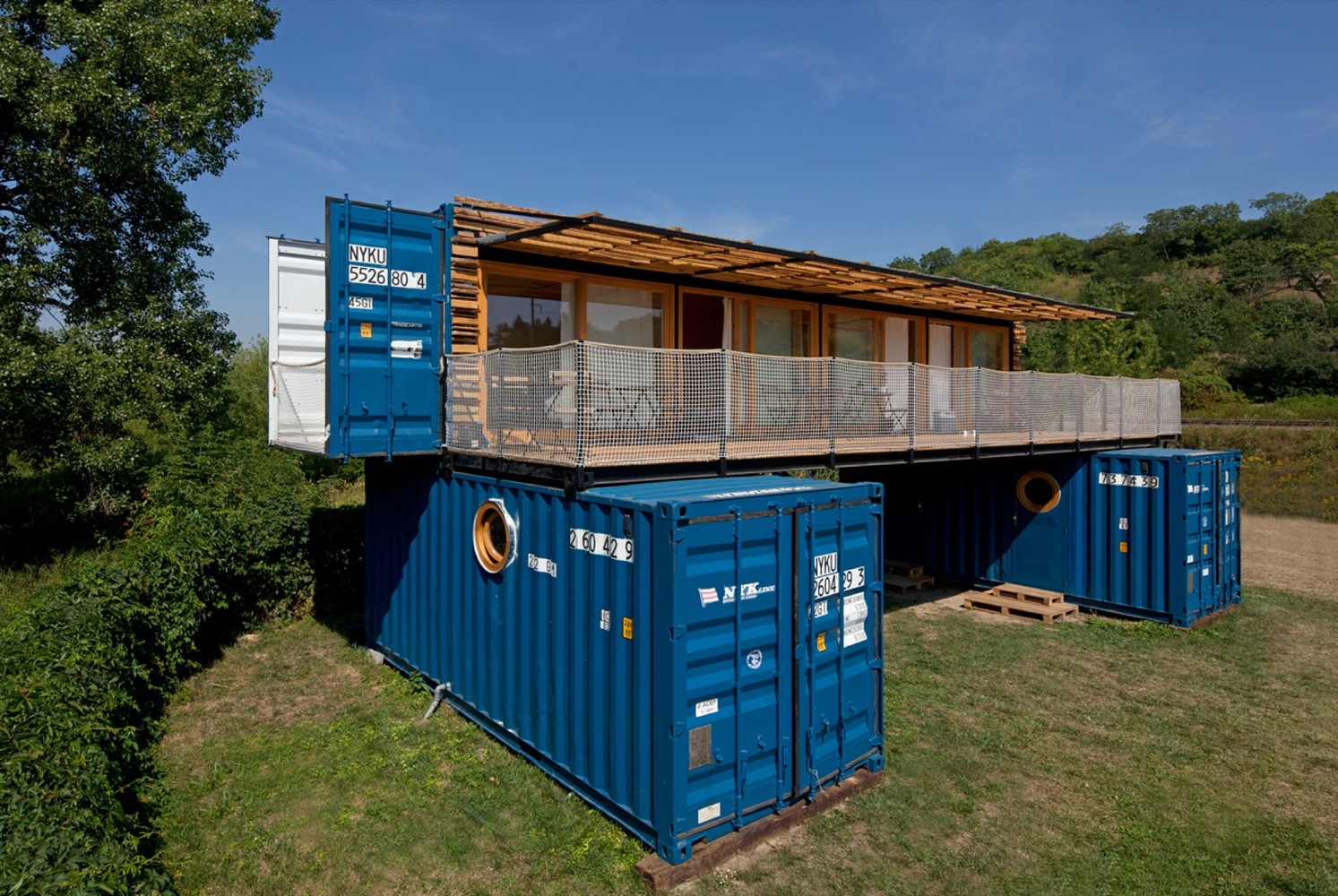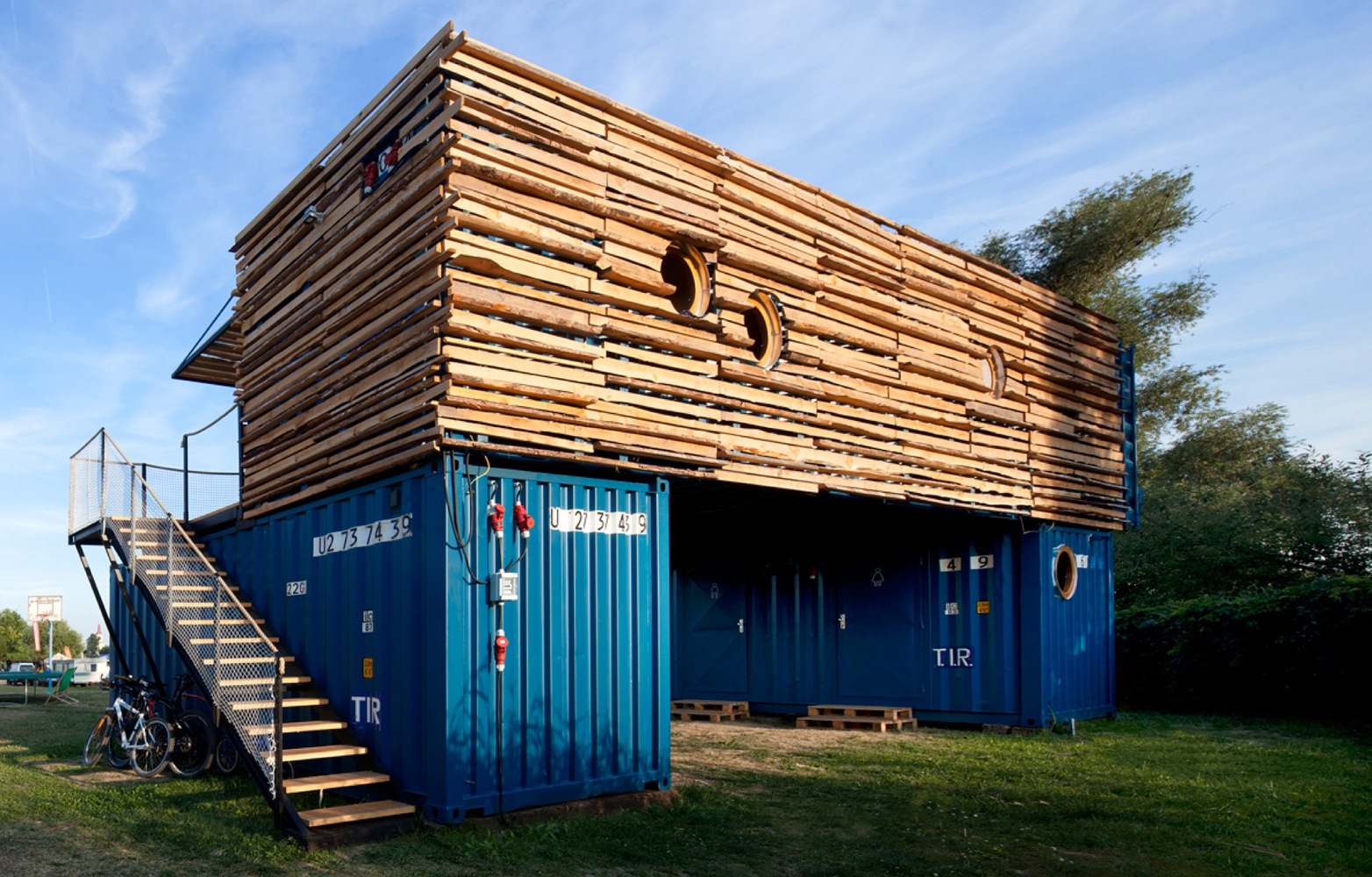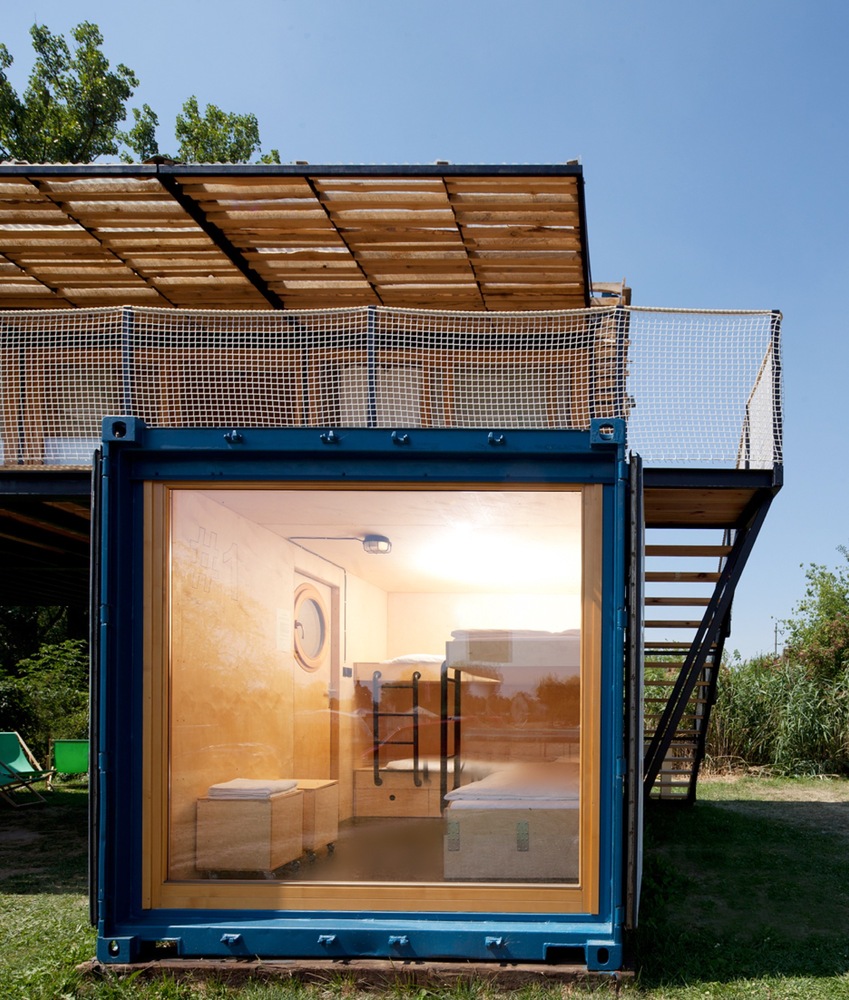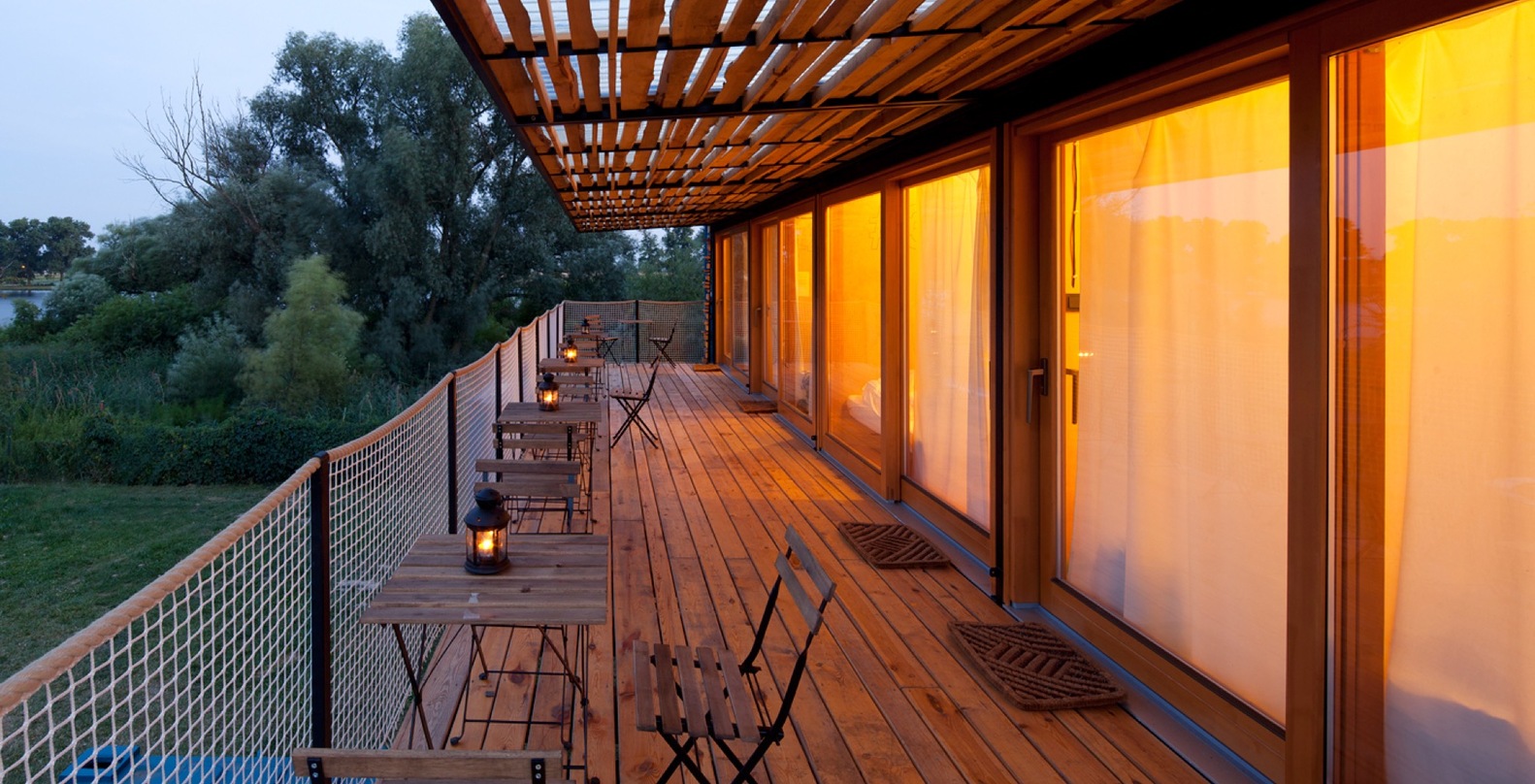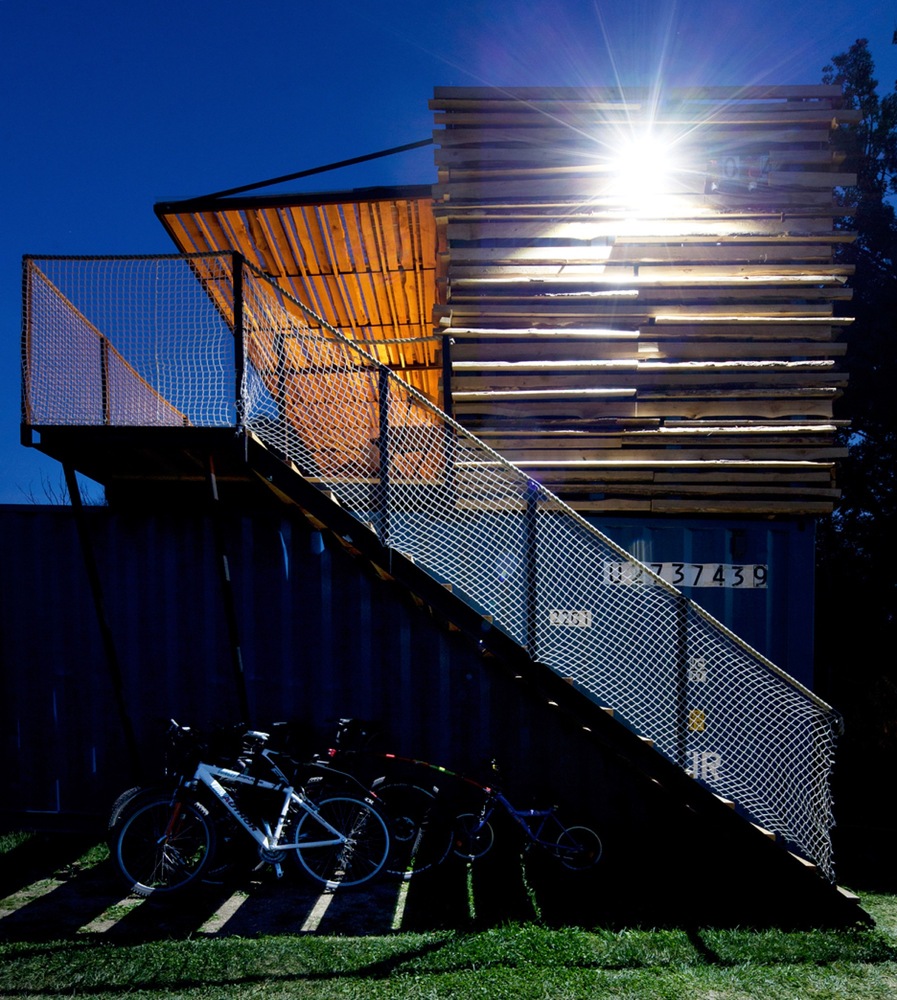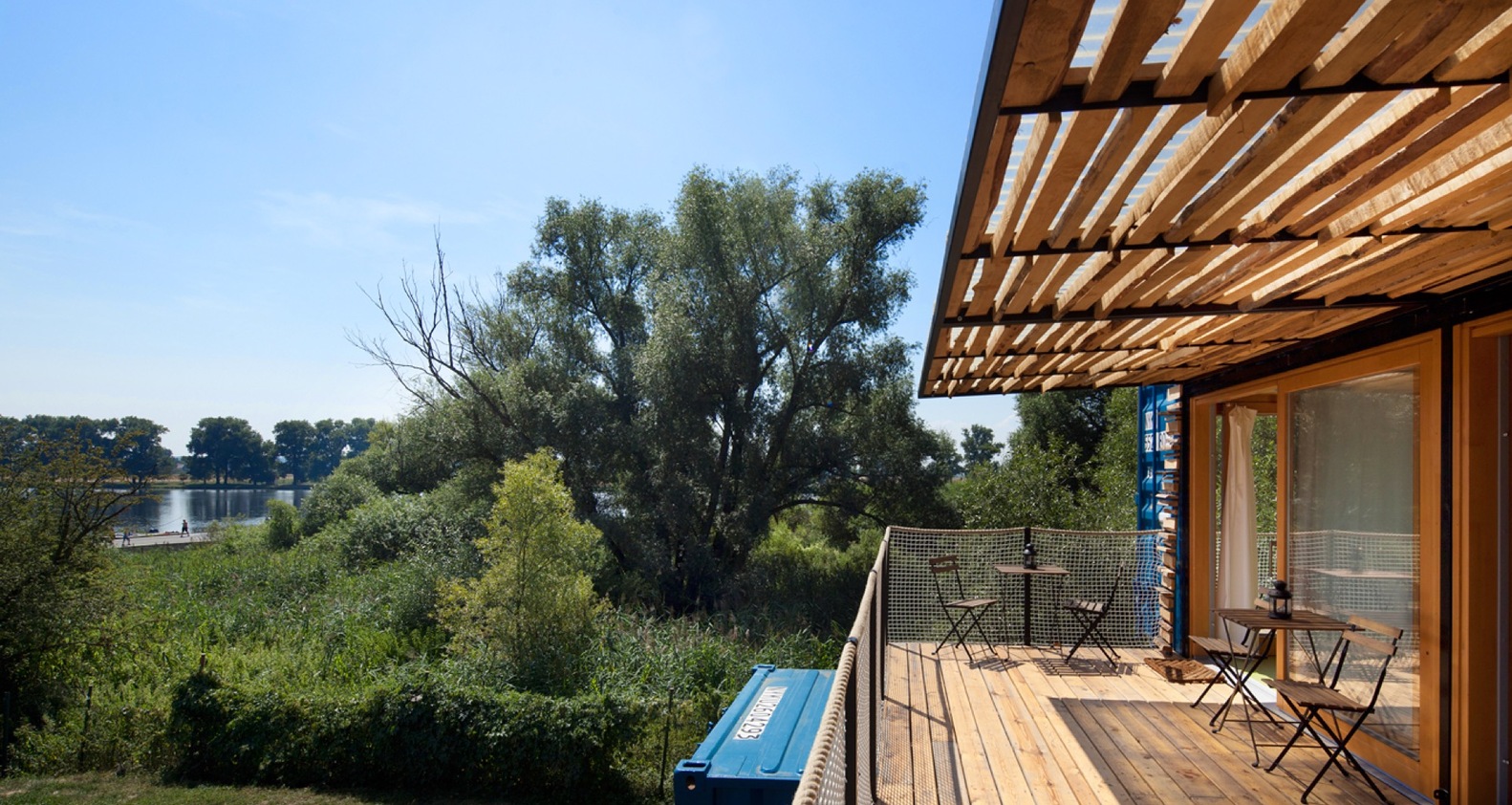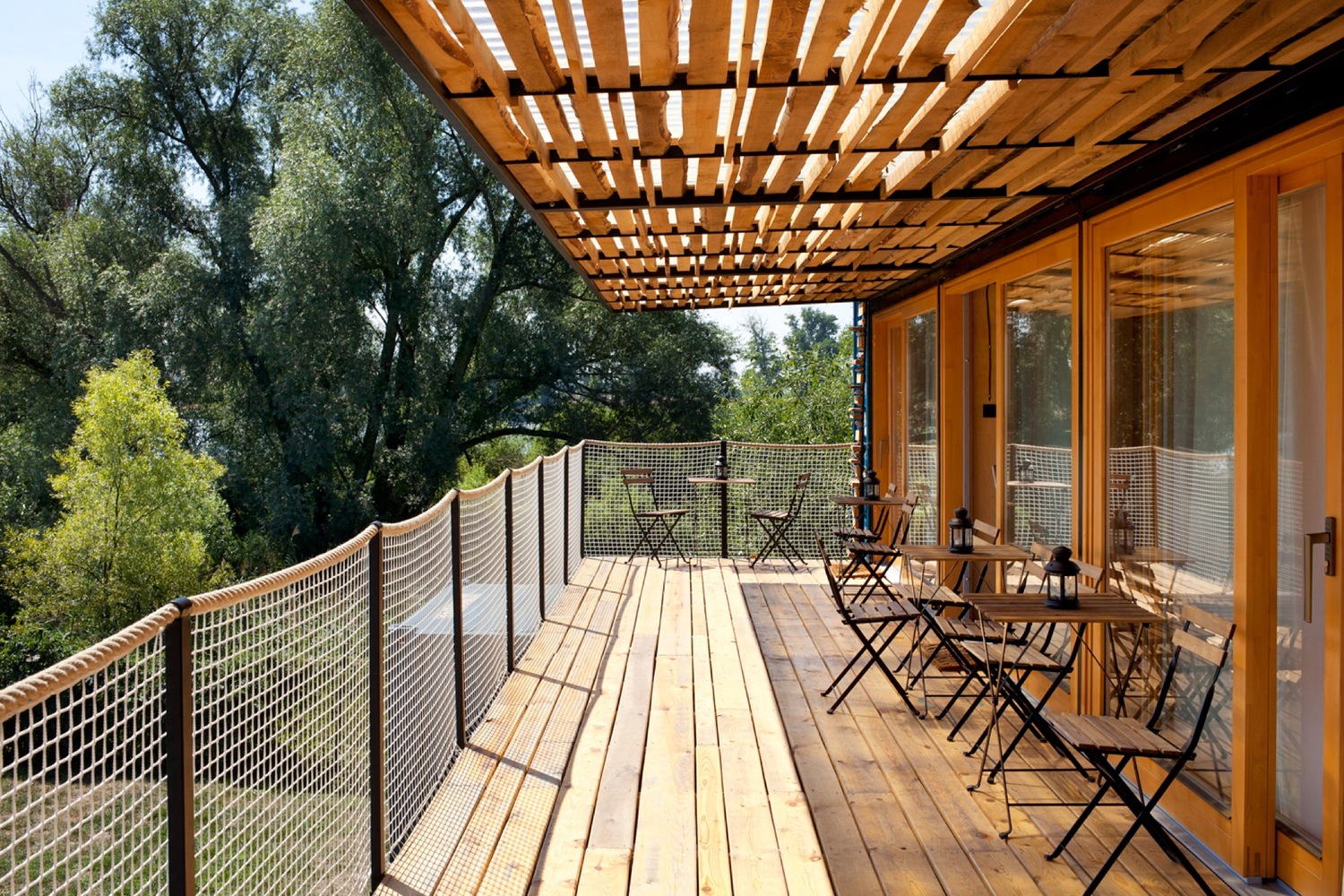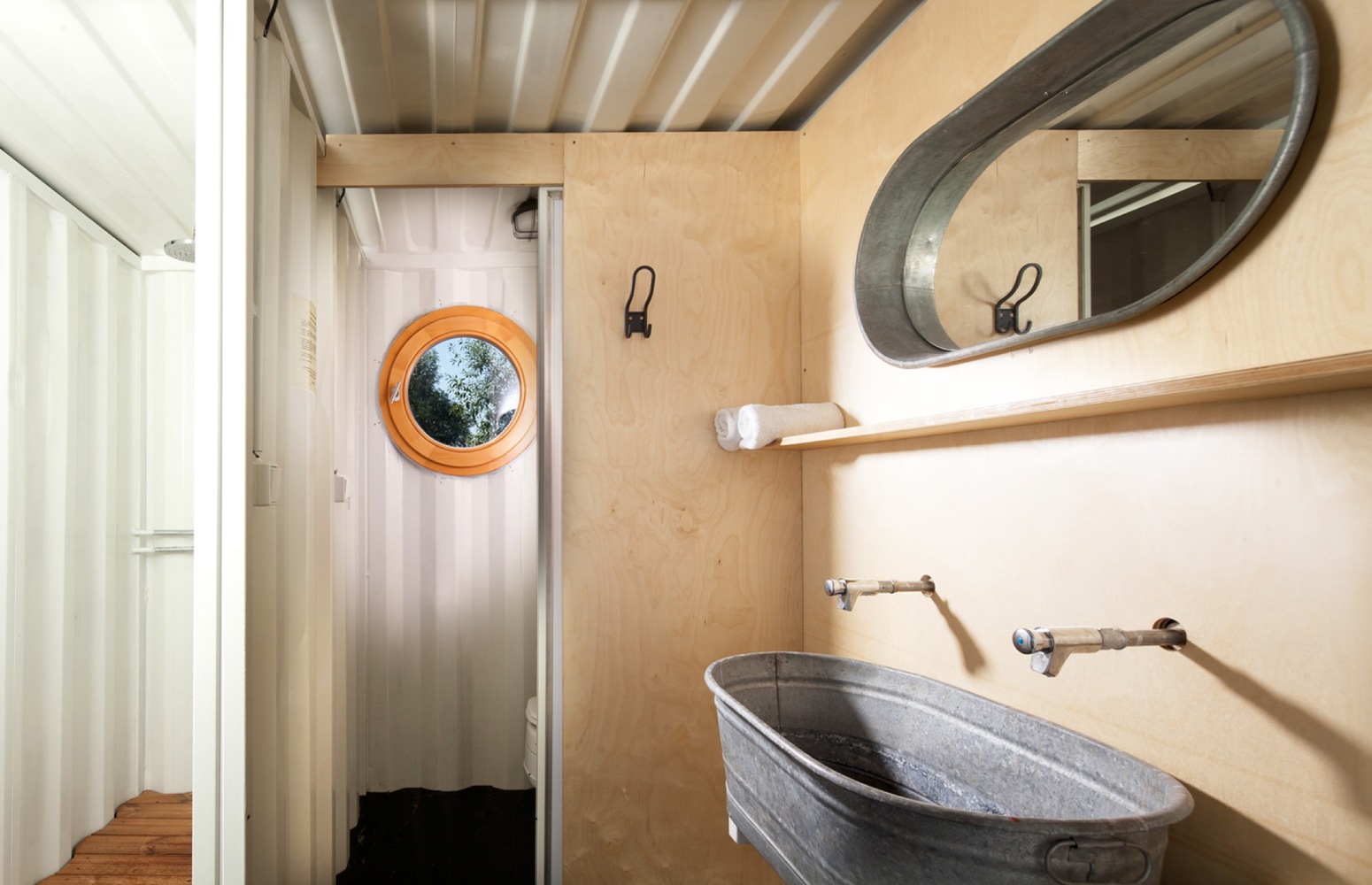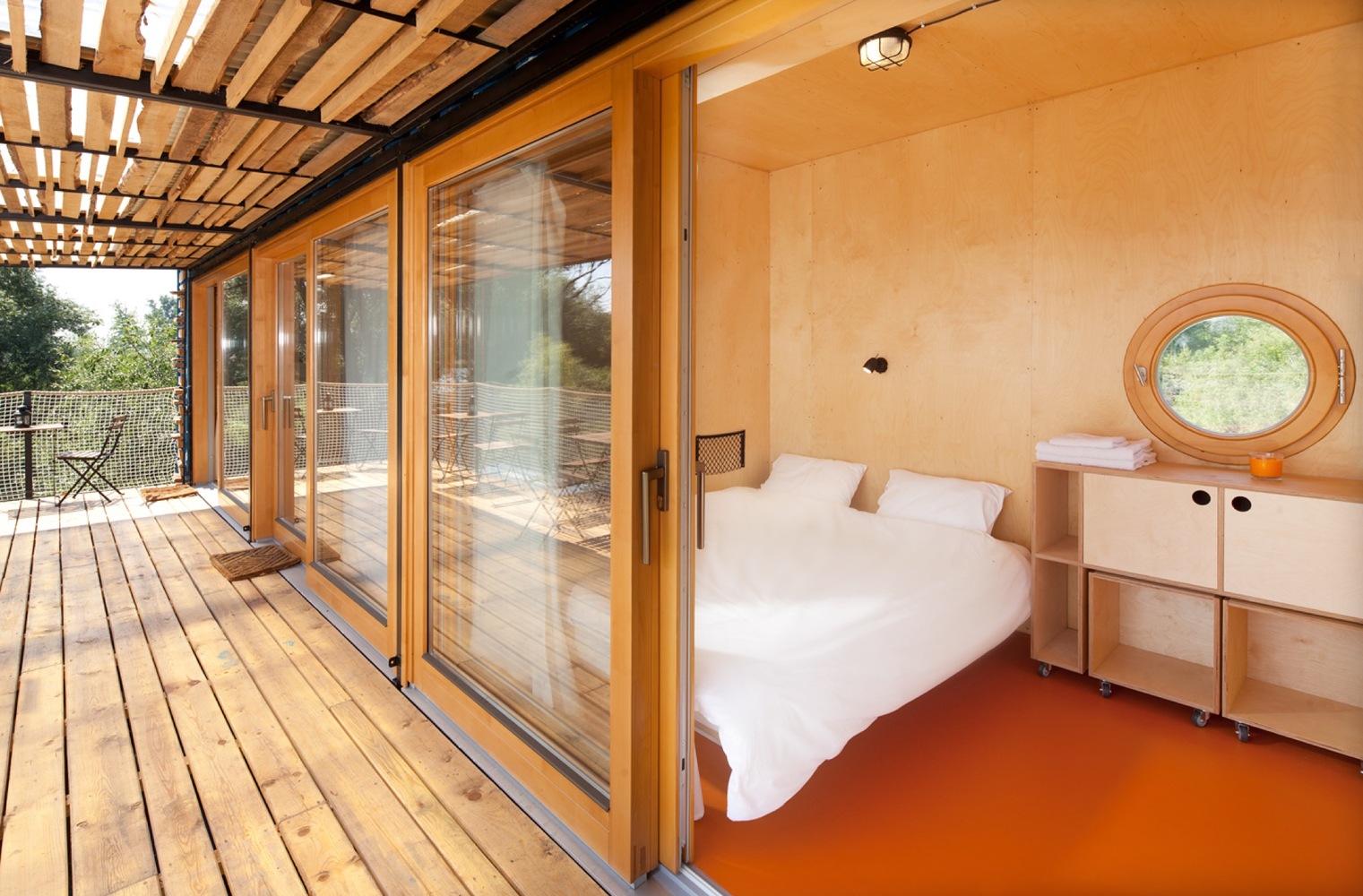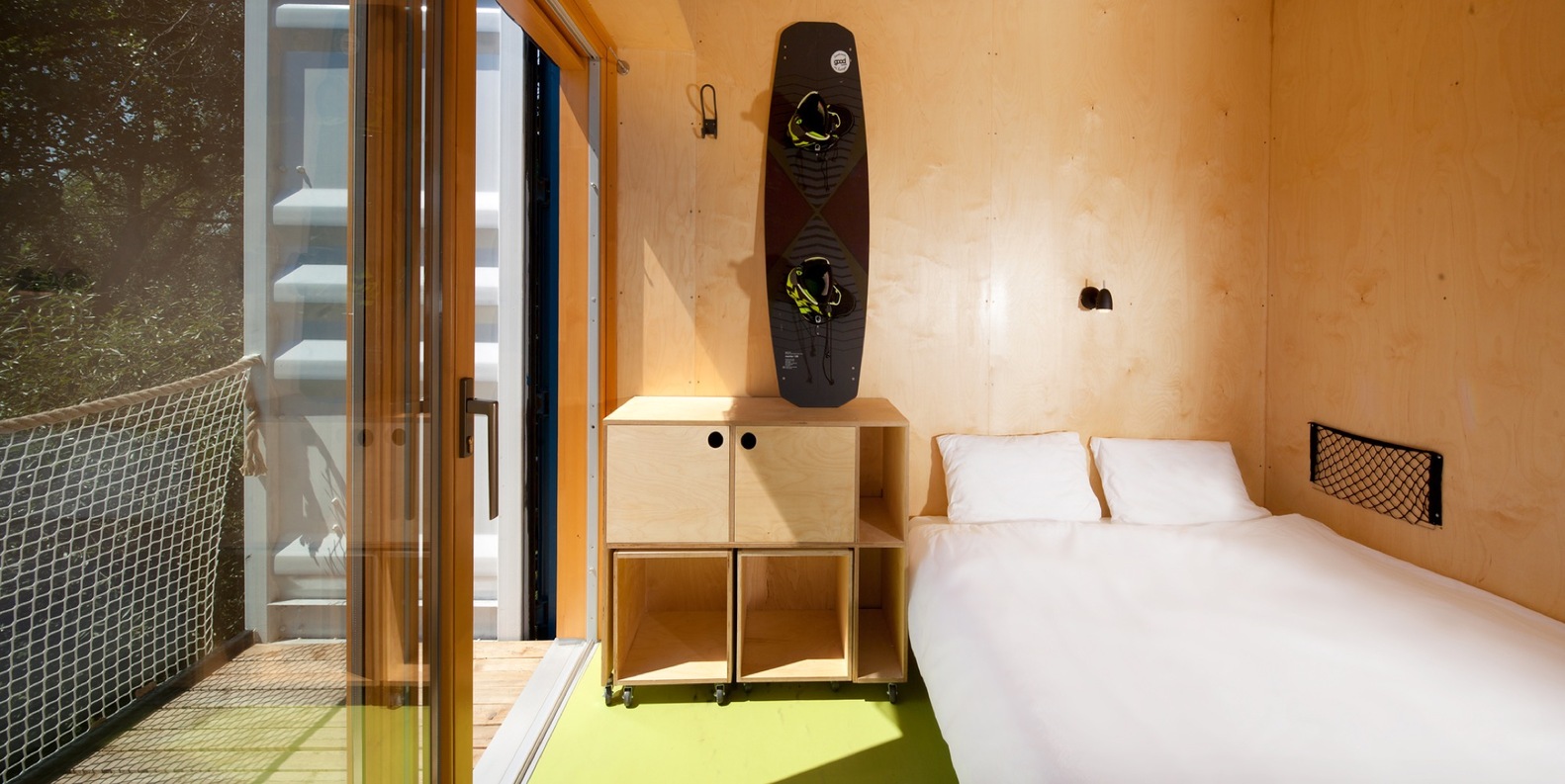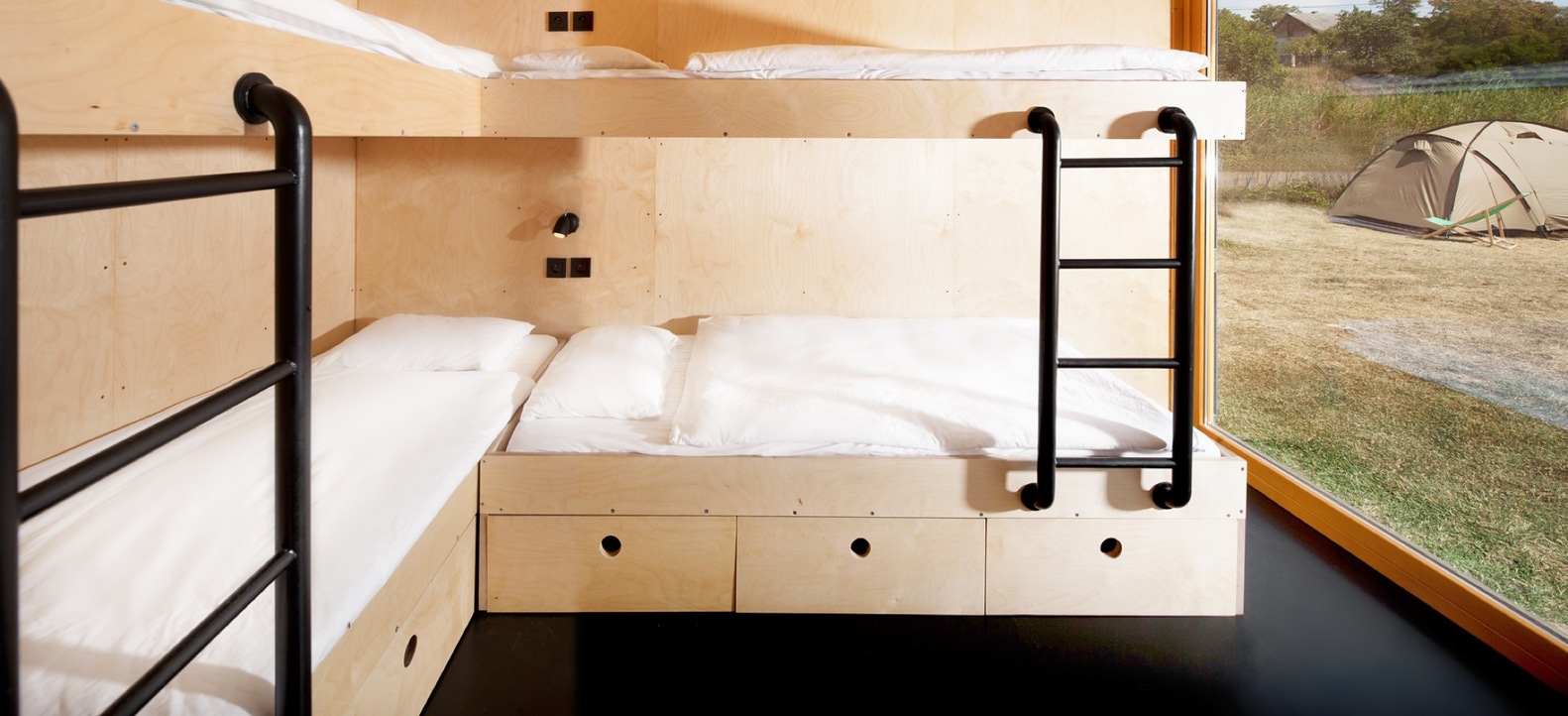 What are your thoughts? We'd love to hear from you in the comments section below.
Learn more about the architectural firm.
If you have not already subscribed to get TresBohemes.com delivered to your inbox, please use the form below now so you never miss another post.
---
Remember, we rely solely on your donations to keep the project going.
Become a friend and get our lovely Czech postcard pack.