Today we're looking at the beautiful art on Czech military medals. All of the images and information you see here today comes from a special site, eMedals. eMedals provides high quality items with a superior degree of expertise in all areas of militaria. They offer a first class selection of medals from around the world, but obviously, we are looking at Czech medals today.
Our first series of photographs are of a rare Great War D.C.M. group of eight medals attributed to Lieutenant Josef Novak, a Czech Legionnaire. We're sharing his collection first because it's rare to have such a complete collection.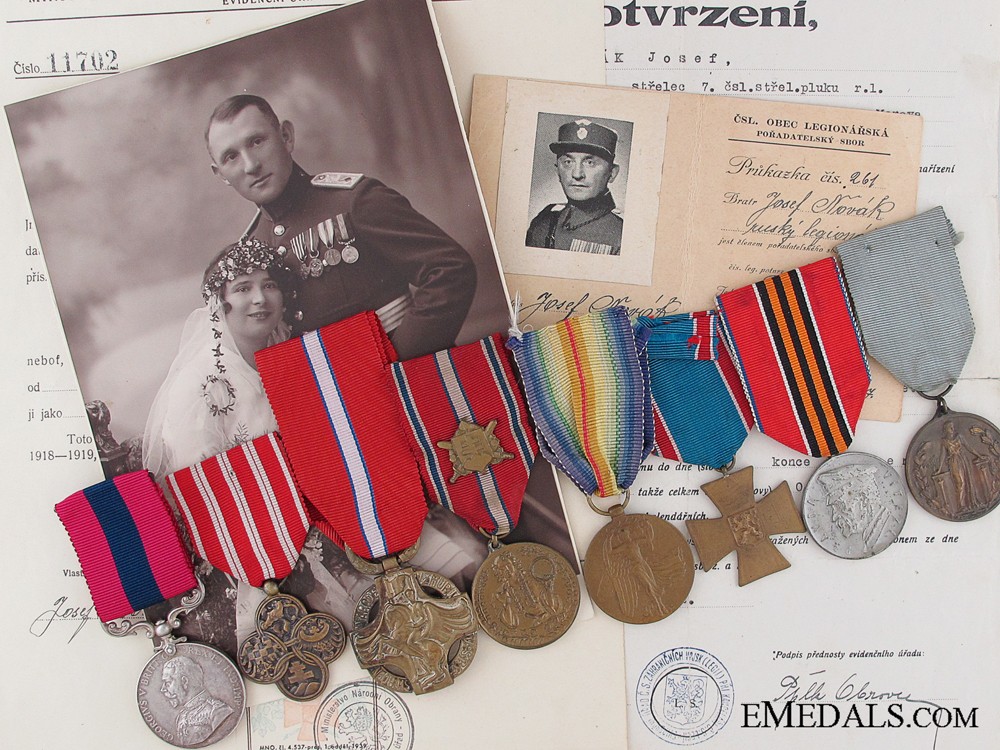 The collection contains the following medals:
Czechoslovakia War Cross 1918
Revolution Medal 1918
Victory Medal 1918
Volunteer Cross 1918-19
F.I.D.A.C. Medal for Veterans 1918-19
Zborov Commemorative Medal 1917-47
Volunteers Commemorative Medal 1918-38, with bronze emblem on riband Great Britain
Distinguished Conduct Medal, G.V.R., unnamed as issued to foreign nationals, generally very fine.
As is nearly always the case, no verification has been found for this particular award of the D.C.M., but it is worth noting that Abbott & Tamplin state 290 such decorations were issued to Czech Legionnaires.
Josef Novk was born in March 1890, in Cholina, in the district of Litovel in the western part of Moravia. Appointed a Private in the Austro-Hungarian Army, he was ordered to the Eastern Front during the winter of 1915, where with many thousands of like minded Slavacs, he deserted to the Russian lines in May 1916. Entering the Czechoslovak Legions in October 1917, he was sent to reinforce the 1st Regiment after the battle at Zborov, following which he joined the 3rd Company of the 7th Shooters Regiment and participated in another famous battle of the Czechoslovak Legions, namely the engagement at Bachmac, north-east of Kyjev, in mid-March 1918.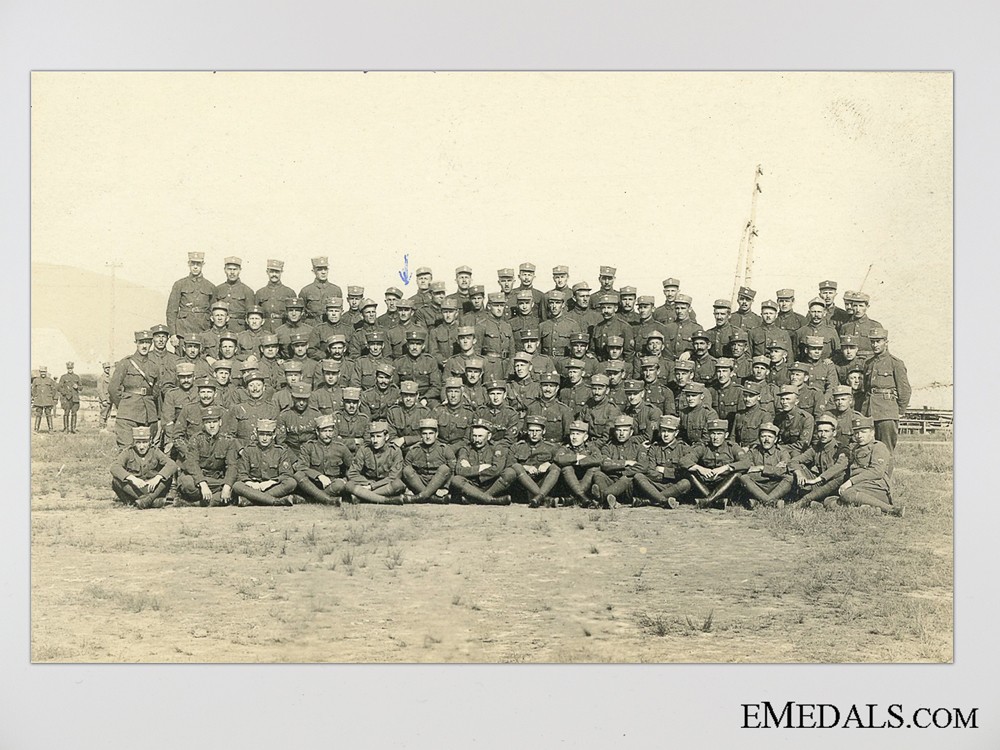 So, too, in further actions at Novonikolajevsk, Irkutsk, Kaul, Celjabinsk, Tomsk and Krasnojarsk, in addition to defending the Trans-Siberian railroad in the sector of Novonikolajevsk-Tomsk. Returning to Czechoslovakia via Vladivostok, Japan, Ceylon, Egypt and Italy, in July 1918, his service in the Legion officially ended on 23 July 1920, but in common with other ex-Legionnaires, he was persuaded to stay in the armed forces and help to build the new Czechoslovak Army.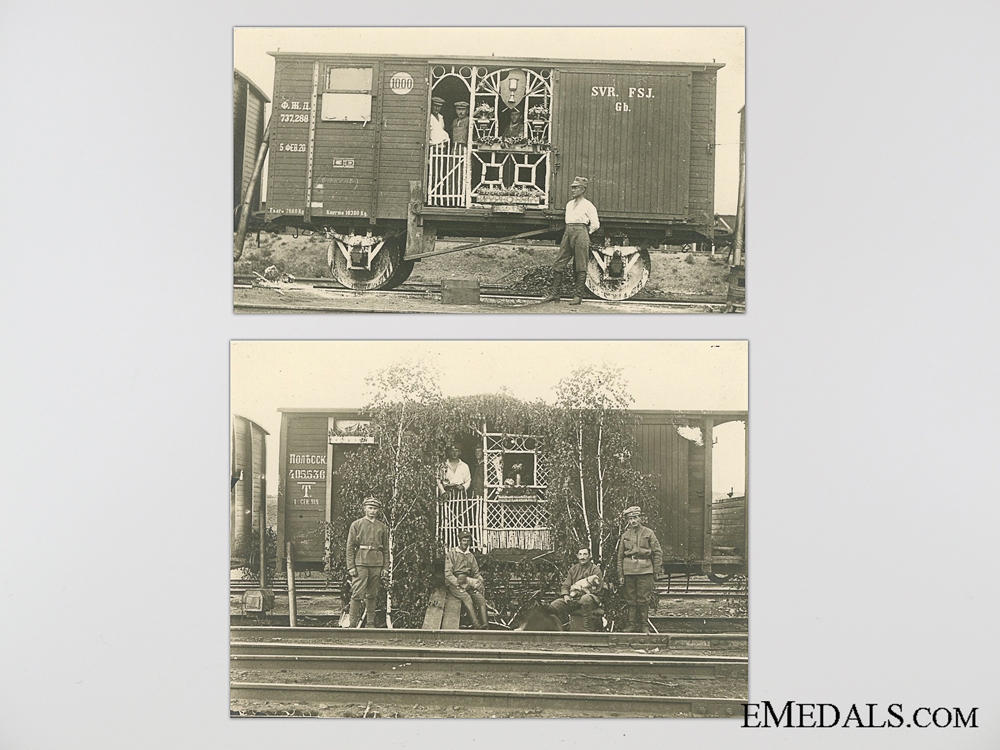 Novak was subsequently commissioned and served in various infantry units mainly in Prague and Hradec Kralove, and finally retired as a Lieutenant in 1932. Unfortunately, nothing further is known about him after his military career, although he is recorded as a member of Czechoslovak Legionnaires Veterans Association as late as 1948, the year after he had been awarded his Zborov Medal – as granted to those who arrived on the scene shortly after the battle.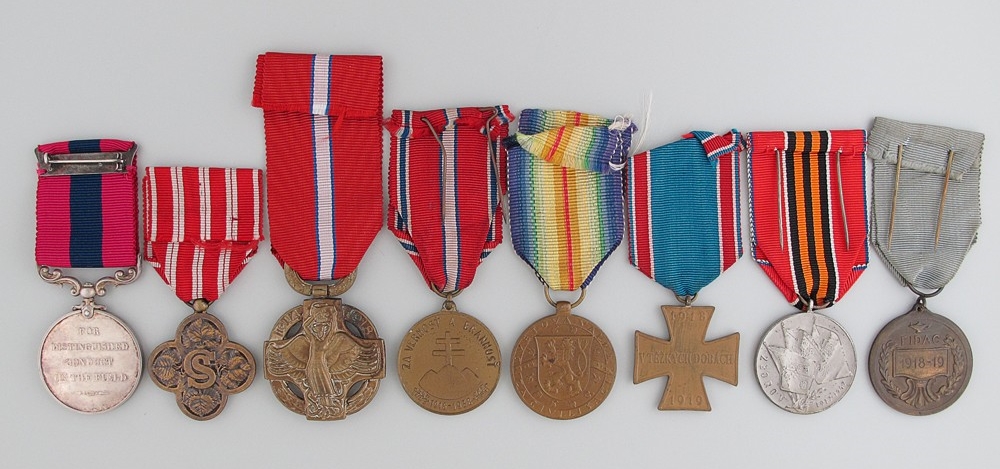 Sold with a quantity of original documentation, including the recipients award document for his Volunteer Cross 1918-19, his Czech Legion service record, Czech Legionnaires Club identity card, and four Great War period photographs.
See more here.
---
Below are two Czech Second World War liberation table medals with a case. We see the Czech Liberation Medal (bronze gilt, obverse illustrating a standing veiled woman with a pick axe in her left hand, the head of the pick axe on the ground, the Czech coat-of-arms and engraver's name "M. BEUTLER" to the right, a scroll, t-square and calipers beside the head of the pick axe, the dates "1918 28./X. 1938" at her feet, scenes of agriculture and industry in the background, surrounded by the inscription "MUJ DRAHY NAROD CESKY NESKONA, ON VSECHNY HRUZY SLAVNE PREKONA" (My Dear Czech Nation, Famous for Overcoming All the Horrors).
On the reverse side a wooden hand is rising from a map of Czechoslovakia, the fingers giving the "V" sign for Victory. Linden leaves in its palm, a cross lying across the map with a scroll at its junction with the date "30/IX 1938" (date of the annexation of Sudetenland), six hands outside the map, four of which are stabbing at the map with swords, the other two grasping, inscribed on the rim "ACH ZEMI KRASNOU, ZEMI MILOVANOU, KOLEBKU MOU I HROB MUJ, MATKU MOU, VLAST JEDINOU IV DEDICTVI MI DANOU, SIROU TU ZEMI, ZEMI JEDINOU" (Oh Earth, so Beautiful, so Beloved Cradle and My Grave, My Mother, My Only Homeland Inheritance Given, Wide Earth, Earthy Only, 65.6 mm).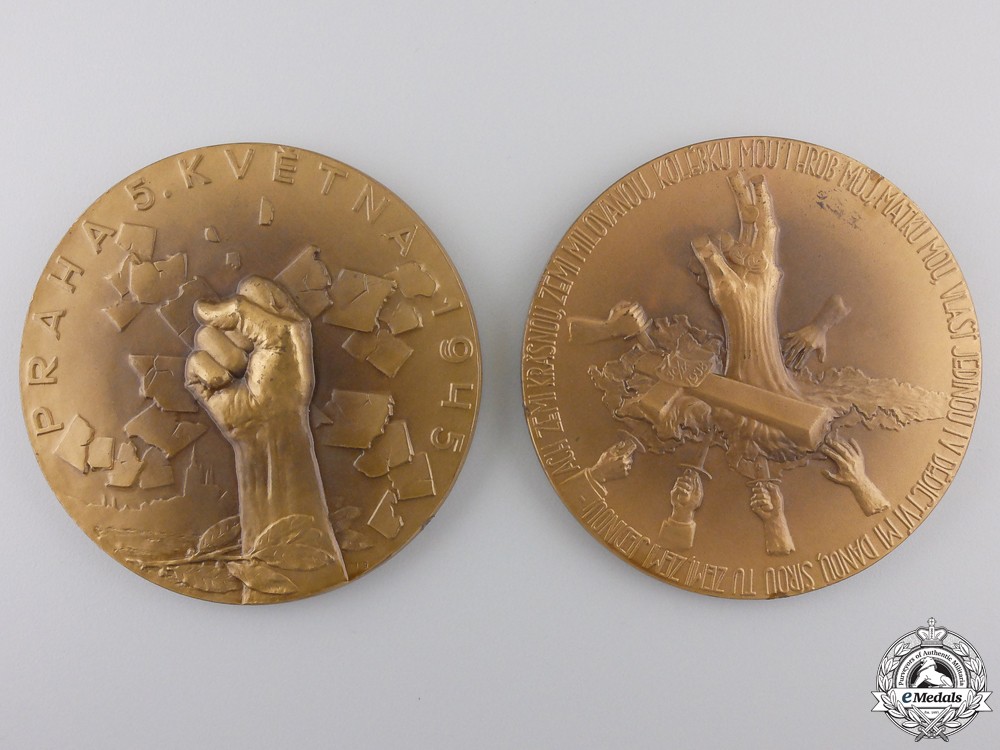 We also see the Prague Uprising Medal (bronze gilt, obverse illustrates a woman holding a branch of olive leaves in her right hand, standing on a rock outcrop with a linden tree and the engraver's name "M. BEUTLER" in the foreground, flags of the United States, the Soviet Union and the United Kingdom in the background, reverse illustrating a raised defiant right fist and arm breaking through bricks, olive leaves and engraver's initials "M B" below, a silhouette of the Prague cityscape in the background, inscribed "PRAHA 5.KVETNA 1945" (PRAGUE 5th May 1945 = the date of the Prague Uprising) above, 65.6 mm). Very crisp detail, high relief, small scuff on the reverse of the Liberation Medal, together, near mint. In their hard shelled case of issue, recessed medal beds, case very fine.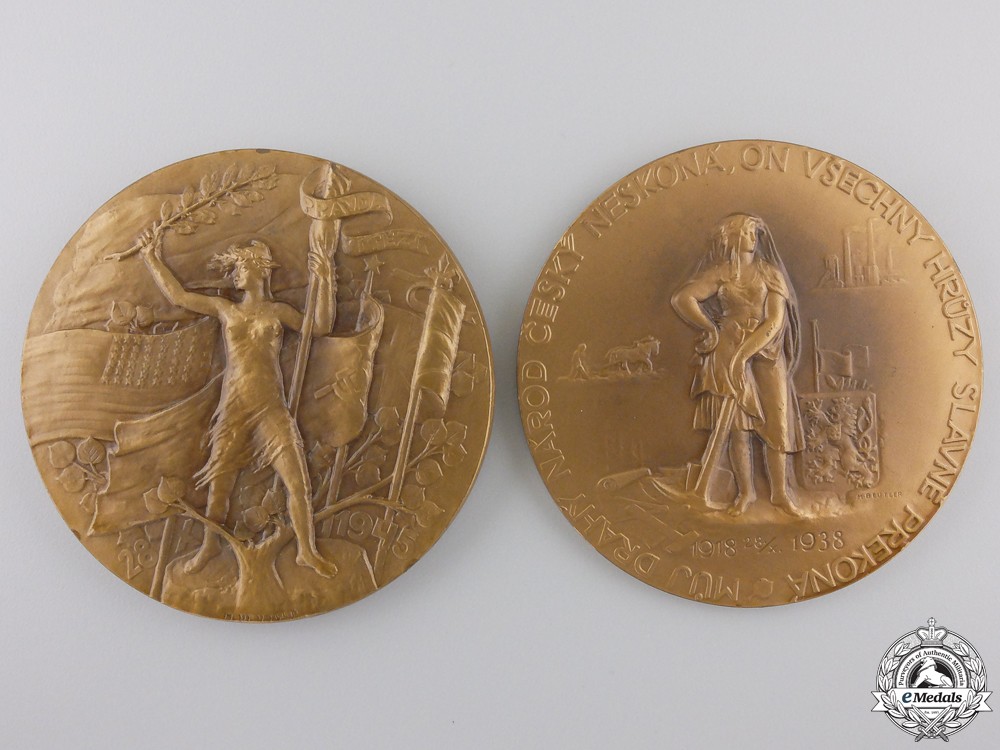 In the early hours of September 30, 1938, leaders of Nazi Germany, Great Britain, France and Italy signed an agreement that allowed the Nazis to annex the Sudetenland, a region of Czechoslovakia that was home to many ethnic Germans. Adolf Hitler had threatened to take the Sudetenland by force. The Czechoslovakian government resisted, but its allies Britain and France, determined to avoid war at all costs, were willing to negotiate with Hitler. On September 29, Hitler met in Munich with Prime Ministers Neville Chamberlain of Britain, Edouard Daladier of France and Benito Mussolini of Italy to reach a final settlement. Czechoslovakian leaders were not included in the talks, having been given a choice by Britain and France: accept the terms or resist the Nazis on their own.
The Munich Agreement did not bring about peace. The Nazis seized the rest of Czechoslovakia in the spring of 1939 and in September 1939, invaded Poland, starting World War II.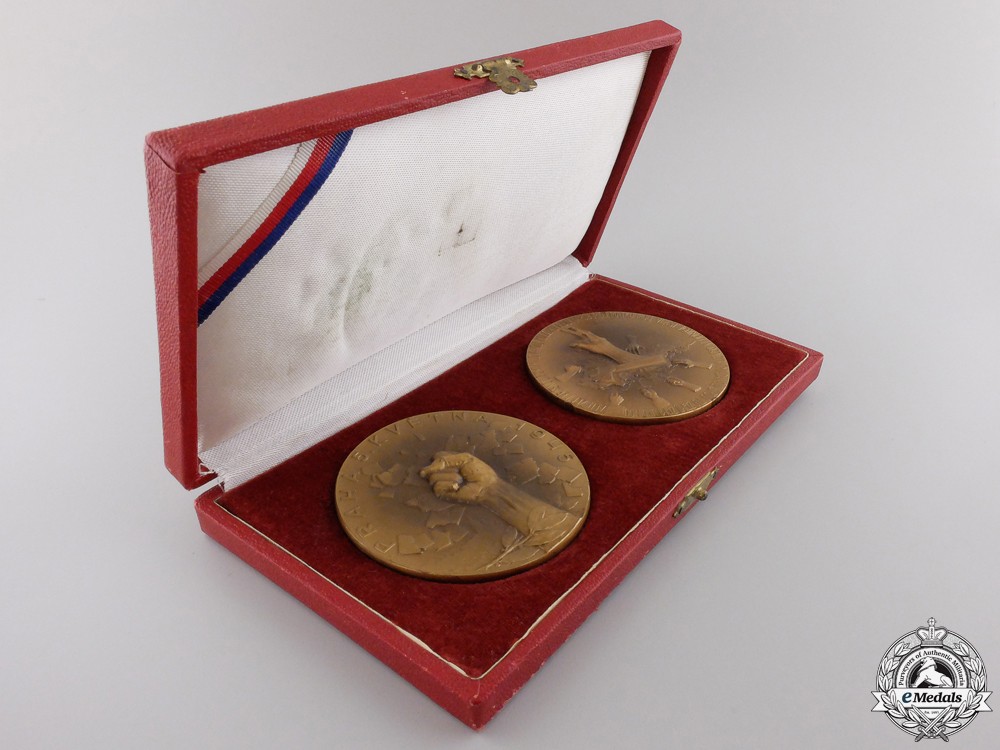 It is often argued that the reluctance of Britain and France to stand up to Hitler emboldened him in his quest to conquer Europe. In fact, the Munich Agreement is held up as the prime example of the dangers of appeasement. The Prague Uprising was an attempt by the Czech resistance to liberate the city of Prague from German occupation during World War II. Events began on May 5, 1945, in the last moments of the war in Europe. The uprising went on until May 8, 1945, ending in a ceasefire the day of the arrival of the Soviet Red Army and one day after Victory in Europe Day.
See more here.
---
This is a First War Czech Revolutionary War Cross to the 22nd Regiment. It is bronze, and has a hollow construction, 22 (regiment number used in Russia) and leaf on ribbon, 42 mm, with original ribbon, extremely fine.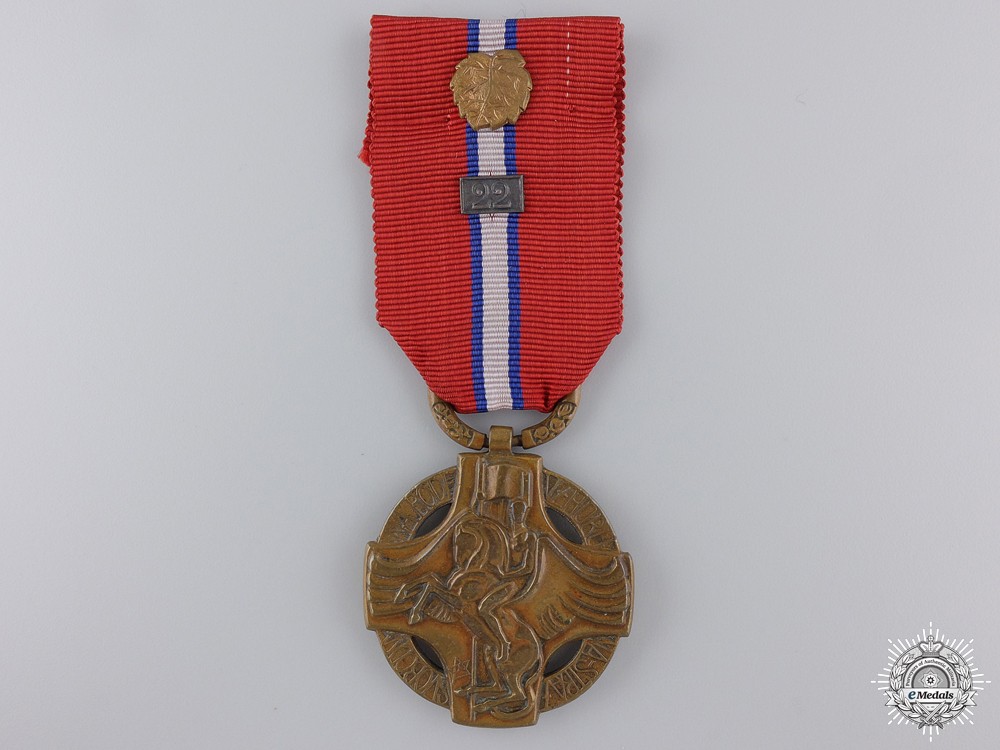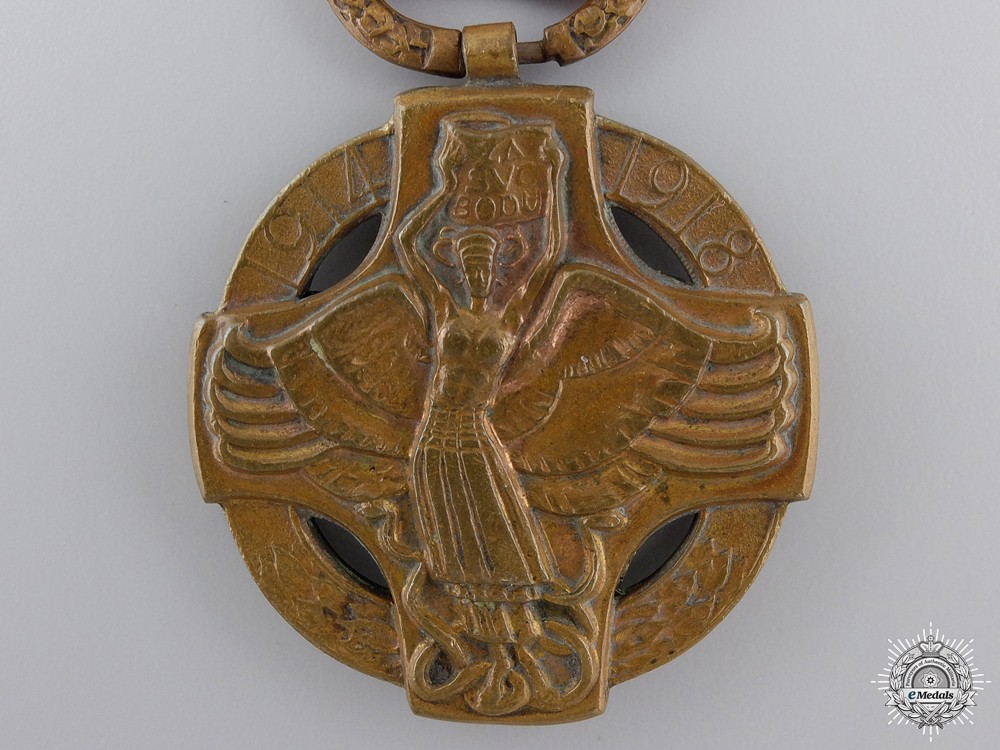 See more here.
---
This is a Czechoslovakian War Cross 1939-1945 (with case).
It is bronze gilt, 44.2 mm. Linden leaves clasp on an original ribbon, dual prong pin back, scattered gilt wear and spotting, near extremely fine. In its hard shelled case of issue, unmarked, recessed medal bed, case extremely fine. The exiled Czech Government instituted this award in London in December 1940.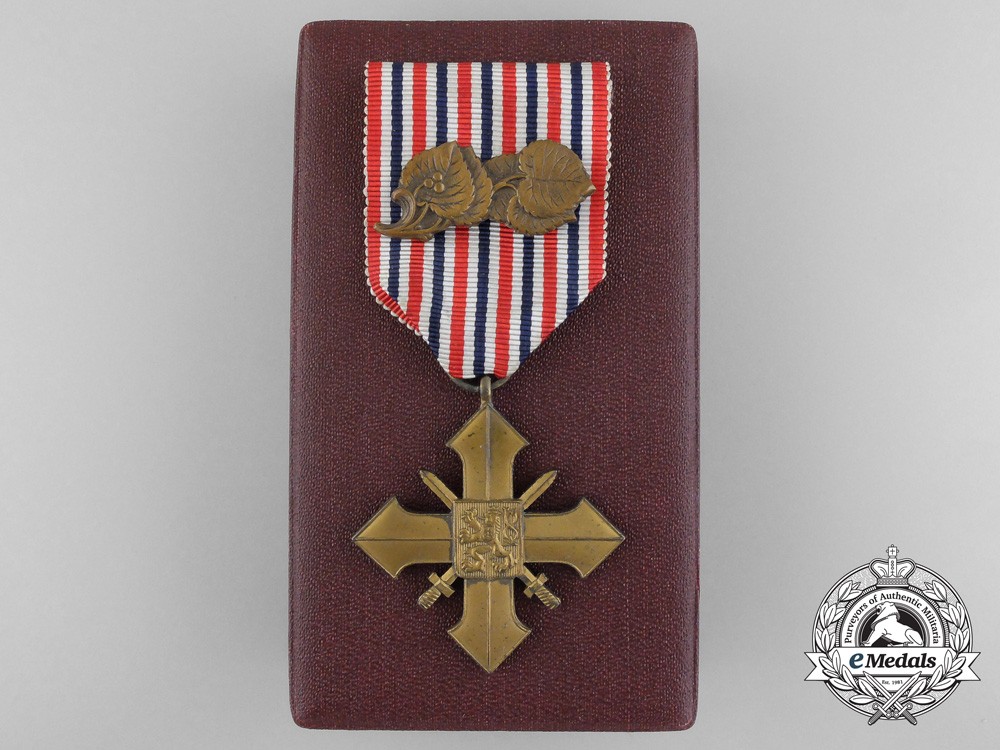 Linden leaves on the ribbon indicate multiple awards of the War Cross.
See more here.
---
This is a beautiful Czech Order of the White Lion with it's case of issue.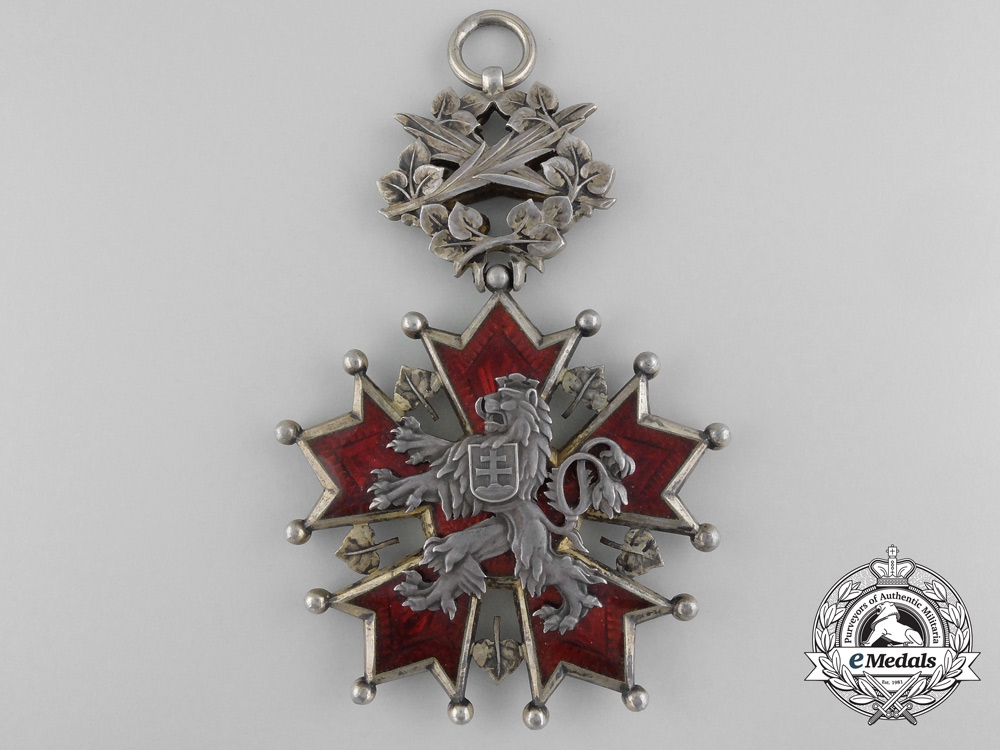 A Czech Order of the White Lion with Case of Issue – Knights badge in silver and enamels, 44mm (64mm including wreath suspension), hallmarks of "Karnet & Kysely, Praha" on the ring, excellent quality manufacture, near mint condition, in case of issue.
See more here.
---
Next, we have a Czechoslovakian Anti-German Occupation Medal; In bronze gilt, 38 mm, very fine. Not much more information on this one, but it sure is lovely.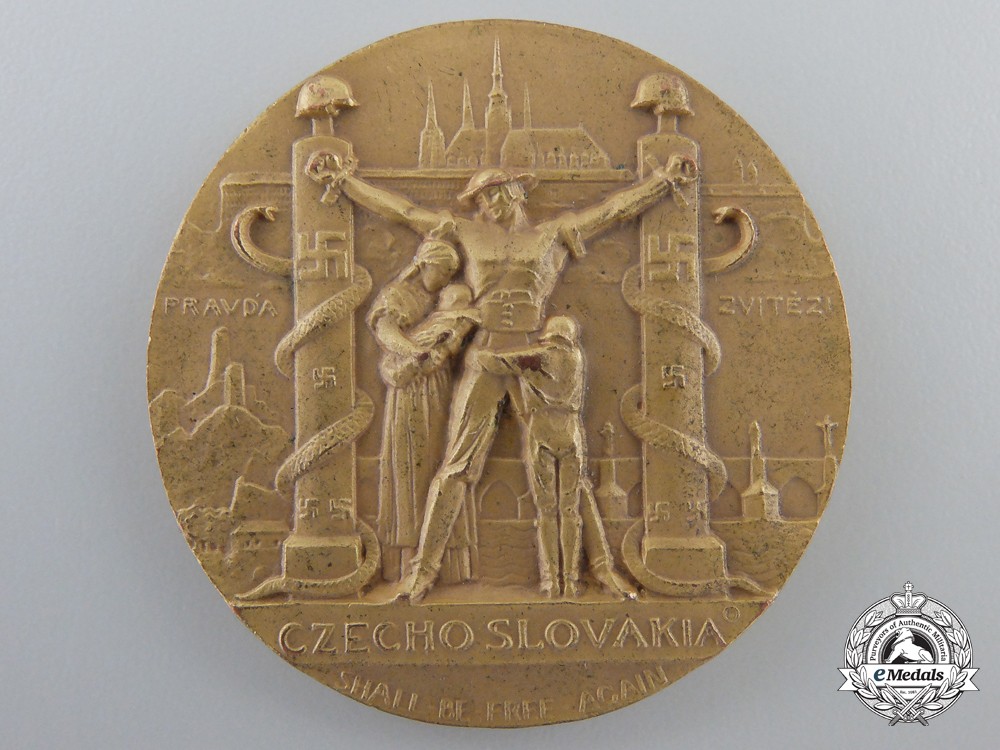 See more here.
---
This is a Czechoslovakian Medal for Service to the Homeland. It is Bronze, measures 32 mm, has its original ribbon, and shows some residue in the recessed areas on the reverse from cleaning. This medal was instituted in 1955 to reward meritorious service to the Czech state.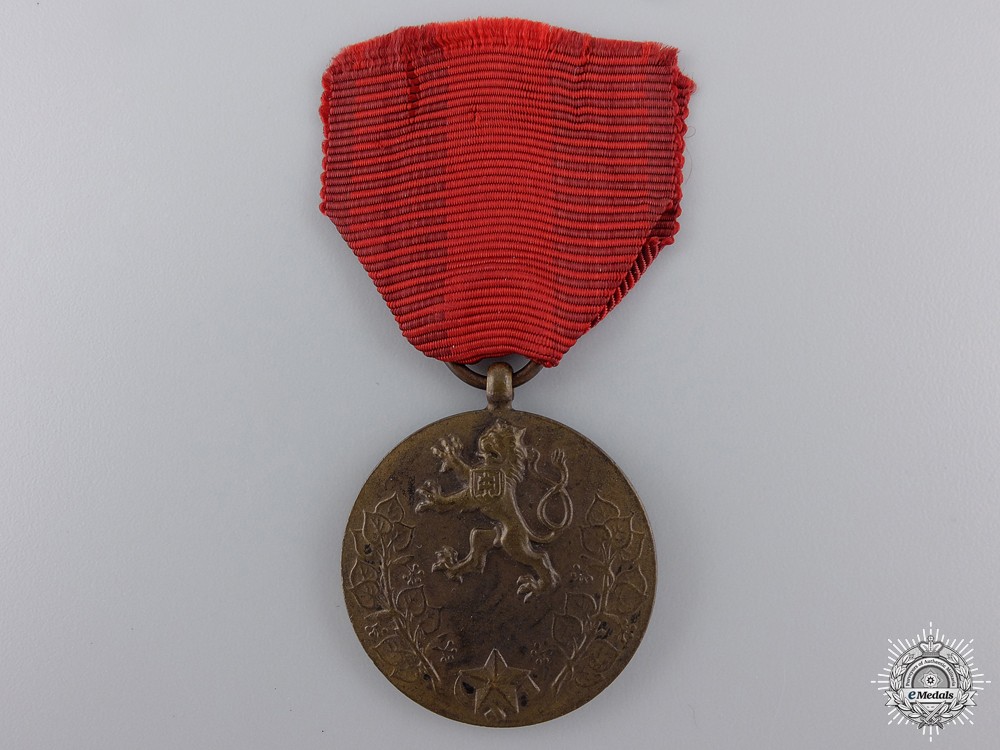 See more here.
---
This is a 1939 Second War Czechoslovakian Bravery Medal.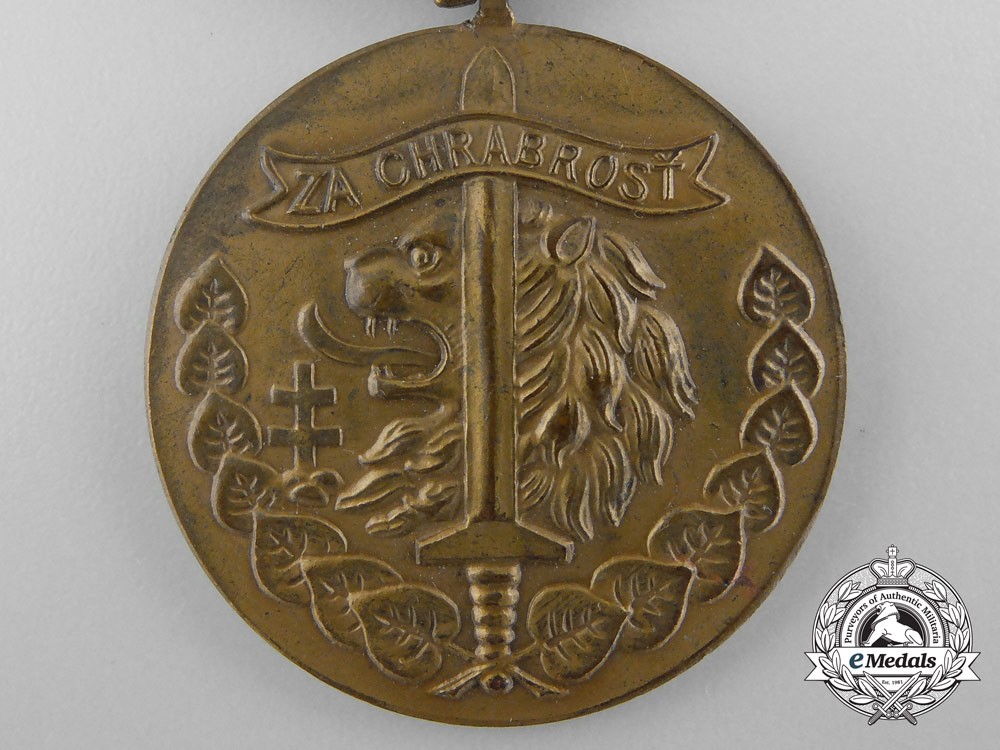 Ii is in bronze gilt, 33 mm x 46.3 mm, inclusive of its linden leaves suspension. The original ribbon with dual prong pin back has some contact marks on the reverse and shows scattered gilt wear, very fine.
See more here.
---
This is a 1937 Czechoslovakian Military Games Award with Case.
Bronze table medal, 55×80 mm, dated 1937, extremely fine condition. In case of issue.
See more here.
---
An 1896 Prague Second Technical Congress Medal.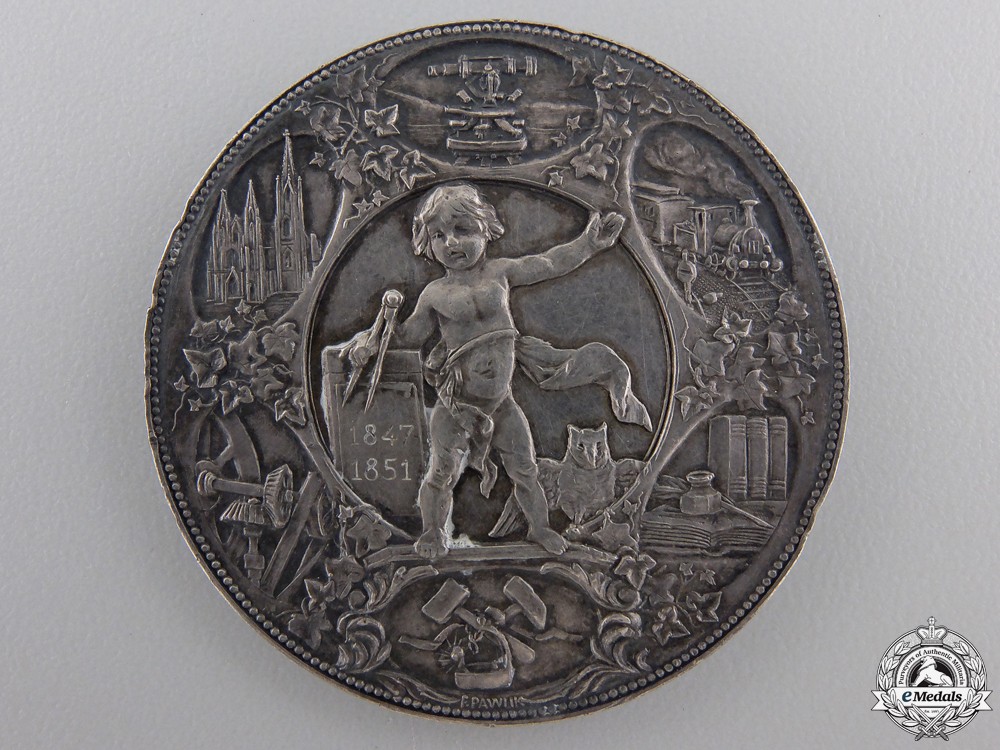 This medal is silver, obverse engraver marked "F. PAWLIK" and date marked "1847-1852". On the reverse it is dated September 11, 1896. Measures 39.8 mm, semi-dark patina, light contact, near extremely fine.
See more here.
---
These are three varied Czechoslovakian medals and decorations. We see the Bronze medal of the Military Order for Freedom (bronze, 33 mm x 51.5 mm inclusive of its wreath suspension, original ribbon); the Military Medal for Merit (bronze, 32 mm x 42 mm inclusive of its crossed sword suspension, original ribbon with dual prong pin back); and Julius Fucik "People Awake" Badge (die-stamped silvered metal, magnetic, unmarked, 35.7 mm x 37.8 mm, horizontal pinback). The condition ranges from near very fine to near extremely fine.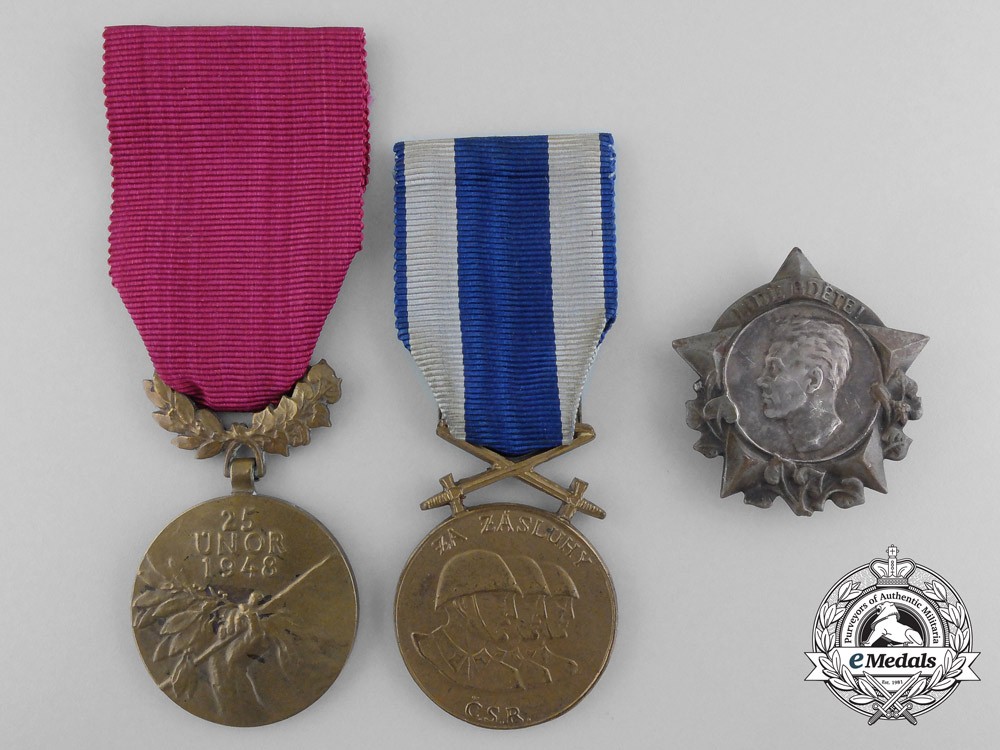 See more here.
---
A Second War Czech Pilot's Badge with Photograph
This is a Second War Czech Pilot's Badge with Photograph – Pilot Badge in solid silver, wings gilded, 62 x 48mm. Maker marked "PROVAZNIK A SPOL PRAHA VII". Sold together with original photo of a pilot (7.5 x 12cm), dated 1938; and cap badge (one prong missing, silvered).
---
Czechoslovakian National Guard Medal 1918-1919.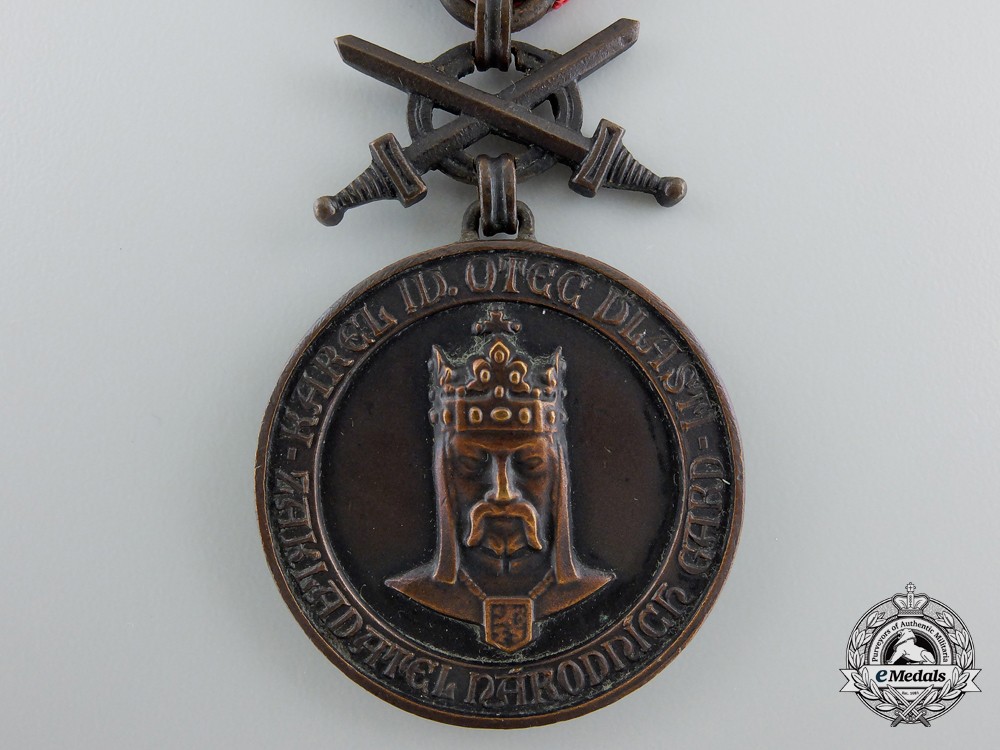 Bronze, engraver marked "O.P." on the reverse, 33.7 mm x 49 mm inclusive of its crossed swords suspension, bronze star on its original lightly soiled ribbon, the ends sewn together on the reverse, extremely fine. Footnote: The medal was created to recognize the service of members of the National Guard, comprised of volunteers who were not on the reserve list, who maintained order and fought to defend the new state created at the end of the First World War.
See more here.
---
This is a set of two Czechoslovakian Svazarm Dedicated Work Award Badges.
The set included a full size and a miniature: Both have a two-piece construction, with an inserted flat backer, silver with red, blue and white enamels, inverted egg-shaped. The Full size badge number engraved "1445" on the reverse, illustrating a red star with the Czech lion insignia, a hammer and sickle below, topping a ribbon banner inscribed "SVAZARM", an aeroplane flying above a motorcyclist plus a parachute backed by crossed rifles below, separated by a ribbon banner inscribed "ZA OBE TAVOU PRACI", the outer ring featuring a series of linden leaves, Fullsize: 39 mm x 54.8 mm.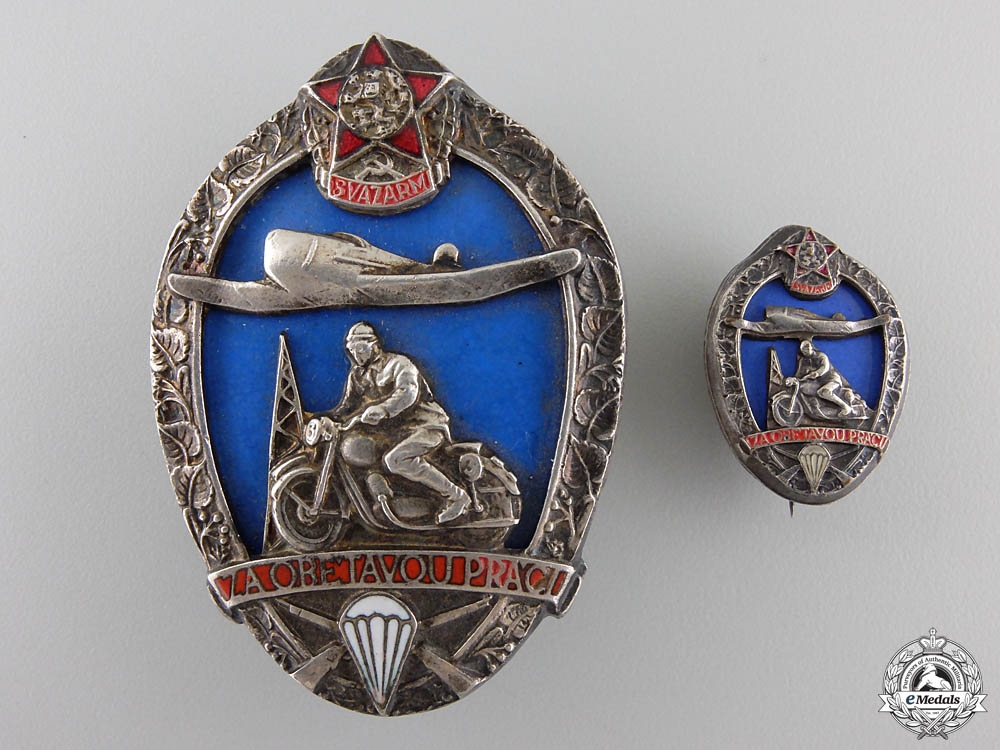 The miniature measures 17.8 mm x 24.5 mm, both with vertical pin backs, one small enamel chip on the lower ribbon banner on the full size badge, better than very fine. Footnote: The Svazarm was formed in 1951 in the former Czechoslovakia, to train the population in military based disciplines. The Svazarm was a copy of the Soviet DOSAAF paramilitary group.
The activities the Svazarm provided were extremely diverse, ranging from medical training to dog training. Dog lovers would be instructed in the training and breeding of dogs suitable for military purposes, especially German Shepherds.
Shortwave radio operation was another popular activity, and was also useful for creating future radio operators in the army. A more specialized branch of the Svazarm, based at Kosice, trained pilots for the air force. Training included at least twenty flight hours of glider training and forty hours of basic training on motorized aeroplanes, as well as the necessary aviation theory. There were also sections for model airplanes and gliding (formally DOSLET), motor sport section (motorcycles and cars) and various shooting sports (including rifle and pistol).
See more here.
---
Finally, I saved these two in a file to go back and post at a later date and when I went back, the information for them no longer existed – but I had saved the images and they are too beautiful not to share. If you know what these are, please share the information in the comments section below.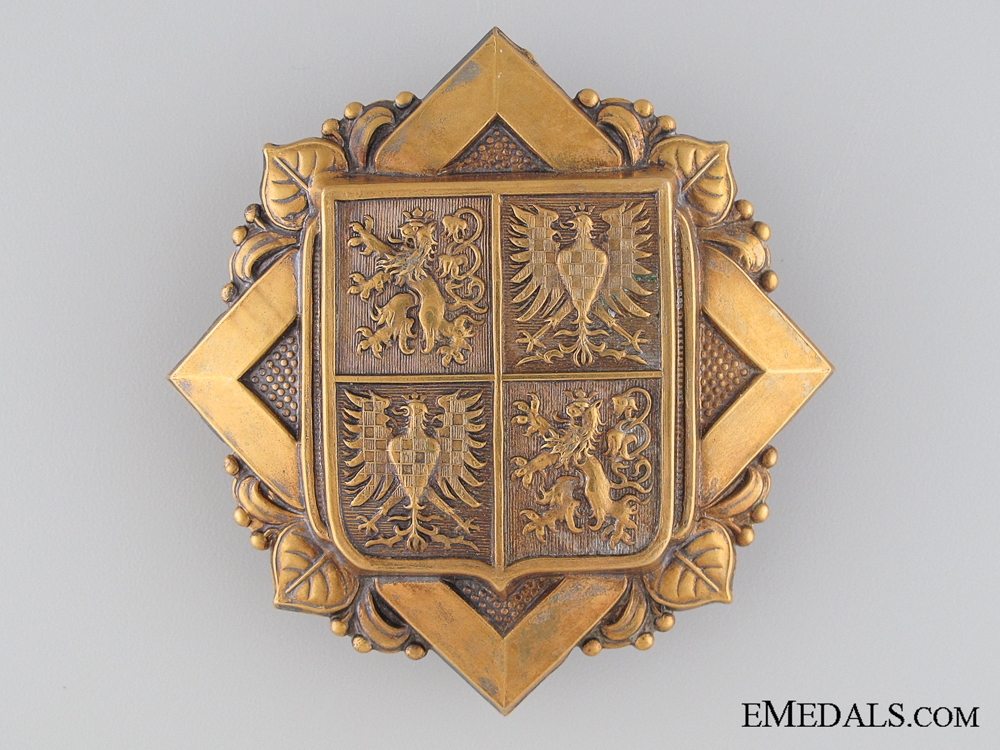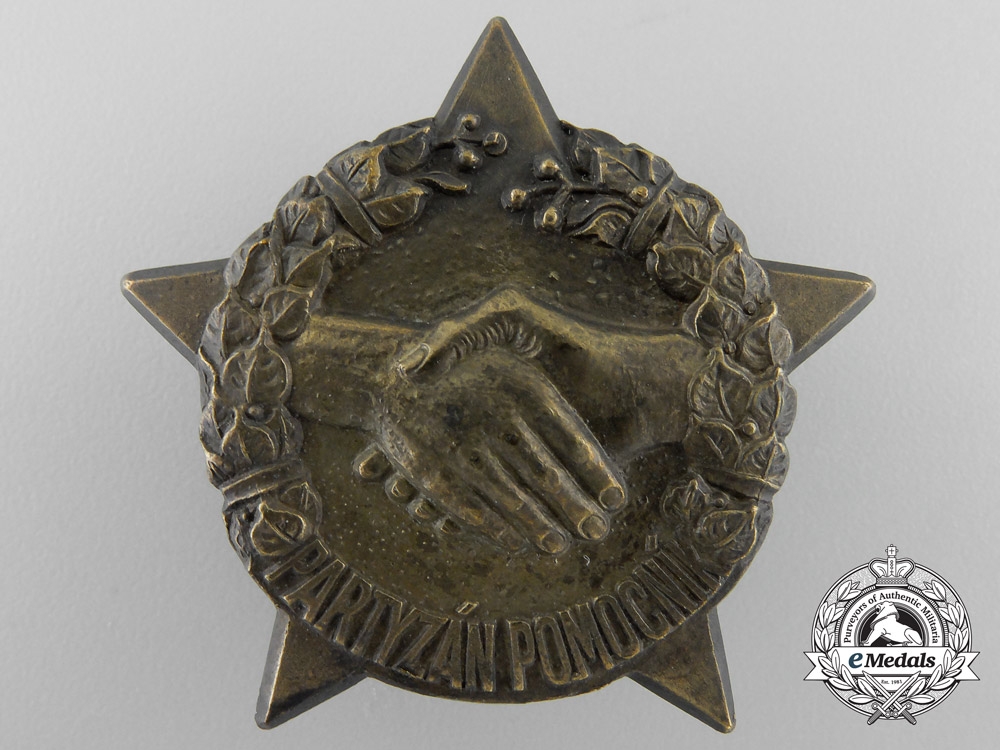 ---
To learn more about the Czech Legionnaires, we recommend that you read this: Accidental Army – True Story of The Czechoslovak Legion
If you have not already subscribed to get TresBohemes.com delivered to your inbox, please use the form below now so you never miss another post.
---
Remember, we rely solely on your donations to keep the project going.
Become a friend and get our lovely Czech postcard pack.