Fašírka, or a Czech Version of Scotch Eggs, is usually prepared during cold winter months. Because it is a minced meat, it's easier on the digestive system and cooks quicker than something like a roast. Another advantage is cost because ground meats mixed with bread and other ingredients used as filler saves a family money. Those are precisely why this dish was so popular in the Strážnicko region, located on the Moravian/Slovak border.
This area has a very rich tradition of maintaining ancient customs, wearing colorful folk costumes known as kroj (kroje), and traditional folk music. Fine wines come from this region,  quite possibly from the rich earth in the foothills of the White Carpathians. With deep forests and flowering meadows protected by UNESCO, this favorite dish has been prepared the same way for decades.
Today we prepare it in two ways, as round balls and as a loaf.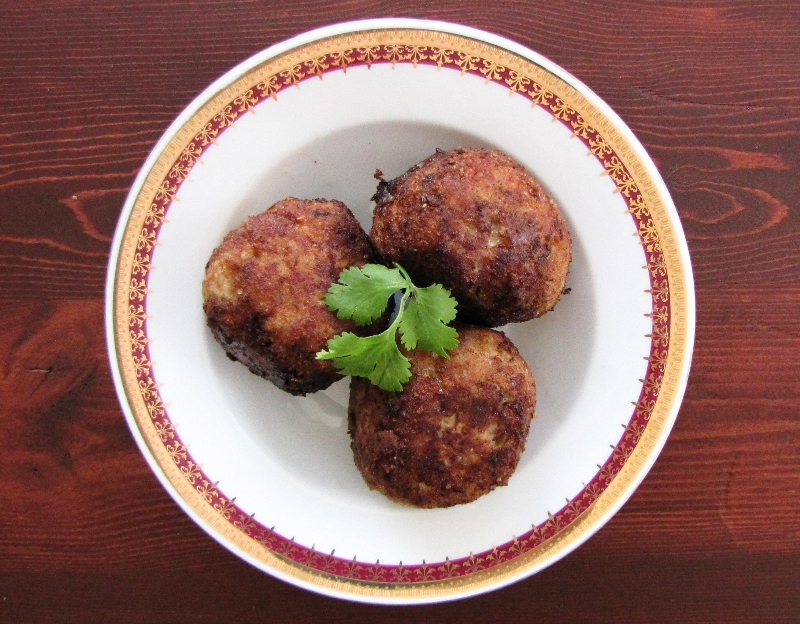 Either way, it's delicious!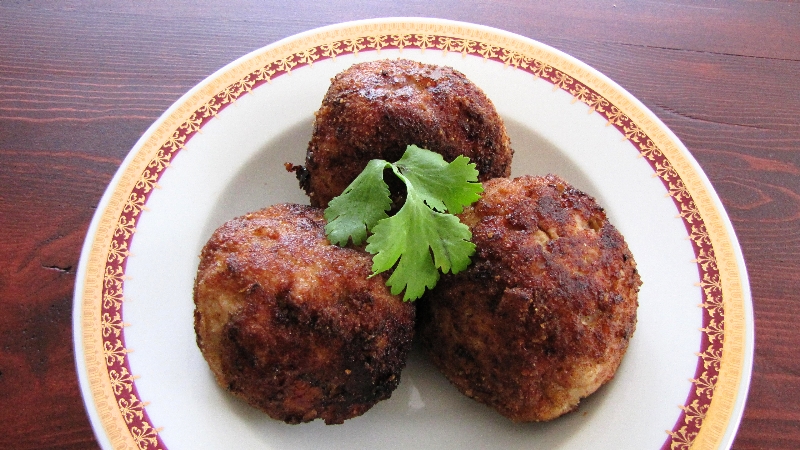 Ingredients
1 package ground pork (or beef, or turkey)
3 slices bacon, cooked and chopped
3 slices rye bread, cubed into tiny cubes
1/3 up milk
1 onion
4 garlic cloves
2 tsp. marjoram
salt and pepper to taste
4 hard boiled eggs, peeled and chilled
4 Tbsp. bread crumbs (or 3 tbsp. flour + 1 Tbsp. semolina for breading)
cooking oil
Directions
Finely chop the onion and cook 7 minutes in a small amount of oil (or lard).
Take the cubed rye bread and place into a bowl and cover with the milk. Use a fork to press it down, ensuring that all of the cubes are wet.
Place the meat into a bowl and add the marjoram, salt & pepper, garlic and chopped bacon. When onion is finished, add this to the mixture. Then squeeze the rye bread to remove any milk and add that to the meat mixture as well. Work through the meat to incorporate all ingredients.
Wet your hands with cold water and separate meat into 4 equal portions. Wrap each portion around a hard boiled egg and then roll in bread crumbs or flour mixture. (Alternately, you can also make a "meatloaf" by placing half od the meat in the bottom of a loaf pan, adding the eggs, and then covering with the remaining meat, pressing to ensure closure between the eggs.)
Now you can either fry or deep fry each piece. If you made the loaf, you can bake it alone (covered with foil) or set in a larger pan of water so it has more of a steamed flavor. The variations are really endless and depend upon your own tastes and preferences. Frying the balls takes about 25 minutes, turning every few minutes to ensure even coverage. When I fry them, I also then place them in the oven for about 15 more minutes to get rid of the excess oil.
When I make the loaf, it's baked on 350 degrees and takes about 50 minutes.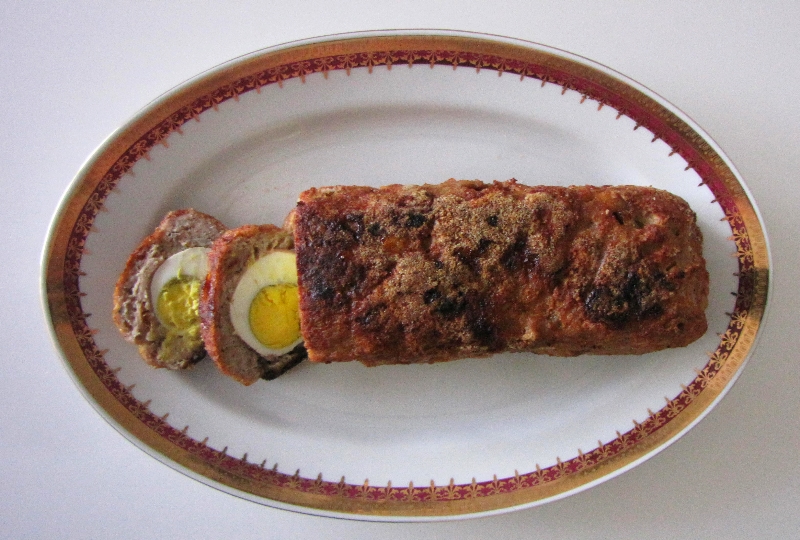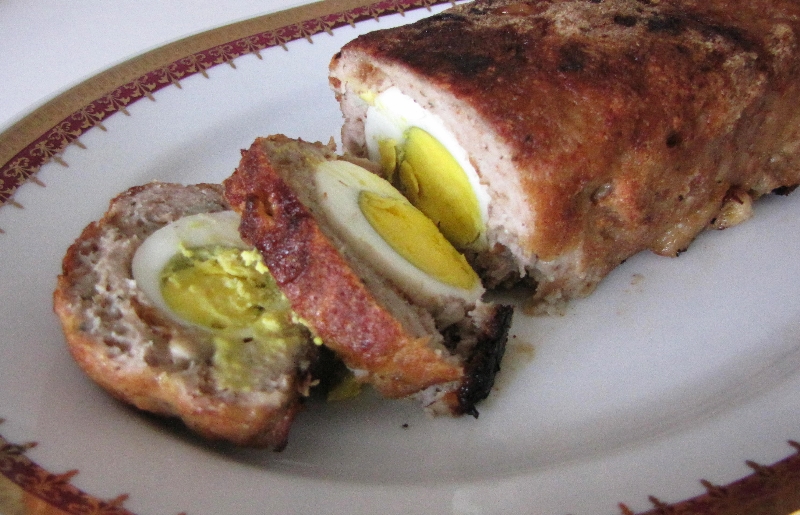 Traditionally, this is served with potatoes as a warm dish, or the next day, served cold with bread like a sandwich meat and with a cooling salad.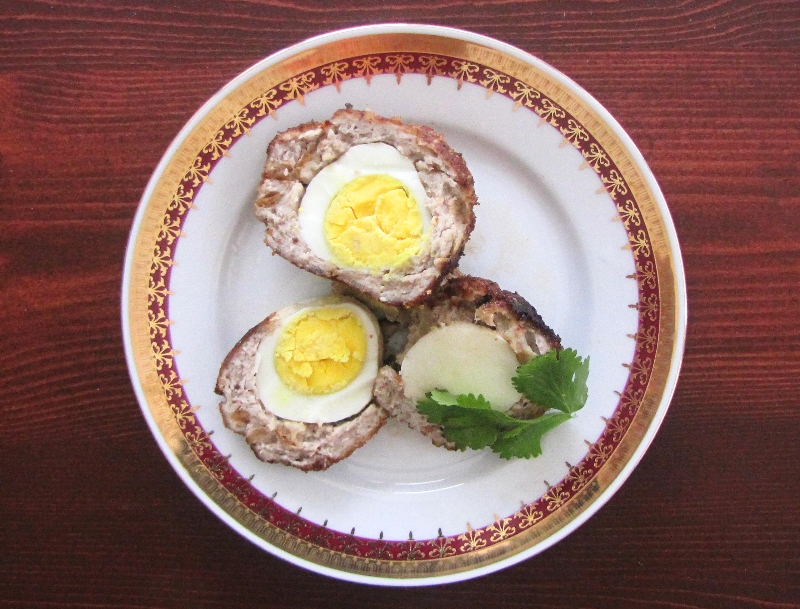 It's so delicious!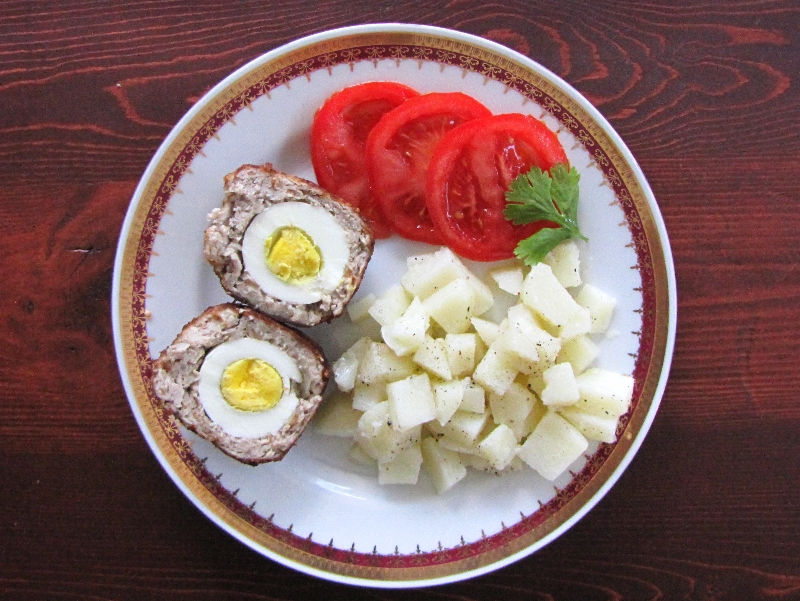 Dobrou Chut!
If you have not already subscribed to get TresBohemes.com delivered to your inbox, please use the form below now so you never miss another post.
---
Remember, we rely solely on your donations to keep the project going.
Become a friend and get our lovely Czech postcard pack.