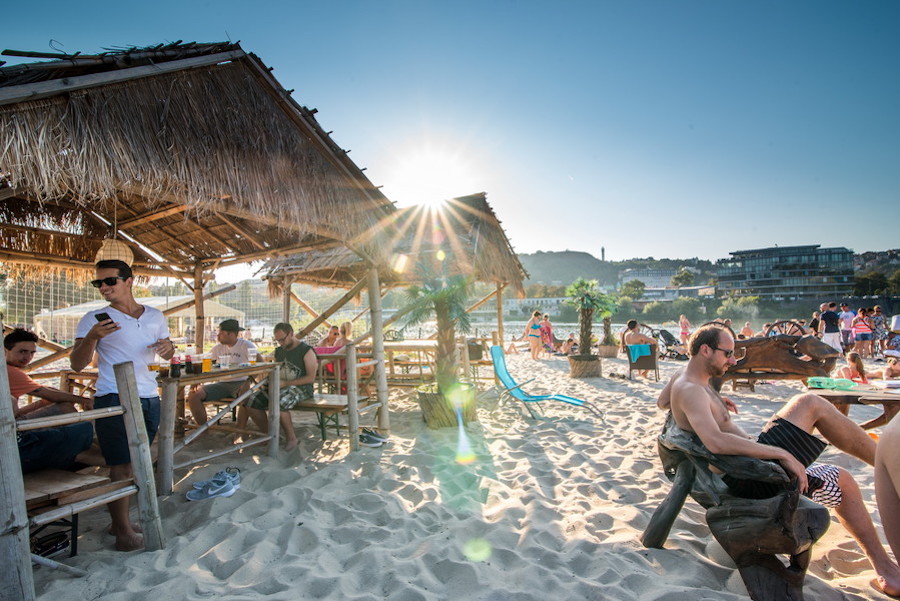 Žluté Lázne is a spa by the Vltava river that is known as a "Beach Resort" and though it's not technically a beach, it is the closest thing to one that Prague has. The main park/beach area is half grass (the part nearer to the river) and half light sand like the kind you would find on the beach. On the sand are lounge chairs and little straw cabanas where you can sit and enjoy a drink. Most Czech people who visit describe it as a mini vacation from the city.
As for what kind of activities they offer, they have fields and courts for playing tennis, football, volleyball, and more! They also host concerts, sports events, and during the summer they have free movie nights, where you can bring a blanket and chairs and watch a movie in the large park. You can rent waterskis and paddle boats, but if you prefer to stay on land, they also rent longboards, bikes, and inline skates. Or you could simply lay on the "beach" or relax at one of the many restaurants and bars along the river.
Žluté Lázne has so many different activities and sections, and it's atmosphere makes for a wonderful gathering space for people of all ages. You will find elders soaking in the sun or watching sports at one of the bars, and students playing sports during summer time. It is a great place for families as well, they have a playground, play room, sandpit, mini swimming pool, and occasionally big blow up houses for kids.
The river is not really meant for swimming but you will see many Czech people jumping in off the docks and enjoying the water. Also, just a note that most Czech people are not scared of showing some skin, and by some… we mean all!
Czechs, as most Europeans, are very casual about being nude because they understand that everyone has a body. Their level of modesty is very different from Americans, so don't be frightened if you happen to see a few nude people laying around tanning not some, but all of their parts. And if you are a tourist – don't stare. It's not odd to be nude, but it is odd to be the one caught looking.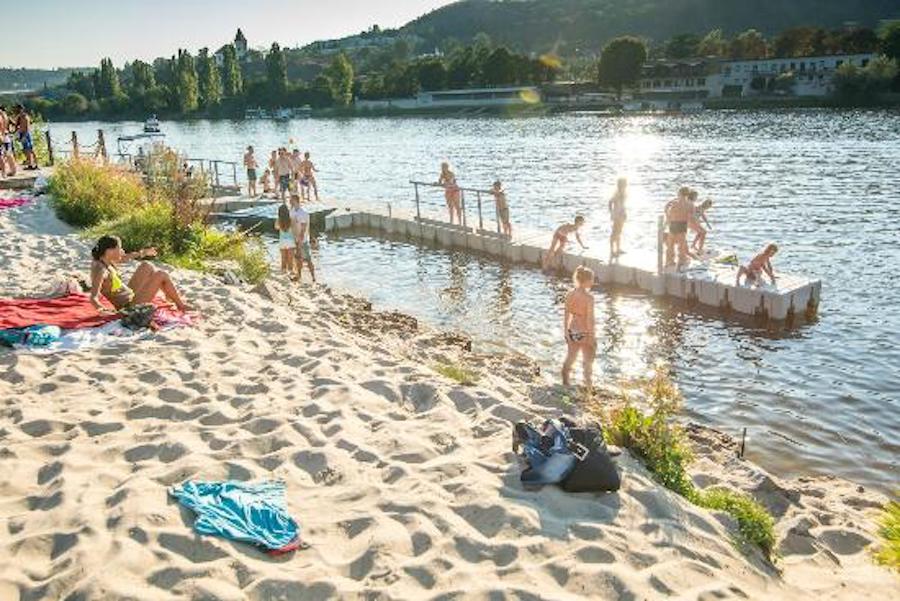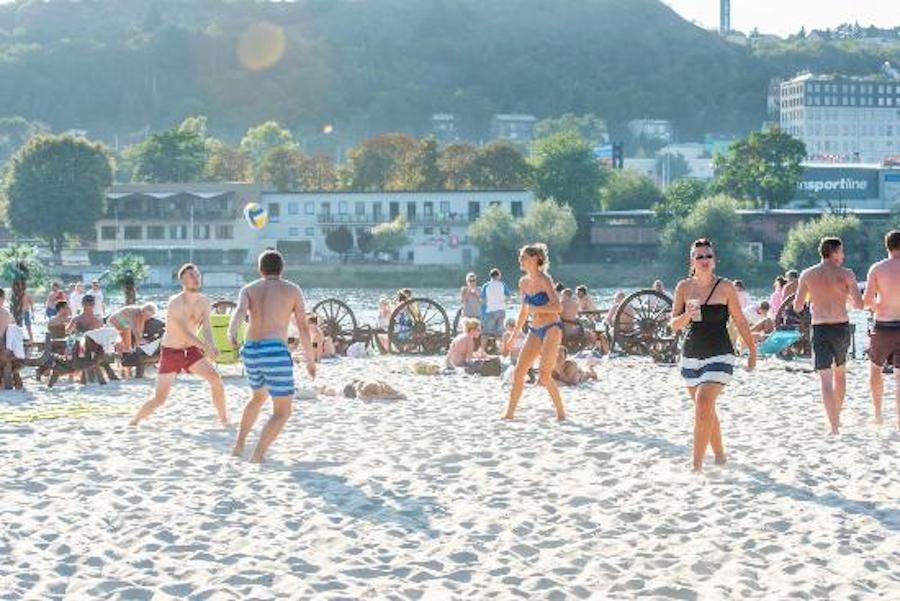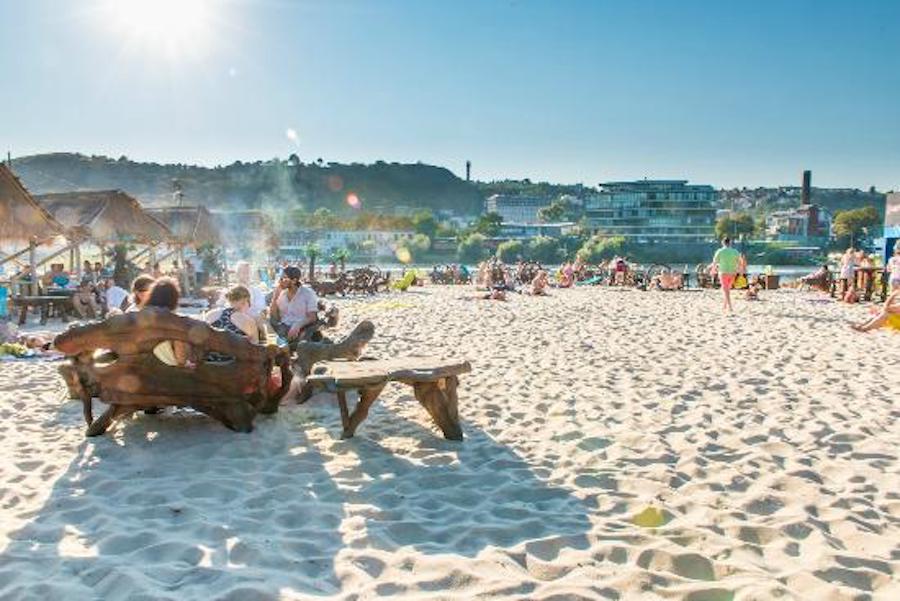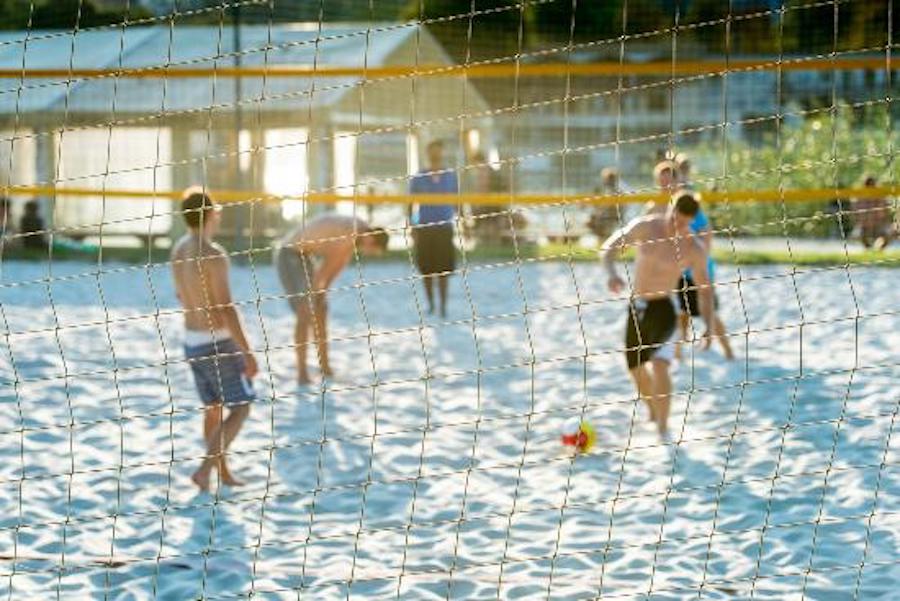 Enjoy!
If you have not already subscribed to get TresBohemes.com delivered to your inbox, please use the form below now so you never miss another post.
---
Remember, we rely solely on your donations to keep the project going.
Become a friend and get our lovely Czech postcard pack.