A Czech granny who is 91 years old is taking to the streets and creating unique works of art on the houses of her friends and the local church.
Street art is, by definition, visual art created in public locations. It is usually unsanctioned artwork executed outside of the context of traditional art venues. The term gained popularity during the graffiti art boom of the early 1980s and continues to be applied to subsequent incarnations. Stencil graffiti, wheatpaste poster art or sticker art, and street installation or sculpture are common forms of modern street art. The terms "urban art", "guerrilla art", "post-graffiti" and "neo-graffiti" are also sometimes used when referring to artwork created in these contexts. [1]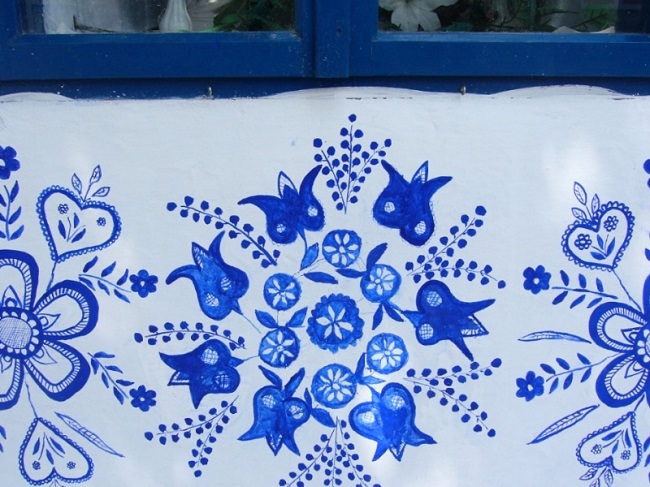 91 Year Old Street Artist
"I try to help decorate the world a bit," says Anežka Kašpárková (Agnes Kasparkova), a 91 year old Czech granny, or babička as she would be called in Czech. Anežka is from Louka, a village and municipality in Hodonín District in the South Moravian Region of the Czech Republic. It's a small village with a small population, yet thanks to Anežka's efforts, one of the most beautiful villages in the Czech Republic.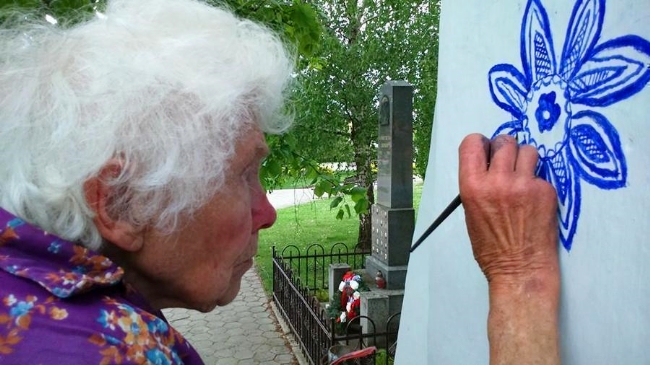 At age 91, the adorable artist still spends most of her free time doing what she likes most – hand-painting her neighbors' houses with traditional Moravian motifs.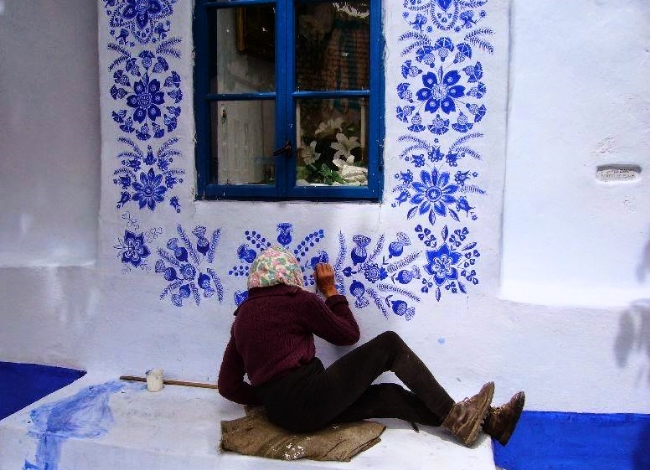 Anežka retired thirty years ago from her work in agriculture, and has been painting houses ever since.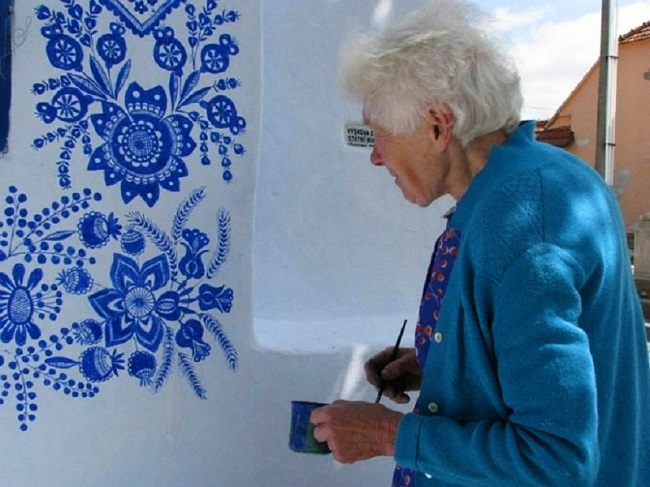 Despite her frail hands, she manages to brighten up every building she works on with intricate ultramarine designs. "I'm just doing what I like," she says, humbly. "I try to help decorate the world a bit."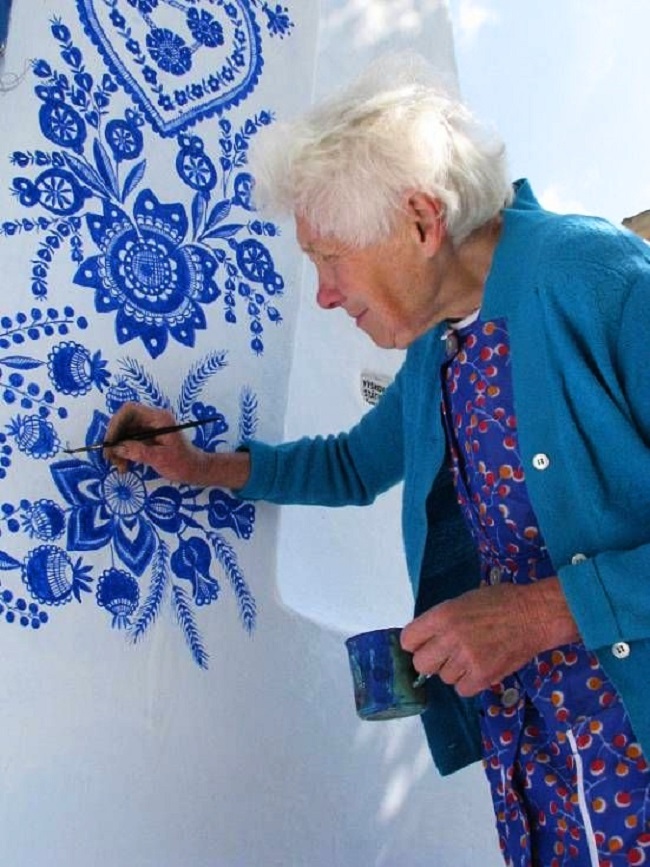 Anežka says she cannot imagine a life without work; be it at home, in her garden, or painting houses.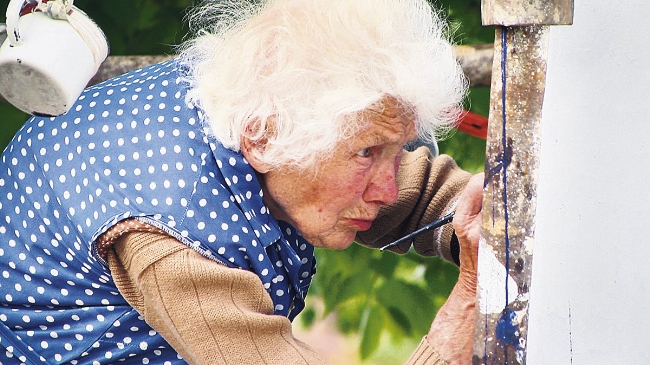 She learned the craft from another woman named Manakova, and when she passed away, Anežka decided to carry on her work.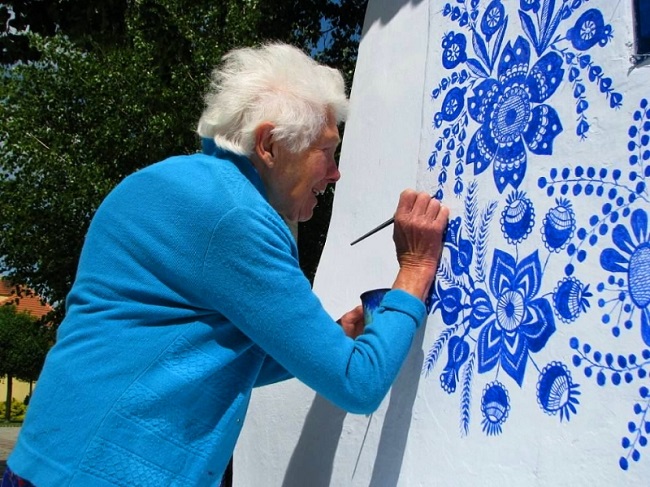 One of the most striking features of Anežka's art is the bright and bold ultramarine blue paint color, which works splendidly in contrast with the white walls of the Moravian houses.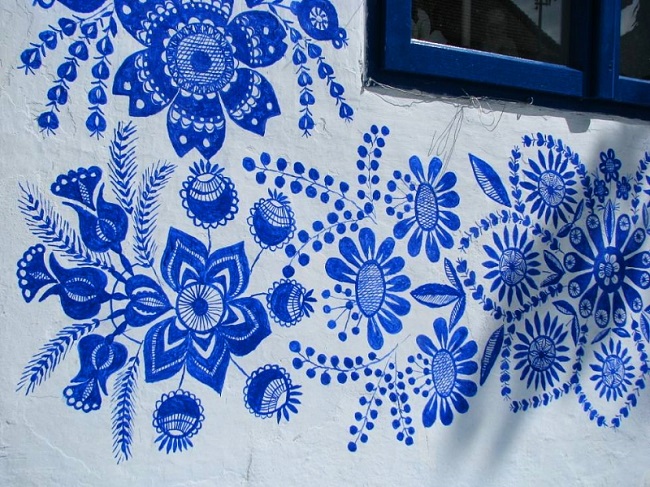 She makes sure to use expensive, good quality paint, which she guarantees will last at least two years.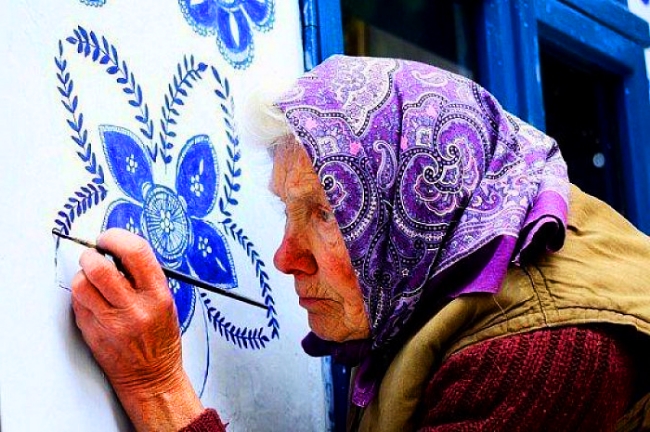 Another feature that stands out is the floral theme present in all her artworks.
She never plans her artworks in advance, instead making them up as she goes along.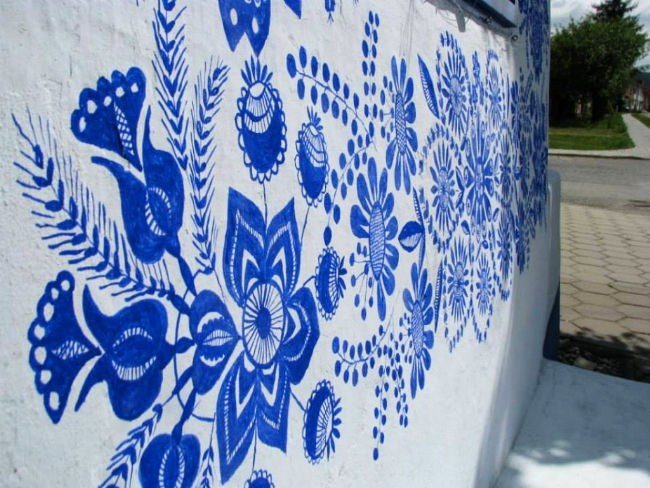 Regardless of her age, Kasparkova continues to wow people with her work, making sure to keep it detailed, refined and comprehensive, but still making it her own.
I am not an artist. I just do what I like.
But at age 91, the world is taking its toll. Anežka finds it difficult to paint sometimes, especially in the winter time. The work can be very tiring since most of it is done outside, yet Kasparkova doesn't give up. She doesn't let that stop her.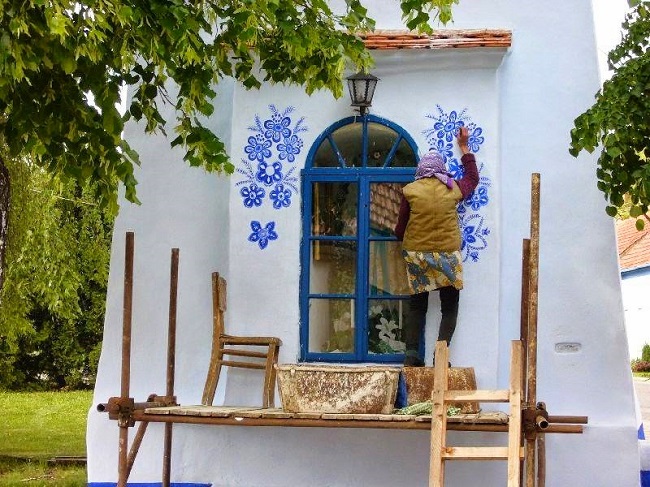 The artist takes her work very seriously and is very patient and dedicated to her craft.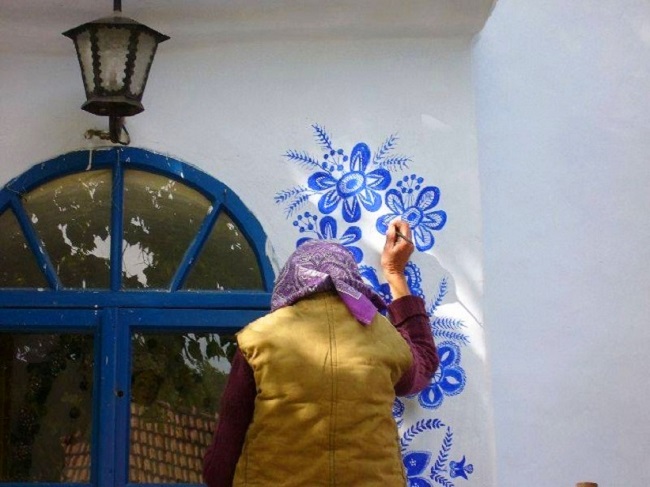 Every May, she spends 10 days decorating the freshly whitewashed walls of the village chapel, even climbing up ladders to reach the top!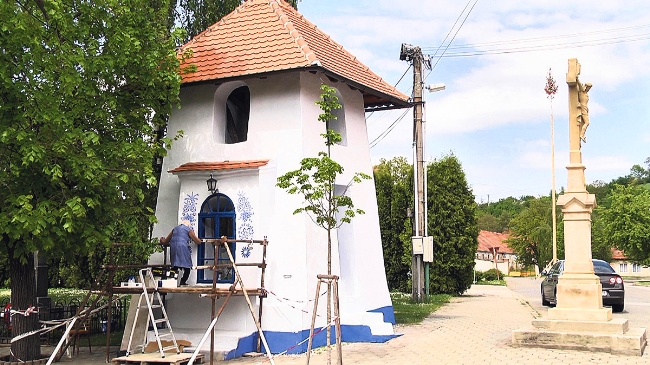 Anežka's favorite building in the village is the chapel, which she updates on a regular basis.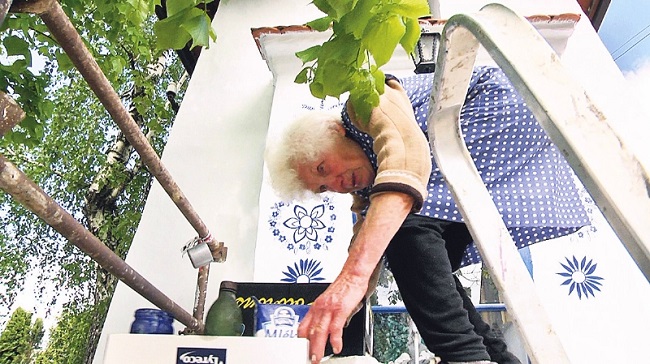 She refuses to let her age get in her way and stays active by painting.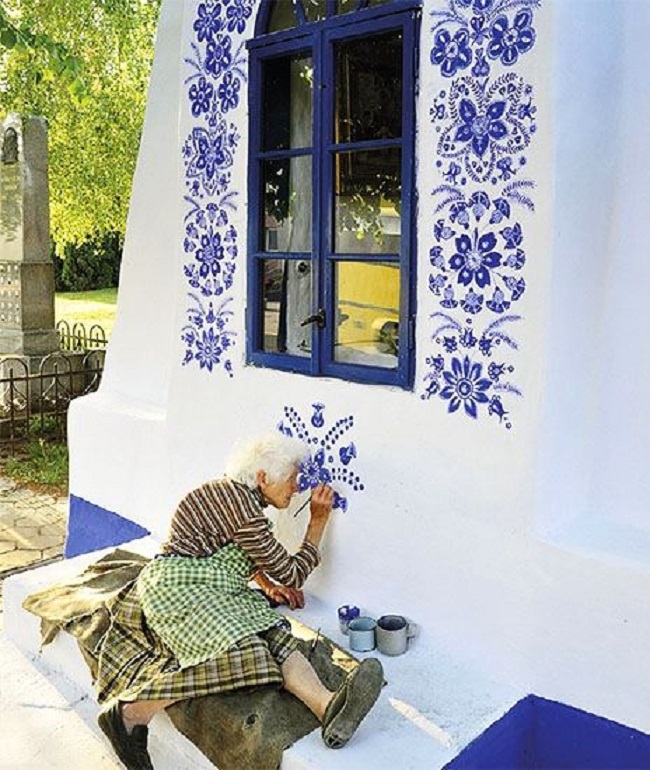 Her lovely style, although slightly simpler, is reminiscent of the beautiful house paintings of Zalipie, in neighboring Poland.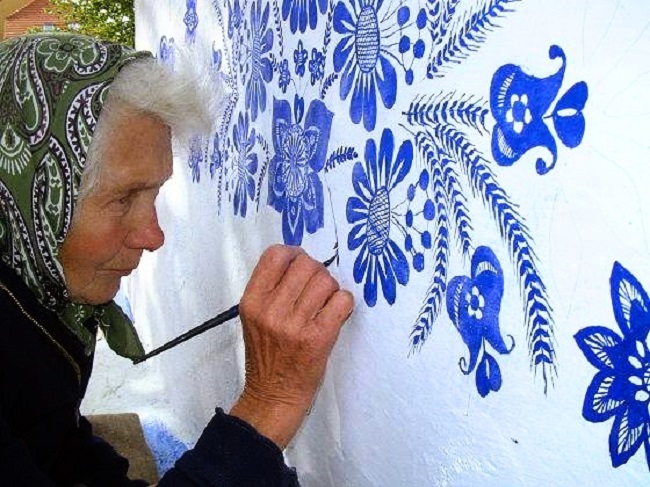 Sources: [1], Folklorweb, Aha, OddityCentral, Konbini, Marilart.
Thank you in advance for your support…
We know that you could spend hours, days, weeks and months finding some of this information yourselves – but at this website, we curate the best of what we find for you and place it easily and conveniently into one place. Please take a moment today to recognize our efforts and make a donation towards the operational costs of this site – your support keeps the site alive and keeps us searching for the best of our heritage to bring to you.


Remember, we rely solely on your donations to keep the project going.
We appreciate you more than you know!
If you have not already subscribed to get TresBohemes.com delivered to your inbox, please use the form below now so you never miss another post.