Charles Rudolf Friml was born on December 7, 1879 in Prague. The son of a baker, he already showed aptitude for music at an early age and entered the Prague Conservatory in 1895, where he studied the piano and composition with Antonín Dvořák.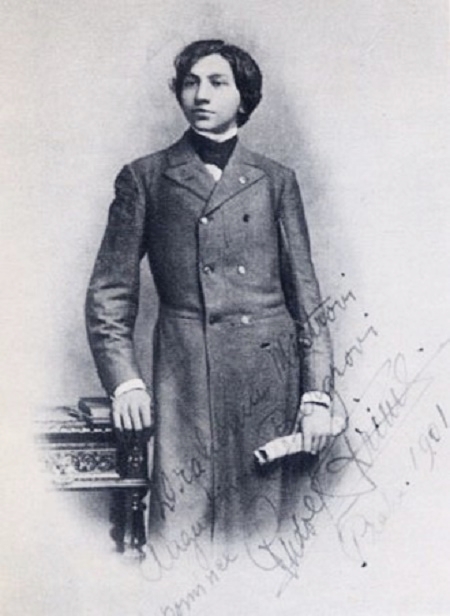 Passionate about music, he was expelled from the conservatory in 1901 for performing without permission.
In his twenties, Friml took a position as accompanist to the violinist Jan Kubelík. He toured with Kubelik twice in the United States (1901–02 and 1904) and moved there permanently in 1906, apparently with the support of the Czech singer Emmy Destinn.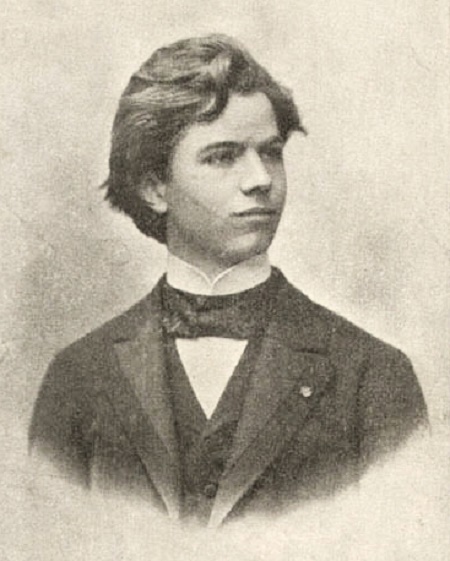 After his tour with Kubelik, he toured America solo. His first post in New York was as a repetiteur at the Metropolitan Opera. He made his American piano debut at Carnegie Hall in 1904, with the New York Symphony Orchestra and conductor Walter Damrosch, to whom he announced he would perform his Piano Concerto in B. This was a complete surprise as nobody knew that such a piece of music even existed, including Friml himself!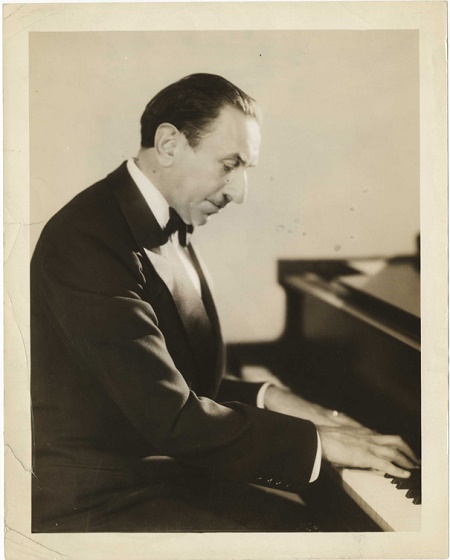 A mere week before the concert, he wrote the arrangements for orchestra and as far as his own piano part – he improvised. This bold move lent itself to his flying start on Broadway.
America on Stage
Soon after his last American tour in 1906, Friml moved to New York City where he began contributing his compositions to various stage productions. His first work was actually as a ballet accompanist at the Metropolitan Opera. He was referred to as "the greatest improvisateur since Mozart", but in his compositions, he focused on operetta.
One of the most popular theatrical forms in the early decades of the 20th century in America was the operetta, and its most famous composer was Irish-born Victor Herbert. It was announced in 1912 that operetta diva Emma Trentini would be starring in a new operetta on Broadway by Herbert with lyricist Otto Harbach entitled The Firefly. Shortly before the writing of the operetta, Trentini appeared in a special performance of Herbert's Naughty Marietta conducted by Herbert himself.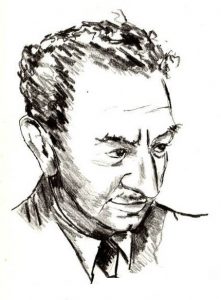 When Trentini refused to sing Italian Street Song for the encore, an enraged Herbert stormed out of the orchestra pit refusing any further work with Trentini.
This is when Friml's big break onto Broadway happened.
Arthur Hammerstein, the operetta's sponsor, frantically began to search for another composer who would replace former uncrowned king of American operetta (Herbert) and publisher Rudolph Schirmer, known for his excellent instincts, recommended Friml. Hammerstein settled on the almost unknown Friml because of his classical training.
After a month of work, Friml produced the score for what would be his first theatrical success.
After tryouts in Syracuse, New York, The Firefly opened at the Lyric Theatre on December 2, 1912 to a warm reception by both the audience and the critics. The production moved to the Casino Theatre after Christmas, where it ran until March 15, 1913, for a total of 120 performances.
Hammerstein took a risk and it was worth it. Giannina Mia and Donkey Serenade were immediate hits.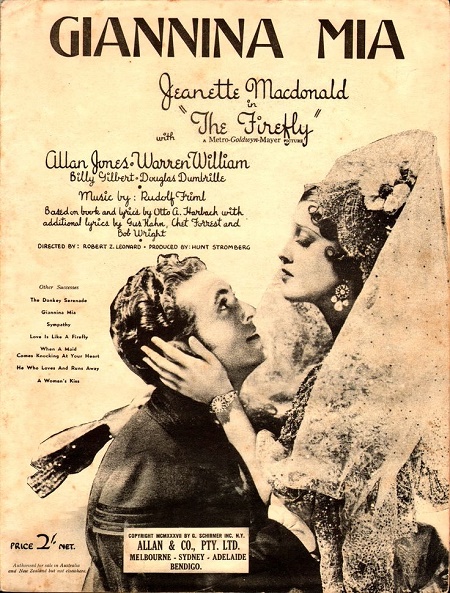 (Gossipy side note: Trentini was named as a co-respondent in Friml's divorce from his first wife in 1915, and evidence was introduced that they were having an affair.)
After The Firefly, Friml produced three more operettas that each had longer runs than The Firefly, although they are not as enduringly successful. These were High Jinks (1913), Katinka (1915) and You're in Love (1917). He also contributed songs to a musical in 1915 entitled The Peasant Girl. Another show, Sometime, written with Rida Johnson Young and starring Ed Wynn and Mae West, ran well on Broadway in 1918–1919.
Friml's true theatrical success, however, came eleven years after The Firefly in the production of Rose-Marie. The show premiered at the Imperial Theatre in New York on September 2, 1924 and ran for 557 performances.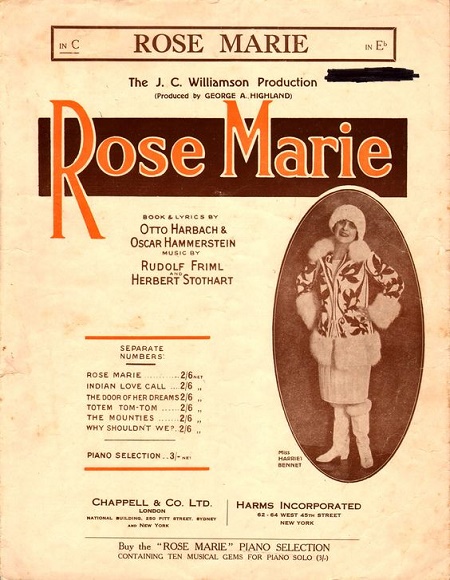 Rose-Marie was so popular it soon toured in Paris, London, Helsinki, Rome, Copenhagen. And few people know that the first film version was filmed in 1928 with Joan Crawford as Rose-Marie. But the best, by far is the film version that paired Jeanette MacDonald and Nelson Eddy in 1936.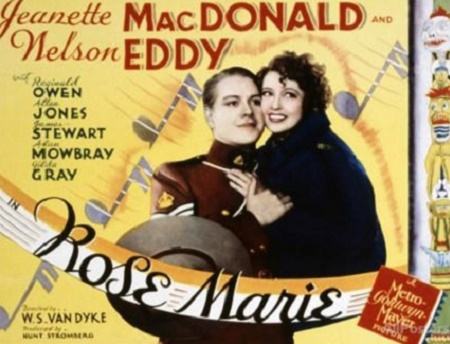 Rose-Marie is among the most famous and most frequently performed operettas. Its extraordinary success made Friml one of the most respected personalities of the theater.
The story is set in the Canadian Rockies and the film proved to show off beautiful countrysides and landscapes, authentic Native Americans were even used for the Indian dances. But the true magic was captured in the exchange of the music, lyrics and passion the two shared through the beautiful songs.
In 1954, a television remake appeared under the title Indian Love Call starring Ann Blyth, Fernando Lamas and Howard Keel.
Time Line of Stage Works
1905 – O Mitake San (Ballet) Dresden Theater.
1912 – The Firefly (Comedy Opera; 3 acts; Book & Lyrics Otto Harbach) Lyric Theatre – 2 December, 1912; Casino Theatre December 30, 1912.
1913 – High Jinks (Musical Jollity (Comedy); 3 Acts; Book by Leo Dietrichstein and Otta Harbach – Based on Les Dragées d'Hercule by Maurice Hannequin and Paul Bilhaud); Lyric Theatre, December 10, 1913; Casino Theatre, January 12, 1914 (213 performances).
1915 – The Peasant Girl (Musical Play; 3 Acts; Based on the original Viennese Polenblut by Leo Stein, adapted by Edgar Smith. Music by Oskar Nedbal. Additional music by Rudolf Friml. Lyrics by Herbert Reynolds and Harold Atterbridge); 44th Street Theatre, March 2, 1915 (111 performances).
1915 – Katinka (Musical Play;3 Acts; Book and Lyrics by Otto Harbach ) 44th Street Theatre, December 23, 1915.
1917 – You're in Love (Musical Play; 2 Acts; Book and Lyrics by Otto Harbach and Edward Clark); Casino Theatre, June 30, 1917 (167 performances).
1917 – Kitty Darlin' (Musical Romance; 3 Acts; Book and Lyrics byy Otto Harbach. Based on the play Sweet Kitty Bellairs by David Belasco and the novel by Edgerton Castle); Casino Theatre, November 7, 1917 (14 performances).
1918 – Sometime (Musical Romance; 2 Acts; Book and Lyrics by Rida Johnson Young); Shubert Theatre 14 October 1918; Casino Theatre, November 11, 1918 (283 performances).
1918 – Glorianna (Play with Music; 3 Acts; Book and Lyrics by Catherine Chisholm Cushing, based on her play A Widow By Proxy.); Liberty Theatre, October 28, 1918 (96 performances).
1919 – Tumble In (Comic Rhapsody in Two Raps and Four Taps (Musical Comedy in 2 Acts, 4 scenes); Book and Lyrics by Otto Harbach. Based on the farce Seven Days by Mary Roberts Rinehart and Acery Hopwood) Selwyn Theatre, March 24, 1919 (128 performances).
1919 – The Little Whopper (Musical Comedy Exquisite in 2 Acts, 5 scenes; Book by Otto A. Harbach based on the film Miss George Washington. Lyrics by Bide Dudley and Otto Harbach) Casino Theatre, New York, October 13, 1919 (204 performances).
1921 – June Love (Musical Play in 2 Acts; Book by Otto Harbach and W.H. Post. Based on the story In Search of a Sinner by Charlotte Thompson. Lyrics by Brian Hooker); Knickerbocker Theatre, April 25, 1921 (48 performances).
1922 – The Blue Kitten (Musical Comedy; 3 Acts; Book and Lyrics by Otto Harbach and William Cary Duncan. Based on the farce Le Chasseur de Chez Maxims by Gustave Quinson and Yves Mirande) Selwyn Theatre, January 13, 1922; Earl Carroll Theatre, May 1, 1922 (140 performances).
1923 – Cinders (Comedy with Music; 2 Acts, 6 Scenes; Book and lyrics by Edward Clark); Dresden Theatre, April 3, 1923 (31 performances).
1924 – Rose Marie (Musical Play; 2 Acts, 10 scenes; Book and Lyrics by Otto Harbach and Oscar Hammerstein II. Additional music by Herbert Stothart); Imperial Theatre, New York, September 2, 1924 (557 performances) and Theatre Royal, Drury Lane, 1925 (581 performances).
1925 – The Vagabond King (Musical Play; 4 Acts, 6 Scenes; Book and Lyrics by Brian Hooker & W.H. Post. Based on Justine McCarthy's play If I Were King adapted from the nivel by R.H. Russell); Casino Theatre, Broadway – , September 21, 1925 (511 performances) and Winter Garden Theatre, London, April 19, 1927 (480 performances).
1926 – No Foolin' (Musical Revue; 2 Acts, 31 Scenes; Comedy sketches by P. McEvoy & James Barton); Globe Theatre, June 24, 1926 (108
1926 – The Wild Rose (Musical Play; 2 Acts, 10 Scenes; Book and Lyrics by Otto Harbach and Oscar Hammerstein II); Martin Beck Theatre, October 20, 1926 (61 performances).
1927 – The White Eagle (Musical Play; 3 Acts and Prologue; Book and Lyrics by Brian Hooker and W.H. Post. Based on the play The Squaw Man by Edwin Milton Royle); Casino Theatre, December 26, 1927 (48 performances).
1928 – The Three Musketeers (Musical Play; 2 Acts, 12 Scenes; Book by William Anthony McGuire. Based on Les Trois Mousquetaires by Alexandre Dumas); Lyric Theatre, March 13, 1928 (318 performances).
1930 – Luana (Musical Romance of the South Seas; Book by H.E. Rogers adapted from The Birds of Paradise by Richard Tully. Lyrics by J. Keirn Brennan); Hammerstein Theatre, September 17, 1930 (21 performances).
1934 – Music Hath Charms or Annina (Play with Music; 2 Acts. 13 Scenes; Book and Lyrics by Rowland Leigh, George Rosener, John Shubert); Majestic Theatre, December 29, 1934 (25 performances).
Through to the early 1930's, Friml worked on several other stage scores and operettas including You're in Love, June Love, Katinka, High Jinks, The Peasant Girl, Annina, Sometime, Glorianna, Tumble In, The Little Whopper, The Blue Kitten, No Foolin', The Wild Rose, The Three Musketeers, and The Vagabond King.
Friml composed and published songs both in Prague and later in America. His works include the prize-winning set of songs, Pisne Zavisovy. The last of these, Za tichych noci, later became the basis for a famous film in Nazi-occupied Czechoslovakia in 1941.
Among his piano compositions are Bohemian Dance, California Suite, Fine Mood Pictures, Shining Water, and Pastoral Scenes.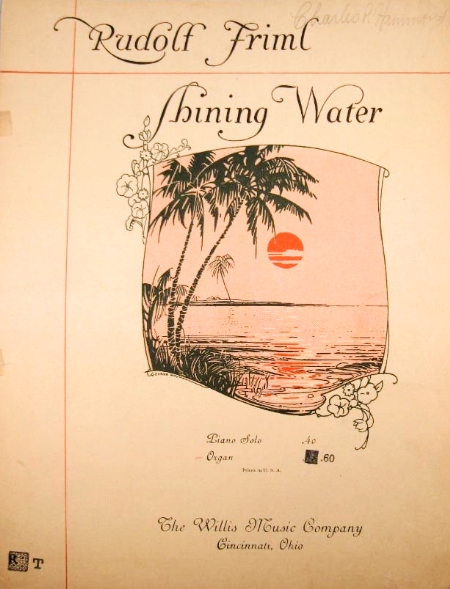 Timeless Collaborations
While Friml worked alone on more than half of his compositions he also collaborated with many of the greatest lyricists of his time including Otto Harbach, P.G. Wodehouse, Rida Johnson Young, Oscar Hammerstein II, Brian Hooker, Cliff Grey and Harold Atteridge.
The Friml catalog includes such hits as 'Tis the End, Allah's Holiday, Cutie, Donkey Serenade, Giannina Mia, Give Me One Hour, Huguette Waltz, I Have the Love, In Love With Love, Kitty Darlin', Indian Love Call, Katinka, L'Amour, l'Amour, Love Is Like a Firefly, Love Me Tonight, Love's Own Kiss, Ma Belle, Your Eyes, March of the Musketeers , Nocturne, Not Now but Later, On the Blue Lagoon, One Golden Hour, Only a Rose, Pretty Things, Rackety Coo, Rose-Marie, So Farewell, Some Day, Something Seems a Tingle-ing-eling, Sometime, Somewhere in My Heart, Song of the Vagabonds, Sympathy, The Door of Her Dreams, I Love You Dear,  The Mounties, Tomorrow, Totem Tom-Tom, Toujours, When a Maid Comes Knocking at Your Door, Wild Rose, and You're in Love.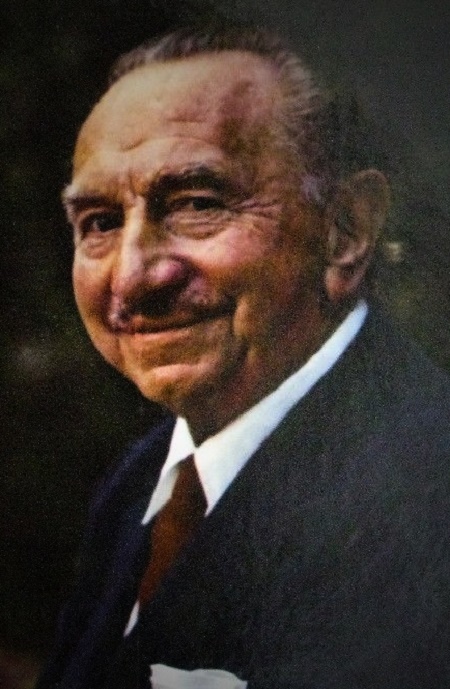 Hollywood in the Movies
In 1934, Friml moved to Hollywood to work on film musicals.
His filmography includes The Vagabond King, The Lottery Bride, Bachelor Bait, The Lost World, The Return of Chandu, One Frightened Night, Sunset of Power, Chandu on the Magic Island, Rose-Marie, The Firefly, Music Hath Charms, Katakomby, Za Tichych Noci, Crazy House, Up In Arms, Jealousy, Northwest Outpost and Teenage Thunder.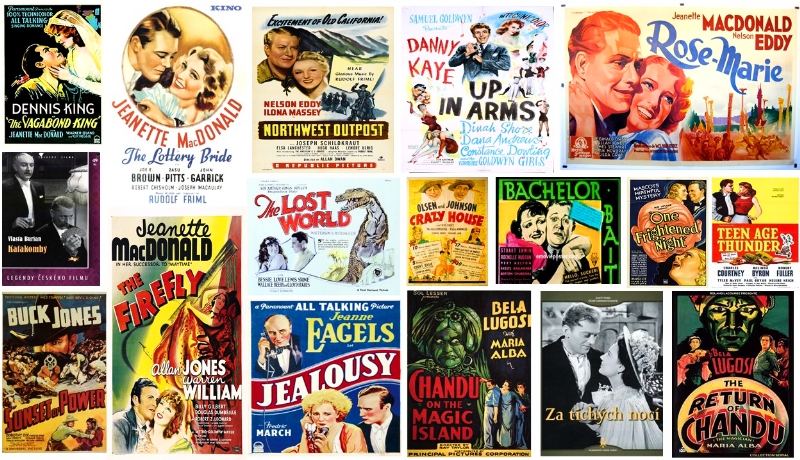 Throughout his entire life, as well as performing as a pianist, he composed operettas, musicals, songs and piano pieces.
Rudolf was married four times. He first married Mathilde Baruch in 1909 and they had two children, Charles Rudolf Junior in 1910 and Marie Lucille in 1911. His second marriage was to Blanch Betters, an actress who had appeared in the chorus of Friml's musical Katinka; his third was to actress Elsie Lawson (who played the maid in Friml's Glorianna, and by whom he had a son William); and his fourth and final marriage was to Kay Wong Ling. The first three marriages ended in divorce. His two sons were also in the world of music. Rudolf Jr. was a big band leader in the 1930s and 1940s, and William was a composer and arranger in Hollywood.
Unfortunately, towards the end of his life, Rudolf Friml wanted to pass along the royalties of the legacy of his music to his heirs and was frustrated with American copyright laws. (Rudolf Friml became a naturalized United States citizen in 1924.) He wrote this letter on May 20, 1968 to The Post editor William Emerson, appealing for editorial support in his efforts to change copyright laws in the United States.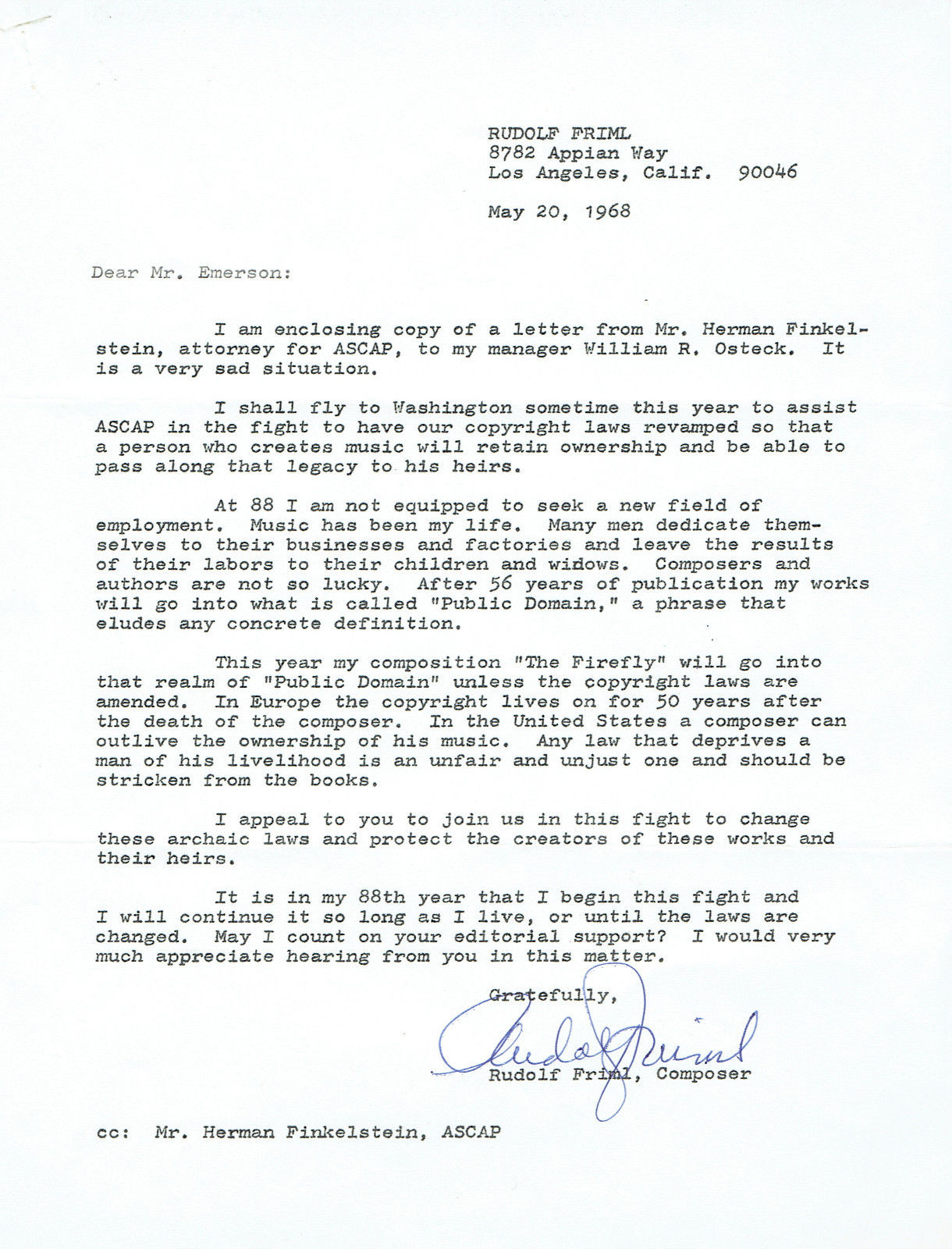 Herman Finkelstein, general counsel for the American Society of Composers, Authors and Publishers offered the Society's financial support for Rudolf Friml to take a trip to lobby Congress. Sadly, The Post responded that they regret that the subject isn't of enough interest to their readers and the letter was never published.
Leaving behind a legacy of music, he was one of the original inductees into the Songwriter's Hall of Fame and a charter member of the American Society of Composers, Authors and Publishers since 1914.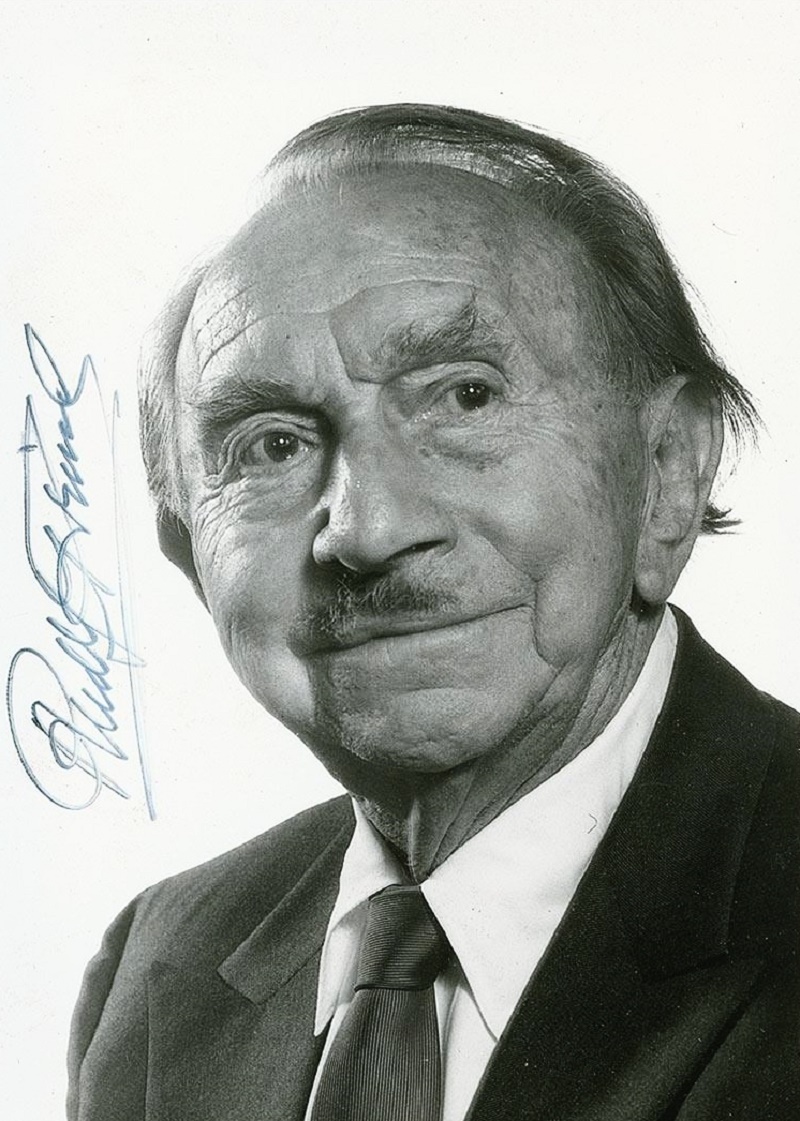 Friml focused on playing the piano in concert and composing art music until his death.
Rudolf Friml passed away at 91 years of age on November 12, 1972 in Hollywood, California. He was interred in the "Court of Honor" at Forest Lawn Memorial Park in Glendale, California.
A little known fact is that Friml also used a pseudonym, Roderick Freeman. He played for several US presidents, including Theodore Roosevelt and Lyndon Johnson and he held three very special concerts in the White House.
He is remembered for his music which is a large part of American history and is still being used in films today, films such as Chinatown, Seabiscuit, Man on the Moon, Addams Family Values and many others. You can see them all here.
If you are a vinyl or sheet music collector, there is an incredible amount of his work available here.
Another incredible Czech whose contributions to the world will be long remembered.
*Special thanks to Johnny and Gina Musil.
Thank you for your support – We appreciate you more than you know!
We know that you could spend hours, days, weeks and months finding some of this information yourselves – but at this website, we curate the best of what we find for you and place it easily and conveniently into one place. Please take a moment today to recognize our efforts and make a donation towards the operational costs of this site – your support keeps the site alive and keeps us searching for the best of our heritage to bring to you.


Remember, we rely solely on your donations to keep the project going.
Thank you in advance!
If you have not already subscribed to get TresBohemes.com delivered to your inbox, please use the form below now so you never miss another post.