Today we are taking a look at the elegant dress designs of Hana Podolská. We chose today because it has been exatcly 45 years ago today, that famous Czech fashion designer, Hana Podolská, died. The First Republic is in Czech historical context understood as the Golden Age. A time of flowering of the new state and with it, of course, many domestic companies and also society itself. It's easy to imagine an elegant parade of well-dressed ladies and gentlemen at this time parading down the streets of Prague. High-quality fashion salons were in great numbers and Prague was set to become one of Europe's fashion centers, just like Paris.
Did you know that the elegant dress designs of Hana Podolská earned her the nickname, the Czech Coco Chanel?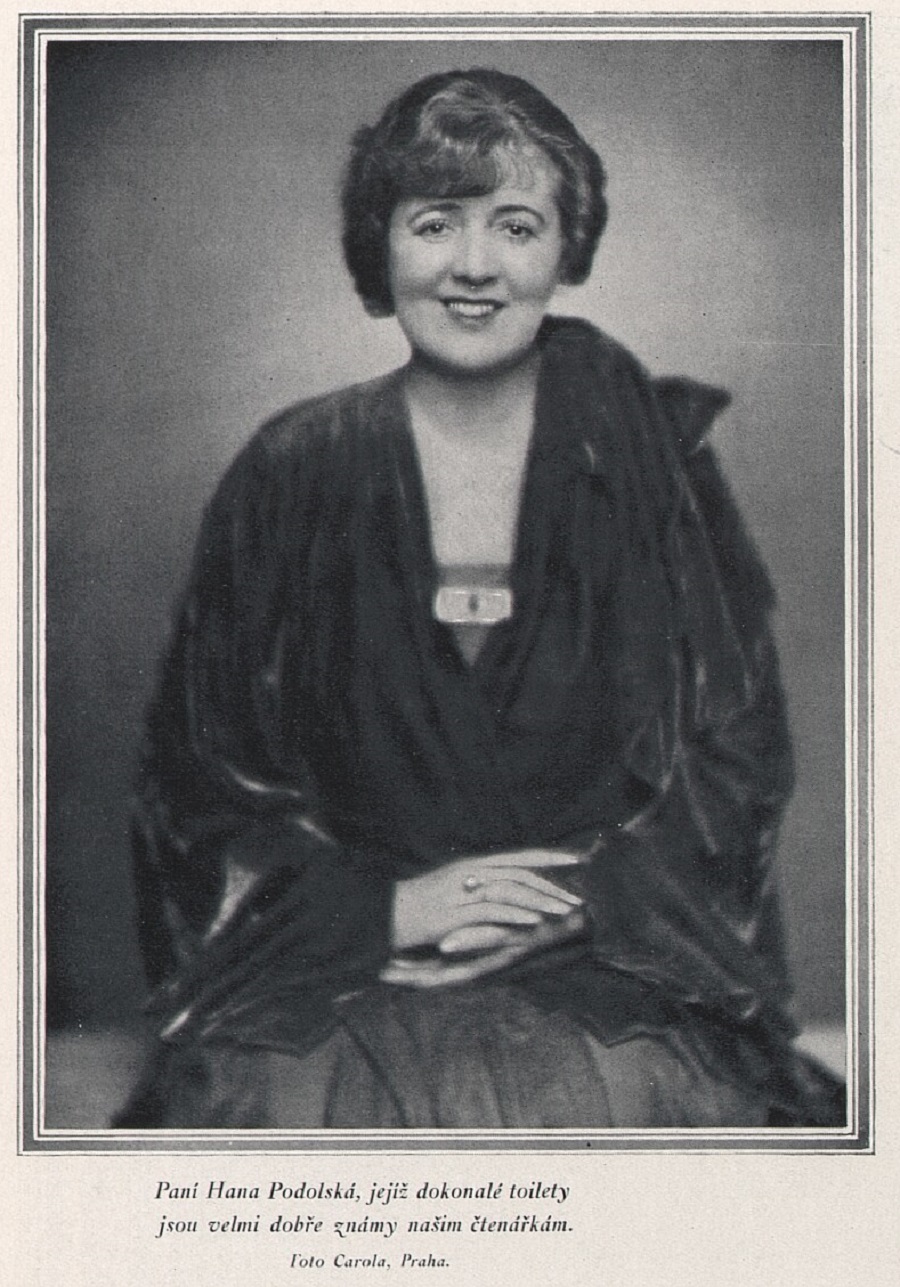 Her life was at times a fairy tale, and at other times like the nightmare from a bad movie. Thankfully, her genius is recognized now, though sadly, she never lived to hear it. Many well-known Prague salons at that time were created by Hana Podolská, catering to the Crème de la Crème of Prague society.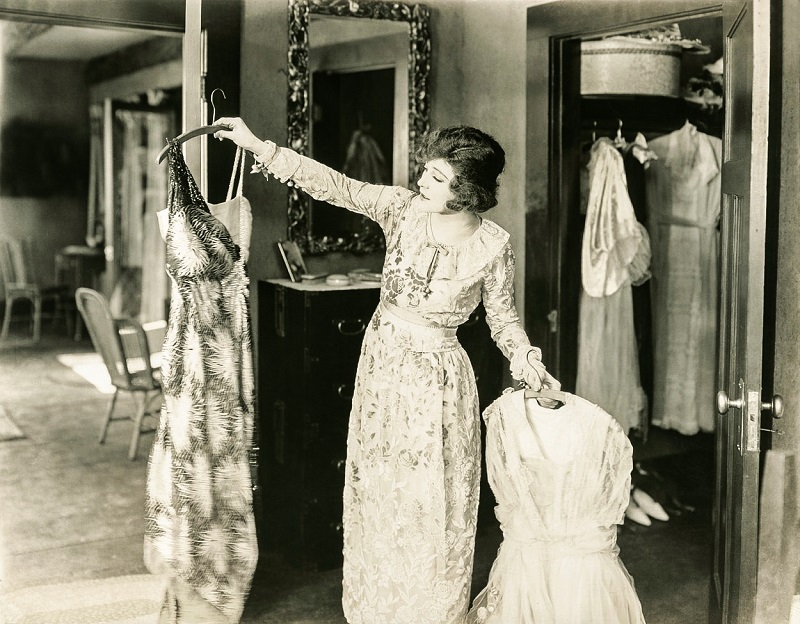 Johanna Vošahlíková was born May 16, 1880. Her father was architect František Vošáhlík, who owned a successful construction company. Everything changed for young Johanna when her father died of tuberculosis at the age 44. His wife remained alone with the children and the household. No man to support the family meant a rapid decline in the social ladder and the financial difficulties were not long in coming.
Young Johanna had to stand on her own feet, and so she apprenticed with Anežka Fišerová, who had a tailor shop in Celetná Street in Prague.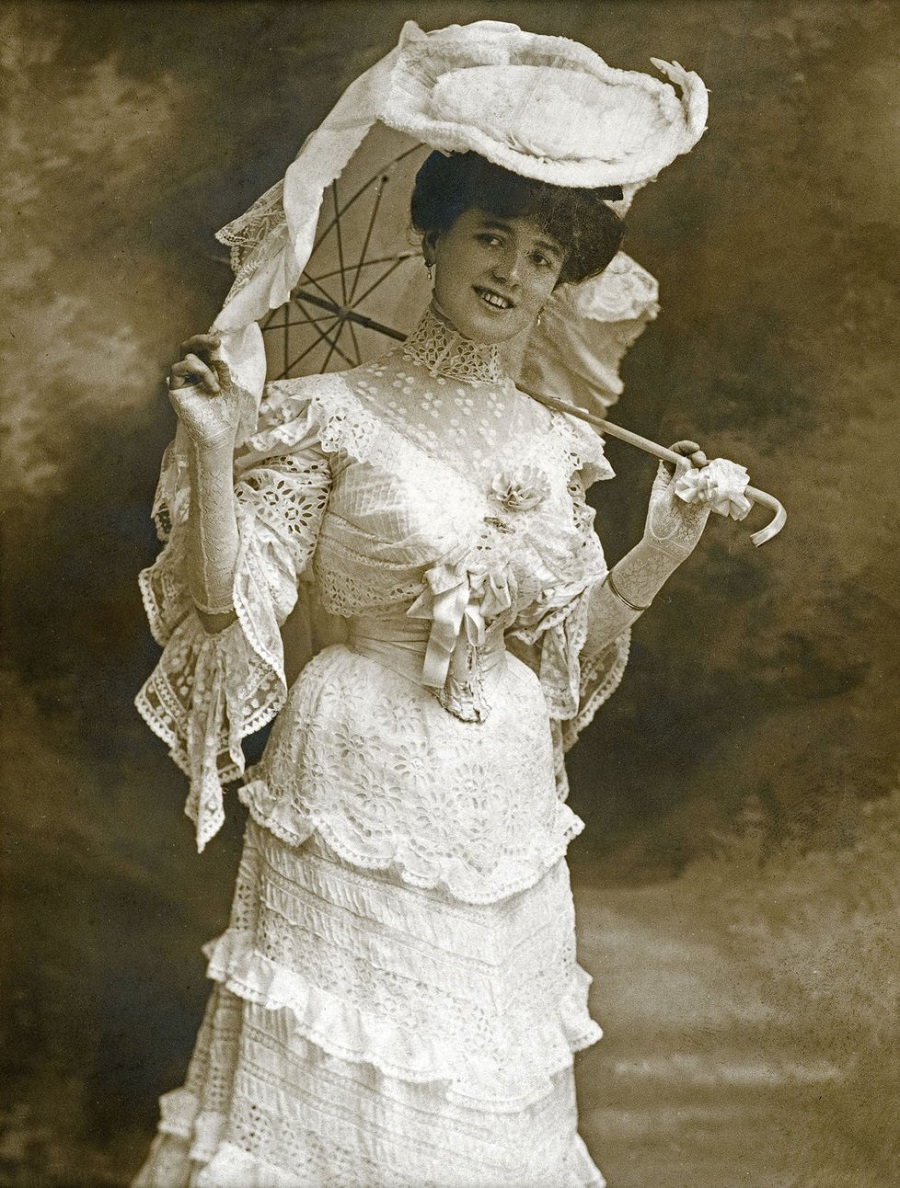 At the turn of the century, she started out as a seamstress and quickly grew very skillful at Anežka Fišerová in Celetná Street. In the course of time, she created her own designs and opened her own small salon, first in Nusle, then Praha 2 on Jungmannova čís. 38. Nový palác Riunione Adriatica, and then in Lucerna Palace in Prague's Vodičkova Street.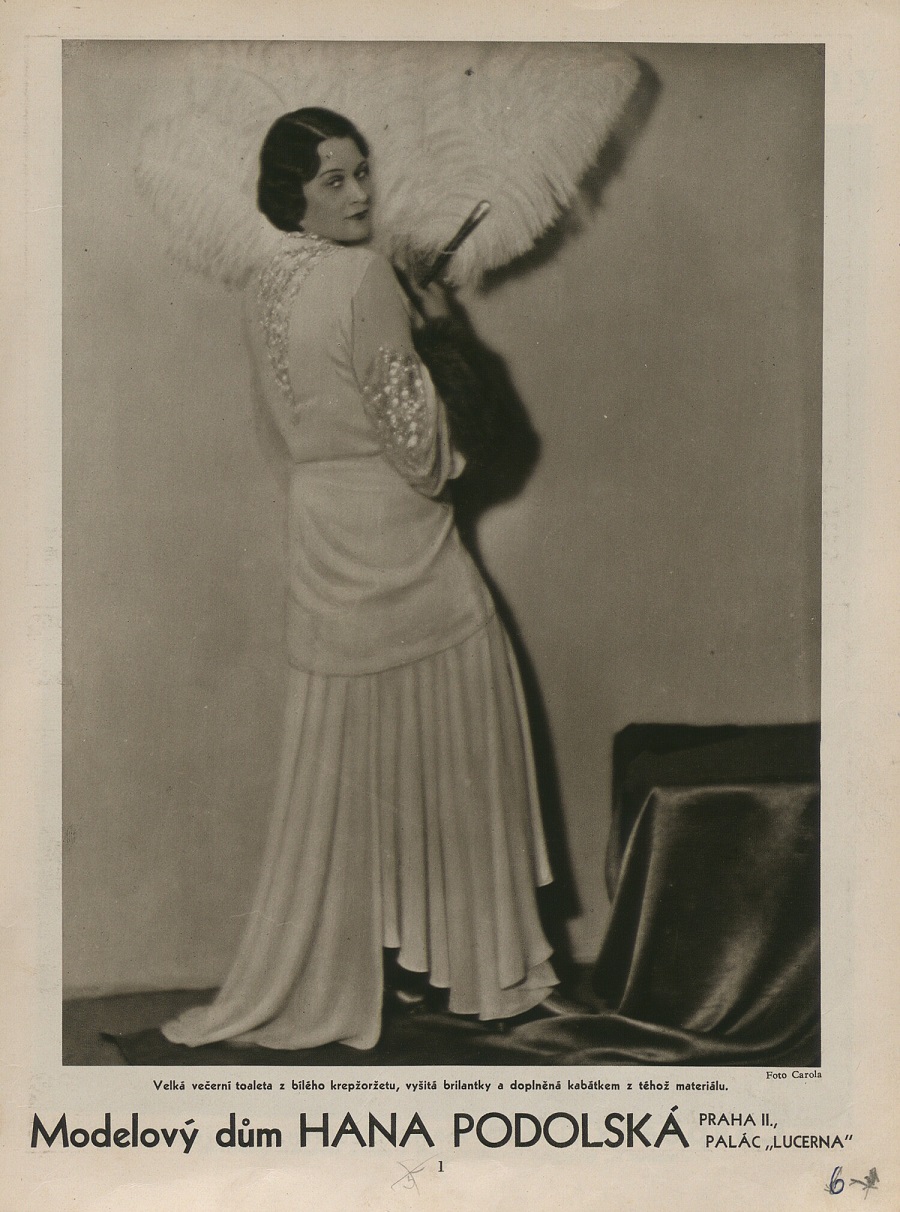 She was "the" fashion influencer of the time…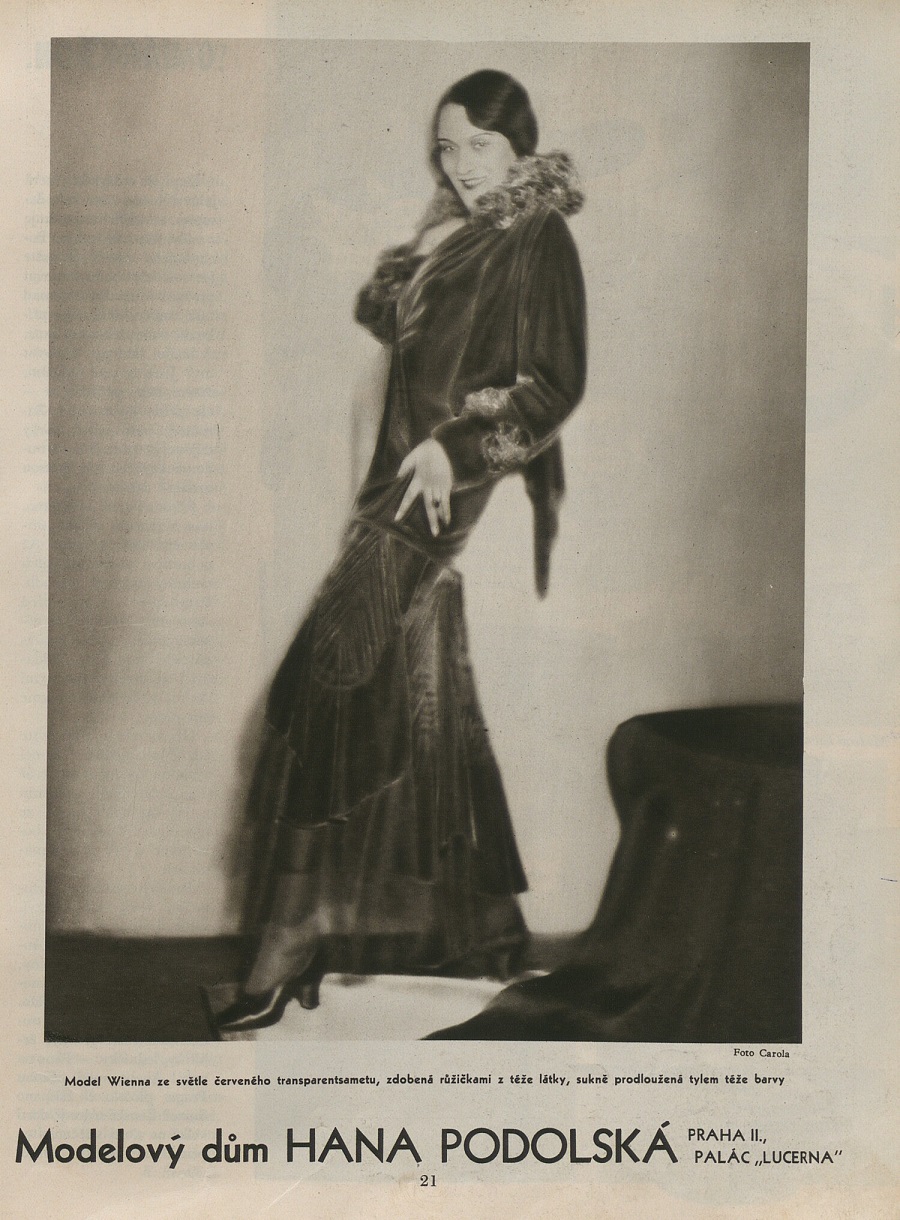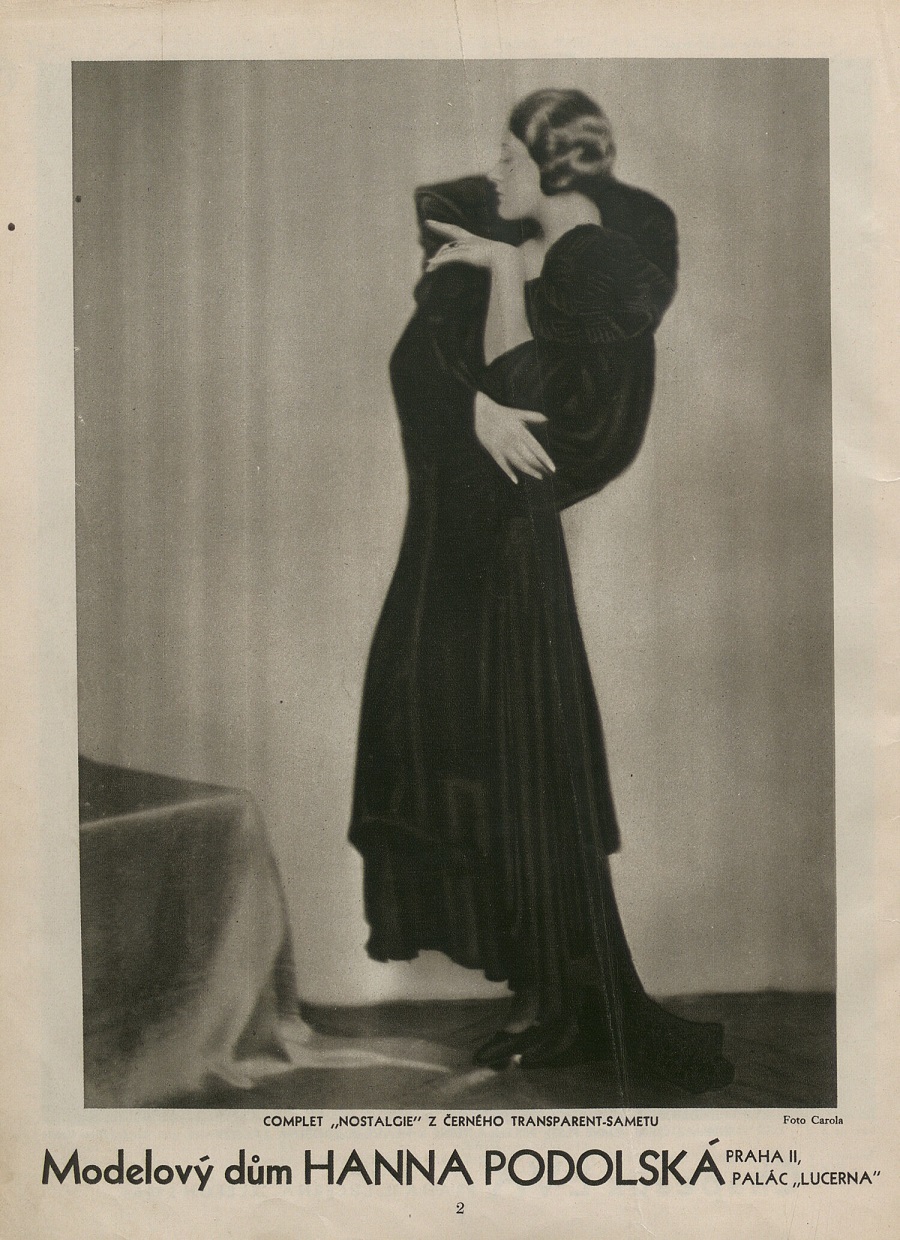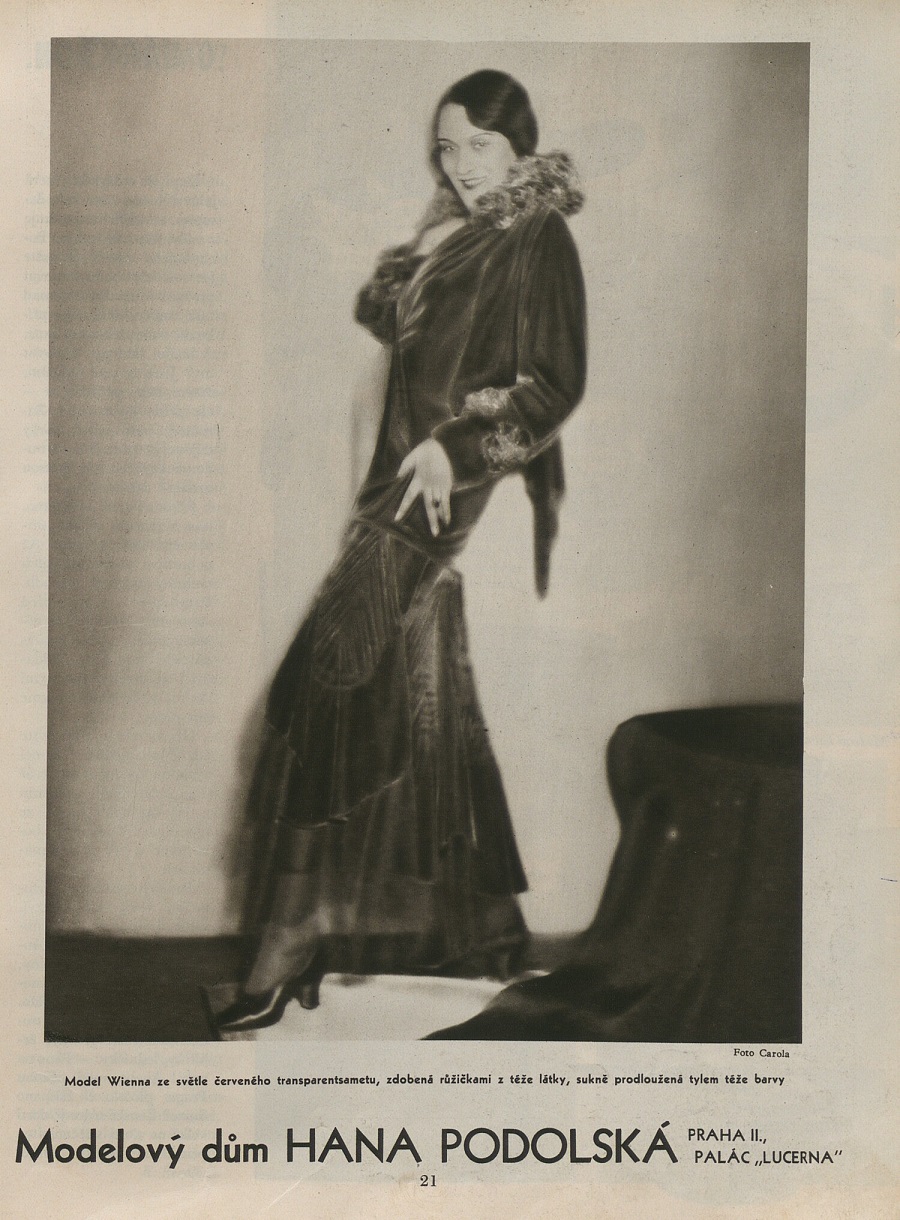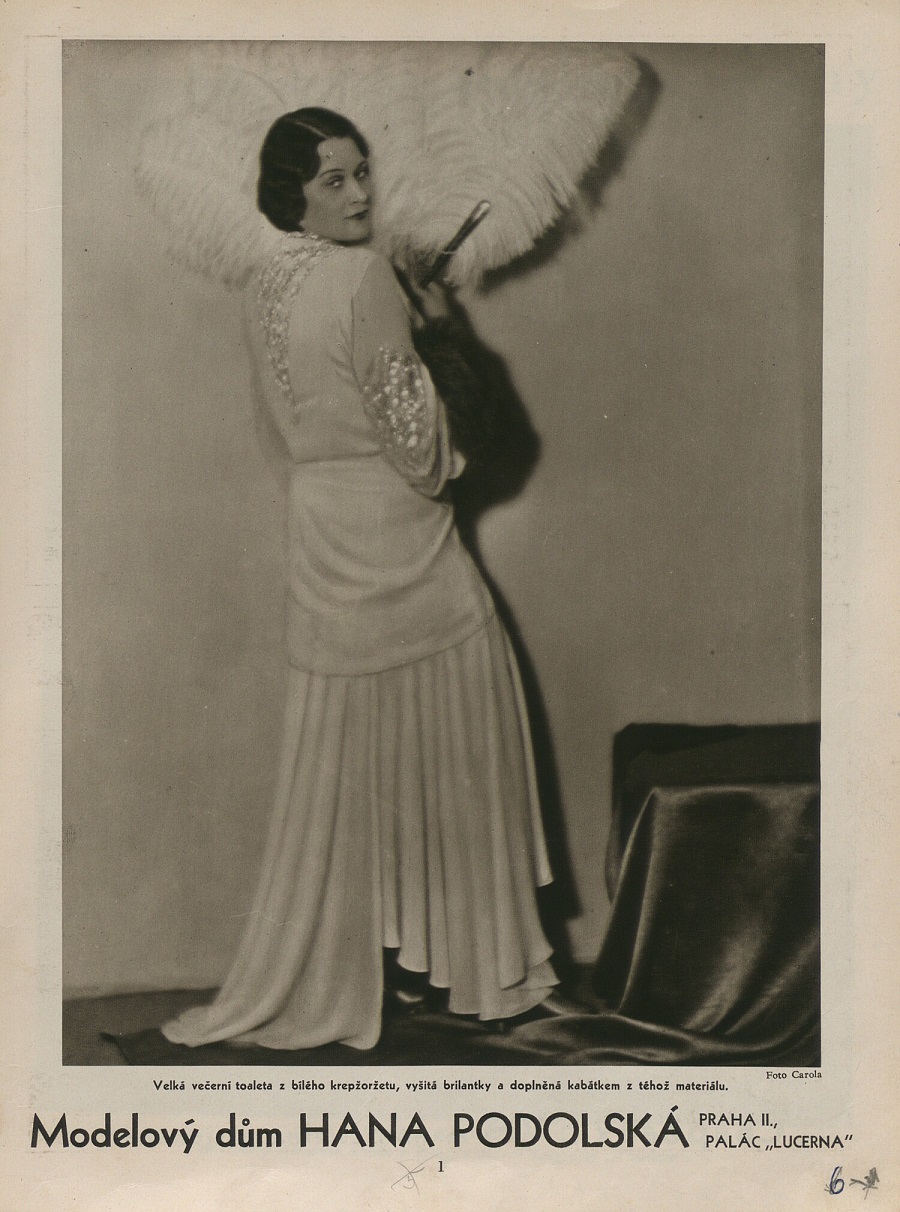 A stroke of luck happened when she met a handsome and young nobleman from Poland. Academic painter and photographer Viktor Hugo Podolsky was from a well to do Polish family, possessing a considerable amount of property. He adored her designs and vision, and thus was willing to invest in his wife's business.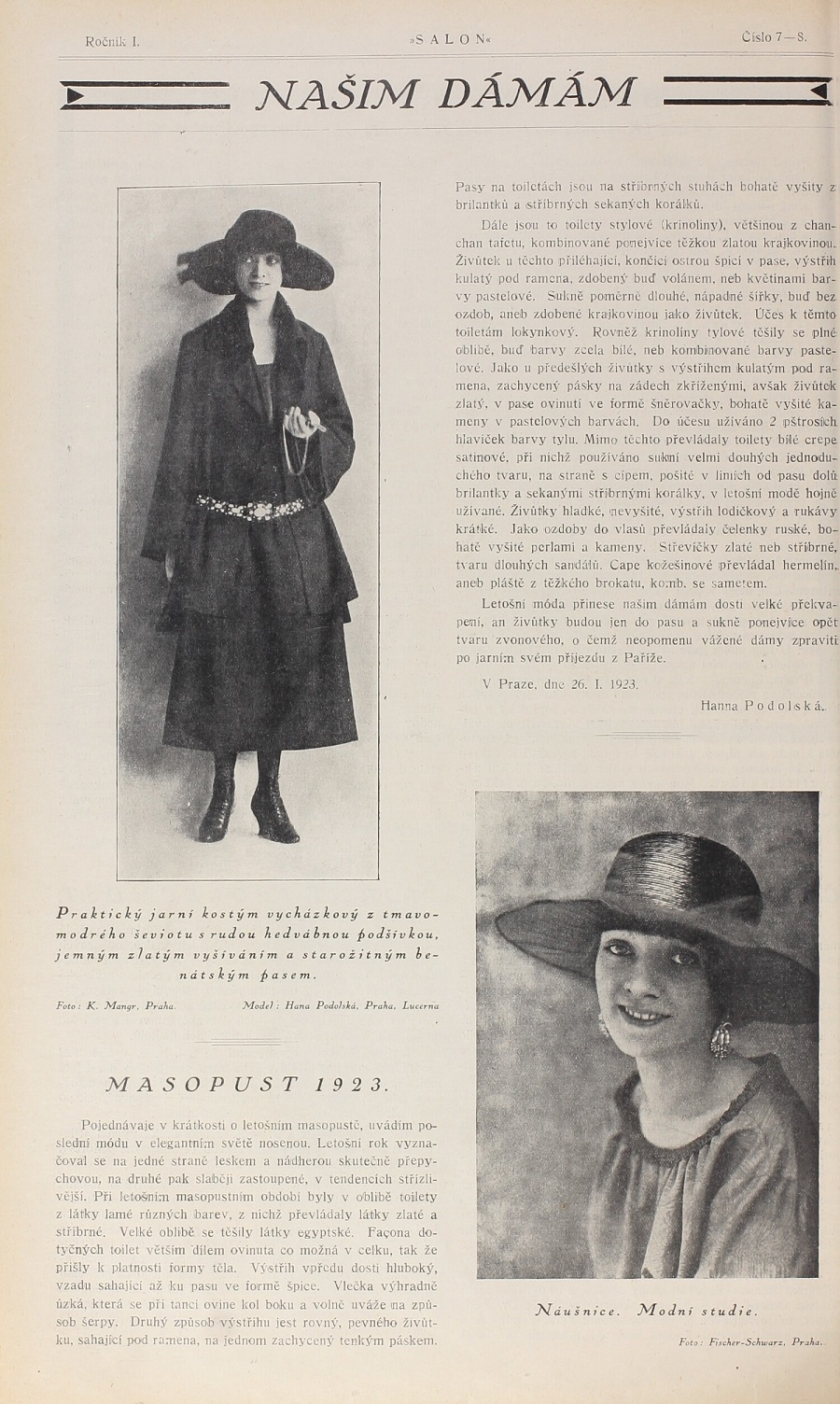 Her first endeavor was Salon u Pěti Králů (Salon at Five Kings), which opened in 1908 in Prague at Vyšehradské street.
They had a happy marriage and a very modern and progressive partnership, as he supported all of her ideas – even leaving his own painting to help his wife in the studio. They had two sons,Viktor and Milos, who also worked in the family business.
Soon she employed dozens of seamstresses sewing her designs. Her salon also included furs and at, and Hana Podolská eventually was recognized as the designer who dresses women "from head to toe".
But tragedy struck in 1931. Unfortunately her husband, Viktor Hugo Podolsky died in a freak hunting accident when another gun fired unexpectedly while being cleaned.
An important social event was the wedding of the son of Miloš , for which the wedding guests were dressed in clothes from the Podolské salon. Of course, the beautiful bride Eva was the star of the event in a stunning dress with a long siding.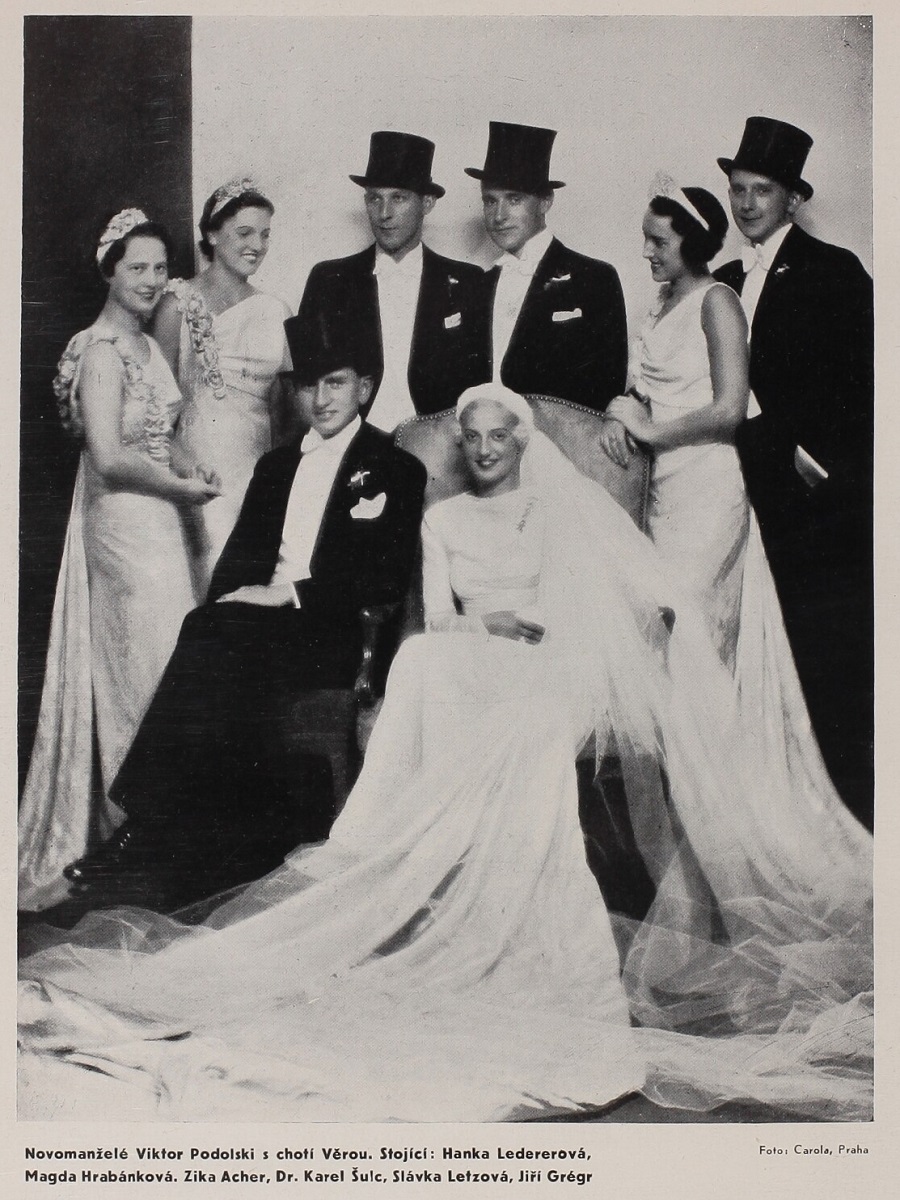 Tragedy struck again in 1936, when her son Miloš died of blood poisoning. He was only 26 years old and Hana's world collapsed. No mother should have to look into the grave of her own child.
Devastated, for the first time in her life, she stopped worrying about her salon and left all the work on her staff. She could not bear the anguish of her son's passing. Some time after the funeral, she threw herself back to work, pushed by her other son who insisted it would help drive away sad thoughts. So she threw herself in 1,000%.
Publishing her own magazines; she was brilliant and way ahead of her time to collaborate with František Drtikol and other well known photographers at the time.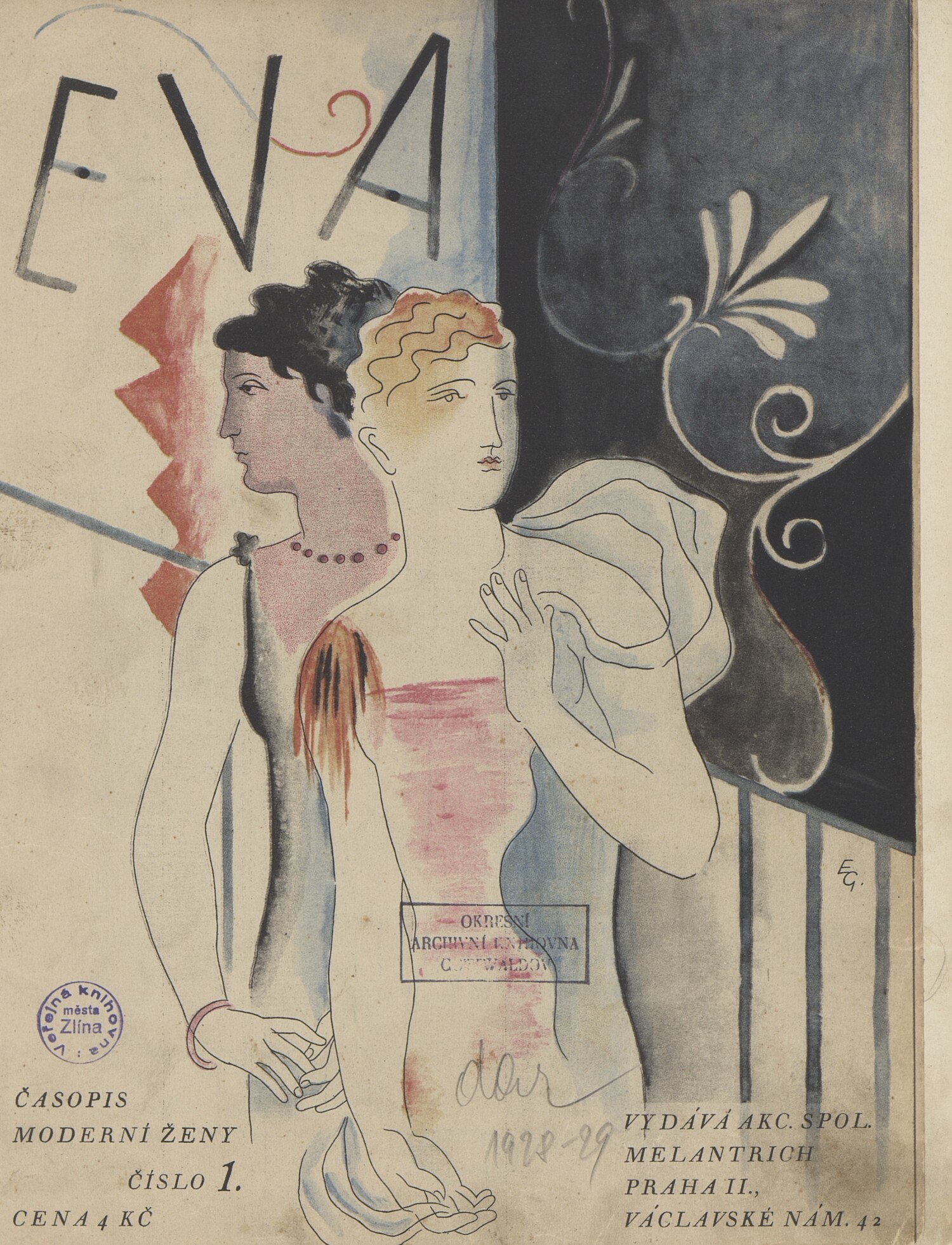 She even recognized that celebrities do the best advertising, so film and theater actresses such as Anna Sedláčková or opera singer Jarmila Novotná and even some more glamorous ladies from the company would be seen walking  through the catwalks of the Hašek Cabaret, the Comedy Theater and the Lucerna Showroom where she would showcase her work.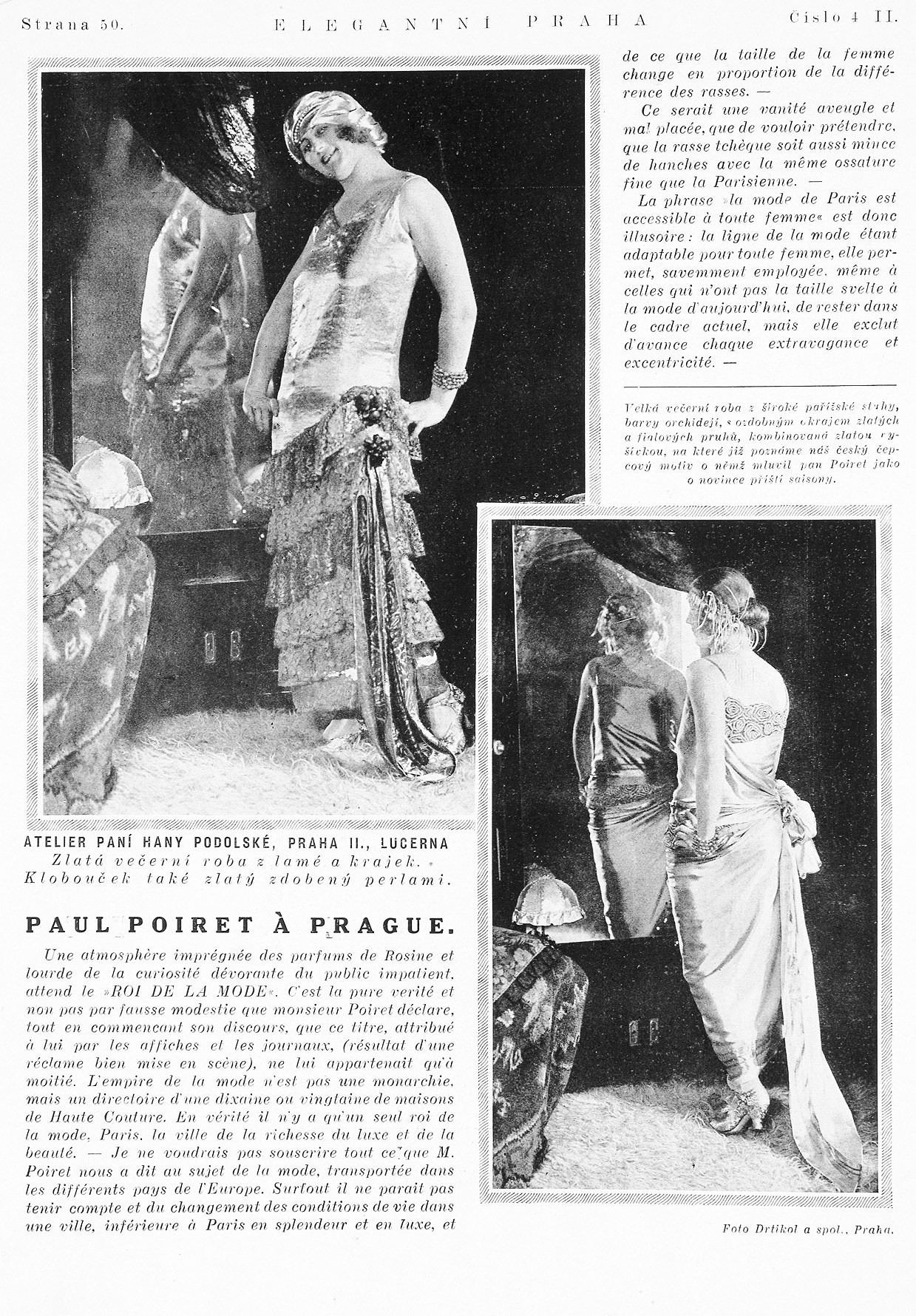 In addition, her salon is now recognized as one of the first which employed professional mannequins (what they called models back then), with each more esteemed customer having his own for fittings and such.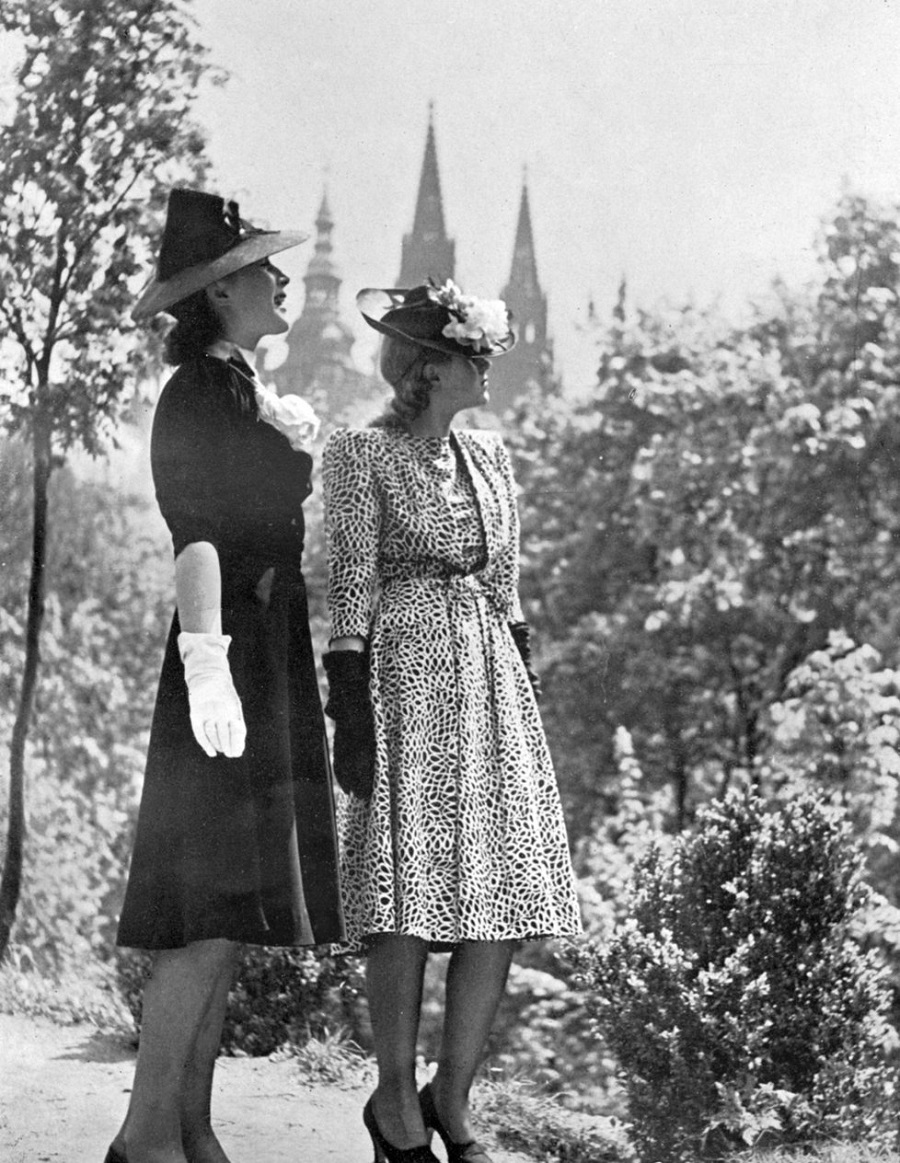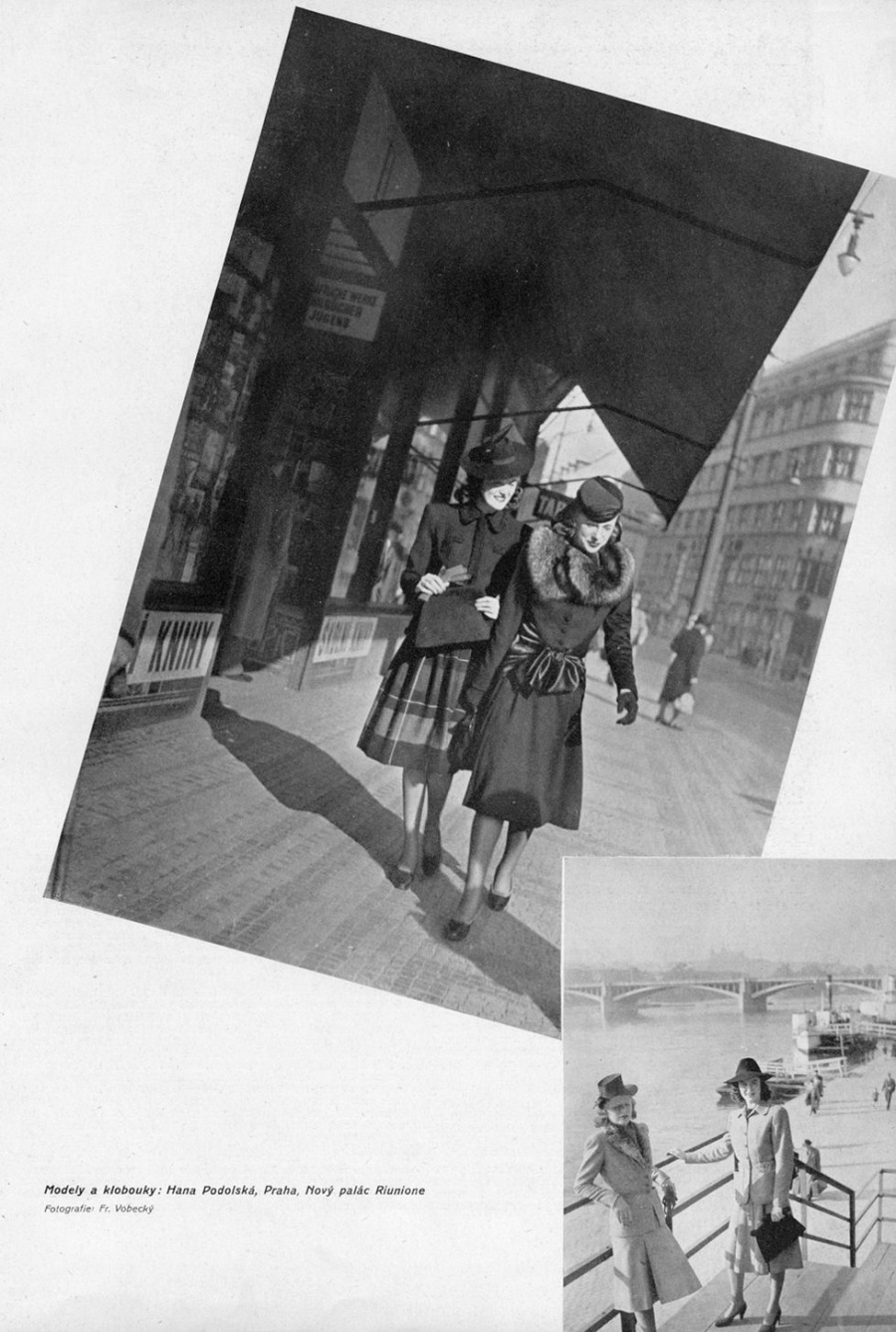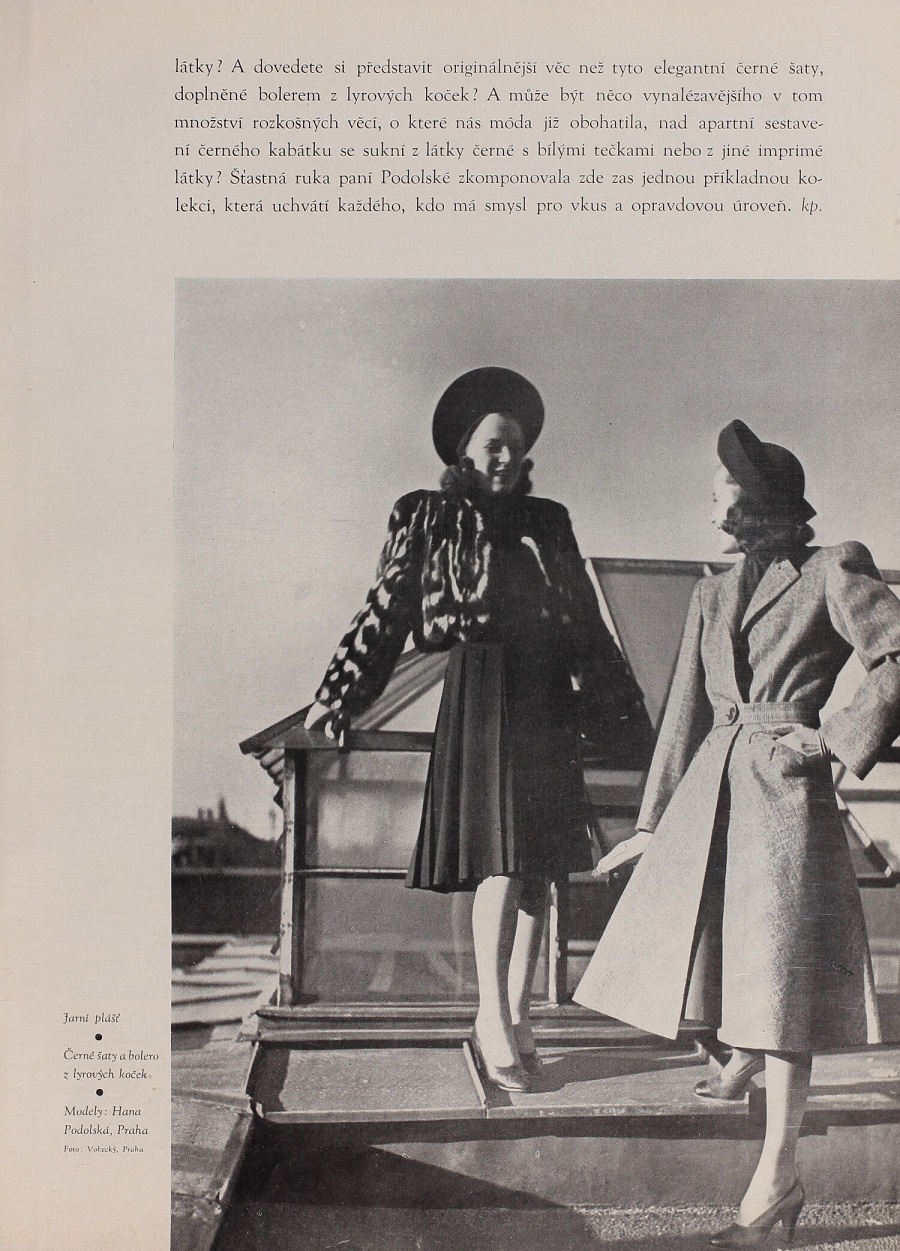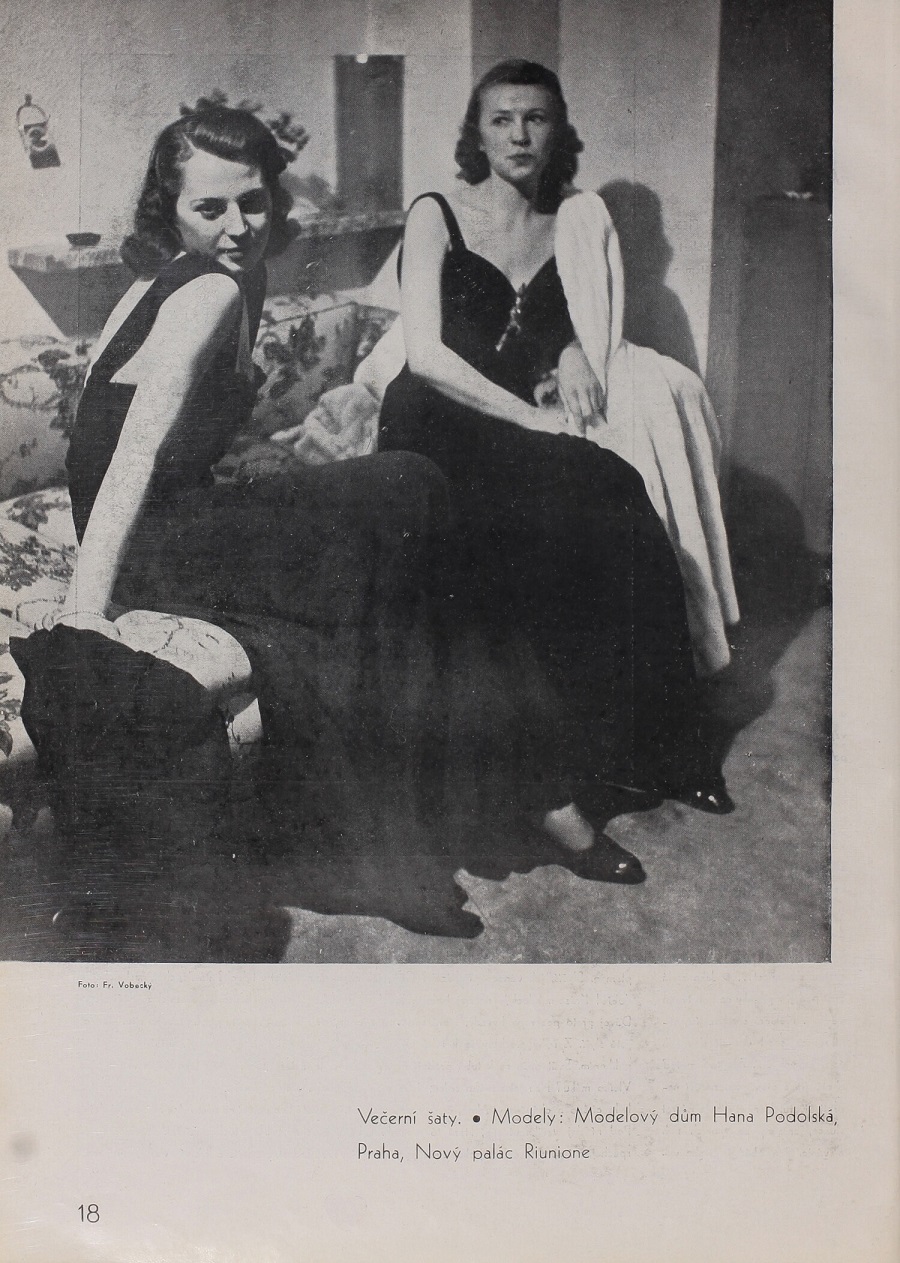 The company began to operate before the First World War, but only after the establishment of independent Czechoslovakia, it expanded and became a sought-after fashion (model) house, whose customers were famous actresses and film stars of the time. Thanks to film, we can see many of her elegant gowns in movement when we watch old Czech film, for example Katakombách and Maskované milence.
But she did not limit her couture to Czech film legends and opera stars such as Lída Baarová, Hana Vítová or Adina Mandlová, she also dressed and designed gowns and wardrobes for the wives of statesmen, for example, first lady Hana Benešová.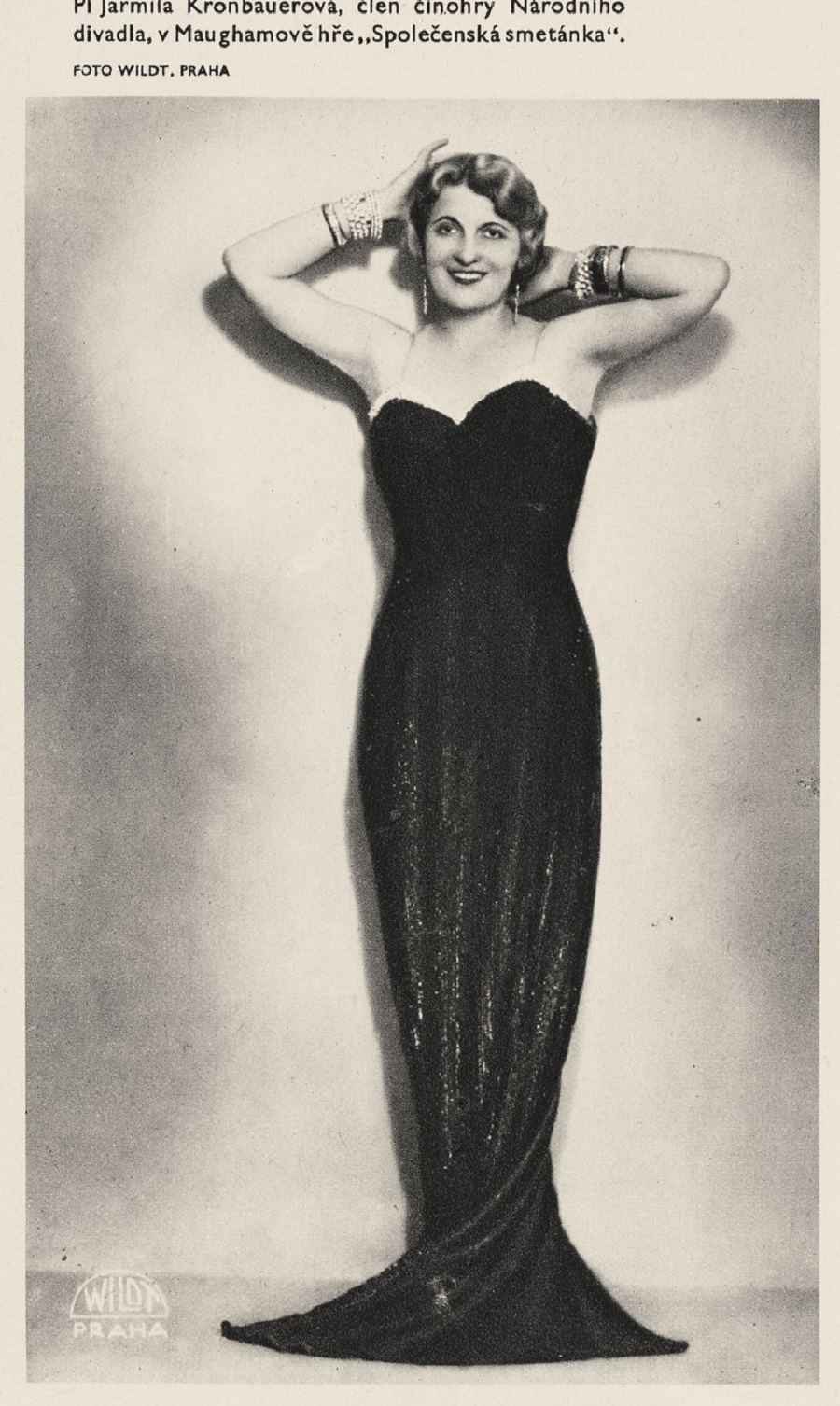 Although during the Second World War, it was sometimes necessary to reach for substances of lower quality, but that never hampered her creations of precise design. The film industry flourished during the war and actresses were often left to dress in their own clothes due to lack of budget and materials. Fortunately, because she dressed so many film stars, her designs were seen my the masses.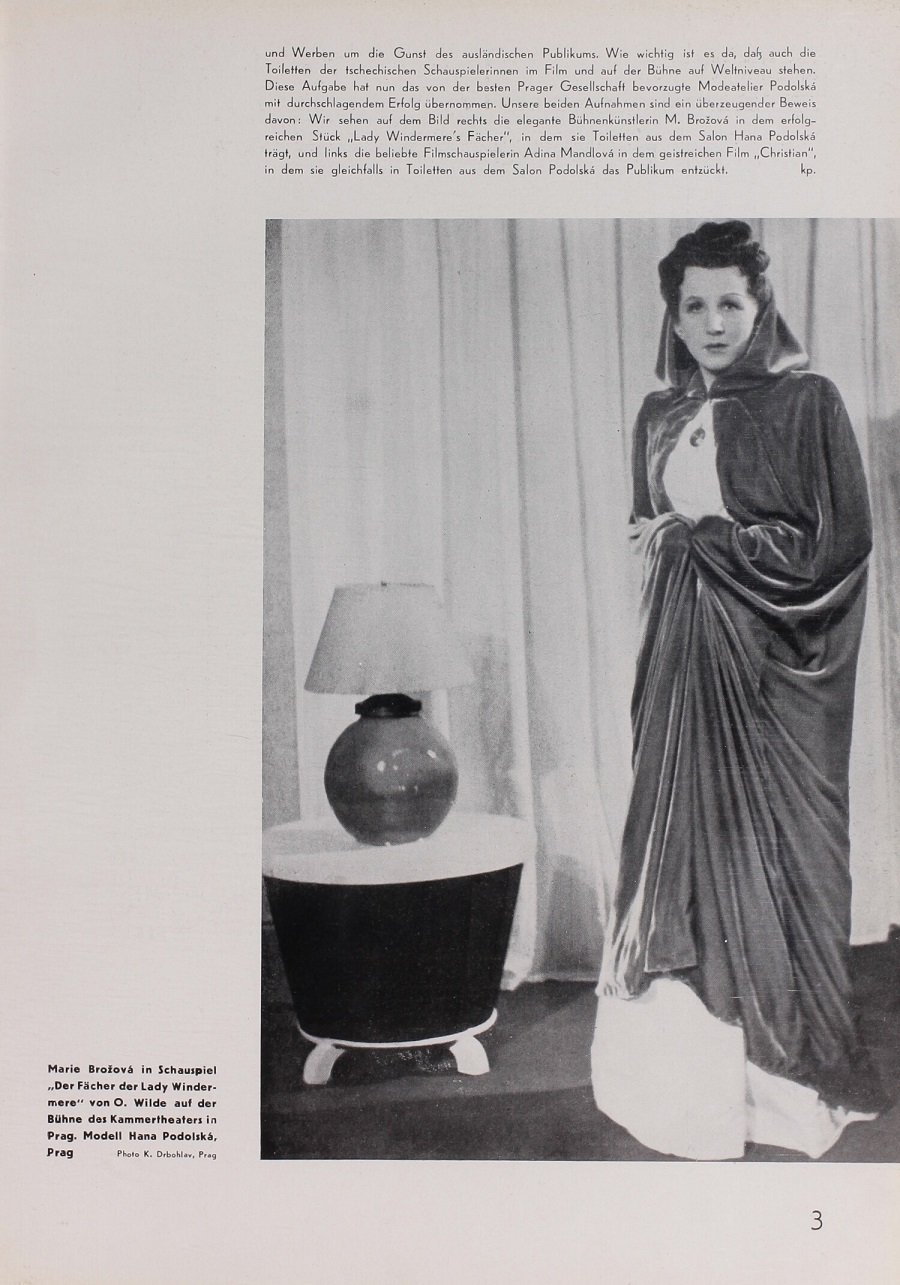 For example, the lovely gowns in which Adina Mandlová enchants Oldřich Nový in the film Kristián. 
The gorgeous gowns are simply unforgettable, and it is no coincidence that they are from the workshop of Hana Podolská.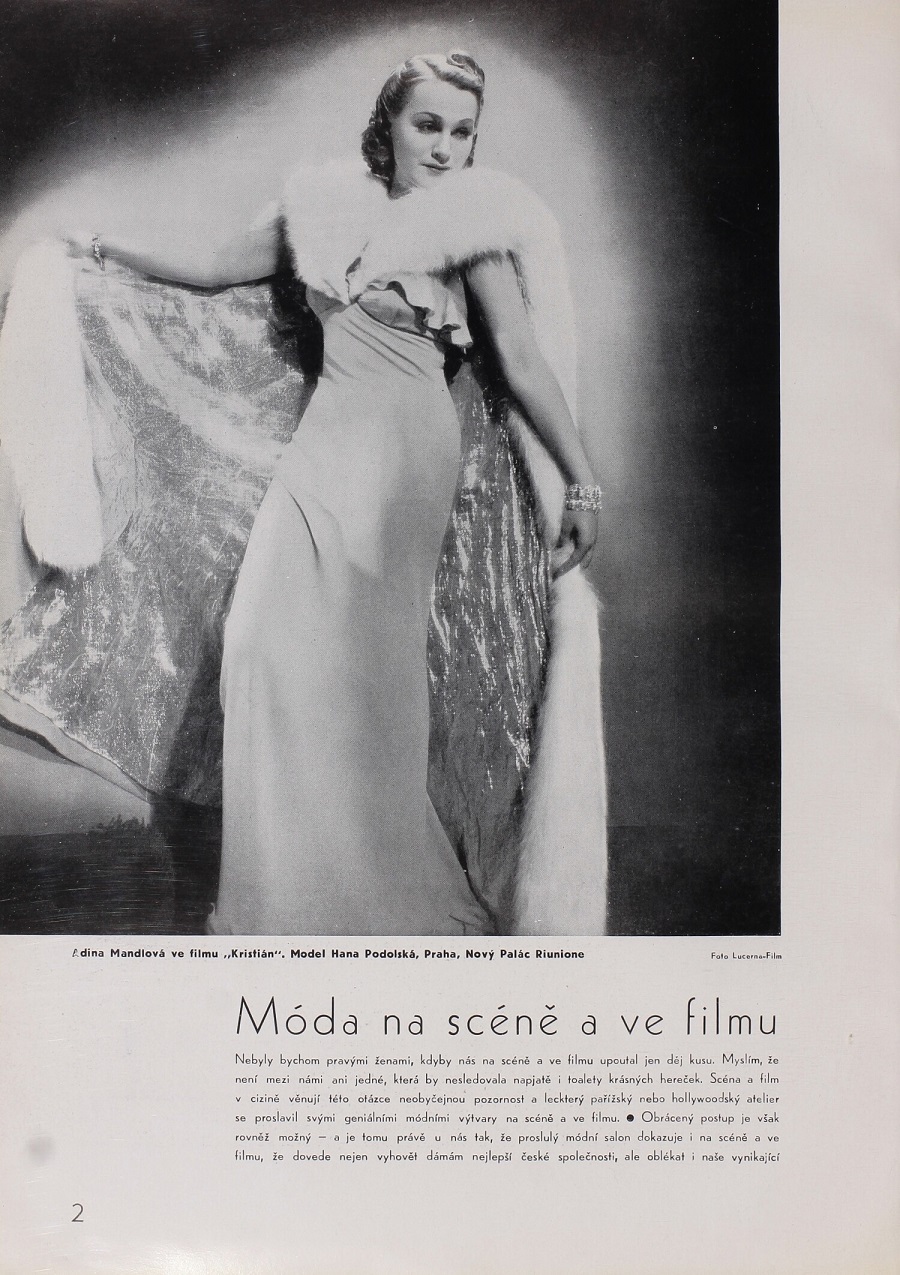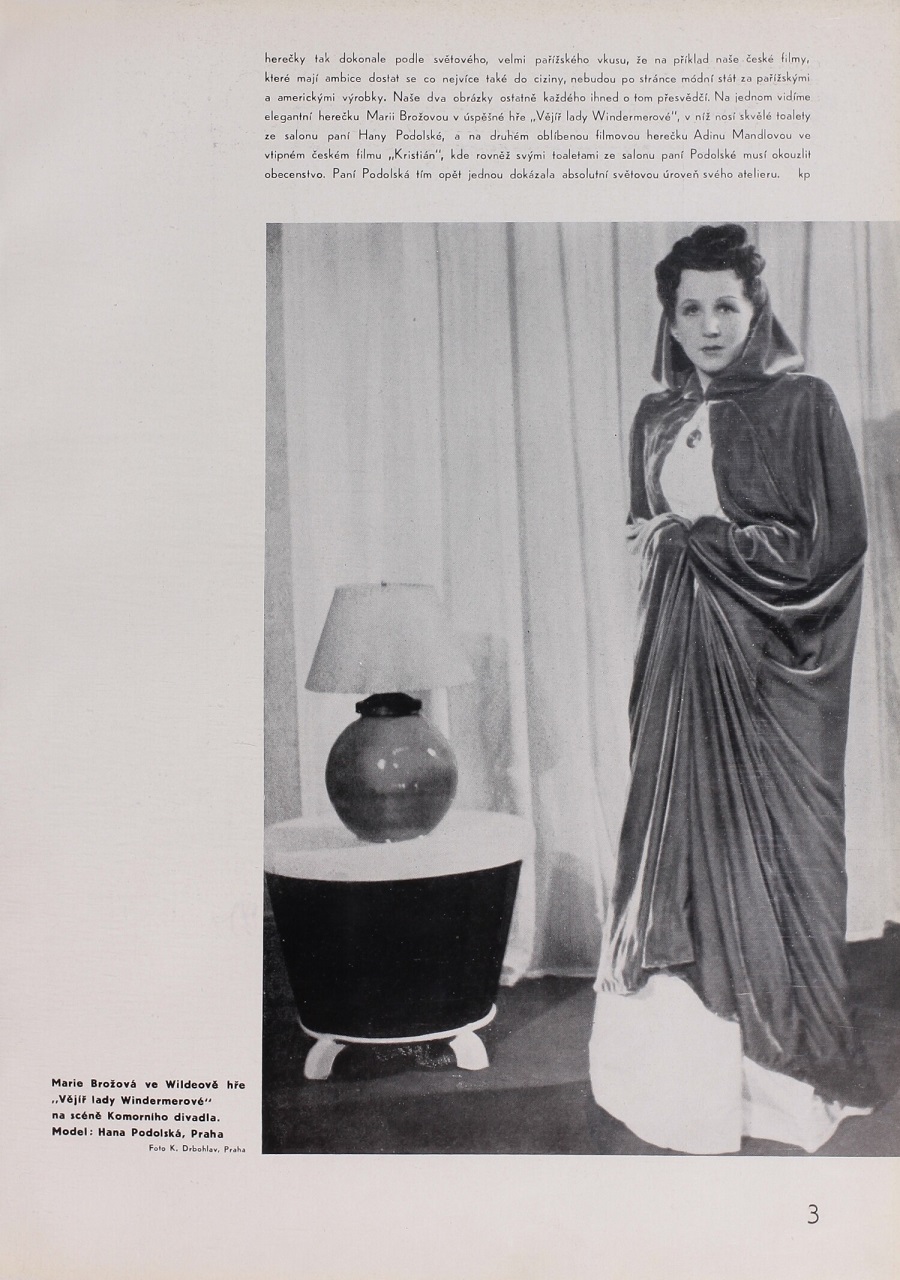 Podolská was ahead of her time. She was very progressive in promotion and the overall management of the fashion salon.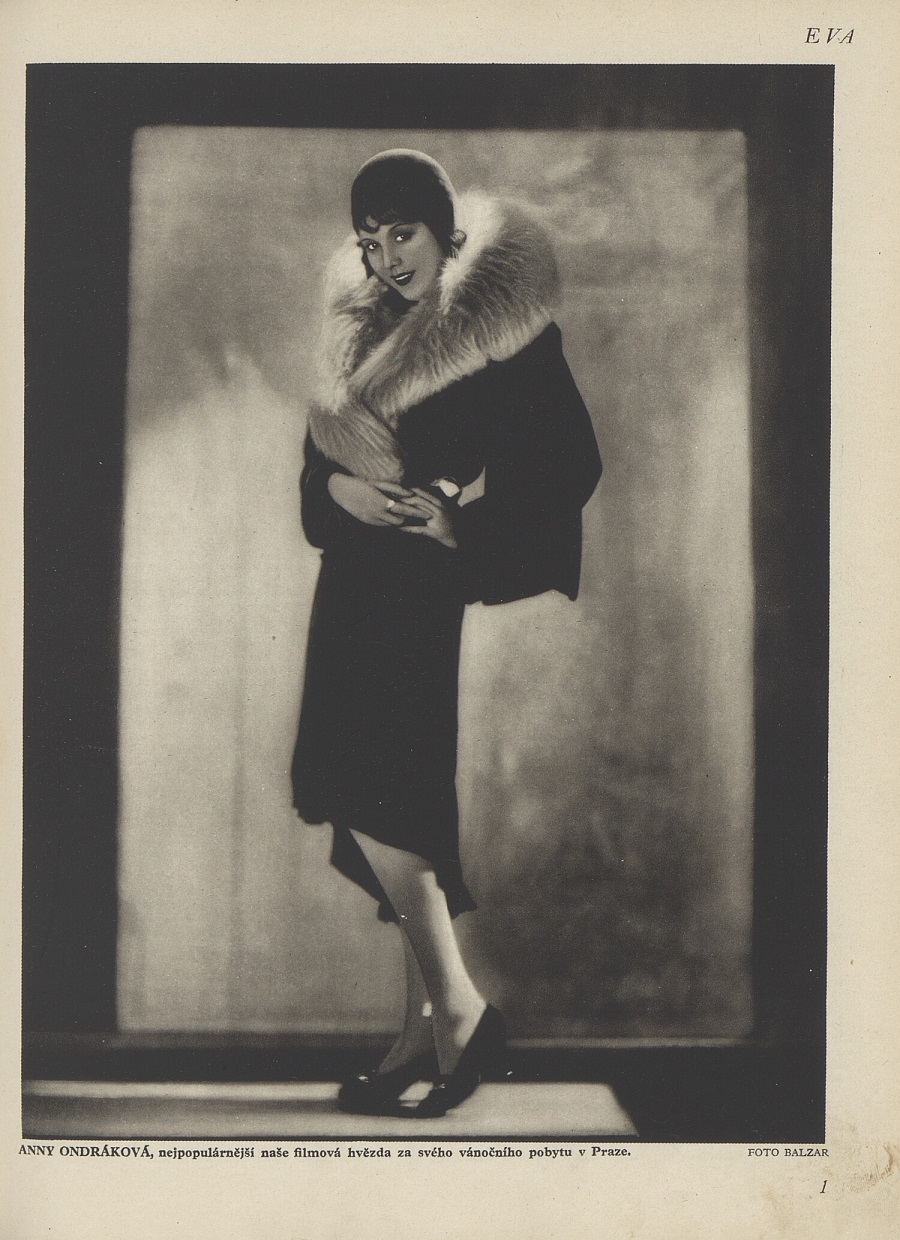 She was the first to employ professional models, who were then called mannequins, but she also bet on the familiar faces of the time as well.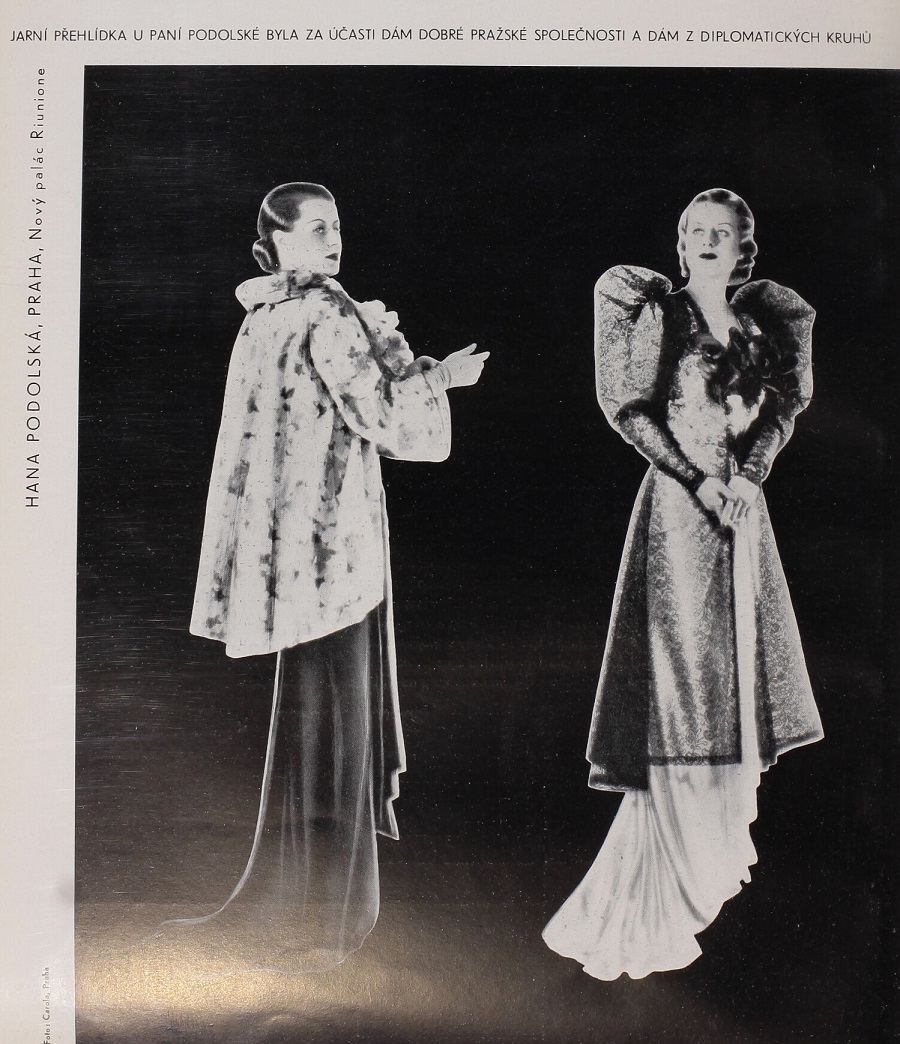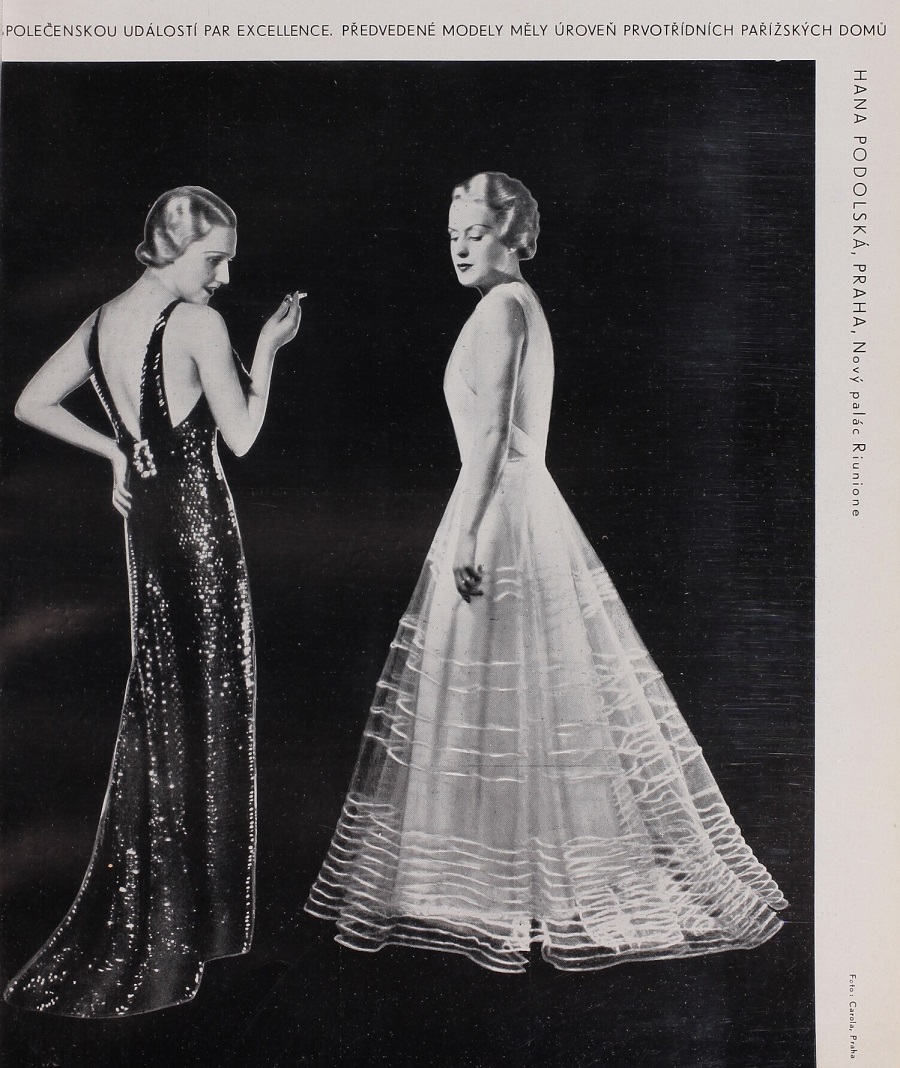 One famous and familiar model of her fashion house was the famous race car driver Eliška Junková.
Her fashion salon also published its own fashion magazines (Móda a Vkus a Eva) and, like with the promotion of today's brands, sent its representatives to introduce new collections to Paris. Mostly, Hana Podolská traveled there personally.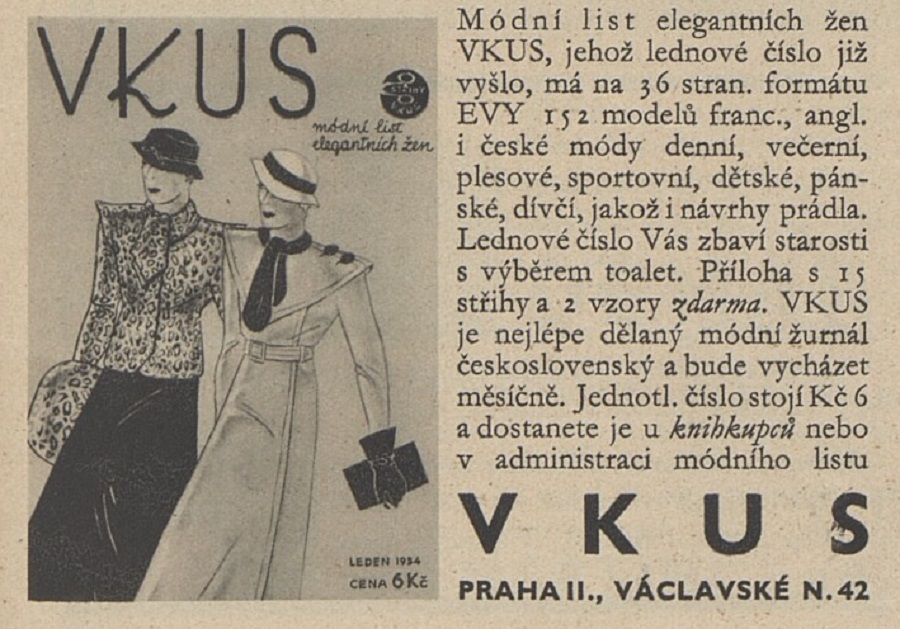 And, like today, she used the favor of the actresses who were the best promotion for the salon. At the same time, however, she also broadcast her "mannequins" into the field, meaning she regularly sent them to the center of Prague and to the spa towns wearing the latest designs to capture the attention of wealthy and elite wives who would then want to immediately get their hands on an original design.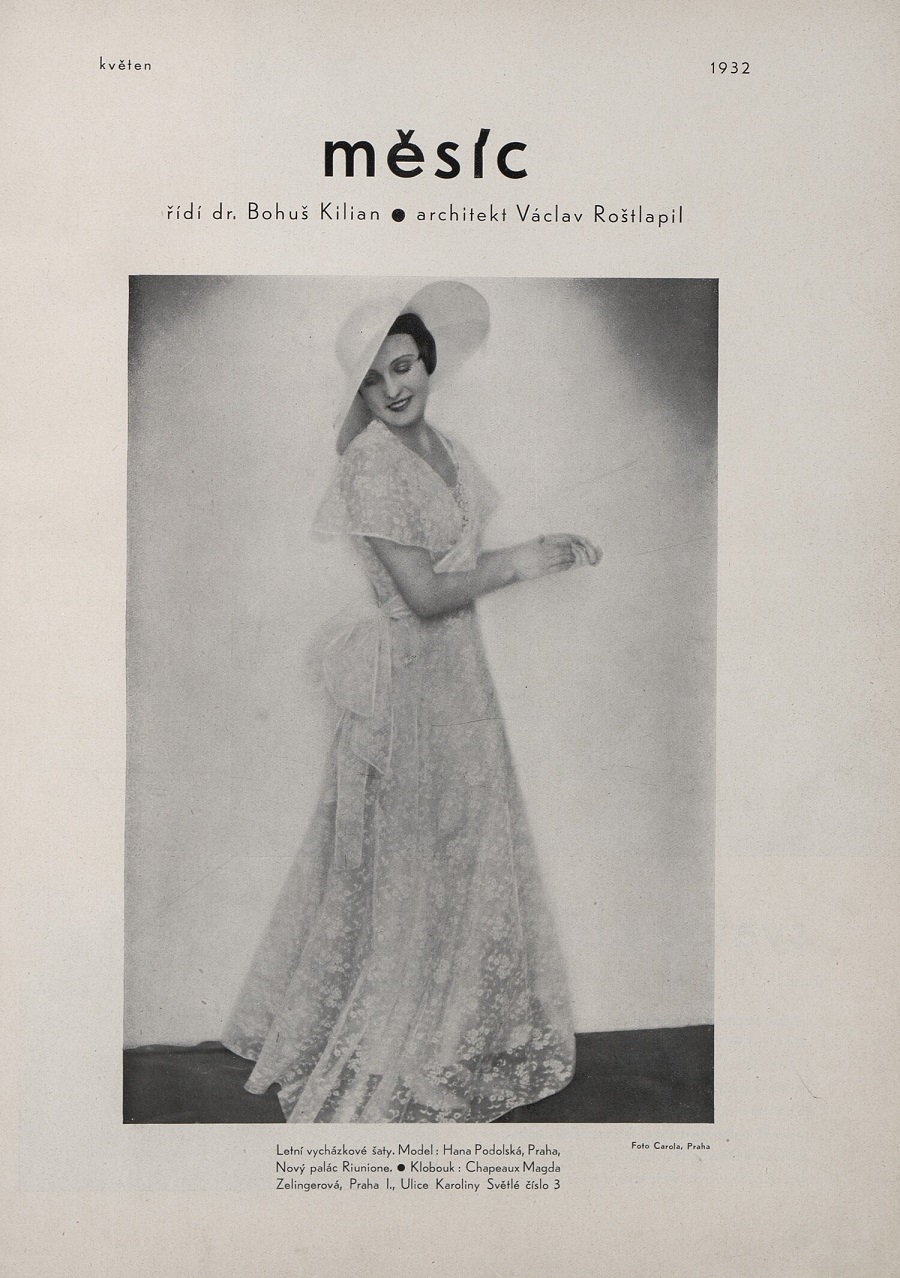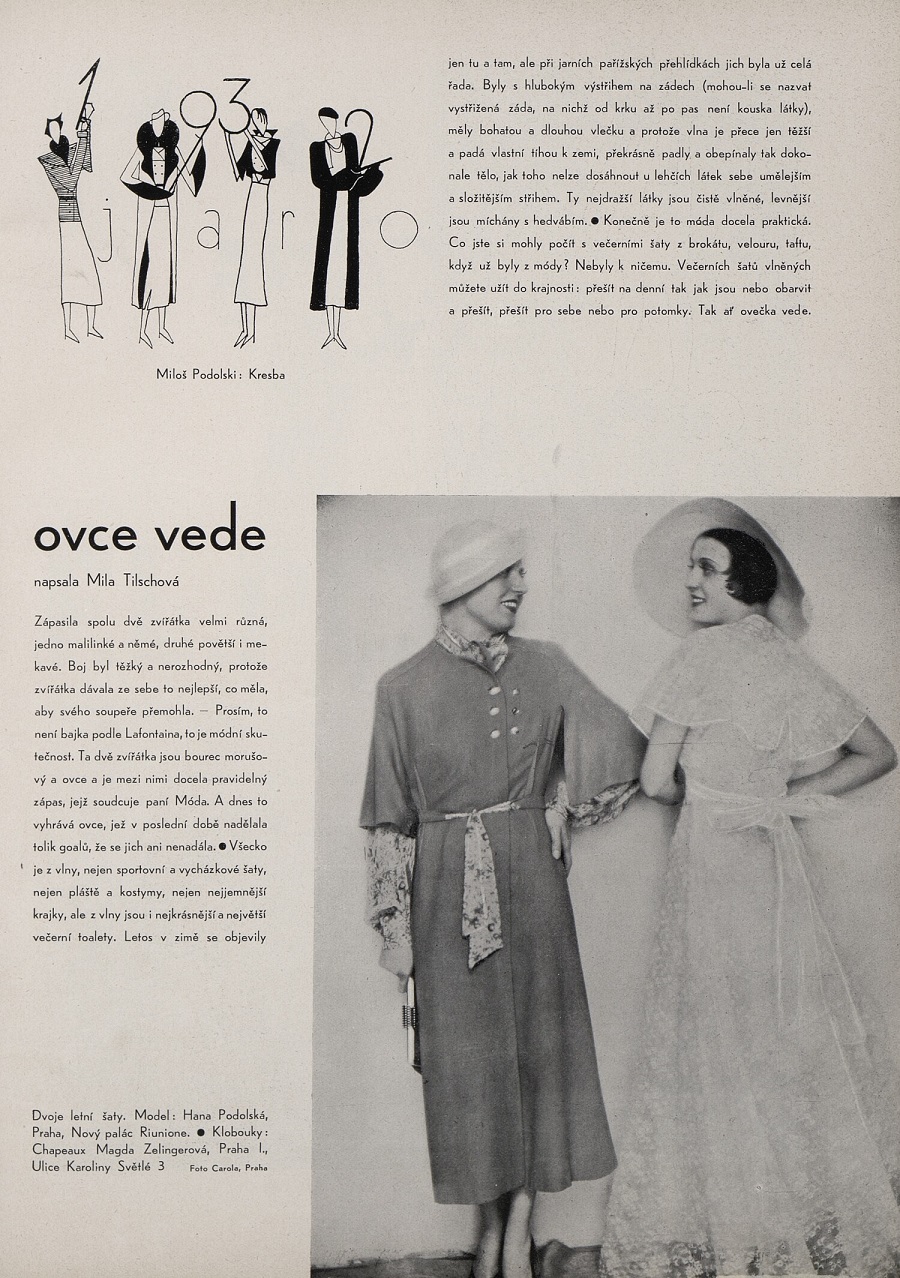 The greatest defeat of the salon and fashion house came in 1948 when her dream house of high fashion and couture was nationalized. The Communist establishment had tragic consequences for Hana Podolská. The state took the owner's property and nationalized it for decades.
Despite Communist conviction and the distaste for bourgeois attire, preferring working class designs, the new first lady, Hana Gottwald, admired the elegance of Hana Benešová and had her wardrobe "sewed at Podolská". Few knew that the first lady was a seamstress with Hana Podolská in the past. So when her husband became head of state, she wanted to represent the elegant house of Hana Benešová. She even had the same patterns and designs sewn, but she looked completely different with her full-bodied figure. Let's be completely honest and say that even the luxurious and carefully sewn clothes did not supply her with that first republic elegance and grace, but at least the fact she designed for the first lady helped Podolská, who was happy to have the opportunity to work in her former salon.
After the death of Marta Gottwaldová (in 1953) Hana Podolská was allowed to stay in the salon, which was by then called EVA. But she lost all the benefits and a considerable part of her salary. Sadly, she was demoted to a saleswoman and shortly after dismissed completely.
In 1948, Viktor's wife emigrated and their daughter Zuzanka left after her. Viktor also tried to leave the country, but was caught in Vienna, returned to Prague and imprisoned. After his release, Viktor was allowed to work with his mother in the salon. But his fate was sealed and yet more tragedy would come to Hana.
Viktor was quickly sentenced to more than 13 years in prison with accusations of anti-state activity, uncontrolled life style and lack of work. Among other things, the punishment was carried out in uranium mines.
After 7 years, he asked for a pardon. As a result, he had to commit to working with the StB. Státní bezpečnost or StB / ŠtB, was a plainclothes communist secret police force in the former Czechoslovakia from 1945 to its dissolution in 1990. Serving as an intelligence and counter-intelligence agency, it dealt with any activity that could possibly be considered anti-state or western influence. From its establishment on June 30, 1945, the StB was bound to and controlled by the Communist Party of Czechoslovakia. The Party used the StB as an instrument of power and repression; State Security spied on and intimidated political opponents of the Party and forged false criminal evidence against them, facilitating the Communists' rise to power in 1948. Even before Czechoslovakia became a Communist state, the StB forced confessions by means of torture, including the use of drugs, blackmail and kidnapping.
Given the real possibility that he would not survive the imprisonment, it is no wonder Viktor accepted this condition – but there was one request he had to swear to – that he must forget and never again speak to anyone in his neighborhood, not even to his friends, and especially not his mother.
After the events of August 1968, Viktor decided to emigrate and his mother, Hana Podolská gave him her consent. She knew that a son in socialist Czechoslovakia could never expect happiness. But she refused to go with him and instead decided to stay alone, mostly because of her age. She told him she wanted to die in her native Prague, where she spent so many beautiful and difficult years. She passed away on February 15, 1972.
She did not live to see the "big return" of her salon.
But it is fair to say that during World War II, Salon Podolska did better than its competitors.

Arnoštka Roubíčková from Model House Roubíček died in Terezín. Oldřich Rosenbaum, emigrated in 1938 because of his Jewish origin to Paris and then to New York, where he founded a new company. Over time, it has turned into a successful fashion house, where the wives of the presidents Truman and Eisenhower and even actress Ginger Rogers haveoften gone for their designs. A very interesting read is Oldřich Rosenbaum / Oldric Royce: A Life in Fashion from Prague to New York. Believe it or not, in 1942, the Prague Rosenbaum Salon was a member of the SS as part of nationalization. It was only after the Velvet Revolution that Rosenbaum SRO was returned it to his heirs, and today the design house still exists specializing in quality clothing.
Hana's salon did not have a happy ending. It briefly existed until 1991, but unfortunately it did not withstand the pressure of renewing capitalism and the associated influx of new foreign brands.
The "Coco Chanel of Czech Fashion", who dressed the movie stars and the presidents' wives, died in solitude in 1972.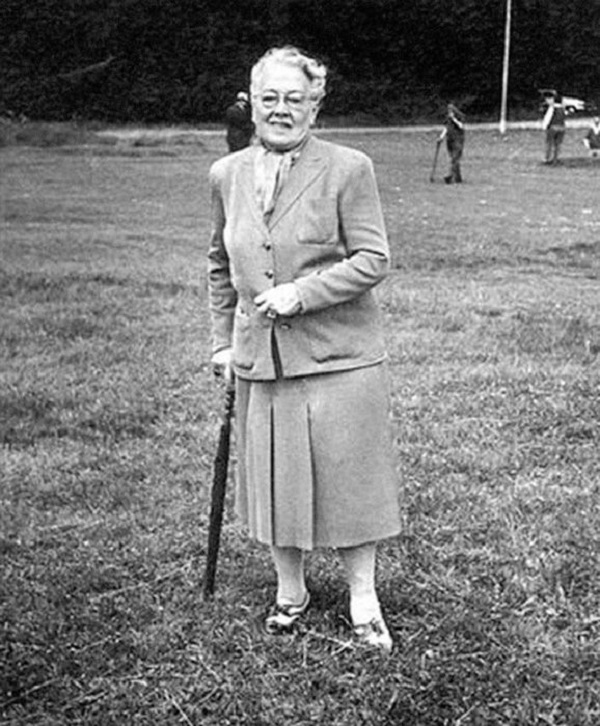 She only had one caregiver and friend, to whom she left all her possessions.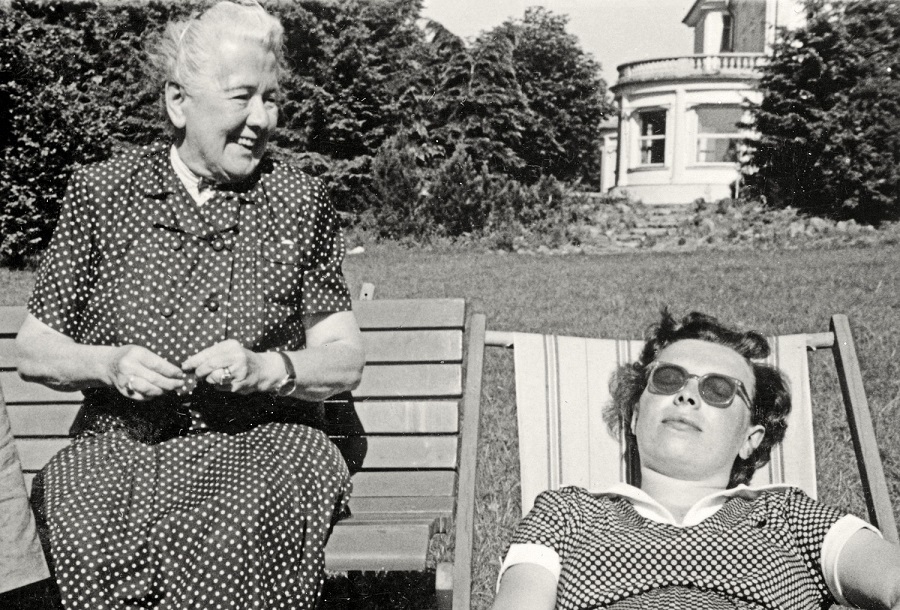 Another sad and tragic story of nationalization…
These are some of her beautiful designs gracing the covers and pages various magazines between 1910-1943. We hope you enjoy them.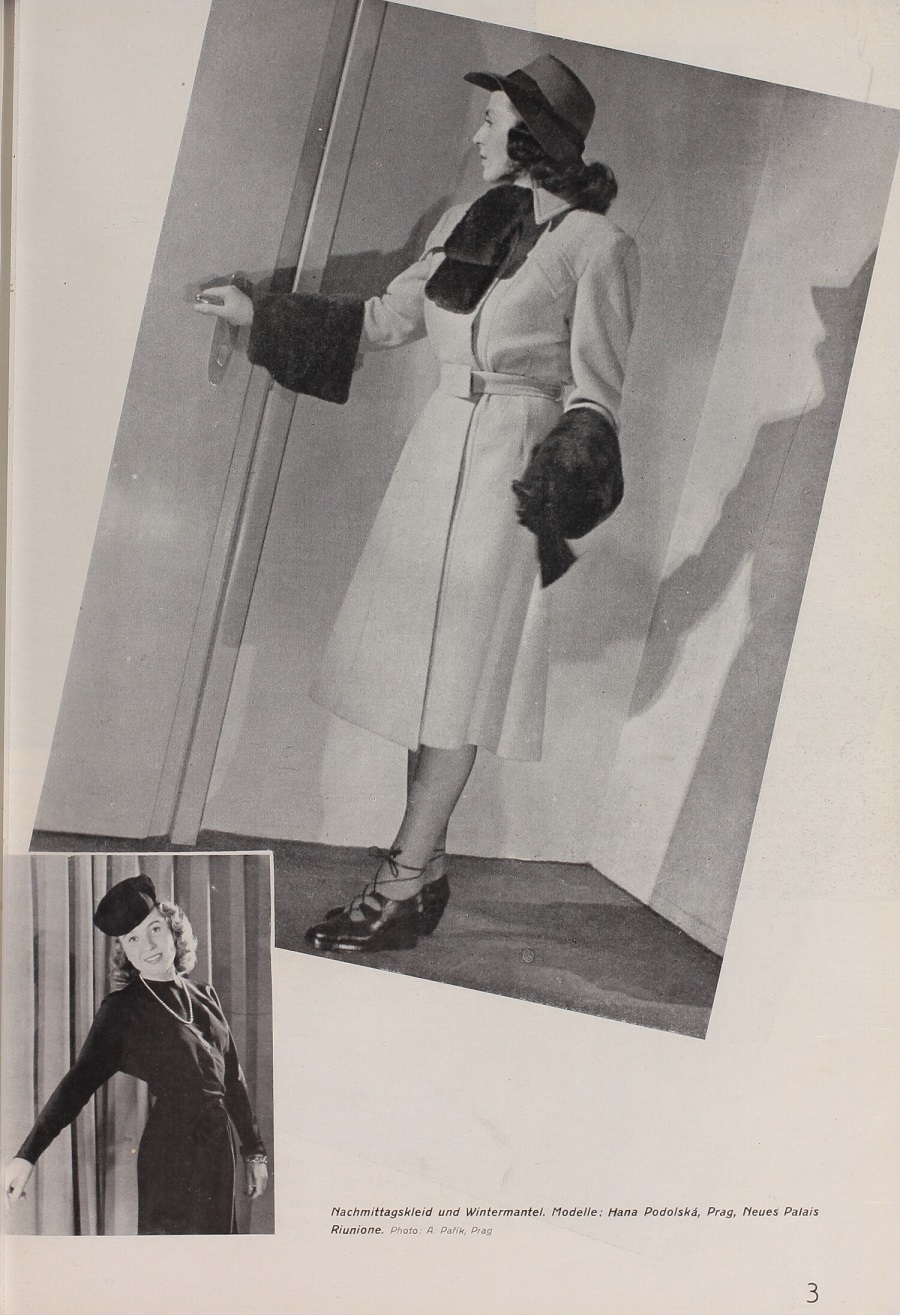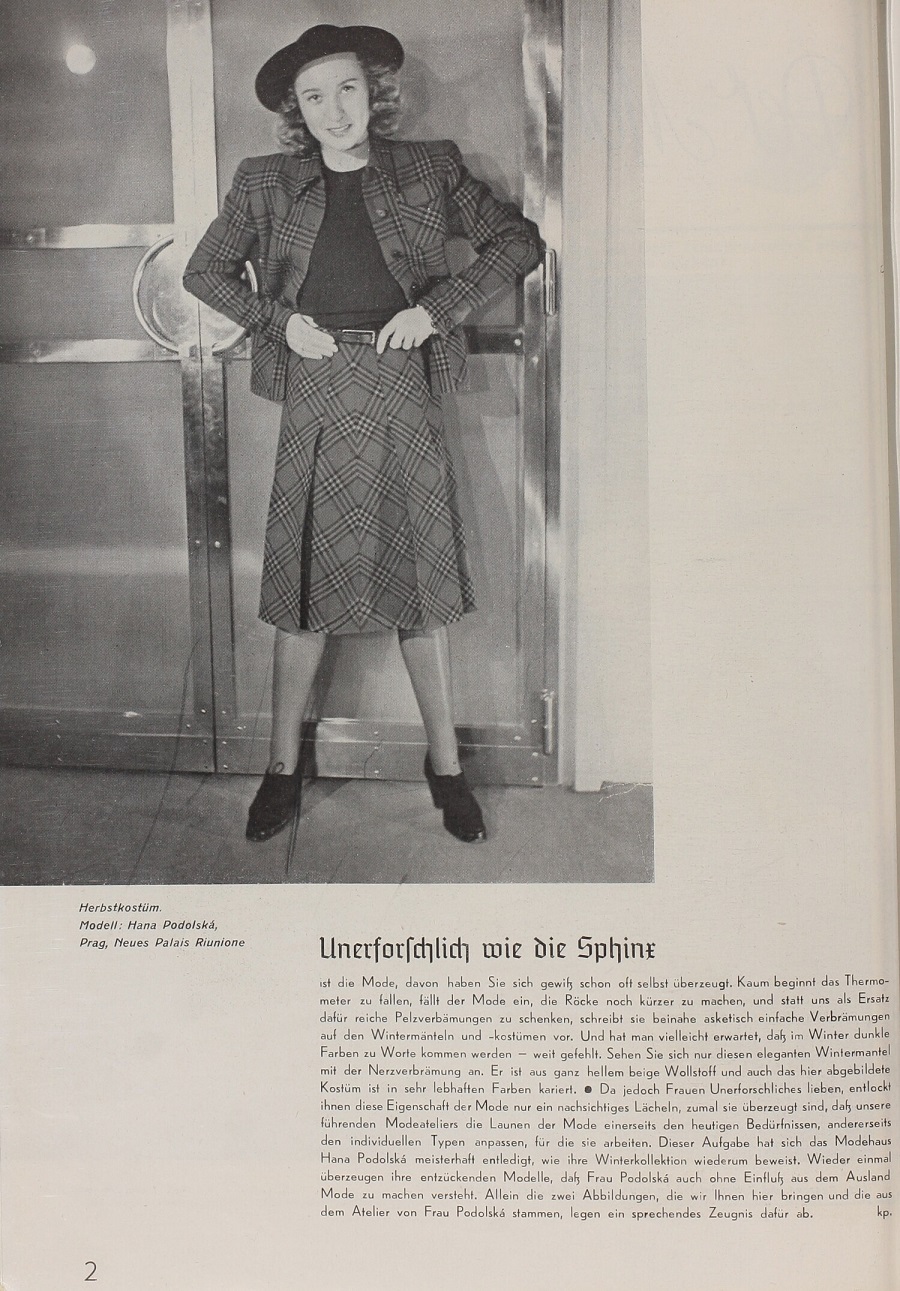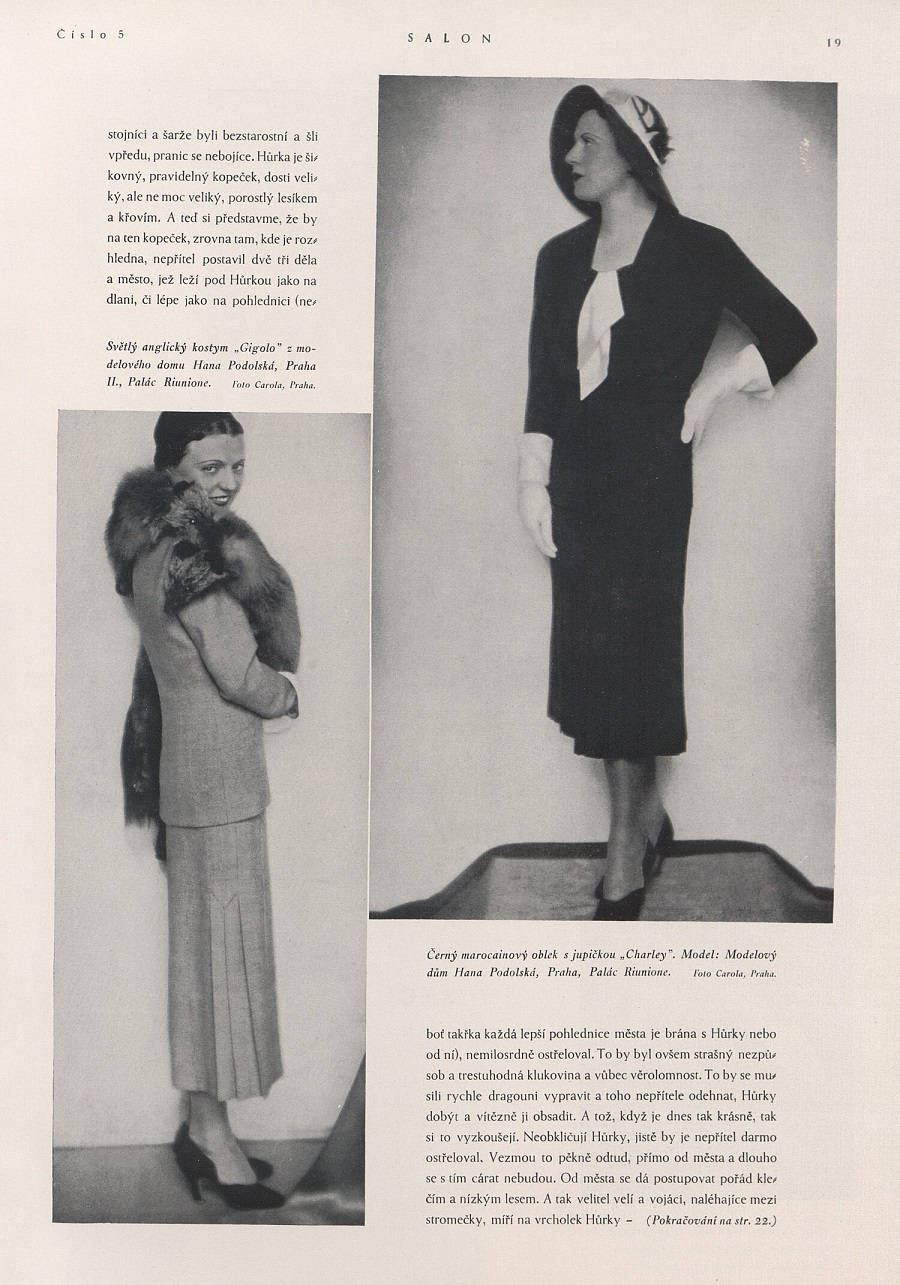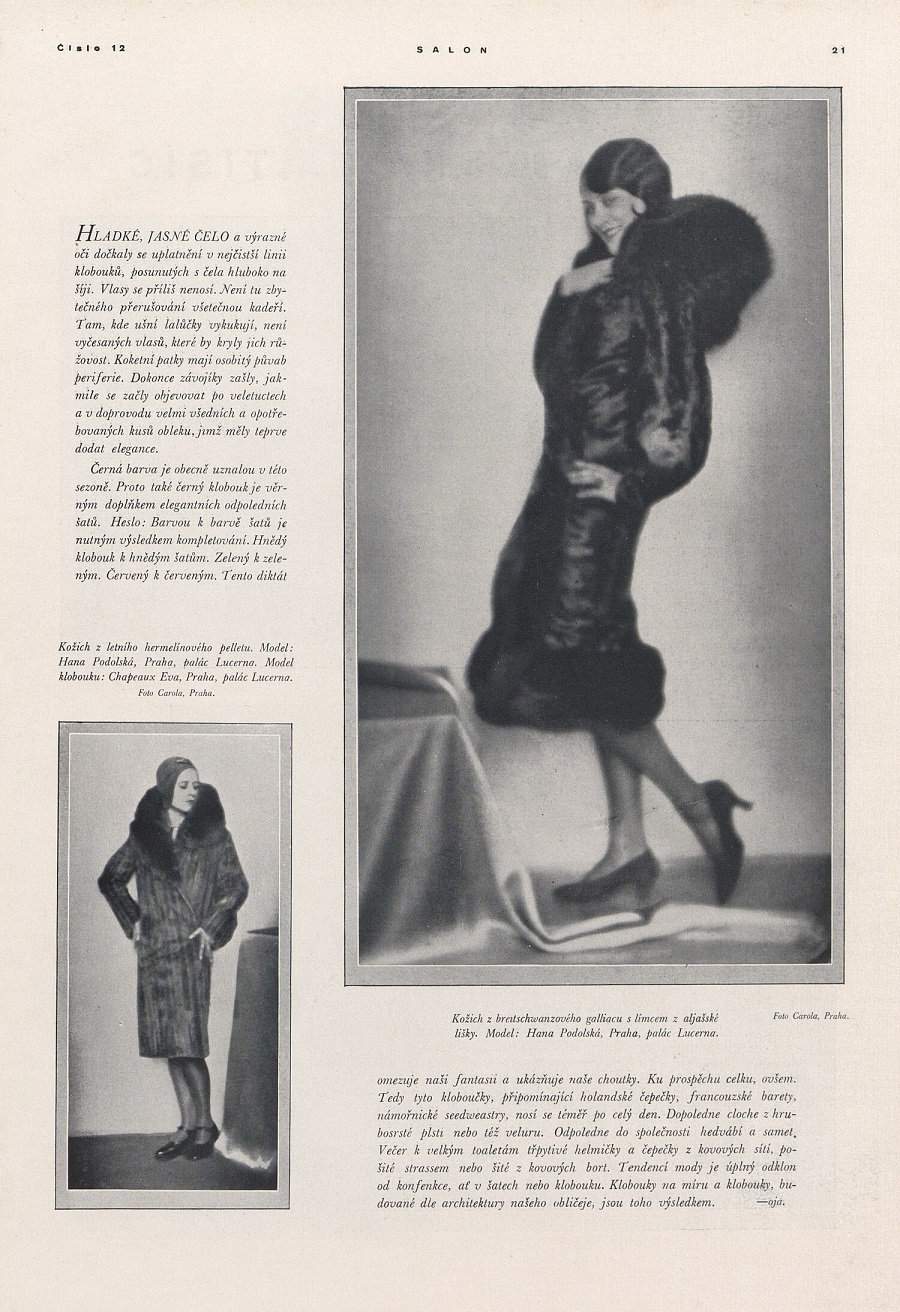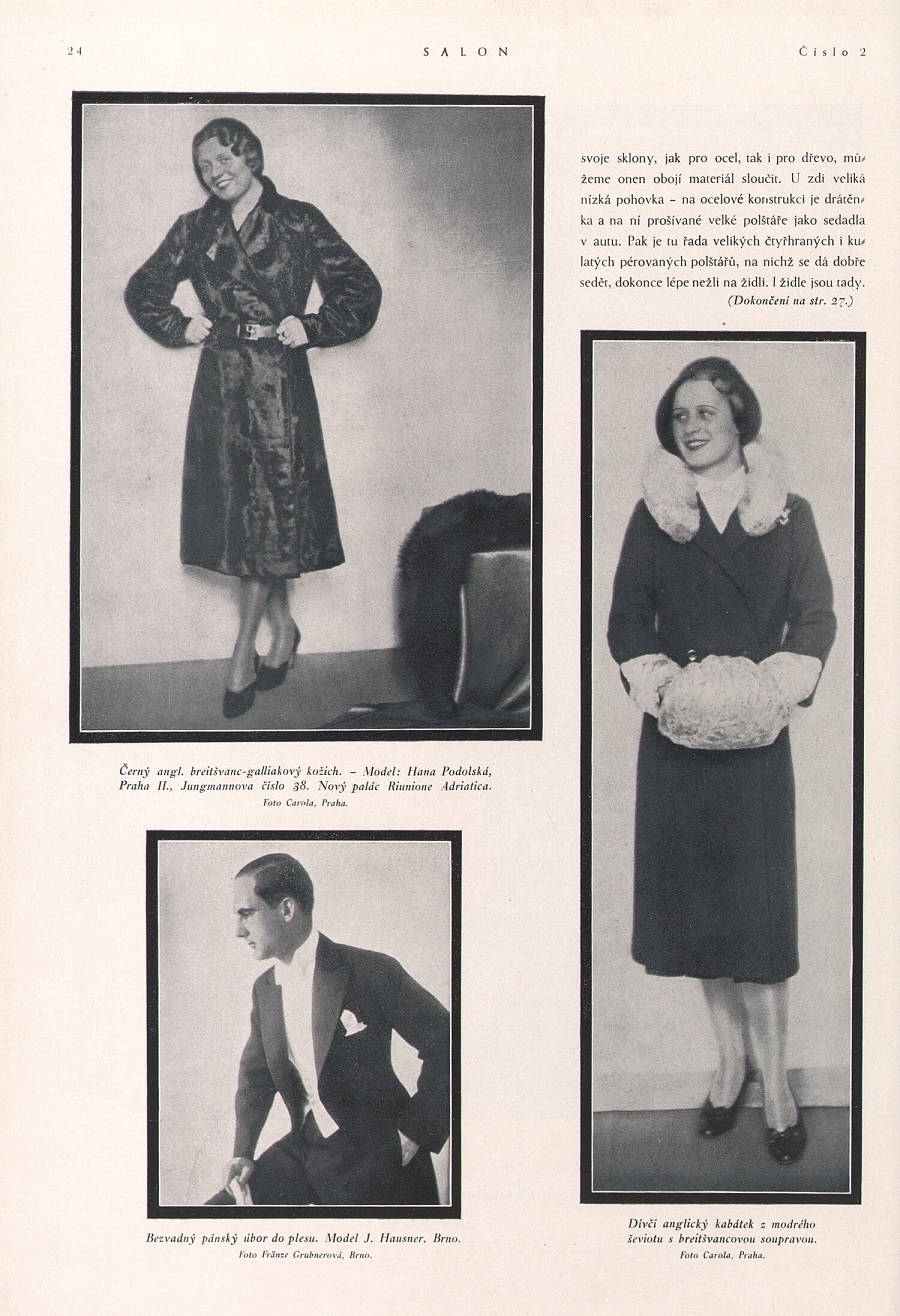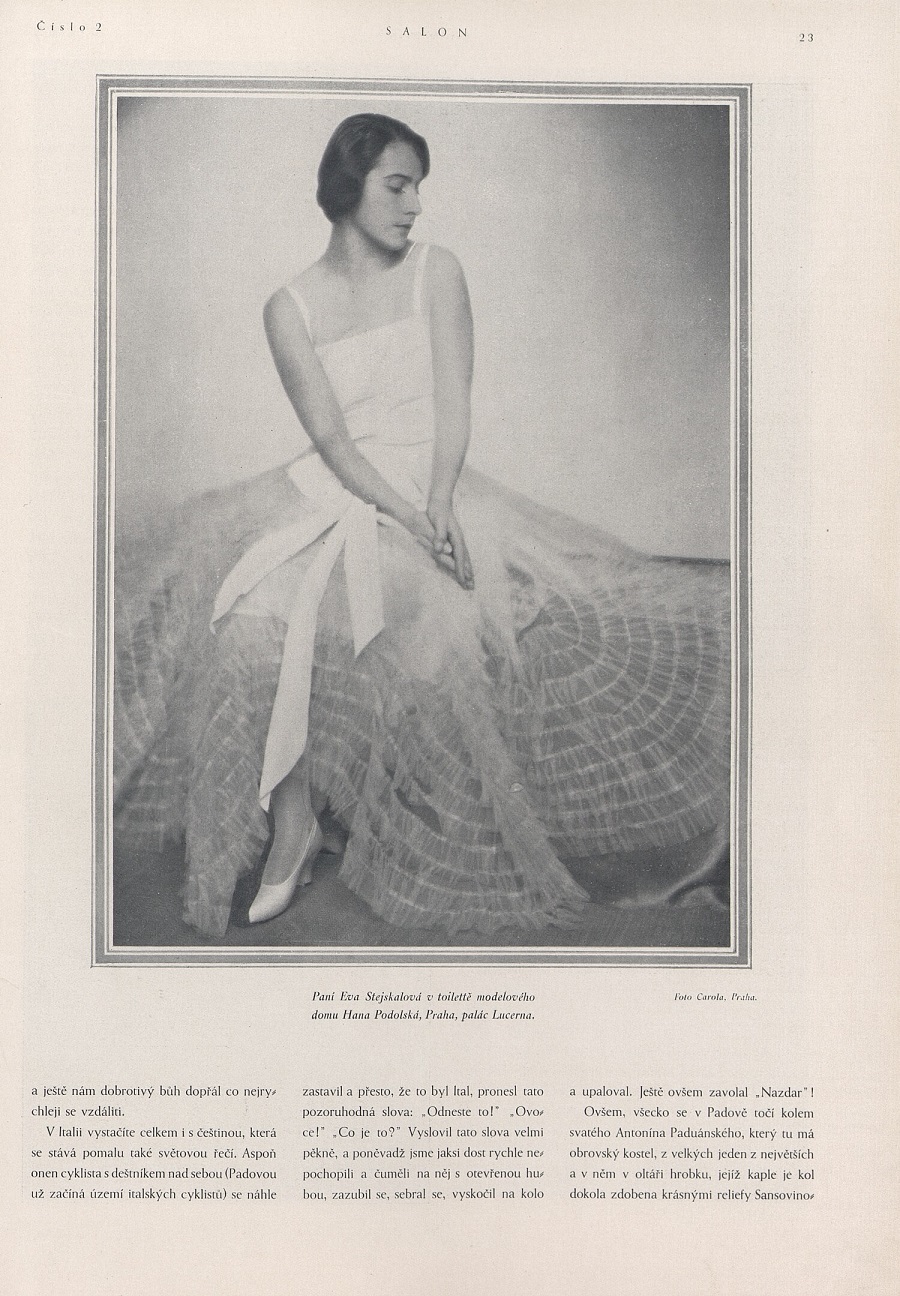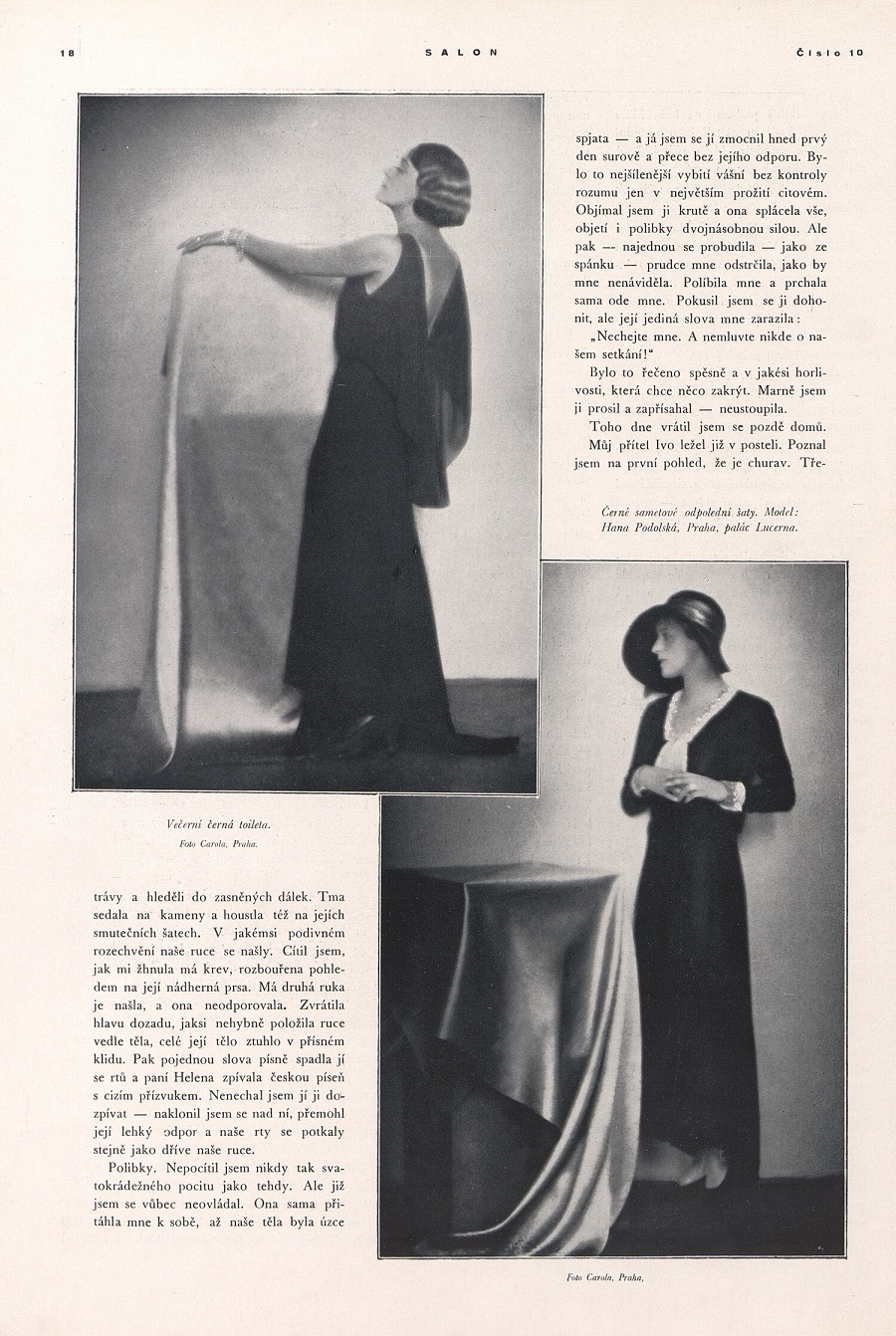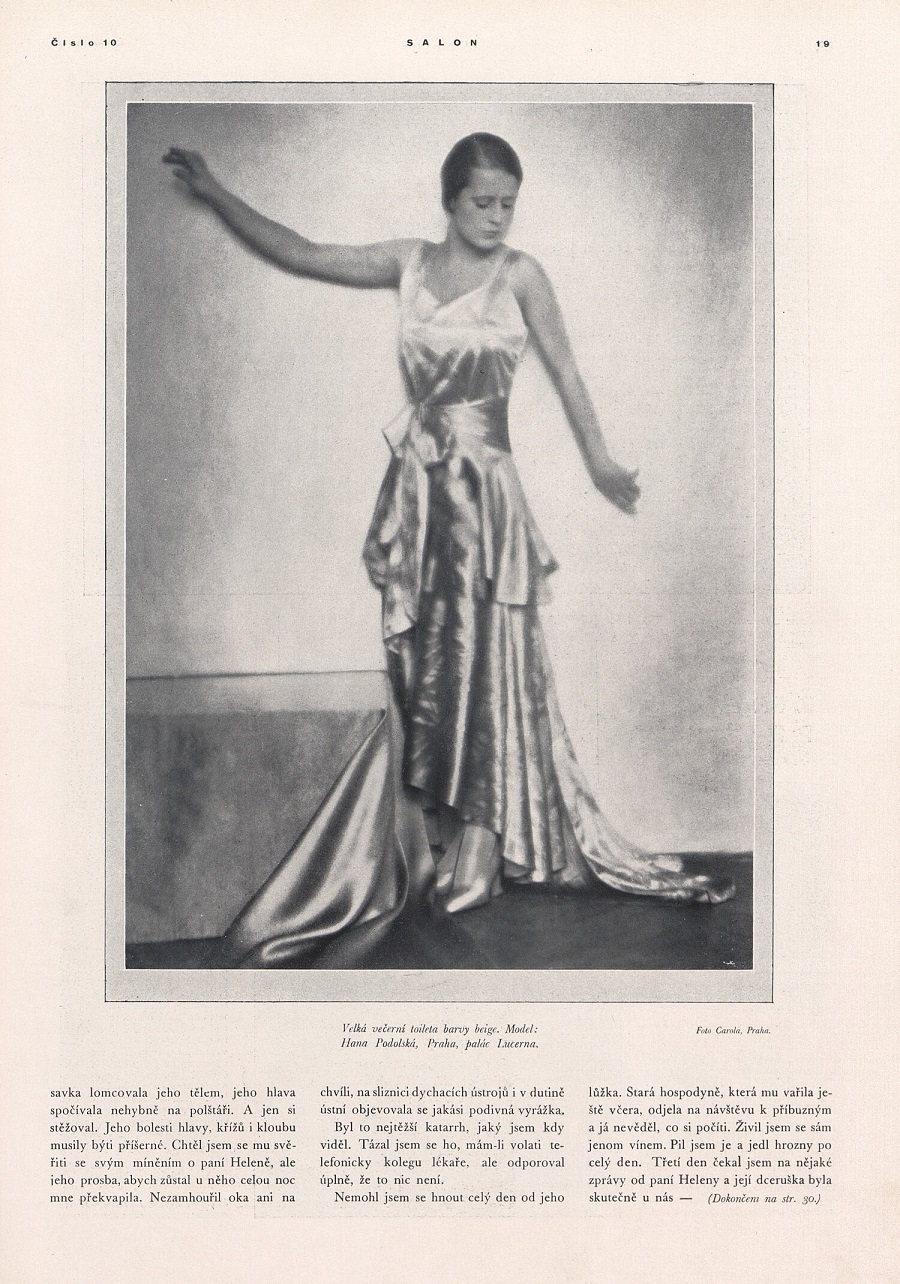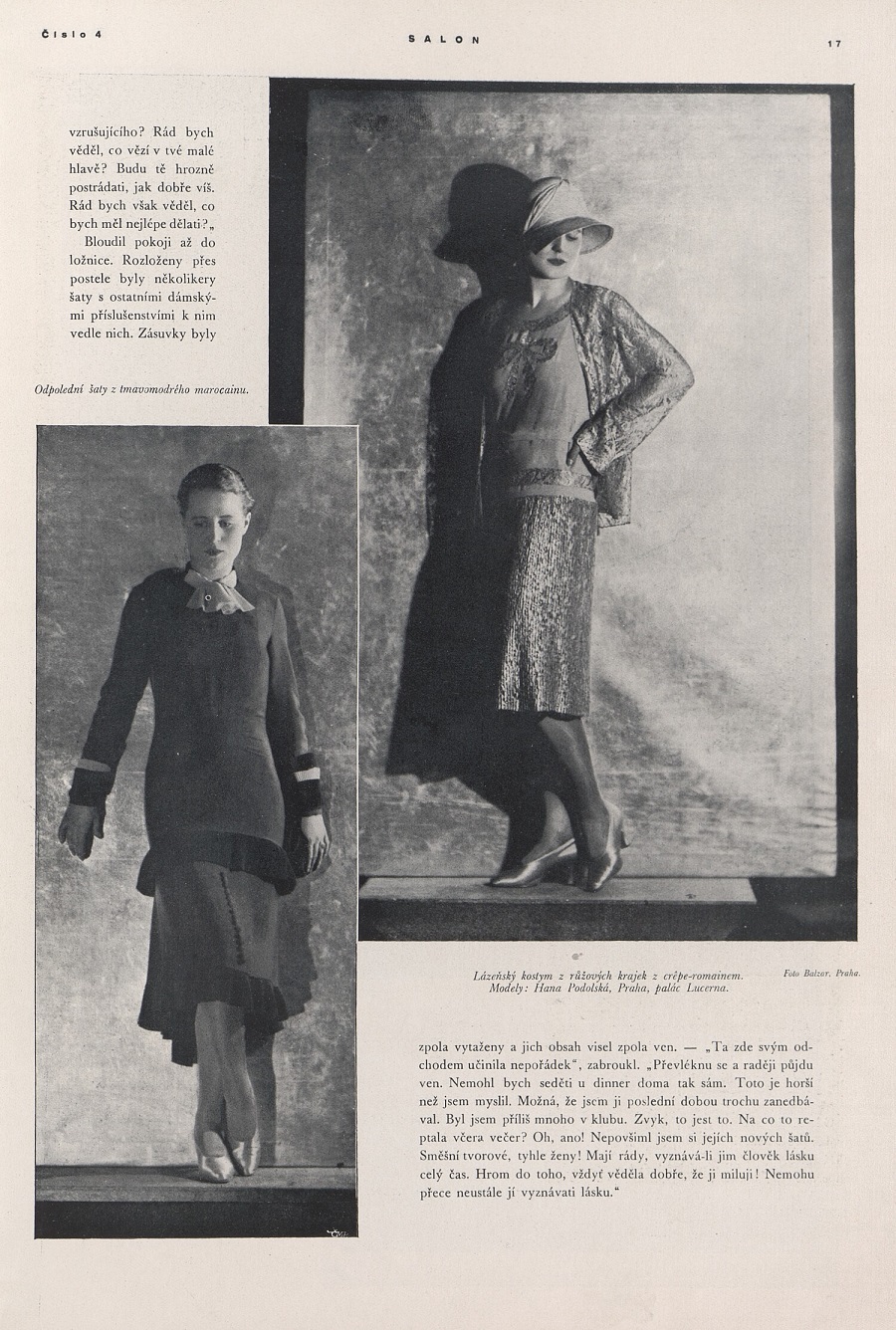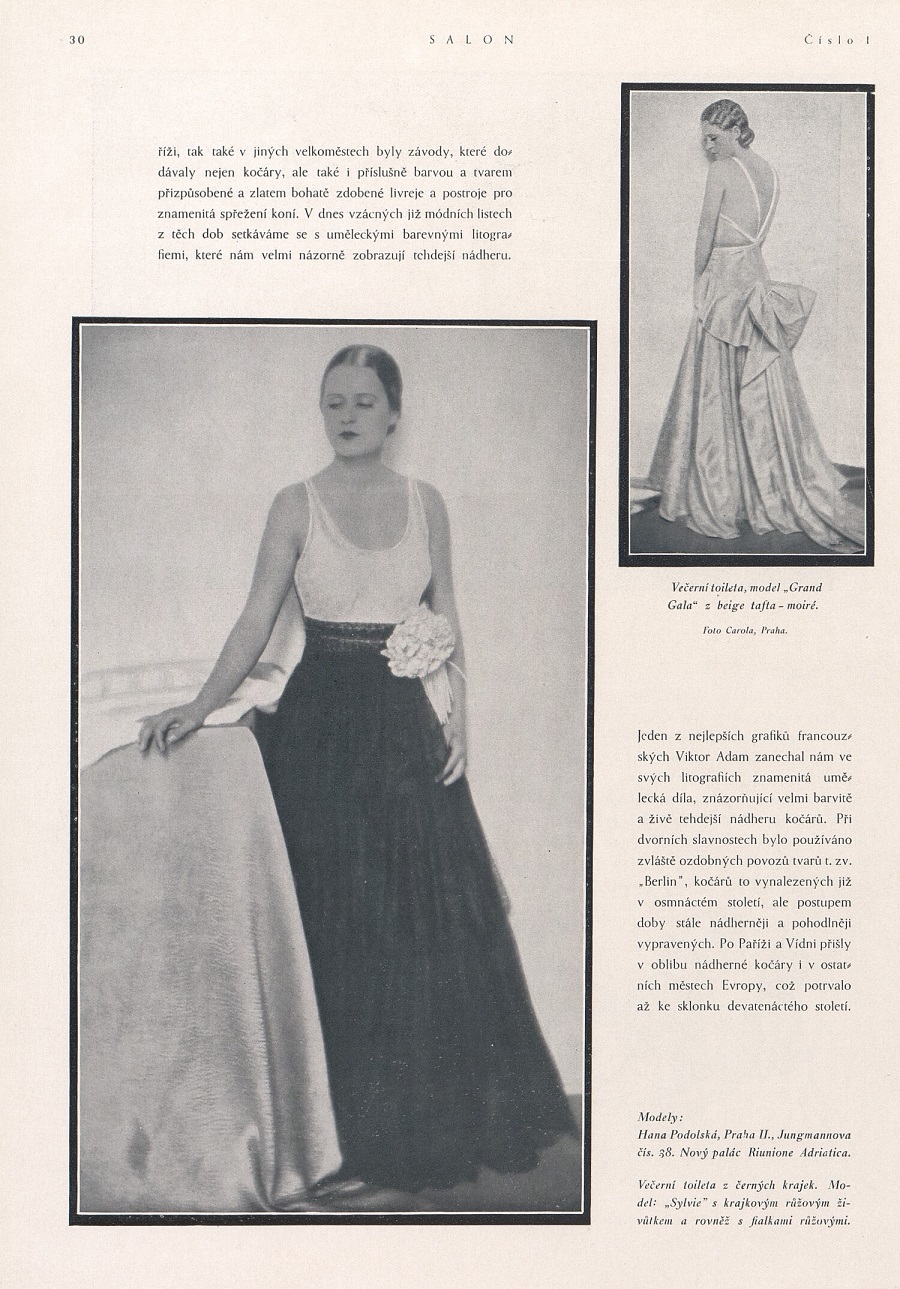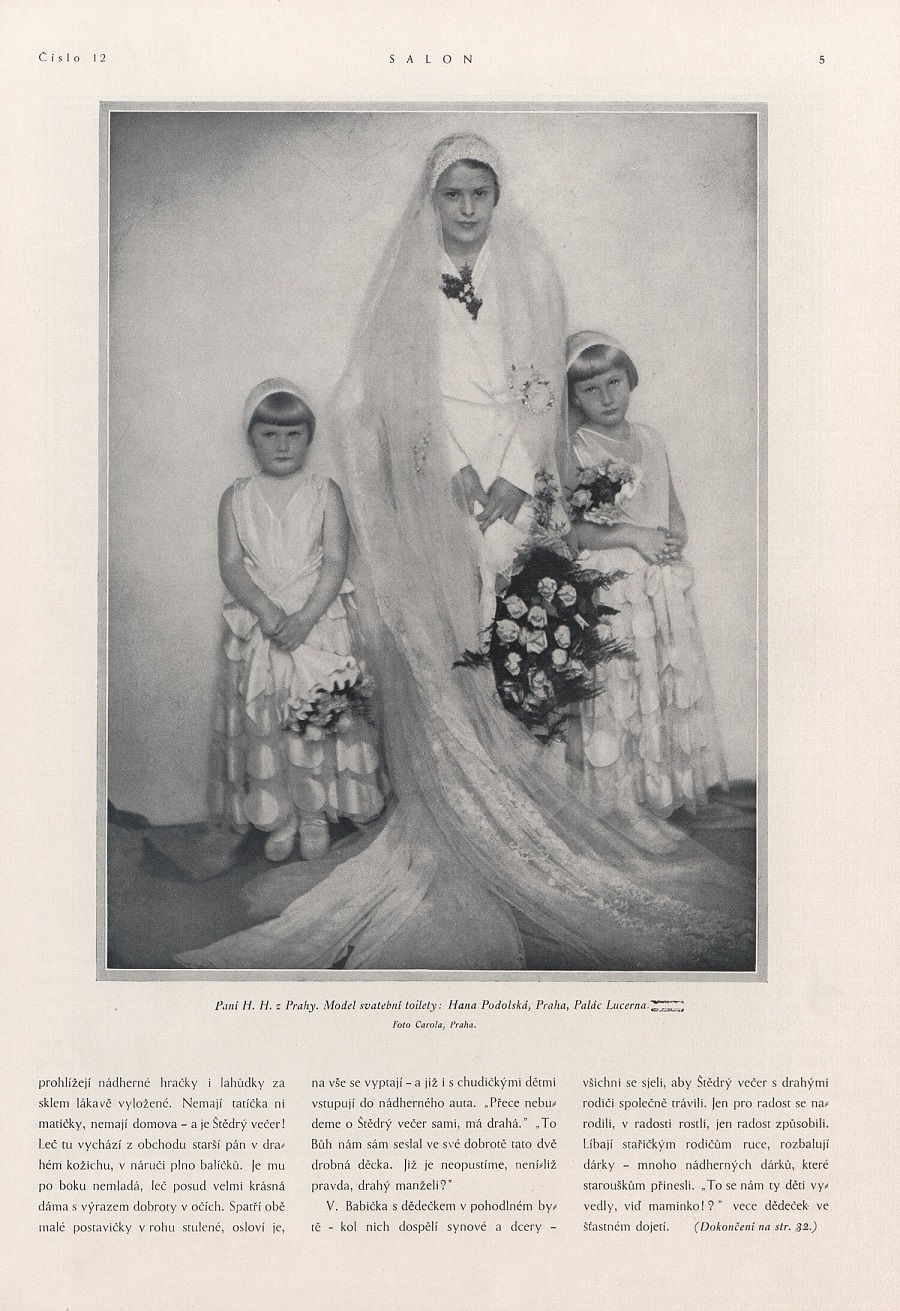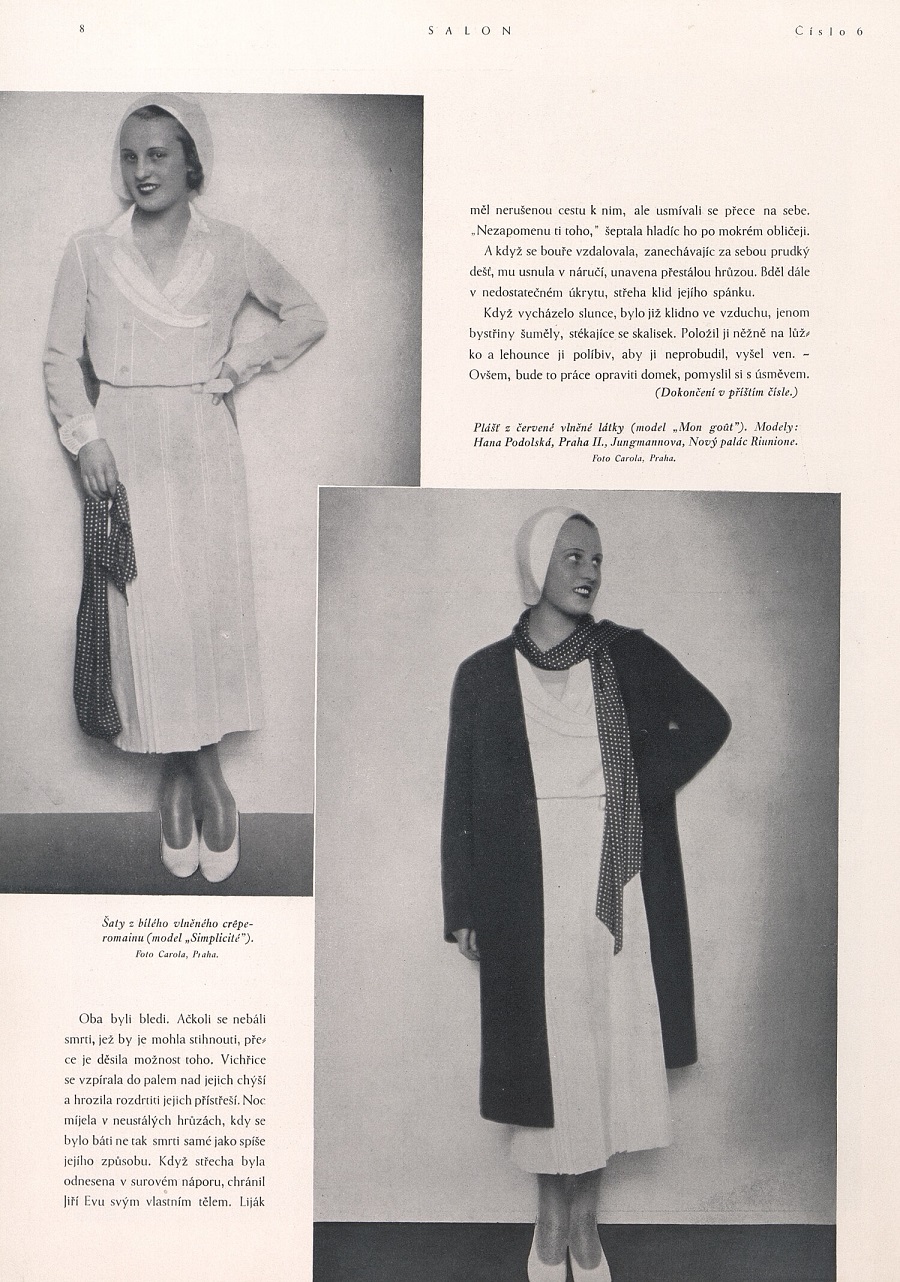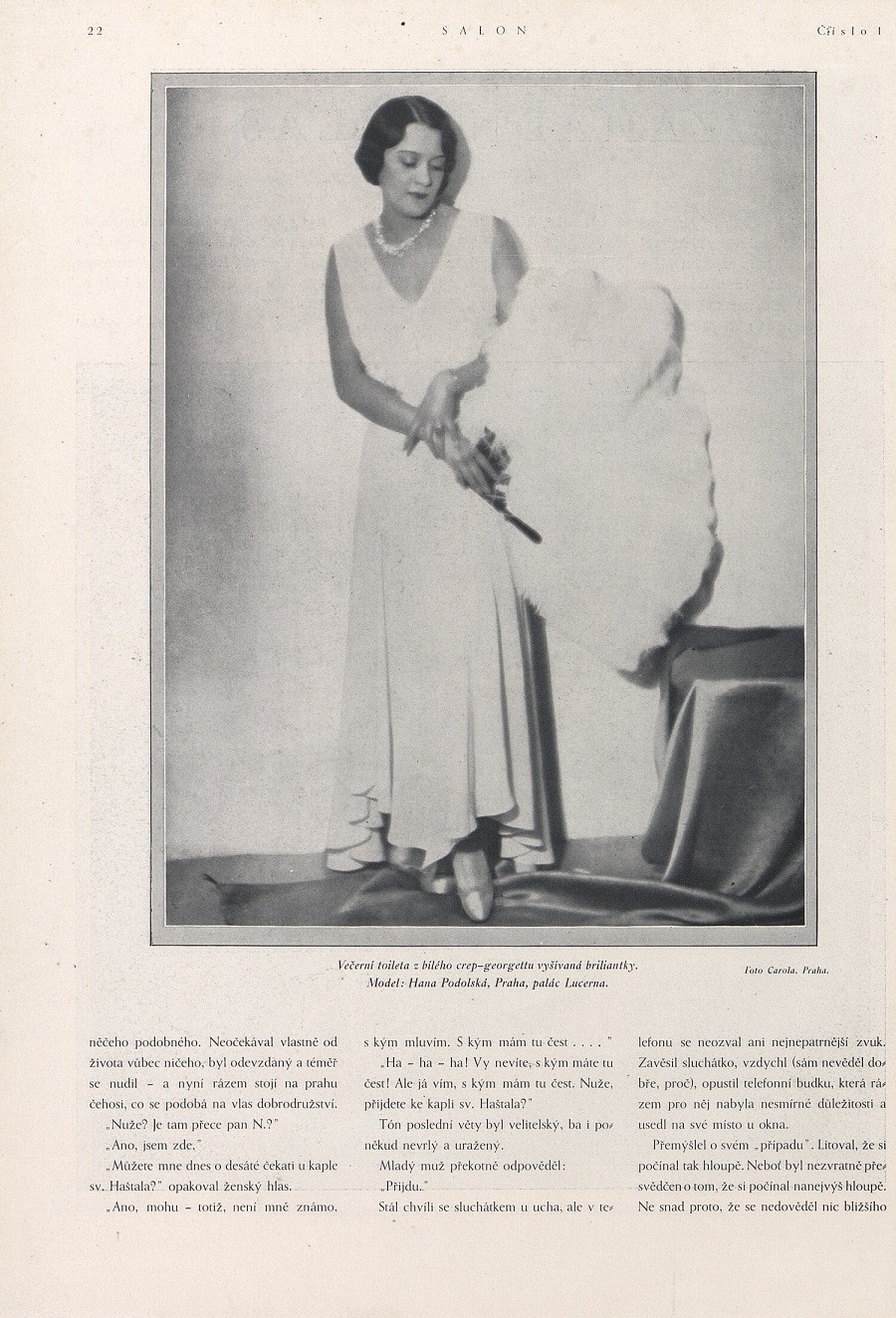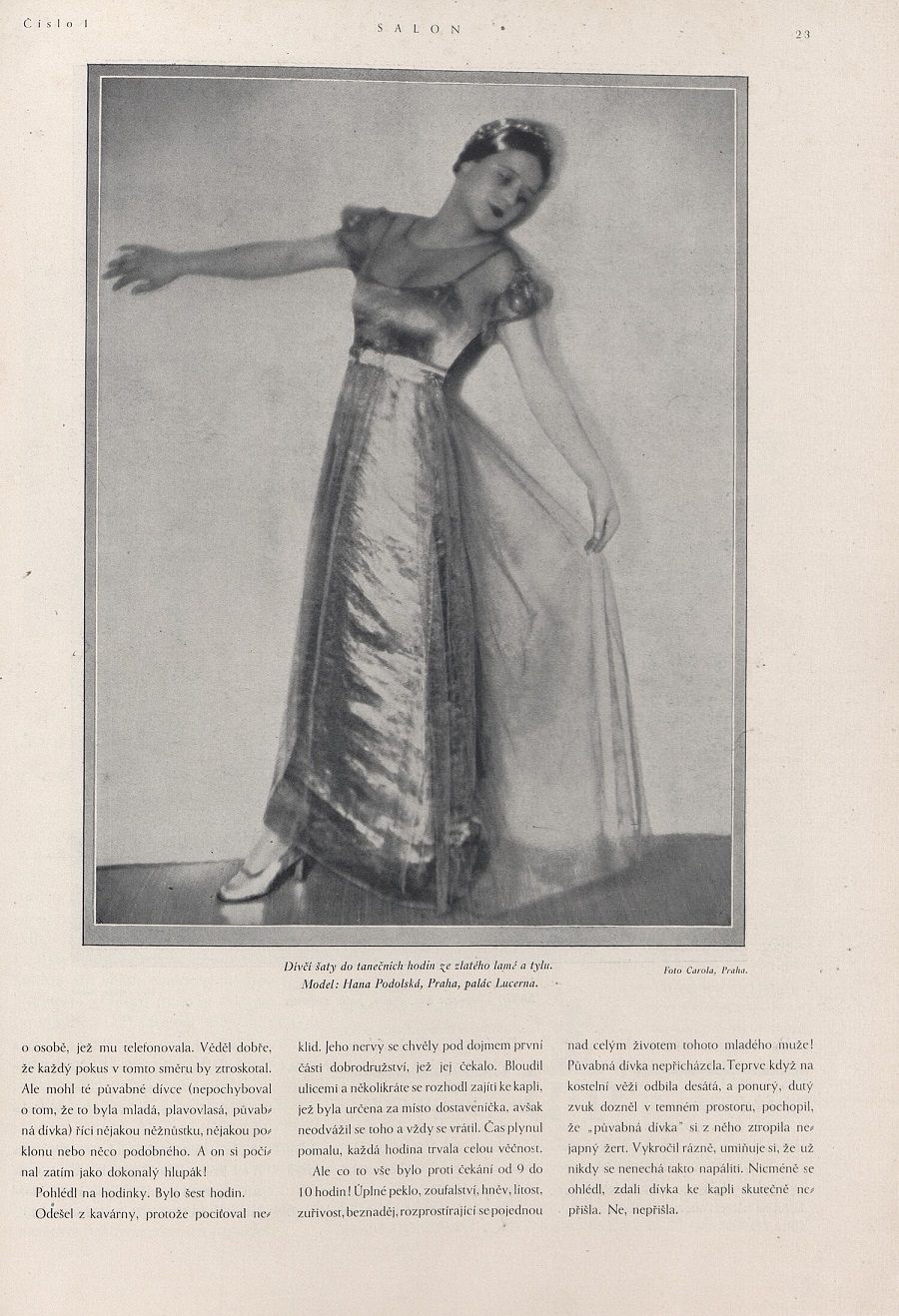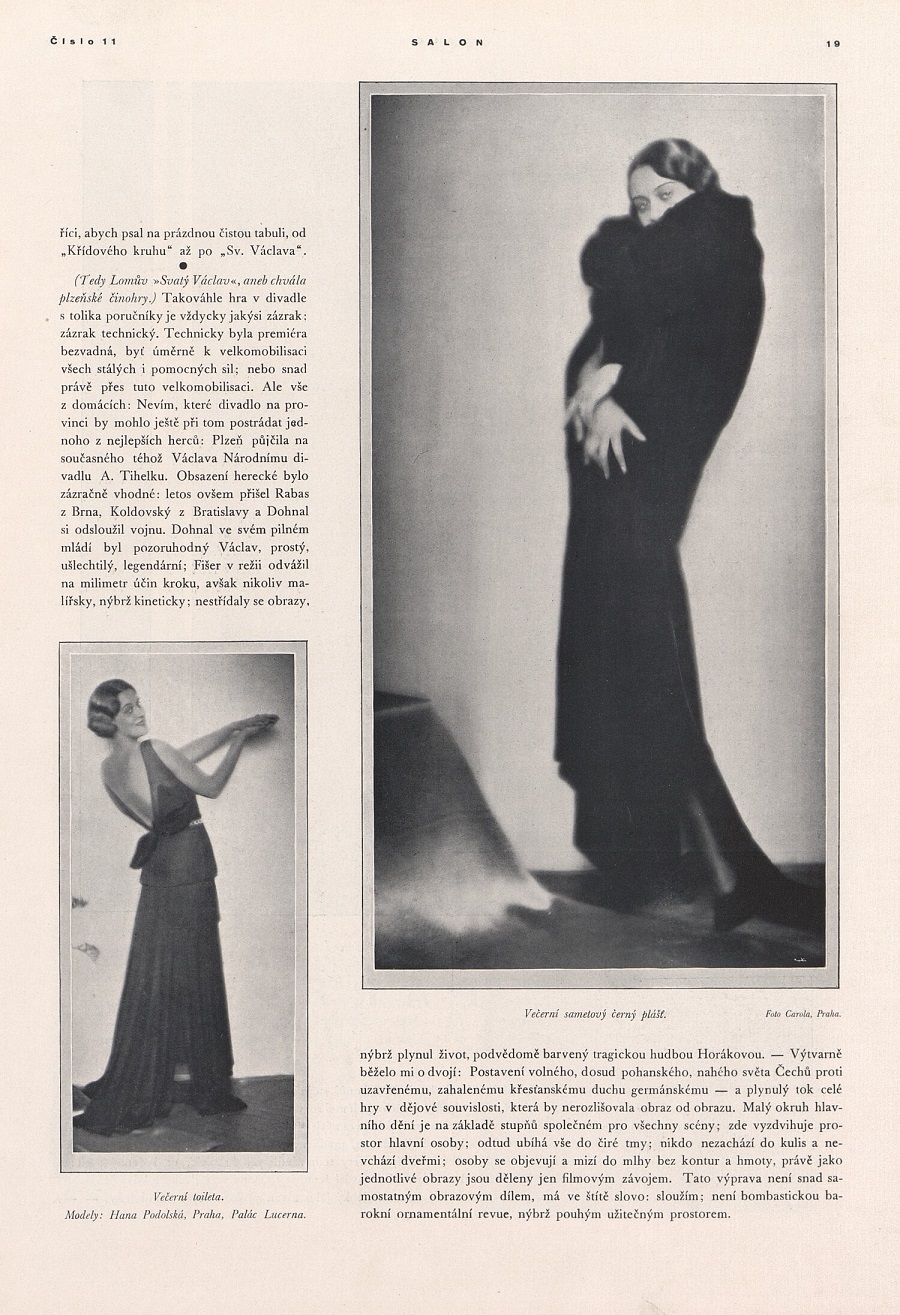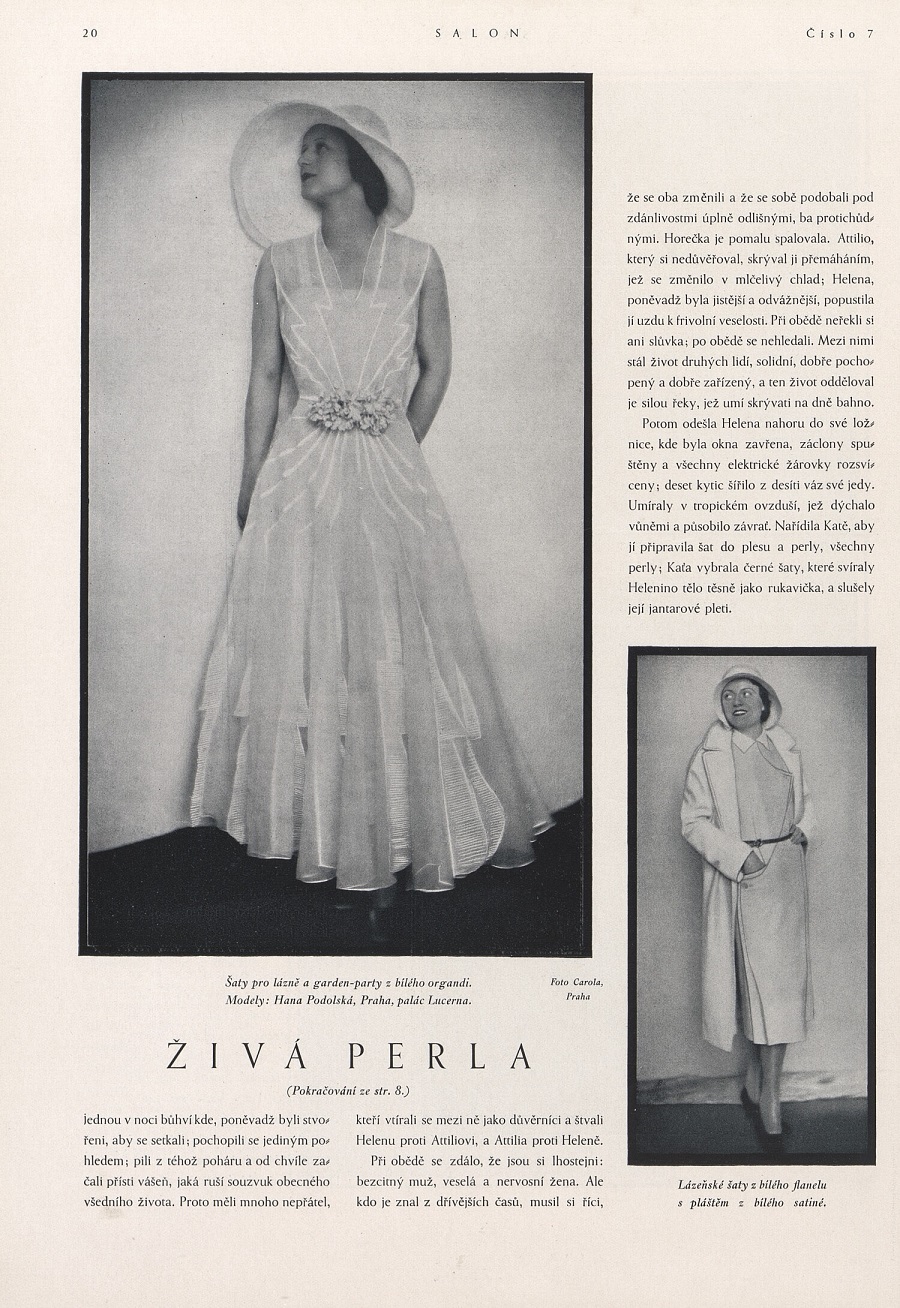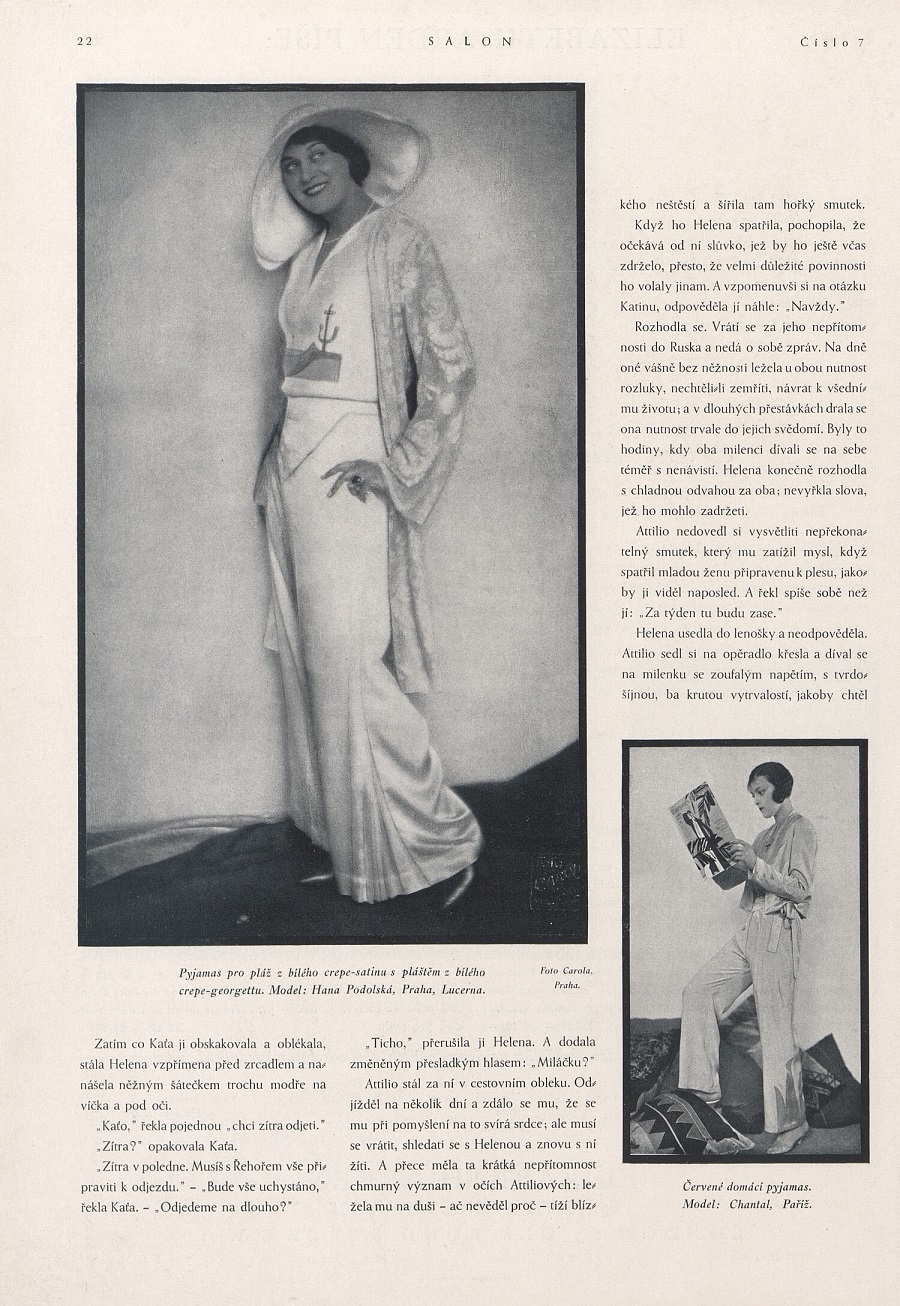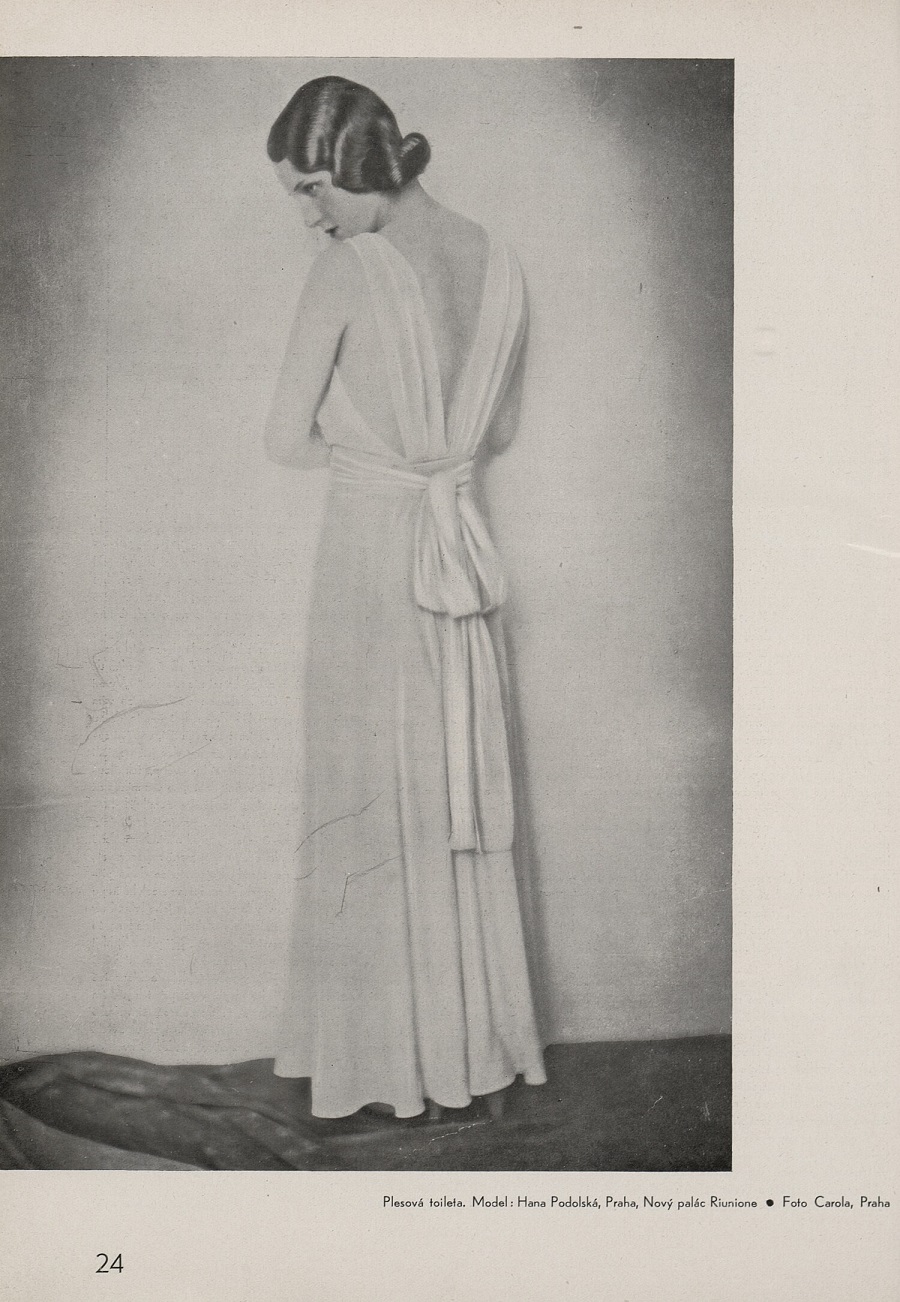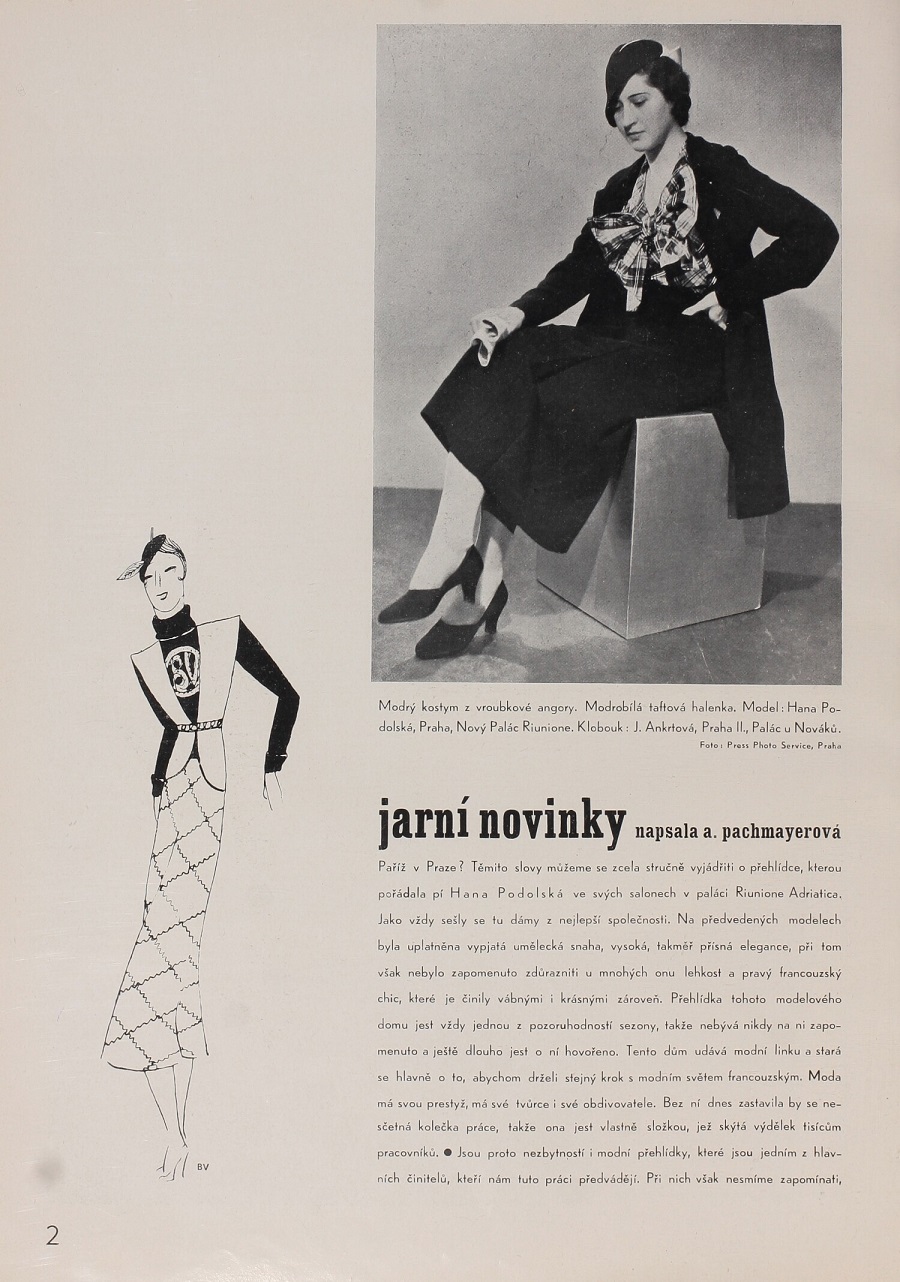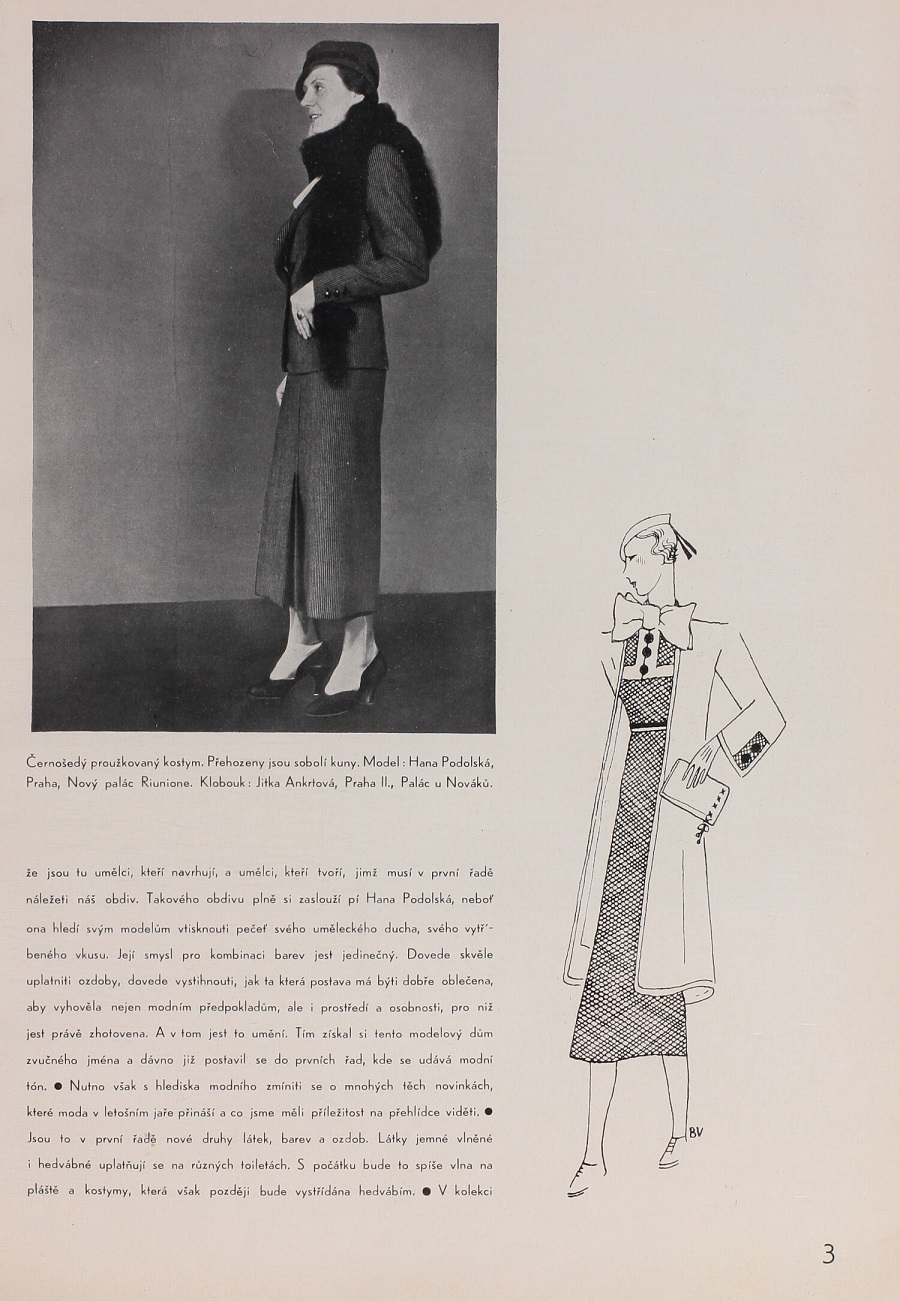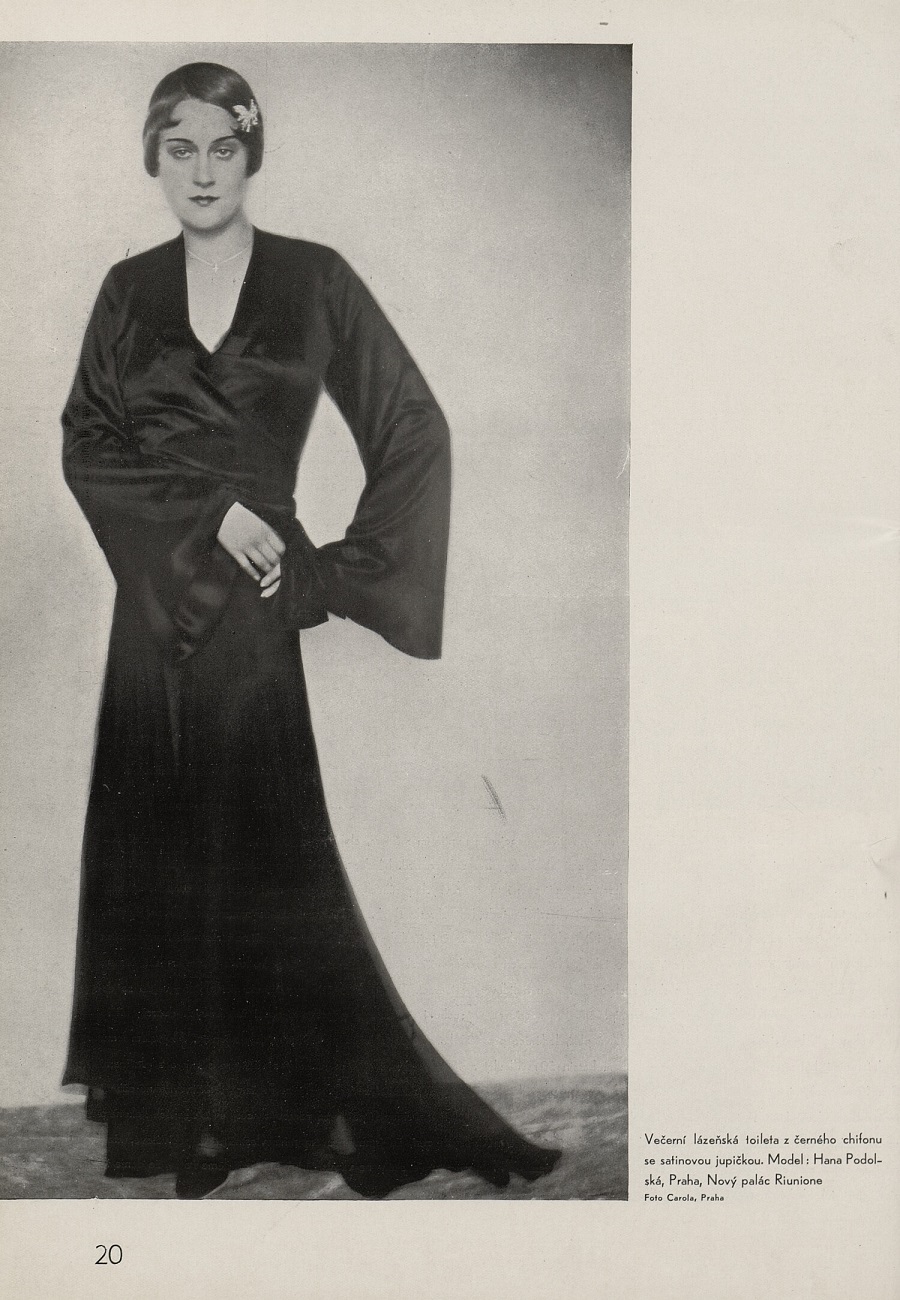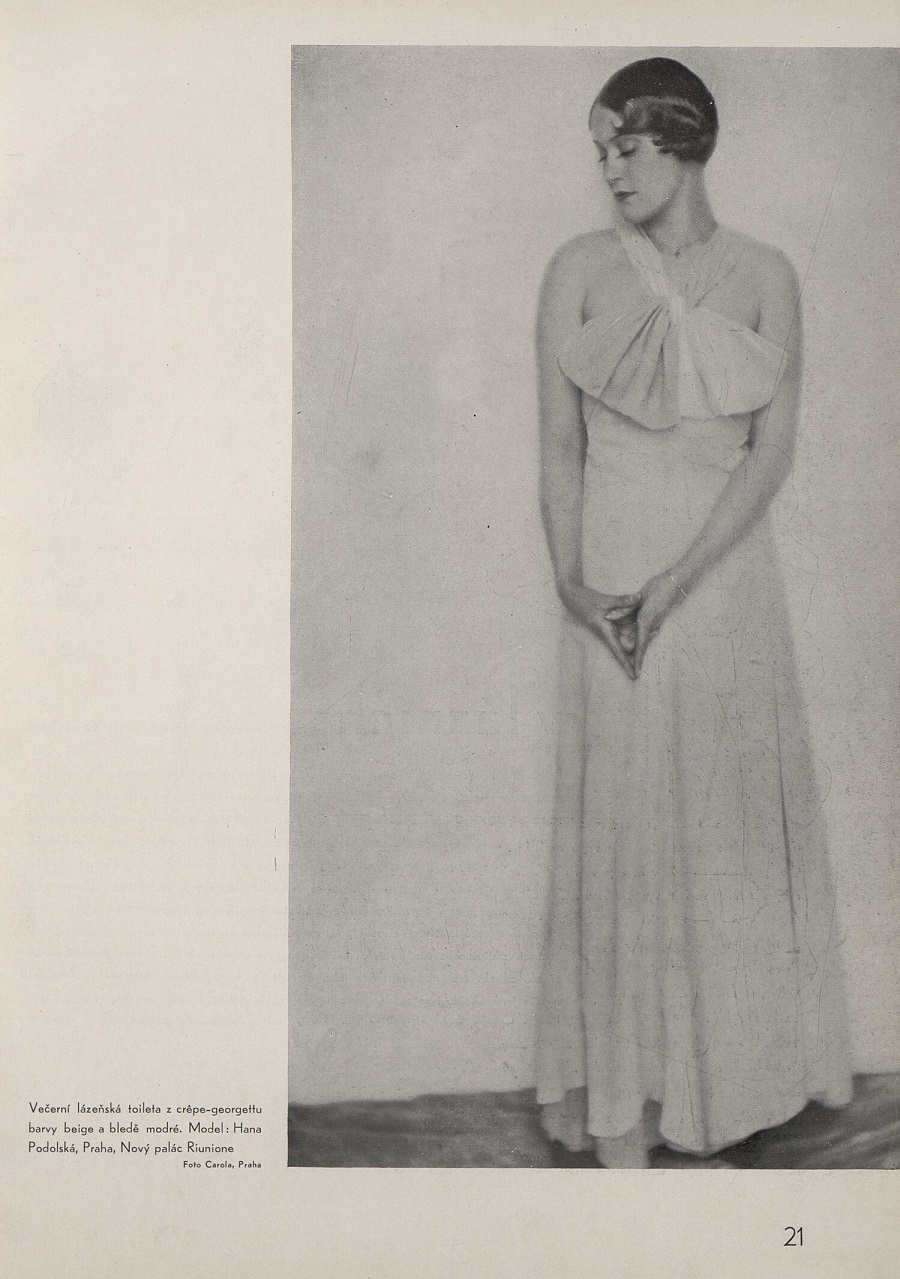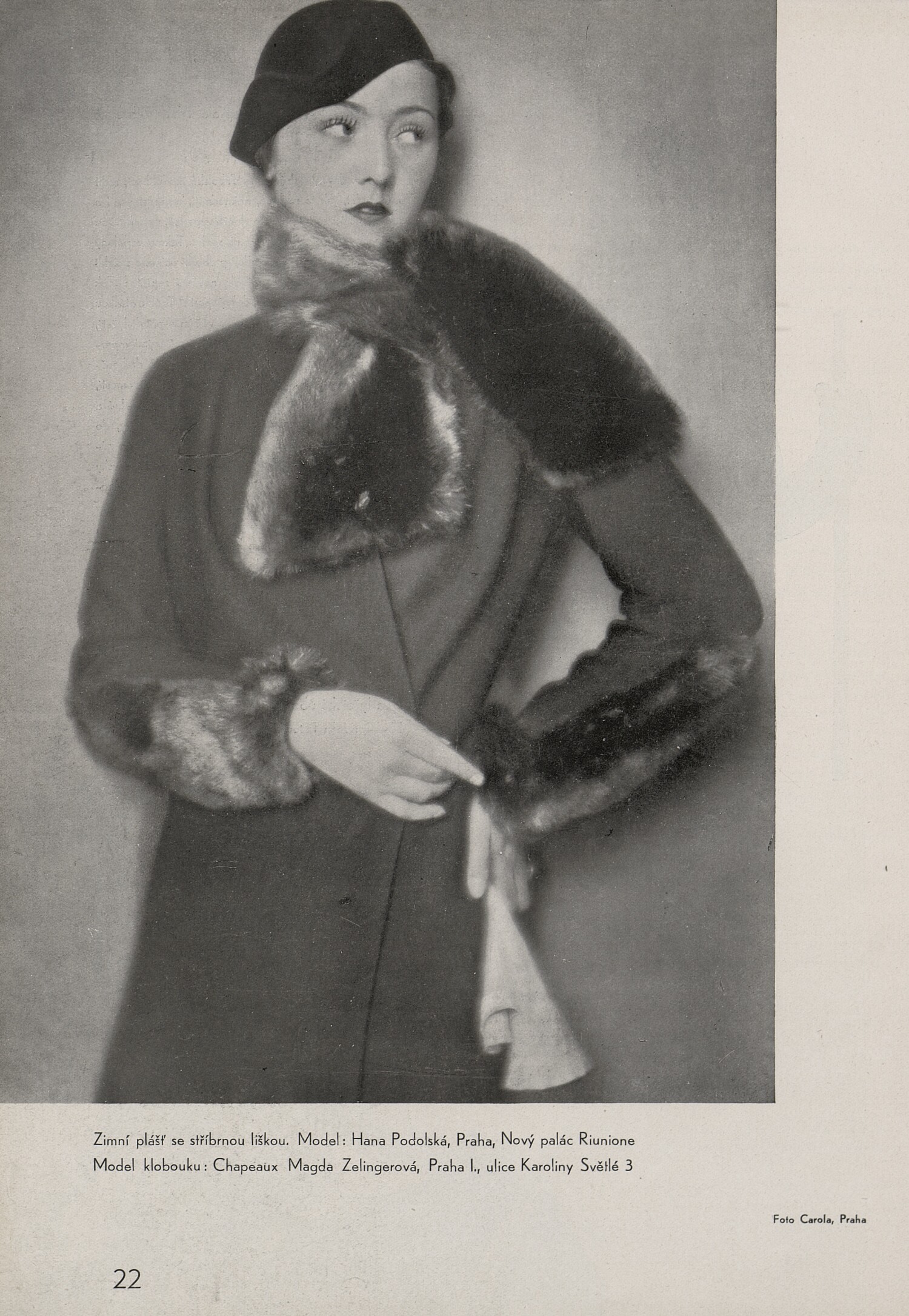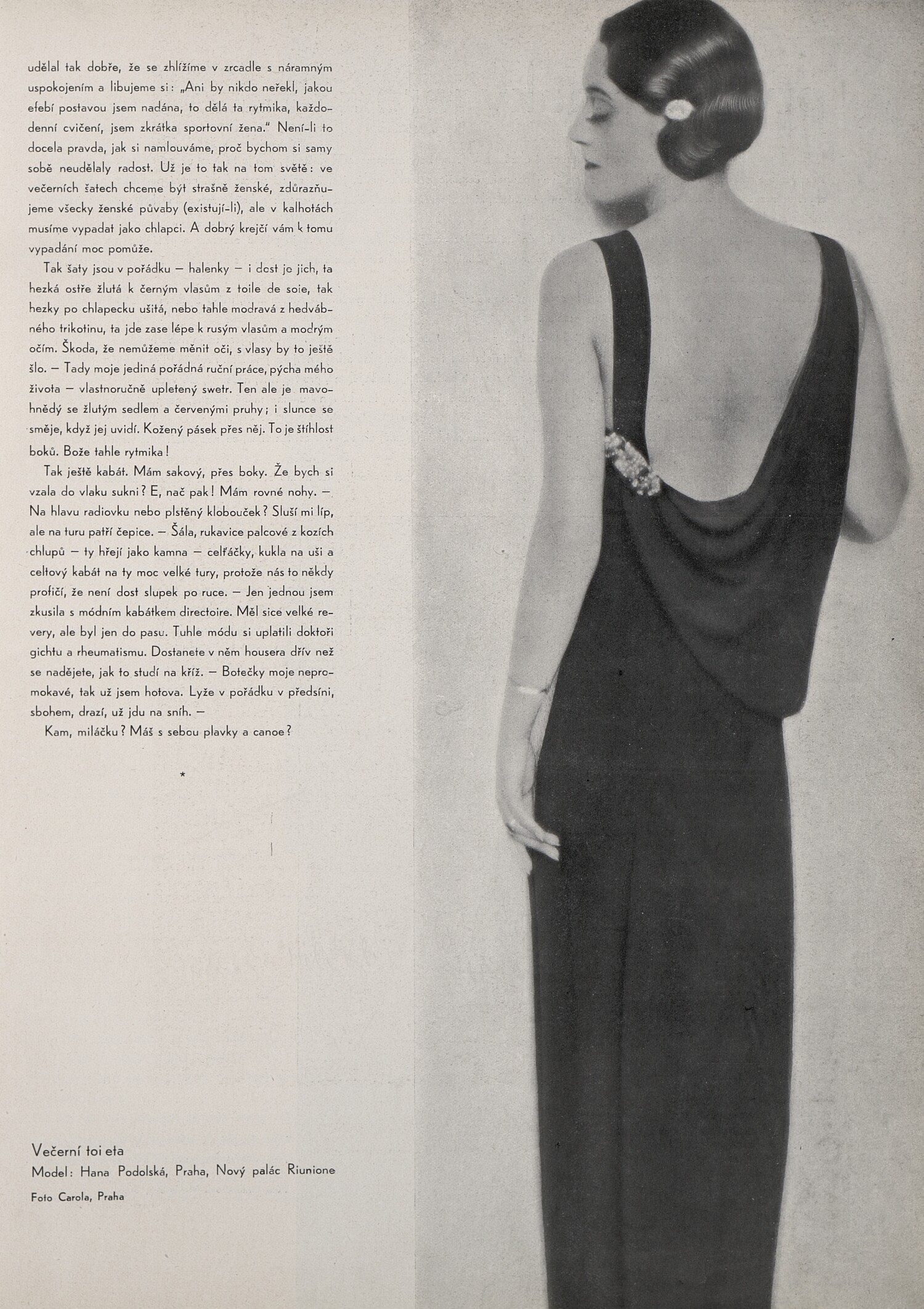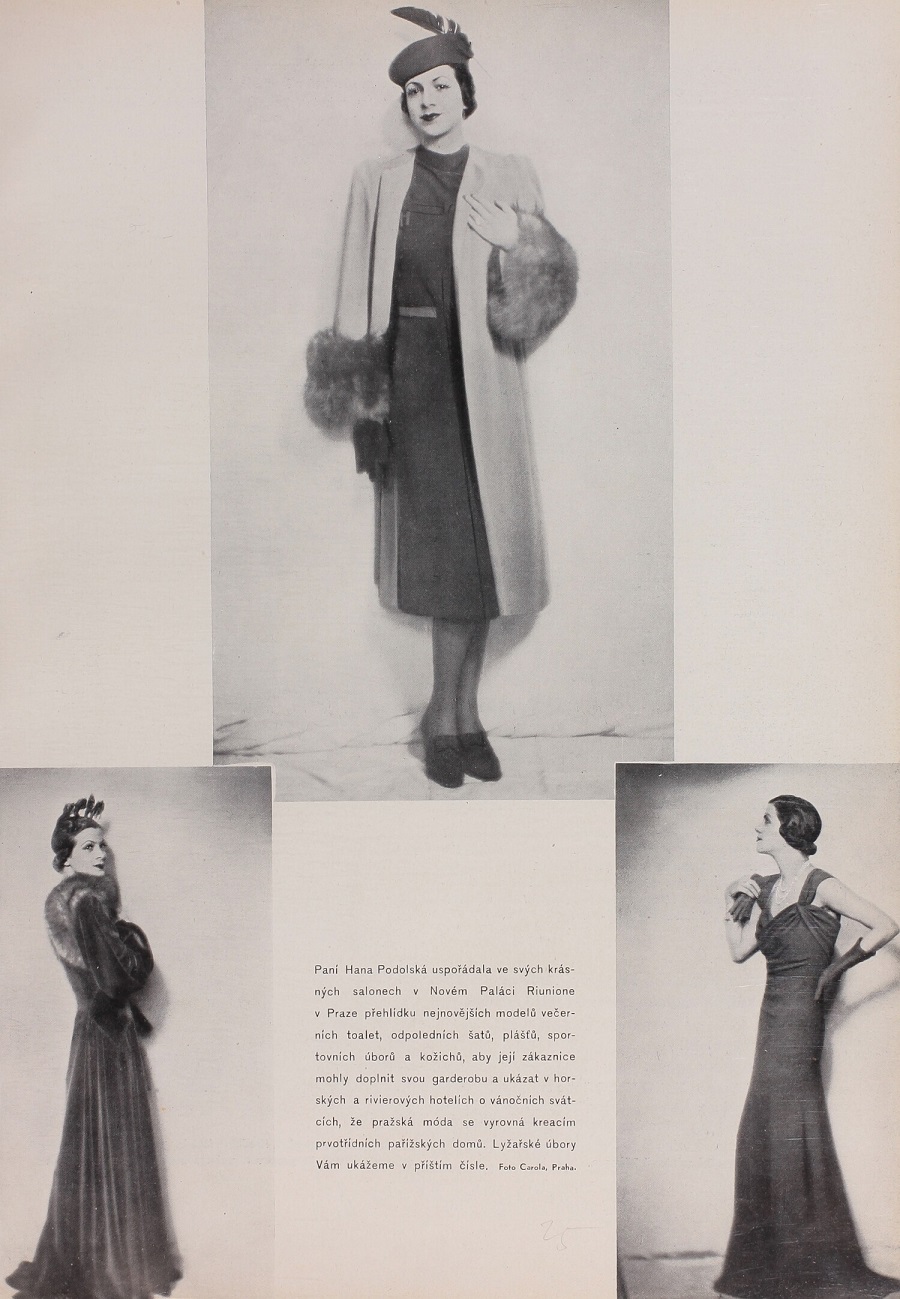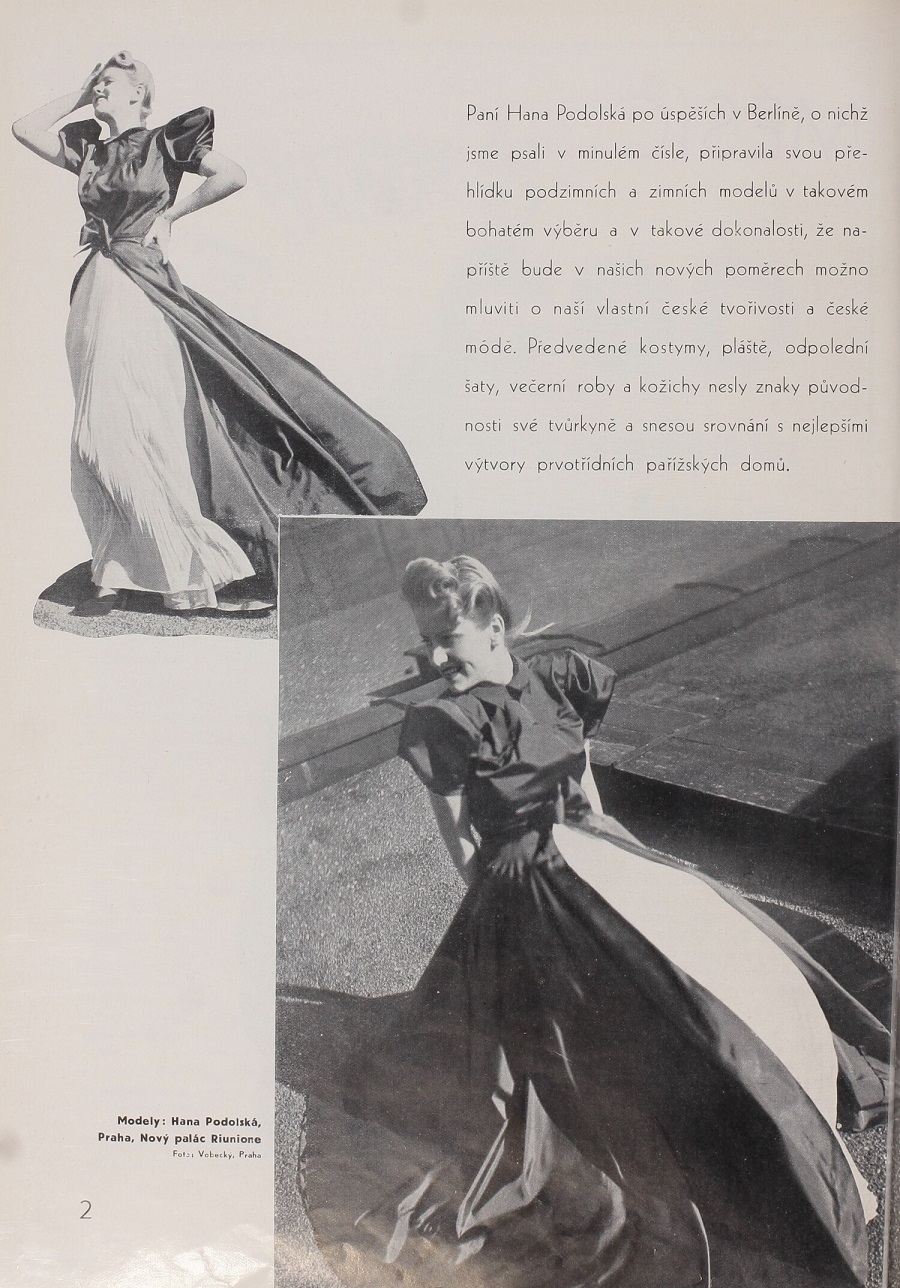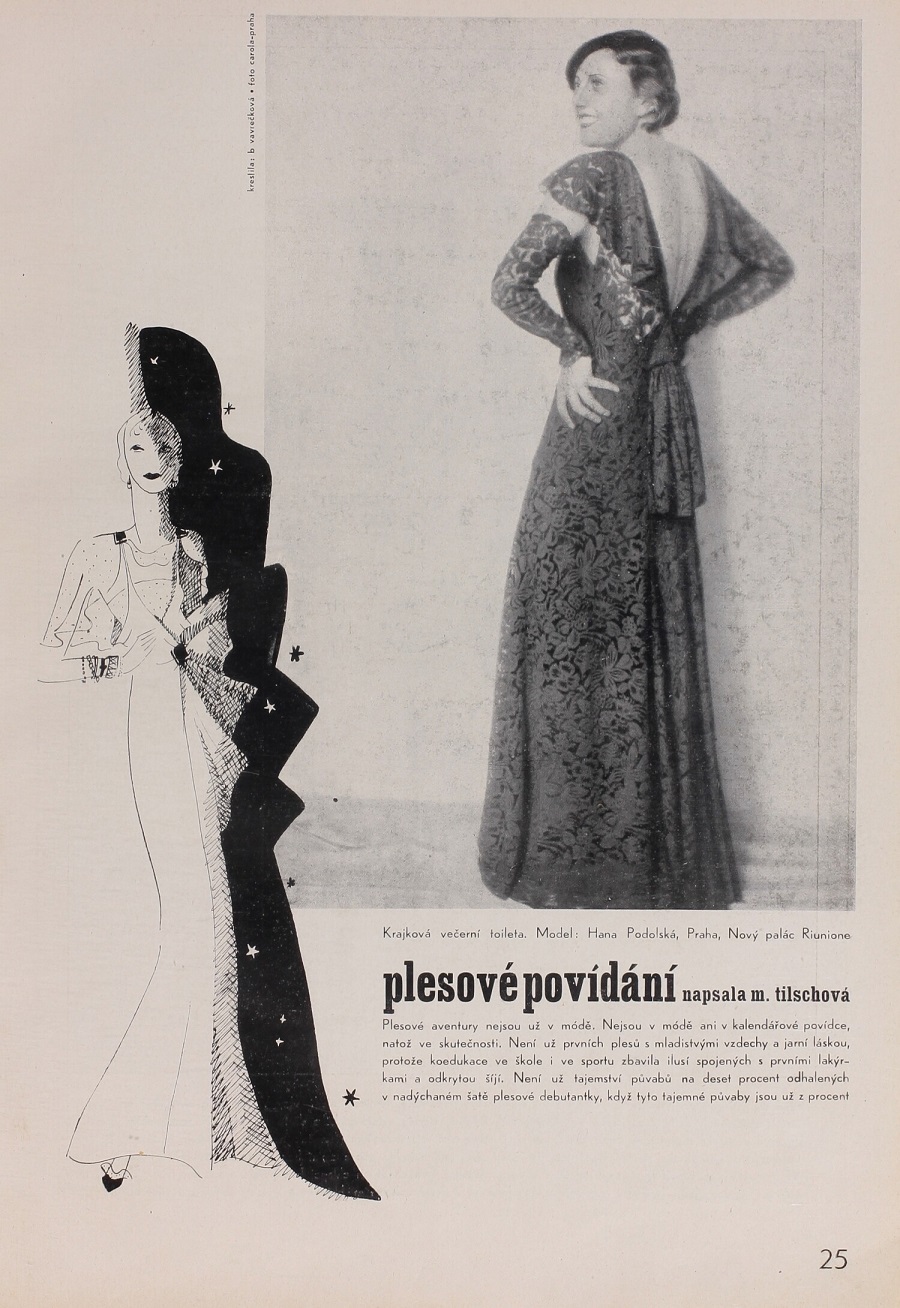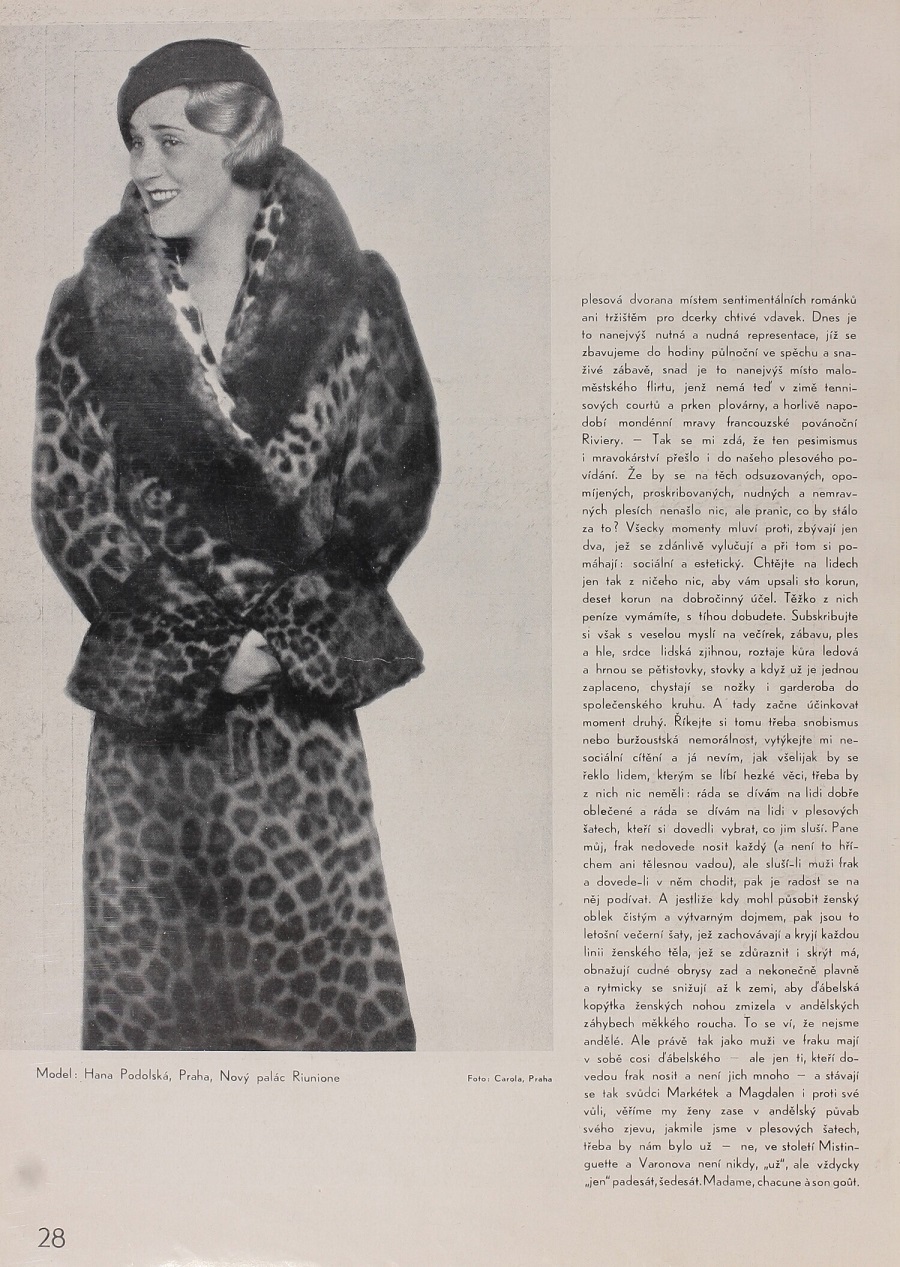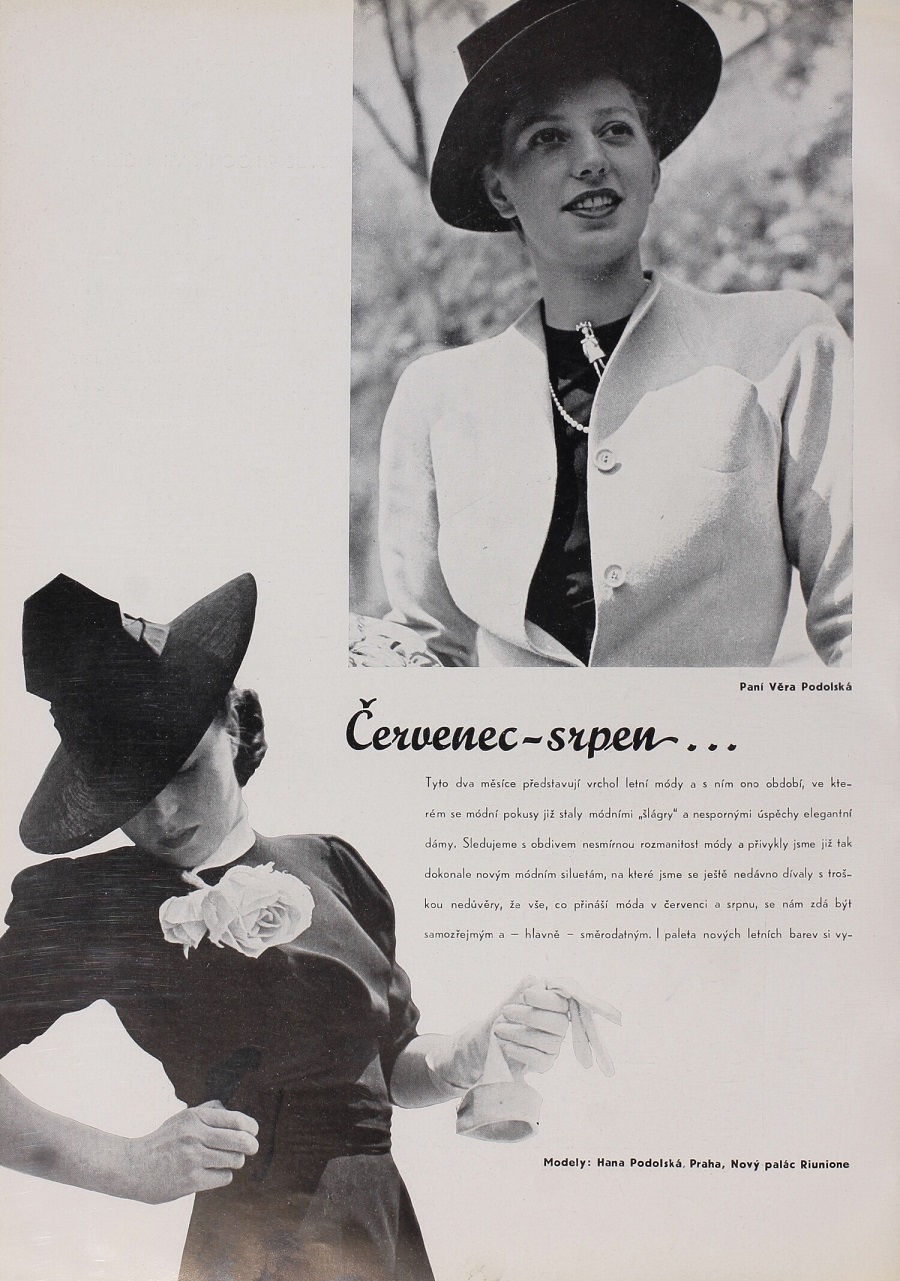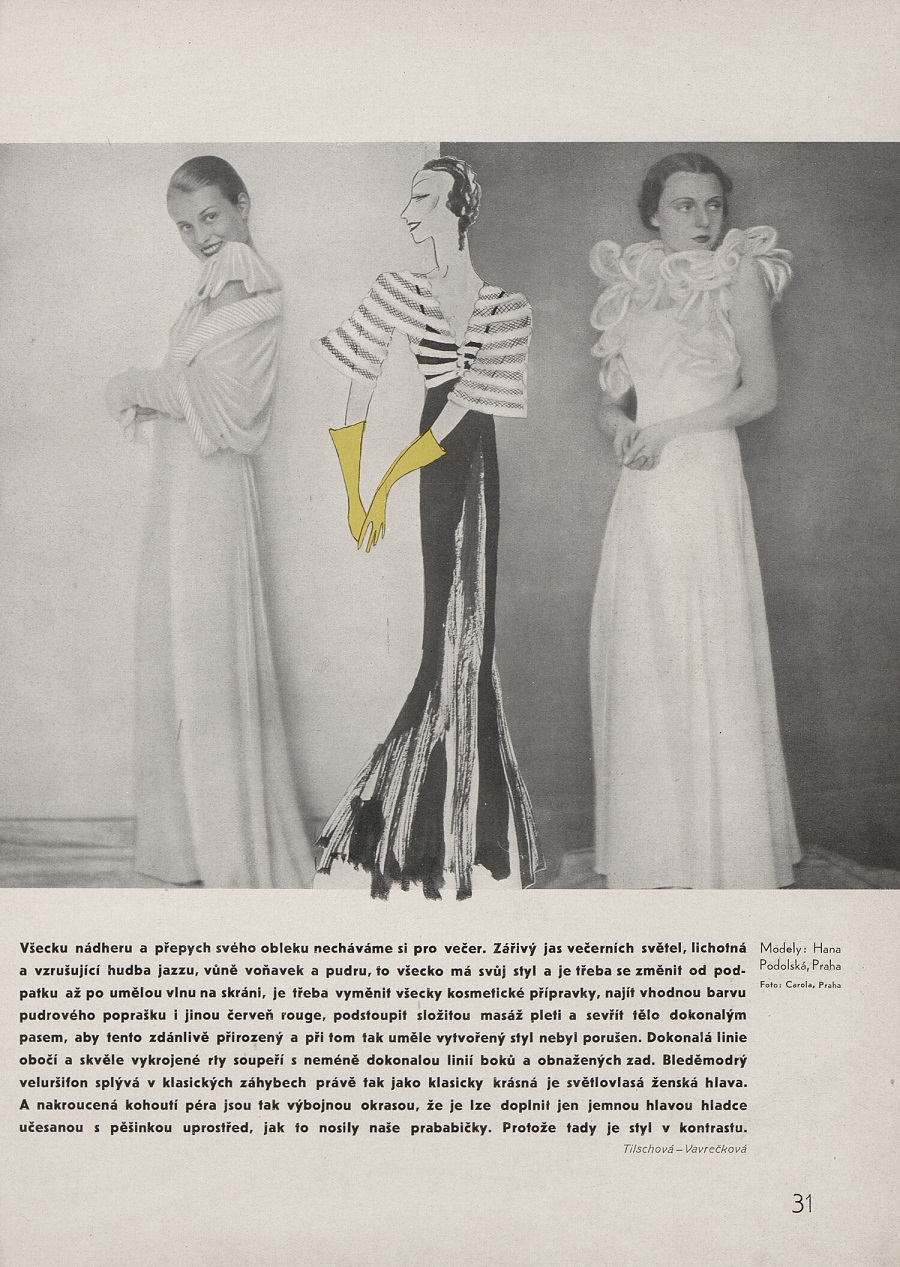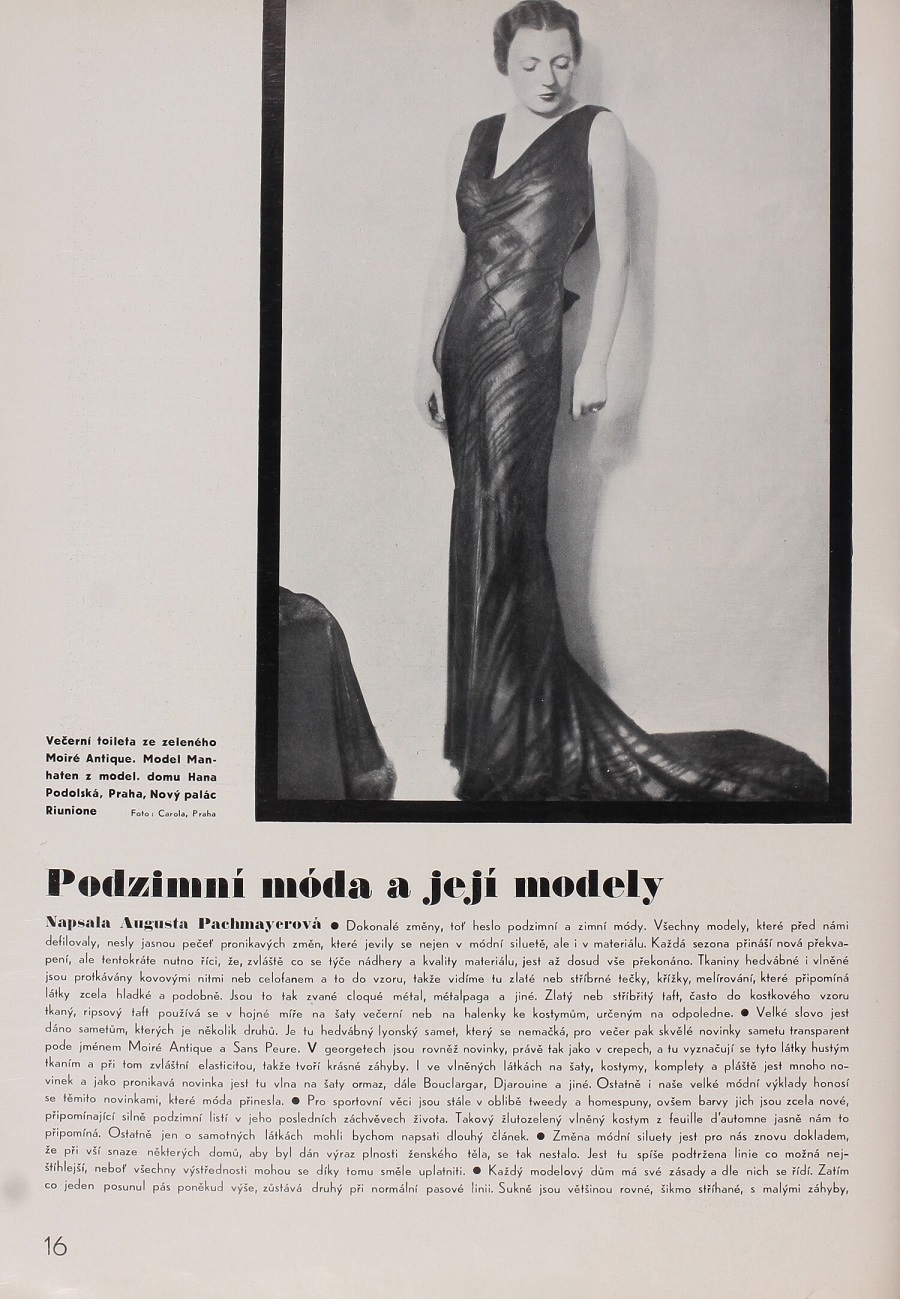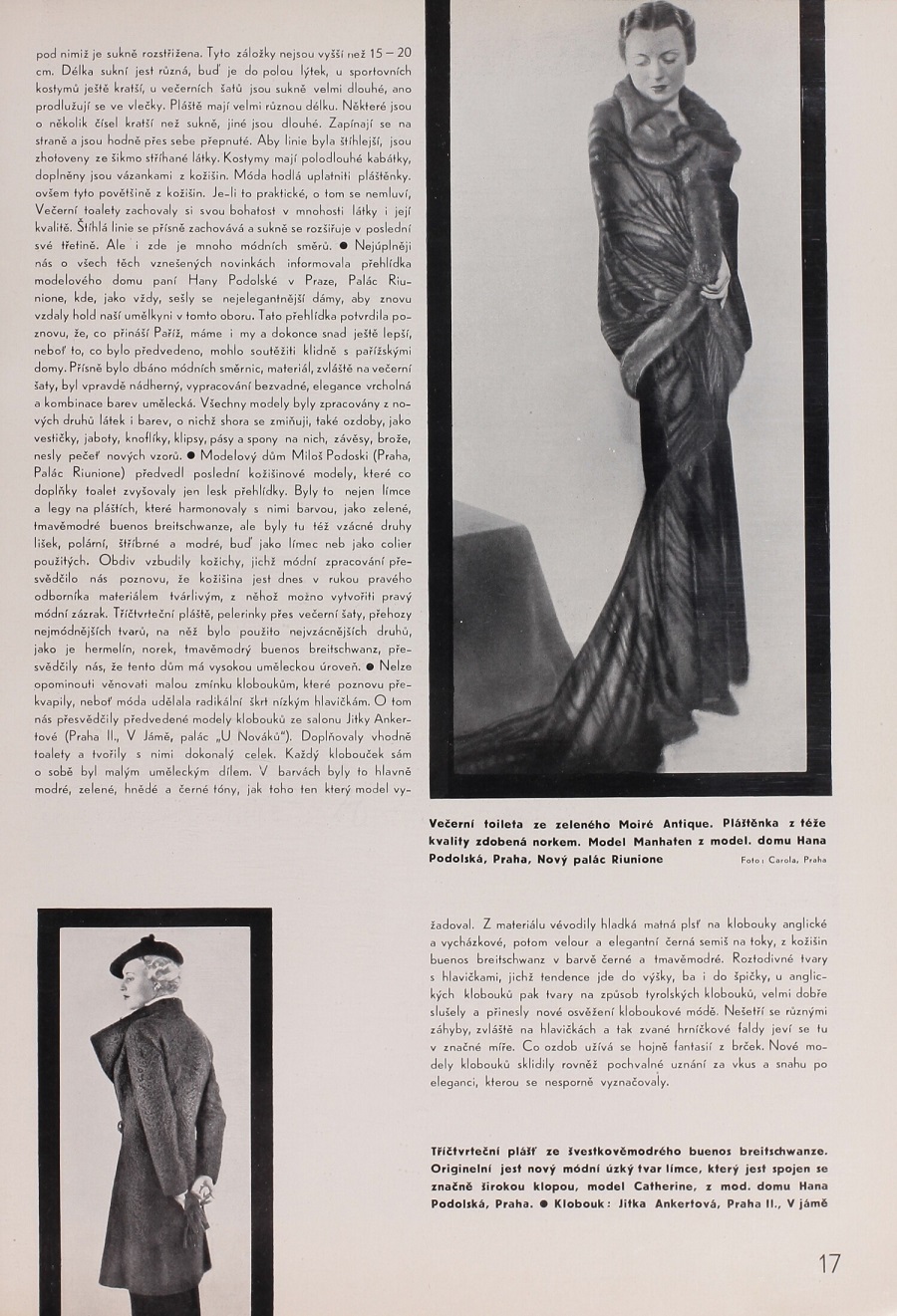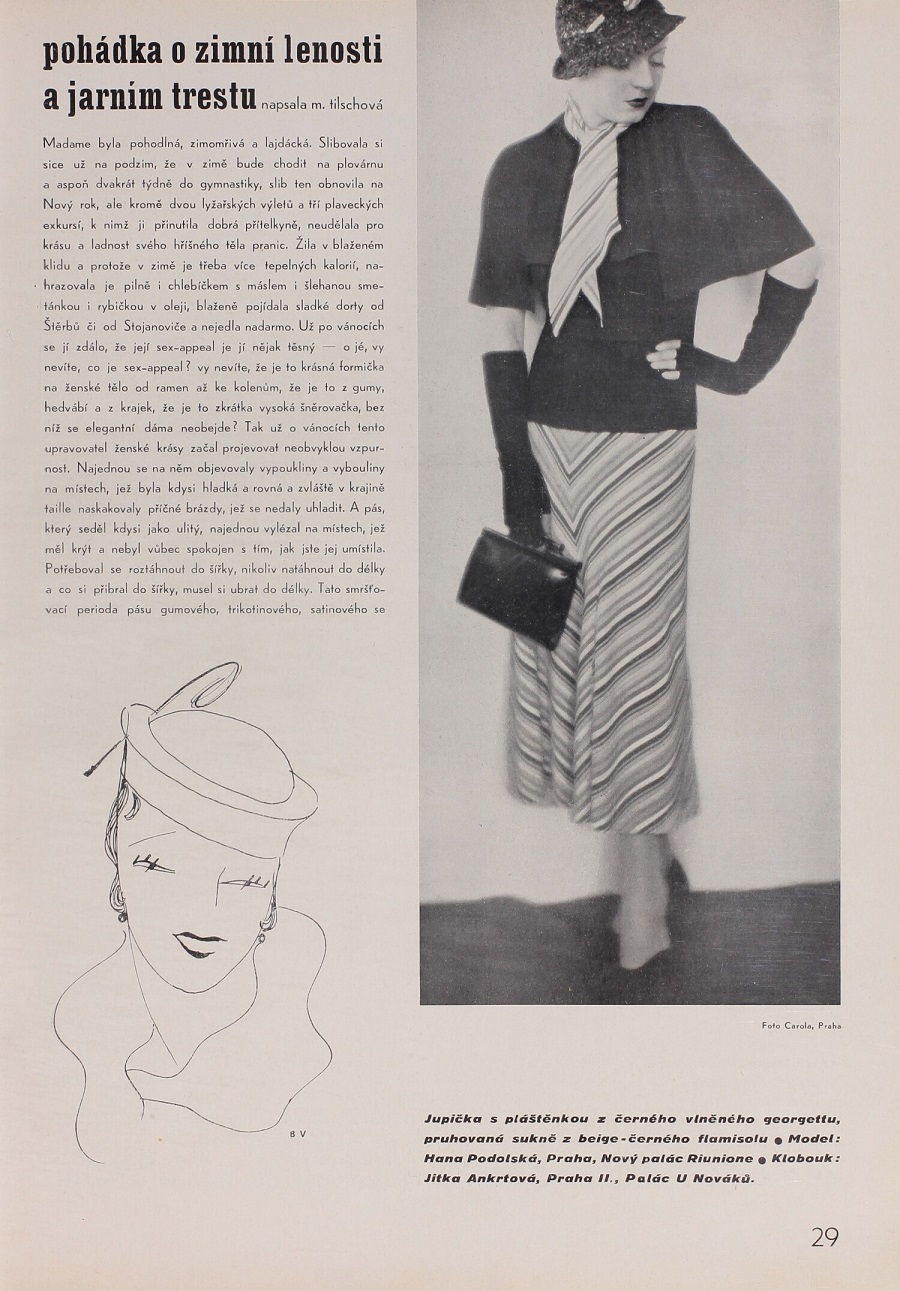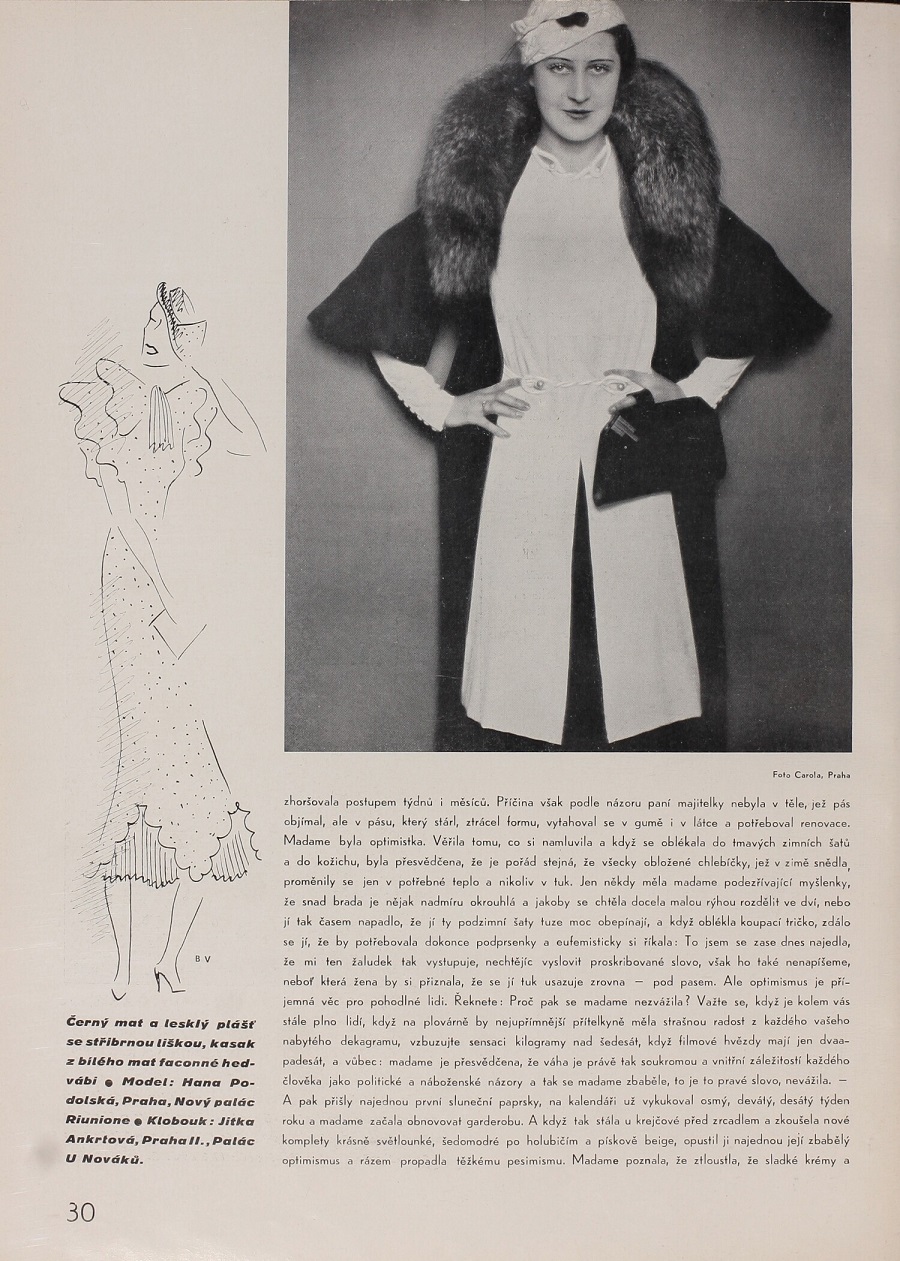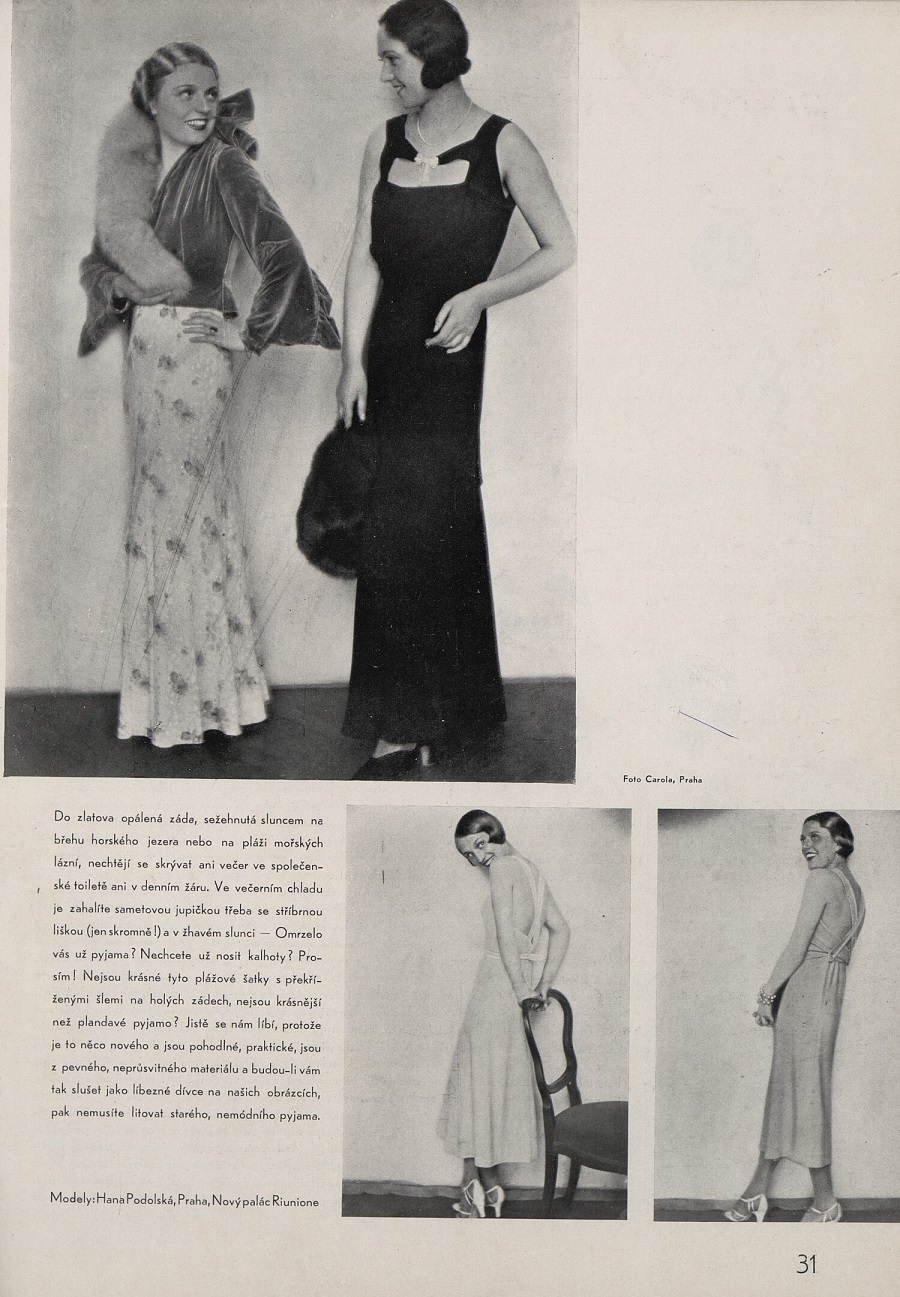 Images from old periodicals, Salon (1922-1943), Eva (1922-1943), Měsíc (1932-1939), Světozor (1904-1943).
Thank you for your support – We appreciate you more than you know!
We know that you could spend hours, days, weeks and months finding some of this information yourselves – but at this website, we curate the best of what we find for you and place it easily and conveniently into one place. Please take a moment today to recognize our efforts and make a donation towards the operational costs of this site – your support keeps the site alive and keeps us searching for the best of our heritage to bring to you.


Remember, we rely solely on your donations to keep the project going.
Thank you in advance!
If you have not already subscribed to get TresBohemes.com delivered to your inbox, please use the form below now so you never miss another post.