This very special set of Czech hand painted playing cards from WWI which shows the motifs of old Czech legends. The playing of cards to pass the time is by far, the most widespread game that is documented in the diary entries of soldiers from World War I. This is evidenced by the number of preserved hand-painted original cards that came home with returning soldiers, their constant companions and friends.
One of the most artistically successful examples of these comes from the collection from the Military History Institute in Prague. This lovely hand painted set is based on a popular theme called Mariášky karty.
This specific deck we're sharing today was painted in a prison camp at Semipalatinsk in Siberia. To date, the author of this beautiful set remains unknown, but it is almost certain that the cards were created during the later stages of the war and that the artist was a member of the Czechoslovak Legion.
The theme for the highest card – the ace, is based on known Czech legend, specifically showing when Ctirad  was lured by Šárka, Libuše, the arrival of the Czechs at Říp, and noblemen dissatisfied with the governing of Libuše.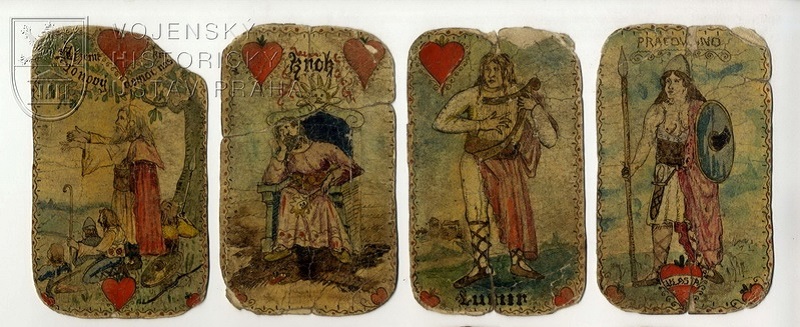 The role of kings is occupied with Czech forefathers; the mystical Krok, historical ruler Svatopluk and assumably Sámo (the card is damaged where the names are placed).

The upper cards are portrayed with the mythical founder of the Czech ruling dynasty, Přemysl the ploughman, singer Lumír and Greeks, Horymír a Bivoj.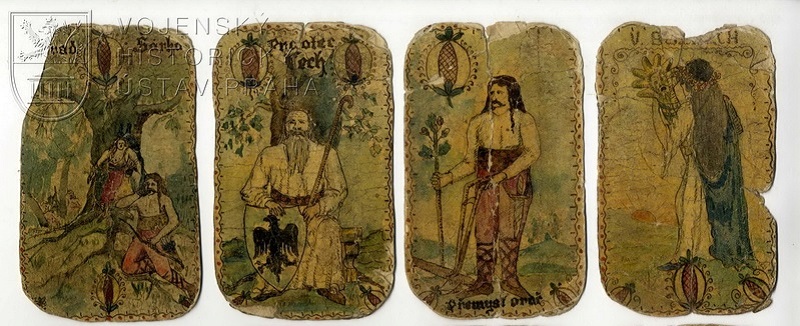 Representatives of the fairer sex are also drawn upon the cards. We see Vlasta, Šárka, Kazi, and of course, Libuše.

It is also worth noting is that the acorns which were usually displayed on such cards were replaced with pinecones in this set.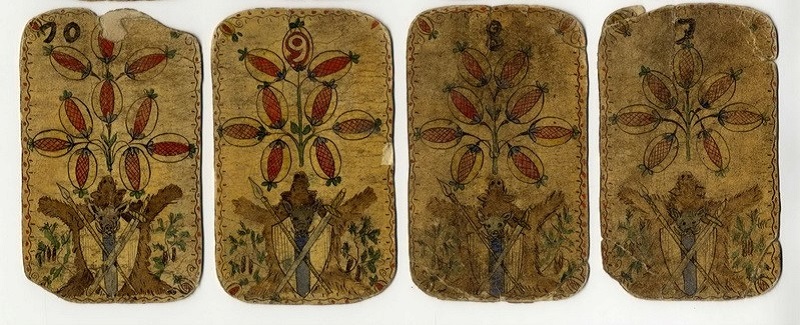 All of the cards are beautiful.
We love how the bottom of each card has the skin of an animal with different ancient weaponry shown.

And the unique way in which he designed the leaves, hearts, balls and cones.

There is an author's signature or name, though it is virtually unreadable due to significant damage to the area. Some have assumed the name could be Božetěch Vácha who was from Brno. He served in the artillery of the 1st Division.
The reverse side is of each card is pure black and each card measures 10.5 x 6.5 cm.
Source: VHU.
If you have not already subscribed to get TresBohemes.com delivered to your inbox, please use the form below now so you never miss another post.
---
Remember, we rely solely on your donations to keep the project going.
Become a friend and get our lovely Czech postcard pack.