Today I am delving into the private man's world of grooming. Why? Because I am intrigued. Founded in 1978 by interior designer Frank Sawkins on London's illustrious Jermyn Street which is world famous for its bespoke haberdashers and therefore the most gentlemanly thoroughfare in The Big Smoke, these "traditional British grooming" products are supposed to take their inspiration from the Edwardian period. The Czech & Speake brand, they tell us, stands for "heritage English lifestyle values delivered with luxury".
Looking at their site, we can clearly see that Sawkins has a love for the more elegant and earlier eras and he began with designing bath fittings which he said were aimed at evoking "a modern Englishness conveying a sense of history, elegance and craft".
Okay. So why call it Czech & Speake?
They've gotten incredible amounts of positive press and their marketing and advertising materials have redefined elegance for a new generation of contemporary gentlemen. In fact, it was Sawkins' strong desire to create luxury coupled with his understanding the value of useful products. (Sounds Bohemian to us!)
As a result of his efforts, Czech & Speake has grown into a brand that is a byword for all that is covetable, masculine, timeless and English. Their site says "We have created a genuine English luxury brand and a rare success story of quality and style, vision and tradition. Our luxury products are crafted in London and are completely unique." His bathroom and lifestyle business is credited with kick-starting many a male grooming regime, one practiced by true English gentlemen.
Wait. What?
So why call it Czech & Speake?
And by the way, true Bohemian gentlemen also groomed. My own grand uncle Ladislav is an example of this as you can see in the following image.
Isn't he handsome? I wish the photograph had a better quality. Truth be told, I wish I had all of their old photographs. But I am drifting off course…
Back to Czech & Speake.
The company originally began with the design of bathroom fixtures. And they were not only Edwardian in design but also had an entire Cubist line. It is widely known that Czech Cubism was very active in Prague. In fact, Prague was perhaps the most important centre for Cubism outside of Paris before the start of World War I. Samples of this style are seen throughout the city in its buildings, restaurants, hotels and yes, bathrooms. In fact, evidence of Cubism was everywhere, in paintings, in glassworks, in all areas of design.  They are also known for their legendary Art Deco series of fittings – ones that remain one of Czech & Speake's most iconic designs. (Don't even get me started!)
Samples of this style are also seen in Sawkins extensive range of luxury bathroom accessories and fittings which include basin taps, sanitary ware, thermostatic mixers, soap dishes and heated towel rails.  Soon after their initial success in the world of interior design, Czech and Speake also expanded into a line of Aromatics, collections of fragrances and ancillary items, including shaving soap and other Men's grooming products.
Call me a cynic, but how possible is it that Frank, an interior designer mind you, went to Prague and got inspired?
Their website says, "Frank Sawkins spotted what proved to be a fantastic opportunity: to create a company that combined bathroom fittings of supreme quality with a genuine bespoke appeal. Sawkins wanted to sell the idea of the bathroom as sanctuary, combined with a modern Englishness, to convey a sense of history, elegance and craft."
I wonder how many people actually went behind the Iron Curtain and took ideas of what they had seen back to the free world and called them their own.
What exactly is modern Englishness?
I am not saying that he took those ideas… But he was definitely inspired – and that's terrific. After all, we are all told to Steal Like an Artist because "nothing is original – so embrace influence, collect ideas, and remix and re-imagine to discover your own path."
I suppose what agitates me is their strong focus on the "English" in the branding when in fact the brand is called "Czech" and I see much obvious Bohemian influence in most of their products.
In any case… I am not here to bash poor Frank. In fact, I am happy he's created so many quality products and that it's been said he's taken men to a whole new level of personal care and hygiene. That's always a good thing.
Besides, perhaps all of the above is irrelevant and I should just be happy that the name speaks for itself because for those of us in the know, it's obviously and very clearly CZECH.
There.
I said it.
Finally, as our little country gains more recognition, more people will come to know that Czechs have always been incredible designers and artists. In addition, they have also understood quality and building things to last from the beginnings of time. A brand created out of necessity is quite often a success and I'm happy Czech & Speake has created an entire industry for male grooming products.
Exhale.
I can come off my soapbox now and share some of their vintage-style bathroom accessories and essential shaving kits for the men in our lives.
Time to go shopping!
Leather-Bound Manicure Set – While buffed nails and smooth cuticles may seem like minutiae, well-kempt hands are truly a signifier of elegance.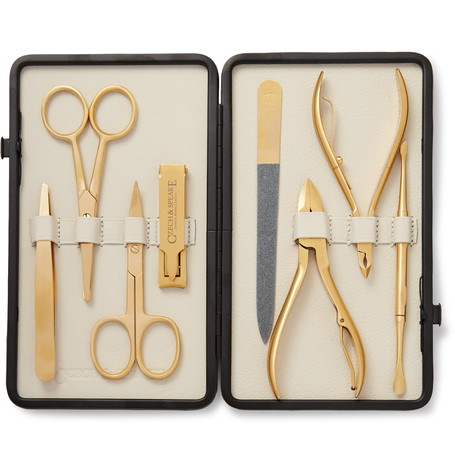 Zebrano Wood Shave Set – Their stylish tools and razors are finished in rare woods and sharp steel. Like this one from Zebrano wood, named for its distinctive zebra-like striped grain and with badger hair.
I have fond memories of watching my father shave with such a brush and razor (only at the time there were razor blades). I was absolutely fascinated by this ritual and I loved the scent when the soap would begin to bubble and foam.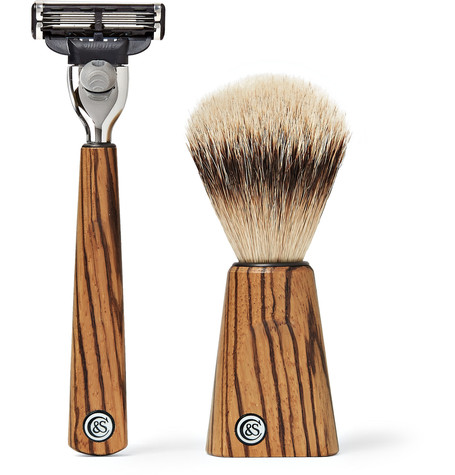 No. 88 Shaving Soap Refill – 'No. 88' is Czech & Speake's signature scent. Incorporated into this high-quality shaving soap, it is designed to soften the beard to achieve a closer cut. The fresh, woody notes that will provide an uplifting and invigorating feel each morning.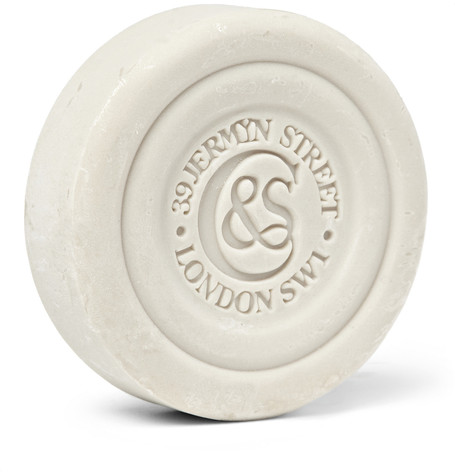 Neroli Moisturising Body & Bathing Oil – Made from a luxurious blend of pure essential oils, Czech and Speake's body and bathing oil imparts a subtle, masculine fragrance with a host of aromatic benefits. Neroli oil, the active ingredient, has long been used for its ability to calm, reduce stress, and relieve anxiety.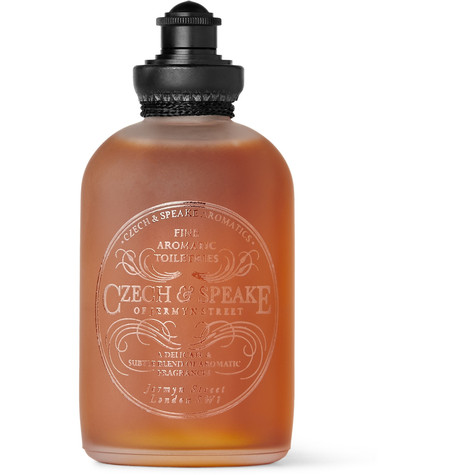 Leather Bound Manicure Set – Housed in a midnight-blue leather case, the metal instruments have been precisely made in Solingen, Germany from the finest materials and have a durable coating that will reduce signs of wear and tear. Not only does the blacked-out Teflon coating looks damned sharp but it also repels dirt and reduces oxidization..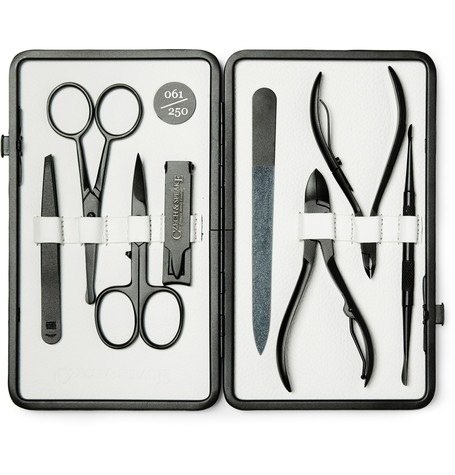 No. 88 Shaving Set And Soap – Their '88' line is named after the address of their Jermyn Street atelier. Nice.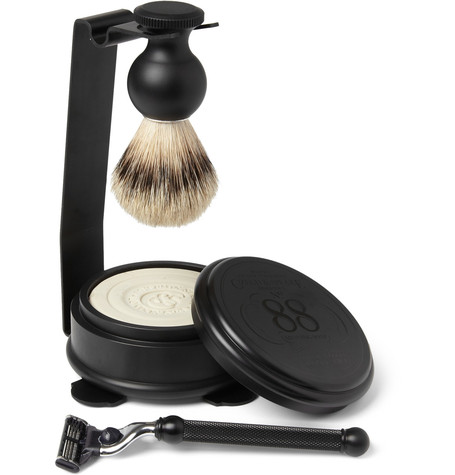 No. 88 Moisturising Body & Bathing Oil – Czech and Speake's moisturising body and bathing oil is a decadent way to hydrate and nourish your skin. Laced with the label's 'No.88' scent – a fresh bouquet of Bergamot, Geranium and Sandalwood – it's packaged in a smart shaker bottle that distributes just the right amount.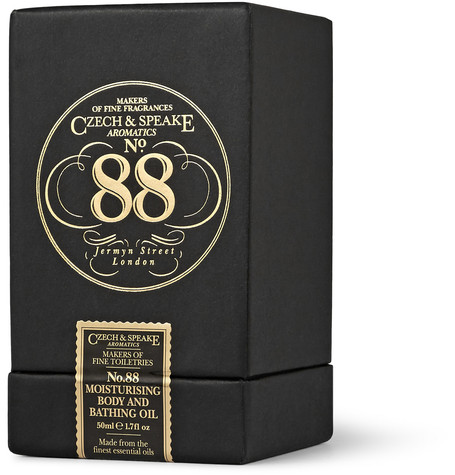 A gentleman's grooming should never play second fiddle to his tailoring and with Czech & Speake, your grooming will be complete. While the only thing Czech about this line is the obvious influence and the name, in looking at the photo of my Grand-Uncle Ladislav, I'm sure he was the kind of Bohemian gentleman who would have appreciated any of these items as a gift from his lovely bride.
By the way, do any of our readers know of a Czech-made company that sells men's grooming products of this caliber? We'd love to know!
If you have not already subscribed to get TresBohemes.com delivered to your inbox, please use the form below now so you never miss another post.
---
Remember, we rely solely on your donations to keep the project going.
Become a friend and get our lovely Czech postcard pack.