Czech Fried Cheese or Smažený sýr is both Czech and Slovak, this ubiquitous fried cheese is found from the classiest Czech restaurant to the shabbiest street cart and all sorts of places in between. That's because it's tasty!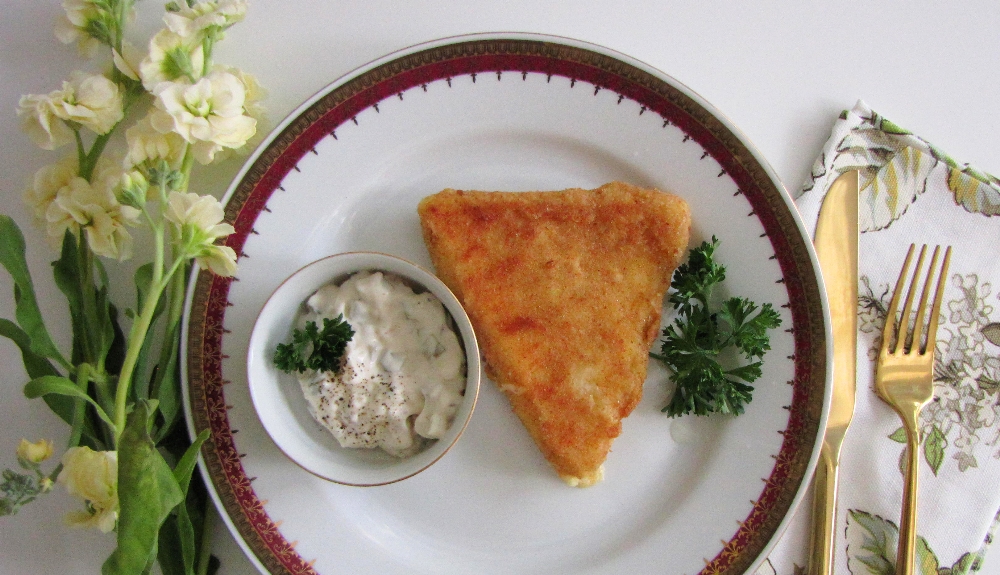 This is nothing like the mozzarella sticks you are used to. In the Czech Republic, it's not an appetizer, it's a meal.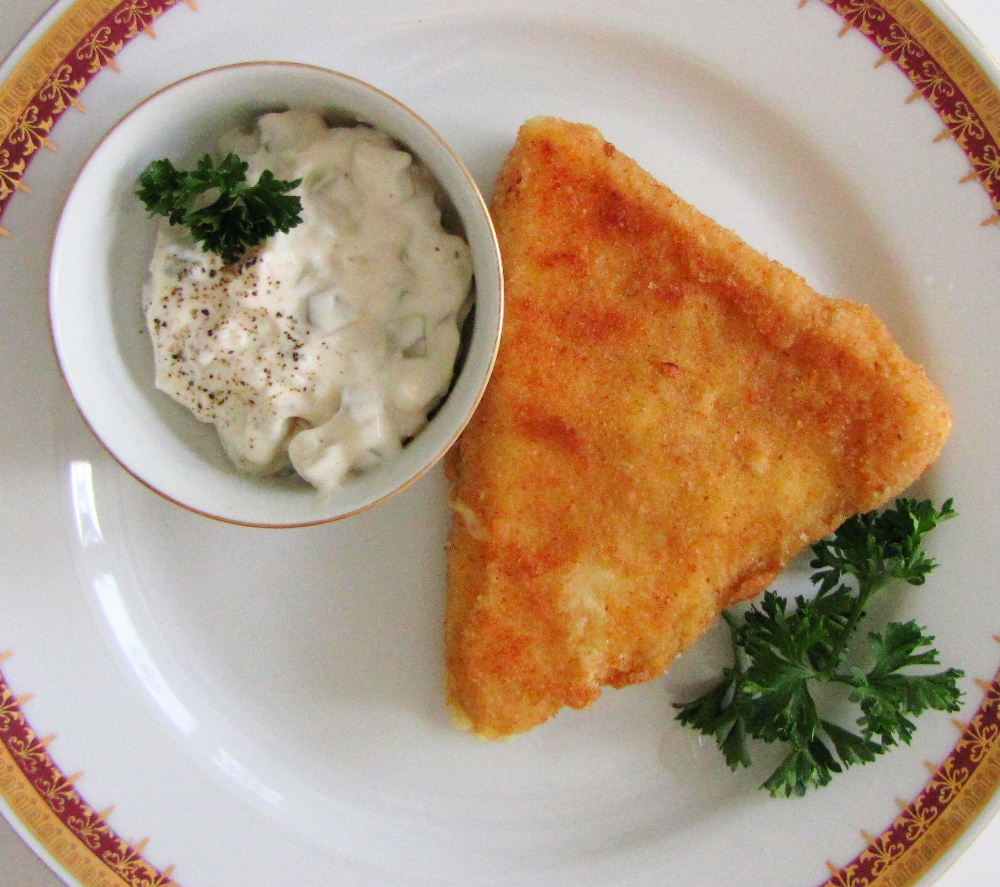 Czechs traditionally serve this with a tartar sauce, so you have to have that made in advance. The combination of hot melting cheese and cold tartar sauce is delicious.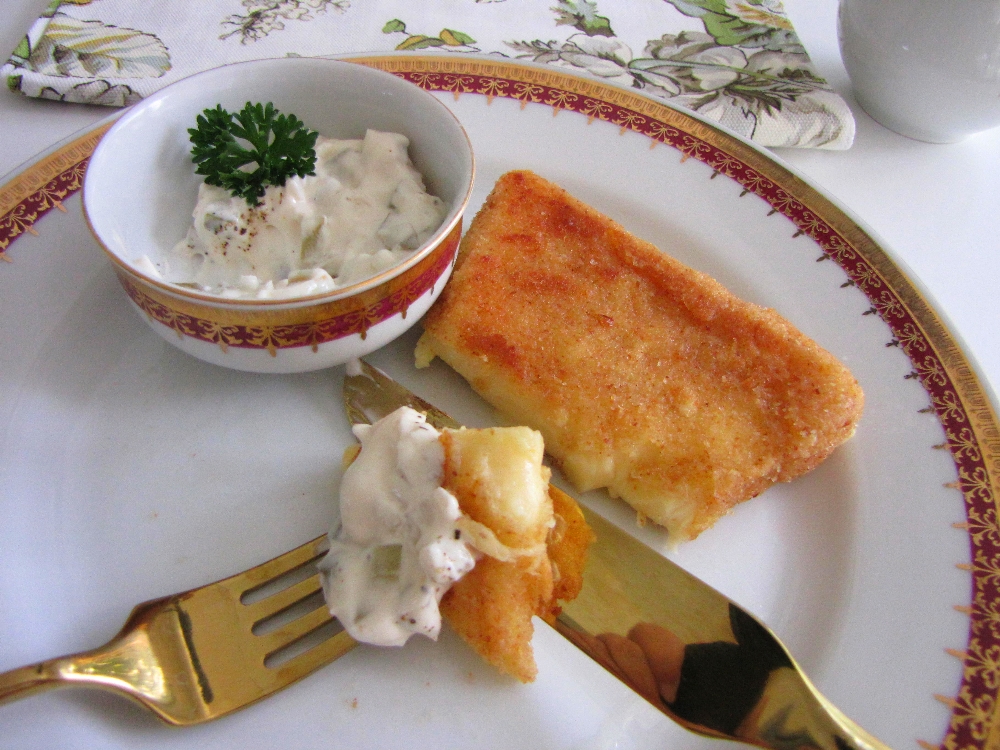 Also, this is something you want to eat hot and straight out of the oil because as it cools, the cheese hardens and it tastes best when the cheese literally melts and oozes out of the breading.
As you can see, I sacrificed the ooziness in order to take these photos for you! The cheese hardens fast, so have everything ready prior to serving.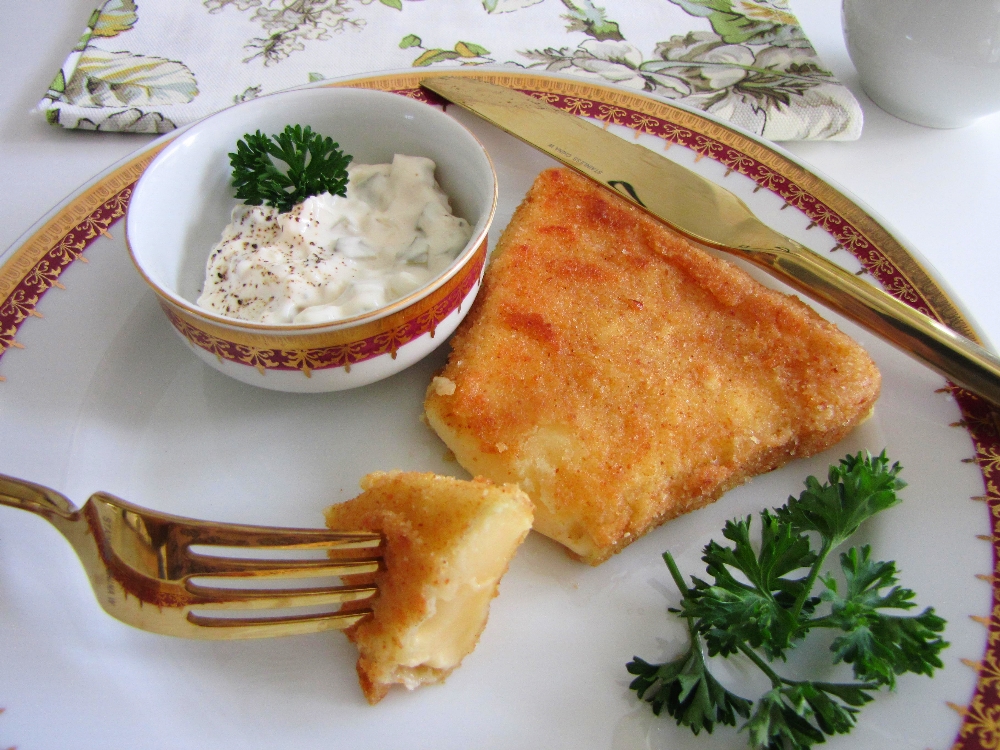 Czech Fried Cheese or Smažený sýr
Ingredients
2 slices cheese (1/3 inch thick) of Edam, Gouda, Mozzarella, etc.
1/4 cup flour
1 cup breadcrumbs
1 egg, lightly beaten
Vegetable oil, for frying
Directions
Dip cheese slices into flour to form a light coating on all surfaces. Then dip each slice into lightly beaten egg to coat completely. Then dip each slice into breadcrumbs to coat completely, pat crumbs onto any areas that are not coated. Pour oil into a deep frying pan to a depth of 1/2 inch. Heat to 375 degrees (or heat oil in a deep fryer). Carefully place slices in pan and fry on one side for about 20-30 seconds, or until golden brown. Turn and fry on the other side for 20-30 seconds until golden brown.
This recipe is straight out of our copy of A Taste of Czech Tradition which is available at the Czech Heritage Club.
We suggest you order yourself a copy and if you missed the review we posted, make sure to read it here. We'd be happy if you let them know we sent you!
We cut our cheese thicker, more like 3/4 of an inch and we experiment with different kinds of cheeses. Swiss is what I grew up on. Smoked cheese adds a unique flavor element and German beer cheese creates a delicious stinky sticky goo that is really tasty! Obviously, you'll need to fry longer for thicker slices.
A word of caution: As much as you want to gulp this down as fast as your beloved dog probably eats his dog food, go slow! The mouthfuls of melted cheese can be dangerous and cause you to choke. Make sure to cut small bite size pieces and chew each completely, swallowing it before taking the next bite.
Fried cheese is excellent served with a white wine depending on your cheese choice.
Dobrou Chut!
If you have not already subscribed to get TresBohemes.com delivered to your inbox, please use the form below now so you never miss another post.
---
Remember, we rely solely on your donations to keep the project going.