Today we made a delicious batch of Czech beer goulash, also known as Pilsner Goulash (Guláš na pivě) because it's made of delicious Czech beer. Seriously, the main ingredient must be Pilsner beer or you will not get the correct flavor and taste experience. Luckily, they sell Pilsner at our local grocery store, but if you are not so lucky, then a larger liquor store or a place like Total Wine will surely have it.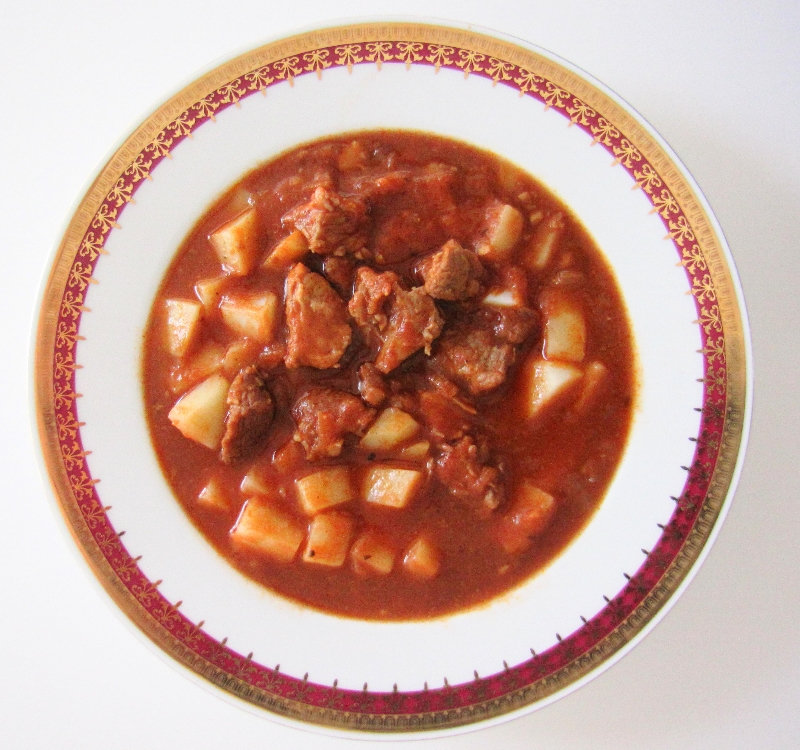 Do note that traditional goulash is made with beef, but we've not eaten beef in over 20+ years, so we make it with pork and it's just as delicious. For our batch, we used a pork roast, bone in. I cut the meat around the bone, but also added the bone into it while cooking to draw out more flavor and it was delicious.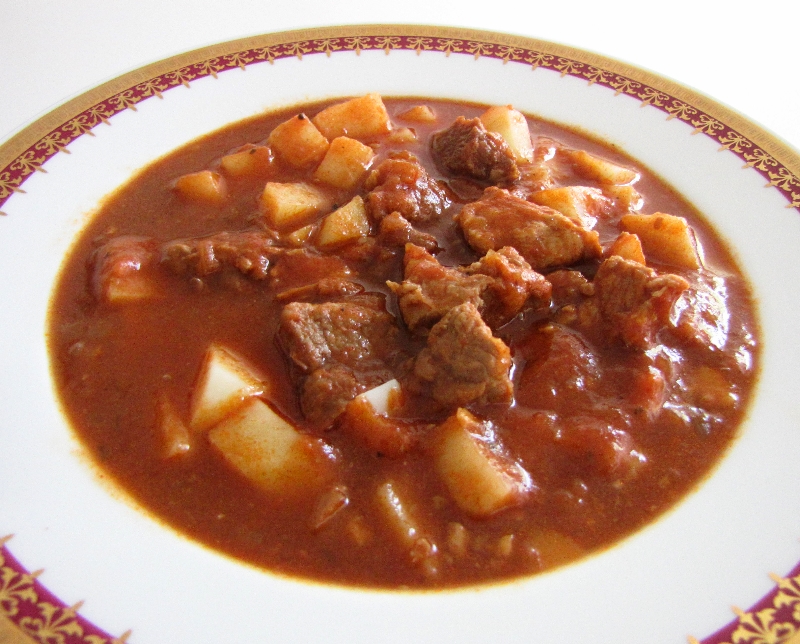 Czech Beer Goulash or Guláš na pivě
Ingredients
2 Tbsp. oil or lard
1/3 cup sweet onions, sliced
1/4 tsp. caraway seeds
2 lbs. cubed beef
6 Tbsp. tomato paste
2 Tbsp. paprika
1/8 tsp. ground black pepper
2 cups pilsner beer
1/4 cup flour
1/8 tsp. salt
4 cloves garlic, minced
1/8 tsp. marjoram
Directions
In a large kettle, heat oil and cook onions until golden brown, add caraway seeds just before the onions are done. Add cubed beef, and slightly brown. Stir in tomato paste, paprika, black pepper, and pilsner beer. Bring to a boil, then reduce heat and simmer for 45 minutes or until beef is tender. Add flour to thicken. Stir in salt, garlic and marjoram. Simmer for 10 more minutes.
Note: A Czech goulash made with Pilsner beer. It has a very aromatic scent and rich taste. Great over mashed potatoes or homemade noodles.
—–
We've made a lot of goulash before, so we adapted it to fit more of our taste. We substituted oil or lard for duck fat, used 4 whole small onions, chopped, and 2 full bottles of beer (minus a sip or two I took before pouring it in). We also used a very high quality Hungarian Paprika. We cooked it in a dutch oven and gave it at least 1 hour, covered, for more tender meat. We omitted the flour altogether because the way we cook it, the sauce seems to thicken on its own. The magic of this dish is in the onions and spices, so don't be afraid to use more, we always do.
Goulash is served in many ways. The most common is with a nice hearty slice of Czech bread to dip and scoop out the deliciousness. But we've also served it over boiled potatoes, mashed potatoes, bread dumplings, and noodles and it's pretty darn good with any of those.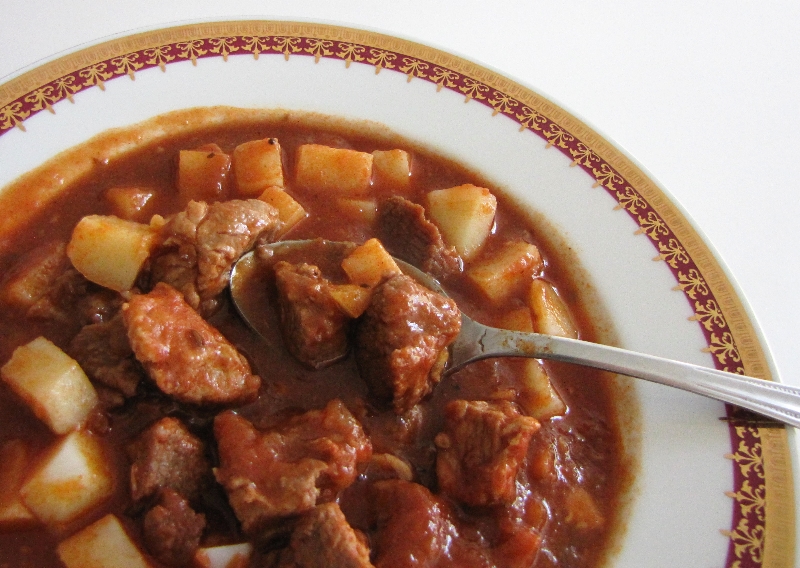 This recipe is straight out of our copy of A Taste of Czech Tradition which is available at the Czech Heritage Club.
We suggest you order yourself a copy and if you missed the review we posted, make sure to read it here. We'd be happy if you let them know we sent you!
Dobrou Chut!
Thank you in advance for your support…
We know that you could spend hours, days, weeks and months finding some of this information yourselves – but at this website, we curate the best of what we find for you and place it easily and conveniently into one place. Please take a moment today to recognize our efforts and make a donation towards the operational costs of this site – your support keeps the site alive and keeps us searching for the best of our heritage to bring to you.


Remember, we rely solely on your donations to keep the project going.
We appreciate you more than you know!
If you have not already subscribed to get TresBohemes.com delivered to your inbox, please use the form below now so you never miss another post.