Do you ever wonder what's under a kroj that makes it so puffy and how many layers it actually has? We do. For those who do not know what a kroj is, a kroj is a Bohemian, Moravian or Slovak traditional folk dress or costume from the area of what's today called the Czech Republic or soon Chechia (a name we do not like at all). English speaking people tend to call it a Kroje, but that is plural, when we are speaking of one garment, it is a kroj.
Often influenced with heavy embroidery or lacework, the women of days gone by made their own and some were simple while others were very elaborate. Different kroje were worn for different occasions and as you do some research into the traditional clothing of the regions, you can see an abundance of fine pleats and gathered lace collars which most likely survived since the Renaissance era. There is also a strong Gothic influence in tying shawls and kerchiefs on the head. Moravian and Slovakian kroj show delicate Slavic patterns, while Bohemian kroje are more apt to have been made with brocade fabrics where the pattern or design has actually been woven into the cloth.
Our people (our ancestors) are from Prague and cities located north of Prague like Nova Paka, Jičín, Teplice, some in an area which long ago was referred to as Sudetenland.
Sudetenland (Czech and Slovak: Sudety) is the German name used in English in the first half of the 20th century to refer to those northern, southwest, and western areas of Czechoslovakia, specifically the border districts of Bohemia, Moravia, and those parts of Czech Silesia located within Czechoslovakia, since they were part of Austria until the end of World War I. (Read more here. Much of the area was forbidden to live in for centuries and many of the historical remnants in terms of folk clothing destroyed.)
It's also difficult to locate kroje from this region because Prague has always been a city of intellectuals, artists, philosophers, visionaries and forward thinkers. The kroj was seen as olden folk attire and Prague citizens were always moving ahead, especially in fashion, wearing the latest Victorian style gowns, Parisian imports and the like. If you look through archived photos, you will see street scenes of what resembles a New York or Paris street when you see metropolitan Prague, and no one is wearing a kroj.
If you do have the good fortune of finding an old archived photo, you will see that a Bohemian kroje have a distinct Bavarian influence (a simple little black bodice, undecorated) and they is quite different from the Moravian and Slovak kroje because they are much simpler and not quite as ornate. I spoke to many relatives and friends and all of them remember their grandmothers and great grandmothers wearing the traditional long skirts of the Victorian period and the only thing that may have made them look more traditional to Prague was the tied kerchief around their heads. In truth, after over 25 hours of phone calls, Skype calls and research, I could find not one lead to any remnant of a kroj from where our people come from.
Moravian and Slovakian parts of the country are much more rural and many of the communities are based on farming and agriculture, so the festivals naturally retained their traditions and with them, the traditional attire. These places are experiencing a encouraging revival to wear their regional kroje because it links them to their ancestry, their identity, their history and their pride of their region. This does not mean that they dress this way each day, but they do understand the value of maintaining their historical legacy.
Today I am sharing several beautiful images of a young woman shown with the various parts that make up her kroj. The ensemble was created by Kristýna Petříčková, a Czech costume designer actively engaged in the reconstruction of historical and folk costumes.
Kristýna has a beautiful book entitled Lidový oděv v obci Louka: v souvislosti s vývojem lidového oděvu na Horňácku (Folk Clothing in the Village Louka) and it focuses on the development of folk dress in in Horňácko.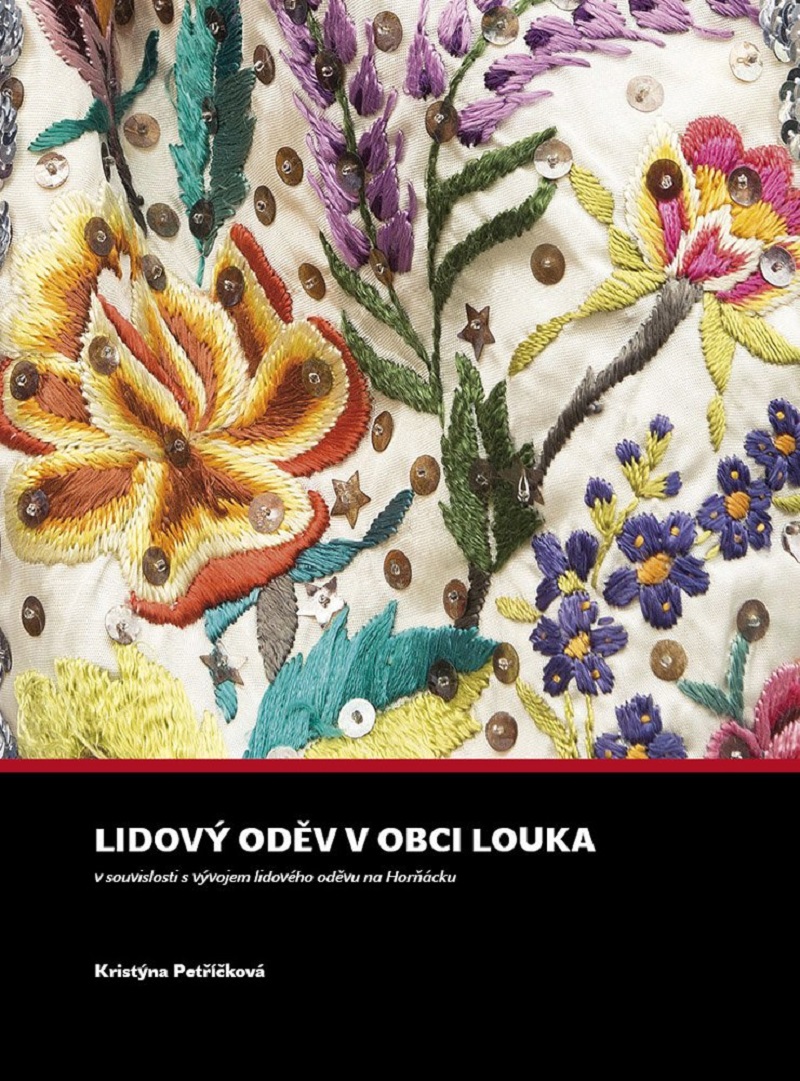 The region is home to approximately 10,000 people and it is significant for its traditional folk culture, especially the folk music. The region also hosts the Horňácko Folk Festival annually which is a feast of colors and craftsmanship for kroj lovers.
Pay attention to all of the details as we strip away her layers one by one and you get to see the complexity of what goes into wearing a kroj – and keep in mind, this is a very simple and basic kroj and not a more complex wedding or other ceremonial kroj.
Enjoy!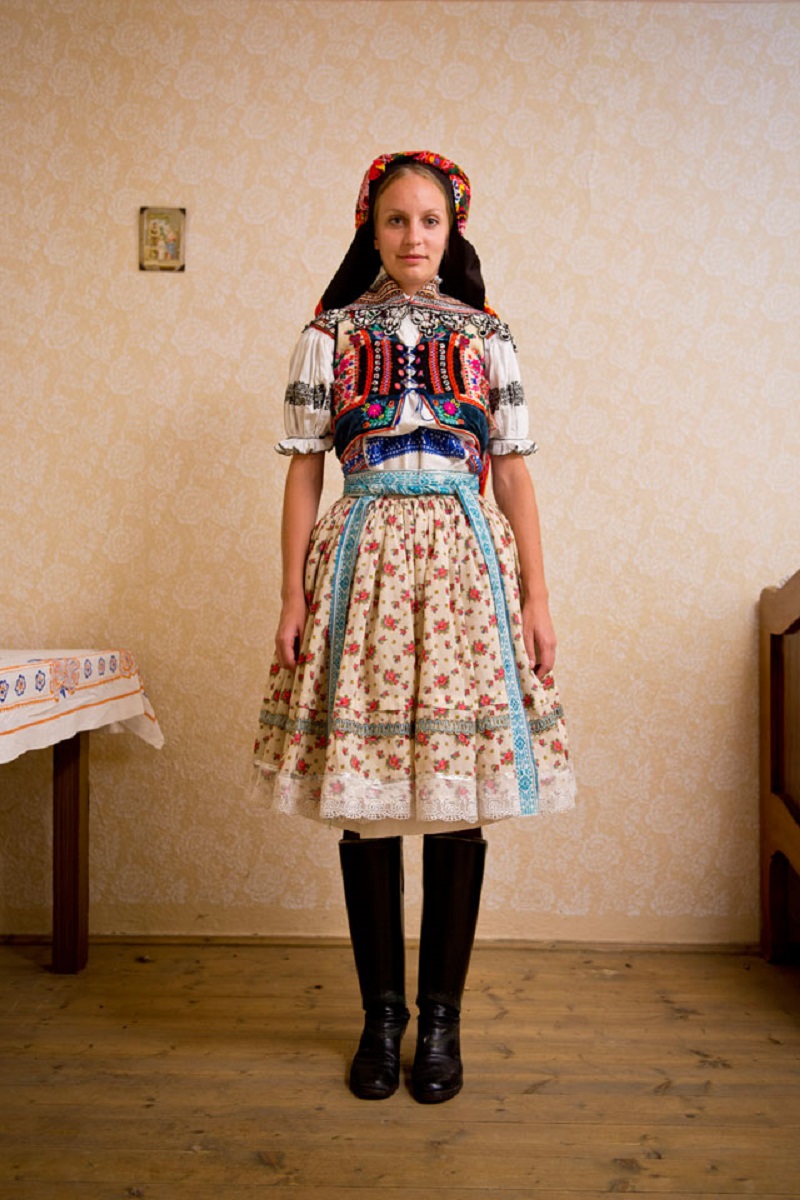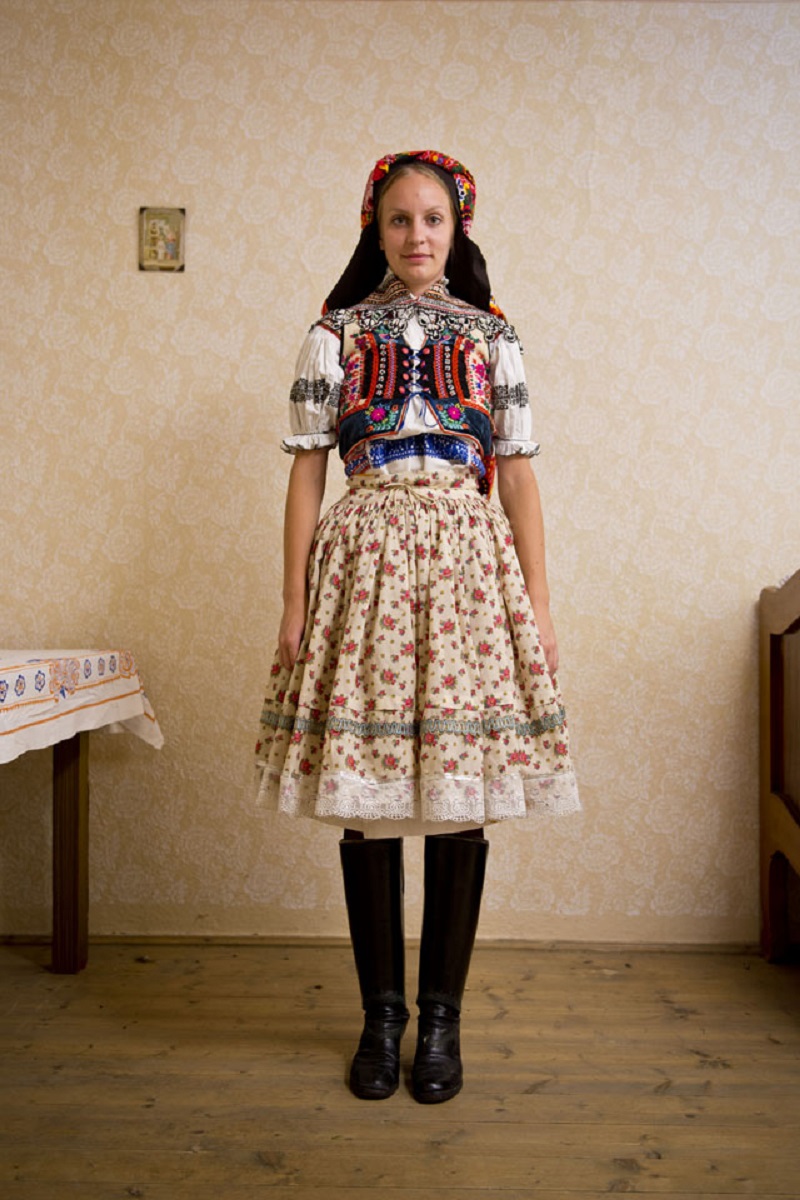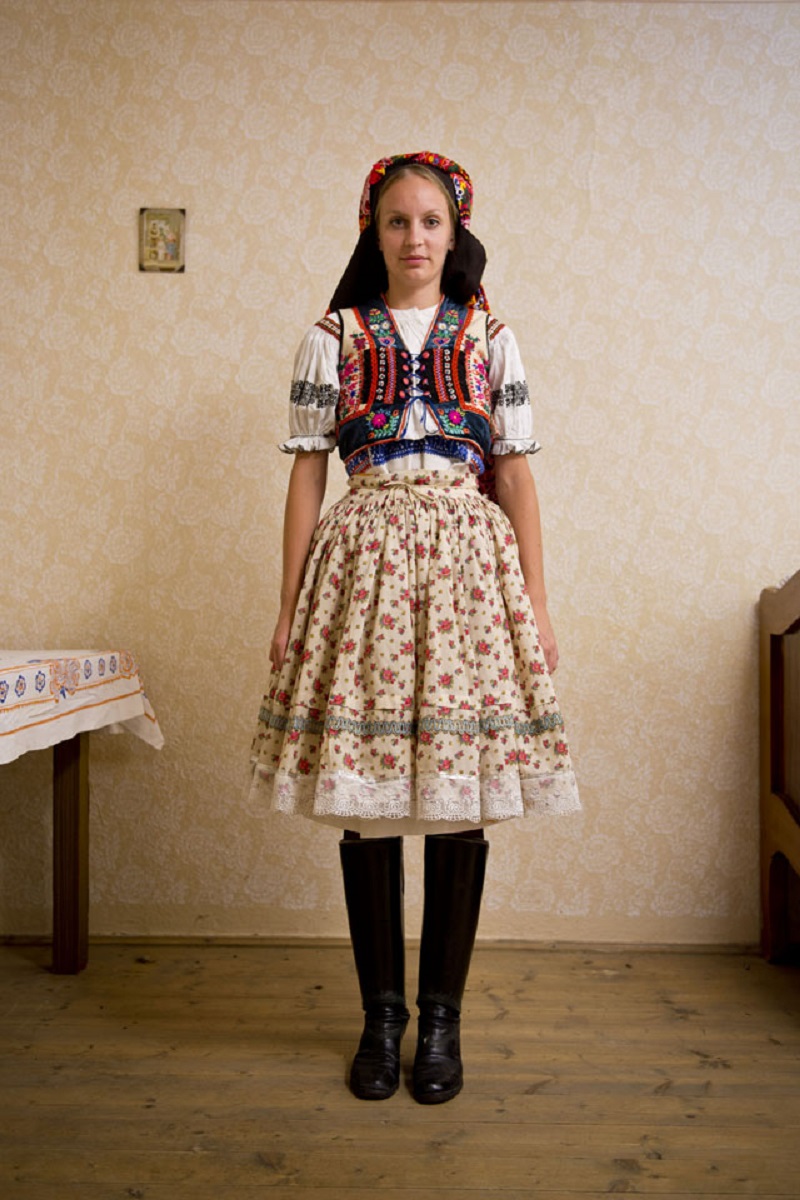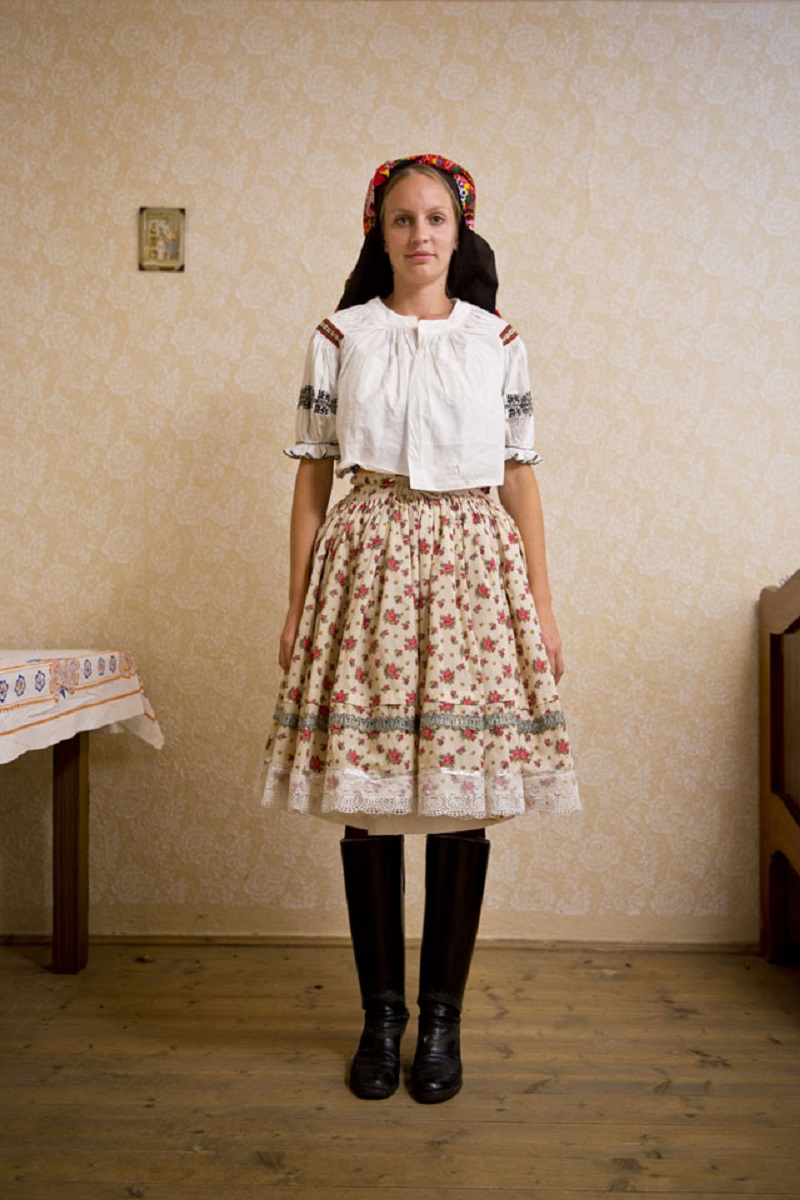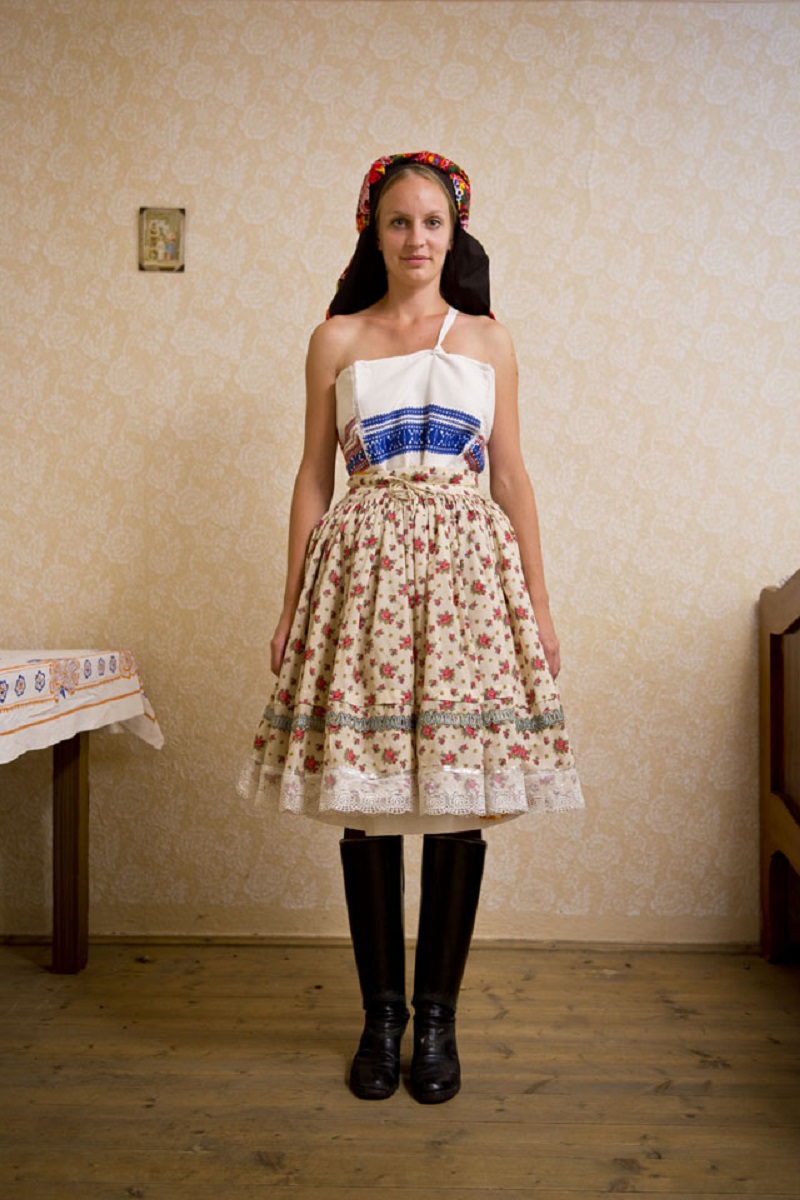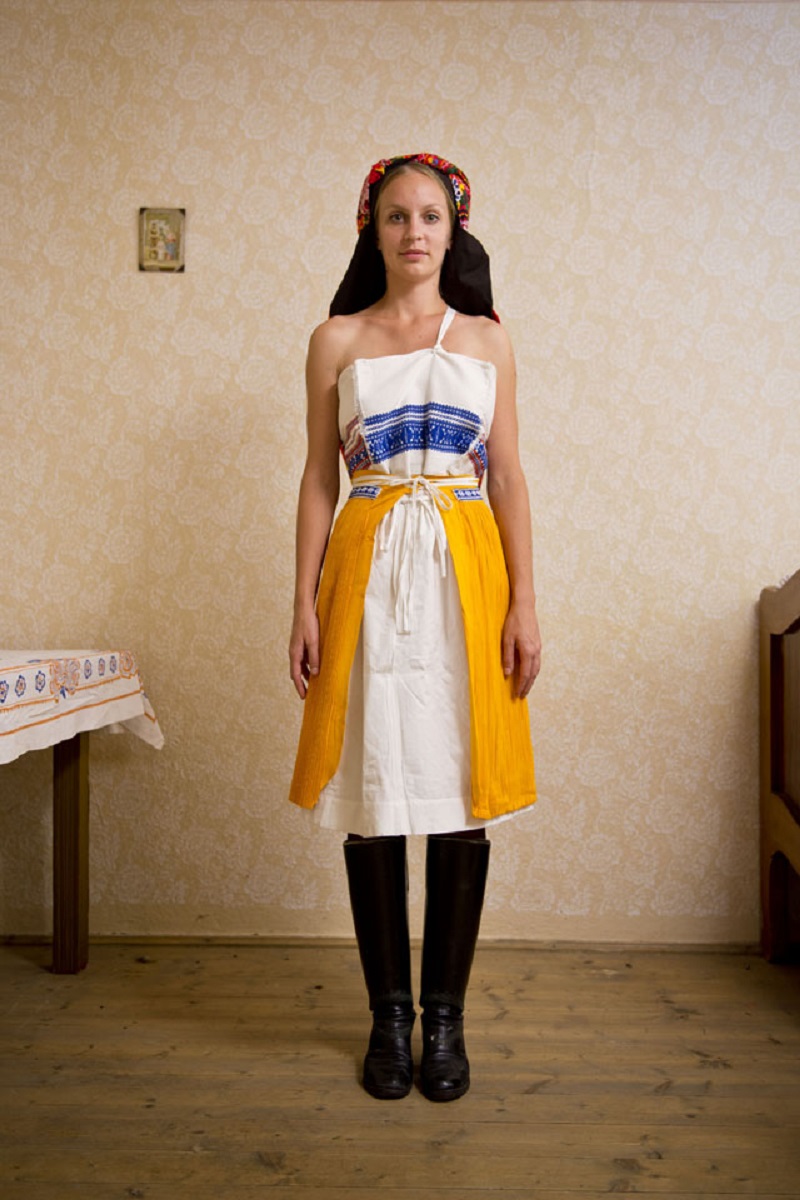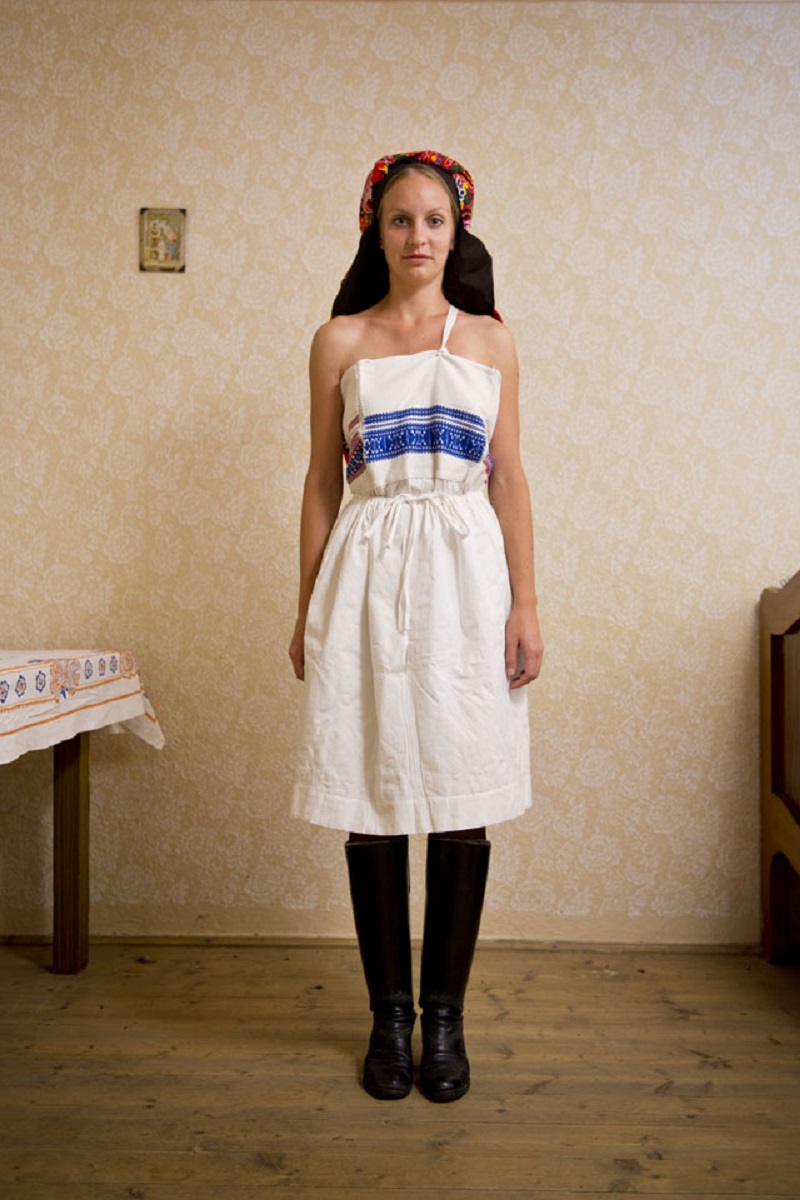 And there you have it!
Make sure to subscribe because next week we'll look at some more kroje and even share a few amazing videos we've located on the subject that we're sure you'll love!
You can see some more at YNA, the site of Kristýna Petříčková.
And for those looking for patterns and more ideas, visit Kroje on Facebook.
Oh, and take a peek at this lovely hand embroidered vintage apron that's for sale…
If you have not already subscribed to get TresBohemes.com delivered to your inbox, please use the form below now so you never miss another post.
---
Remember, we rely solely on your donations to keep the project going.
Become a friend and get our lovely Czech postcard pack.