Today, October 16th is World Food Day, a day when people the world over are asked to join the global movement to end hunger. World Food Day is celebrated every year around the world in honor of the date of the founding of the Food and Agriculture Organization of the United Nations in 1945.
We're making a few trays of food and a cake to share with friends at a Celebration of Life gathering so we're quite busy! But we didn't want to leave you without food, so we're posting some recipes for some easy Sunday snacks from a Czech kitchen
Obložené chlebíčky literally translates to decorated or covered little breads, but they are basically open faced sandwiches. Eaten throughout the day, these can be served for breakfast, lunch, snack, dinner or as a party food.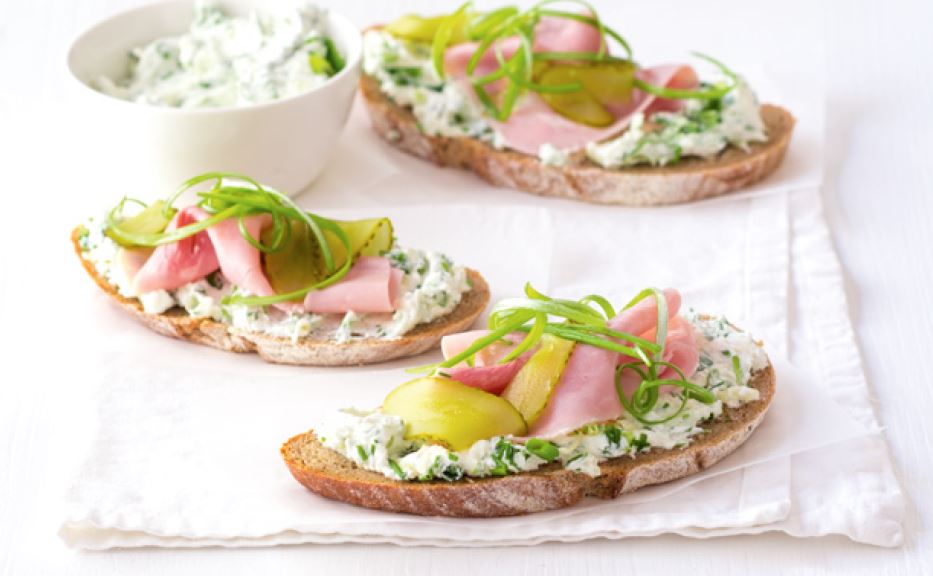 4 slices of bread
1 cup soft cheese such as farmer's cheese, ricotta or cream cheese
1 tbsp skim milk
2-3 green onions
2-4 cloves garlic, crushed
2-3 tablespoons chives, chopped
4 slices of ham
Pickles or pickled cucumbers and scallions for garnish
Arrange the slices of bread on plates. Fold the cheese into a bowl and break it up with a fork. Add the milk and whip it into the cheese to make it light and fluffy. Add the finely chopped scallions and garlic and chives and mix together. Divide and spread evenly onto the breads and garnish with ham slices and pickles.
Stuffed Canapés, is traditionally made in one large pan and at Easter is a good party food for when people are gathering and and casual finger foods are being served. This is a quick recipe which makes a lovely platter of tasty deliciousness.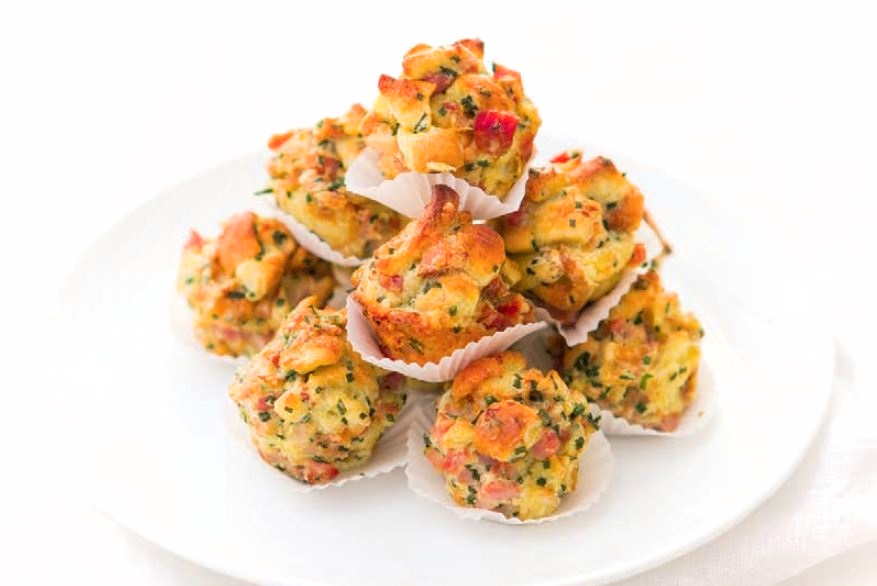 10 rolls, chopped finely
6-7 eggs
1 cup skim milk
salt, pepper and a pinch of nutmeg
2-3 tablespoons duck fat or lard to line muffin tins
1 to 1 1/2 cups of smoked meat, cut into very small cubes
5 Tbsp finely chopped parsley
1 Tbsp chives, chopped
½ teaspoon baking powder
Preheat oven to 350. Use half of the lard to grease your muffin tins. Place the rolls into a large bowl. In a smaller bowl, beat the eggs in milk, add salt, pepper and nutmeg and pour everything over the rolls. Stir gently and let the rolls soak up all the liquid for at least 5 minutes. Heat the lard in a pan and add the diced meat and fry until golden brown. Set aside to cool. Then add the meat, parsley, baking powder and chives to the rolls mixture, making sure to stir to mix everything together. Do not over-mix or it will get mushy. Fill each of the muffin tins, distributing the filling evenly and bake until golden brown, approx. 18 minutes.
Meatloaf Rolls.  A nice fresh crusty baguette or traditional Czech rye bread is the perfect complement to these. Make sure to have some delicious mustard on hand too!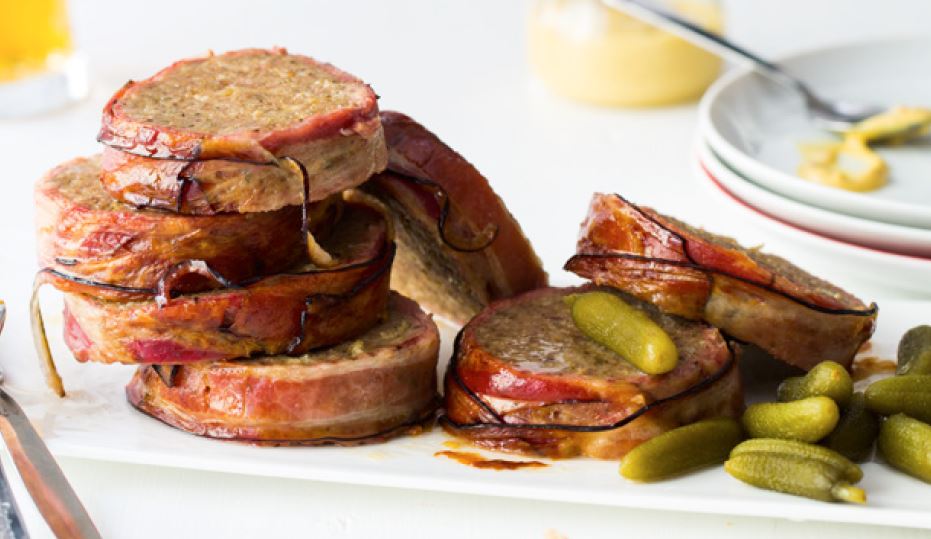 I pound ground beef
1 pound ground pork
2 eggs
1 onion, finely chopped
3 cloves garlic, crushed
2 Tbsp dried marjoram
salt and ground pepper
3/4 cups bread crumbs
1 package sliced bacon
twine
Preheat oven to 350. Place both meats into a bowl and add the eggs, onions, garlic, marjoram, salt and pepper. Add about 3 handfuls of bread crumbs and knead together. If your meatloaf is not holding together, add more breadcrumbs or if it's too stiff, pour in a little milk. Shape into equally sized rolls and smooth them with wet hands. Then wrap the bacon slices around the rolls and use the twine to hold the bacon in place and place them (seam side down) in a baking dish. Pour a little water into the bottom of the dish and bake for about an hour or until golden brown. Slice only when cooled or they will break apart making sure to remove any of the twine before plating.
Mushroom Cups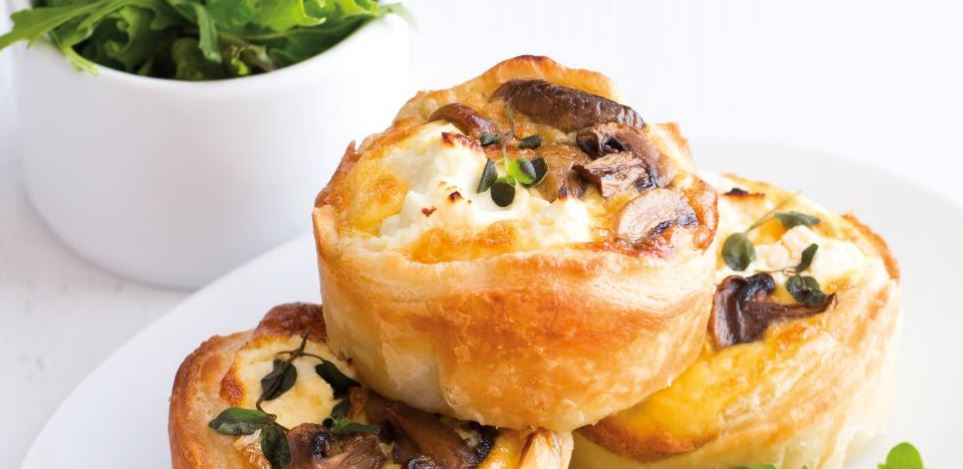 1 Tbsp olive oil
6 large portobello mushrooms, chopped
2 cloves garlic
salt & pepper
puff pastry
3 eggs
1/2 cup milk
ricotta or cream cheese
8 sprigs thyme
Mixed salad greens
Preheat the oven to 350. Heat the oil in a non-stick frying pan and add the mushrooms, garlic, salt and pepper and cook for 4-5 minutes. Set aside. Roll out the dough and cut eight circles with a diameter of 4″ diameter and set them into a lightly greased muffin tin. Divide the mushroom mixture evenly into each muffin tin and on top of the dough. Then place a spoon of the cheese over the mushrooms. Finally, beat the eggs and milk together with the salt and pepper to taste and pour over each, again evenly. Garnish each with two sprigs of thyme and let it bake for 20-25 minutes. Serve with the mixed greens lightly drizzled with oilive oil.
Potato Pancakes with Smoked Salmon. This welcomes a Sunday morning perfectly!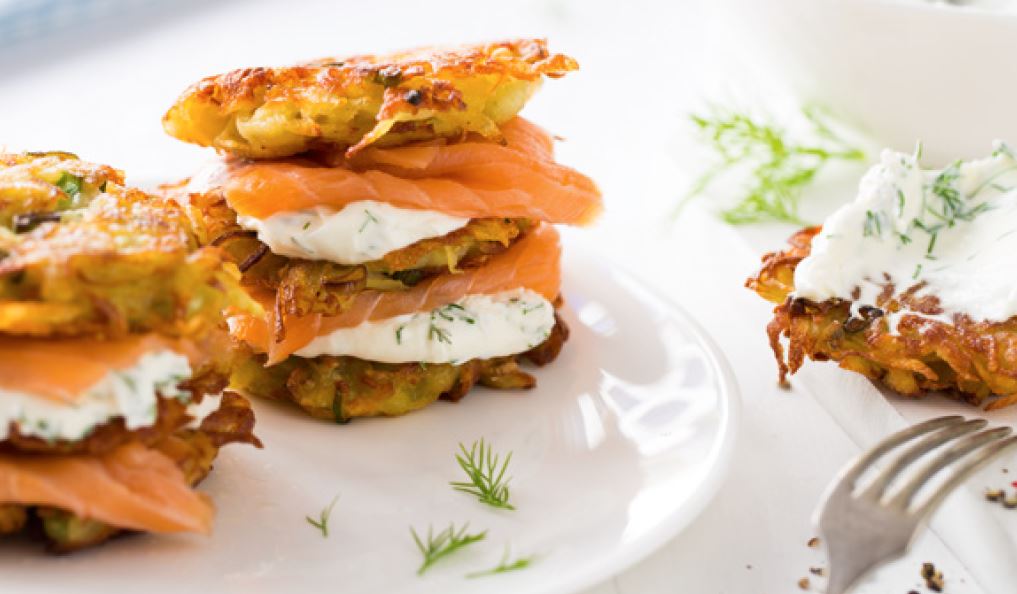 8 potatoes
4 green onions, sliced thin
oil
1 egg, lightly beaten
1/3 cup flour
salt and freshly ground pepper
vegetable oil for frying
for the garnish
3/4 cup of sour cream
4 sprigs of fresh dill, chopped
salt and pepper
10-12 thin slices of smoked salmon
First, in a small bowl, mix the sour cream with the dill, salt and pepper and set aside.
Then peel the potatoes and grate them coarsely into a large bowl. Make sure to squeeze and pour any liquid out. Then add the onion, eggs, flour, salt and pepper and mix well. If
the batter is too thin (runny), add a little more flour. Heat the oil in a skillet and gradually drop 2 Tbsps of batter into the pan, using the back of the spoon to flatten each piece. Fry on both sides until they are golden brown. To assemble, place one pancake on the plate and adorn with the sour cream mixture, salmon and garnished with dill and then repeat, making a short stack.
The photos and recipes all came from Magazín Albert (from the Albert chain of supermarkets).
If you have not already subscribed to get TresBohemes.com delivered to your inbox, please use the form below now so you never miss another post.
---
Remember, we rely solely on your donations to keep the project going.
Become a friend and get our lovely Czech postcard pack.