Yesterday's post received many requests asking what the area is like today, so today we've decided to continue the post on Rabštejn nad Střelou and share the following information we've discovered about this place today.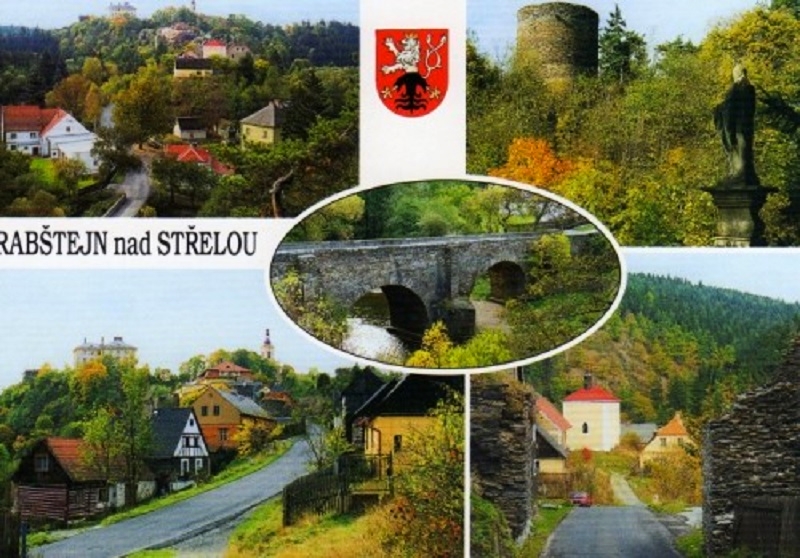 On September 10, 1992, it was officially declared an urban conservation area because of the historic relics and structures which include ruins of the castle from the 14th century, preserved remains of the fortifications and defensive towers called Dlouhá, castle ruins and tower called Tupá, a Baroque castle from 1705, a former Servite monastery, the Baroque monastery church of Our Lady of Sorrows, the Loretto Chapel from 1671, and various fortifications, especially the remains of Lower gate.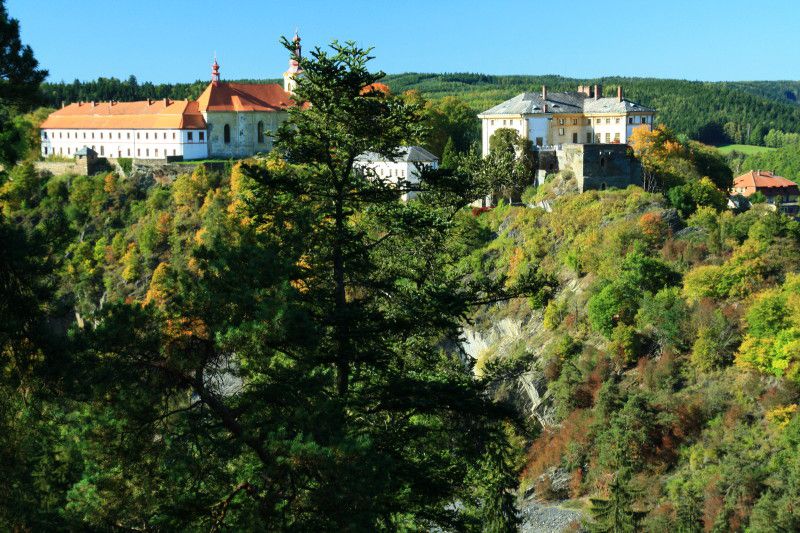 The city is home to a collection of folk timbered and half-timbered architecture, a row of brick, timbered and half-timbered historical buildings.
There is also a stone bridge from the 14th century which is considered a technical wonder and was built before the Charles Bridge in Prague.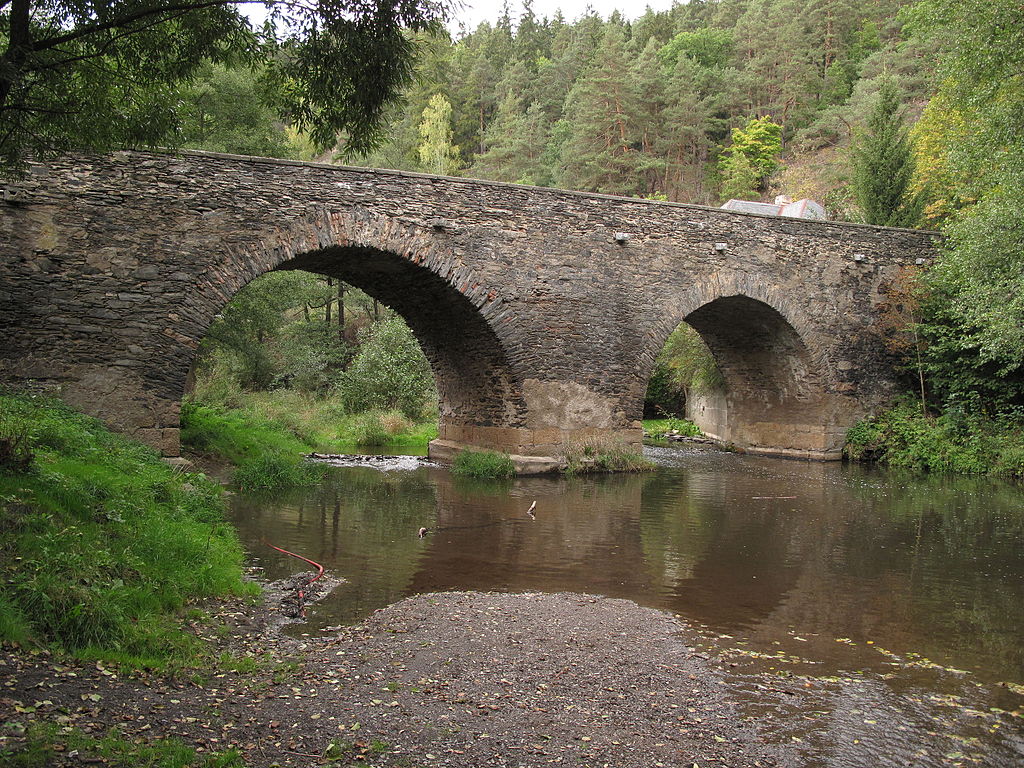 The cemetery is also of historic interest.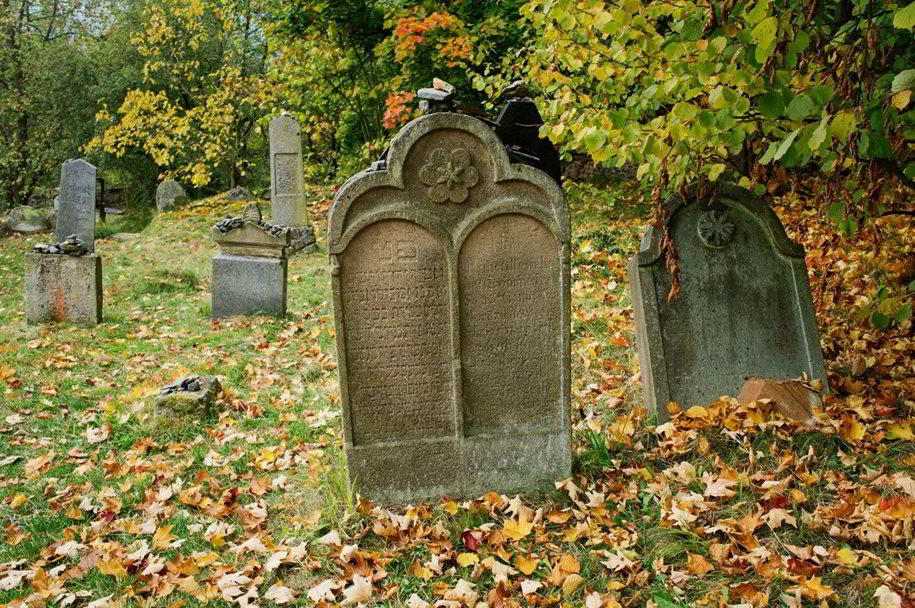 Looks like it may be the place to go for a trip back in time. It sure looks like it was fun from my family photographs we shared!
Here is the how the river looks today…
You can see more photos of how it looks today by clicking here.
The location around the river, Střela is a protected nature reserve (přírodní rezervace) but because if the beauty of the location, it's popular for film. We're discovered three films that were filmed there and two of them are already on their way to us for review.
Watch the preview for Cesta do Lesa below – filmed entirely at Rabštejn nad Střelou.
The film is actually a part of a trilogy and they are available in the US and Canada on eBay. They are in Czech but do have English subtitles. We found them by searching here.
The first film, CESTA Z MĚSTA was made in 2000. A man from the city takes his son out into the great outdoors and finds more than just fresh air in a comedy from Czech writer and director Tomas Vorel.
Honza (Tomas Hanak) is a computer programmer with a young son (Michal Vorel). Honza decides that he and the boy need to get away from it all for a while, so he takes his son on a trip to the country; however, neither can bear to part with their computers for a few days, so they end up bringing along a battery of high-tech equipment. While camping, Honza meets Marketa (Barboura Nimcova), a former city dweller seeking solace in the country with her ill-tempered grandmother (Ljuba Skorepova) who has a habit of stealing people's watches.
Honza is quite taken with Marketa, and tries to romance her when he gets away from his son; Marketa's grandmother, however, doesn't quite trust Honza or his gadgets, and doesn't mind telling him to his face.
Boleslav Polivka's performance as a cranky local earned him a best supporting actor nomination at the 2001 Czech Film and Television Academy Awards.
Then, in 2002 they released  Z MĚSTA CESTA which is more of an untraditional documentary which shows portraits of five incredible personalities, including Eva Holubová and Bolek Polívka who reflect on leaving the city for country life.
Finally, in 2013 the film CESTA DO LESA was released.
The character Honza Marák has long since left his career in IT behind him and has bought a cottage at the end of a small village, where he has settled in with his wife Markéta, daughter Anyna and son Sayen. He works in the forest as a general labourer. Markéta earns a living providing massages and alternative treatment to her patients, for which she uses various psychotropic plants and mushrooms, which leads to a conflict with the long-term residents and ultimately with the drug squad.
Their daughter Anyna goes to an elementary school in another town, where she is falling behind because she wanders through the forests and learns from nature instead of from textbooks. The Papoš family are farmers of long standing in the community. Their son Ludva Papoš jr. does not live on the farm with his parents and he refuses to tend the farm with his father. He studied forestry college and lives in a gamekeeper's lodge in the middle of the forest, all alone with his dog. After work he goes to shoot pests when, one night, he encounters the nymph Anyna, a vegetarian…
Make sure to watch the preview trailer and see the beauty of the area come to life.
There are more clips and a Film o FIlmu, a bit about the film which we found very interesting here.
There is also a Czech television clip for Počesku.
Then we decided to look around at YouTube and we found some gems there as well!
In the following video, a cyclist armed with a GoPro camera takes us on a ride through and around the area, including by the riverside.
We also found a short 2 minute video of young people camping there just recently. It looks from their antics, like not much has changed since the time of my parents' camping there.
Finally, yesterday I included the video with Josef Vorel, a wonderful Czech grandfather who shares so much wisdom it is a must see… Czech speaking friends, give Pan Vorel a half an hour of your time, I promise you will be happy you did.
We hope you enjoyed this update and we'd love to read your comments below.
Sources: Wikipedia 2, Wikimedia Commons, Rabstejn Nad Strelou, Kudy z Nudy,
Thank you for your support – We appreciate you more than you know!
We know that you could spend hours, days, weeks and months finding some of this information yourselves – but at this website, we curate the best of what we find for you and place it easily and conveniently into one place. Please take a moment today to recognize our efforts and make a donation towards the operational costs of this site – your support keeps the site alive and keeps us searching for the best of our heritage to bring to you.


Remember, we rely solely on your donations to keep the project going.
Thank you in advance!
If you have not already subscribed to get TresBohemes.com delivered to your inbox, please use the form below now so you never miss another post.