Retro Bohemian Mushroom Cuisine is the name that came to me when I decided to share these photos from my 80's cookbook, Jihočeská houbařská kuchařka (South Bohemian Mushroom Cookbook).
I've had mine since I can remember and the pages are worn and dog-eared, but I still use it, especially for unique mushroom recipes. Keep in mind that during communism, to go to the forests and pick an abundance of free food was just what many families needed.
Fabulous fungi that sustained a nation – Czechs love mushrooms!
Of course, we love the cool retro photos of these dishes too!
The photographs are from the book and taken by Josef & Marie Erhartovi, Vladimír Simer and Jiří Stach.
Note: If you are an avid mushroom picker (or know anyone who is) have we got the gift for you!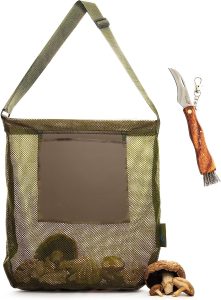 The Foraging Bag from VylerSky is an absolute game-changer for mushroom enthusiasts like myself! This kit includes a well-designed foraging bag and a top-notch mushroom knife, making it an essential companion for any outdoor adventure. The bag is spacious, durable, and perfect for storing your freshly foraged treasures, while the knife is sharp and precise, ideal for cleanly harvesting mushrooms. Whether you're a seasoned forager or just getting started, this kit will elevate your mushroom hunting experience. Plus, it's not only practical but also a stylish accessory for nature lovers. VylerSky has truly nailed it with this fantastic foraging kit! Click here to learn more.
* * * * *
* * * * *
Thank you in advance for your support…
You could spend hours, days, weeks, and months finding some of this information. On this website, we curate the best of what we find for you and place it easily and conveniently into one place. Please take a moment today to recognize our efforts and make a donation towards the operational costs of this site – your support keeps the site alive and keeps us searching for the best of our heritage to bring to you.


Remember, we rely solely on your donations to keep the project going.
We appreciate you more than you know!
If you have not already subscribed to get TresBohemes.com delivered to your inbox, please use the form below now so you never miss another post.