This is a Czech specialty. Czechs love mushrooms and when they are fried it is an especially special treat. Of course, in the US we prepare this from the mushrooms we find at the local grocery store, but when we're in the Czech Republic, making these from fresh picked mushrooms is just heavenly.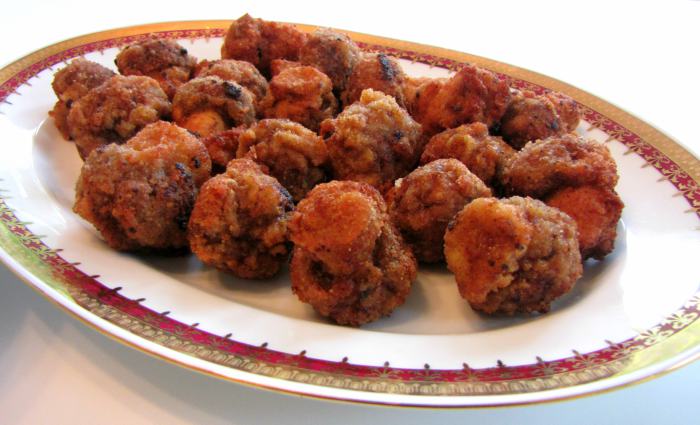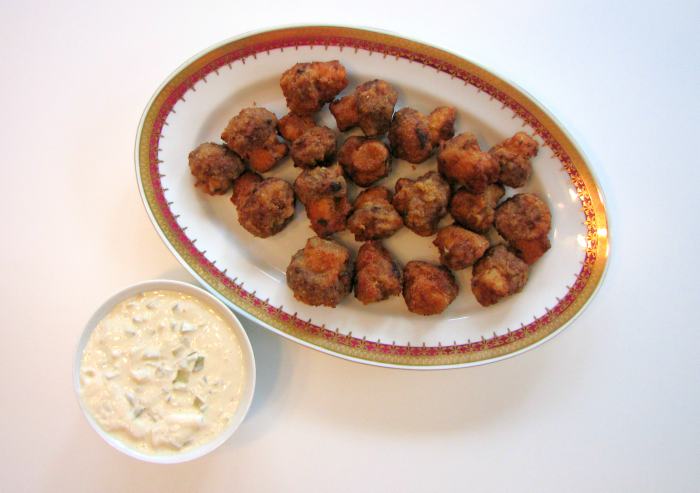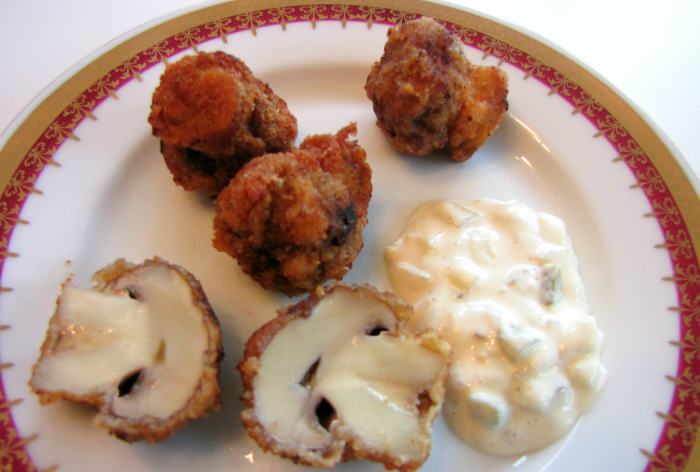 Ingredients for Fried Mushrooms
1 basket mushrooms (we prefer the brown capped ones)
1 egg
1/2 cup milk
3/4 cup flour
1 cup breadcrumbs
salt and pepper to taste
oil, for frying
Ingredients for Tartar Sauce
3/4 cup mayonnaise
1 tbsp. dijon mustard
1 tbsp pickle juice from the jar
1 tbsp lemon juice or vinegar
1/2 tsp Worcestershire sauce
1/2 onion, finely chopped
2-3 Polish pickles, finely chopped
salt and pepper to taste
Directions
We always begin with the tartar sauce. It tastes better if it sits a while and the flavors have a chance to marry. Better yet, make the tartar sauce the day before and keep it in the fridge.
To make the tartar sauce, finely chop the pickles and onion and place into a small bowl. Add the remaining ingredients and whip together with a fork. Depending on how you like your consistency you may have to add some more mayonnaise or some more liquid.
Cover and set aside in refrigerator.
To make the mushrooms, wash and clean them. You may want to trim the stems a bit. Set aside.
Place a large skillet on the stove with approx. 1″ of oil on the bottom.
Get three bowls. I like to use these glass pie pans I have because they do the job perfectly.
In the first one, place about 3/4 cup flour.
In the second one, place the egg, milk and salt and pepper. Beat with the fork until all ingredients are incorporated and you don't see any more pieces of yolk.
In the final one, add your breadcrumbs.
You will be working by dipping the mushrooms into bowl 1 (flour), then 2 (egg wash), and then 3 (bread crumbs).
Before you begin, turn on the heat for the skillet to begin heating the oil. We use the medium-high setting but you may have to adjust based on your stove top. The secret is that they dance on the oil, but do not cook so fast that they are raw on the inside. Getting this right just takes practice – and it depends on the moisture content in the mushrooms, their size, etc.
Start the process of dipping the mushrooms to coat them in the breading and set them on a plate. We've timed it that the by the time the plate is full, the oil it hot enough for them to go in. Never put them into a pan where the oil is not hot enough as they will sponge up the oil and not taste good. You want them to dance on the oil.
Turn them every so often that all sides brown equally. The small button mushrooms they have here in the US take about 10 minutes to fry. When they are a nice golden color, place them on folded paper towels placed on a cooling rack to drain.
After you have placed in the first plate, you may have mushrooms left over for a second plate. Repeat the process.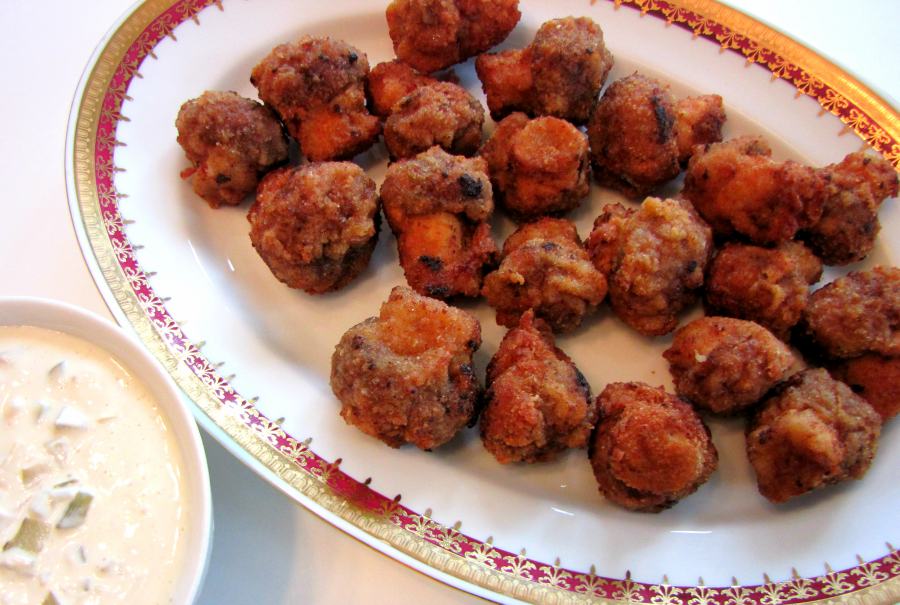 Czechs love to fry. We fry mushrooms, cauliflower and cheese. We live to fry croquettes, fish, chicken and schnitzel. On days that we're frying, we usually make chicken cutlets, mushrooms and some cauliflower and go to town.
It's not the healthiest night of the week, but it sure tastes good!
When ready to serve, plate and serve with the delicious tartar sauce for dipping.
Dobrou Chut!
Note: If you are an avid mushroom picker (or know anyone who is) have we got the gift for you!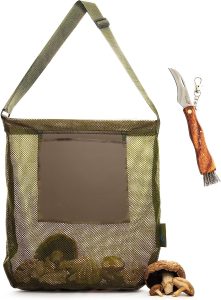 The Foraging Bag from VylerSky is an absolute game-changer for mushroom enthusiasts like myself! This kit includes a well-designed foraging bag and a top-notch mushroom knife, making it an essential companion for any outdoor adventure. The bag is spacious, durable, and perfect for storing your freshly foraged treasures, while the knife is sharp and precise, ideal for cleanly harvesting mushrooms. Whether you're a seasoned forager or just getting started, this kit will elevate your mushroom hunting experience. Plus, it's not only practical but also a stylish accessory for nature lovers. VylerSky has truly nailed it with this fantastic foraging kit! Click here to learn more.
* * * * *
* * * * *
Thank you in advance for your support…
You could spend hours, days, weeks, and months finding some of this information. On this website, we curate the best of what we find for you and place it easily and conveniently into one place. Please take a moment today to recognize our efforts and make a donation towards the operational costs of this site – your support keeps the site alive and keeps us searching for the best of our heritage to bring to you.


Remember, we rely solely on your donations to keep the project going.
We appreciate you more than you know!
If you have not already subscribed to get TresBohemes.com delivered to your inbox, please use the form below now so you never miss another post.