This is my father's recipe for potato soup which is called Bramboračka in Czech. These days we call it "Deda Soup" which translates to Grandfather Soup – because it's his favorite and he gave us this recipe but for the sake of this post, we shall call this Czech Grandfather Soup aka Bramboračka.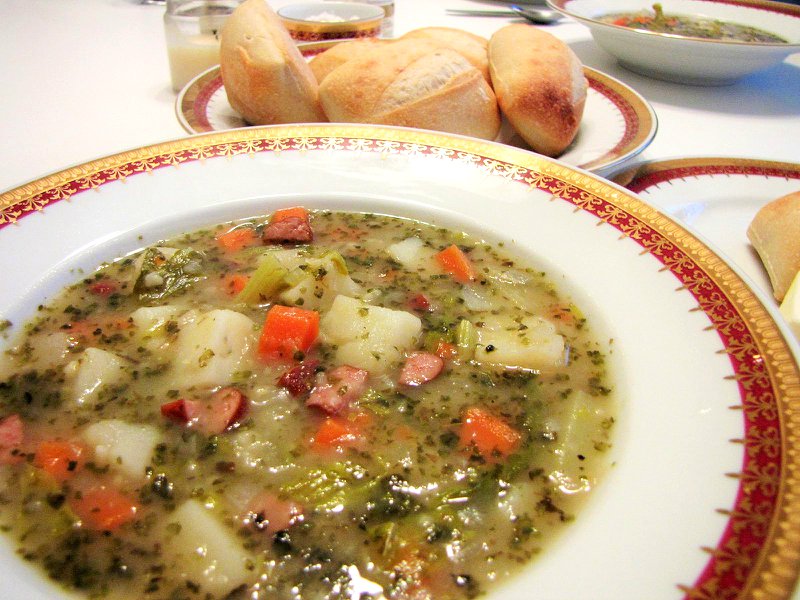 Now that we have the introductions in place, let's get to this delicious soup recipe.
Ingredients
1 polish sausage, cubed
5 large potatoes, cubed
1 large onion
3 carrots, cubed
3 celery stalks, cubed
3 parsnips, cubed
1 basket of fresh mini-portobello mushrooms, sliced (This soup tastes better if using dried mushrooms – just soak them 2 hours prior to use).
2 large bay leaves
1 tsp caraway seeds
6-7 cups water
4 Tbsp of butter
2 Tbsp of flour
6 cloves of garlic, crushed in a mortar and pestle with 2 Tbsp marjoram
salt and pepper to taste
Directions
Cube all of your vegetables. In a large stock pot or dutch oven, add the onion and polish sausage and cook on medium for 8-10 minutes. Add the cubed carrots, celery and parsnips and cook for 5 minutes more, stirring often.
The juice of the vegetables and the polish sausage should be enough to keep them from sticking, but if necessary, add 1-2 Tbsp of butter.
Then add the mushrooms, water, caraway seeds and bay leaves and cover.
Cook for 30 minutes.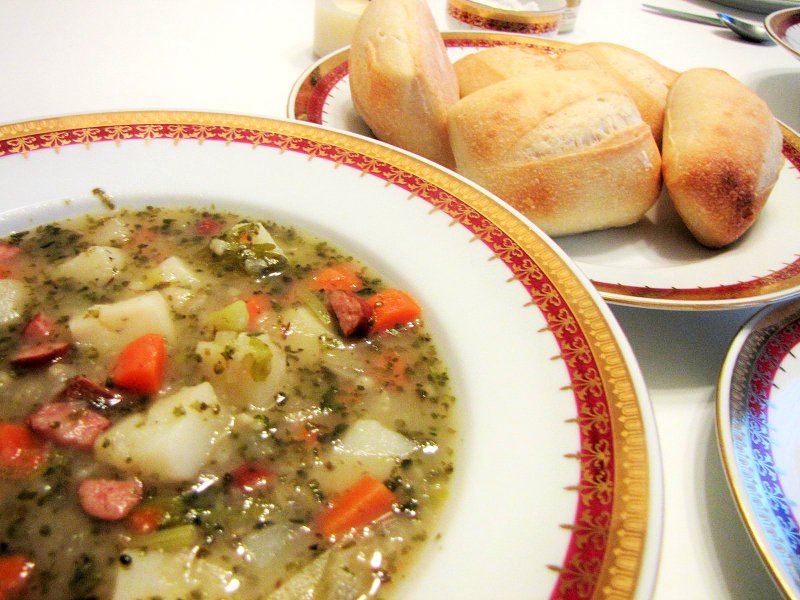 In a separate small skillet, brown the flour lightly and then add the 2 Tbsp of butter to make a rue. Make sure to stir constantly with a wooden spoon. Then take 1/2 cup from soup and pour into the rue, making sure not to get any clumps and add this mix to the soup to thicken it before serving (about 10 minutes).
As the soup finishes cooking, peel your garlic cloves and add them to the dried marjoram in a mortar and use the pestle to crush the garlic with the herb.
Add this right before serving the soup and salt and pepper to taste.
Serve with hot and crispy french rolls or better yet, topinka (a friend and garlic-rubbed rye bread).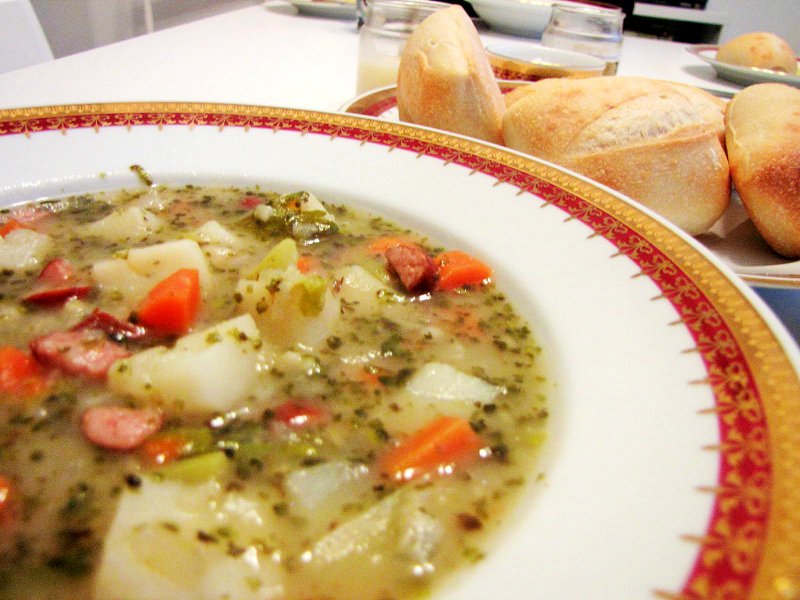 Dobrou Chut!
Thank you for your support – We appreciate you more than you know!
We know that you could spend hours, days, weeks and months finding some of this information yourselves – but at this website, we curate the best of what we find for you and place it easily and conveniently into one place. Please take a moment today to recognize our efforts and make a donation towards the operational costs of this site – your support keeps the site alive and keeps us searching for the best of our heritage to bring to you.


Remember, we rely solely on your donations to keep the project going.
Thank you in advance!
If you have not already subscribed to get TresBohemes.com delivered to your inbox, please use the form below now so you never miss another post.