Sometimes I get a craving for a Czech dish, but realize that it is a beef dish and we don't eat beef. Well, I'm not one to let that stop me. So this morning I was thinking about Koprovka which is a Dill gravy which is traditionally served with boiled beef. As I mentioned, we don't do beef in this house, so I decided to go out on a limb and try to make it with chicken.
Guess what…
It was delicious. So delicious in fact, that I want to share the recipe so you can taste for yourselves!
Welcome to my weird but tasty recipe for Chicken with Dill Gravy and Dumplings.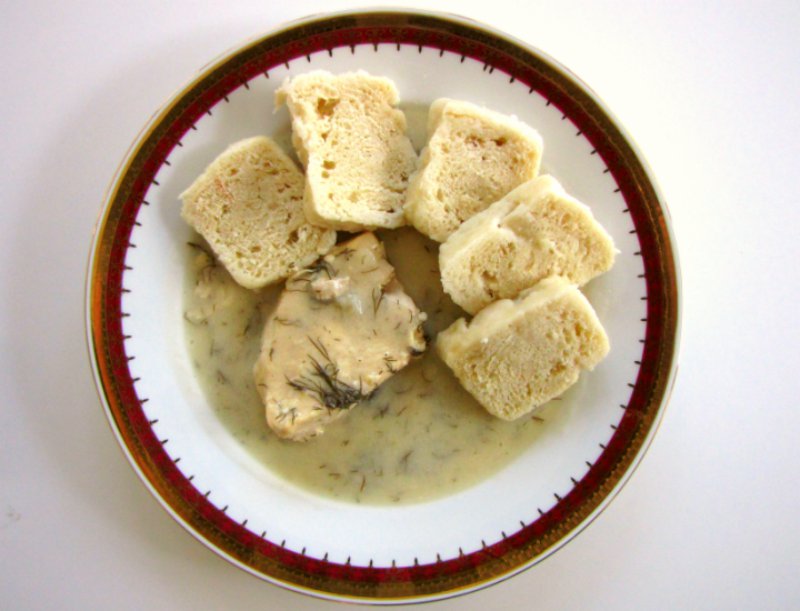 It's also normally made with heavy cream, which I discovered halfway into it that we also do not have. Some families make it with sour cream, which – you guessed it we also don't have right now.
My intense craving taking charge of my senses, I was set to make a dill sauce today no matter what I had to use to make it. It turns out that sometimes, a lack of ingredients forces some substitutions which end up creating a delicious dish!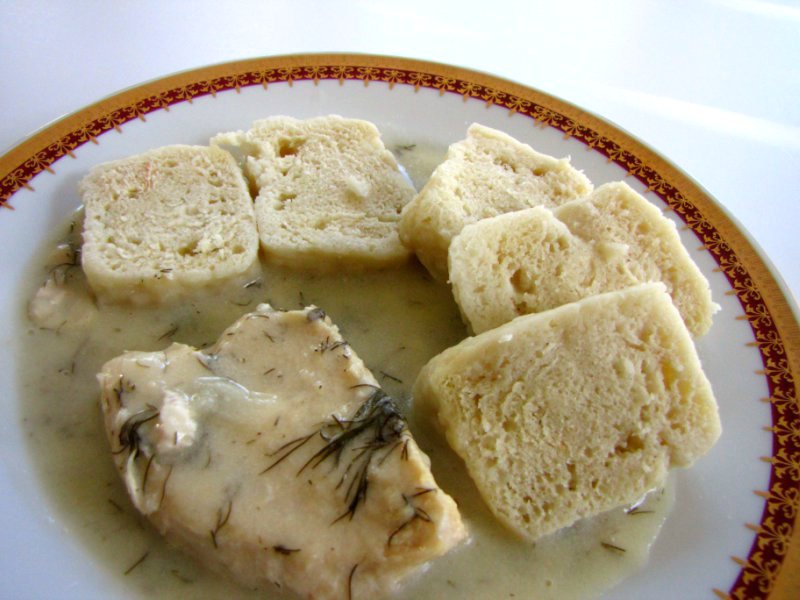 Ingredients
3 large chicken breasts (I only had the skinless, boneless kind)
2 large onions (something has to flavor this gravy!)
1 Tbsp butter
2 cups chicken stock (the boneless chicken won't release any flavor so this will have to do)
Fresh dill (Thankfully we grow this, so I pulled enough to have about 1/4 cup after I took it off the thicker stems and chopped it.)
2 Tbsp vinegar
1 Tbsp water
1 cup plain yogurt
1/2 cup milk
3 Tbsp flour
salt and pepper / sugar to taste
Directions
Finely chop the onions and place into a large pot with the butter. Add the chicken and allow the chicken to brown slightly on both sides, about 8-10 minutes. This allows the onions to get clear also.
Add the chicken stock and cover and cook on medium heat for 30 minutes.
Meanwhile, pull the small dill leaves off the stems and chop them. Place them into a small saucepan with the vinegar and water and allow them to simmer just for a minute or two on high. You want to sweat the flavor out of the dill and also to reduce some of the vinegar. Set aside.
At this time, I realized that the onion pieces were bothering me so I pulled out the pieces of chicken, I got my boat motor and I ran it for 30 seconds or so to make the liquid completely chunk free.
I LOVE my boat motor.
Then I added the dill mixture and covered the pot again.
At this time, I realized there was no more cream or sour cream so I pulled out the half empty container of plain yogurt. I added 3 Tbsp of flour to it and I mixed it in until it was smooth. It was kind of thick, so I added 1/2 cup of milk and mixed well.
Then I poured all of this into the pot and stirred for about 5 minutes until it began to thicken. At this time I returned the chicken to the pot and adjusted for taste (salt and pepper).
Some people like it sweeter, so they add sugar. I think the way I made it offered a perfect blend of sweet and sour so I just added some salt.
Thankfully, Zanna made a huge batch of Strejda Vlasta's dumplings yesterday, so we just steamed those up and a few minutes later, dinner was served.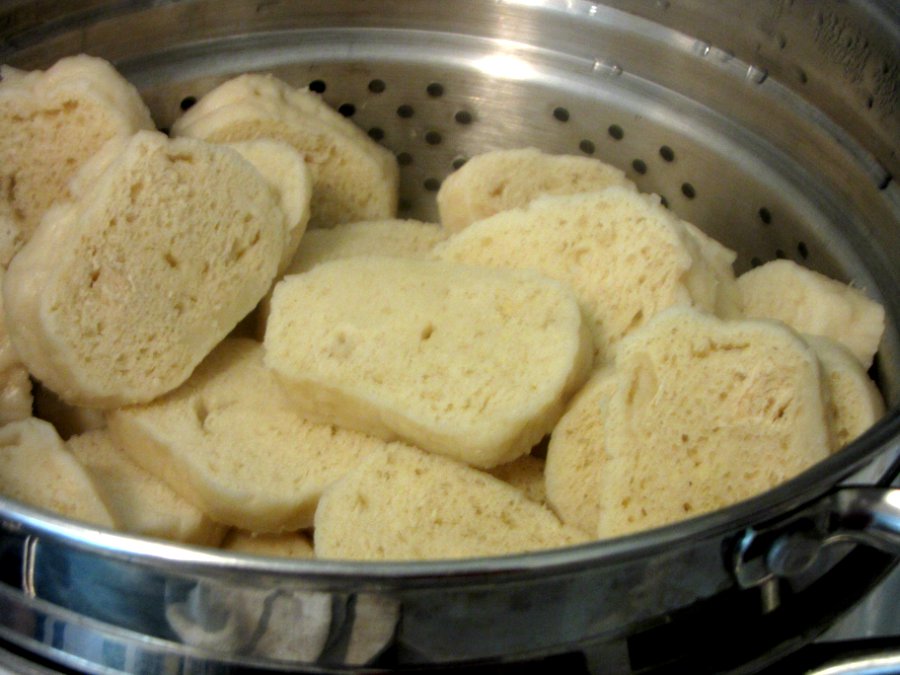 Not a traditional Czech dill gravy by any means but mom (the taste expert) said it was the "nejlepsi koprova omacka kterou jsem měla" – the best she's ever had.
I think it was a bit 'lighter' than the usual heavy one, which is probably healthier, but no taste was sacrified. And as far as the chicken breast, we all thought it combined very well.
Try it, I think you'll like it!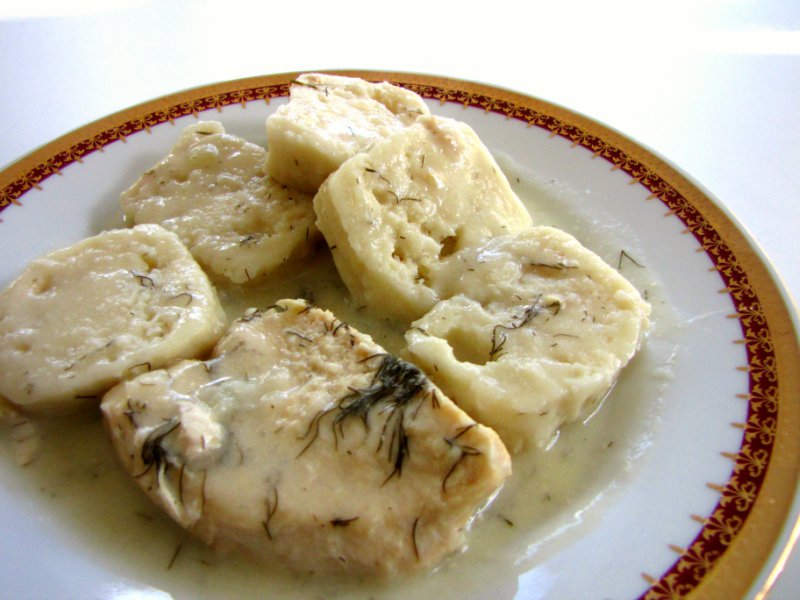 Dobrou Chut!
If you have not already subscribed to get TresBohemes.com delivered to your inbox, please use the form below now so you never miss another post.
---
Remember, we rely solely on your donations to keep the project going.
Become a friend and get our lovely Czech postcard pack.