I remember that my mother and grandmother would always make these for us on the weekends. I picked up the tradition and raised my children on them. Americans would refer to them as Crepes, but in Czech they are called Palačinky. Czech palačinky make delicious breakfast crepes wherever you are and whatever you decide to call them.
I still make them. and love them just as much.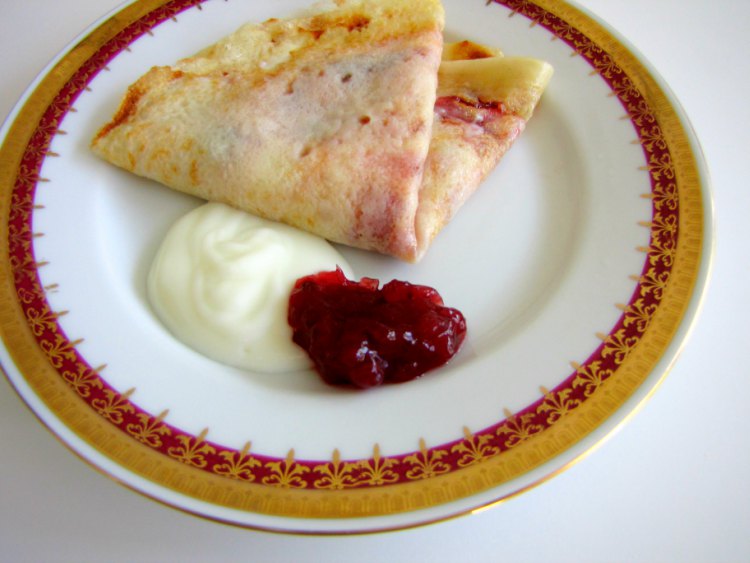 We always fill them with either jelly or jam and yogurt or sour cream. Our favorite jam is lingonberry or red currant, though we've tried them with all kinds of preserves.
Sometimes we fold them.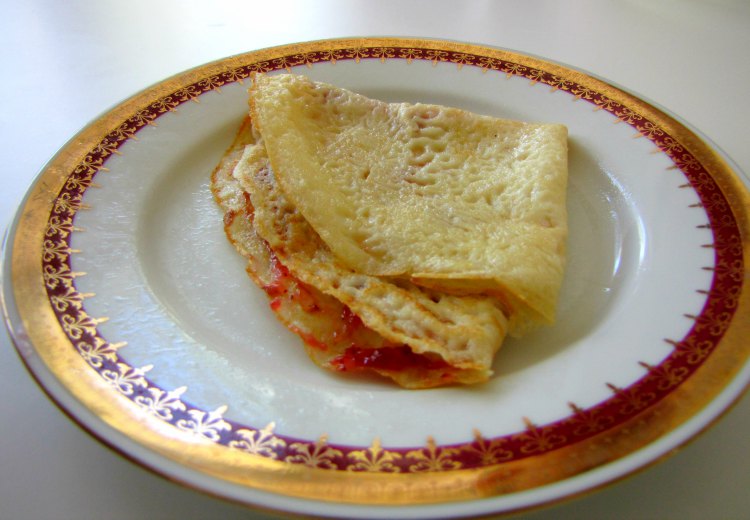 Other times we roll them.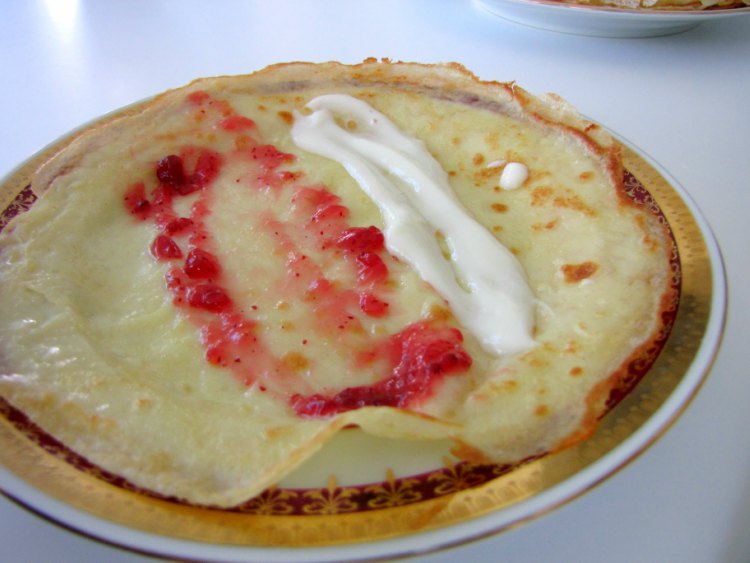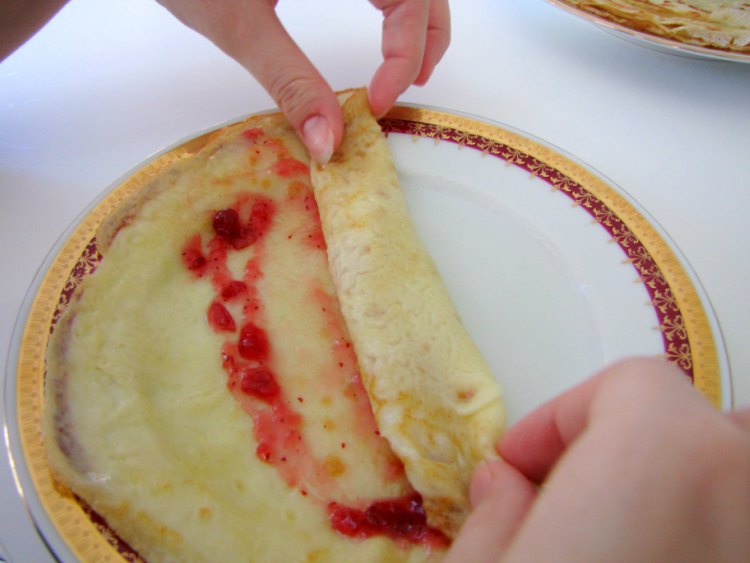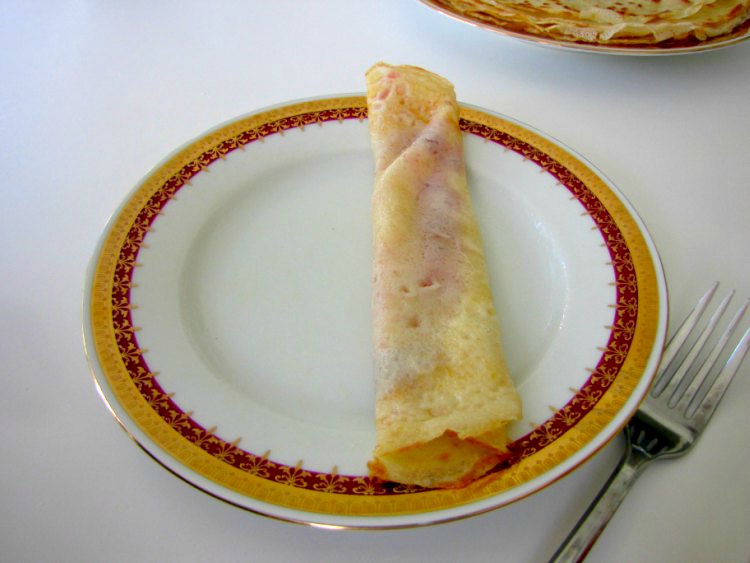 When the children were little they called them 'roll-ups' and I think that they were the first dish they each learned to prepare. Here's the recipe s you can make them too!
Ingredients
1 cup flour
2 eggs
1 cup milk +/-
1 teaspoon sugar
1 tablespoon butter, melted
1⁄2 teaspoon salt
jam, jelly, preserves or marmalade
Optional add-ons
fresh fruit (optional)
powdered sugar (optional)
yogurt (optional)
sour cream (optional)
cinnamon (optional)
fruit syrup (optional)
chocolate syrup (optional)
whipped cream (optional)
Directions
Combine your sifted flour, sugar, and salt in a mixing bowl.
Add the eggs, one at a time.
Beat well after each addition.
Add milk – you want to make a thin batter (not thick like American pancakes)
Beat until smooth.
Stir in the melted butter.
Pour 1/4 – 1/3 cup batter into a heated, lightly buttered skillet (amount depends on size of skillet).
Immediately swirl around the skillet to completely coat the bottom of the pan.
You'll begin to see it bubble a bit and curl up at the edges, turn and brown on other side.
We stack them on a place at the table and place the desired toppings around in separate little bowls.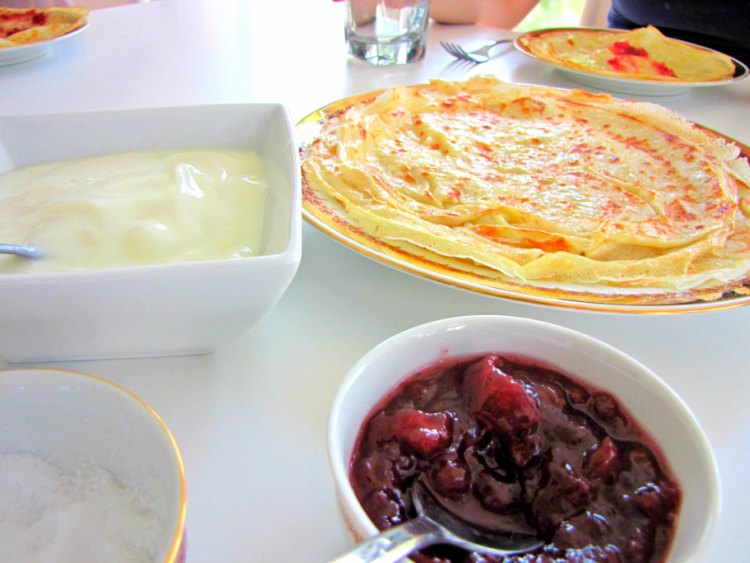 Wrap, roll or fill with whatever you prefer.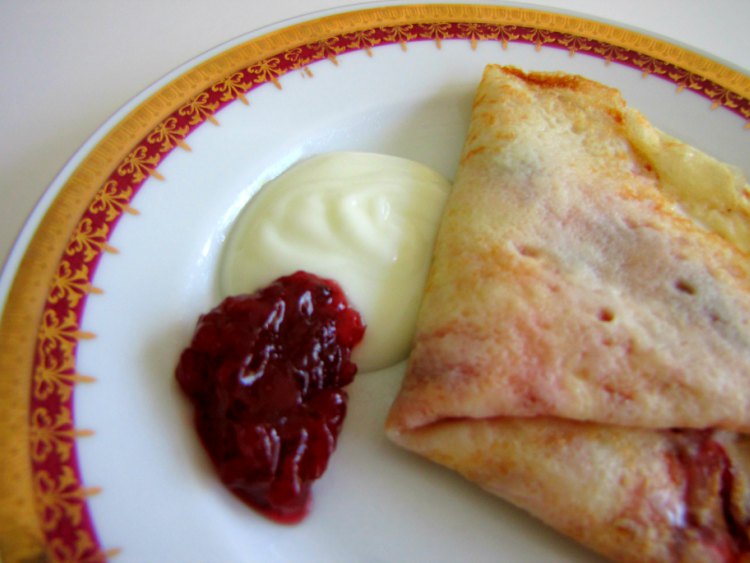 You can see our Sunday morning breakfast served on our Thun China I hand carried from Prague in 1986. Oh, and by the way… these are also delicious for lunch filled with a nice creamed spinach.
Totally Scrummy! (Scrumptious + Yummy)
If you have not already subscribed to get TresBohemes.com delivered to your inbox, please use the form below now so you never miss another post.
---
Remember, we rely solely on your donations to keep the project going.
Become a friend and get our lovely Czech postcard pack.