I am totally feeling the love for the vintage Sputnik inspired starburst today. If you've been thinking about Atomic Starbursts for living the Jetsons lifestyle then look today is your lucky day!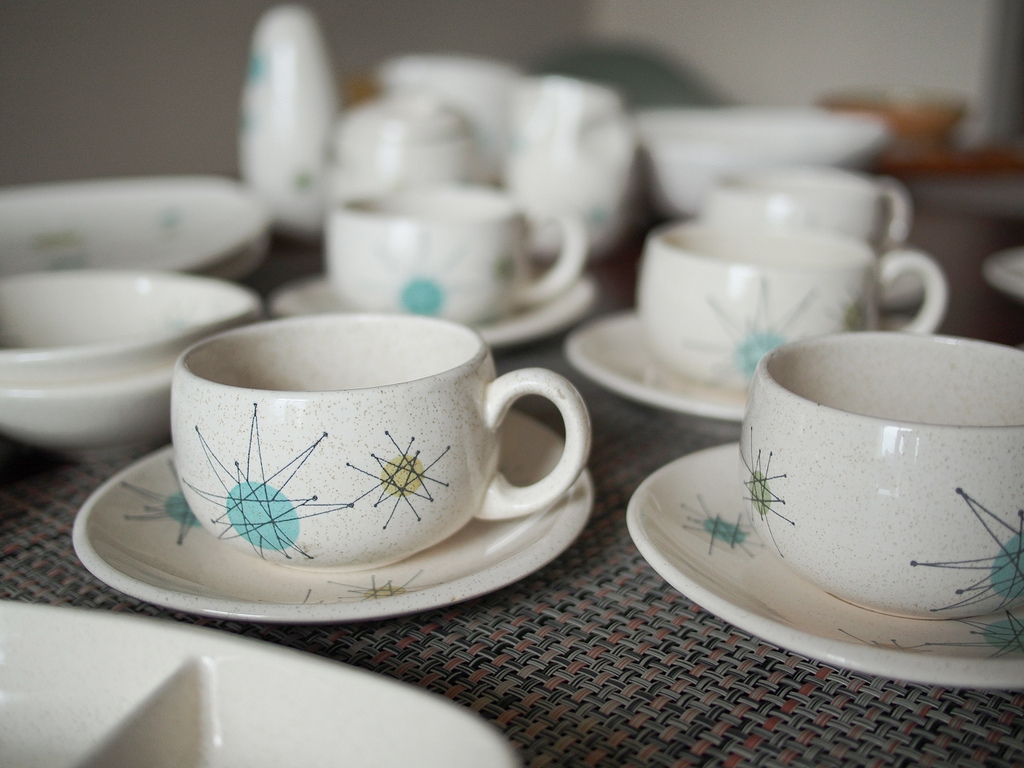 Seriously. Remember how they lived in a futuristic utopia of elaborate robotic contraptions, aliens, holograms, and whimsical inventions? When I remember them I immediately think of Judy serving George his dinner on one of these dishes. Of course, now that I think of it, I don't think they ate food on the Jetsons, but if they did, they'd be dining off of this dinnerware.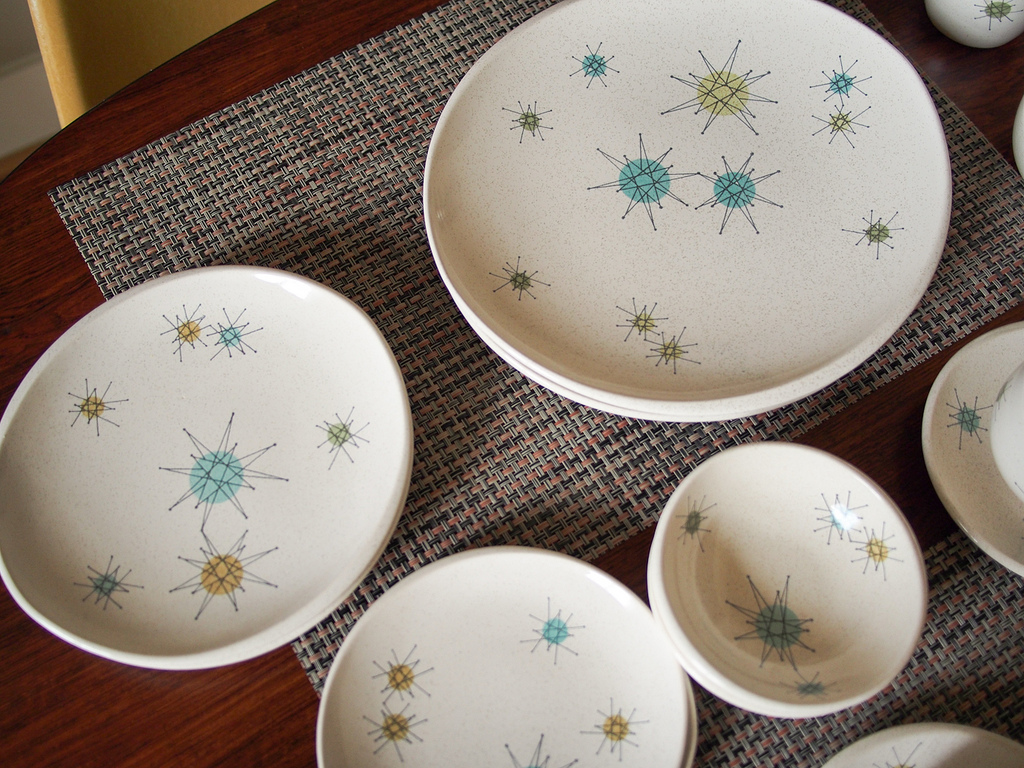 The Atomic Starburst collection is a great collection which was introduced by Gladding-McBean & Company in 1954 as part of their Franciscan line of China dinnerware. They were based in Los Angeles from 1934–1983.
I am totally convinced that vintage items are a piece of history and will always be in style.
The line was part of the company's Modern Americana push, perhaps inspired or influenced by American Form which included a group of seven new patterns on three different new shapes.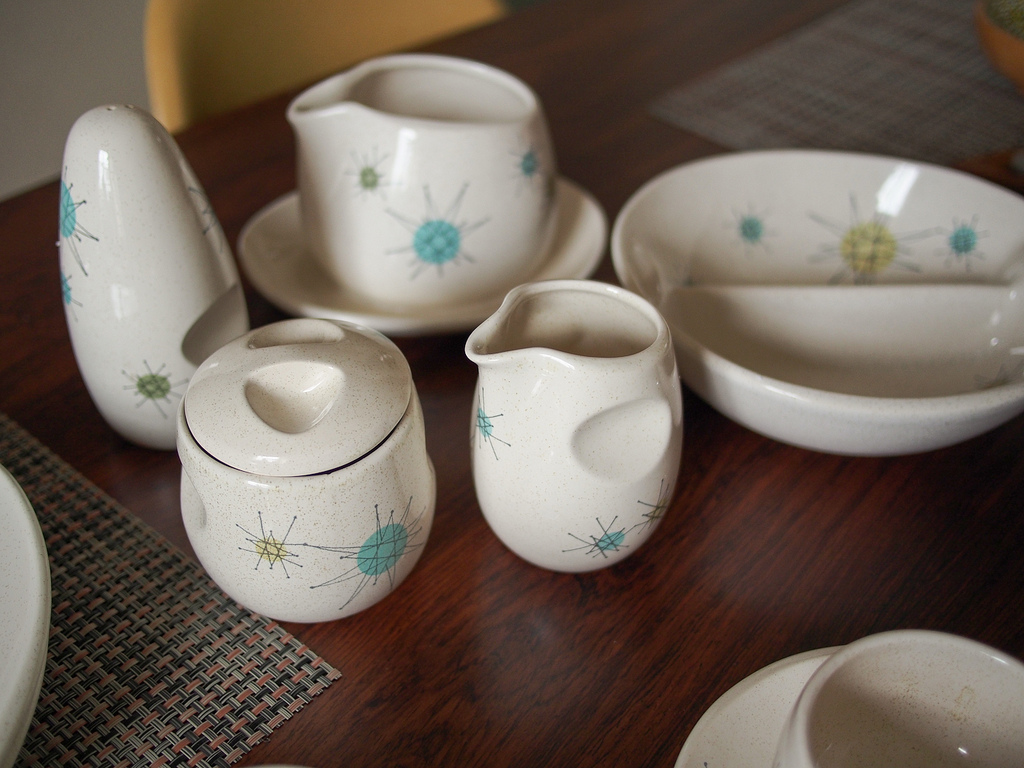 This whimsical, spacey and futuristic pattern was designed by contract designer Mary C. Brown and it fit the era perfectly. Done in an elliptical shape, it featured a speckled looking off-white background and a whimsical spray of stars in yellow and blue with atomic swirls.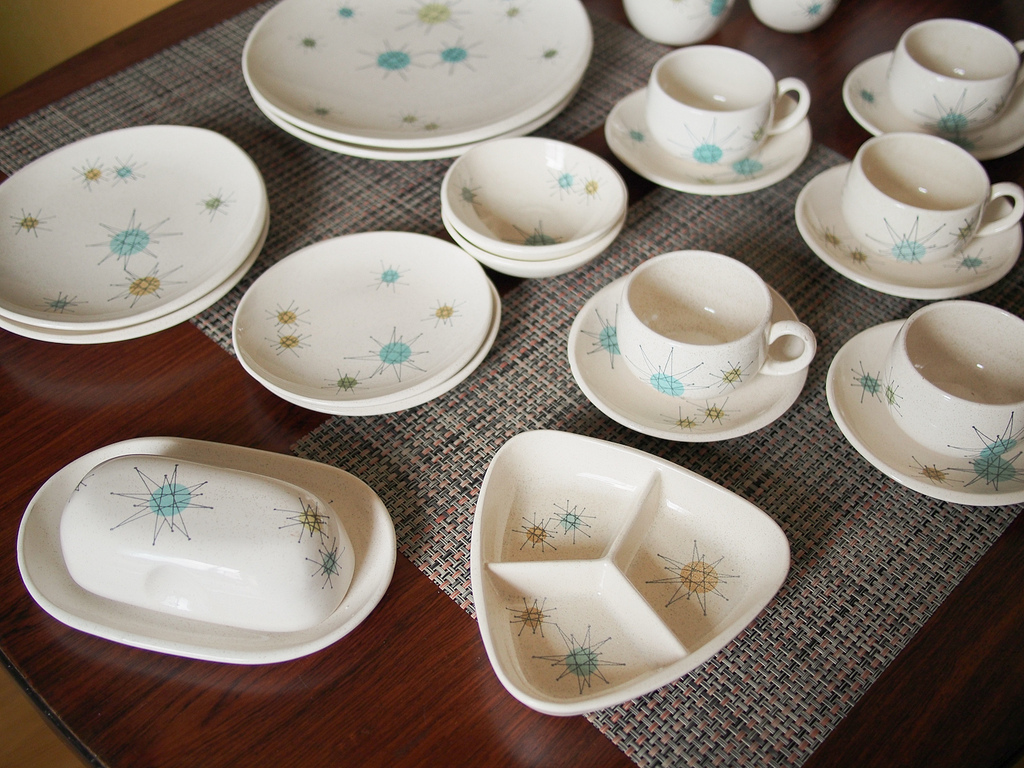 To date, it is one of the most recognizable design motifs in vintage dishware.
Totally hip and cool from day one, a Got Milk? commercial in the 1990s about a desperate airline pilot showed two Franciscan Eclipse Starburst cups, some saucers and a relish plate on the stewardess' cart in the first class section. And you can also see some people attending the dinner party in the 1999 movie Blast from the Past using small Franciscan Starburst plates while eating buffet style.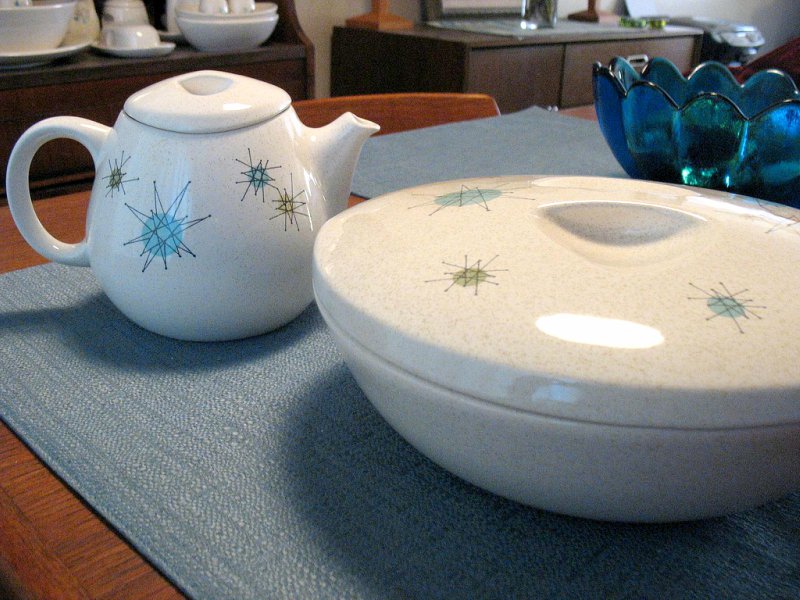 It certainly remains one of their most expensive motifs.
They're just cool.
Always have been, and from the vintage and retro revival it looks like they always will be.
Sputnik never seems to go out of style and with a quick visit to Retro Planet, this could be your new atomic pad…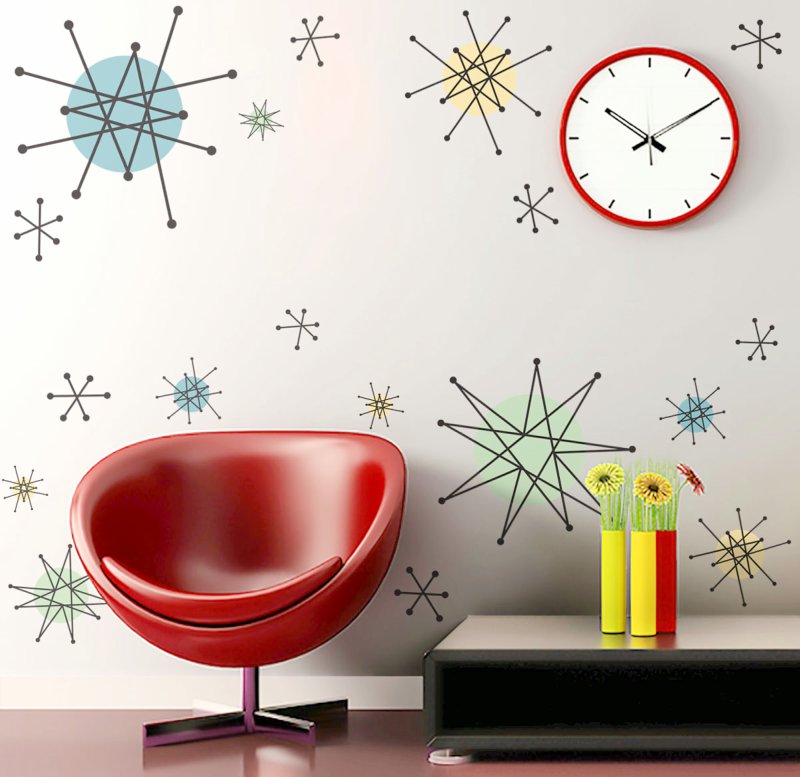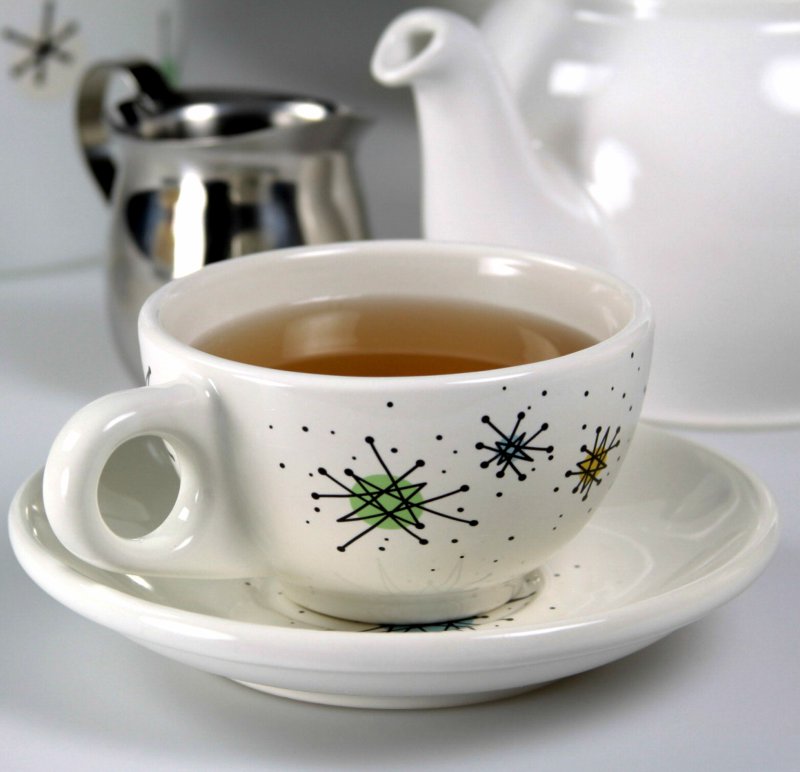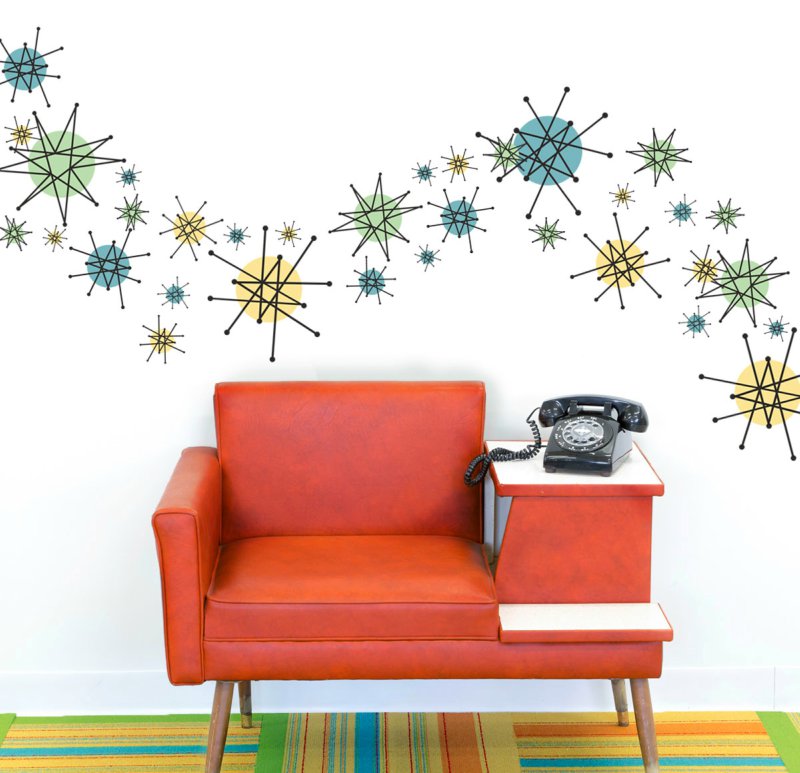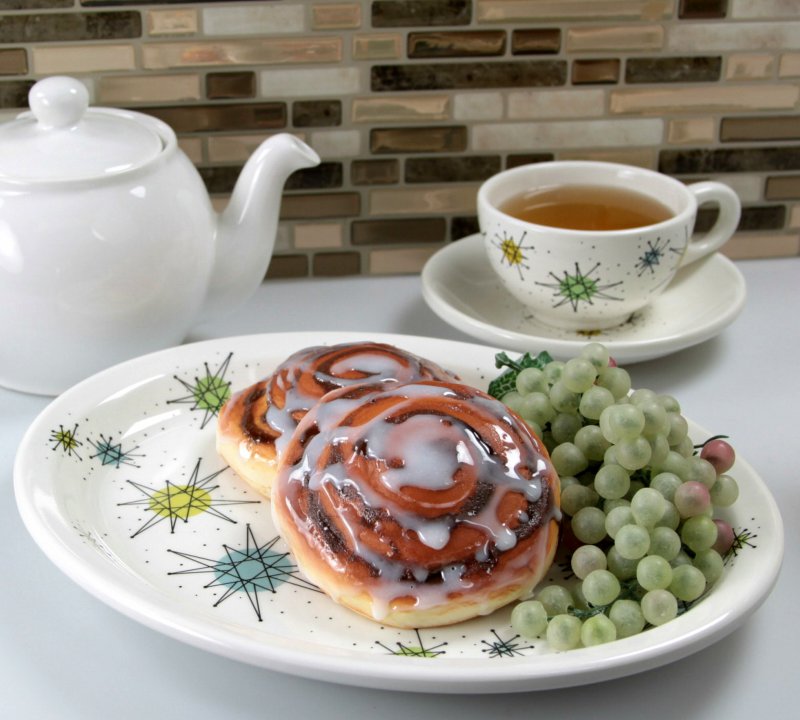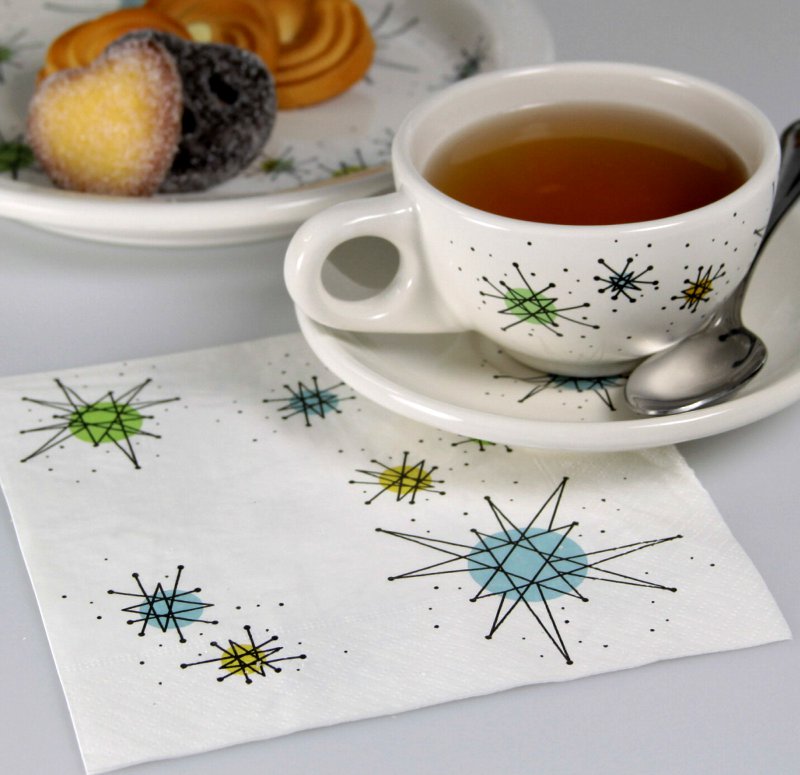 And how about some Jetson's style plastic looking food to go with it?
Yum!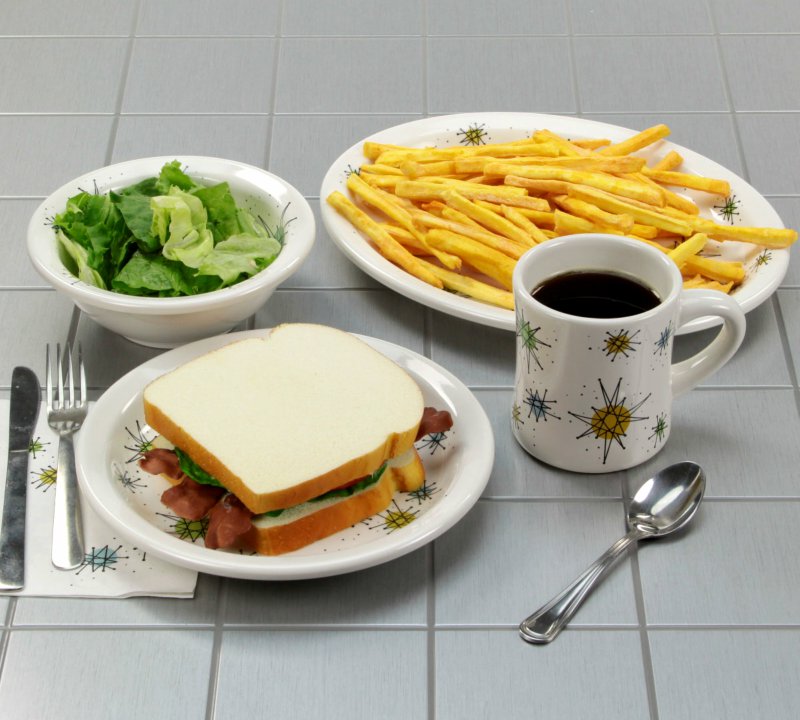 But seriously, if you are looking to collect then be warned that original plates, bowls, cups, and saucers are somewhat easy to come by, but you'll pay a pretty penny for scarcer pieces like a casserole dish or a pitcher. The best place to start searching? Try eBay for the lowest priced deals or Amazon for modern day replicas and fill in pieces. Etsy always has pieces available, but they tend to be higher priced.
Sources: Retro Planet, Flickr, Hipster Haven, Wikipedia.
If you have not already subscribed to get TresBohemes.com delivered to your inbox, please use the form below now so you never miss another post.
---
Remember, we rely solely on your donations to keep the project going.
Become a friend and get our lovely Czech postcard pack.