What do Monty Python's Terry Gilliam, Tim Burton, Wes Anderson, and the Brothers Quay all have in common? The answer is stylized special effects. Stylized special effects tell their story through the use of exaggerated or simplified shapes, motions, and colors. The story is represented in a non-naturalistic conventional form as opposed to a realistic effect. With stylization, you have the freedom to play with shapes and colors, exaggerate or remove details, and enhance the look and feel in any direction.
All the above filmmakers consider Karel Zeman an influence because he is known as a "one-of-a-kind silver-screen illusionist". He created the world of stylized special effects which influenced the movie makers and video game creators of today.
Through his never before seen stylized special effects, Czech filmmaker Karel Zeman devoted his career to transporting viewers to realms bey­ond their wildest imagining. He transported us to worlds, that before, only existed in our imaginations.
He is a famous Czech director who can certainly be credited with having the most influence. Of course, Karel Zeman may also be the most influential Czech director you never heard of… The Wall Street Journal called him "an overlooked progenitor of Czech cinema." He was a genius who was way ahead of his time.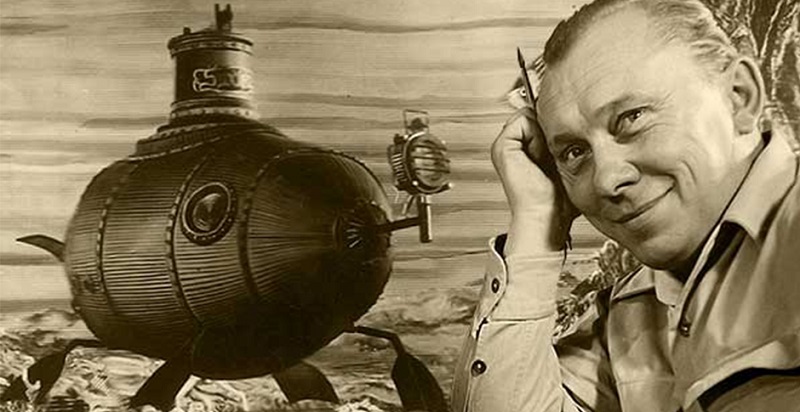 Karel Zeman was a science fiction and fantasy adventure film director who worked from the 1950s to the 1970s is famous for his imaginative stylized effects and set designs.
What he invented, really, was the combination of many techniques: cell animation, cut-out, 3-D puppets, and live actors. And he put all these techniques into one film and was really trying to erase all these barriers. That was really his speciality, and I don't think any other filmmaker was able to do special effects as well as my father. – Ludmila Zeman
Karel Zeman moved from poster design to filmmaking in the mid-forties. In his work he has frequently combined live-action, models, puppets, and almost every kind of animation imaginable, blending them in the most imaginative ways to create a world that is uniquely his own.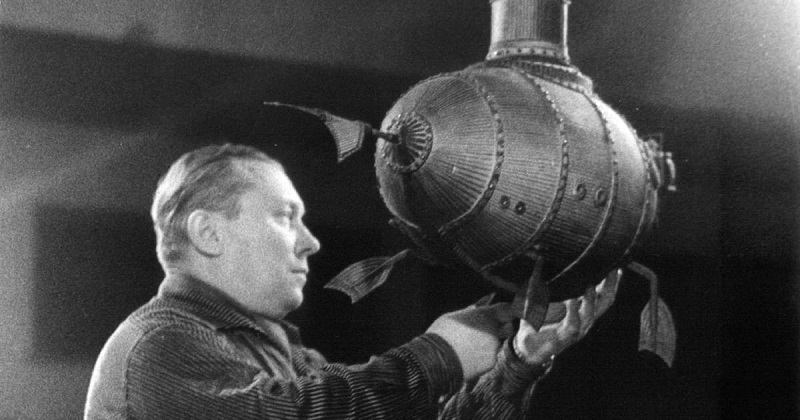 The incredible, breathtaking combin­ations of live-action and animation techniques that he pioneered in the postwar years earned him comparisons to legends such as Georges Méliès, and an array of followers that includes Jan Švankmajer, Terry Gilliam, Tim Burton, and Wes Anderson.
Tim Burton is known for distinctive, stylized movies such as Edward Scissorhands, Sleepy Hollow, and The Nightmare Before Christmas. Many don't know that Tim Burton started out in animation. A significant influence for him was the great Czech animator Karel Zeman.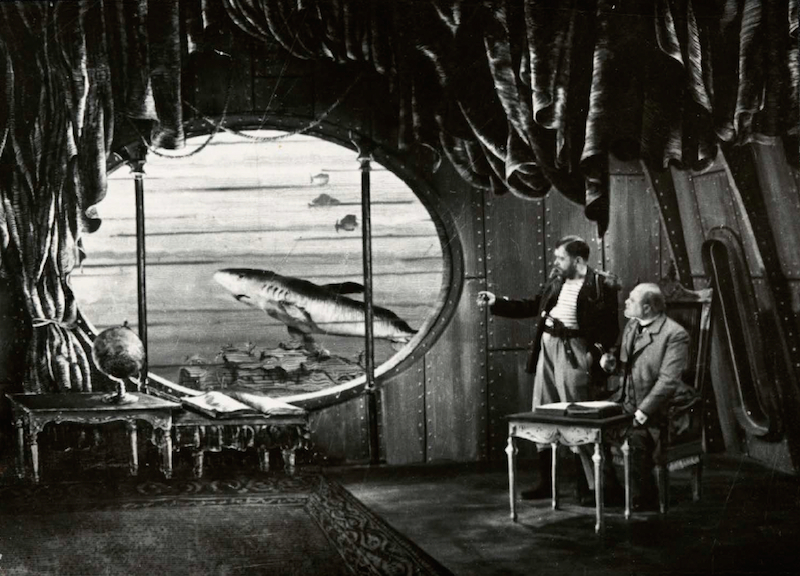 In today's world of technology, Zeman's work has a home-made quality, but the designs have a beauty and elegance that has seldom been equaled.
His films, like The Fabulous Baron Munchausen… And I remember some dinosaur series with kids in it (most likely Journey to the Beginning of Time)… And I remember where I grew up in Burbank there was a documentary on Karel Zeman that showed his creative process and that was extremely inspirational to me. I think he and Ray Harryhausen were probably two big inspirations in terms of doing stop motion and a more handmade quality… Karel Zeman did that amazingly. – Tim Burton
Film Adventurer Karel Zeman (Czech: Filmový dobrodruh Karel Zeman) is a 2015 Czech documentary film about Karel Zeman which focuses on Zeman's life and work, documenting the creation of his films.
The film also features the reconstruction of famous scenes from Zeman's films made by animation students.
Terry Gilliam and Tim Burton are featured in the film.
Below is the trailer for Film Adventurer Karel Zeman.
Film Adventurer Karel Zeman is a biographical film that looks back at the life, work, and significance of a true genius in world cinema. They explore the history and inspiration of the film tricks pioneer, and include interviews with today's prominent filmmakers from Japan to America to understand just why his films are still alive – and in many ways unsurpassed. Terry Gilliam, Tim Burton, Koji Yamamura, Kosei Ono, and others all discuss Karel Zeman as their inspiration.
The following short film is entitled The Special Effects of Karel Zeman: Movie Making Animation and is just under 18 minutes. It is in English.
The film takes a look behind the scenes at motion pictures made between 1947 and 1980 and shows how some of his special effects were achieved. Examples range from early shorts like Inspiration, King Lavra to those featuring the popular character of Mr. Prokouk, to such features as An Invention for Destruction, Baron Munchausen, and A Jester's Tale.
Finally, a preview of a very special DVD set…
Three Fantastic Journeys by Karel Zeman.
Presented in this set are three of Zeman's most enchanting fantasies—treasure chests of wondrous sights, tactile textures, and headlong yarn-spinning that helped put Czechoslovak cinema on the international map. They are perfect examples of stylized special effects!
Journey to the Beginning of Time (1955)
A beguiling mix of natural history and science fiction, this early feature by Karel Zeman follows four schoolboys on an awe-inspiring expedition back through time, where they behold landscapes and creatures that have long since vanished from the earth. Hewing closely to the scientific knowledge of its era, Journey to the Beginning of Time brings its prehistoric beasts alive through a number of innovative techniques—including stop-motion, puppetry, and life-size models—creating an atmosphere of pure wonderment.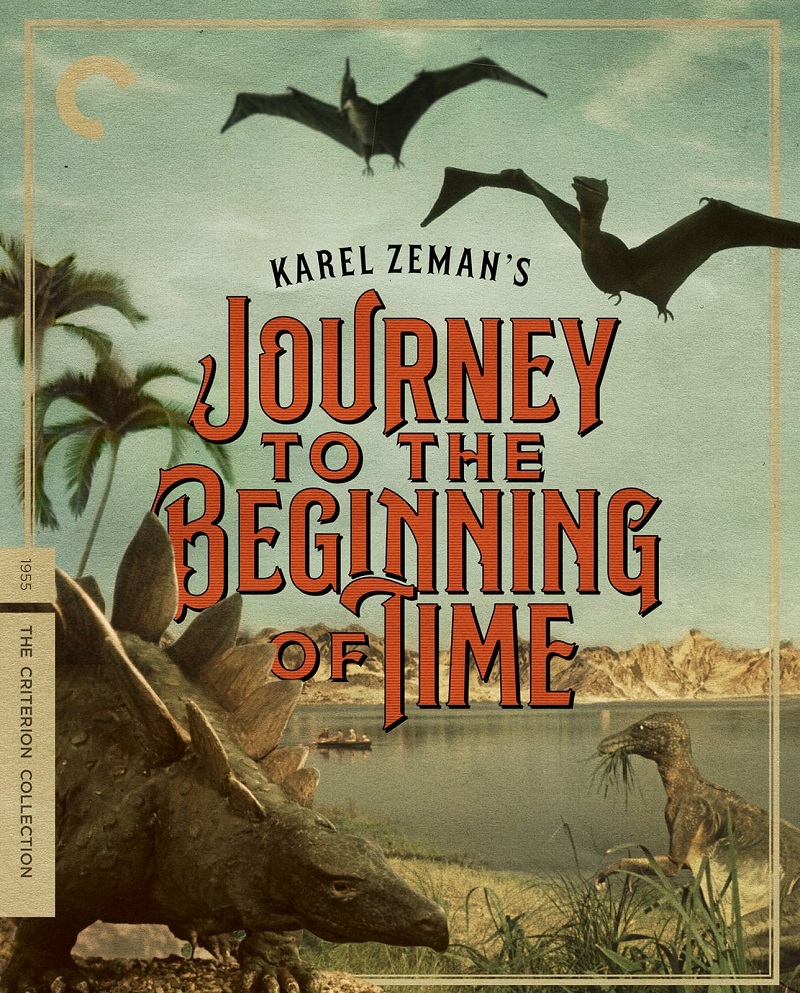 Invention for Destruction (1958)
This eye-popping escapade revolves around a scientist and his doomsday machine—and the pirates who will stop at nothing to gain possession of it. Freely adapting the fiction of Jules Verne, and inspired by Victorian line engravings, Karel Zeman surrounds his actors with animated scenery of breathtaking intricacy and complexity, constructing an impossibly vivid proto-steampunk world. Released abroad at the turn of the 1960s, Invention for Destruction went on to become one of the most internationally successful Czechoslovak films of all time.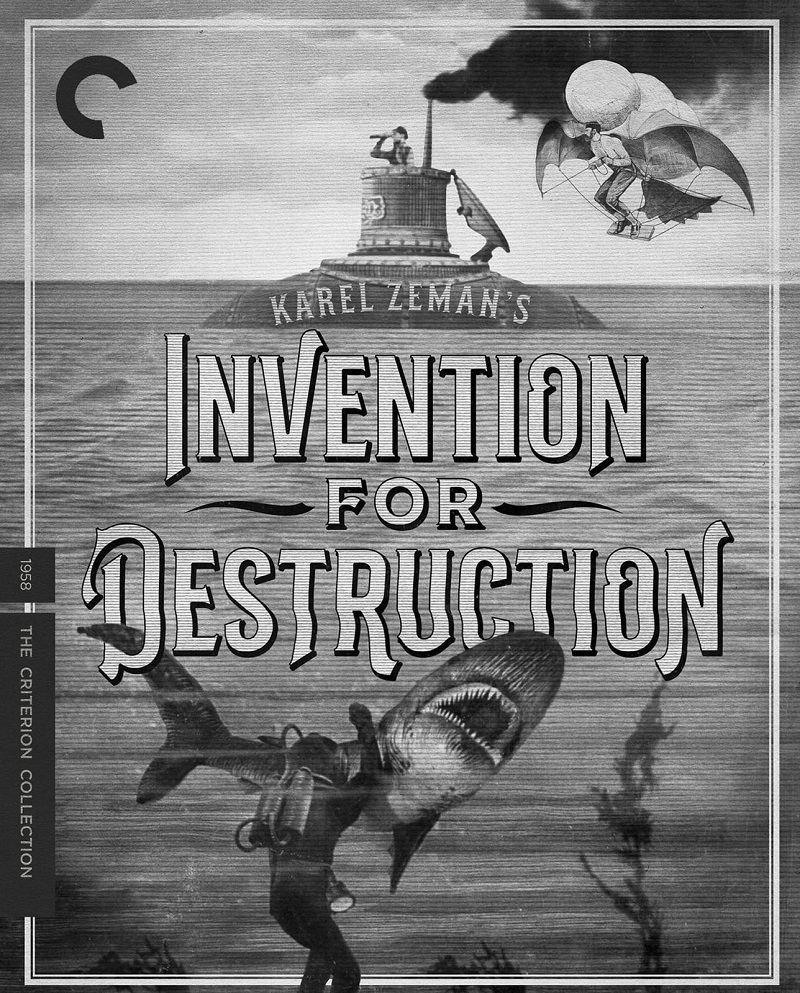 The Fabulous Baron Munchausen (1962)
In The Fabulous Baron Munchausen, Karel Zeman conjures the adventures of the legendary, boastful baron, whose whirlwind exploits take him from the moon to eighteenth-century Turkey to the belly of a whale and beyond. A kaleidoscopic marvel that blends live-action with techniques including stop-motion, cutout collage, puppetry, painted backdrops, and antique tinting, Zeman's film is an exhilarating visual delight and a warmhearted whirl through a bygone age too entrancing to have existed.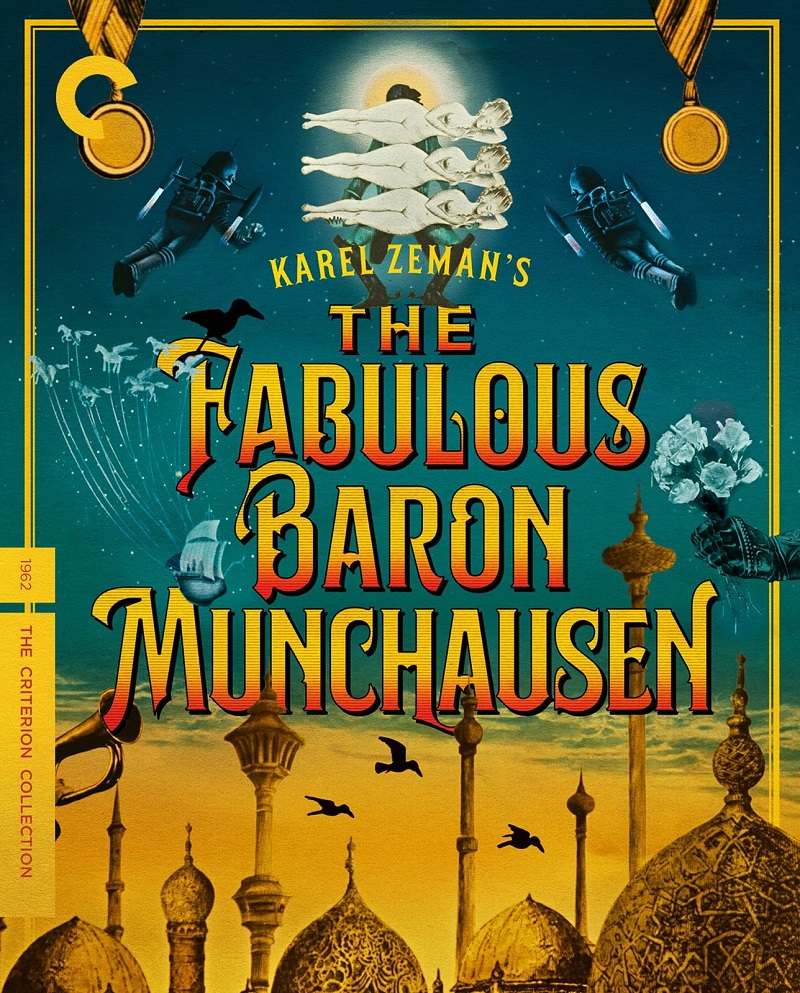 The above three films are available on the DVD below: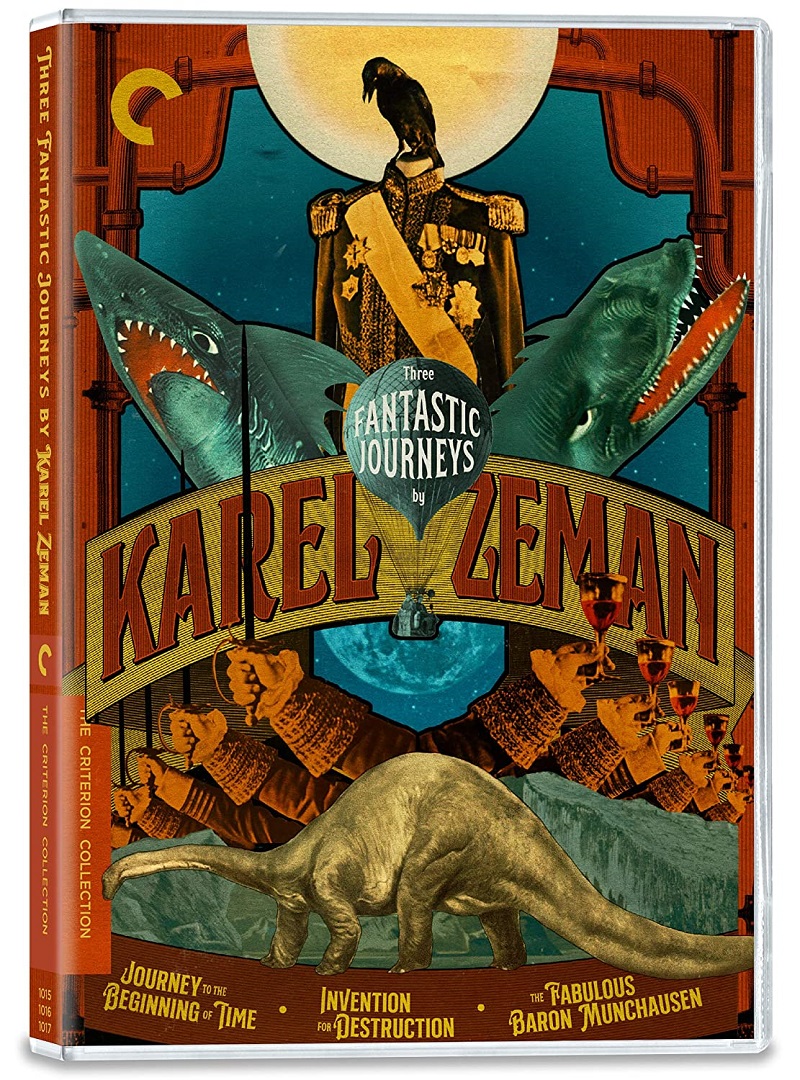 If you're not familiar with Czech master of fantasy Karel Zeman's films, then with the above DVD, I'll say you're in for a treat!
I've been a big fan ever since I can remember. I was so impressed by how Zeman used pre-CGI trick photography and set design to make it look like the 19th Century lithographs from Verne's novels were literally coming to life in Invention for Destruction.
The other two full-length films in the set – Journey to the Beginning of Time and Baron Munchausen – are also well worth repeated viewings. All have been beautifully restored in this special set. Combine that with the unique documentaries showing how Zeman achieved his amazing special effects, and some of his stunningly creative short films, and you have the perfect retrospective of this uniquely talented artist. Among the bonuses on this Criterion Collection set are four of Zeman's early dialogue-free shorts, beginning with A Christmas Dream from 1945, which won a prize in competition at the very first Cannes Film Festival, the following year. Also includes A Horseshoe for Luck (1946), Inspiration (1949), and King Lavra (1950). The shorts and films have been painstakingly restored. All are available together in glorious 4K for the first time.
Slant magazine says the three-disc collection will "make you wonder where the deliriously imaginative Czech auteur has been all your film buff life".
I highly recommend it!
Sidenote: Did you know that Wes Anderson used Karlovy Vary's Grandhotel Pupp as an inspiration for his acclaimed film The Grand Budapest Hotel? Zeman's Invention for Destruction is noted as a wildly free adaptation of fiction by Jules Verne, the sets of which several reviewers noted have clear echoes in Wes Anderson's Isle of Dogs.
Karel Zeman had the incredible ability to connect romance, fantasy, skill, inventiveness, and directing ability with art to narrate fantasy worlds we love to be drawn into. His films are breathtaking even today. I'm so grateful his fantastic world remained captured on film and still exists for us to enjoy, and I am grateful to Criterion for the above set of three of his classics with all of the special features.
Bravo!
We suggest you read our other post – Czech Film Director Karel Zeman and The Karel Zeman Museum.
Thank you in advance for your support…
You could spend hours, days, weeks, and months finding some of this information yourselves. On this website, we curate the best of what we find for you and place it easily and conveniently into one place. Please take a moment today to recognize our efforts and make a donation towards the operational costs of this site – your support keeps the site alive and keeps us searching for the best of our heritage to bring to you.


Remember, we rely solely on your donations to keep the project going.
We appreciate you more than you know!
If you have not already subscribed to get TresBohemes.com delivered to your inbox, please use the form below now so you never miss another post.