Today we meet a Czech woman named Eliška Junková (aka Elizabetta or Elizabeth Junek), a pioneer in the history of motor racing. Known as the "Queen of the Steering Wheel," Junková competed during the 1920s against Europe's top drivers, and in 1927 became the first woman ever to win a Grand Prix race. She was a modern woman who broke all the rules of the gentleman's' sport of racing, and was one of the earliest and most renowned of female racing drivers at the dawn of motorsport.
A wonderful documentary (in Czech) can be seen below:
She was born Alžběta (Elisabeth) Pospíšilová on November 16, 1900, in Olomouc, Moravia, then part of the Austro-Hungarian empire. The sixth of eight children, her childhood nickname was "Smíšek," due to her ever-present smile. Following the end of World War I, her native Moravia became part of the new republic of Czechoslovakia.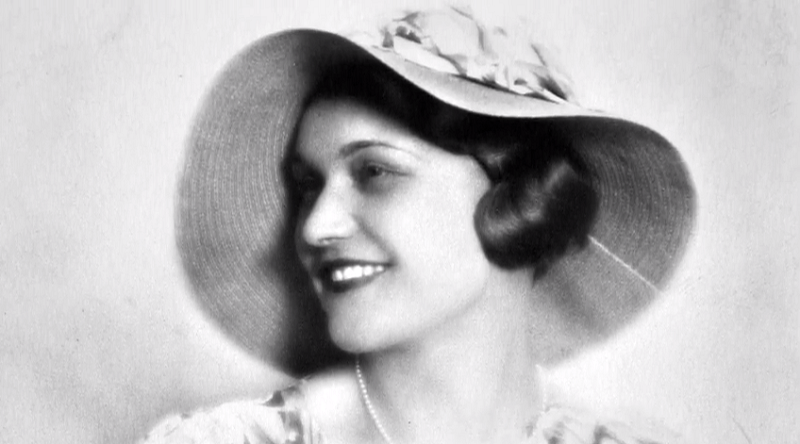 When she was 16, Elisabeth took a job at a bank, where she met a young banker by the name of Vincenc "Čeněk" Junek. He was six years older than she, and the two soon began a courtship. She was gifted at languages and soon became fluent in German, English, and French, as well. Out of this giftedness also grew her passion for travel.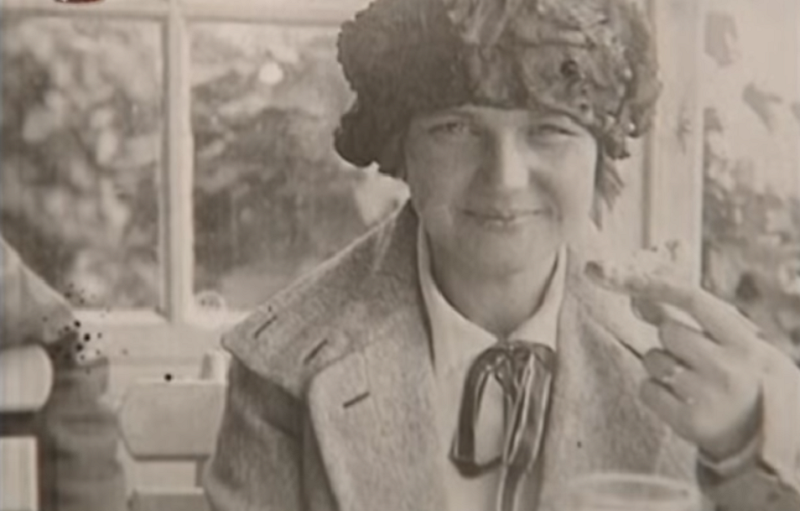 Elisabeth's work with the bank took her first to Brno, then Prague, and then abroad to France and Gibraltar. When she was touring Paris around 1921, she fell in love with the sports cars she saw there. When in Paris, she also reunited with Čeněk, who had become wealthy enough to indulge his own automotive enthusiasm.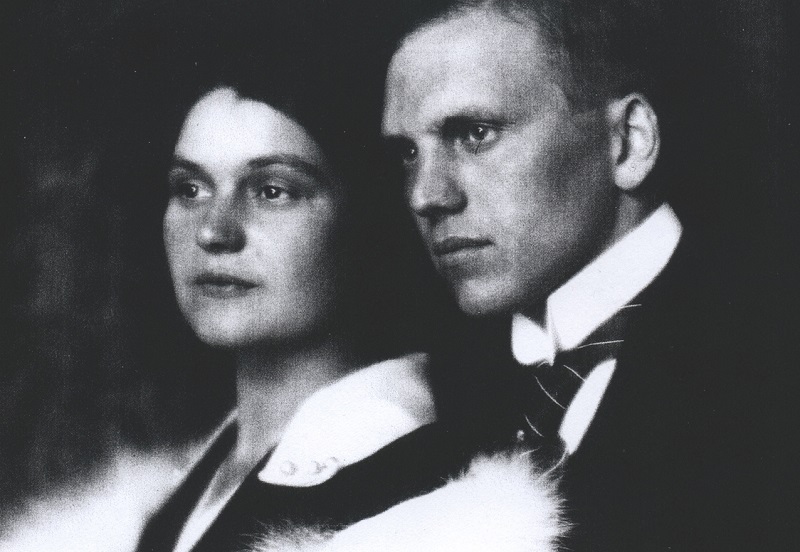 Elisabeth remarked, "If he is going to be the love of my life, then I better learn to love these damned engines."
Eliška would fall for the charm of Bugattis the most. She started to take driving lessons in Prague in secret and got her license in 1922, the same year they got married in the newly-formed Czechoslovakia. When her husband kicked off his career as a car racer, Junková sat right beside him as his racing mechanic and co-pilot.
Owing to a hand injury that affected his ability to shift gears, he could use some help from Eliška as a riding mechanic. From time to time, this offered her the opportunity to take over the wheel and drive in his place.
Legend has it that she was the faster of the two and often astounded rival drivers with her incredible pace. Together the couple partnered in various racing events across Europe. 1922 saw Čeněk win the Zbraslav–Jíloviště hillclimb. To mark the occasion, they purchased a Bugatti Type 30 in addition to a Mercedes.
After his win, it wasn't long before Eliška took the wheel herself.
Eliška Junková rose to fame racing her trademark Bugatti across Europe's most difficult courses. She even developed a close personal friendship with the car's maker, Ettore Bugatti. Junková was not only technically adept, she also earned a reputation as one of the first drivers to do walk-through's of courses like Italy's famous Targa Florio prior to races in order to commit landmarks and turns to memory.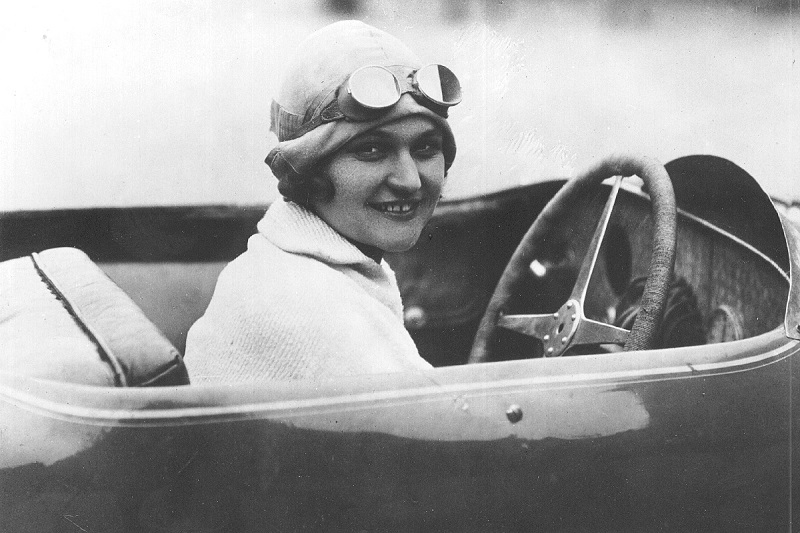 Junková retired from racing in 1928, when a tragedy interrupted her successful career.
On June 17, 1928. Eliška and Čenek raced together in the German Grand Prix in the #9 Bugatti T35B. After she was done with her stint, Čenek took over in the car and went off the road soon after that. He was killed instantly in the accident. Eliška was devastated and she retired from racing immediately, selling all her vehicles. Elisabeth temporarily abandoned racing, although her motoring interests continued.
After giving up racing, she turned to her first passion of traveling. Ettore Bugatti himself gave her a new touring car for a journey to Ceylon, and also hired her to seek new business opportunities for him. In early 1929, she undertook a 6,000km trip around India for Bugatti in their B-44 model and then participated in the 1929 Targa Florio as a steward.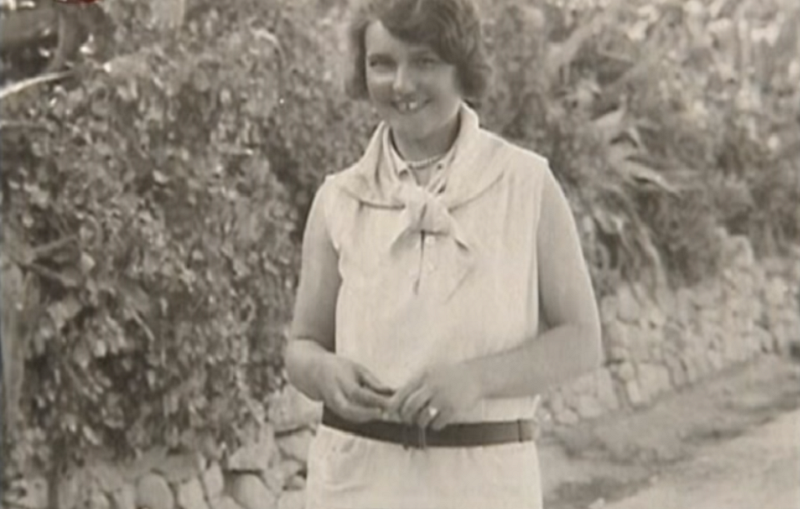 In the 1930s, she was co-author of the book Autokompas, and briefly travelled to Spain to test racing cars and act as a sports official. She helped to design the Masaryk circuit in Brno and was the main force in organizing the race there. Using the influence that came with her name, she helped to convince important drivers such as Louis Chiron to compete at Brno. In October 1933, she took a permanent job in Jan Baťa's emerging tire production department, responsible for the wholesale business.
During the Second World War, she was involved in the domestic resistance movement and, in the Prague Uprising in May 1945, she made her flat available to the Czechoslovak military command as an observation point.
Post-War, Elisabeth Junek continued to work in the tire industry. After the merger of the Baťa, Rubena Náchod, and Matador companies, she created the Barum brand and kept the stylized Baťa font, which Barum uses to this day. Eliška remarried after World War II.
She also helped organize the Masaryk circuit races, speedway and off-road motorcycle races, and the six-day international enduro competitions held in Czechoslovakia.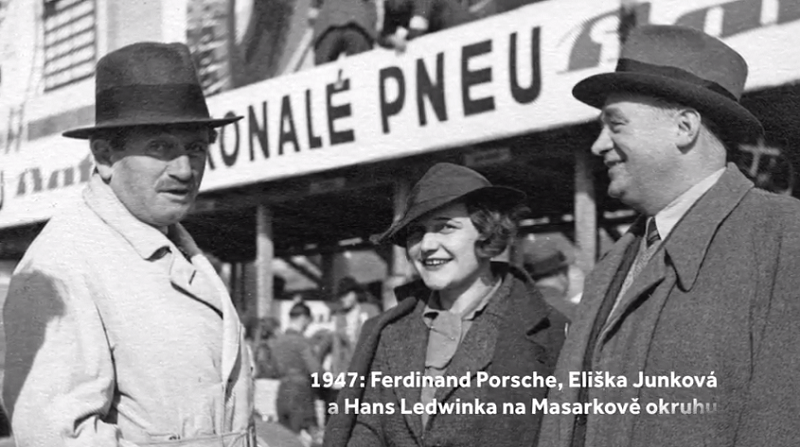 For her racing achievements, she was invited to join the exclusive membership of the CIAPGP (International Club of Past Grand Prix Winners) in 1964. As an active CIAPGP member, she was responsible for events held in Eastern Europe, and in August 1983 was delegated to the Grand Prix of Hungary.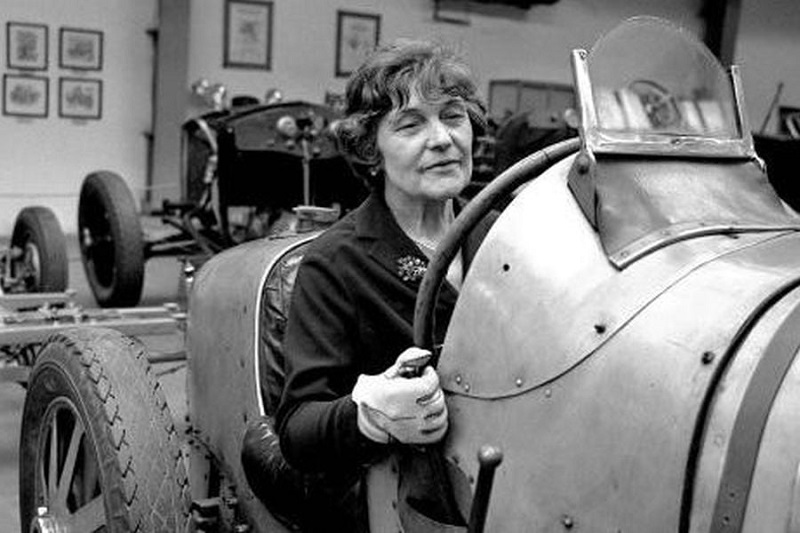 In 1966, she participated in the historic 50th Targa Florio and Premier Tour de la Principauté Monte Carlo with Alois Samohýl in his 1908 Laurin & Klement, thus returning to the international spotlight.
Over the years, she became a member of many honorable foreign automobile associations. In August 1986, she participated in celebrations for the 25th anniversary of the American Bugatti Club in Rockport, Maine and in 1987, the club dedicated a sculpture to her by the American sculptor Tom Malahn (alias Le Garagiste), depicting a scene with boulders on the last lap of the 1928 Targa Florio.
Also in 1987, she took part in the 60th anniversary of the 1st Grand Prix of Germany at the Nürburgring and in 1988, French President François Mitterrand and his wife visited Elisabeth in the Pod Petřínem hospital as part of their state visit to Czechoslovakia.
Due to her declining health, in 1991 she was unable to participate in the introduction of the latest Bugatti 110 to commemorate the 110th birth anniversary of Ettore Bugatti. To mark this occasion, the French medal-maker C. Gondard created a piece 15.5cm in diameter with Ettore Bugatti on the front and Elisabeth Junek on the reverse, which was presented to her in Prague.
A memorial bust of Elisabeth Junek was later unveiled in the building that houses the Automobile Club of the Czech Republic.
Her legacy was immortalized by Czech composer, Jaroslav Ježek's, classic jazz composition "Bugatti Step".
Her autobiography, Má vzpomínka je Bugatti (My memory is Bugatti) was published in 1972.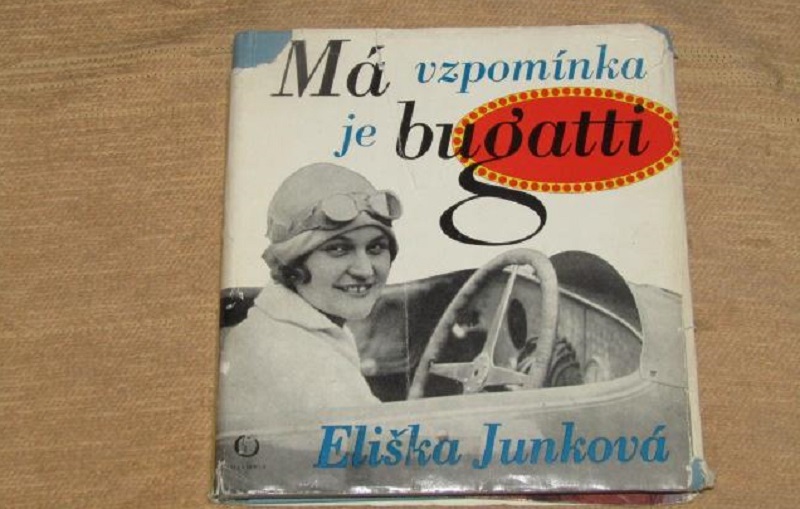 In 1989, against the advice of her doctor, 89-year-old Elizabeth Junek came from afar to attend a Bugatti reunion in the United States as a special guest of honor.
You can hear her speak about her racing adventures in the following video from that reunion.
The following is an article I have had for many years about this amazing trailblazer who paved the way for women drivers across the world. It's from Road & Track magazine and it was published in their February, 1960 issue. The article was written by Charles G. Proche. I hope you'll enjoy the read.
Elizabetta Junek – A Czech Woman's Invasion of Racing's Hall of Fame
One Sunday morning in 1925, a 25-year-old lady named Elizabetta Junek used a Bugatti to bring most of the activities in and around Prague, Czechoslovakia, to a complete halt.
At that time, most of Central and Western Europe was thoroughly excited over the gentleman's sport of automobile racing. Names like Ascari, Chiron, and Werner appeared regularly on the front pages of Sunday evening papers and any grocer or butcher could completely discuss why Hans von Stuck's Austro-Daimler had gone into a spin or why Morel's Amilcar was losing so much oil on the track. The crowds at events wee enormous compared with present American attendance, and often more than 200,000 people paid to see the famous kings of the road.
On this particular Sunday was to be held the annual hill climb called Zbraslav-Jiloviste, an elite event of Central Europe. To the uninitiated, these two words may sound like a Sherman tank running over a crate of glass jars filled with firecrackers, but to the spectators who had seen this Czech mountain race, they called up visions of a glorious spectacle. The unofficial Grand Prix hill climb of Central Europe had been run since 1908, had attracted contestants from Germany, Austria, Poland, and Hungary, and those two Czech names aroused memories of the smell of castor oil, benzine, burning tires, methyl alcohol, beer and sausages, all mixed with the roar of engines and the cheers of enthusiastic and race-educated spectators.
I believe that half of the spectators  came this Sunday to see Elizabetta Junek, the wife of an amateur racing driver, compete in here 2-liter Bugatti against drivers whose names were just as familiar to Europeans as Babe Ruth or Jack Dempsey are to us. As expected, she won her category easily and placed only 29 sec behind the overall winner, that charming Frenchman, Albert Divo, and his powerful Delage.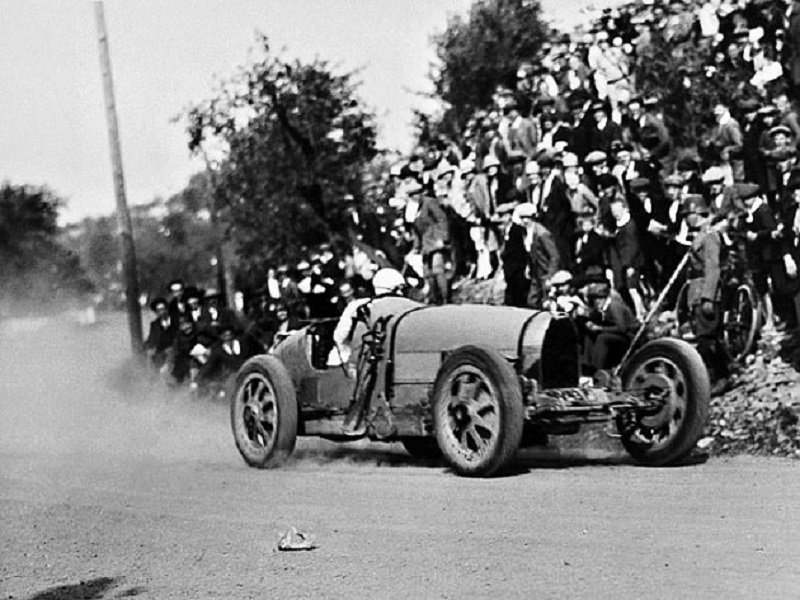 Elizabetta Junek started taking driving lessons in 1921 from her fiancé, a banker whom she married the next year. Her first success came behind the wheel of a touring class Bugatti in a hill climb in 1924 in Pilsen, home of the famous lager beer. For the next five years, the Juneks thrilled crowds on European hill climbs and circuits, each driving a Bugatti, but in different classes. The year 1925 saw Mme. Junek advance into the sports car category, winning 10 times in her class, including six times overall. In one of these races, she actually made a better time than her husband.
Her 2nd Place at Klausen Pass, the Swiss Mountain GP, marked her introduction into the international Who's Who Racing Society, after which her name appeared regularly on the lists of continental races. At this time she became interested in the most famous and most difficult race of them all, the Targa Florio, where since 1906 powerful Mercedes had battled Fiats, Ballots, de Dions, Hispano-Suizas, Alfa Romeos, Delages and Bugattis, and where then-unknown Alfred Neubauer once finished 19th in an Austro-Daimler. She was encouraged by two Czech amateur drivers who had participated in the event, Count Alex Kilowrat and E. Morawitz.
In April 1927, her steamer from Naples reached Sicilian port of Palermo. The beautiful Mediterranean Sea and the volcano smoking in the background provided a colorful setting for Elizabetta Junek's most daring adventure so far. After meeting the founder of the race, Cavaliere Vincenzo Florio, who had considerable racing experience himself, she and her husband started exploring the Madonie circuit.
It is considered quite a usual performance for the average driver to spend close to 8 hours negotiating those dramatic 335 miles, climbing to 3,670 ft. and twisting through some 1,400 sharp curves. On this circuit, a driver can use his high gear only four times in each lap. Together, the Juneks spent a whole month on the circuit, taking pictures of the more difficult corners, studying practically every yard of the road, and discussing the necessary driving technique from every angle.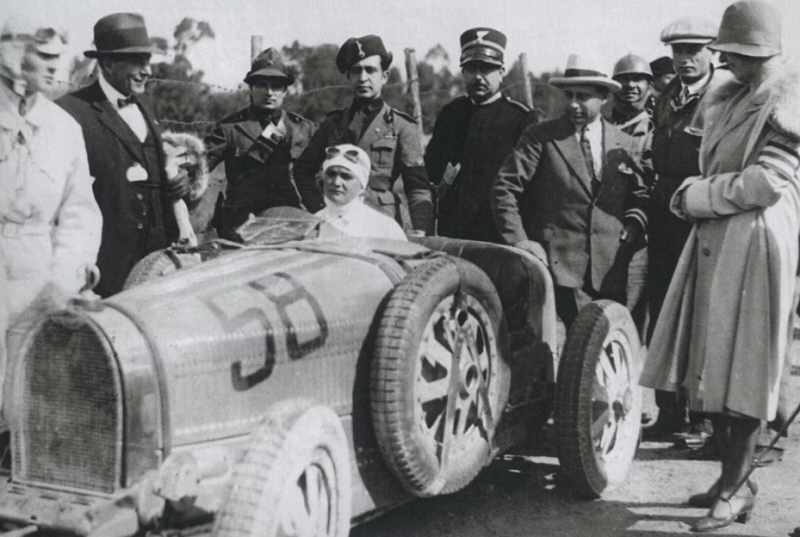 As a matter of fact, they spent five days covering the entire course on foot, walking 12 miles each day returning tired in the evening to Pollizi, famous as Mafia headquarters and center of the Bugatti activities. The team was camped there under the ruins of an ancient Greek aqueduct. The Targa circuit's facilities were very much different from those at, say, Le Mans, Monza, or Nurburg Ring. Instead of modern hotels, garages, and sanitation facilities, gas stations, and perfect communications systems, there was absolutely nothing to make life easy for drivers, mechanics, or spectators. The noontime heat made long siestas necessary; there was a shortage of drinking water; insects made life miserable both day and night; and mules, donkeys, and herds of milk-giving goats paraded through the narrow cobblestone streets. Garages, workshops, and sleeping accommodations for the crews were located in the stables of some ancient stone houses.
Social life was concentrated in the town of Termini Immersi, which also served as headquarters for the event. Here Elizabetta met her main competitors:  Balestrero, Alfieri and Ernesto Maserati, Boilott, Materassi, Minoia, Dubonnet, Connelli, Borzacchini, and others.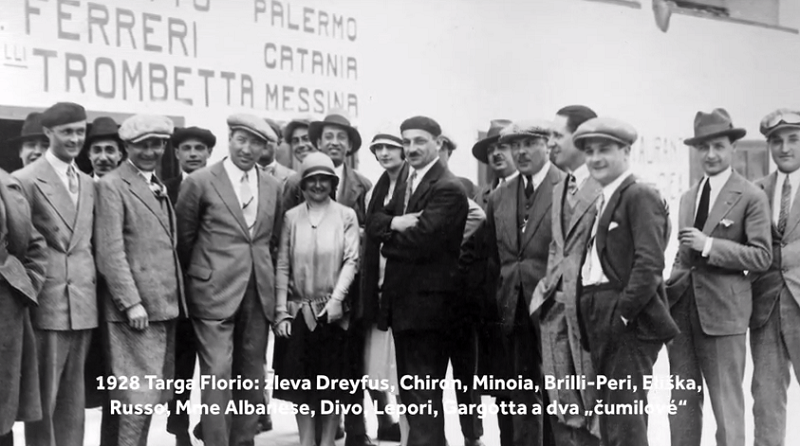 On the day of the race, 23 cars appeared at Cerda, a village some 30 miles east of Palermo, to try for the solid gold shield (Targa). Madame Junek was well prepared. One of her main efforts had been to memorize the points at which there was room for only one car, as the width of the road varied constantly. The narrow road did not allow a mass start, so the competitors left the starting line at 2-min intervals. Soon after the flag fell, a French engineer / amateur, Charavel, racing under the name of Sabipa, skidded on some loose gravel, tumbled down a steep ravine and landed unhurt in the middle of a garden. Count Maggi's car went out of action due to a broken chassis, and Minoia damaged his transmission in the 2nd lap. The Bugatti pit manager, Meo Constantini from Milan, looked worried but hoped for the best. Mme. Junek finished the first lap in 4th place, only 34 sec behind Minoia, the leader, followed by Andre Dubonnet and Materassi. Then her steering box broke, causing a collision with a stone retaining wall which wrecked the whole steering mechanism. Because of her unique display of driving skill, she was awarded a gold medal by the Italian Automobile Club. Many other, and more famous, drivers also failed to finish the race, among them Borzacchini, the fast Luigi Fagioli, and Ernesto Maserati.
The winner, Materassi, drove his supercharged 2-liter Bugatti superbly, winning the trophy in 7 hours 35 minutes at an average speed of 44.15 mph. Count Conelli, in a 1.5-liter blown Bugatti, came in 2nd.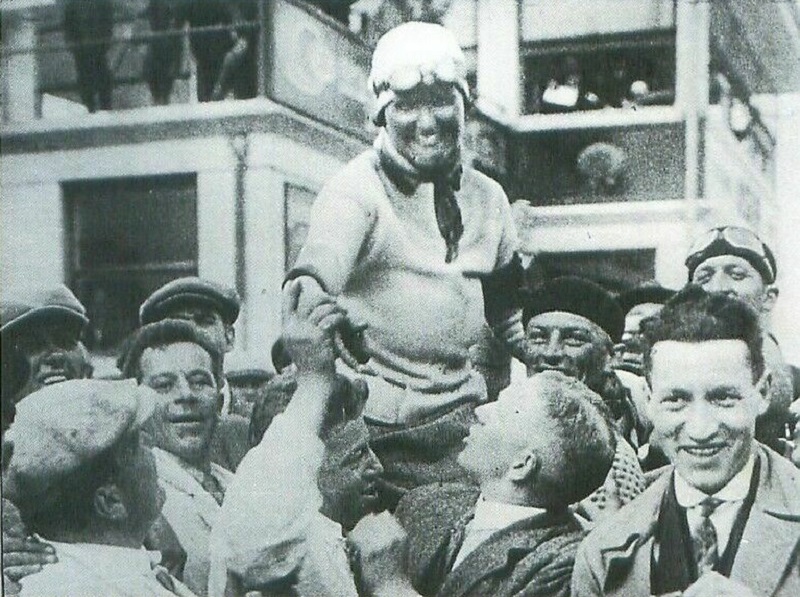 Elizabetta Junek returned to the mainland to win the 2-liter category of the Grand Prix of Germany at Nurburg Ring, to triumph the Coupe des Dames at Linas-Montlhéry near Paris and then, later in the year, to repeat her victory at the Grand Prix du Salon Automobile.
During the winter, she and her husband started large scale preparations for the 1929 Targa, tuning up the two Bugattis,  studying notes, examining aerial photographs of the course, scrutinizing maps and learning the whole course by heart. She sometimes sat behind the wheel with closed eyes and followed an exact mental impression of the route. Even during mealtimes one could have heard her husband say, "Describe kilometer 12 behind Cerda village." Then she would have to describe not only that small stone house on the right with the three white kilometer stones, but also would have to know the gear, the speed, the revolutions, where to accelerate, and where to start applying the brakes. Her goal was simply to memorize the entire 67-mile course, and make driving it completely routine. Her brilliant performance at Nurburg Ring had convinced her that she possessed both the moral and physical stamina to stay in, and win, the Sicilian race.
When she landed in Palermo in April 1928, three weeks ahead of the race, something of a shock awaited her. Count Conelli had been training there since February and Heusser and German Countess Margot von Einsiedel had been on the scene since December. Mme Junek brought with her two Bugattis, one light truck full of spare parts, her mechanic and the good wishes of Ettore Bugatti, who was very fond of her. During the training period, she discovered that in many plaes the corners has been altered and that the road surface had been improved, which meant that she must change her whole technique for negotiating the course. She drove 47 practice laps, wearing out over 50 tires. It might be well to make it clear at this point that starting money, or any other financial lure to attract independent amateur drivers, did not exist at that time, and that the expenses of official factory teams had to be borne by the car manufacturers.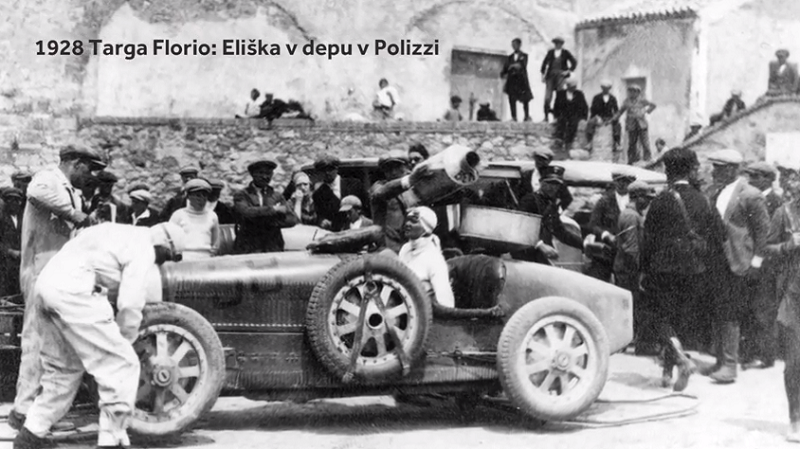 The race itself, which brought 40 competitors to the starting line, was to develop into a duel between Bugatti and Alfa Romeo. Stars of the Molsheim team were the ever-smiling Albert Divo, Louis Chiron from Monaco, Minoiawith 20 years' racing experience, Foresti, Count Conelli, Rene Dreyfus, and a rising new star named Tazio Nuvolari. The camp of 1.5-liter supercharged Alfa Romeos had placed its hopes in the hands of Campari (supported then by Enzo Ferrari) and Marinoni, who were both driving without mechanics, and who, therefore, had to install tire depots along the course. The new firm of Maserati had entered its own team of Luigi Fagioli, Borzacchini, and Alfieri Maserati.
Soon after the start, Mme. Junek, in her 2.3 blown Bugatti, spotted Divo's blue Bugatti in the distance ahead and that was the signal for her to open the throttle. It did not take long for Divo's mechanic to notice her yellow and black car behind them in the clouds of dust and the most sensational duel of the day began. Divo gained in the sharp bends, thanks to his great experience, and Mme. Junek managed to draw almost abreast of him in the straights. The gallant Frenchman, always driving with his checkered cap back to front a la Blériot, never tried to obstruct her attempts to overtake him. Thus they fought it out for some 270 miles.
The only other woman in the race, Countess von Einsiedel in a white 1.5-liter Bugatti, was running well behind, when an error in judgment caused her to hit a stone wall while going too fast n a bad road. The car was only slightly damaged but it was clear that she had lost her confidence and only devotion to her fatherland made her carry on, to finish in 12th place.
Elizabetta Junek was doing very well indeed. In the first lap she stayed in 4th place, only 33 sec behind first place Chiron, 22 sec behind Campari and 7 sec behind Divo. In the 2nd lap, she led them all, Campari by 20 sec, and Divo by a full 39 sec. In the 3rd and 4th laps, she dropped into 2nd place behind Campari and then, on the last lap, her water pump went out of action. Thee engine became hotter and hotter, finally forcing her to stop to let her mechanic try to correct the fault, and to get some water for the empty radiator. She had to continue at a much slower pace, finishing in the 5th spot, 9 min 40 sec behind the winner. Following her were Minoia, Fagiolo, Dreyfus, Lepori, Foresti, and Maserati. The grand winner, Albert Divo, and Cav. Florio were delighted to congratulate her on her victory over the 25 individual competitors who were not members of official factory teams. Among those who failed to finish were some of the truly famous names of that era : Nuvolari, Brilli-Peri, Borzacchini, 1927 Targa Florio winner Materassi, Heusser and Marinoni. Everybody was there to kiss her or shake her hand except the creator of her fine car. Incredibly, Ettore Bugatti never visited Sicily, the scene of so many victories which actually sealed his reputation as a successful designer.
Her eagerly awaited approach to the finish attracted so much attention around the pits that the flagman failed to stop Divo, who actually drove 6 laps, thanks to all this commotion over a charming and modest lady driver.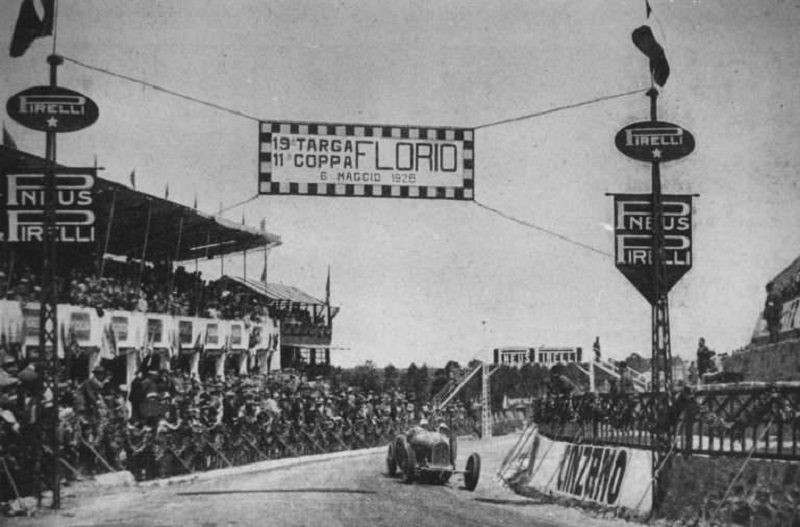 The following account is Mme. Junek's own words: "The gear rations in my Bugatti were specially prepared in Prague. The Madonie Circuit requires several thousand gear shifts due t the grand total of nearly 8,000 sharp curves, climbs and descents, most of the time using only the first 3 gears. This requires almost a superhuman effort from one's hands. My physical preparation for this consisted of continuous exercise and massage of my arms and hands.
"My plan was to drive steadily, but carefully, in order to save my engine, brakes and steering (I had balloon tires on the front wheels), and to avoid unexpected hand movements, which are tiring and nerve-wracking. To avoid any drifting or sliding through curves, I had to learn new tactics, which would conserve my strength. I decided to drive the laps in 1 hour 227 or 28 min, which speed I managed to maintain until the last lap. Too satisfy myself about my physical condition, one week before the race I drove my training car the whole 5 laps non-stop, which, I believe, had never been done before.
"On my dashboard, I had mounted three big precision clocks. One was for the laps the second was for the sectors of the course and the third was for keeping track of my only lady opponent. Countess von Einsiedel had made it known at Molsheim that she intended to show me how to drive in Sicily, and she had repeated this challenge at Termini and Palermo in front of other drivers. This was partly because of my victory at Nurburg Ring, but mostly because she felt physically much superior to me, and therefore able to withstand those long hours of driving much better than I could. My pit crew had been instructed to signal me her lap times, but after the second time around, there was no need for it. How my other opponents were doing during the race I had no idea.
"When I was starting my 2n lap, I overtook a Bugatti. I looked back and to my great surprise I saw Divo's car, which had started 2 min ahead of me. My astonishment caused me to execute a rather bad gear change from 3rd to 2nd in a narrow bend and resulted in a horrible slide. I slowed down and signaled to Divo to overtake me. In a moment I regretted this, as my nose and mouth were filled with dust from following so closely behind Divo. We reached the pit at Polizzi at the same time and after changing all 4 wheels, refueling with gas, oil and water and a sip of cold tea, we started off together again. As I approached the grandstand I saw white smoke from the cannon which signaled the spectators of the arrival of each competitor, so I knew Divo was still just ahead of me.
"My 4th lap went very smoothly and I felt quote confident, holding 2nd place a the beginning of the 5th round. After starting the steep climb at Caltavuturo I suddenly felt a hot breeze and looked at the temperature gauge. It had passed 85° C, 15° higher than normal. My French mechanic, Etienne, gave me his approval to go on in 4th gear to relieve the engine, but soon the gauge showed 95°, and then 100°. The boiling radiator spouted hot water in my face and the engine began to show signs of weakening. There was nothing else to do but stop. Alas, even with the ignition off, the overheated engine continued to run. 'La pompe ne fonctionne pas,' yelled Etienne at me after looking under the hood. While he was trying to fix the water pump, I searched the sun-parched countryside for some water. Luckily, I found some, and we started slowly on the remaining 60 miles.
"Finally I saw the white smo9ke signaling my arrival, and the cheering crowds on the grandstand shouting, 'Elizabetta, Signora Elizabetta, bravissimo.' I hurried off and sent a telegram to my husband in Prague that I was alright. After being told that I had been first in the 2nd lap, and 2nd in the 3rd and 4th, I was satisfied to have finished in 5th place behind Divo, Campari, Conelli, and Chiron. Divo later told me that he drove the last lap in 2nd and 3rd gear, never below 4500 revs, and that I was the only driver who had ever overtaken him in his whole career.
"As far as prizes were concerned, naturally I was very pleased with the three beautiful cups I received for first on 2nd lap, first place among 25 amateur drivers and first in ladies' class. Besides this, I won two gold medals for first in the isolati class and 2nd in the 2.5-liter category, not to mention my prize of 45,000 lira, which was very good money in 1928."
For Elizabetta Junek, this was the top of her racing career, a success never again repeated in the history of Targa Florio.
Unfortunately, it was also her final race. Her 34-year-old husband lost his life in the next season during the German Grand Prix at Nurburg Ring. After this tragic accident, she quit racing and took a job in the tire distributing business in Prague, from which she retired two years ago.
If you ever happen to be in the Czech capital as see a smiling grey-haired woman behind the wheel of a Czech-made Škoda Spartak, your guess may be right. It could be Elizabetta Junek, probably the greatest lady-driver of all time.
---
The greatest achievements of Elisabeth Junek's career are considered to be:
1st place in the Zbraslav-Jíloviště hillclimb (1926)
2nd place in the under-2-litre sports car class Klausenpass hillclimb (1926)
1st place in the under-3-litre sports cars class German Grand Prix at the Nürburgring (1927)
1st place in the Coupé des Dames (1927)
1st place for lady drivers in the Grand Prix of Montlhéry (1927)
5th place in the Targa Florio (1928)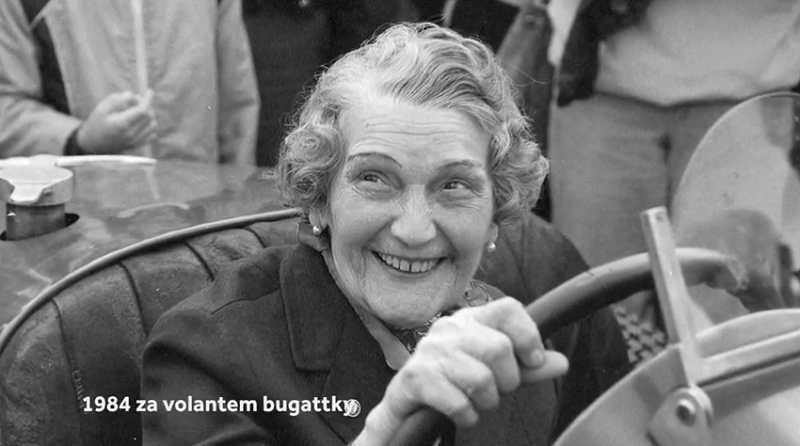 To date, Eliska is still regarded as one of the most significant drivers in Grand Prix motor racing history, and not just because she was the first woman to win a Grand Prix event.
It's recorded that the Juneks had purchased eight Bugatti racecars, primarily of the Type 35 models — from the "unblown" T35 Grand Prix to the "blown" (supercharged) T35C and 35B.
Eliška chose to have her Type 35 racecar fitted with a yellow body.
When she was spotted in a blue Bugatti, chances were that she was using one of Čeněk's supercharged Type 35 models.
Eliška Junkova died in 1994, at the age 93.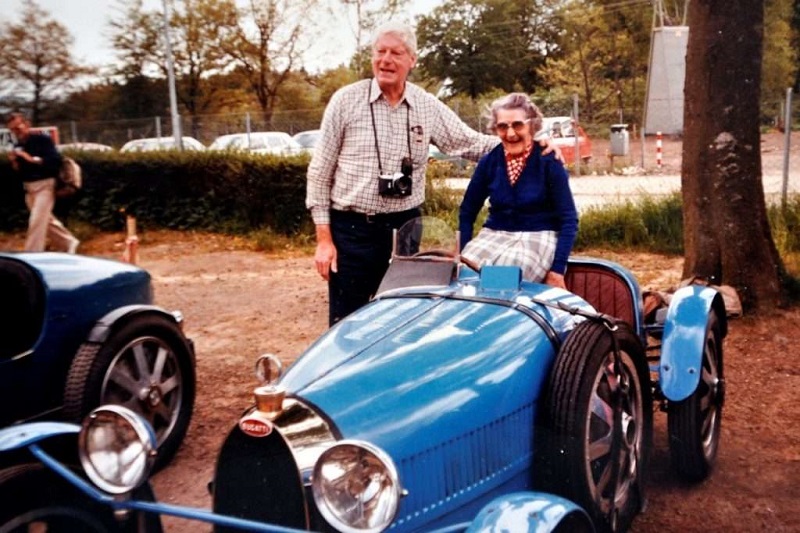 On November 16, 2020, which would have been Eliška Junková's 120th Birthday, Google recognized her with a special doodle in her honor.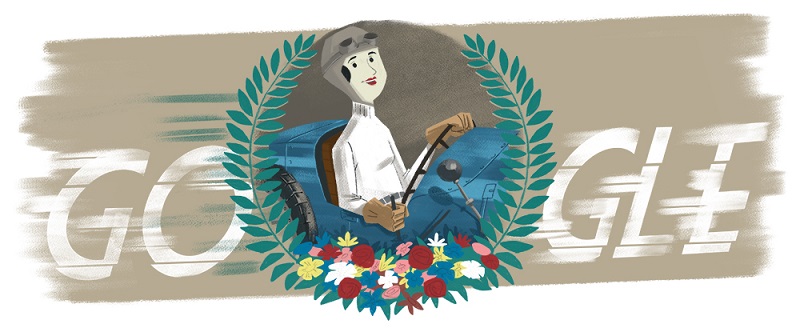 "I proved that a woman can work her way up to the same level as the best of men. We women sometimes tend to blame our failures on nature. It is far more productive to be less angry and more hardworking. Some handicaps can easily be overcome."
Rest in peace, dear Czech queen of the steering wheel…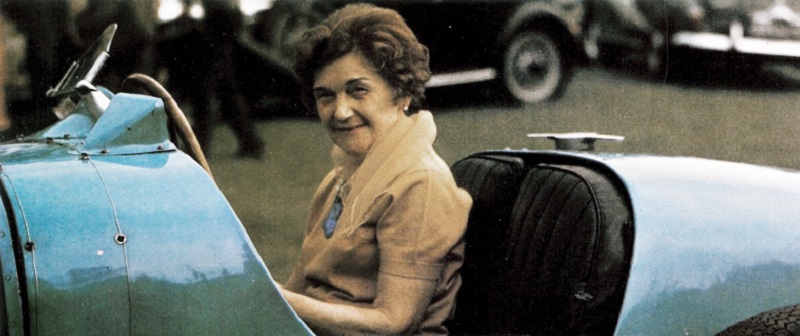 Sources: 1, 2, 3, 4, 5, 6, 7, 8, 9, 10.
Thank you for your support – We appreciate you more than you know!
We know that you could spend hours, days, weeks and months finding some of this information yourselves – but at this website, we curate the best of what we find for you and place it easily and conveniently into one place. Please take a moment today to recognize our efforts and make a donation towards the operational costs of this site – your support keeps the site alive and keeps us searching for the best of our heritage to bring to you.


Remember, we rely solely on your donations to keep the project going.
Thank you in advance!
If you have not already subscribed to get TresBohemes.com delivered to your inbox, please use the form below now so you never miss another post.